14 Retail Customer Service Examples & Tips
Retail customer service should enhance your shoppers' experience by simplifying in-store procedures, proactively answering any concerns, and giving customers attention and care when they patronize your business. Customer service is an invaluable tool for building customer loyalty and ultimately driving the bottom line for a retail business. Positive experiences with your store and associates will make your customers (and their buying power) come back again and again.
Here are 14 tips for creating a thriving retail customer service experience for your business:
1. Train Your Staff on Retail Customer Service
For most of your day-to-day interactions with customers, it will be your staff representing your business and delivering your retail customer service experience. To ensure they represent your business the way you want, you will need to train your staff on your customer service policies.
You will want to ensure this training is part of any onboarding process and that you hold periodic retraining every quarter or six months. For my store, the managers chose training topics to review each month during our store meetings. This meant there was time built into our schedules to review customer service topics.
Write Down Your Policies
In addition to training, you will want to create a written or electronic document with all your customer service policies that employees can look to when questions arise. Your goal here is to make things as scannable and easy to find as possible. Using tables of contents to improve content navigation, bulleted lists to save on reading time, and bolding to draw attention to key concepts will allow staff members to find their answers and resolve issues quickly. You will want to use these formatting techniques even on one-to-two-page documents.
Remember the Goal
As with any job, there will always be gray areas in retail customer service that you cannot cover in your written policies. For these cases, you need to be sure you train your staff on the ultimate goal of your retail customer service initiative: to create an experience that makes people want to come back.
Teach your staff to keep this "north star" in view whenever an issue arises. At my boutique, for example, I would get many unexpected return requests and customer demands. While I couldn't turn to the rulebook when people's gifts didn't come with a receipt but they wanted to return or when a button popped off on their third wear, I could keep in mind the overall goal of my role as a customer service person. I always tried to resolve situations by making the customer feel cared for and like their problem was favorably settled.
Tip: As the store owner or manager, make sure your employees are empowered to resolve retail customer service gray areas independently with appropriate access levels to the POS system for voids, returns, or coupons.
Offer Suggestions
Another area that you should train your staff on to improve your retail customer service is to offer suggestions. In addition to answering customer questions and providing product recommendations, you should also teach your team about cross-selling and upselling.
Cross-selling is when an associate recommends a complementary product, and the shopper buys an item they didn't intend to purchase. Associates can inspire ideas by showing how a combination of products can work together or remind shoppers of a need. Along the same lines, cross-merchandising can encourage cross-departmental purchases.
Upselling is a sales tactic that inspires customers to purchase additional suggested products or services directly related to the original item of interest. The best time to upsell a customer is at the point of purchase by suggesting add-on items or showing an upgraded version of the product in question.
For example, when I went to a local running store, I intended only to purchase shoes, but once I picked out my pair and was ready to check out, the salesperson asked if I wanted a pair of socks to enhance my comfort and better secure my feet. With this small nudge and my preexisting buying intent, she successfully upsold my initial purchase, and I bought the socks.
Tip: A great way to incentivize your staff to upsell and cross-sell is to create a commission structure that rewards that behavior.
2. Optimize Retail Customer Service in All Your Channels
In today's digital age, retail customer service is not just about the in-store interactions your customers have; it is also about their online experience with your brand. This includes everything from your website and how easily customers can get assistance online to your emails and the messaging and information inside.
Did you know? Two-thirds of users would prefer to contact customer service through a live chat option.
To ensure that you provide a good experience to your customers from the screen to your sales floor, you should create a seamless retail customer service experience across all your channels.
Online store: For your online store, you need to be sure there is a contact form or built-in messaging feature where customers can get assistance. Additionally, you will want to create an about page where customers can learn about your brand and its philosophies as well as an FAQ where shoppers can find answers to their questions. In addition to providing services that help solve customer problems, retail customer service for your online store is anything that makes website navigation easier or streamlines the shopping and purchasing processes. Running user experience trials and using your site as customers will are great ways to test your website's usability.
SMS and email: As with your online store, for your brand's email and SMS channels, you primarily need to ensure that you create a clear line of communication for customers to reach out. Include customer service email information in all of your correspondence and do what you can to provide answers within 24 hours. Additionally, to improve your retail customer service in this space, use friendly and informative language in your brand voice and avoid overwhelming your customers with incessant emailing.
Getting started: Look for live chat (like from Intercom) and email marketing (through Constant Contact, for example) solutions to integrate into your website and marketing campaigns. Set up a customer service email account, a website contact form, and an FAQ. Be sure to make these resources well-known and easily accessible to your customer base.
3. Greet Every Customer at Entry
One of the easiest ways to make every customer feel special and let them know you are available for assistance is to greet them upon entry. In addition to a greeting, I suggest you and your associates create small spiels that include your name, a greeting, any specials you might have, and an offer of assistance if needed.
In my own experience with training and running a store, if you have a prepared statement that you use to greet every customer, you are more at ease and able to deliver all relevant information without worrying about what you will say.
Tip: Include creating a greeting as part of your customer service training.
A good greeting will not only welcome people into your space but will also orient them to your offerings and open the door for a customer-associate interaction. I found that the shoppers I didn't greet rarely asked for help or clarification, but those that I did were more apt to interact with me. These interactions led to sales and helped the customer have a better experience—and they all started with a hello!
Getting started: Integrate greeting writing into your training plan. Define all the pieces a greeting should include and ensure there is enough staff to greet every customer upon entry.
4. Engage With Every Customer (in the Way That They Want)
To optimize every customer and create the best experience for them, you and your associates should engage with every customer. This engagement, however, is going to look different depending on the customer. Some shoppers want associates to provide suggestions, product information, and assistance throughout their experience; others want to browse, and too much attention annoys them.
The last thing you want to do is annoy a customer who wants space, but you also don't want to leave a shopper feeling ignored. The best way to determine what type of assistance a customer wants is to ask. I would suggest doing this upfront before they begin shopping as part of your greeting. "Can I help you with anything today?" is an easy opener.
You typically will receive three types of answers:
Affirmative: When a shopper wants help and expects your attention, they will provide an affirmative response.
Delayed: This is when a shopper sounds open for help but doesn't want it immediately. You should check in with this customer frequently and be attentive should a question or need arise.
Decline: When customers prefer space instead of assistance, they will typically decline any customer service advances. You should not completely ignore this customer; provide attentive and professional baseline services like making a fitting room available or being cordial at checkout, but avoid hovering or being overly attentive.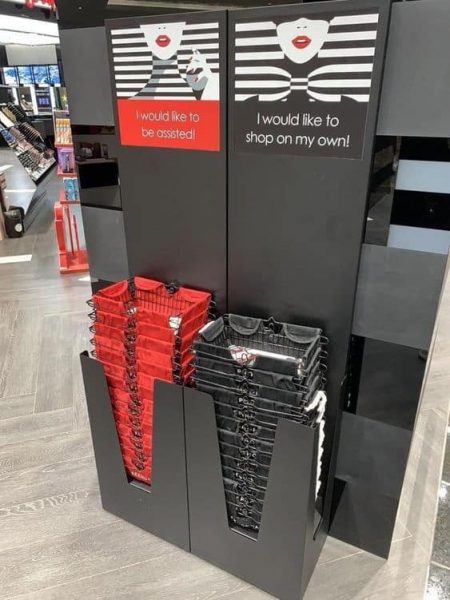 In addition to verbal communication, some retailers get creative with non-verbal cues store associates can use to provide each customer with the kind of service they are looking for. This is especially effective at busy stores where shoppers may encounter many different associates.
(Sources: Pinterest)
Getting started: Train your staff to ask customers if they need help upon entry, read their responses, and pick up on cues to give more or less customer service. Define what baseline customer service, or the minimum service you should provide every customer, looks like and train your staff on those procedures.
5. Anticipate Customer Questions & Concerns
The best way to create a positive experience for your customers is for them to require no customer service at all. To do this, you should try and anticipate customer questions and shopping pain points and mitigate them accordingly. Signage with your return policy and store promotions, sizing guides, ratings, reviews, and FAQ resources are all things you can implement in your store and website to make the shopping experience self-sufficient and easy.
Getting started: Put yourself in the shoes of someone shopping at your store, and consider the information you might want to know or the issues that might arise. Post that information around your store and train your staff on those areas of concern. Institute procedures that optimize your space and streamline operations like checkout and traffic flow.
6. Remember Your Loyal Customers by Name
One of the best ways to make your customers feel special and build their loyalty is to learn their names and greet them with familiarity. This will help them feel valued and form a relationship with your store and associates.
The best way to create this first name recognition is to create a shared document where employees log loyal customers. This log should include a brief description of the person, their preferences, shopping habits, and any miscellaneous information. Another way to foster first name recognition is to keep your staff on a consistent schedule so they are in-store at regular times.
For example, at my store, I always worked the weekends because a large group of regulars would come by to shop on weekend days. I knew their names, personalities, and clothing preferences so I could give them highly personalized service and build their loyalty.
Getting started: Create a loyal customers sheet either on Google sheets or another document-sharing platform. Be sure this sheet is accessible to all your employees and that they check it regularly. Train your staff to strive for first-name recognition, and consider implementing a rewards structure for learned first names.
Tip: Many retail POS systems also have built-in CRM tools so you can log customer data such as preferences, birthdays, past purchases, likes and dislikes, and sometimes even photos. From there, you'll also be able to create customer groups to track VIPs and offer them special deals or promotions.
7. Send Welcome Emails to New Shoppers
One way to impress your new customers and foster their loyalty is to send out welcome emails. Rather than leaving your store and never thinking of you again, an email will force them to remember your brand and boost their chances of shopping with you again. You might even consider including a discount code in your email to further incentivize a return visit.
To send out emails, you will first need to acquire them. The best way to do this is to create a customer loyalty program where shoppers exchange information for exclusive access to discounts and offers.
Getting started: Look into customer loyalty software options and choose a structure that works for your business. Create a welcome email and an automated send trigger for new customers added to your system. Then, follow our retail email marketing tips to keep shoppers engaged.
8. Offer Apology Discounts for Logistical or Clerical Errors
Mistakes happen—it's part of running a business. But clerical and logistical errors are not deal breakers for most companies. In fact, 78% of shoppers say they would go back to a brand even after a mistake, so long as customer service helped them reach a favorable resolution.
Offering a fast solution—a replacement or store credit, for example— will take you far and help you amend the situation for your shoppers favorably. If you really want to impress your customers and show them you are sorry for any inconvenience, offer a store discount or cash offer. This will create not only more incentive to keep shopping with you but a positive final impression.
Getting started: Create an apology email template that you or your employees can send out with a custom discount code when issues arise. Create physical coupon cards that employees can offer to customers in-store.
9. Create an Accommodating Return Policy
While it is often difficult for small businesses to offer store credit or extended return windows, you should do what you can to accommodate your customers. Nearly 60% of them expect the return process to be easy and hassle-free, so consider these factors when creating your return process:
Refund speed: More than 70% of customers expect to wait five days or fewer for their refunds to land in their accounts.
Return fees: Offer free returns unless completely unfeasible, like for bulk or oversized orders.
Return window: Extend your return window as long as possible to create shopper assurance. Only around 10% of retail purchases get returned, but you want all shoppers to feel secure in their purchases.
Create flexibility for unpredictable circumstances: You want to be sure that you can offer refunds, store credit, or special offers for situations where the products are damaged, or there are logistical problems.
Getting started: Write a return policy that makes sense for your business and train your employees on its rules. Consider the ways you can make it beneficial to customers and flexible for unexpected situations.
10. Practice Good Inventory Management to Avoid Stockouts
With the internet full of alternate options and ways to buy products, 75% of millennials have abandoned in-store purchases to buy the item online due to stockouts. While you cannot control the supply chain, you can take steps to prevent avoidable stockouts by practicing good inventory management.
If you can keep an eye on your inventory levels and spot when items are running low, you can place re-orders before you run out of stock. Additionally, many inventory management software options allow you to set low stock alerts and automated re-orders when items are low.
Getting started: Devise an inventory management system and choose an inventory management software or create a manual process. Be sure to create a strategy that will spot low stock items, not waiting until items are gone to trigger a response.
11. Equip Your Staff With Product Knowledge
Retail customer service also means that you and your staff can answer questions about your merchandise. This means that your staff needs to be equipped with product knowledge and receive ongoing training to stay up to date. For example, at my store, we had to try on every cut and designer for our denim to understand its fit and stiffness. We also had to try on any new brands we received and learn about the metal composition of our jewelry.
Tip: For stores with more complex or technical products, like outdoor or sports stores, you will want to provide your staff with thorough onboarding training or even require some preexisting expertise.
Getting started: Incorporate product knowledge into your onboarding training and schedule periodic retraining sessions as new inventory arrives. Write down the most important product information where employees can readily access it.
12. Keep Your Store Tidy & Clean
You may not have guessed it, but 64% of shoppers admitted leaving a store due to messy or dirty conditions. The way your store looks, its overall cleanliness, and how well it is organized play large factors in customers' ultimate impression of your brand, so you will want to be sure to maintain a clean space at all times.
Create cleaning procedures for opening and closing your store, and ensure that staff is returning items and keeping things in their place throughout the day. These daily tasks will ensure that your customer can navigate and find things in your space easily and that things stay clean and sanitary. Likely, there will also be some procedures, like dusting and floor cleaning, that can be done weekly rather than daily.
Getting started: Include cleaning and organizing tasks in your opening and closing procedures and ensure that staff is trained to keep your store organized throughout the day.
13. Make Your Customer Base Feel Like a Community
Another way to improve your retail customer service is to use sales and marketing strategies, many of which we've discussed above, to make your customers feel like family. Introduce a loyalty program, use branded and familiar language in your emails and SMS messaging, or hold exclusive sales and events— introduce exclusivity to foster a positive brand impression and customer loyalty.
For example, Andre Assous, a small footwear retailer, held an exclusive 30% off sale for their VIP members. Additionally, they used familiar and exclusive language in their messaging, as you can see in the image below:
Getting started: Either create a loyalty program manually or, as I would suggest, through a customer loyalty program software. Send out emails and texts that use friendly language that also suits your brand. Foster familiarity with your customers in-store by learning their names and shopping preferences or habits.
14. Provide 24-Hour Support Lines
You want to be sure that you have 24-hour retail customer support access so customers can reach you as soon as they run into a question or issue. While this might not mean that you have someone on call 24 hours every day, you should have an email or message center where customers can leave their questions at any time.
Did you know? Customer expectations for customer service response times are faster than ever, with nearly half of consumers expecting a response within four hours.
Be sure that you monitor your customer service email or message center daily and respond to customers as soon as possible.
Getting started: Create a contact form or include contact information on your website so that customers can reach you at any time. Assign yourself or an associate to manage the customer support queries daily. If possible, include a live chat option on your website to accommodate user preferences.
Bottom Line
Creating a strong retail customer service approach and writing your policies will create a positive experience for your shoppers. Ultimately, their satisfaction is what builds loyalty, drives your bottom line, and allows your business to flourish. With the tips above, you are ready to craft an effective retail customer service approach and reap its rewards.
You May Also Like …