General liability insurance costs range from $350 to $2,500 per year depending on your industry and company size. Policies pay for third-party injuries or property damage that could become financially devastating to an uninsured company. Defending liability claims average $75,000, making general liability worth the premium.
Few owners should try to run their business without general liability insurance. However, most also want to need to keep an eye on their bottom lines. Commercialinsurance.NET can help you do both. It works with over 200 carriers, brokerages, and agencies to find the most affordable general liability policy for your business.
What General Liability Insurance Is
Commercial general liability insurance pays for the medical expenses, property damage, or personal injury damages that third parties claim against you. While these are often slip-and-fall accidents, coverage can extend to advertising injury or libel against a competitor, and pays for the actual costs of the claim plus any legal defense required.
Commercial general liability is not required of business owners in most cases, but is the foundation for any business risk mitigation strategy. Liability can exceed tens of thousands of dollars and anyone can make a claim against a company, whether there is merit or not. In some cases, general liability is required by commercial landlords, contracted clients, or state permit offices.
How Much Is General Liability Insurance?
Most small business owners and independent contractors can expect to pay anywhere from $400 to $600 annually for general liability insurance. Costs increase for more litigious or dangerous careers (engineers or doctors), where policies can exceed thousands annually. Rates are contingent on the actual job function, licensing, claims history, business experience, and size of business.
Major carriers often offer general liability insurance as an individual policy or combined with business property in a business owner's policy (BOP). These are often cost-effective ways to get both types of risks covered for less than getting individual policies. BOPs start around $500 annually for many business industries. Major insurance carriers have different appetites for different business industries; pricing often reflects this desire to work with specific businesses.
What Impacts General Liability Insurance Costs
Insurance carriers consider a series of factors when determining general liability insurance costs. Business experience, claims history, industry, and location are just a few items used to determine rates. Two businesses working in the same city with a slightly different history may have a different rate, as could two identical businesses in different cities.
Factors affecting general liability insurance costs include:
Geographic location: Every state is regulated by the state insurance commissioner and has different pricing requirements based on the local economy and industry.
Industry: What a company does affects how much risk there is to the public and will affect pricing. A CPA firm has less risk to company visitors than a restaurant.
Annual revenues: The amount of money a small business brings in annually determines the overall exposure; the more money a company makes, the more business it is doing and the greater chance there is of a claim.
Claims history: A company that has filed a claim statistically has a higher chance of filing a second and even third claim for higher value. This means a claims history increases general liability insurance costs.
On-site or off-site operations: Work done in a small office where few clients come in has less risk than a contractor bringing in major machinery to a residential site. When more people or property are at risk, rates increase.
Typical General Liability Insurance Cost by Industry
Typical costs may not be representative of your actual quote since there are many factors affecting underwriting and premium pricing. Everything from the geographic location to the total revenues of the company affect premium.
Don't guess whether or not you are getting the best pricing for your general liability policy quote. Commercialinsurance.NET can help you find the best-priced policy for your company's needs. The application takes just a few minutes online, and you can usually get covered within 30 minutes.
The Cost of Not Having General Liability Insurance
Small business owners who don't have general liability coverage are liable for 100% of the costs of any claims, lawsuit defense costs, and settlements. Business owners must consider both the most common and the most costly claims when buying general liability insurance policies.
It isn't the $500 property loss claim that small business owners need to be concerned with—it is the $200,000 of damages to a neighboring business due to something that happened as a result of your business operations.
According to the Insurance Journal, small business owners make claims on burglary and theft most often, accounting for 20% of claims but only averaging $8,000. Slip-and-fall injury claims account for 10% of all claims but are more costly, averaging $20,000 per claim. Other types of customer injury or property damage account for less than 5% of all claims but are more expensive on average, at $30,000. One of the least common liability claims is reputation harm, yet this is the most costly on average, at $50,000.
Example of Slip & Fall Accident Claims
Any bodily injury accident, including slip-and-fall accidents, can happen in any business at any time. Even if the accident was 100% the fault of the person who fell, if it happens on the business' property, it is going to result in a general liability claim.
A restaurant is working through a Saturday lunch rush as a busboy runs into a waitress, sending several drinks crashing to the floor. Quickly, the staff clean the glasses and mop up the floor, posting a "Caution Wet Floor" pop-up cone where the spill occurred. An elderly man leaving with his wife slips on the floor and falls, breaking his hip. An ambulance is called and the man remains in the hospital for hip surgery following months of rehab. The cost of the accident exceeds $100,000.
Without commercial general liability insurance, the entire cost would be the liability of the restaurant. The man could sue for damages and effectively put a lien on company assets or revenues. If the general liability policy was capped at $100,000, the policy would pay the medical bills to that limit and the restaurant would be responsible for the balance.
Example of Property Damage Claims
Property damage can happen as a result of a person being on premise or just being near a business that has an incident. Property damage claims could be small items such as smartphones, laptops, or even designer purses. It can also be major assets such as buildings or vehicles.
A baseball coach is working with a group of players to improve their batting swing. They are at a public park on the baseball diamond when a player hits a foul ball that errantly heads toward the parking lot where it hits a Mercedes Benz windshield, shattering it. The damage is $8,000 to replace the windshield and some damaged seats from the glass. The general liability policy of the coach covers this claim.
Example of Reputation Harm Claims
Reputation harm is when a company or person is going to have financial damages resulting from something said or written about a company. Reputation harm could be the result of libel, slander, trademark infringement, or inaccurate competitor comparisons. The claiming party must prove there is a loss of revenue, public reputation (thus sales opportunities), or other personal injury such as no longer being able to get a job because of the insured's actions.
Consider a mobile notary who begins to hire a team of notaries as well as a sales manager to market directly to all the real estate agents and escrow offices in the area. One of his competitors files a lawsuit claiming the business owner has stolen his trademark on "notary services," and is stealing his clients by saying false negative things about his notary competency. The claim is valued at $1 million.
This is a frivolous claim since "notary services" is not a term that can be trademarked nor is the existing business of the claimant generating even one-tenth of the revenue he is claiming in damages. Despite it being obviously frivolous, the mobile notary must defend his case. Fortunately, his $500,000 in liability coverage covered the costs to defend the case. Should he have lost in court, he would have needed to have a commercial umbrella policy to cover the excess damages or be liable for the difference on his own.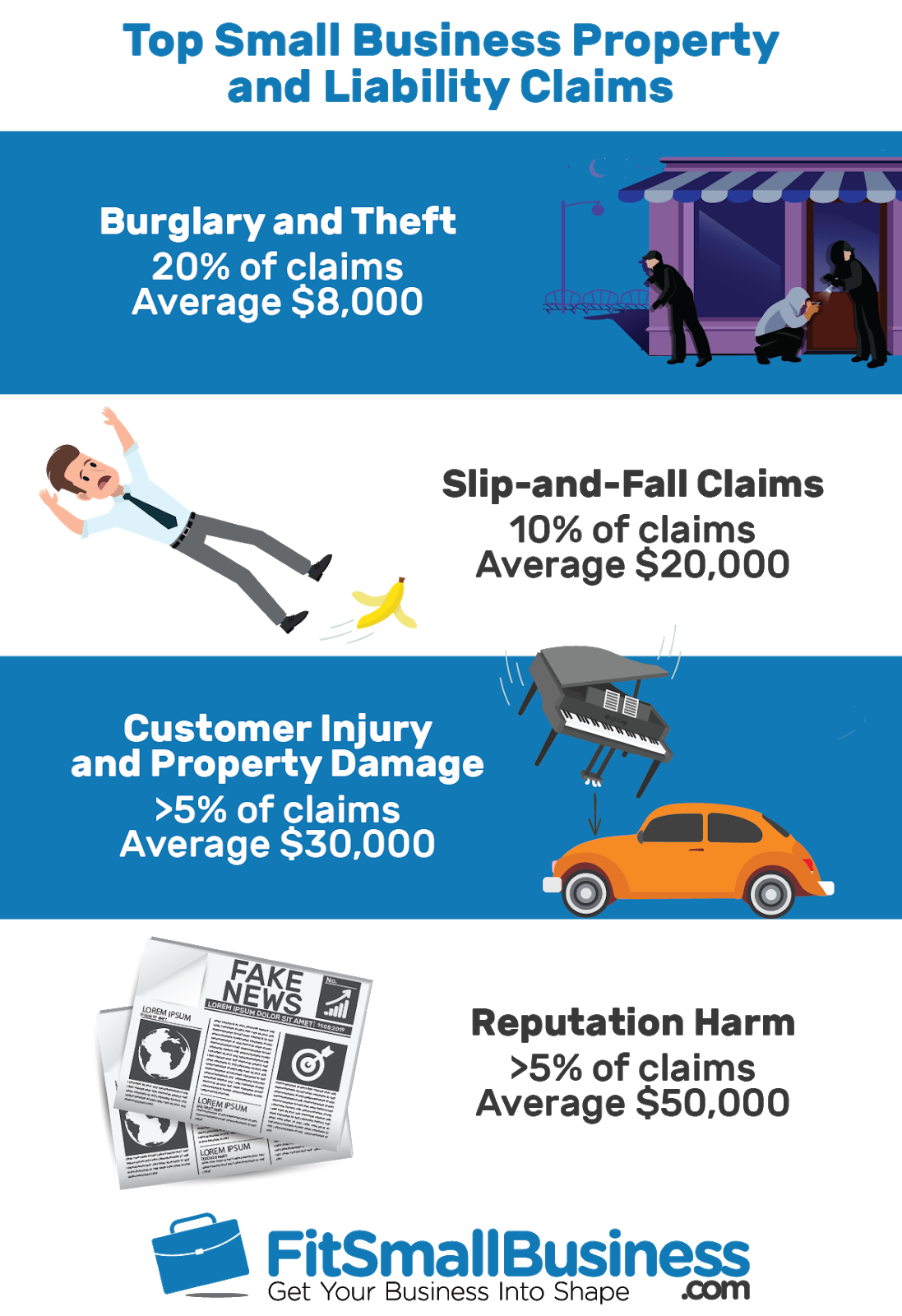 Choices That Determine General Liability Insurance Costs
Business owners looking for the cheapest general liability insurance they can buy need to understand a few basic terms and selection options that partially determine premiums. Most policies will have the total coverage broken down into two limits: per occurrence and aggregate. Additionally, most policies don't have a deductible for standard general liability coverage.
Liability Limits for General Liability
General liability limits for small businesses start at $100,000 in coverage. This is considered a baseline policy to cover most slip-and-fall incidents. However, if you have a landlord or client contract requiring a certificate of insurance (COI) to show liability coverage, their requirements are often greater, starting at $1 million. This the maximum amount the policy will pay in a claim.
Per Occurrence vs Aggregate for General Liability
General liability limits are further broken down by per occurrence and aggregate values. You might see a policy with a "$1 million / $2 million" limit. The first number, $1 million, represents the per occurrence limit that covers an accident or property damage from one event. The second, $2 million, represents the annual policy aggregate for all claims.
Some policies allow you to have equal limits, such as $1 million / $1 million. Most small business owners choose higher aggregate limits so that any one unusual occurrence won't utilize the entire aggregate value.
General Liability Deductible Options
Most general liability insurance policies are written without a deductible, meaning there are no out-of-pocket costs for the business owner when a claim is filed. For businesses with high premiums, some carriers will offer a deductible as a way to reduce annual general liability insurance costs. Deductibles usually start at $1,000 and go up from there.
Claims & General Liability Insurance Costs
While it is true that general liability insurance is there to pay claims so a small business owner doesn't need to, it is important to remember that claims do affect your premium. Whether you are renewing a policy or shopping for a new one, general liability insurance costs go up if you have a claim. It is irrelevant whether the claim is for $1 or $100,000; the effect to your policy premium is the same as determined by insurance carrier underwriting principles.
Additional Small Business Insurance Policies
General liability insurance is the foundation for most big claim protection for a small business, but isn't the only insurance business owners need. Depending on the type of business and whether or not you have employees, there may be other business insurance needs you should fill.
Here are other small business insurance policies types to consider along with general liability:
General Liability Insurance Cost-saving Tips
Cash flow is important to every small business owner, so it's important to get the best insurance coverage without overpaying. Don't buy commercial liability insurance merely based on price; this coverage has to protect you from costly claims. Here are three tips to help you get the right policy while saving as much as possible on general liability insurance costs.
Three tips to help you save money when buying commercial general liability insurance include:
1. Install Safety & Security Systems
Installing safety systems, such as handrails or using hazard signs to reduce claim incidents and injury, helps keep general liability costs down. Security systems help insurance companies review incidents to determine if fraud is occurring or if the claim is valid. Implementing both systems helps reduce commercial liability insurance costs.
2. Double Coverage Doesn't Double the Cost
While personal business properly coverage usually significantly affects premium, doubling your general liability coverage can often be done for a few dollars extra per month. If you are concerned about costly claims, don't rely on having some insurance—get the right amount to save you in the event that a costly claim is filed against you.
3. Consider Combining Coverage in a Business Owner's Policy (BOP)
Many insurance carriers offer business owner's policies (BOPs) that cover several types of risks, including general liability, business personal property, and business interruption insurance. By combining these into one policy, insurance carriers have less underwriting involved with reduced administration of multiple policies, which means better pricing for small business owners.
General Liability Insurance Costs Frequently Asked Questions (FAQs)
General liability is the cornerstone of most business insurance policies. Understanding how your business is at risk not only helps you get the right policy, but it protects against claims. The following are some of the most common questions about commercial general liability insurance.
What is the difference between commercial general liability & general liability?
Commercial general liability and general liability both provide protection against the same type of third-party claims. Commercial general liability specifically identifies the policy as a business policy, while general liability could refer to third-party claim coverage for individuals or as components of other business policies, such as a business owner's policy (BOP).
Does commercial general liability insurance cover theft?
Commercial general liability does not cover theft, worker's compensation claims, or professional liability lawsuits. General liability covers accidents that happen as a result of business operations that are not the fault of anyone's professional actions. Examples of general liability insurance claims are slip-and-fall accidents. Theft is covered under a business contents and property policy.
Do I need commercial general liability insurance?
Commercial general liability insurance is not required to be a business owner unless your landlord, client, or city business licensing department requires it from you. While it isn't required in all business instances, it is one of the most important ways a business owner can protect against claims that might otherwise financially devastate a company.
Bottom Line
A commercial general liability insurance policy pays costs associated with claims where customers or members of the public are accidentally injured or experience personal property damage resulting from business operations. Claims and lawsuits are often in the tens of thousands of dollars but can exceed millions in damages, which is why every business should have general liability insurance.
Rather than shop for commercial general liability insurance policies on your own and wonder if you are getting apples-to-apples quotes, visit an online broker like AP Intego, which will take one quick application about your business to shop insurance on your behalf. AP Intego is known for placing risks with top-rated carriers, helping clients get the best coverage for the best possible price.