Host Merchant Services Review 2023
This article is part of a larger series on Payments.
Host Merchant Services (HMS) is a traditional merchant account services provider that supports low-risk and high-risk merchants as well as nonprofits. It also offers a free payment processing account and a small ticket program for micro-businesses.
In our evaluation, HMS scored a respectable 3.87 out of 5, primarily for its low interchange fees and pay-as-you-go contracts. However, Host Merchant Services does not offer many business management tools and lacks same-day funding options. A monthly merchant account and payment gateway fee along with poor user reviews also prevented HMS from making our list of best merchant services.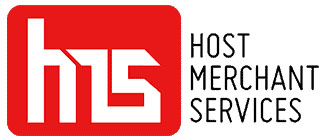 Pros
Special programs for nonprofits and micro-business
Offers free payment processing
Works with high-risk merchants
Large range of payment integrations including PayPal
Cons
Merchant account and payment gateway monthly fee
Limited subscription management tools
No instant funding option
Lacks business management integration
Poor user reviews
Supported Business Types

Flexible

Retail, restaurant, professional services, nonprofit, high-risk

Standout Features

Free online payment tools
Hosted payment pages
Mobile payment app
Guided chargeback dispute resolution
Ecommerce platform integrations
QuickBooks integration

Monthly Software Fees

Competitive

Merchant account fee: $14.99
Payment gateway fee: $5 (optional)

Setup and Installation Fees

$0

Contract Length

Pay-as-you-go

Point-of-Sale Options

Clover POS, Vital POS, Bonsai POS

Payment Processing Fees

Very competitive

Card-present fee: Interchange plus 0.20% + 9 cents to 0.25 % + 10 cents
Card-not-present fee: Interchange plus 0.35% + 10 cents
Nonprofits:1.35% + 0.05 cents
Domestic ACH Transfers: $0.20–$1.50

Customer Support

24/7 phone and email support
Extensive user knowledge bases
| | | | | |
| --- | --- | --- | --- | --- |
|   | | | | |
| Best for | Businesses processing $10,000+ monthly | High-volume sales ($20,000+ monthly) | Small businesses, especially those with low sales | Infrequent and online businesses |
| Monthly fee | Starts at $79 | Starts at $99 | $0 | $0 |
| Card-present transaction fee | Interchange + 8 cents | Interchange + 8 cents | 2.6% + 10 cents | 2.29% + 9 cents |
| Keyed transaction fee | Interchange + 18 cents | Interchange + 18 cents | 3.5% + 15 cents | 3.5% + 49 cents |
| Ecommerce transaction fee | Interchange + 18 cents | Interchange + 18 cents | 2.9% + 30 cents | starts at 2.59% + 49 cents |
| | | | | |
When to Use Host Merchant Services
For low-cost payment processing: Offers discounted rates for micro-businesses with small ticket sales
For high-risk businesses: Though currently not on our list of best high-risk merchant accounts, HMS also supports various high-risk businesses
For high-volume sales: Charges interchange-plus rates with low markup ideal for large-volume businesses
For free credit card processing: Offers cash discounting program to qualified merchants
When to Consider Host Merchant Services Alternatives
For free merchant services: Host Merchant Services charges monthly merchant account and payment gateway fees. Consider our list of free merchant accounts.
For occasional sellers: Merchants will have to pay a monthly fee regardless of inactivity. Consider a mobile point-of-sale (POS) or payment app instead.
Subscription-based retailers: Consider other payment processors that offer subscription management tools and stored payments like Stax. Read our Stax review.
Looking for the lowest rates? Leading merchant services providers offer custom payment processing rates based on your business size, type, and average order value. To find the most affordable option for you and compare multiple processing rates, read our guide to the cheapest credit card processing.
Host Merchant Services Overview
Host Merchant Services recently removed its expensive early termination/ inactivity fees of $250–$500. It also now offers month-to-month contracts for most merchants.
I have reviewed Host Merchant Services a few times in the past, specifically for its high-risk merchant processing features. Admittedly, HMS has strong merchant account services tools but the high incidental fees held it back from ranking higher in our evaluation. However, with its recent payment processing fee changes, I felt it was high time to take a closer look at this provider.
With its interchange-plus rates and very low monthly fees, HMS is a strong option for high-volume businesses. It even offers discounted rates for businesses that sell low-ticket products or services, mobile processing for contractors, and cash discounting programs for businesses looking for free credit card processing.
However, Host Merchant Services still charges a monthly fee, so recommending it for occasional sellers and startups looking for a free merchant services provider is mostly out of the question. And while it supports subscription-based retailers, other providers like Stax and Stripe offer significantly better features. Learn more in our reviews of Stax and Stripe.
The HMS pricing model follows popular traditional merchant services providers that offer low monthly subscription fees and interchange plus rates. It also offers a variety of discounted transaction rates for certain merchant types. While its average monthly fee is comparatively lower, Host Merchant Services does charge a higher percentage markup, which cost it a few points in our evaluation.
Host Merchant Services Payment Processing
Retail

Restaurants

Ecommerce*

0.25% + 10 cents

0.20% + 10 cents

0.35% + 10 cents

Card-present
Visa, MasterCard, American Express, Discover Apple Pay, Android Pay, and PayPal
Next-day funding
24/7 Customer support
Online reporting

Card-present
Visa, MasterCard, American Express, Discover Apple Pay, Android Pay, and PayPal
Next-day funding
24/7 Customer support
Online reporting

Card-present
Visa, MasterCard, American Express, Discover Apple Pay, Android Pay, and PayPal
Next-day funding
24/7 Customer support
Online reporting
*Be sure to ask HMS if you have a storefront business looking to expand to online ordering and delivery.
Other fees:
Monthly account fee:

Standard: $14.99/month
Gateway fee: $5–$10/month (optional)
Free credit card processing: $0/month ($5,000 and up monthly sales volume)
Free credit card processing: $20/month (less than $5,000 monthly sales volume)

Nonprofits: 1.35% + 5 cents
Domestic ACH Transfers: $0.20–$1.50
Small ticket program rates: Interchange + 5 cents (Visa), Interchange + 4 cents (Mastercard)
Annual 1099 reporting fee: $24 per year
Address verification fee: $0
Early termination fee: $0
Chargeback fee: $15
The small ticket program is a merchant account type designed by Host Merchant Services for businesses that consistently process $15 or less in transactions. It allows merchants to qualify for lower Visa and Mastercard rates (1.6% for Visa, !.55% for Mastercard) while HMS only charges 4 or 5 cents per transaction. However, this program is also limited to certain business types as identified by the card networks.
Visa

Local Commuter Transport
Limos & Taxis
Bus Lines
Bridge & Road Fees/Tolls
Grocery Stores/Supermarkets
Convenience Stores
Service Stations
Fast Food Restaurant
Drug Stores

Book Stores
News Dealers, Newsstands
Dry Cleaners
Quick Copy, Reproduction & Blueprint
Parking Lots & Garages
Car Washes
Motion Picture Theater
Video Tape Rental Stores
Post Stamps/Government Only

Mastercard

Transportation
Limousines & Taxi
Bus Lines
Bridge & Road Fees/Tolls
Misc. Food Stores/ Convenience
Restaurants
Fast Food Restaurants
News Dealers and Newsstands

Dry Cleaners, Laundry Services
Quick Copy, Reproduction & Blueprint
Parking Lots & Garages
Car Washes
Motion Picture Theaters
Video Rental
Postal Services-Government Only
Host Merchant Services Hardware
According to HMS, 98% of its merchants qualify for free credit card terminals and processing equipment. This includes most merchant services such as EBT and medical payment processing. It supports a number of point-of-sale (POS) solutions that come with mobile credit card readers, as well as traditional credit card machines. You will need to contact HMS for pricing.
Swipe, EMV, NFC payments Enabled (chip cards)
iOS, Android, and Windows mobile
Handles Dual Pricing
Offline payment processing

Android and iOS
Bluetooth connectivity
Magstripe, EMV, NFC (C4)
Magstripe, EMV (C3)
Electronic signature capture

Android and iOS
Contactless, chip, and swipe
Ready out of the box
Wi-Fi connectivity
---
Android stand-alone POS
EMV, Swipe, NFC payments
Camera and Fingerprint Reader
Barcode Scanner
Table side ordering and payments
Bill Splitting
Cash Discounting

Android OS
EMV, Swipe, NFC payments
4G, Wi-Fi, Bluetooth Connectivity
Built-in Camera
Thermal printer

EMV, Swipe, NFC payments
Ethernet and Wi-Fi Connectivity
Color Display Touch Screen
Thermal printer

EMV, Swipe, NFC payments
Ethernet, Wi-Fi, Dial-up Connectivity
Thermal printer

EMV, Swipe, NFC payments
Ethernet, USB Dial-up Connectivity
Thermal printer
Check out other traditional card terminals for Host Merchant Services
Note that Host Merchant Services also reprograms card readers and payment terminals. Free EMV terminal are available for businesses that process $20,000 per month in sales volume.
---
Kitchen Display System
Clover Station Duo POS
Clover Station Solo POS
Clover Mini POS
Clover Flex POS
Clover Go

Vital Select E15
Vital Select X8
Vital Mobile C3
Vital Mobile C4

HMS proprietary POS
Bonsai Pro POS (Workstation)
Bonsai POS Lite (mobile)
---
Contract & Merchant Agreement
As with all traditional merchant account services providers, Host Merchant Services requires businesses to submit a form and supporting documentation before being approved of a dedicated merchant account. There are no long-term contracts and approval for most types of merchant accounts (even high-risk businesses) can be as fast as 24 hours after all requirements have been submitted.
Tip: For faster processing, fill out the merchant application form electronically.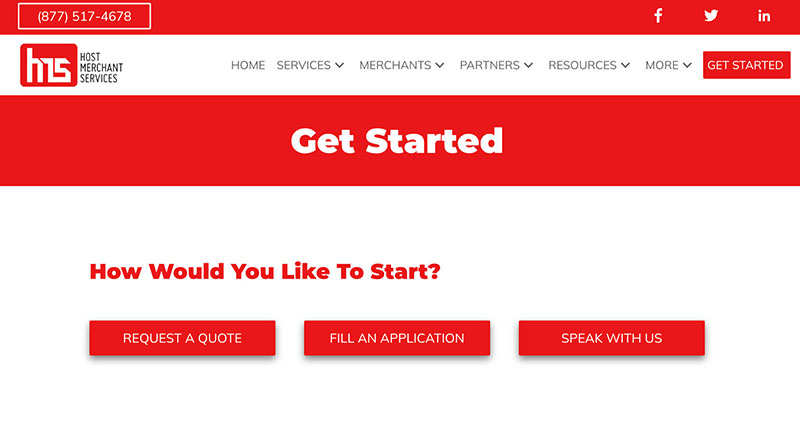 ---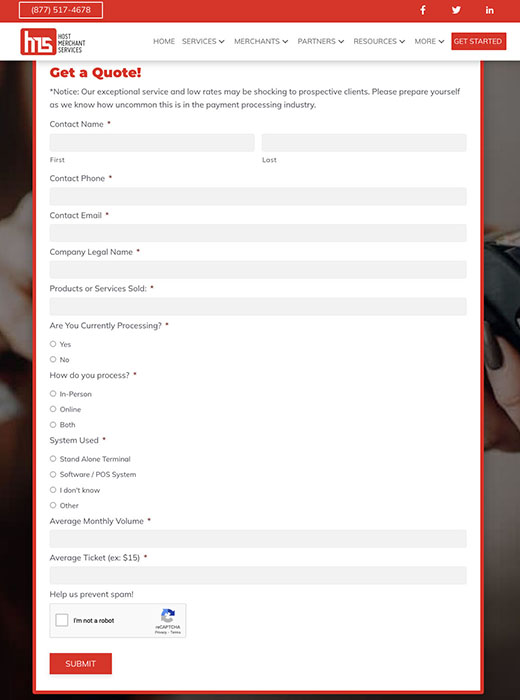 ---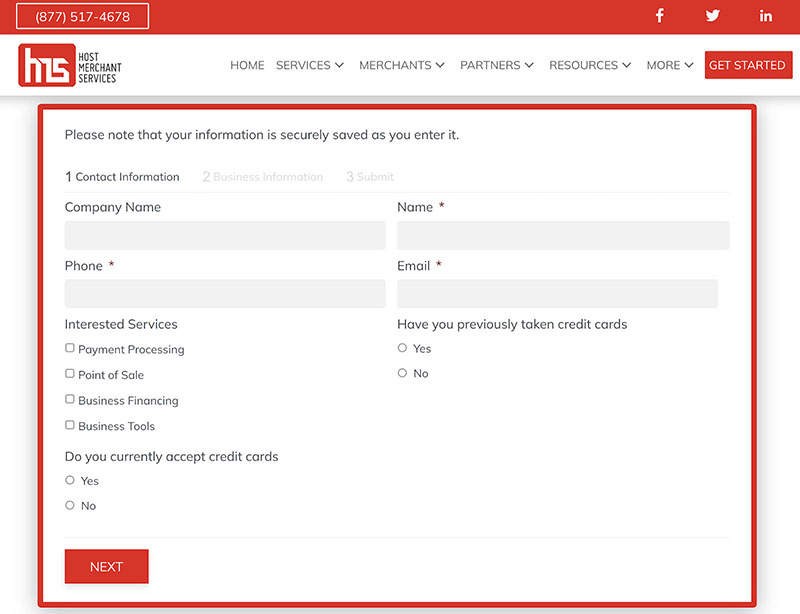 ---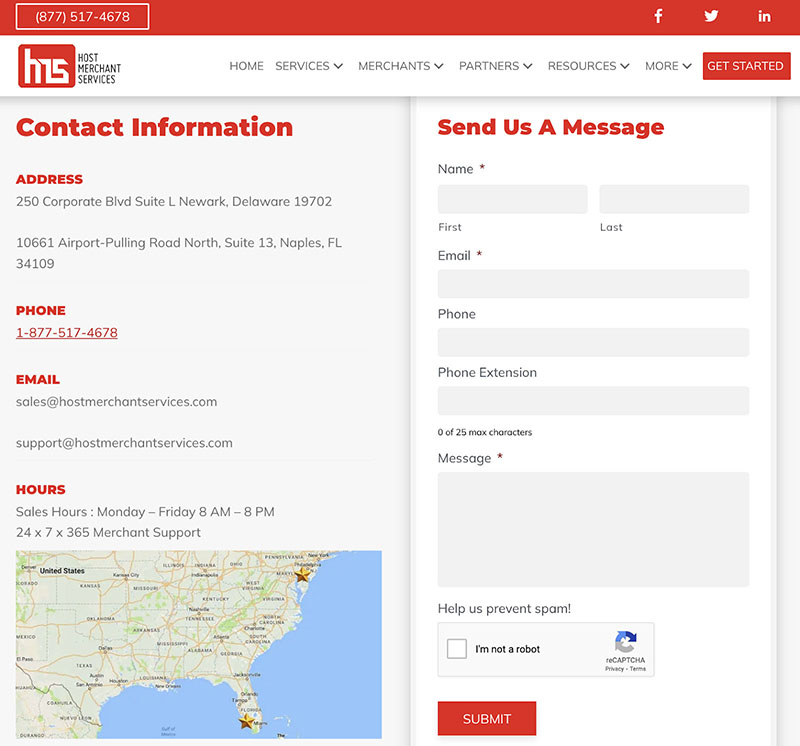 ---
Note that by default, businesses with an HMS merchant account come with a $100,000 data breach protection with TrustWave and likely impose an additional fee. If you do not wish to include this service, you will need to fill out a form on the website.
Review Host Merchant Services' terms of service before applying for a merchant account. You can prepare questions specific to your business beforehand.
HMS earned a respectable score for payment types. While it offers both in person and remote payment methods, some services such as payment gateway will cost merchants an additional monthly fee depending on the features they need. This provider also lost points for its lack of a native mobile payment processing service.
Mobile Payment Processing
In the past, Host Merchant Services offered HMSPay as a free mobile payment app for Android and iOS. At present, however, this provider relies on SwipeSimple, Clover, and Vital for its mobile payment processing service.
Those interested in a contractor merchant account may end up using a different mobile payment app altogether. HMS does not specify the app they provide for this merchant type but does describe the hardware as a "swiper," which may simply mean a mobile credit card swipe reader attached to a mobile device with a downloaded app.
App features include:
Low locked-in interchange-plus rates
Payment data capture
Authorize and capture charges immediately
Authorize and reserve funds immediately
Digital receipts
Process voids, credits, and refunds
Contact Host Merchant Services for more information.
Ecommerce
Host Merchant Services offers a flexible ecommerce solution by working with various website builders and shopping cart providers. Like PaymentCloud, integration and compatibility are the key features for this payment service so it's unlikely that you will need to replace whatever website platform or shopping cart you currently use to get an HMS merchant account.
It also supports a wide range of virtual terminals and payment gateway solutions which we will go over in the following sections.
Virtual Terminal
Merchants have the option to choose between Host Merchant Services' proprietary virtual terminal platform and a number of virtual terminal integrations. With HMSPay by Host Merchant Services, you can accept ACH, e-check, and Level 3 credit card payments. It also lets you generate electronic invoices, accept recurring payments, and set automated surcharging. HMSPay even has multi-merchant ID capability for high-risk merchants.
If you are looking for a hosted payment gateway feature and an API gateway integration, you can use HMSPay to avoid paying a payment gateway monthly fee.
Other supported third-party payment gateways are:
Authorize.net
NMI
SwipeSimple
Transit by TSYS
USAePay
CardPoint
FluidPay
Payment Gateway
Host Merchant Services integrates with most payment gateway platforms, although there's an added monthly fee depending on which service you choose. HMS offers a list of its preferred partners but you can also check if your current payment gateway service provider is among the list of other third-party integrations available.
Featured Payment Gateway Partners
Basic $5/month

No TXN Fee
Virtual Terminal Wallet
Recurring Payments
Tokenization

Advanced $10/month

Includes Basic
ACH Processing
ProcessNow Mobile
Rambler Swiper card reader

$9/month

$0.05 Per Transaction
Virtual Terminal Wallet
Supports Recurring Payments
Tokenization
Wide Support for Web Apps
Mobile App and EMV Swiper Supported
Tokenization
Quickbooks Sync including QB Online

Basic $7/month

$0.06 Per Transaction
Gateway and Virtual Terminal services
NO TOKENIZATION
Wide Support for Web Apps

Bundled $10/month

$0.08 Per Transaction
All Basic Features
Tokenization
Quickbooks Sync
ACH /e-check
Level II and III Data Processing
Multiple MIDs
Other supported payment gateways are:
Authorize.net
PayPal Payflow Pro
PayTrace
Recurly
PaySimple
USAePay
BridgePay
Cybersource
Beanstream
International Payments Processing
Host Merchant Services also provides a separate merchant account service for cross border payment processing with partnerships from a variety of offshore acquiring banks. So if you have an ecommerce business that accepts payments outside the US, HMS can match you with the right acquirer for your business type. This is specifically useful for high-risk or high-volume businesses.
Free Credit Card Processing
Any business type that does not require tip adjustment features is qualified for Host Merchant Services' cash discounting program. This merchant account comes with no long-term contracts, next-day funding, free card terminals, and 24/7 live phone customer service. Approvals take less than 2 business days and all you need to do is fill up a short application form.
There are no monthly fees for businesses that process $5,000 and up in monthly sales volume, otherwise it's $20 per month.
High-risk Merchant Account
Host Merchant Services has always been a popular high-risk merchant account provider. It makes all types of payment methods and transaction options available to this merchant type. The HMSPay virtual terminal supports multi-merchant account ID and offers international merchant account services ideal for businesses often classified as medium/high-risk.
While HMS offers a long list of payment gateway partners, it falls slightly short of PaymentCloud that's payment gateway agnostic. On the other hand, HMS claims that their simplified price rates apply even for high-risk merchants. PaymentCloud can adapt to a similar pricing method, but rates may vary.
EBT Merchant Services
Host Merchant Services also supports Electronic Benefits Transfer (EBT) payments. Businesses that are already registered in SNAP (Supplemental Nutrition Assistance Program) are qualified to apply for this payment service. You will need a PIN debit card terminal, which HMS can program and provide. Once approved, set up can be completed in two to three business days.
Although Host Merchant Services comes with a suite of payment processing features, it did not do as well as I thought it would in this criteria. While it has excellent 24/7 customer support in place and a wide range of integrations, other things, such as a lack of same-day funding options and very limited software or tools included in a Host Merchant Services account, hurt its score.
Gift Cards and Loyalty
Accepting gift cards as payments is also available with Host Merchant Services. Beyond payment processing, HMS offers merchants the ability to create gift cards and even set up a loyalty program—something you usually see with point-of-sale (POS) service providers. HMS works with merchants to create a customized program where they can choose from Gift Card-Only, Loyalty-Only, or Gift Card and Loyalty services.
However, be sure to check for any additional fees including any special transaction rates related to this service.
Deposit Speed
Host Merchant Services offers next-day funding. Like Stax and Payment Depot, there are no options for same-day deposits. Standard batch settlement deadlines are from 3 p.m. to 8 p.m., depending on where you are in the US. However, deposits sent on a Sunday will be credited on the following Tuesday. HMS allows merchants to set automatic deposits every day from their merchant dashboard.
Integrations
On top of its proprietary POS solution, Bonsai POS, Host Merchant Services is also compatible with a long list of POS integrations. It also integrates with other payment software solutions such as billing and other SaaS Payments platforms including NetSuite. Business management integration, however, is limited to QuickBooks.
Some software integrations include:
3Delta Systems
Bill !st
Booker
CAP Software
CAYAN Payments
DataCap Systems
HostBill
Lightspeed Retail
Oracle Micros
NCR
Payflow from PayPal
Digital RX
PrestaShop
Aloha NCR
Shift4 Payments
SwipeSImple
TouchBistro
DPM Serving Solutions
Braintree
Lavu
Revel
FoodTec Solutions
ClubReady
PropertyInfo
Talech
Customer Support
Host Merchant Services offer 24/7 customer phone support for its merchants. There's also an FAQ and Knowledgebase page on its website.
In the years that I have been reviewing merchant processors, it's always been disheartening to not be able to recommend a provider with great services due to pricing policies not ideal for small businesses, as was the case for Host Merchant Services. However, this has changed with the provider now clearly advertising rates and removing cancellation fees and long-term contracts. Overall, Host Merchant Services looks promising.
There are not a lot of merchant processors that separate their plans according to merchant type while also offering interchange-plus rates. I like that HMS provides specific merchant accounts for a wide range of business models from contractors to nonprofits. So, choosing a merchant services program is practically a no-brainer.
Its subscription-based pricing is very similar to most traditional merchant account services providers, but with a few wins and losses. Host Merchant Services has a lower average monthly fee and does not charge a monthly subscription for accepting ACH transactions. It can even offer wholesale interchange rates like Stax, for merchants under the HMS small ticket program.
However, after comparing it to other popular merchant processors, I find that Host Merchant Services lacks strong subscription management features. It has a huge list of software integrations, but business management tools are very limited, and hardly any of them come free. Other processors offer more for their monthly fees.
What Users Say in Host Merchant Services Reviews
There are very few user reviews for Host Merchant Services and whatever is there does not help in terms of popularity.
Trustpilot: On Trustpilot, HMS scored 2.9 out of 5 stars from 27 reviews. User feedback is mostly positive but a couple of new 2-star and 1-star scores really hurt its overall average.
Consumer Affairs: Similarly, Consumer Affairs rates HMS 2 out of 5 stars from 125 reviews, but a closer look into the latest individual reviews seems to be generally favorable.
Better Business Bureau (BBB): BBB gives Host Merchant Services an A rating. There are zero user reviews and 3 complaints so far. The latest of which was filed in 2021 and was resolved within three months.
While there is very little user feedback, the common themes are as follows:
PROS

CONS

Responsive customer support team
Held funds
Competitive rates
Complaints on quoted vs actual rates
Expert onboarding
Communication issues with sales consultants
Methodology—How We Evaluated Host Merchant Services
We test each merchant account service provider ourselves to ensure an extensive review of the product. We start by comparing pricing methods, giving preference to those that offer zero monthly fees, pay-as-you-go terms, and low transaction fees. We then evaluate its range of payment processing features, scalability, and ease of use.
We use these criteria to examine the best overall merchant services. However, we adjust the criteria when looking at specific use cases, such as for different business types and merchant categories. This is why every merchant services provider has multiple scores across our site, depending on the use case you are looking for.
Click through the tabs below for our overall merchant services evaluation criteria:
25% of Overall Score
We awarded points to merchant account providers that don't require contracts and offer month-to-month or pay-as-you-go billing. Additionally, we prioritized providers that don't charge hefty monthly fees, cancellation fees, or chargeback fees and only included providers that offer competitive and predictable flat-rate or interchange-plus pricing. We also awarded points to processors that offer volume discounts, and extra points if those discounts are transparent or automated.
30% of Overall Score
The best merchant accounts can accept various payment types—including POS and card-present transactions, mobile payments, contactless payments, ecommerce transactions, and ACH and e-check payments—and offer free virtual terminal and invoicing solutions for phone orders, recurring billing, and card-on-file payments.
25% of Overall Score
We prioritized merchant accounts with free 24/7 phone and email support. Small businesses also need fast deposits, so payment processors offering free same- or next-day funding earned bonus points. Finally, we considered whether each system has affordable and flexible hardware options and offers any business management tools, like dispute and chargeback management, reporting, or customer management.
20% of Overall Score
We judged each system based on its overall pricing and advertising transparency, ease of use (including account stability), popularity, and reputation among business owners and sites like Better Business Bureau. Finally, we considered how well each system works with other popular small business software, like accounting, point-of-sale, and ecommerce solutions.
*Percentages of overall score
Bottom Line
With over 13 years of existence, Host Merchant Services is no doubt, one of the more experienced merchant processors in the industry. It designed merchant accounts to target almost every business model and offers affordable interchange plus rates, low monthly fees, and month-to-month contracts. Small businesses looking for a dedicated merchant account and particularly those with high-volume, low-ticket sales should definitely look into HMS.