How To Get Your Product in Target: 8 Steps To Take
Selling your products at Target is a lot different than selling on Amazon. While almost anyone can open up a merchant account with Amazon and start selling products online, Target has a more rigorous vetting process. You'll need to prove your products are worth being in its stores—and that means you need high-quality items at an extremely affordable price point, not to mention the ability to scale operations to meet increased demand.
If you have solid manufacturing and supply chain capabilities and big growth plans for your product-based business, expansion into Target stores could be the next step. Here's how:
Step 1: Understand Target's Rules & Requirements
Unlike Amazon or Walmart, Target has fairly strict guidelines about which products and merchants it accepts. All products must meet Target's safety and quality assurance standards, and Target is especially stringent when it comes to children's products. Every product must meet regulatory requirements as well as undergo third-party testing. Look at Target's product safety testing processes to get an idea of what you'll need to go through.
If you want to sell books in Target, make sure they're not about any topics Target has deemed off-limits.
You'll also want to review Target's Rules of Use document to get an idea of the nature of the relationship.
Dropshipping on Target
Dropshippers also have specific requirements:
Have a dedicated resource for day-to-day management.
Fulfill orders within 24 hours.
Work with all carriers and shipping services.
Include a Target.com-branded packing slip with every shipment.
Send and receive all required electronic data interchange (EDI) documents in a timely manner.
Responsible Product Sourcing & Standards of Engagement
All Target suppliers must maintain transparency and inform Target about where all factories and manufacturing takes place. The Responsible Sourcing Audit Program means sellers can be audited at any moment so Target can investigate supply chains and manufacturing processes to make sure they meet the retailer's standards. Those standards include no illegal business practices, noncompliance, unauthorized subcontracting, and improper wastewater management, among others.
Target wants all suppliers to maintain both responsible product sourcing and ethical business practices. This means no bribing, forced labor, harassment, or excessive overtime. Read its Standards of Vendor Engagement for full details.
Supplier Diversity
As part of Target's diversity and inclusion initiatives, it has rolled out Supplier Diversity standards. As such, the company has committed to investing in, opening access to, and sharing expertise with companies that are 51% owned, controlled and operated by women; Black, Indigenous, and people of color; LGBTQ+; and/or veterans or persons with disabilities.
If you fit within any of these categories, you might qualify for some of Target's Supplier Diversity programs and benefits.
Step 2: Register Your Business
Once you understand Target's requirements and decide your business or product idea fits the bill, you'll need to provide proof of business registration. If you haven't already, register your business in its local jurisdiction—whichever state you plan to operate from. After your business is registered, you'll need to provide proof to Target.
Step 3: Get Business Insurance
Target also requires merchants to insure their businesses. Business insurance protects your assets in worst-case scenarios. If you don't have business insurance already, check out our articles Best Small Business Insurance Companies and Best Business Insurance Brokers to help you get started. After you get business insurance, you'll need to provide proof to Target.
Step 4: Set Up EFT
Target pays domestic sellers via electronic funds transfer (EFT). This means you'll need to open a business bank account. Target's accounts payable (A/P) department may also request you to send your routing and account numbers.
Learn more:
Step 5: Set Up EDI for Purchase Orders
Target also requires merchants to use an electronic data interchange (EDI) to receive and process purchase orders (POs). This allows you to manage orders and related expenses.
EDI: Computer-to-computer communication of business information and documents between business partners in a standard, secure electronic format.
Step 6: Get GS1 UPC Codes
Target requires use of the standard GS1 UPC barcodes, which includes a global trade item number (GTIN), universal product code (UPC), and GS1 company prefix as shown below.
Step 7: Prepare Your Pitch
Now that you have all the paperwork and admin covered, it's time to get to the fun part: your pitch. Target puts merchants through an application and vetting process, which involves a pitch in addition to the above requirements. In your pitch, it's important to demonstrate the following:
Product testing to show you exceed Target's product quality standards
Copyrights and patents you might have associated with your product
Market research to prove there's demand and opportunity for your product
Social media and email lists if you have large or impressive followings
Understanding of Target's products and ways your product fits in
Sales data and other proof points that show people love your product and it's a profitable opportunity for the retailer
Press coverage about your brand and product—make sure it's positive
Step 8: Fill Out a Supplier Intake Form
Gather all your materials and sit down to fill out Target's supplier intake form. This form is required if you want your product to be considered for Target.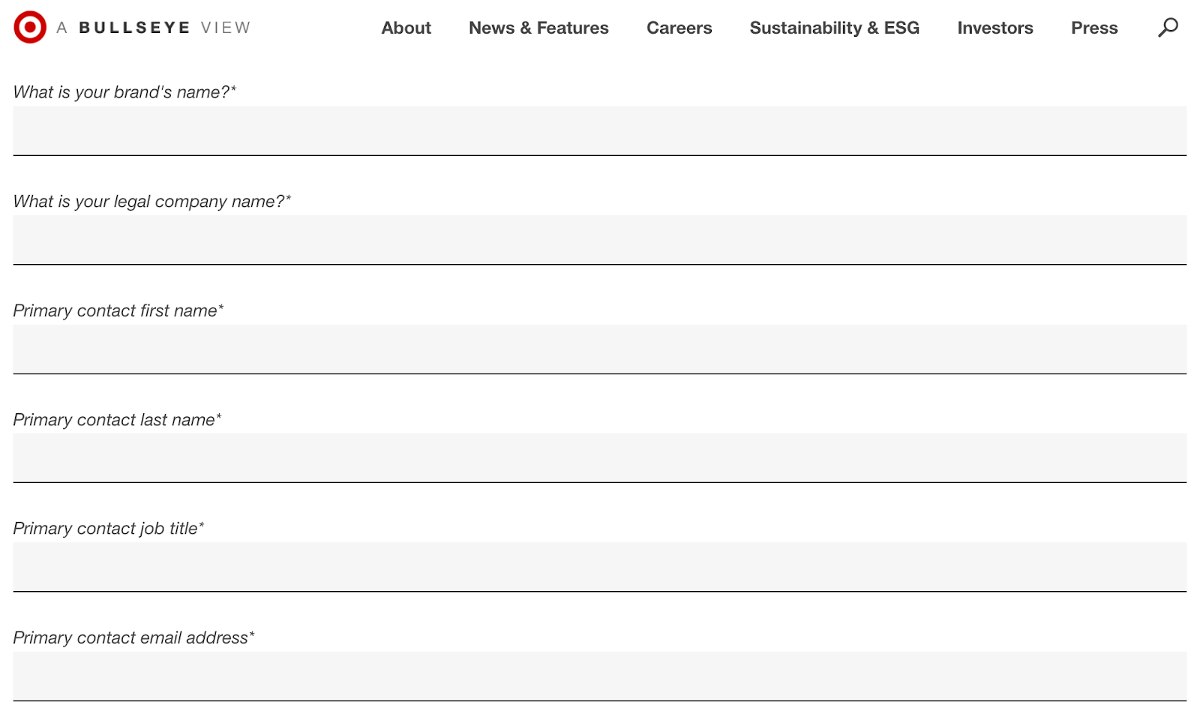 The form will ask for:
Basic personal and business information
Website URL
Social media pages
Your industry and product
Business registration
Actual and projected revenue
Team size
Year founded
Whether you have GS1 certified UPCs
Where you sell
Manufacturing and supply chain capabilities
Average MOQ (minimum order quantity) and lead time
Number of production facilities
EDI and EFT capabilities
Bottom Line
It's more difficult to get your product in Target than on marketplaces like Amazon and Walmart.com, but it's an excellent opportunity if you meet its requirements. Getting your product in Target can put your brand in front of new audiences and boost credibility.
You May Also Like…