Although finding the perfect fit for a sales position can be daunting, following a few simple steps can make the process much smoother and improve your chances for success. Those steps include creating a strong job description, determining the best compensation package for the role, and using job boards and your job ad to target sales reps. We've even created a free checklist to help you.
Looking for a qualified sales representative? Toptal finds, evaluates, and delivers top quality candidates right to you. No more searching through unqualified resumes. Sign up for Toptal today for a no-risk free trial.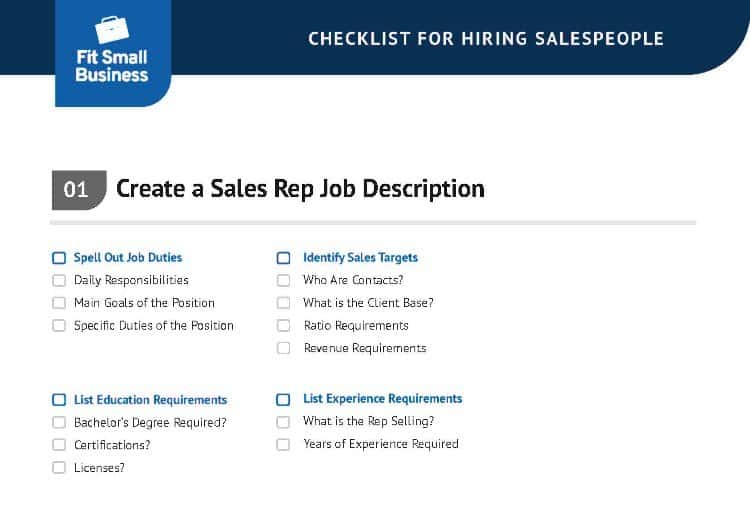 Thank you for downloading!
Quick Tip:
To maximize your chances of hiring sales reps fast, consider posting your sales rep jobs on the largest job board, Indeed.
In addition to free job posts and applicant tracking features, Indeed lets you scour its resume database using a Boolean keyword search to find the best sales talent with the exact right mix of selling skills and product knowledge for your company.
Click here to get started.
Don't forget about ZipRecruiter, too. Its user-friendly platform helps you source top talent with powerful tools like an applicant tracking system (ATS) and a free Highlight Enhancement ($60 value) included with your 4-day free trial. Plan ahead and find success when it comes to hiring stellar reps.
1. Create a Job Description
Every organization knows that hiring for any role, let alone finding the perfect sales representative, is no easy task. Doing your due diligence, though, with a well-crafted job description can help to attract quality applicants and eliminate those who don't meet all of the necessary criteria—saving you time in sifting through applications and streamlining your recruiting process. With clear expectations from the start, it's much easier to find a candidate that fits just right.
Follow these steps to create your job description:
We recommend adding details on the kind of interpersonal skills, product knowledge, and sales volume expected. This ensures that your job applicants understand what exactly it is you're hiring a sales rep to do. This portion of your job description should include:
Daily job responsibilities
Main goals of the position
Specific sales rep duties (cold vs warm calls, lead generation, account management, and more)
Actual numbers and sales volumes help your sales rep candidates determine what kind of sales production is expected. Then, based on their own experience, they can determine whether they can deliver on your expectations.
Some examples of sales targets to include in your job description:
Contacts: Identify 100 new small business contacts each quarter.
Clients: Manage a base of 30 high-volume restaurant clients.
Ratio: Close 40% of inbound sales calls.
Revenues: Average $25,000 per month in new business acquisition.
In some fields, education is crucial but consider whether it's necessary for your industry. Many salespeople find success without formal education, letting you focus on skills-based hiring instead.
If you do desire education, be clear. Describe the type of education you expect applicants to have and note if any licenses or certifications are required.
Most sales jobs are product specific. Therefore, it's a good idea to be clear on what the sales rep will be selling—software, cosmetics, radio advertising time, or used cars. Each product type may require your sales rep to have some product knowledge or experience in that industry.
Here are examples of statements to include in your sales rep job description based on the product/industry you're in.
Farm equipment: Familiar with a specific line of products and farm implements
Cosmetics: Knowledgeable about ingredient mixes for skin type
Cemetery: Knowledgeable about casket, urn, inurnment, and crypt options for patrons
Jewelry: Expertise in gemology, care of precious stones, and methods for pricing gold
Software: Experience selling specific software
Home services: Able to prepare estimates/bids based on customer home repair needs
Vehicle sales: Classic vehicle enthusiast, with expertise selling cars
Media advertising: Experience selling sponsored show and segment media packages
Food and beverage: Hands-on experience selling to busy restaurant and bar owners
2. Decide How to Compensate Your Sales Rep
Once you've decided exactly what it is you want your sales rep to do, you can consider the best way to incentivize the position. There are several ways to pay a sales rep, but the most common is to provide them with some kind of base pay (salary or hourly), along with some pay that's based on performance, such as a bonus or commission. This will vary by industry and sales rep experience, so make sure you're considering all relevant factors when determining a commission structure.
For example, retail employees may make a flat dollar amount for every item sold, whereas software salespeople may make a percentage of the first year's deal value. No matter what you decide, we recommend setting a policy where you only pay a commission after a customer or client has completed their payment.
Hiring sales reps for commission-only jobs is good in some industries where representatives already have a book of business or for deals that pay large five-figure or more commissions. Some sales reps avoid commission-only jobs as they realize that building relationships takes time, and they've got to have the means to pay their bills in the interim.
In general, commission-only jobs are legal in the US, according to the department of labor, as long as the employee's compensation meets or exceeds the state's minimum wage. In fact, those hired as 1099 contract sales reps may not be entitled to minimum wage, and outside sales jobs are also exempt. Be aware that outside sales jobs aren't common today and still require salespeople to go outside the office to a client site to qualify under this exception.
Here are the types of industries in which commission-only jobs are common:
Large commercial or retail products: Includes furniture or equipment sales
Large home improvement sales: Includes roofing, solar, garage doors, or siding
Real estate sales: Both residential and commercial real estate sales and leasing
Merchant services: Includes credit card processing or order management
B2B: Includes media advertising, office space rental, or office equipment like copiers
Workers in commission-only positions still expect to make large sums of money. While the amount a person can make will vary based on the industry, commission-only salespeople are attracted to high-value industries and will expect to make six figures or more.
Hiring commission-only salespeople is probably the most challenging of all. So much of what makes a strong commission-only sales rep is intangible, like drive and the desire to succeed. But much of their success also falls on your company. Do you have the right training program? Do you have the tools and resources available to give your sales reps every chance to succeed? Without these tools, even the best salespeople can struggle and will inevitably leave your organization.
Paying your salesperson a base salary can provide for their income needs but doesn't incentivize them to work harder or cultivate relationships. These jobs are often inbound sales jobs, in which the sales rep takes and attempts to close deals for incoming calls, but doesn't necessarily hit the pavement looking for new clients. Average sales rep salaries run about $61,000 annually, but the range varies substantially based on the industry.
Here are the types of industries in which it's common to pay sales reps a base salary:
Timeshare or vacation package sales
Fitness center or sports medicine
Software sales and service contracts
Hiring for sales reps when you're offering a base salary is usually a bit easier than for commission-only. You'll need to make sure your commission structure is still enticing and incentivizing to keep your salespeople motivated. Make sure you have goals for these reps, too, so they don't become complacent and rely solely on their base salary for their income.
Hourly pay is another way to pay sales reps, with hourly rates typically falling between $25 and $34. Like base-pay sales reps, hourly-pay sales reps receive a base wage plus a commission on items they sell. These positions are often found in industries where the items being sold are lower in price but higher in volume. For example, your soap business may choose to hire a sales rep to help customers choose the best products and scents. Or, you may want a sales rep to work with you on weekends selling artwork at craft fairs or sampling food products at the farmers market.
Here are the types of industries where it's more likely you'll pay your sales rep hourly:
Smaller retailers selling products such as clothing, electronics, consumables, or gifts
Home services like house cleaning, plumbing repairs, lawn care, or pest control
Inbound sales for business services, such as window washing or office maintenance
As mentioned above, hiring hourly-pay sales reps is usually reserved for lower-value items. Hourly pay is also great for new workers exploring their career options. In many cases, this means you'll see higher turnover, but as long as your commission structure is incentivizing, you should have little trouble backfilling those roles.
Bonuses are considered incentive pay. It's a dollar amount of pay over and above your employee's salary that's based on some criteria. It's used to inspire your sales rep to focus on selling a particular item or reaching a sales target. For example, you may pay your retail furniture clerks a bonus of $50 for every sofa they sell. Businesses of all kinds use bonus pay to drive desired selling behaviors or to promote certain product sales.
Here are examples of when using a bonus makes sense:
High-margin product: A bonus may make sense for every sale of an in-home water filtration system or a new HVAC system.
Excess inventory: Perhaps you have excess inventory of a discontinued brand of tire in your service shop—you can provide sales reps a bonus each time that brand is sold.
Reach sales targets: You may want to incentivize your sales rep with a $100 bonus if they book 10 or more new client demos at a trade show.
Sales rep competitions: Consider offering cash and prizes, such as an all-expenses-paid weekend valued at $1,000 for top-producing sales reps each quarter.
Adding a bonus to an existing sales rep commission structure can be a great way to further add incentives to your sales team. You can even run quarterly contests with the winning team or employee getting an extra bonus. You can also use bonuses to incentivize non-sales people who refer clients or customers to your business.
A sales rep compensation package is often a combination of base pay (salary or hourly) and performance pay (bonus or commission). A common mix is two-thirds base pay and one-third incentive pay, but this varies greatly based on the industry and the items and services being sold. That's because the sales cycle often starts with relationship building, and it may take some time before your new sales rep is able to close a deal and begin earning a bonus or commission. In the meantime, they'll need money to pay their bills.
A common way to start new high-value salespeople on your team is to offer a draw. A draw gives your salespeople a base salary that's drawn from their commission. This allows the salesperson to receive money upfront while also being incentivized by the potential for future earnings. You can require that the draw amount be paid back when commissions are paid.
Say you have an employee who has several deals in the pipeline but none have closed yet. You can pay them $2,500 this month, drawn against their future commissions. Next month, one deal closes worth $10,000 in commissions for the employee. They'll receive $7,500 in pay ($10,000 minus the $2,500 draw).
Here are examples of sales compensation combinations you might consider to entice sales reps to apply:
Hourly + Bonus: You may want to guarantee your newly hired sales rep minimum wage to avoid any labor law violations as they're getting up to speed.
Salary + Bonus: Sales reps that you expect to work a standard 40-hour workweek at your location are often paid a base salary, with bonuses added based on performance.
Hourly + Commission: An inbound sales rep may receive an hourly salary, plus a small commission for each sale made, such as $5 for each service appointment booked.
Salary + Commission: A used car sales rep may earn a base salary, plus a percentage commission for each vehicle sold, such as 20% of the profit.
Salary + Commission + Bonus: A sales rep may earn a bonus on top of their salary and commission if they sell add-ons, like $50 for each warranty or underbody coating sold.
Due to state-specific legalities regarding minimum wage and overtime, consider working with an HR consulting service like Bambee to help you establish your sales representative compensation package. Bambee can help you comply with federal and state labor laws with its HR consulting services starting at only $99 per month.
3. Post the Sales Rep Job on a Job Board
Once you've got your job description written and are clear on how you'll pay your sales rep, it's time to post your job opening where job seekers can find it. You'll typically start with a job ad and screening questions and then determine the best job board(s) to use. You may consider a sales-specific job board like SalesJobs (focused on general sales positions) or SalesTrax (focused on tech sales) or one of the highly popular general job boards.
For a list of top job boards, you can post your open sales rep position, check out our guide to the best job posting sites.
Write a Compelling Job Ad
A sales rep job ad is a marketing tool to entice talented salespeople to join your team. However, it also serves to provide enough information to help interested job seekers determine whether the job is a good fit for them, including the pay structure you've decided on for this role. Not every salesperson will be comfortable working under a commission-only structure, for example.
You can write a compelling job ad in a few simple steps:
Use your sales rep job description as a starting point.
Keep your job ad succinct, and use bullets to make it easier for job seekers to read.
Include questions in your job posting so those applying to your job are clearly aware of your requirements.
List experience requirements and set those as "must haves" or "preferred."
Use Pre-screening Questions
To help job seekers assess their qualifications when applying for a job, online job boards like ZipRecruiter (shown below) allow you to add pre-screening questions. For example, ask candidates about their years of selling experience, industry expertise, or level of education. You can also set up common and specific interview questions to automatically send to candidates who apply for your job. Make sure you're avoiding any illegal interview questions.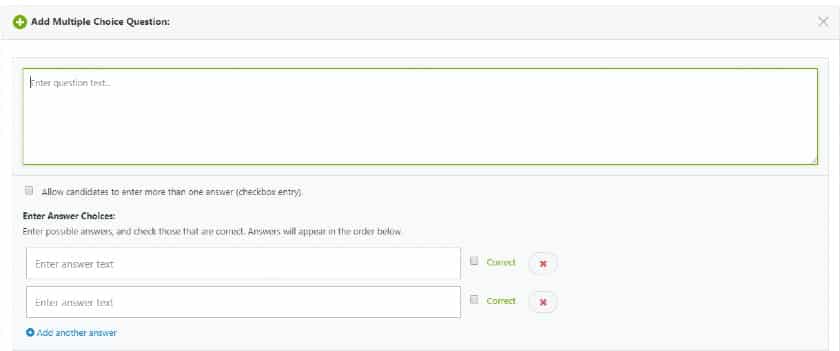 ---

---
4. Screen the Applicants Responding to Your Job Ad
When hiring salespeople, it's crucial to make sure they can do the job. Your sales rep serves as the face of the company by representing your brand. Therefore, it's best to review their applications and schedule screening calls to confirm whether they fit your culture and style in addition to having the job skills you need.
Review Applications & Cover Letters
While a cover letter is nice to have, pay close attention to applicants' resumes. Make sure the resumes match your must-haves for this position. As you review the job application, resume, and cover letter, check to ensure the applicant has the following:
Experience in your industry or with your product line
Basic selling skills, including prospecting and closing skills
Solid communication skills (including a resume and cover letter free of typos)
Satisfactory answers to any questions asked on the application
Verify the Applicant's Job History Online
It's not a bad idea to do a LinkedIn or internet search of the job applicant by name to see if their social media profile matches what they've listed on the job application, resume, and cover letter. If it doesn't match, you may want to pass on that applicant entirely. According to Indeed, some 40% of job seekers lie on their resumes.
Schedule Phone Calls With Top Applicants
Phone screening is a quick and easy way to assess your top picks. It's typically a short telephone call that lets you chat with the job applicant, answer any questions they have, and assess their true interest in the job. For tips on what kinds of questions to ask, read our article on how to do a telephone screening interview.
5. Interview the Most Promising Sales Rep Candidates
Conducting an in-person or video interview with your top three to five candidates is one of the best ways to get a sense of the job seeker's temperament and people skills when you're hiring a sales rep. During the interview, you'll ask them questions about situations they've encountered, such as how they have overcome pricing objections or what to do when a client says they need to get the OK from their partner first.
By using an online job board, like ZipRecruiter, that offers applicant tracking features, you can schedule your interviews, document your feedback, and even make notes about which candidates appear to be most promising.
Scheduling the Interview
Scheduling the interview with a sales rep job applicant is often the most difficult part. Fortunately, there are new text and email scheduling apps available to help you manage multiple interviews and give your job candidates a choice in picking a time that works for them.
Interview Questions
Those wondering how to hire a sales rep are often curious about how to structure an interview or the types of interview questions to ask. Your interview questions should be focused on the job seeker's interpersonal skills, such as listening, as well as their sales experience. Candidates should be able to provide you with examples of how they interact with people and what kinds of sales they've done.
Pay close attention to their body language, tone of voice, and personality. Sales reps must convey a friendly attitude but also be resilient to objections. This is a fine line to walk, and finding someone who can do this well every time is like finding a needle in a haystack.
Keep in mind that some interview questions may violate state or federal labor law, such as asking about family or marital status, age, or criminal background. Below are several helpful guides to give you a starting point for what to ask and what to avoid.
Interview Scorecard
A best practice to ensure fairness across all candidates and avoid discrimination is to use an interview scorecard to keep track of the feedback on each candidate. This is especially true if your sales reps are interviewed by more than one person, such as an HR rep or a department manager. We've provided several examples in our article on interview evaluation scorecards that you can download and customize for your sales rep interviews.
6. Put Your Sales Rep's Job Offer in Writing
Once you find the best candidate, it's time to put your job offer in writing. Your sales rep job offer should include more than a start date and job title; it needs to be specific and should include the job description as an attachment that the candidate signs off on, noting their ability to achieve the requirements of the role. Further, the compensation amount and how it's to be calculated should be included in the job offer letter so that the sales rep understands how they're getting paid.
If you're interested in using an ATS that can provide job offer templates and keep track of those you've hired, consider using ZipRecruiter.
7. Hire & Onboard Your Sales Rep
If you use an ATS, hiring can be simple. You can send the candidate reminders along with forms they need to sign and documents they need to review. If all hiring is done in-house, use a new hire checklist to make sure you don't forget to gather the proper paperwork for your new sales rep, such as their W-4 tax withholding forms or I-9 documentation.
Additionally, onboarding your new hire will require a specific amount of sales training and support to ensure they are successful. Even for highly experienced salespeople, it's crucial that you give them training on your industry, competitors, and the services and products you offer so they're not tripped up by any potential client questions. It's not a bad idea to assign your new hire a peer mentor or trainer to help them acclimate to the new role and learn best practices from a more seasoned sales team member.
Bottom Line
Hiring a sales rep is an important process that requires careful consideration. You need to pinpoint what they're going to be selling and how they will be compensated, post a job, interview, and choose the best candidate. To streamline your hiring journey, consider using an ATS, which can manage these steps for you—saving time in the long run. If you need more assistance, check out our sales management guide.
Make sure top-notch candidates apply by posting on ZipRecruiter—it offers job description templates and applicant tracking features, making it easier than ever before to find the perfect match for your team's needs. Try it free today—get one step closer to finding quality hires fast.