Hiring Salespeople in 7 Steps [+ Free Checklist]
This article is part of a larger series on Hiring.
When hiring salespeople, it is essential to clearly spell out the job requirements along with the salary or commission structure the position will follow. Knowing where to look for great candidates, how to interview them, and what kind of compensation to offer will make the process easier. Before hiring a sales rep, sit down and make a list of all the steps you need to take to successfully hire your candidate. We've created a checklist to help.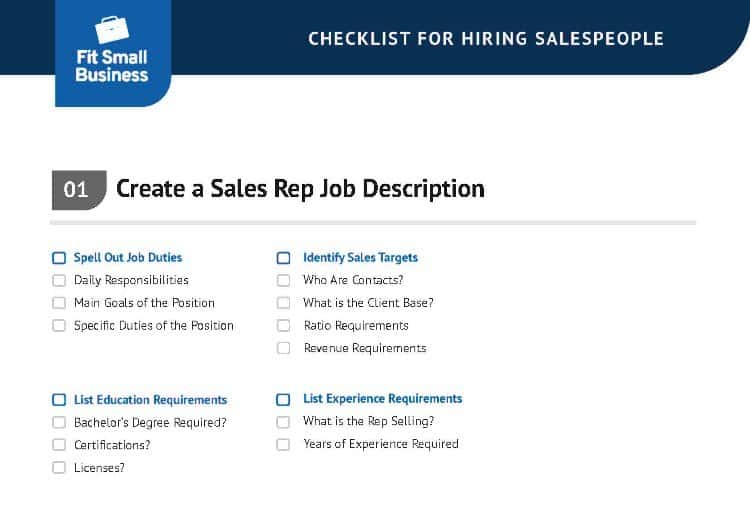 Thank you for downloading!
Quick Tip:
To maximize your chances of hiring sales reps fast, consider posting your sales rep jobs on the largest job board, Indeed.
In addition to free job posts and applicant tracking features, Indeed lets you scour its resume database using a Boolean keyword search to find the best sales talent with the exact right mix of selling skills and product knowledge for your company.
Click here to get started.
ZipRecruiter offers you the ability to advertise your sales jobs and find quality salespeople by posting to over 100 job boards. It also acts as an applicant tracking system (ATS) to help you sort and qualify candidates. In addition to a 4-day free trial, you will receive a free Highlight Enhancement ($60 value) to make your ad stand out.
1. Create a Job Description
As with hiring for any role, hiring salespeople should start with clarifying your expectations. Most professional organizations create job descriptions to spell out these specific requirements.
A good job description can be used as the foundation for your job ad and will entice experienced salespeople to apply for your open job role. It also can be used during the recruiting and interviewing process to weed out unqualified candidates who realize, simply by reading the job description, that they're not right for the job. That saves you time and narrows your candidate pool.
Follow these steps to create your job description:
We recommend adding details on the kind of interpersonal skills, product knowledge, and sales volume expected. This ensures that your job applicants understand what exactly it is you're hiring a sales rep to do. This portion of your job description should include:
Daily job responsibilities
Main goals of the position
Specific sales duties
Actual numbers and sales volumes help your sales rep candidates determine what kind of sales production is expected. Then, based on their own experience, they can determine whether they can deliver on your expectations.
Some examples of different kinds of sales targets to include in your job description:
Contacts: Identify 100 new small business contacts each quarter.
Clients: Manage a base of 30 high-volume restaurant clients.
Ratio: Close 40% of inbound sales calls.
Revenues: Average $25,000 per month in new business acquisition.
Education requirements should be included in your job description. Be sure to state if you require or prefer certain degrees, licenses, or certifications, or if you require a combination of education and experience.
Most sales jobs are product specific. Therefore, it's a good idea to be clear on what the sales rep will be selling—software, cosmetics, radio advertising time, used cars. Each type of product may require your sales rep to have some product knowledge or experience in that industry.
Here are examples of statements to include in your sales rep job description based on the product/industry you're in.
Farm equipment: Familiar with a specific line of products and farm implements
Cosmetics: Knowledgeable about ingredient mixes for skin type
Cemetery: Knowledgeable about casket, urns, inurnment and crypt options for patrons
Jewelry: Expertise in gemology, care of precious stones, and methods for pricing gold
Software: Experience selling specific software
Home services: Able to prepare estimates/bids based on customer home repair needs
Vehicle sales: Classic vehicle enthusiast, with expertise selling cars
Media advertising: Experience selling sponsored show and segment media packages
Food and beverage: Hands-on experience selling to busy restaurant and bar owners
2. Decide How to Compensate Your Sales Rep
Once you've decided exactly what it is you want your sales rep to do, you can consider the best way to incentivize the position. There are several ways to pay a sales rep, but the most common is to provide them with some kind of base pay (salary or hourly), along with some pay that's based on performance, such as a bonus or commission.
3. Post the Sales Rep Job on a Job Board
Once you've got your job description written and are clear on how you'll pay your sales rep, it's time to post your job opening where job seekers can find it. You'll typically start with a job ad and screening questions.
Write a Compelling Job Ad
A sales rep job ad is a marketing tool to entice talented sales people to join your team. However, it also serves to provide enough information to help interested job seekers determine whether the job is a good fit for them. You can write a compelling job ad in a few simple steps:
Use your sales rep job description as a starting point.
Keep your job ad succinct, and use bullets to make it easier for job seekers to read.
Include questions in your job posting so those applying to your job are clearly aware of your requirements.
List out experience requirements and set those as "must haves" or "preferred."
Use Pre-Screening Questions
To help job seekers assess their qualifications when applying for a job, online job boards like ZipRecruiter (shown below) allow you to add pre-screening questions. For example, you may want to ask candidates about their years of selling experience, industry expertise, or level of education. You can also set up common and specific interview questions to automatically send to candidates who apply to your job.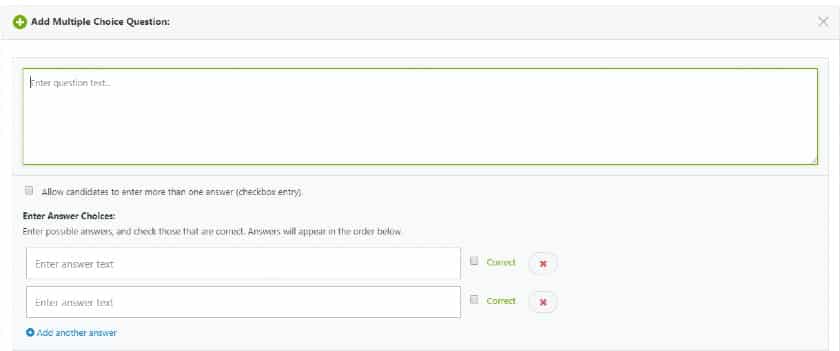 ---

---
For a list of top job boards you can post your open sales rep position, check out our guide to the best job posting sites.
4. Screen the Applicants Responding to Your Job Ad
When hiring salespeople, it's crucial to make sure they can do the job. Further, your sales rep serves as the face of the company by representing your brand. Therefore, it's best to review their applications and schedule screening calls to confirm whether they fit your culture and style in addition to having the job skills you need.
Review Applications & Cover Letters
Sales reps will often submit an online application and attach a resume and cover letter. In fact, many employers won't even bother to consider an applicant who fails to attach these helpful documents, or who leaves blanks on the application form. As you review the job application, resume, and cover letter, check to ensure the applicant has the following:
Experience in your industry or with your product line
Basic selling skills, including prospecting and closing skills
Solid communication skills (including a resume and cover letter free of typos)
Satisfactory answers to any questions asked on the application
Verify the Applicant's Job History Online
It's not a bad idea to do a LinkedIn or internet search of the job applicant by name to see if their social media profile matches what they've listed on the job application, resume, and cover letter. If it doesn't match, you may want to pass on that applicant entirely. According to Indeed, some 40% of job seekers lie on their resume.
Schedule Phone Calls With Top Applicants
Phone screening is a quick and easy way to assess your top picks. It's typically a short telephone call that lets you chat with the job applicant, answer any questions they have, and assess their true interest in the job. For tips on what kinds of questions to ask, read our article on how to do a telephone screening interview.
5. Interview the Most Promising Sales Rep Candidates
Conducting an in-person or video interview with your top three to five candidates is one of the best ways to get a sense of the job seeker's temperament and people skills when you're hiring a sales rep. During the interview, you'll ask them questions about situations they've encountered, such as how have they overcome pricing objections or what to do when a client says they need to get the OK from their partner first.
By using an online job board, like ZipRecruiter, that offers applicant tracking features, you can schedule your interviews, document your feedback, and even make notes about which candidates appear to be most promising.
Scheduling the Interview
Scheduling the interview with a sales rep job applicant is often the most difficult part. Fortunately, there are new text and email scheduling apps available to help you manage multiple interviews and give your job candidates a choice in picking a time that works for them.
Interview Questions
Those wondering how to hire a sales rep are often curious about how to structure an interview or the types of interview questions to ask. Your interview questions should be focused on the job seeker's interpersonal skills such as listening, as well as their sales experience. Candidates should be able to provide you with examples of how they interact with people and what kinds of sales they've done.
Keep in mind that some interview questions may violate state or federal labor law, such as asking about family or marital status, age, or criminal background. Below are several helpful guides to give you a starting point for what to ask and what to avoid.
Interview Scorecard
A best practice to ensure fairness across all candidates and avoid discrimination is to use an interview scorecard to keep track of the feedback on each candidate. This is especially true if your sales reps are interviewed by more than one person, such as an HR rep or a department manager. We've provided several examples in our article on interview evaluation scorecards that you can download and customize for your sales rep interviews.
6. Put Your Sales Rep Job Offer in Writing
Once you find the best candidate, it's time to put your job offer in writing. Your sales rep job offer should include more than a start date and job title; it needs to be specific and can include the job description as an attachment. Further, the compensation amount and how it's to be calculated should be included in the job offer letter so that the sales rep understands how they're getting paid.
If you're interested in using an ATS that can provide job offer templates and keep track of those you've hired, consider using ZipRecruiter.
7. Hire & Onboard Your Sales Rep
If you use an ATS, hiring can be simple. You can send the candidate reminders along with forms they need to sign and documents they need to review. If all hiring is done in-house use a new hire checklist to make sure you don't forget to gather the proper paperwork for your new sales rep, such as their W-4 tax withholding forms or I-9 documentation.
Additionally, onboarding your new hire will require a specific amount of sales training and support to ensure they are successful. It's not a bad idea to assign your new hire a peer mentor or trainer to help them acclimate to the new role and learn best practices from a more seasoned sales team member.
Check out out sales onboarding guide for a more in-depth read on how to bring your new sales rep up-to-speed.
Bottom Line
Hiring a sales rep requires that you get clear on what the sales rep is going to be selling and how they're to be compensated. Once you've figured that out, you can post your sales rep job online and start getting applications. From there you screen, interview, and select the best candidate. Using an ATS manages these steps for you, saving time when hiring sales reps. If you need help with other aspects of sales, check out our sales management guide.
To maximize your chances of hiring sales reps fast, consider posting your sales rep jobs on ZipRecruiter. It offers job description templates and applicant tracking features to enhance your search for the right salespeople. Try it free today.