Sales onboarding helps equip new sales reps with the knowledge and tools needed to be productive and engaged with your organization. Effective onboarding plans cover various topics, from company-wide policies and proper employee orientation to sales department-specific information. We'll walk you through the eight components of an onboarding plan, so your new sales team members are empowered to produce results and thrive in their roles.
Also, download our onboarding checklist to ensure your business provides new sales reps with a roadmap to their onboarding schedule and the best introductory experience.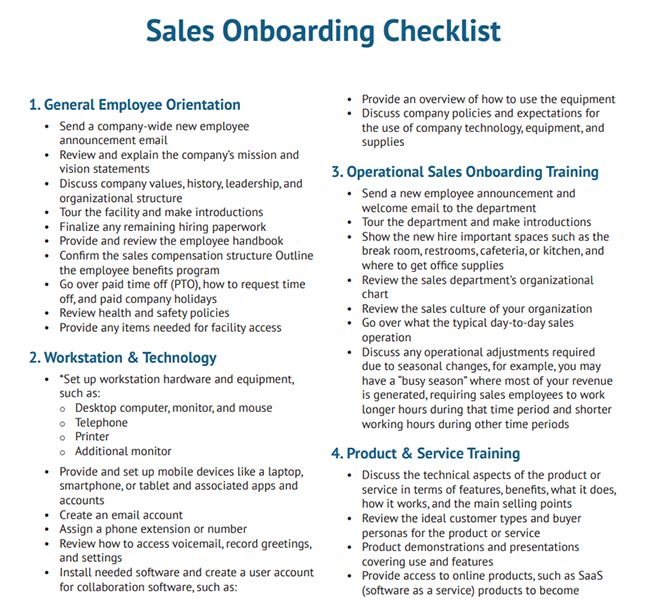 Thank you for downloading!
💡 Quick Tip:
CRM providers like Bitrix24 have free project management tools to track sales onboarding tasks and keep the onboarding process on a set schedule.
Visit Bitrix24
1. General Employee Orientation
A new employee orientation introduces new hires to your company's values, policies, and inner workings. It should be the first onboarding activity for any new team member. Employee orientations should leave the new employee with an understanding of essential policies and procedures, their terms of employment, and the company makeup. These include different departments, an overview of your organizational chart, and overall business operations.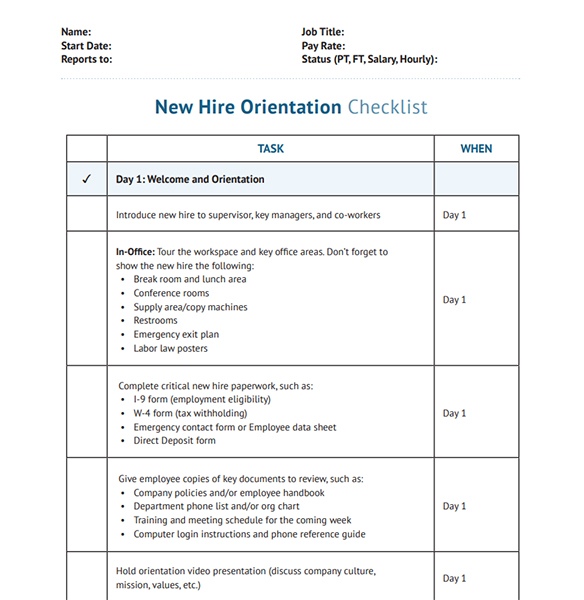 Thank you for downloading!
💡 Quick Tip:
HR software like Rippling have tools to help you onboard new employees—from enrolling them to various business tools to issuing hardware.
Visit Rippling
Below are some activities that you can include during a general employee orientation:
Send a company-wide new employee announcement email welcoming the new staff member.
Review and explain the company's mission and vision statements to the new staff.
Discuss company values, history, leadership, and organizational structure.
Tour the facility and make introductions (or for distributed teams, facilitate virtual introductions).
Finalize any remaining hiring paperwork, such as new employee forms.
Provide and review the employee handbook.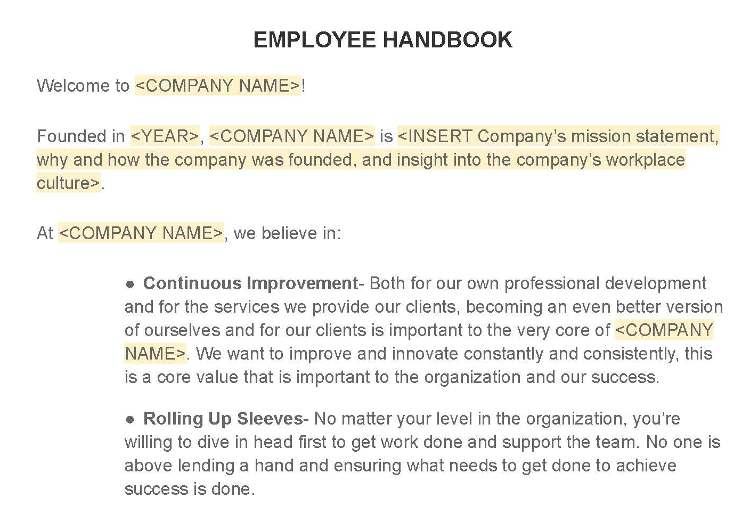 Thank you for downloading!
💡 Quick Tip:
HR software like Rippling have tools to help you onboard new employees—from enrolling them to various business tools to issuing hardware.
Visit Rippling
Confirm the overall sales compensation structure and bonuses that were extended during the hiring process and review payroll dates. Inform them when their first paycheck will be issued and how to make changes to their employee information or payroll withholding.
Outline the employee benefits program, including enrollment instructions, timing, and forms (or how to access the online benefits management system).
Go over paid time off (PTO), how to request time off for vacation or illness, and paid company holidays.
Review health and safety policies and what to do if injured on the job or in case of emergencies.
Provide any items needed for facility access such as keys or keycards, restroom keys or access codes, and employee ID.
2. Workstation & Technology Setup
Many sales reps will need to use company computers, mobile phones, tablets, and other devices, as well as apps for each device. Hence, an essential part of onboarding is setting up the new hire's workstation, technology, and access to apps and accounts in advance. Not only will doing this get your new rep up and running more quickly, but it also makes them feel more welcome and saves valuable time during onboarding and sales training.
Set up workstation hardware and equipment, such as desktop, mouse, printer, and an extra monitor.
Provide and set up mobile devices like a laptop, smartphone, or tablet and associated apps and accounts.
Create an email account for the new hire.
Assign a phone extension or number and add the new hire to the company directory.
Review how to access voicemail, record greetings, and settings such as placing a caller on hold, transferring a call, do not disturb (DND), and other often-used features.
Install needed software and apps and create a user account for company and team collaboration software, such as:

Project management tools (often included in CRM software)
Team messaging software and apps like Slack
File-sharing applications such as Dropbox or SharePoint
Productivity apps like or Microsoft 365
Video conferencing applications such as Zoom

Provide an overview of how to use the equipment, software, apps, any available instructional materials or cheat sheets, and who to ask if they need help.
Discuss company policies and expectations for the use of company technology, equipment, and supplies.
For remote workers and distributed teams, you'll need a system for sending equipment or having them pick it up, along with a step-by-step guide to help them set it all up at their home. Alternatively, your business could extend a monetary tech allowance, so distributed team members can choose and purchase equipment on the road or at home.
3. Operational Sales Onboarding Training
The next training that should be provided to new sales reps is reviewing your overall sales operations in general. The sales manager usually does operational training. However, it may also be done by an experienced employee assigned to be the new sales rep's mentor for a time period, such as the first 30 to 90 days.
Below are some things to consider when onboarding new employees to your sales operations process:
Sales manager sends a new employee announcement, and welcome email to members of the department.
Tour the department and make introductions.
Show the new hire important spaces such as the break room, restrooms, cafeteria or kitchen, and where to get office supplies.
Review the sales department's organizational chart.
Review the sales culture of your organization in terms of working environment, communications, collaboration, and team dynamics.
Go over what the typical day-to-day sales operation is like as well as significant milestones such as month-end, quarterly, and year-end procedures.
Discuss any operational adjustments required due to seasonal changes, e.g., you may have a "busy season" where most of your revenue is generated. This might require sales employees to work longer hours during that time period and shorter working hours during other time periods.
4. Product & Service Training for New Sales Reps
Training should be provided that narrows in specifically on the product or service new sales reps will be selling. This training can occur through various means, including one-to-one training with a product expert, seminars, online training modules, or shadowing another employee.
Below are some things you should include when conducting product or service training for new team members:
Discuss the technical aspects of the product or service in terms of features, benefits, what it does, and how it works. Share the main selling points (including the unique selling proposition) and what client pain points it addresses.
Review the ideal customer types and buyer personas for the product or service being sold, also known as customer profiles.
Conduct product demonstrations and presentations covering product use and features.
Share access to online products, such as software as a service (SaaS) products, to become familiar with use, features, and benefits.
Provide product documentation, technical manuals, user guides, and sales brochures to help the new hire thoroughly understand the products and services they will be selling.
5. Sales Process Training
This type of training is specifically for sales activities and continues beyond onboarding for all employees. Training, seminars, tutorials, or shadowing cover general sales tasks like how to place a cold call, conduct a sales pitch, and close a sale. It also encompasses sales methods such as asking questions to qualify a lead or taking a consultative approach to selling by helping customers understand what solutions they need.
Below are some items to consider when conducting your sales process training:
Review the sales process for getting from a new lead all the way to a new customer, including how to:

Generate new leads (tactics used)
Input new leads into the CRM
Update sales pipeline information
Nurture leads
Qualify and score leads
Close sales
Onboard new customers and pass them to account management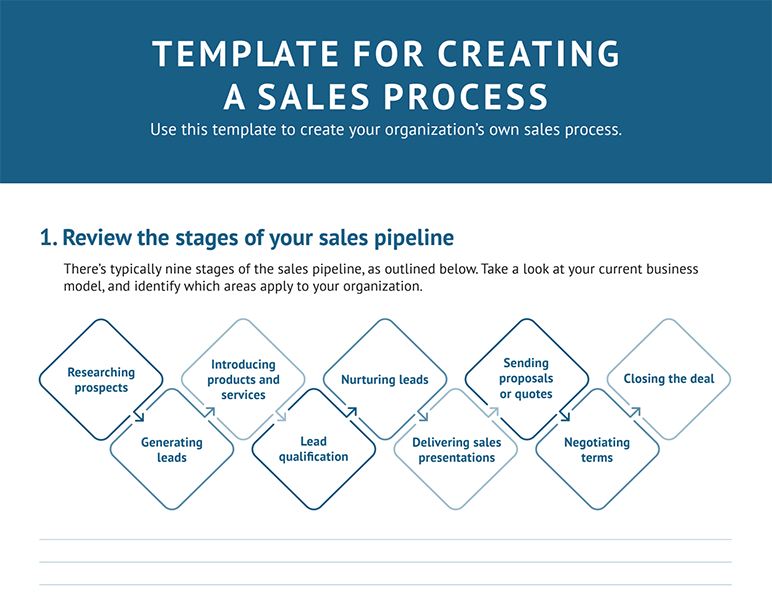 Thank you for downloading!
💡 Quick Tip:
Use a CRM tool with premade sales pipeline stages to help you monitor deals.
Consider CRM software like Freshsales. It has a Kanban-style sales pipeline board that allows you to monitor deals easily.
Visit Freshsales
Go over resources and procedures and provide simulation (role play) exercises for cold calling, including:

Following up with cold leads
Handling objections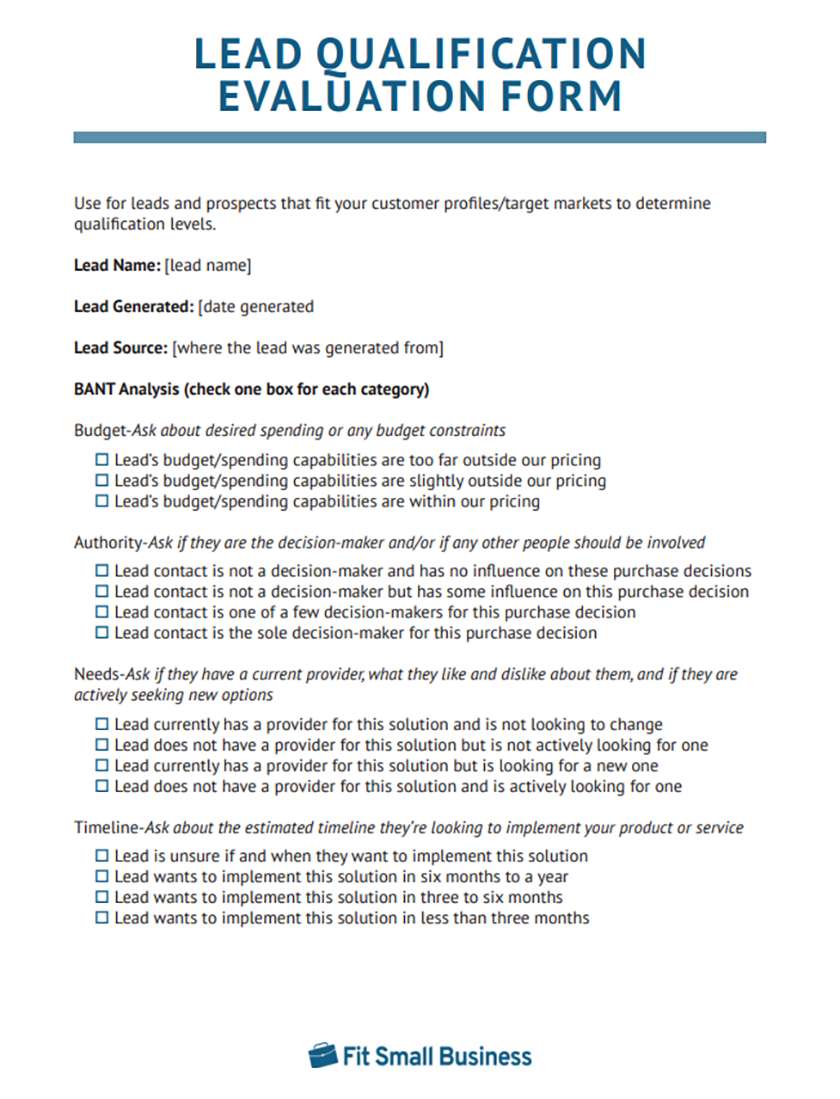 Thank you for downloading!
💡 Quick Tip:
Use customer relationship management (CRM) software to help you score and organize qualified leads. Zoho CRM can automate your lead scoring process to streamline your sales activities. Sign up today for a free account.
Visit Zoho CRM
Provide training and access to your CRM system for lead nurturing, such as assigning leads to an automated drip campaign.
Discuss and provide simulation practices for conducting a sales presentation, sales pitch, or product demo.
Remember that onboarding is often a 60 to 90-day process—or even longer. Break up the process into manageable segments, so your new employee isn't overwhelmed on their first day or week on the job. Assigning a mentor during the first 60 to 90 days is an effective way to facilitate thorough training while ensuring the new hire has someone they can turn to with questions.
6. Goals & Expectations Setting
Personalized sales goals, quotas, and performance standards should be set and reviewed with new sales reps before they dial a phone or send an email. Going over sales goals and performance expectations is usually handled in a one-on-one setting with the sales manager or through a team meeting.
Thank you for downloading!
💡 Quick Tip:
Use a CRM software to help you set your sales goals and measure its effectiveness accurately.
Consider providers like Pipedrive which has robust sales tools that can help you evaluate your month-to-month business performance to see if your sales goals are working for you.
Visit Pipedrive
Outline the minimum performance expectations of each sales rep in terms of metrics and activity, including sales metrics, such as:

Number of calls placed
Number of appointments scheduled
Number of demos booked
Number of free trials started
Number of proposals sent
Total deals closed and/or total sales revenue

Go over personal and team sales goals as well as the rewards for hitting them.
Discuss procedures or consequences of not hitting minimum sales performance expectations.
Cover resources available (e.g., mentoring, training, coaching) to help reps hit their sales goals.
7. Lead Generation Resource Allocation Training
Once goals and expectations are set, one more item needs to be addressed to fully onboard a new sales rep and prepare them to succeed. They need access to lead generation resources to start acquiring new customers by visiting clients, making calls, sending emails, networking, and other prospecting activities.
Thank you for downloading!
💡 Quick Tip:
Use a lead generation tool to acquire potential leads and their corresponding contact information.
Consider providers like UpLead that allow you to filter leads based on job titles, location, and industry.
Visit UpLead
Some of these resources can be distributed through your CRM system, including:
Providing a lead list to the new sales rep with contact information and any notes.
Offering detailed customer profiles on different leads.
Explaining how inbound leads are allocated among members of the sales team, such as how leads are assigned from online web forms or incoming phone calls.
Assigning the new salesperson to a Chamber of Commerce, trade or business association, or lead share group as a way to create business and referral opportunities.
8. Periodic Check-ins With New Hires
Depending on how your sales operation is set up, the full sales onboarding process may take from a few weeks to several months to complete. Regardless of whether your onboarding program has a clear start and end date or is completed incrementally, periodic check-ins should be done. This helps make your new sales rep feel prepared, supported, and confident in their sales capabilities.
Check to see if the new salesperson is hitting their required metrics.
Ask whether the sales rep has ideas for improvements (new employees come in with fresh eyes, and they may have valuable insights).
Determine if the new salesperson is having any specific difficulties with their role.
Ask if there are any tools, training, or other resources they think could help them improve their performance.
Ensure all of their equipment and technology is working properly.
Ask if there is any training or topics covered during onboarding or orientation they would like a refresher on.
A key way to measure the progress of new employees is by implementing a 30-60-90 plan for each new hire. This plan outlines the training priorities and goals expected of a new sales rep in their first 30, then 60, then 90 days. Below are samples of what they need to achieve in these milestones:
30 Days

60 Days

90 Days

Familiarize oneself with sales procedures and processes
Make at least 200 cold calls
Generate around 30 quality leads

Create a sales proposal
Make at least 400 cold calls
Book demos amounting to 10% of cold calls made

Close at least five deals
Make at least 600 cold calls
Sales Onboarding Best Practices
Onboarding can be nerve-racking for new hires and feel inconvenient for those helping onboard the new reps, but it doesn't have to be. While following our downloadable sales onboarding checklist, there are many ways to streamline and optimize the onboarding process.
Formalizing the onboarding process turns it into a company program with a repeatable process for onboarding new sales employees. This includes a set schedule for completing onboarding segments and a specific person managing the onboarding process. It would also entail coordination between other departments that need to be involved, such as human resources, accounting, and information technology.
It requires documenting all pertinent setup, access, training, and other information in some form. This could be as a salesman training manual, a sales training booklet, or even online presentations and videos the new hire can reference at any time. These resources should be easily accessible and include who to talk to when new hires have questions about the various topics covered during the onboarding process.
---
One way to increase new hire engagement with the onboarding process is by gamifying it. Sales gamification refers to turning each onboarding activity into a friendly competition that uses points, achievement badges, or rewards to keep employees motivated to learn.
An example of sales onboarding gamification in action is operational training. Divide the new sales hires into teams and do quizzes where they have to put the sales process in the correct order or match the right manager's name with the job position and department. The winners can receive points or rewards like gift cards.
Just about any onboarding task can be gamified as long as there is an element of competition involved, and even when it's not. For example, game-like incentives, such as badges or leveling up, can be awarded individually. Individuals can also receive rewards when incremental milestones are reached, or the onboarding process is complete.
---
When it comes to the training aspects of sales onboarding, job shadowing can be invaluable. This refers to pairing a new hire with an experienced sales rep for a day (or week, or even longer) to do practical observation. The new hire can see the operational, product or service, and sales training being performed in action. In addition to training, it's an excellent way to provide new sales reps with an environment where they can easily ask questions.
Job shadowing can also develop into a full mentorship program where veteran sales reps mentor new and less experienced (or underperforming) sales agents. Just as with job shadowing, it gives the new sales rep access to guidance, information, and coaching from an experienced sales professional.
Since the mentor is not their direct manager, it can also be less stressful for the new hire. Plus, as an added benefit, it can be used to seek out potential leadership talent of your veteran sales reps based on how effective they were in teaching and mentoring an onboarded employee.
---
After most of the onboarding tasks are completed, experienced sales reps or managers may shadow a new sales rep. This is known as reverse shadowing. It is used to gauge whether the new hire has the training and skills needed to work more independently or whether more training or resources are needed.
Reverse shadowing involves anything from sitting with the sales rep while they complete various sales tasks, listening in on cold calls, or listening to the recordings of sales conversations. Reverse shadowing can also become part of your sales team's ongoing periodic check-ins for all agents to identify opportunities for performance or process improvements.
---
Technology Tools for Sales Onboarding
Technology enhances onboarding productivity and progress through tools for managing and monitoring the process. Common sales technology used for onboarding includes project management software, CRM systems, and messaging applications.
Project Management & Collaboration Tools
Project management and collaboration tools offer users with a centralized channel to communicate and update each other on sales tasks and opportunities. Providers like HubSpot CRM can help sales teams keep each other updated more efficiently. It has workflow automation tools that can trigger actions, such as a new lead generated, and a sales rep can be notified and assigned that lead or sales opportunity.
Trello can also be an accessible, low-cost solution for managing onboarding tasks, tracking progress, and viewing it all on a calendar view. Trello uses "cards" that can be incorporated as tasks to be assigned to certain people depending on their role in onboarding sales employees.
Customer Relationship Management (CRM) Systems
CRMs have free project management tools built into the system, which is useful for managing onboarding tasks and for keeping the onboarding process on a set schedule. Providers like Bitrix24 offer project management tools that allow teams to collaborate and keep track of items that need to be completed. They can track tasks using Kanban, Gantt, or timeline-style boards, and tasks can be assigned to certain personnel and indicate deadlines.
Communication Platforms
If you are onboarding remote teams, utilizing communication channels are ideal to provide an interactive platform where new employees can ask questions and receive immediate feedback.
One platform you can use is Zoom—a video conferencing platform where hundreds of participants can be in a conference at once. While in a meeting, Zoom allows you to talk face-to-face with everyone and share your screen to present a presentation or show a video.
Benefits of Having a Sales Onboarding Program
Designing and implementing an onboarding program can be a long endeavor that seems tedious when it has to be repeated for every new sales class. However, when it's viewed as an important investment, you will reap solid benefits.
Here are the primary benefits of having a robust and standardized onboarding program: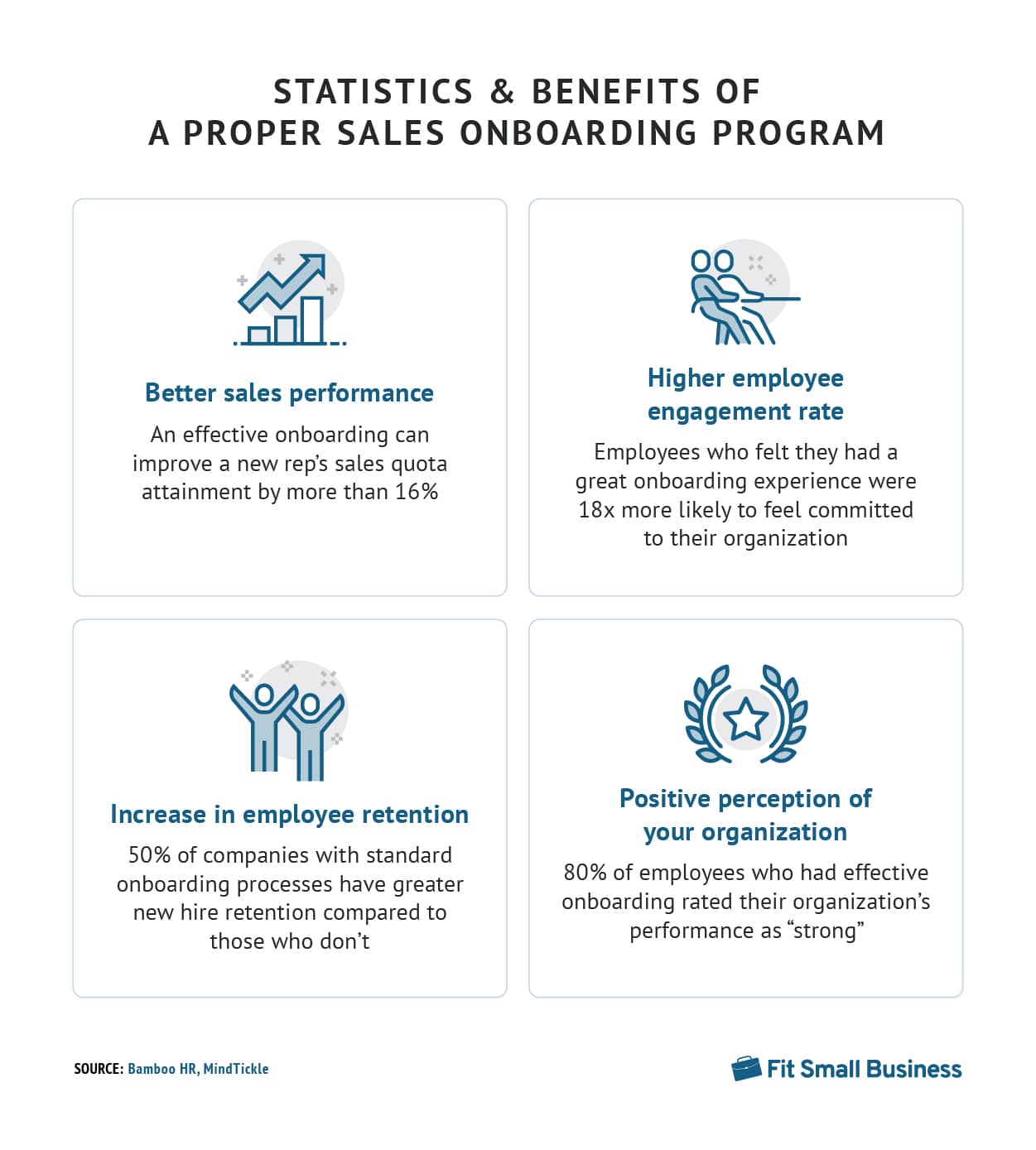 Sales managers must understand the benefits of onboarding when implementing a program into their sales operation. On top of onboarding, sales leaders must recruit, develop, and motivate their sales teams to set them up to do their best work. Our ultimate guide to sales management shows you how to put your sales team in the best position to succeed.
Bottom Line
Sales onboarding is an exciting time for a new sales professional. The process should be planned thoughtfully to ensure they have the best experience possible and get the most out of the training. Constant repetition of the process will help you create effective onboarding practices. Through a standardized onboarding process, you can expect better performance, higher employee retention, and increased productivity, sales, and profitability.