Top 16 Ways to Use Instagram for Real Estate Lead Generation
Fifty-nine percent of millennials, the largest group of first-time homebuyers, use Instagram daily. This makes it a great place to market your services and your listings. This is especially true because only 39% of real estate agents are on the service, meaning competition is not as fierce compared to other social platforms like Facebook. Start using Instagram for real estate lead generation and business growth by following these tips:
1. Create a Memorable Username
When you first sign up to use Instagram, you will be asked to give your name and to select a username. Your username is what people will see when they look at your Instagram page or search for you. When selecting a name and a username, there are a few unique considerations to make:
Don't include a brokerage name—Instagram works best for building a personal professional brand
Keep it simple
Utilize every line to associate yourself with real estate; you can do this with a well-placed pun or simply by inserting industry verbiage
Choose an Instagram username that you won't need to change in the future, even if other things change (like your brokerage, your location, or your title). Your Instagram followers will grow more familiar with your username, so you risk losing trust if you change it. By keeping your name simple, it will be easy for users to remember and search.
Instagram allows a very limited number of characters in your name and your bio, so make sure you make the most of the space, like Jasmine (@realtygirl) does. Include your name, title, or location to differentiate yourself from all the other "real estate agents" they will see online.
2. Optimize Your Instagram Bio to Generate Leads
A real estate Instagram bio should immediately set you apart from all the other real estate agents in your area. Use the space to convey what makes you unique, and use a link in your profile to generate real estate leads. When you link to an optimized landing page, you will be ready to bring new leads into your funnel directly from your Instagram profile.
You can easily create a landing page that captures new leads with BoldLeads. It provides home evaluation landing pages you can place on your website and link to from your Instagram and social media posts. BoldLeads also captures social media profile information, so you'll still get a partial lead if prospects only enter an address. Click here to build a home valuation landing page.
3. Choose a Profile Photo That Fits Your Brand
On the Instagram feed, followers will only see your name and photo unless they choose to click over to see your full profile. Use a professional real estate headshot, a logo, or an image with personality. Make sure that your photo is bright and clear, and avoid small text or busy backgrounds. Instagram profile photos can't be enlarged, so followers should be able to easily see your face or logo without straining.

4. Invite Your Friends & Family to Follow You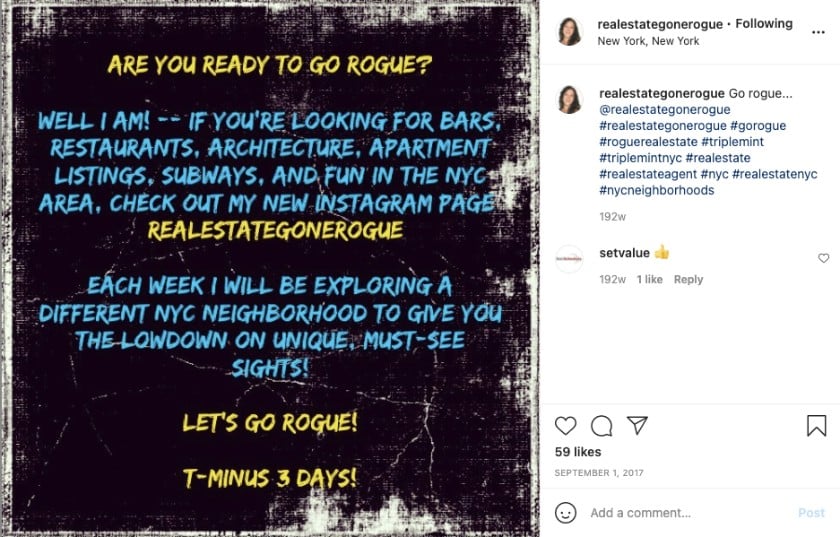 Give your professional Instagram account a boost by announcing your new page to everyone in your network. Invite friends and family to follow you. Make an announcement on your other social networks, and link to some of the images and videos you'll be showcasing on Instagram to get your audience involved across platforms.
5. Stay on Brand, Not Necessarily on Topic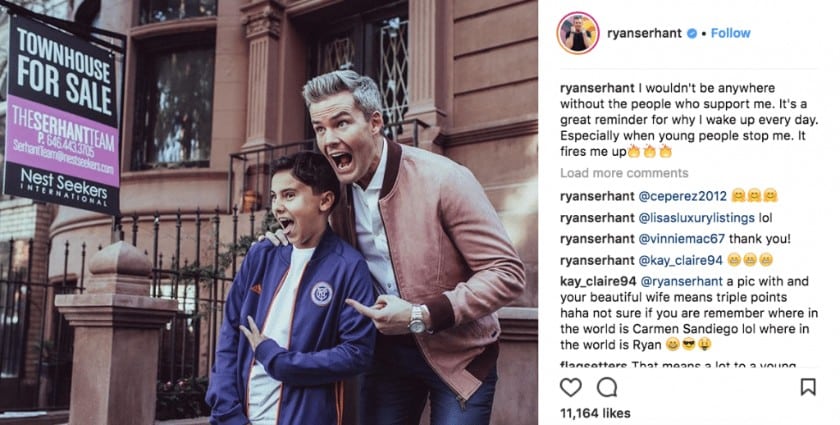 What makes great real estate content on Instagram is a combination of personality and product. Do you have incredible homes you are listing? Post the listing photos, virtual tours, and who you sell to. Do you have a dog that you love that tends to get in trouble around the house? Post that too.
You can keep the primary focus on real estate by posting about homes for sale, homes sold, open houses, events in town, and new restaurants or charity events. However, people come to your page to see if you are someone they'd want to work with, not just to see listings. Ryan Serhant, a pretty well-known real estate agent, likes to have fun, which is everywhere on his Instagram. Look at the photo above. Doesn't it seem like it would be fun to look for real estate with that guy? Of course.
Don't be afraid to add your unique take to your Instagram content. It will increase your engagement, make you more memorable, and ultimately increase your real estate business success.
6. Steer Clear of Sensitive Topics
Although you should be authentic in all of your messaging and marketing, you also may need to censor your typical conversation on a public forum like social media. As you're working to craft an accurate image of your expertise as a real estate agent, you should stay away from discussing politics and religion when you can. Have fun, post about things that can't offend, and make people excited to work with you.
On Instagram, you should be the person who is above the noise and seems approachable to your ideal clients. Clients come from all backgrounds, religions, and political views, so you want them to feel comfortable contacting you. If you decide to have a personal Instagram account that is separate from your professional one and that addresses politics or other controversial matters, just be sure to set that account to "private" so that it is only viewable to those you invite into your circle.
7. Use Instagram Stories to Build Engagement & Connection
Using Instagram Stories as a real estate agent allows you to remain top of mind by giving you a position outside of the traditional scrolling feed of your followers—at the very top of their phone. You can open and swipe on your story to see who viewed it. Plus, since stories disappear after 24 hours (unless you save them in a highlight), the sense of urgency helps to attract those on Instagram to watch your videos since they cannot see them again.
What do real estate agents post to their Instagram Stories? Jane Hadley, a real estate agent from North Dakota, stated:
"The Story posts that I make on Instagram are usually a bit more candid, behind the scenes at open houses, quick home tours, and open house promotions."
Instagram stories are one of the best ways to create engagement and build your audience because of the extensive tools it offers, like stickers, sounds, games, filters, and additional tools like Boomerang. Boomerang plays your video on a loop, frontward and backward.
Pro tip: For even more effective use of this feature, tag your location during open houses. This will expand your post's reach and increase the chances of a potential buyer finding you and stopping by. By using a variety of the options at your disposal, you can create interesting and engaging stories that your audience looks forward to.
8. Save Instagram Story Highlights as Resources
Another great way to use Instagram for real estate is to use Story Highlights to transform your Instagram profile into a resource for buyers and sellers. For example, Heavenly posts a group of pictures and videos to her Story, explaining concepts like earnest money deposits, disclosures, loans, and buyer tips. This social media marketing strategy helps you gain trust and gain followers without actually having to post completely new content every 24 hours.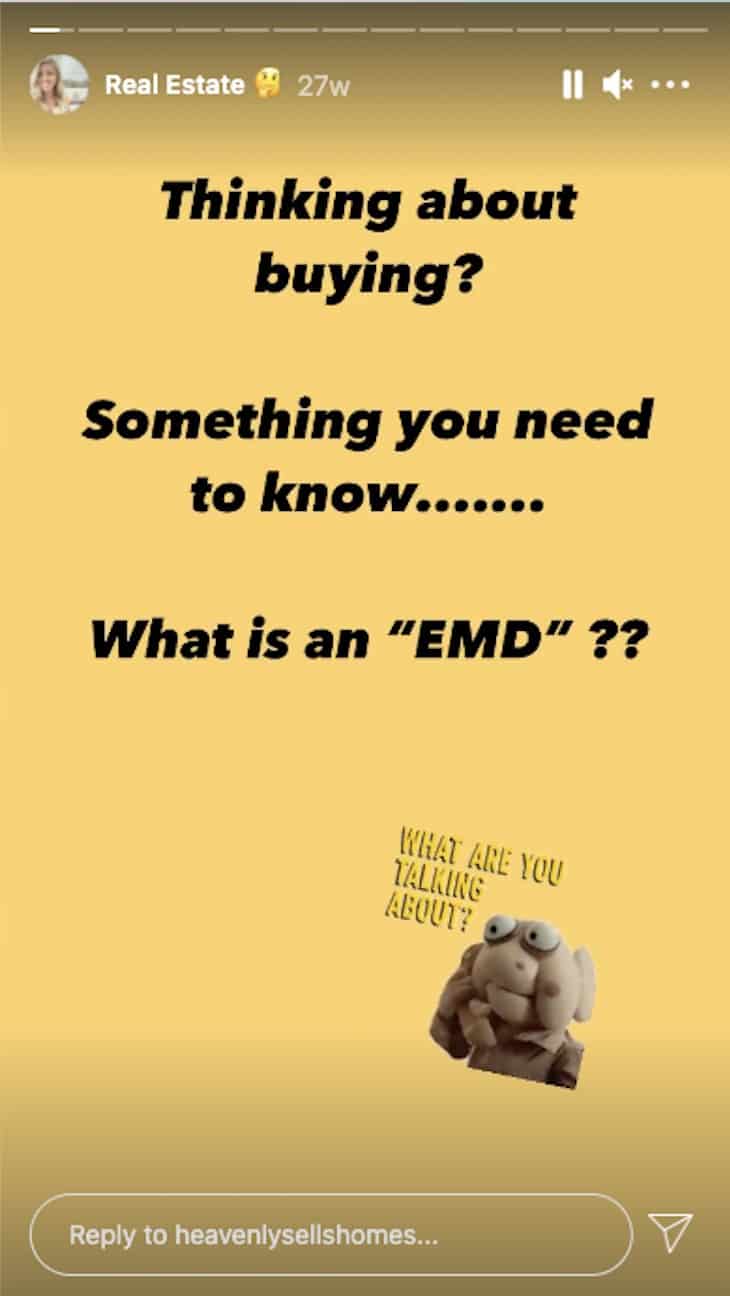 9. Consistently Post High-quality Photos
The photos you post on Instagram should stop scrolling thumbs. The best way to do that is by consistently posting beautiful, clear, appealing photos. For Instagram growth in real estate in particular, you can post images of happy customers, lovely homes, neighborhood events, and even ancillary photos that showcase perks of living in your area and working with you.
Instagram offers a number of built-in filters that can help make your images pop, but if you want to add other elements that can reinforce your personal brand, like a watermark, or key information about a listing, you will want to check out photo editing tools like Canva. Canva is free and provides hundreds of stock images as well as templates for posts and stories. Sign up and start using Canva today.
10. Write Strategic Captions
Even though a photo can communicate wonderful messages to your audience on its own, the caption is an essential piece of the puzzle. Instagram allows you to post 2,200 characters in length as a caption, and the ideal length is between 138 and 150 characters. Keep your captions engaging even when simply listing or showing off your sales, like this example. You can even use real estate memes to add more of your humor and personality.
Another great feature for your real estate Instagram account is the ability to create carousel posts. Carousel posts include up to 10 images and operate much like a photo book, which is a fantastic way to showcase real estate listings or events.
11. Use IGTV for Video Content
There are multiple channels to upload videos onto your Instagram account, and IGTV is for videos that are one minute to one hour long. This is a great way to give tips or showcase property walk-through videos, elements about the neighborhood, local events, and interviews. Videos frequently receive more views and more engagement than static images, so it's important to use this real estate marketing idea. In fact, IGTV videos take up four times the amount of space on the explore page, making it a great way to attract new followers.
You don't have to be a professional video editor or even hire one to leverage this valuable tool. It's easy to edit and enhance your videos by using a tool like Spark Video. Spark Video is a free software from Adobe that you can use to cut an existing video, add text, add background music, or record a voice-over. The small touches of using editing software can make videos seem well-crafted and professional.
12. Drive Traffic With Instagram Reels
Instagram Reels launched in August 2020 and quickly became one of the most powerful ways to get views and engagement to your content. You can use trending sounds to add your personality and humor to your Instagram profile, or you can cut down property videos and images to create an engaging Reel. You can either upload a video directly, or use the basic video editing tools on the platform.
13. Go Live on Instagram to Increase Engagement
Whether you are posting a video to your feed, use Instagram Stories, Reels, IGTV, or Instagram live, consider using video if you aren't already. Instagram found that they have more than 500 million users a month, and time spent by users watching video has gone up 80% in the last year. Video is something that is well-suited to real estate, so give your audience something wonderful to view.
Using Instagram Live Video connects you to your followers in real time. Plus, Instagram will send all of your followers a notification when they are in the app. You can leave comments for your followers to discuss what you're sharing or turn comments off, but it is a wonderful way to schedule a "live session" of any sort.
14. Increase Your Reach With Strategic Hashtags
Hashtags in Instagram create searchability and help your posts attract new visitors. Research hashtags before publishing a post to your feed. Hashtags help you target the audience you want to see your posts, gain new followers, and interact with possible leads. While Instagram allows you to use up to 30 hashtags, it's like a good rule of thumb to keep it to around 10.
Here are five effective real estate hashtag categories and a few examples:
Hashtags for location: #brooklyn, #oklahomacity, #dallastexas
Hashtags for newly sold or just listed: #justsold, #justlisted
Hashtag your brokerage: #agentsofcompass, #kellerwilliams
Hashtag for active buyers: #openhouse, #househunting
Hashtag great local amenities: #[restaurant], #[coffeeshop]
Read our article for more details on finding and choosing the best real estate hashtags.
15. Take Time to Engage With Other Users
To effectively use Instagram in real estate, you have to do more than simply post and expect results—you also have to engage. This means interacting with people who follow you or follow other real estate-related accounts. Find interesting people out there who are in your sphere of work and talk to them. Using the full potential of Instagram will require you to do far more than broadcasting.
Instagram works best when you use it as a tool for connection. If you're laser-focused on posting just to make money, it will inevitably come across in your Instagram strategy. Instead, being social and making honest interactions on Instagram is key to maximizing its potential for your real estate business. It takes time and effort to cultivate a following and to gain momentum but, along with posting and using hashtags effectively, it's a wonderful way to build your network.
16. Target Your Audience With Paid Ads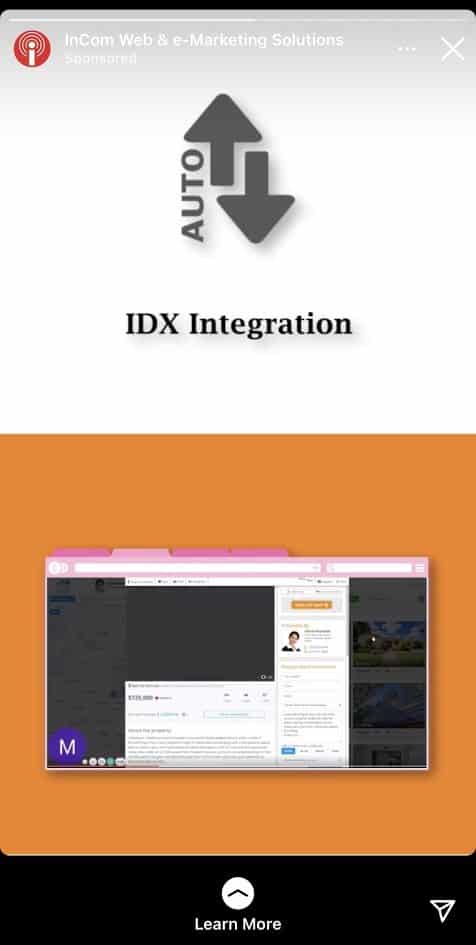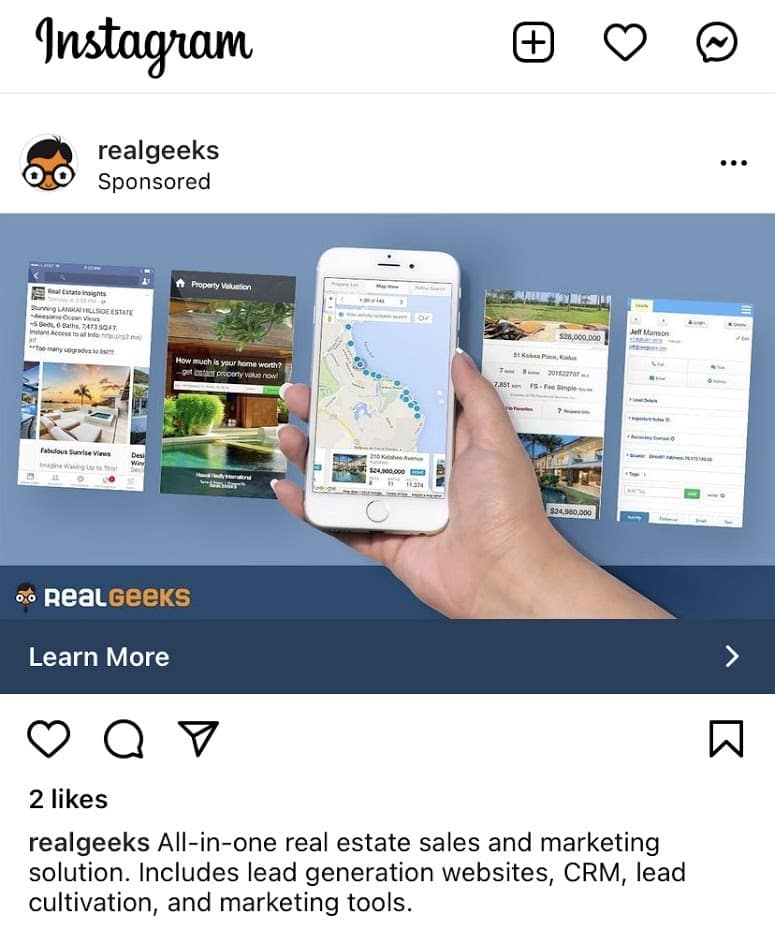 Instagram is owned by Facebook and allows you to target an audience and run ads in much the same way. On Instagram, your ads should fit seamlessly into the timeline of your target audience, with the expectation that some will begin to follow you for additional posts and information.
If you already know how to create an ad on Facebook, the Instagram process for running an ad will be almost identical, although you don't have to have an Instagram account to run Instagram ads (but it is highly recommended). You will have to:
Determine your objective
Select your audience
Choose your ad placement and budget
Format your ad
Instagram ads can multiply your account growth and generate qualified leads. When ads are used correctly as a part of your overall social media strategy, you can see incredible growth.
Bottom Line
Using Instagram for real estate takes time and effort, but the process of creating posts and engaging with others online can be fun and rewarding. Have an Instagram presence that you work on daily, even if briefly, and get users engaged in what you have to offer. While running ads on Instagram can be a useful step when starting off, the momentum comes from continued social engagement.