National Processing Review: Is It Right for Your Business?
This article is part of a larger series on Payments.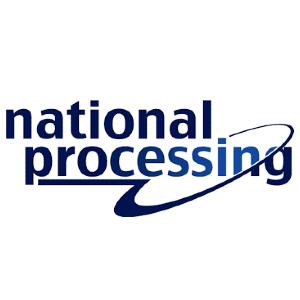 When to Use National Processing
National Processing is highly favored by real-world merchants for its customer support and low prices. Compared to other payment processors, I've been impressed by its transparency, low rates, and ability to work with multiple industries.
In short, National Processing is best for:
Businesses wanting low-cost ACH processing: Not every merchant account provider offers ACH processing, which is one of the most affordable options for accepting payments online. National Processing, in particular, offers low rates and fast deposits for this service.
B2B businesses: National Processing's low-cost ACH processing and its very affordable credit card processing make it a good fit for B2B businesses.
Large-volume businesses: National Processing offers low-cost subscription payment processing, which includes very low flat transaction fees. This pricing model is especially affordable for businesses processing large volumes.
When National Processing Would Not Be a Good Fit
Hobbyists or occasional sales: While the interchange-plus percentage is low, the monthly fees and additional flat rate may make National Processing more expensive in the long run for people who don't make regular sales. A mobile credit card processor, like Square or PayPal, will offer more flexibility.
Seasonal businesses: National Processing's monthly fee makes it more expensive in the long run for businesses that only work a few months out of the year. Instead, opt for a free merchant account with no monthly fees or contract requirements, like Square or Stripe.
Looking for something different? Read our guide to the top merchant services to find one that's right for your business.
National Processing Overview
PROS

CONS

Locked-in rates
Support is only US-based
Electronic invoicing available
Hefty cancelation fees apply in some instances
Compatible with multiple POS services
Lacks details for fraud security features
24/7 support
Applying for a National Processing merchant account starts by directly calling their sales team. You can also start by clicking the "Apply Now" button and providing general information (business type, average monthly sales volume, type of merchant service solution you need, and your contact details). But what's great about the application process is National Processing's support team. It has live chat support on its website to answer all your pre-application questions. You can also expect a call within 24 hours from an account executive to answer your questions and guide you through the steps.
Filling out the online application form takes 10–15 minutes. The average approval waiting time is one to two business days after all the required documents have been submitted, depending on the type of service and account you need.
Since Our Last Update: We went through more of National Processing's merchant solutions and added a full list of its supported hardware and integrations. We also looked further into National Processing's account application process and additional fees.
National Processing Deciding Factors
Processing fee: Interchange plus 0% + 5 cents to 0.29% + 15 cents
Monthly fee: $9.95–$199
Monthly minimum: $0 (except for cash discount program)
ACH Processing: $15/month, 0%–1.5% + 48 cents, $25 setup fee
Contract length: Month-to-month to two years
Application and approval process: One to two business days
Payment types: Card present, card-not-present, online, ACH, invoice and recurring payments
Cancellation/early termination fee: $295 (waived for certain instances)
Chargeback fee: $15
Works with high-risk merchants and nonprofit organizations
Offers cash discount program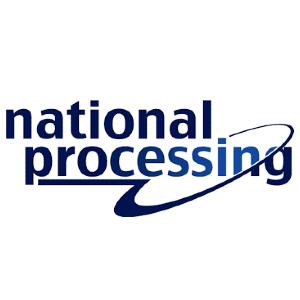 National Processing Payments Calculator
Enter your current in-store and/or online sales volumes and average order values for an estimate on the monthly fees you would pay using National Processing.
National Processing Alternatives & Fees Comparison
Best for

Small businesses and individuals

Businesses processing over $10,000/month

Occasional sales

Cheap credit card processing

Monthly fee

$0

$25

$0

From $59

Card-present transaction fee

2.6% + 10 cents

Interchange

+ 0.15% + 8 cents

2.29% + 9 cents

Interchange

+ 8 cents

Keyed transaction fee

3.5% + 15 cents

Interchange + + 0.15% + 8 cents

3.5% + 49 cents

Interchange

+ 15 cents

Ecommerce transaction fee

2.9% + 30 cents

Interchange

+ 0.2% + 11 cents

starts at 2.59% + 49 cents

Interchange

+ 15 cents
Looking for the lowest rates? The payment processing rates you will pay can vary based on your business size, type, and average order value. To find the most affordable option for you and compare multiple processing rates, read our guide on the cheapest credit card processing.
National Processing Pricing
Restaurant

Retail

Ecommerce

Large Business 1

Large Business 2

Price

(Low-risk Merchants)

$9.95 per month

$9.95 per month

$9.95 per month

$59 per month

$199 per month

Transaction Rate

(Interchange +)

Reprogram Existing Equipment

✔

✔

✔

✔

✔

Free SwipeSimple* Mobile Reader

✔

✔

✔

✔

✔

Chargeback and Risk Monitoring

✔

✔

✔

✔

✔

Next-Day Funds

✔

✔

✔

✔

QuickBooks Integration

✔

✔

✔

✔

✔

24/7 Service

✔

✔

✔

✔

✔

Free Mobile Reader, Terminal, and PIN Pad

N/A

N/A

N/A

✔

✔

Free SwipeSimple* Terminal

N/A

N/A

N/A

N/A

✔

Free Terminal Upgrades Every Two Years

N/A

N/A

N/A

N/A

✔
*SwipeSimple software comes with additional fees.
Additional card processing plans include:
Nonprofit payment plan: $9.95/month, 0.12% + 6 cents transaction fee, includes free reprogram of existing equipment, gateway setup, SwipeSimple mobile reader, mobile reader, and payment terminal
Cash discount payment plan: $39.95/month, 0 transaction cost, with Free Reprogram of Existing Equipment, gateway setup, SwipeSimple mobile reader, mobile reader, and payment terminal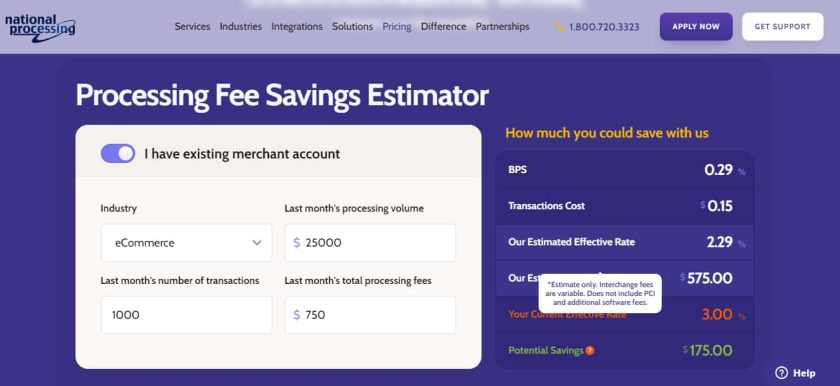 ---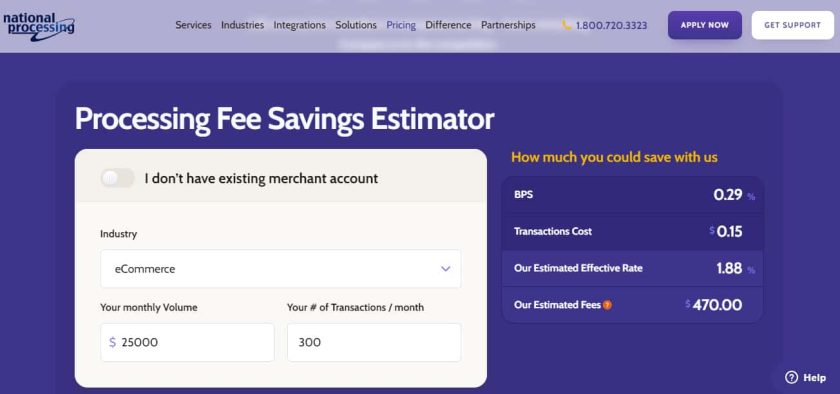 ---
National Processing Hardware
Card Readers & Terminals
National Processing has APIs to integrate with multiple POS systems but partners with Verifone, Ingenico, Poynt, and Clover for credit card processing terminals and POS hardware.
SwipeSimple B250

SwipeSimple Terminals

(A920, A80)

Dejavoo Terminals

(Z9, Z11, Z8)

Verifone VX520

Best for mobile and virtual terminal sales

Best for in-store mobility

Best for countertop POS

Best for traditional countertop payments

Accepts card swipe, dip, tap and digital wallet payments
Integrated virtual terminal and mobile app
Bluetooth connectivity

Accepts card swipe, dip, tap and digital wallet payments
Touch-screen display
Integrated POS
Built-in printer
Cellular and Wi-Fi connectivity

Accepts card swipe, dip, tap and digital wallet payments
Touch-screen display
Internet and Wi-Fi connectivity
Built-in printer

Accepts card swipe, dip, and tap payments
Dial-up and ethernet connectivity
PCI compliant
---
Clover Hardware
It sells Clover Go, Clover Flex, Clover Mini, and Clover Station, which are popular with payment processing companies as well as retailers and restaurants. It's flexible, affordable, and user-friendly. Read our Clover review to learn more.
Clover Go

Clover Mini

Clover Flex

Clover Station

Best for mobile and virtual terminal sales

Best countertop for small storefronts

Best for countertop POS

Best for full-service restaurants

Accepts card EMV and digital wallet payments
Sync with other Clover devices
Comes with a free mobile app
Works with iOS and Android devices

All-in-one POS
Accepts credit cards, debit cards, gift cards, and contactless payments
Built-in card reader for swipe, dip, tap and digital wallet payments
Touch-screen display
Integrates with Flex, kitchen printer, and barcode scanner

Built-in card reader for swipe, dip, tap and digital wallet payments
Touch-screen display
Internet and Wi-Fi connectivity
Built-in printer and digital receipts
inventory and Sales tracking

Accepts credit cards, debit cards, gift cards, and contactless payments
Swipe card reader with touch-screen customer display
Mobile card reader dock and integration
Access to Clover's app marketplace
---
Hardware Bundle
National Processing also sells all-in-one payments, POS software, and hardware bundles.
Startup + Tablet Bundle

Startup Bundle

Enterprise Bundle

Best for startups requiring full POS setup

Best for those with their own tablet

Best for multilocation businesses

iPad
SwipeSimple/PAX A80 Terminal
mC-Print3™ Thermal Printer
Cash Drawer

SwipeSimple/PAX A80 Terminal
mC-Print3™ Thermal Printer
Cash Drawer

3GB CPU
LCD Display
128GB SSD Storage
Android 9 OS
Swivel Stand
---
Free Hardware Reprogramming
Once you sign up, National Processing will help you reprogram your existing hardware or sell you Clover hardware. (The hardware is free with a Large Business Account.)
The following is a list of National Processing's supported hardware:
| | |
| --- | --- |
| Tablets: | iPad iOS 11 or higher, Android 8.0 and above |
| Credit card terminals: | PAX A77, A80, A920, A920 Pro (Additional one-time fee of $40 per terminal for PIN Debit functionality) |
| Thermal printers for receipts: | STAR Printer MC-PRINT3, STAR Printer MC-PRINT3 white, STAR Printer TSP143IIIW, STAR Printer TSP143IIILAN, STAR Printer TSP143IIIL-GRY, STAR Printer TSP143IIIBI BT |
| Impact printers for KDS: | STAR Printer SP742ME-Auto Cut |
| Cash drawers w/printers: | APG Cash Drawer 13X13 White, APG Cash Drawer 16X16 White, MMF 16X16 Cash Drawer White, STAR Cash Drawer 13X13 Black |
| Bluetooth cash drawers w/printers: | STAR MPOP PRINTER-CASHDRWR WHT, STAR MPOP PRNT/CASH DRAWER BLK |
| Barcode scanners: | SOCKET Barcode Scanner S700, STAR MPOP Handheld Barcode Scanner (Star mPOP Cash drawer required) |
| Scales: | STAR SCALE mG-S8200 |
---
National Processing Features
National Processing stands out for its pricing transparency, low interchange-plus pricing for both low-risk and high-risk merchants, and cash discount program. It's also one of the few providers that offers free reprogramming of existing equipment. Although not as feature-extensive as its counterparts, users are all praise with National Processing's available payment solutions, which, except for ACH, are already included in all of its subscription plans at no additional monthly cost.
Contract & Merchant Agreement Terms
All National Processing accounts are tailored for specific business needs. They offer month-to-month and long-term contracts of up to two years. Signing up for the use of their POS software and payment terminals will likely earn you a long-term contract. However, other factors such as seasonality, payment types (in-person payments only or online-only service), and risk level (medium, low, brand-new business in a brand-new field) will also determine the type of contract.
One point of contention among reviews for National Processing is its $295 early termination fee. While National Processing is open about the cost, this is quite high compared to alternative providers like Dharma Merchant Services, which charges $49 for permanently closing your account. However, certain conditions can waive this fee:
If you go out of business, or
If you get better rates from a competitor, and National Processing is unable to offer you a better deal
We don't normally recommend merchant accounts with hefty cancellation fees as many businesses are taken by surprise when they do decide to switch providers. However, National Processing is upfront about it, which makes all the difference.
---
Payment Processing
With National Processing, you get great interchange-plus rates and can process a variety of transactions. Depending on your hardware, you can handle swipe, chip, or tap payments, and contactless payments like Apple Pay and Google Pay.
If you need ACH payment processing, its platform allows you to handle direct deposits, payments, and recurring transactions. It charges 48 cents per transaction, plus $15 per month for the service.
National Processing also offers the following:
Same-day deposits of payments
Virtual terminals
Online invoicing
APIs to integrate with your systems
QuickBooks integration
---
POS Systems
National Processing offers its own POS software called NP POS. It comes with the ability to run point-based loyalty and rewards programs and accept gift cards, loyalty cards, and store card forms of payments. The software also has built-in inventory and employee management features, along with reporting and multilocation management tools. NP POS also comes with a reservations system for restaurants and professional businesses.
Not all merchant account providers come with a proprietary POS system that's comparable with big names in the POS industry like Square. National Processing offers advanced employee and loyalty management at no additional cost while these are add-on features that will cost you more with Square. However, like Clover, pricing for this is customized and bundled with hardware, which usually means it's likely more expensive (although unlike Clover, NP POS hardware can be reprogrammed). Incidentally, National Processing also integrates with Clover.
---
Payment Gateway
Payment gateway is the backbone for National Processing's ecommerce feature. This includes both a virtual terminal and virtual POS tools for users wanting to subscribe to National Processing's ecommerce plan. It allows merchants to securely accept manually keyed-in payments and create custom links to connect to online shopping carts. There's also a customer vault (for securely storing customer contact information and payment details) and product manager tools (for creating and managing products and services). Easy-to-follow APIs are also available for developers wanting to create a more customized solution.
Overall, National Processing's payment gateway tools are on par with top merchant providers in the industry. It supports shopping cart integrations which some alternatives, like Dharma Merchant Services, do not provide. Additionally, there's no extra transaction cost for using this feature and it charges lower monthly maintenance fee compared to Authorize.net ($25/month).
---
Virtual Terminal
A virtual terminal is an ecommerce tool for processing payment transactions from a browser on your computer. National Processing's payment gateway includes a virtual terminal that allows you to accept card-present and card-not-present payments, debit cards, gift cards, invoice payments, and NFC payments, among others. National Processing also works with SwipeSimple's mobile card reader, which will then give you access to its own virtual terminal.
Only a handful of merchant account providers support processing online transactions for high-risk merchants, and National Processing is one. Naturally, expect higher fees and maybe even additional cost for access to its secure payment gateway (PaymentCloud charges an extra $15/month for gateway fee). However, apart from providing assistance to its users to achieve PCI compliance, there's not much information on payment security and fraud prevention tools on its website, so make sure to specifically ask about this before signing up.
---
Mobile App
National Processing works with SwipeSimple to provide its users with a mobile app that lets you track sales, accept credit and debit cards payments, manage staff time and attendance, and access reports while on the go. It syncs directly with your POS software so you always get real-time data from your sales channels.
SwipeSimple's mobile app is one of our recommended mobile credit card payment processors, second only to Square, and comes with a free mobile card reader for every ecommerce merchant account plan. It has an offline payment processing feature and doesn't charge extra fees for using its service. However, this might mean that you will have to contact SwipeSimple directly to get technical support, which is limited to business hours.
---
National Processing Ease of Use
Integrations
National Processing integrates with a number of third-party solutions to provide enhanced tools for different businesses. While it has its own payment gateway, National Processing also integrates with Authorize.net and SwipeSimple's virtual terminal. BigCommerce, WooCommerce, and Shopify also work with National Processing for website building, while you can integrate Ecwid and Opencart for creating shopping carts. QuickBooks is also available for bookkeeping, and Zendesk integrates with National Processing for customer management software.
Please note that third-party integrations may carry additional fees for account maintenance that can add to your total monthly cost.
Free Hardware & Software Setup
All merchant account plans include a free POS reprogramming and gateway setup. National Processing makes it easy to switch by helping you reprogram your existing POS hardware or set up your online payment gateways. Alternatively, it can sell you Clover POS hardware, which is among the best-rated in the industry.
Customer Support
There are no online guides that would help you understand further how each solution works, although the blog is full of helpful articles about the industry and best practices. And while National Processing is upfront with its transaction fees, you'll need to speak to an account executive to learn about additional costs such as PCI non-compliance fees, retrieval fees, and cost for failed transactions.
Fortunately, customer support is live and 24/7, and real-world users say the agents are responsive and helpful. I reached out to National Processing through live chat and didn't have to wait long to talk to a representative who was more than willing to take my call then and there to answer any questions. However, if you're looking for assistance for your SwipeSimple hardware, you might have to speak to a SwipeSimple representative instead.
What Users Think About National Processing
Users overall rated National Processing highly, praising its price, ease of use, and support. When researching National Processing, it's important to not confuse the company with other similarly named processors, including 1st National Payment Solutions and National Payment Processing, as these are different from National Processing and have many more negative user reviews.
When reading through user reviews, I noticed some of the following trends:
| Users Like | Users Don't Like |
| --- | --- |
| Dependable service | Couldn't reach customer support (only a few people complained about this) |
| Low merchant fees | Need better follow-up on potential accounts/referrals |
| Easy setup | |
Bottom Line
National Processing is a payment processor that offers interchange-plus rates and transparent pricing. Its cancellation policy is fair, and the provider has excellent user reviews. We recommend it for retailers or restaurants looking for inexpensive merchant services. It says that if it can't beat your current rates, it will give you $500. Contact National Processing for a quote today.