Product marketing starts with defining your target audience—consumers, businesses, or both—then researching the competition, identifying your outreach and sales channels, developing a product story, and finally, launching your plan. Our five-step guide shows you how to market a product effectively and within budget, plus keep sales momentum going post-launch.
As an alternative to tackling this on your own, try using a service like Mayple to match you with your industry's best marketing experts. Mayple is a platform that connects business owners to vetted marketing experts, so you can focus on running your business and delegate the rest to experienced professionals — all you need to do is fill out a brief explaining your business' goals. It even monitors your project's progress and ensures your expert always delivers the best results. Get started today.
How Product Marketing Works in 2018
Thanks to user-friendly online platforms like WordPress and social media, small businesses and startups can tap the same powerful sales channels and marketing tactics used by big-budget players. In fact, nimble entrepreneurs regularly outperform major brands by creating attention-grabbing content that attracts vast audiences worldwide.
We'll talk about the many product marketing tools and tactics at your disposal in Step Three. However, to maximize these efforts, you really must start your product marketing journey with a good understanding of your target buyer and competition—which we cover in Steps One and Two. You can certainly skip to step three to see the fun stuff—but to learn how to market a new product right, you must start with good fundamentals.
Here's a quick look at how to market a product in five easy steps:
Identify Your Audience – Knowing who is most likely to buy your product is step one in learning how to market a new product.
Research the Competition – Studying your competition can tell you a lot about the customers who buy similar products, where they shop, and how much they're willing to spend.
Define Your Marketing Tactics, Tools & Channels – Once you know who your customer is and what your competition is up to, you're ready to assemble the right marketing tactics and sales channels to reach buyers.
Craft a Compelling Story – A product story that solves a problem or elicits an emotional response is what resonates with shoppers, converts them to buyers, and makes your brand memorable.
Plan for Long-term Success – Successful product marketing is a marathon-dotted with occasional sprints, so planning includes a mix of long- and short-term sales channels and outreach tactics.
Below we'll show you how to market a new product or boost sales for an existing product by putting these five steps into action.
1. Define Your Product's Ideal Buyer
The whole point of learning how to market a product effectively is to connect with your audience and convert them into paying customers. To do this, you first need to clearly define who is looking for—and most likely to buy—your product. Having your ideal buyer in mind helps you develop an engaging product story that will make them want to buy and target your tactics to the channels they're most likely to use.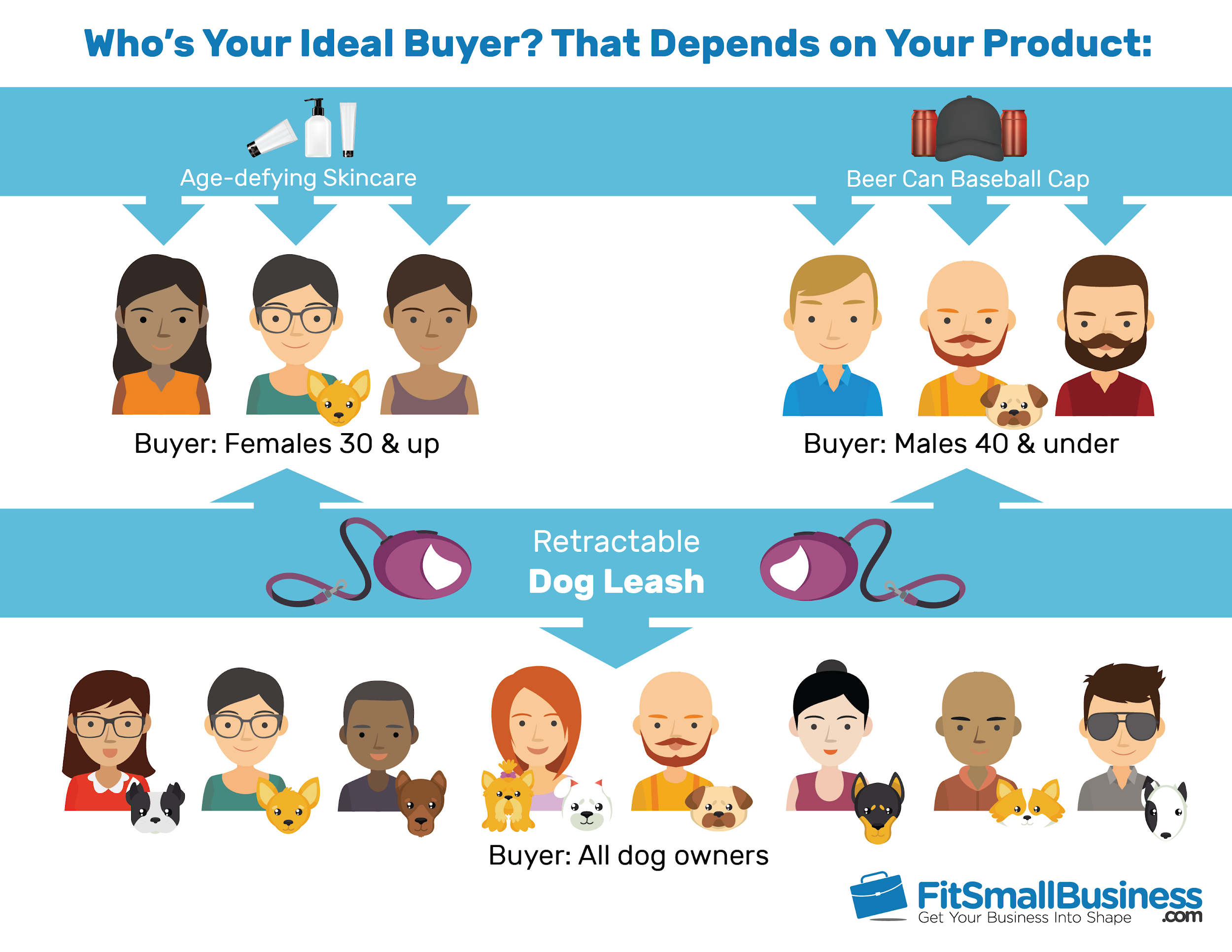 For example, a marketer selling a high-end, age-defying skincare product has a very different ideal buyer than a marketer selling a baseball cap with built-in beer can holders:
The skincare marketer likely targets females, age 30 and up, with some college education and a career, and who are active on social media.
The beer can hat marketer likely targets males, age 40 and under, who are sports fans.
However, a marketer selling a retractable dog leash can target dog owners within both of these groups—along with males and females across all other age and interest demographics. As long as they own dogs, they meet the ideal buyer criteria.
So, your first step in learning how to market a product is forming a concrete picture of your ideal buyer—which marketing pros call your target demographic. These questions help you define this buyer:
Male or female?
Age range?
Typical likes, hobbies, or sports interests?
Level of education and potential household income?
Technical and social media savvy?
Married or single? How about kids?
Likelihood to buy online versus in-store?
Likelihood to buy via social channels or be influenced by social posts?
Plus other questions that are specific to your product's benefits and use.
And don't forget potential commercial audiences for your product:
Does your product have a commercial end-user application?
What types of businesses could use this product in their operations?
Are these businesses large or small? Would they have purchasing departments?
Would other retailers be interested in reselling your product?
What types of retail stores might be interested in reselling your product? Large or small, discount or big-box, or boutique?
"Combining business-to-business (B2B) and business-to-consumer (B2C) marketing is generally the most profitable approach," says Chad Rubin, a product manufacturer, Amazon power seller, and founder of ThinkCritical.
"Conflict between B2B and B2C product marketing is a thing of the past," says Rubin. "Many successful marketers sell directly to consumers via their own website and Amazon listings, plus offer wholesale pricing to resellers and bulk pricing to commercial end-users," says Rubin. "Marketing to a variety of buyers helps a brand grow much faster and uncover profitable opportunities than a single-audience approach."
Mary Bentley, owner of Bentley Plastics and BentleyDrinkware.com, puts this multi-audience plan into action daily.
"We sell our Bentley Drinkware collection online, direct to consumers, as well as to retail resellers and commercial end-users—so we market to three different types of buyers," says Bentley. "We make it all work by maintaining retail pricing on our site and providing a Commercial Purchasing page with contact information for these buyers. We also prominently display a retail store finder on our site that lists our retail partners. If a consumer wants to shop for our line locally, they can find their closest retailer on our website."
The main takeaway here is that the first step in learning how to market your product is defining your product's ideal buyer. In B2C selling, you'll market to this person directly. But in B2B sales, you can market to a reseller or a commercial end-user. We'll explore ways to reach these different audiences below, but there are two more steps to complete first—checking out the competition and developing your product's story.
2. Research Your Competition & the Tactics They Use
Most product marketers face competition when they enter the market, but having competition for a product isn't necessarily a negative. In fact, it can be helpful in two ways:
Having competition shows you there is a market for the product you hope to sell.
Studying existing competitors helps you see which sales channels and marketing tactics work, spot what doesn't, and uncover what consumers expect from your product.
To get an idea of what your competition is doing, start with an internet search using the keywords that describe your product. This will uncover a wealth of information that you can use to analyze both the current market and the competition for your product. Specifically, you're looking for:
Competitor Websites
A Google search for terms that describe your product will uncover websites that sell similar items. Some of these may be resellers, but some might be a manufacturer's own website. Both of these can provide you with good information, including pricing, customer product reviews, and descriptive listings.
"A competing manufacturer's website is an especially important place to research potential target audiences," says Lewis Hill, a manufacturers' representative and sales director for B2B and B2C motorcycle parts distributors.
"When researching competitor sites, look for both direct-sales product listings and wholesale or bulk-buy information, says Hill. "If your competition's site allows consumers to purchase online, plus lists store locators or wholesale contact information, you know that competitor targets both B2C and B2B markets—so you probably should, too."
Hill adds, "If your competitor's site has a newsletter or webinar registration, sign up for it using a non-company email address and see how they're using these online marketing tactics. You can even add items to the site's cart and continue through to the checkout, then leave without purchasing to see if they use dropped cart remarketing coupons to capture dropped cart sales."
Competitor Marketplace Listings
Look for the same or similar products on Amazon, eBay, and Walmart. These are largely direct-to-consumer marketplaces and really tell a story about the level of competition you face. Some categories, like personal care, cosmetics, pet gear, and mobile tech, are highly competitive, but there plenty of income opportunities for quality, well-priced goods. Search these marketplaces to get an idea of how many sellers are marketing competing goods and the price range.
Competitor Pricing
It's important to know and analyze the price range for competing and similar products. If competing products sell for much higher or lower prices than your targeted price point, figure out why. Check product listings to see where competing products are made—in the U.S. or overseas—and whether they use higher or lower-grade materials to target high-end or budget buyers. This helps you decide where your product fits within the competitive environment.
A thorough pricing analysis will also help you uncover profit opportunities and pitfalls. For example, if your competition's pricing trend is higher than your planned price point, and the quality is similar, you can price your item higher and be more profitable—or price lower than the rest to attract buyers more quickly. But, if many competing products are priced at or lower than your target price point, you might have trouble making sales.
Competitor Social Media Pages
Competitor websites should have links to their social media pages. Visit these and check out how many followers your competition has, how often they post, and what they post about. Researching your competitors' social media activity can help you see how engaged the audience is and what types of posts attract the most likes and shares. You can even see if your competition is selling via Facebook Shops, Pinterest Buyable Pins, and Shoppable Instagram Posts. If they are, you should plan to as well.
Competitor Consumer Product Reviews
As you scour competitor websites, marketplace listings, and social media engagement, pay particular attention to customer reviews. Make notes which competitors have high, mid-range, and low ratings, and also note the number of reviews and the review dates, which most sites list. If an item has hundreds of reviews each month, you know it sells well. Conversely, if it has just a few reviews each month, it's probably a dud and you might have trouble finding an audience.
Beyond the overall ratings and number of reviews, according to Chad Rubin, "Product marketers should really read their competitors' product reviews."
"Customer product reviews and Amazon reviews, in particular, are a great place for small businesses to check out the competition for most any product," says Rubin. "Amazon reviews help new product marketers gauge consumer interest in a product or concept, plus spot competing products that deliver on consumer expectations and, more importantly, those that don't."
"Make notes about what users like about the competition's products—and what they don't. Then make sure that your product doesn't have the same pitfalls that customers complain about in competitor reviews, says Rubin. "If you can make and sell an improved version of a popular item that's already on the market, you'll be able to attract buyers away from the competition and build better product reviews to help drive even more sales."
Competitor News Coverage
Last, check out the latest online news pertaining to your product keywords. This shows you if competitors successfully use press releases to attract publicity, plus helps you find any trending news related to your product, such as new releases, fashion trends, and even recalls.
You can use all of the above to closely analyze your competition, see where and how they sell, the price points they target, and what users think of competing products. All of this helps you identify channels that position your products within the competitive environment, understand price constraints, and finally, craft a product story that will resonate with your target audience.
3. Define Your Marketing Tactics, Tools & Channels
Competitor research not only provides insight into the competition, it also gives you a head-start on identifying the best product marketing tactics, tools, and channels for you. After studying the competition's sales and marketing efforts, you're ready to craft a product marketing plan to beat them at their own game.
In most cases, planning how to market a product should include these essential sales and marketing channels:
Your Website
Chad Rubin is a longstanding Amazon power seller, but even he advises product marketers to have your own website. "A website in the one place online where you have complete control over your brand, unlike Amazon, where your product is just one in a sea of similar listings," says Rubin. "Plus, website sales generally are far more profitable since you don't pay marketplace fees that can exceed 15 percent of your revenues per sale."
With your own website, you can also use high-converting retargeting and remarketing tactics to keep site visitors within your marketing loop, even when they leave your website. This is something you can't do with a marketplace-only sales strategy.
Likewise, Lewis Hill and Mary Bentley both emphasize that a website is job one for any product marketer. "A website with a name that's easy to spell and remember is ideal," says Hill, while Bentley recommends making relevant information accessible to all visitors, as shown below.
"Even if you only plan to sell products directly to consumers at first, it's very easy to add a Wholesale Contact page to your site—like we did on our WordPress website," says Bentley. "That way, retail stores interested in selling your products can get in touch. You might uncover some great wholesale opportunities by simply making that information easy to find on your website."
Ultimately, a website should include more than just product listings and contact information. "An ongoing content plan is key to any successful product marketing website," says Hill. "Quality product listings, relevant informational content, blog posts, and videos all help sell your product and brand." He advises, "At the very least, product marketers should keep their product information updated, include instructional pages and product videos, and create blog posts a few times each month covering issues relevant to their industry."
There are many website platforms that help you do all of this, but WordPress is head-and-shoulders above the rest when it comes to content flexibility. Blogging, videos, content pages, and ecommerce sales are all possible on a WordPress website, plus it's one of the most economical options on the market. Start your product marketing website today for just $2.95 per month with our preferred provider Bluehost.
Search Engine Marketing (SEM)
As you start to build your website, employ SEM tactics to help you attract visitors to your website. Some of these methods, like SEO and guest posts, are low-cost ways to help your website rank high in the search engines. Others, like paid advertising, can help you attract customers more quickly, but with added costs.
Search Engine Optimization (SEO)
SEO is the practice of writing website content designed to rank high in the search engines for specific keywords. SEO is something that every product marketer should incorporate throughout their website from day one. It takes some work to learn, but it's a very economical way to increase site traffic long-term. Done right, it brings in the buyers and helps generate sales.
Online Advertising
Google AdWords and other online advertising networks let you create online ads to help drive traffic to your website from day one. Most online ads are Pay-Per-Click (PPC), meaning that when a viewer clicks on the ad and arrives on your site, you're charged for the "click." Others, called Cost-Per-Thousand (CPM), charge by how many times your ad is displayed (typically in blocks of 1,000), whether a viewer clicks on the ad or not.
Paid advertising on Google and Facebook let you set your budget and gives you other cost controls, so it can be a great way to attract visitors to a newly-launched site. But it's important to make sure that you watch your costs so you don't spend more than the traffic is worth.
When to Use an Advertising Agency
If your goal is to manage multiple social media channels, test various styles of campaigns, or you simply can't get to a point where you feel confident managing things yourself, you may want to consider calling in the professionals.
Guest Posting
Guest posting is writing website content—usually an informational blog post—for other websites and blogs in exchange for a link back to your website. This is a very effective and low-cost way to get your name in front of readers on popular websites related to your industry.
These three SEM tactics are highly effective when done right. If you're new to website building, web marketing, and blog posts, you can tap budget-friendly freelancers on Fiverr to help you get these elements in place quickly, and done right the first time.
Email Marketing
Once your website is in place, it's time to start building your email list. Most email marketing platforms offer free starter accounts that you can integrate into most website platforms, including WordPress. Once set up, you can start collecting email addresses from your website visitors and start marketing to them right away. There are several ways to build up an email list quickly, and one of the most effective is offering a coupon if you're an online seller, or a free item, like an informational e-book related to your product.
Social Media Pages
Social media business pages on Facebook, Pinterest, Instagram and Twitter can be set up and connected to your website from day one. Typically, product marketers target one or two social media sites at first, and research into any competitor's social media activities can help you identify which channels might work best for you. You can also sell products directly from your social pages using Facebook Shops, Instagram shoppable posts, and Pinterest buyable pins.
"At the very least," says Louis Hill, "product marketers should set up Facebook and Instagram business pages, start following relevant pages and social influencers, and engage in social interactions via likes and comments. Once the website is launched, marketers should regularly pitch products in an engaging way, post relevant information like tips and tricks or comments on industry news."
Social Media Influencer Marketing
Influencer marketing is a growing social media-related marketing trend that's highly effective for many product marketers. This involves spotting social media stars and paying them—sometimes in trade, but usually via payment—to "rock" your product to their vast following. Influencer marketing is almost a necessity for products that focus on Millennial and Gen-Y markets, but products with broader market appeal can benefit, too.
Public Relations
Press releases, especially those targeting industry-specific publications and reporters, can be highly effective ways to get the word out about your product. According to Lewis Hill, "Press releases announcing new product releases are particularly important in B2B sales and tend to get picked readily up in industry-focused publications. Industry reporters love to be in-the-know about new product releases, and many B2B online and print publications have new release sections," says Hill.
"Likewise, interest-driven B2C publications actively cover new releases and trending products," says Hill. "Sending press releases that announce a new product, or that cover important updates to existing products, can garner a lot of free publicity and should be included in any marketing plan."
With the essentials in place, the next step in planning how to market a product is tapping audience-specific channels to reach more consumers or specific types of businesses. Here are some ways to do that.
Additional B2C Marketing Channels & Strategies
If you're selling to consumers (B2C), you'll also want to consider these channels and tools in your product marketing plan:
Seller Marketplace Listings
You can list and sell products as a third-party seller on marketplace websites like Amazon, Walmart, eBay, and Etsy, or various industry-specific seller marketplaces. However, Amazon power-seller Chad Rubin reminds sellers that "there is a major difference between selling on their own website versus a marketplace site."
"Amazon gets a ton of traffic and is a great way to expose your product to a huge buying audience," says Rubin. "But the customer is never really 'yours,' plus Amazon seller fees dramatically cut into your profits. However," he continues, "you can include product labels and information in your packaging to encourage buyers to visit your site to learn more about your line and, hopefully, buy directly from you in the future."
A Mobile Point-of-Sale System
Small businesses launching a new product have many in-person marketing and sales opportunities. Craft fairs, farmers markets, industry trade shows, holiday festivals, and even pop-up shops all let you market and sell face-to-face. All you need is a way to accept in-person payments. For that, many product marketers turn to Square, which offers secure mobile credit card processing at competitive rates, plus a completely free business management software package.
Affiliate Marketing
Remember influencer marketing that we mentioned above? Affiliate programs are an easy way to reach social media and blog influencers. They cover your products and present them to their followers, and you only pay when they send a sale your way. Learn how affiliate marketing works from the blogger's point of view and check out popular affiliate marketing programs such as ShareASale and Commission Junction.
Additional B2B Marketing Channels & Strategies
As you plan how to market a product, consider extending your reach to retail store buyers and commercial customers by using these B2B marketing tactics.
Include Bulk or Wholesale Pricing on Your Website
Most ecommerce platforms let you create login-protected sections of products, which lets product marketers offer wholesale or commercial bulk-buy pricing to these customers. This lets small sellers cater to all types of buyers through their website. "Adding vendors-only sections with password access lets us list wholesale pricing and accept reseller orders online without revealing this pricing to regular site visitors," says Mary Bentley. "Our site uses the WooCommerce ecommerce plug-in for WordPress, and that combination gives a full range of product listing and pricing options."
List Product in Online Wholesale Marketplaces
Online reseller marketplaces are a budget-friendly way to get your product in front of resellers that are searching for wholesale goods online. Vendor marketplaces like Indigo Fair, Etsy Wholesale, and U.S.-Made Wholesale mainly cater to specialty and small product manufacturers, while others, like Alibaba and Wholesale Central, list product manufacturers of all types and sizes.
Exhibit at Trade Show and Buyers Markets
Buyers markets and trade shows are where the resale buyers shop for the goods that fill their store shelves. There are trade shows and buyers markets that serve every industry, from home and gift to technology, fashion, stationery, automotive, and much more.
"Permanent buyers markets, like the Atlanta, Dallas, and New York market centers, have permanent showrooms year-round, plus major market events with lots of temporary exhibitors," says Mary Bentley. "The temporaries are pretty budget-friendly and can expose your product to a huge number of resale buyers in a short amount of time."
Bentley adds, "Buyers markets offer many show promotion opportunities beyond your booth. We've always had great results from participating in walk-by displays that the show places in the hall's high-traffic areas. Marketers should check into all of these opportunities while exhibiting at the shows."
Printed materials like product catalogs, product spec sheets, business cards, and promotional giveaways are a key component of any trade show or buyers market exhibit. Vistaprint is a great source for high-quality, budget-friendly marketing materials. You can design your own, use their customized templates, or use one of their designers to develop an original, eye-catching print marketing package.
Contract with a Rep Group
Rep groups—the common term for product manufacturers' representatives—are sales outfits that connect product manufacturers to wholesale buyers within specific industries. "The market showrooms are all run by rep groups, and you can check them out when you visit or exhibit in various markets," says Bentley.
"Rep groups take a percentage of each sale," says Louis Hill, "but they know the market and have salespeople with existing buyer contacts. They work to market your product to resellers for you, so it can be an effective way to reach wholesale buyers without doing the work yourself."
With a picture of the essential and optional marketing and sales channels in your mind, you can plan how to market a product using a mix of sales channels and outreach tactics. Your next step is building these out with a compelling story for your product and brand.
4. Develop Your Product Story
Websites, online listings, and dealer reps alone will not sell your product. To make any sales and marketing channels work for you, you need to craft a consistent "story" about your product. According to Chad Rubin, "Your product's story is much more than a description and list of features."
"So what?" is the question that Chad Rubin challenges you to answer as you develop product content for your website pages, marketplace listings, and other marketing materials. "The biggest mistake that product marketers make is assuming that features sell a product," says Rubin. "Features don't resonate with buyers—solving their problem does."
Rubin advises small businesses to turn features into problem-solving benefits when crafting product descriptions and related website and marketing content. "Always ask yourself 'So what?' when you describe your product to uncover the benefit behind the feature," says Rubin. "Then connect that to real life—that's your story."
"It's crucial for marketers to remember that shoppers convert to buyers because a certain product resonates better than its competition," says Rubin. "Usually that's because that marketer builds a better story, not because the price is lower or the product is better."
The better-selling product doesn't simply list features—like having a HEPA air filter on a vacuum cleaner. "So what?" Rubin says. Instead, savvy marketers describe how that feature benefits the buyer—for example:
A HEPA air filter removes airborne allergens by 90 percent as you clean
and helps those with dust and dander allergens breathe better.
"A shopper with dust allergies will have an emotional response to the benefit of the HEPA filter," says Rubin. "They respond to the stated fact that it will help them breathe and feel better."
Using Rubin's "So what?" strategy gives you a set of benefits that you can use as building blocks to craft product listings, website, blog, and social marketing content, and other marketing materials that resonate with shoppers.
5. Long-Term Planning
As you plan how to market a product, think in terms of a marathon dotted with sprints. According to Louis Hill, "Certain marketing tools and channels are your distance players—such as your website, email marketing, social channels, marketplace listings, and guest post campaigns." With these, you market products day-in and day-out, build an audience, and attract buyers over time.
Others are short-term sprint tactics, such as press releases, trade show and market exhibits, and even in-person sales at fairs and festivals. "Marketers can get a boost of attention or cash influx from these marketing tactics," says Hill. "But alone, these marketing tactics won't get you across the finish line. Marketers need to have the essentials in place, like a website, social media channels, and email marketing at the very least, to derive long-term benefits from the attention they get from press pick-up, trade shows, and buyers markets."
So, as you plan how to market a product, start by being selective in your channels. Don't feel like you must attempt everything at once. Plan to put a few long-term channels in place first, then test out audience-specific and short-term tactics to see which ones receive the best response.
Following our expert's guidance, start by building your three essential product marketing channels first. These include:
Your website – This includes SEO-friendly product listings and content that tell your product's story. You can include blog posts, product instructions, and even how-to or product demonstration videos to help tell

—

and sell

—

your product's story.
Email marketing – Start collecting emails from website visitors from day one and send marketing emails regularly.
Social channels – Set up business pages on Facebook, Instagram, Pinterest, Twitter and start posting engaging content and following relevant users from day one.
Once your essential channels are in place, you can expand your reach using a variety of long-term, audience-specific channels and marketing tactics, such as:
Seller marketplace listings like Amazon and eBay
Vendor wholesale marketplace listings like Hubba and Indigo Fair
Product listings on social sites for social selling
Guest posting with industry-related blogs
Connecting with social influencers via affiliate marketing
Contracting with a rep group for ongoing marketing to resellers
Then you can also try some sprint-type marketing tactics to boost site traffic or brand awareness, such as:
Paid online advertising through Google AdWords
Press releases for new product roll-outs and updates
Exhibiting at trade shows and buyers markets
The takeaway here is that you have many options when it comes to marketing channels, and no one channel is an expressway to instant sales. Planning how to market a product starts with your long-term traffic-building tactics, like a WordPress website and social channels. From there, you can expand into audience-specific channels. All of this sets the stage for long-term growth, plus helps you make the most of short-term marketing boosts, like press releases, market attendance, and ad campaigns.
The Bottom Line
Startups and small manufacturers have plenty of highly-effective, budget-friendly online marketing tools and tactics well within reach. In fact, small business marketers regularly outperform the big-budget competition by developing content that tells a story, grabs attention, and elicits shares across social media.
But accessible tools and bold creativity don't override the need for sound product marketing theory. You still need to do your homework—define your audience, know your competition, and position your product to outshine the rest by developing a good product story and communicating that to audiences through various marketing tactics.
To maximize your ROI through marketing efforts, consult with a marketing professional to make sure your marketing campaigns are in order. Use Mayple to be matched with a marketing expert from your industry, so you know your second set of eyes are from a professional. Visit Mayple's site, fill out a brief identifying your business' goals and receive a FREE full audit of your marketing campaigns.