Top 27 Real Estate Postcard Templates & Examples
Sending real estate postcards is an effective marketing tactic for generating leads and building brand awareness. While typically only 5×7 inches in size, real estate postcards can make a huge impact when sent for follow-up communication, upcoming listings, just-sold properties, open houses, and more. Draw inspiration for future direct mail marketing campaigns from some of the best real estate postcard ideas below, and use them to attract, nurture, and convert real estate leads into clients.
Ready to start sending real estate postcards for lead generation? Get started right away with VistaPrint. They have hundreds of premade designs to choose from that you can customize to fit your brand's style and message. VistaPrint even has graphic design experts who can assist with your design needs.
Visit VistaPrint – Use Promo Code: FSB15
to take $15 off a purchase of $50 or more
Check out the 27 best real estate postcards for various types of marketing and advertising campaigns, and what makes them effective:
Just Listed Real Estate Postcards
Just listed marketing postcards have one obvious purpose: to share information about a new property on the market. However, there are a few other behind-the-scenes reasons why they are often used by agents who want to become successful in real estate.
Just listed postcards can help you find a buyer for a property, but they also show other potential sellers what types of homes you typically work with and how you successfully market them. Although the front of the design doesn't showcase you as the realtor or agent specifically, it includes your logo and contact information, which is enough to get in the door. Plus, you can include more details about your business on the reverse side.
1. Bright & Modern Design
Cost: Free or $12.99 per month for a paid plan
Edit with: Canva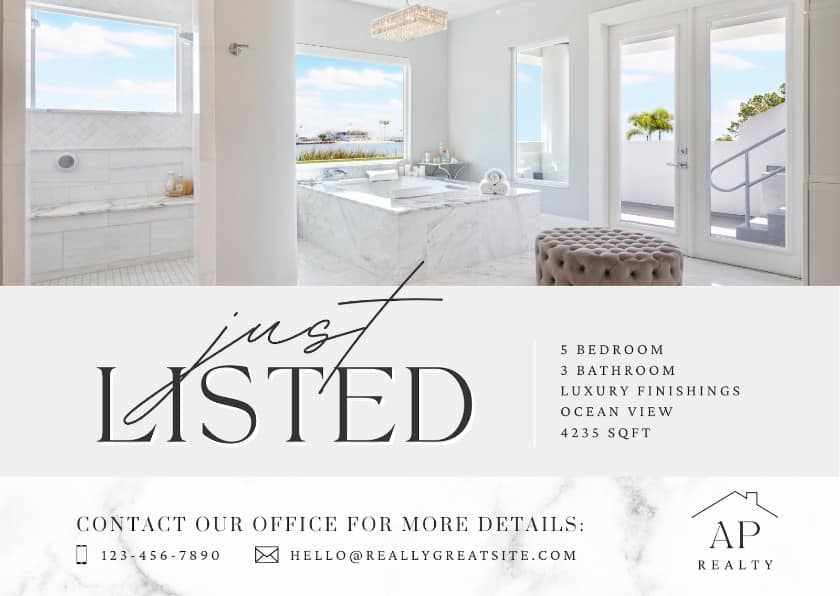 This postcard stays focused on its main purpose—showcasing the listing. Only one image is featured on the front, which highlights the impressive features, natural light, luxury, and simplicity of the space. In addition, the actual postcard design perfectly suits the image. In the end, this postcard will be most appealing to buyers looking for a bright, clean, and luxurious home.
Canva has many premade real estate marketing templates you can use to power lead generation and brand awareness efforts. Subscribing to the low-cost paid plan gives you access to both free and premium templates and it keeps your costs at a minimum. Instead of purchasing graphic design editing software, all the work of editing, perfecting, and downloading your designs is done on Canva's intuitive, easy-to-use, drag-and-drop interface.
2. Just Listed With Urgency
Cost: Starts at 12 cents per piece / standard size
Edit with: PostcardMania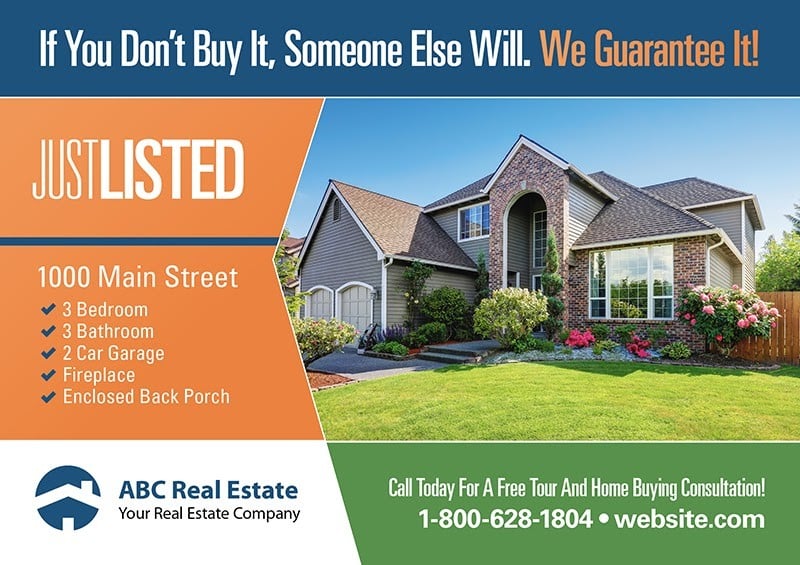 This design uses bold colors and messaging to grab the attention of potential buyers. The top call to action creates a strong sense of urgency, which is perfect for a buyer's market. Alternatively, it can also indicate that the seller is motivated and the home will move fast.
The additional incentive of a free homebuying consultation can attract buyers who aren't necessarily interested in purchasing this home but are looking to purchase in the near future. This is a great way to generate real estate leads among interested parties who are thinking about buying and don't already have a real estate agent.
Not only does PostcardMania produce real estate postcards like the above example as well as other designs, but they also provide other services like graphic design, bulk mailing, and mail tracking through Google. The unique barcodes printed on the postcards track when your mail arrives and then automate text and image ads that complement your mailer for optimal brand awareness.
Just Sold Postcards
Just Sold real estate postcards have a similar purpose as Just Listed mailers but are sent at a different point in the process. Use these cards to showcase beautiful properties you recently sold in your real estate farming areas, properties you sold in minimal days on the market, and those that sold for more than the listing price.
By highlighting these victories, you signal to other potential sellers that you are a valuable asset to have in their corner during a real estate transaction. In addition to showcasing the win you got for your client, include a clear and simple call to action so prospective clients know you are ready to help them.
3. Follow-up Just Sold Postcard
Cost: Free or $12.99 per month for the paid plan
Edit with: Canva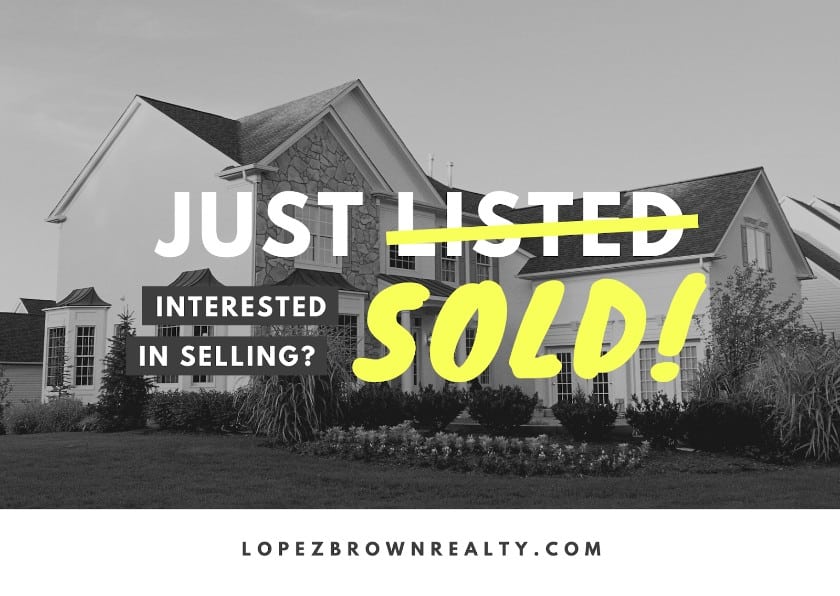 This example has a very simple design that keeps the message focused, which is effective for real estate agents who use a direct mail campaign for each sold listing. Simply switch out the black-and-white photo and recreate this campaign to showcase various types of wins. Sending these types of mailers frequently helps to build your brand in your real estate niche location so recipients begin to recognize your content and remember your name when they interact with your brand.
Alternatively, this type of marketing postcard could be used as a follow-up for your Just Listed campaign. Since it shows the words "just listed" and highlights the property that sold, you could send this to potential sellers to show them how efficiently you get the job done. It sends the message that you were able to quickly sell the home, which can be important to sellers who need a fast, smooth selling transaction, such as when relocating for a new job.
4. Sold Over Asking Price
Cost: Free or $16 to $299 per month with a subscription
Edit with: Venngage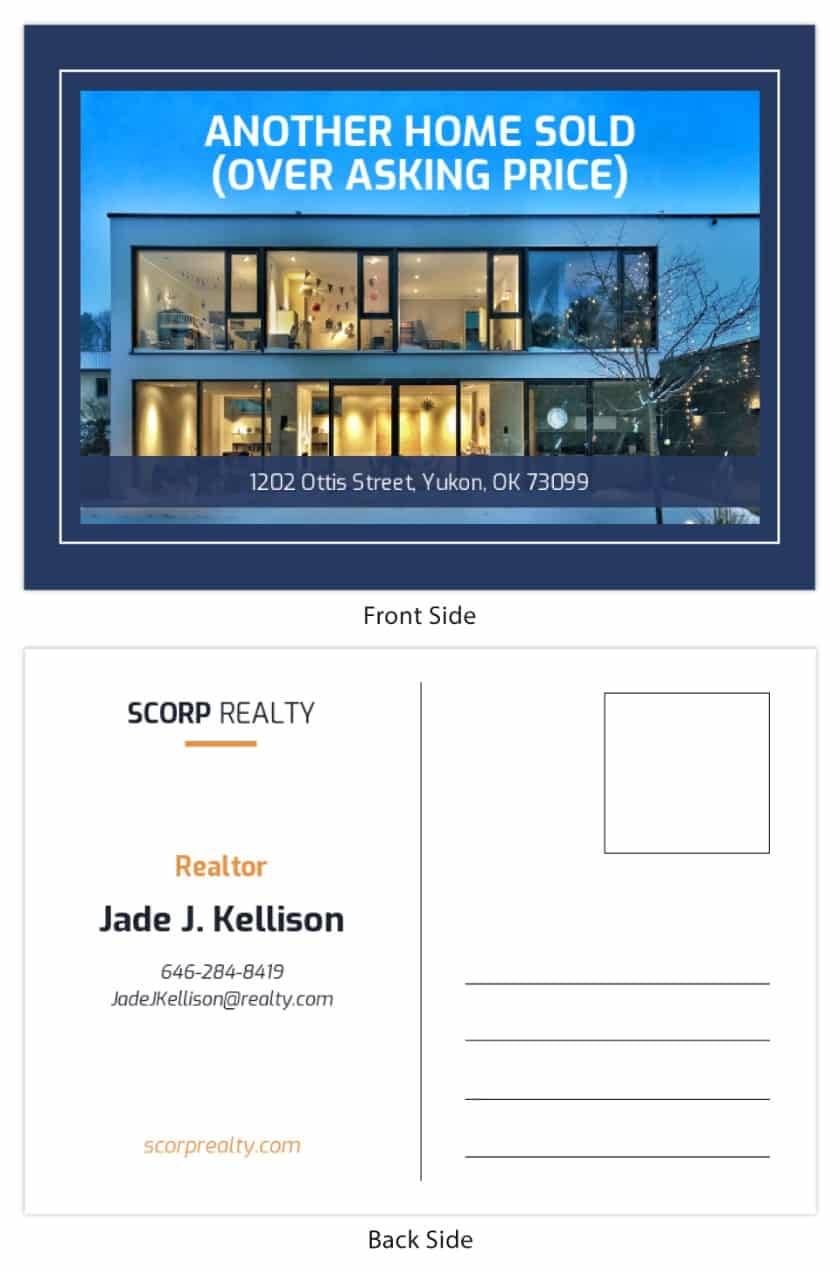 This postcard delivers a clear message and encourages recipients to take notice. It's a great way to boldly show potential sellers that you are able to consistently sell homes for the maximum price. If you choose this postcard template, we suggest adding a call to action like "Reach out for a Free Home Valuation!" or "Contact Us to Sell Your Home" on the back of the postcard.
If you work mainly with sellers, you might be looking for a variety of designs and ideas. For more examples of Just Sold mailers you can use to build your real estate business, check out these 25 Just Sold Postcard Examples & Templates.
Expired Listing Postcards
Expired listing postcards are sent to homeowners who previously listed but failed to sell their home or property. They may have worked by themselves, known as for sale by owner (FSBO) listings, or worked with a real estate agent who unable to sell their home in the allotted time frame.
When targeting these types of prospects, keep in mind that it's often a difficult time for the homeowners. They were unable to complete the task of selling their home and may have also had a poor experience with their former agent. Instead of hitting them with an overconfident marketing pitch, your real estate prospecting postcard should focus on answering their questions, easing their concerns, and showing how you could help them move forward.
5. Incentive for Expired Listing Leads
Cost: Starts at 12 cents per piece / standard size
Edit with: PostcardMania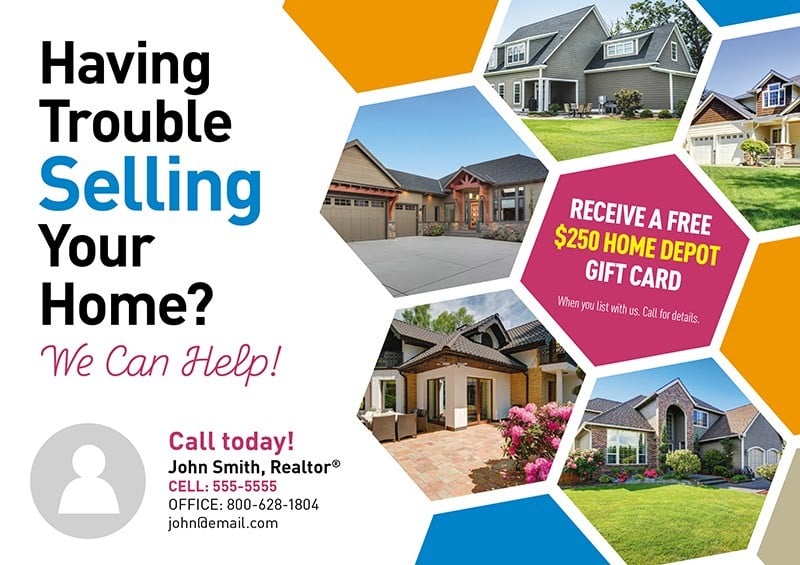 This real estate postcard template takes a different approach to target owners of expired listings by offering an incentive. Not only does this advertise a significant monetary reward, but the reward is also directly related to your offer of listing the home. In many cases, owners of expired listings need to make improvements prior to relisting their home for sale, so a gift card to a hardware store can be highly relevant and motivating.
6. Urgency Meets Experience
Cost: $179.99 for 400 postcards
Edit with: Printer Bees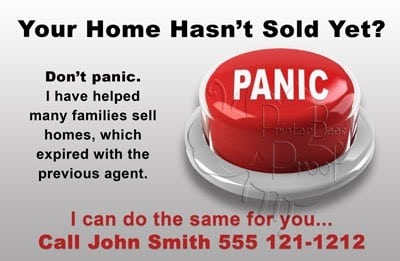 It's impossible to look at this postcard without immediately noticing the giant red panic button. Since this is a feeling many expired listing owners can relate to, it's a great way to capture attention. However, it doesn't leave the owner without a solution for their panic. Instead, the language on this card offers help from someone who has experience and proof in this specialized circumstance.
Pro tip: To follow up after sending expired listings postcards, download our free templates and use them to reach out with a real estate prospecting letter that offers more information about your services, client successes, and how you can help sell their property.
7. Relevant Information for Expired Listings
Cost: Starts at 73 cents per piece
Edit with: ProspectsPLUS!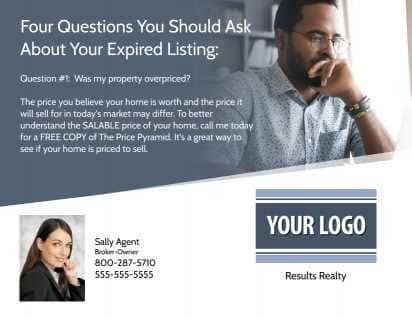 Breaking the ice via direct mail is just as important as breaking the ice when meeting a stranger in person. This design offers a question and education about expired listings, helping you stand out from many other agents who may be sending more generic or sales-oriented real estate mailers.
This real estate postcard also provides expired listing homeowners with food for thought―maybe they didn't fully understand why their home didn't sell. Giving knowledge to your potential clients empowers them and proves that you can add value to their situation. In addition, it makes these homeowners wonder "what are the other three questions I should have asked?"
This postcard template is available from ProspectPLUS!, one of the best direct mail companies on the market. They offer the widest variety of real estate mailers and niche templates, so you can find exactly what you need without having to work with a designer or make changes to a template.
Open House Real Estate Postcards
Open house postcards are invitations, so when designing one, consider what information someone would need to know in order to attend an event. This includes sending postcards at the right time in relation to your event, and ensuring the open house date and time, location address, top reasons to attend, and contact information is included.
8. Bright Open House Invitation
Cost: Starts at 12 cents per piece / standard size
Edit with: PostcardMania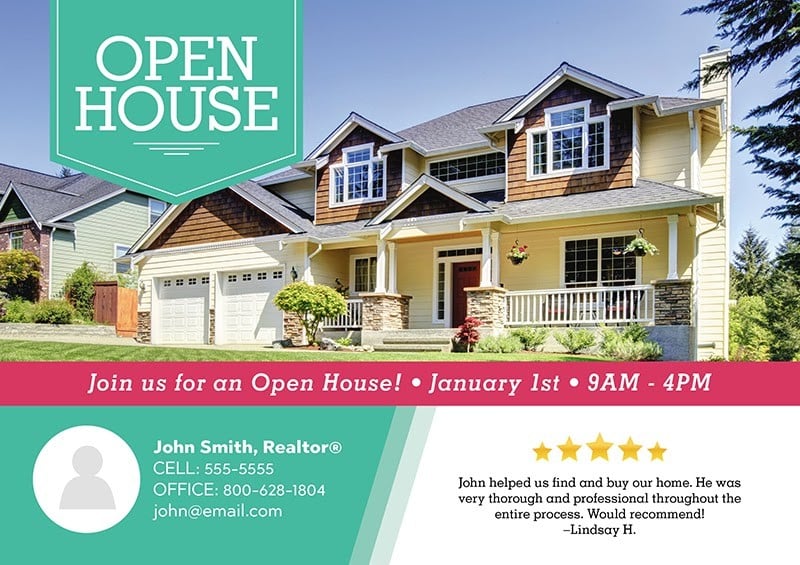 This real estate postcard creates an inviting feel, and highlights information using effective placement and color. The date and address are clearly posted, and there is even a spot for a positive testimonial. This is the type of postcard that an interested homeowner might handily stick on the refrigerator with a magnet and enter into their calendar.
9. Property Spotlight Open House Postcard
Cost: Free or $12.99 per month for a paid plan
Edit with: Canva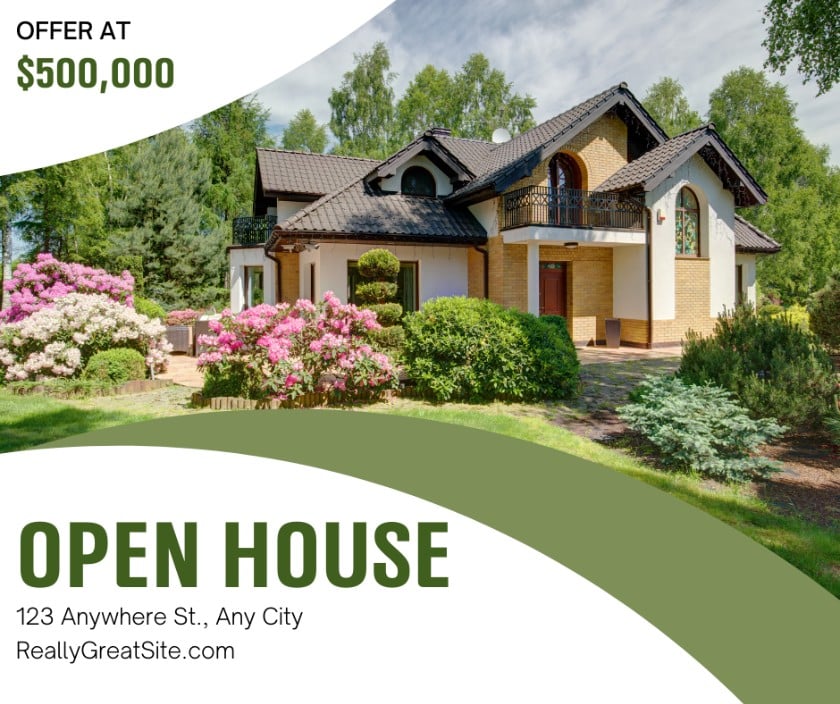 This postcard conveys the most important information and puts the spotlight on the property in a clean, simple design. The price of the listing is on the top, there is a prominent feature image to show off the best part of the home, and a large heading to clarify the event type.
Canva has an entire library of real estate postcards that you can customize to fit your needs. Incorporate your real estate logo, contact information, headshot, and more into their premade templates to guarantee your brand will be recognized by your community. You can use their services for free or start a paid plan with access to more design options.
For more details on promoting your open house in addition to postcards, read about these free open house flyers and tips.
Foreclosure Postcards
As with expired listings, when sending real estate marketing materials to potential foreclosure property owners, it's important to be sensitive. No homeowner aspires to go through foreclosure, so you won't get positive results without extending kindness and empathy. Use language and designs that communicate how you can help them find a solution to their problems.
Foreclosure properties represent a potential niche market for realtors, but these listings require additional skills, a deeper market understanding, and different approaches than other types of listings. To learn more, read our article with seven ways to get foreclosure listings.
10. Foreclosure Experience Postcard
Cost: Starts at $89 for 100 pieces
Edit with: Realty Cards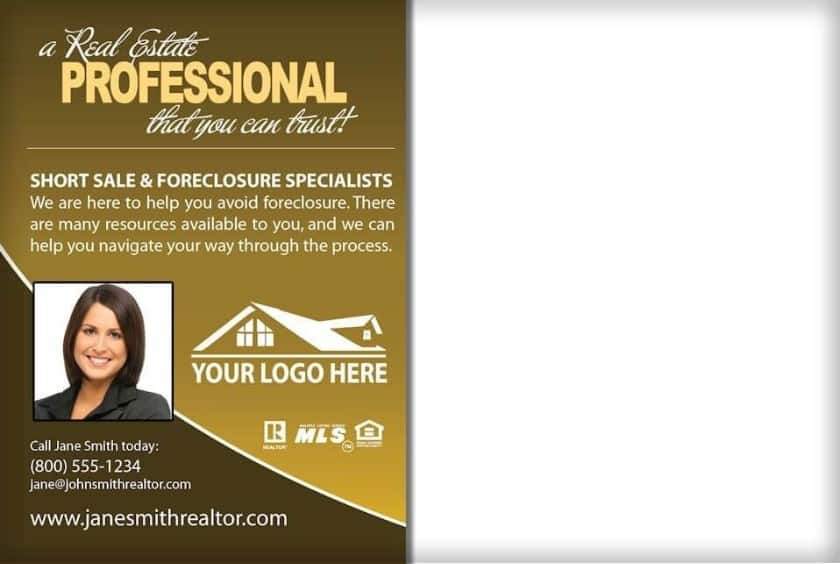 The large red stop sign on this postcard template definitely grabs attention. Directed at homeowners facing foreclosure, the content stresses the value of working with a realtor who has foreclosure experience. This agent helps the client see a way out, positions herself as a specialist, and doesn't use fear in her messaging. It's perfectly suited to send to people who want someone approachable to consult with to find the best way out of a foreclosure situation.
11. Falling House Postcard
Cost: Starts at $53.99 for 100 pieces
Edit with: Best Print Buy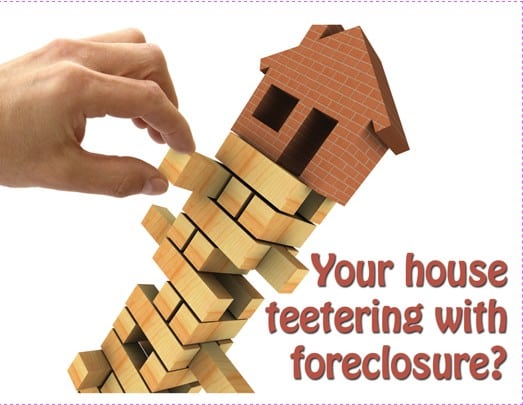 Designs with white space are brighter and more eye-catching, and this foreclosure postcard template shows a symbolic image of falling blocks. It conveys empathy for how someone in preforeclosure might feel like their world is about to tumble down. It's an effective way to reach foreclosure leads while being sensitive to their unique situation. On the back, you can then include your logo, contact information, and a call to action.
FSBO or FRBO Postcards
FSBO (for sale by owner) and FRBO (for rent by owner) hesitate to work with a real estate agent since they have valid reasons for selling or renting the home themselves. They may not trust agents or a particular agent, feel that they can do better on their own, or don't want (or can't afford) to pay a commission out of proceeds. But with the right marketing and communication, it is possible to consistently convert these homeowners into clients.
12. Validate FSBO's Hard Work
Cost: $5
Edit with: Etsy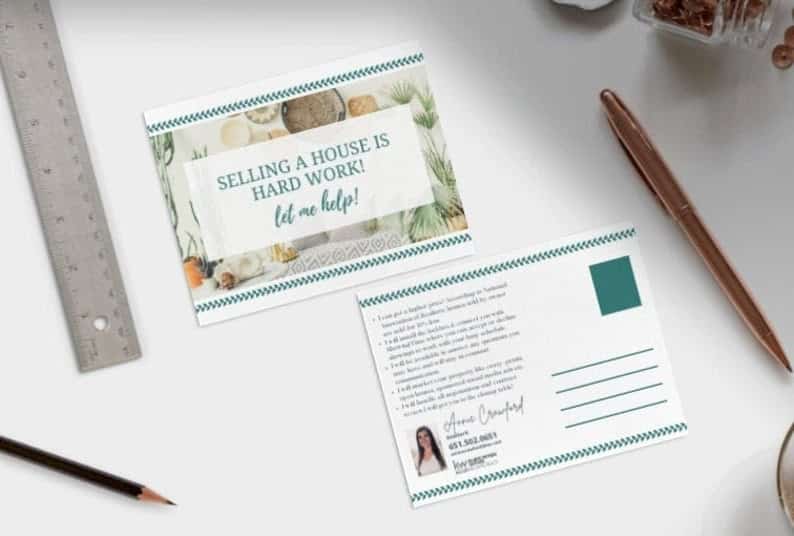 The front of this postcard design uses two short and simple empathetic sentences to target potential FSBO listings. On the back of the postcard template, there is room for a few paragraphs of text, your headshot, and contact information.
13. Free FSBO Resources
Cost: Starts at 73 cents per piece
Edit with: ProspectsPLUS!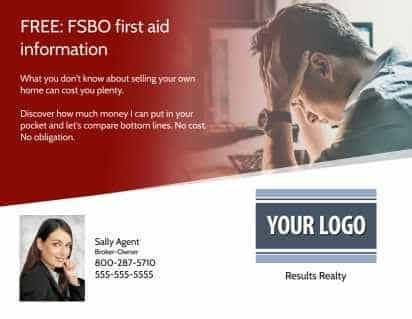 The word "free" is a universal power word because it naturally grabs our attention. By offering a free resource to FSBO owners, you provide a clear solution to the common problems they face and an incentive to reach out. Offering valuable information at no cost is a proven way to overcome objections an FSBO seller might have about working with an agent and sets you up as the expert on FSBO real estate transactions.
If you'd like to learn more about making FSBO clients your real estate niche, see our article or create a checklist to share with potential clients with inspiration from our free, downloadable FSBO checklist.
Agent Introduction & Real Estate Business Marketing Postcards
After you've received your license, your sphere of influence (SOI) is the best place to start looking for new clients. Since these people already know and trust you, you just need to make sure they know that you are ready to help them buy or sell a home.
Don't be afraid to put some of your personality into your marketing materials. For example, feel free to include a photo of your pet or the fact that you love historic homes, especially if they're commonly found in your area. Inserting information about yourself helps people feel they connect with you, and that they aren't simply receiving yet another solicitation.
14. Highlight Your Headshot
Cost: Free or $16 to $299 per month with a subscription
Edit with: Venngage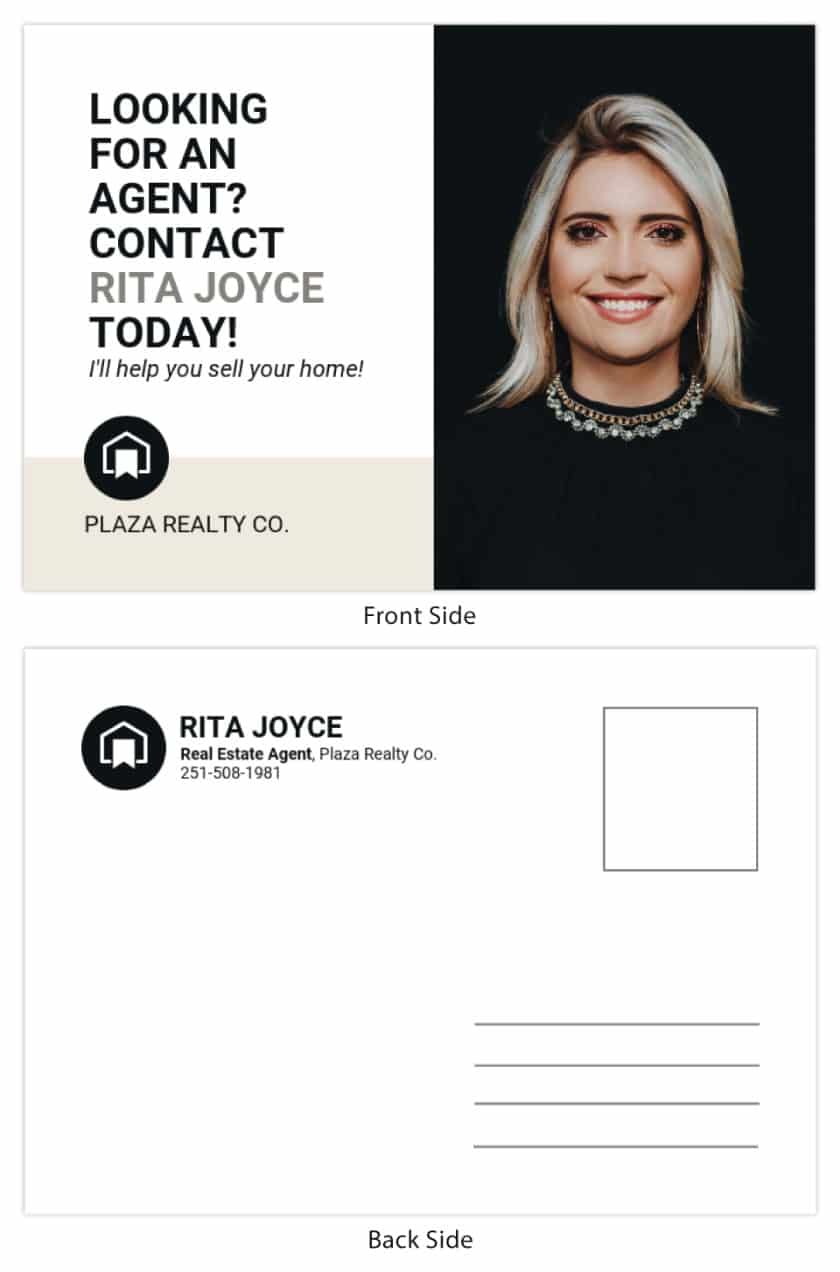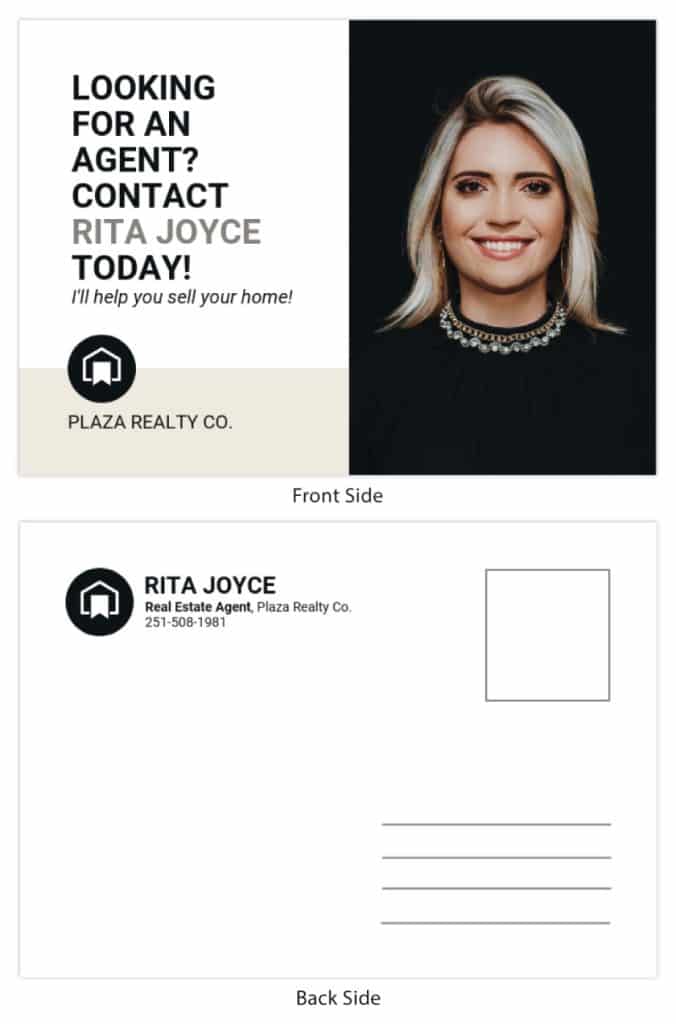 This postcard clearly communicates a distinct message while maintaining a simple design. By making your headshot a large part of the postcard, you can start building recognition and brand loyalty―people will feel like they already know you even before you meet.
15. Highlight a Positive Testimonial
Cost: 75 cents per postcard (including postage) with no minimum order
Edit with: Wise Pelican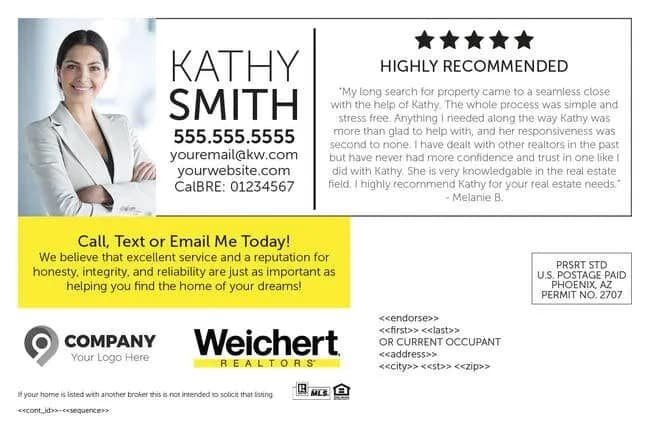 If simple isn't your style, go with a design that lets you communicate many details about your business. There is room for your headshot, personal logo, business logo, contact information, a call to action, and a positive client testimonial. Customer reviews are extremely important in any business and a great way to build trust with future clients.
Seller Listings Postcards
Seller listing postcards are sent to reach homeowners who may be interested in selling their home. They are most effective for immediate lead generation when sent to the right people at the right time. However, sending them consistently across your target market builds brand awareness, making it more likely someone will remember and reach out to you when they are getting ready to sell.
It can be difficult to predict when a homeowner is ready to sell, but you can maximize the power of these postcards by working in conjunction with a data source like Offrs. Offrs uses market data in combination with artificial intelligence to successfully predict 70% of all listings by analyzing the online behaviors of people visiting real estate websites. Take advantage of this intel to learn where to send seller listing postcards.
16. Unique & Friendly Challenge
Cost: 75 cents per postcard (including postage) with no minimum order
Edit with: Wise Pelican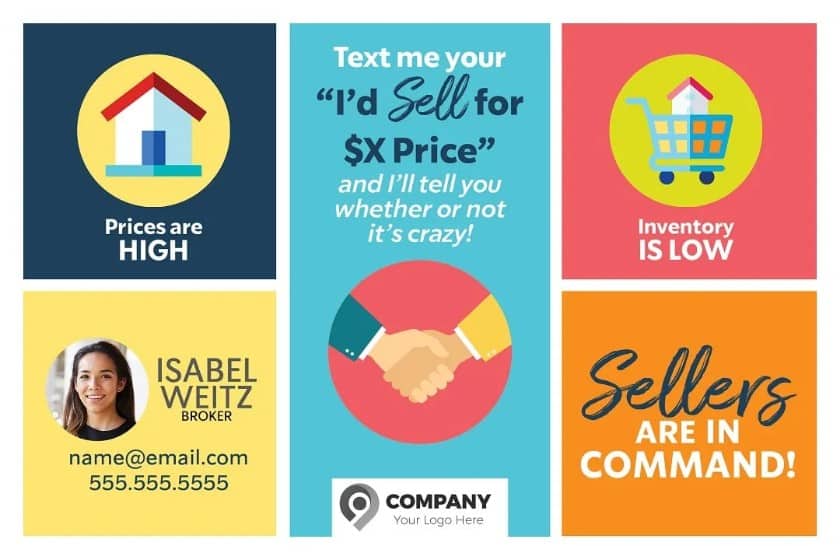 This postcard from Wise Pelican offers a unique call to action that also serves as an ice breaker you can use to communicate with a new lead. Instead of telling sellers what they could sell for, it invites potential sellers to name their price, which is an interactive and fun approach. While it opens the door for communication, it also gives you an idea of whether the seller's expectations are realistic so you can then educate them on the market and find out if they are genuinely interested in selling in the near future.
17. Sell With Urgency
Cost: Starts at 73 cents per piece
Edit with: ProspectsPLUS!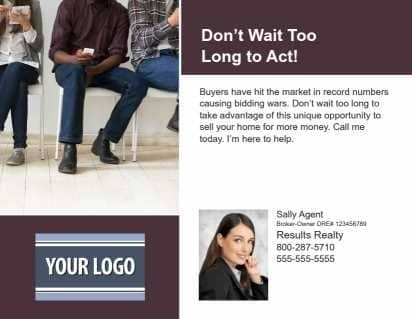 This real estate postcard leaves just enough room to write a short description about why a homeowner should sell their home sooner rather than later. You can even include specific real estate market data here, such as statistics, but keep it simple and easy to digest so it doesn't distract from the primary message of this card.
Renter Real Estate Postcards
Renters are a prime population to target with direct mail and it can be incredibly effective to show renters what's possible within their budget. In addition, renter postcards are some of the easiest to target. For example, you can mail or distribute them to nearby apartment complexes and the majority of the audience likely will relate to the message.
People are often unaware of the numbers and how they may work in their favor―be the person who opens their eyes and points them in a new direction. By showing them how what they are currently spending could get them closer to homeownership, they may be pleasantly surprised at how affordable it would be to buy instead of rent.
18. Easy to Own
Cost: Free or $16 to $299 per month with a subscription
Edit with: Venngage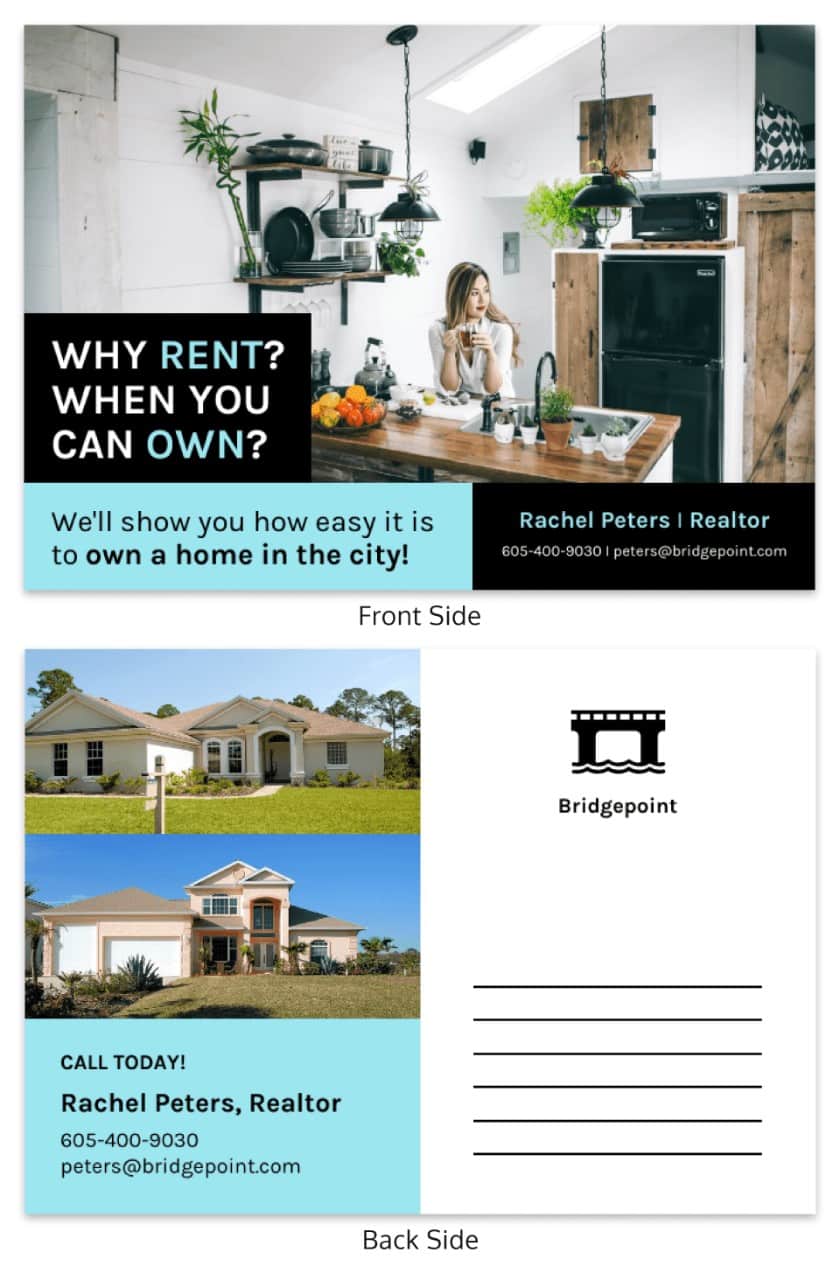 This design is relatively simple, but aesthetically pleasing with simple shapes and bright colors. The content is intended to intrigue renters by giving them a hint of how easy it would be to buy a home. In addition, it shows the juxtaposition between staying in a smaller living space vs the possibility of moving to a much larger space if they buy. The call to action is an invitation to learn more about how they could make the leap.
19. Renting vs Owning Information
Cost: $3
Edit with: Etsy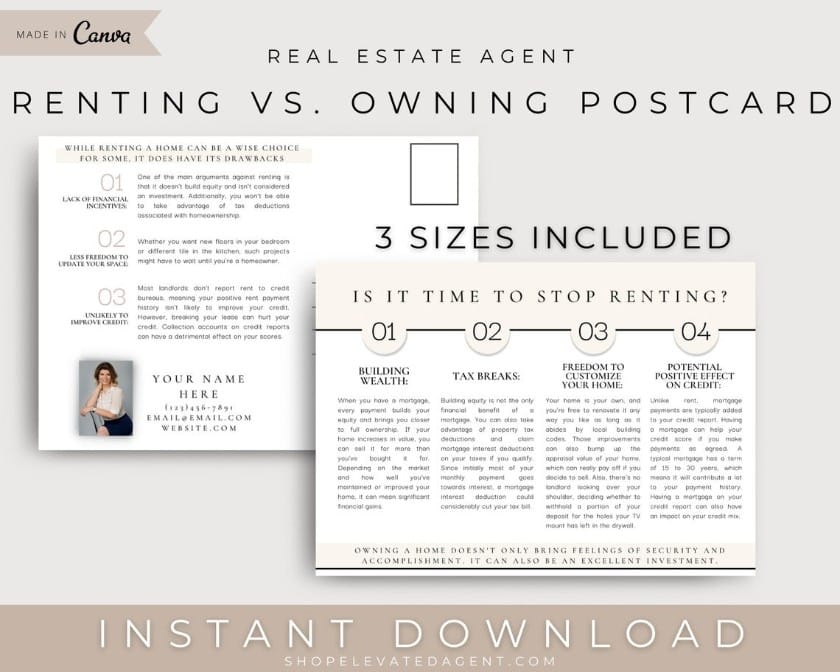 This real estate postcard organizes a lot of information in a small space, and clearly describes four reasons why owning is a better choice than renting. It is a great way to burst out of the gate and establish yourself as someone with knowledge and authority. Because it's full of so much valuable information, renters are also more likely to hang on to them for future reference.
Past Client Postcards
Every successful realtor knows that marketing doesn't stop when a transaction is finished. Sixty-eight percent of all sellers find their agent through a referral, so it is an absolute must to stay top of mind with past clients and make it easy for them to send you referrals and repeat business. Sending postcards to past clients is one of the simplest ways to do so.
20. Thank-you Holiday Postcard
Cost: $5.32
Edit with: Etsy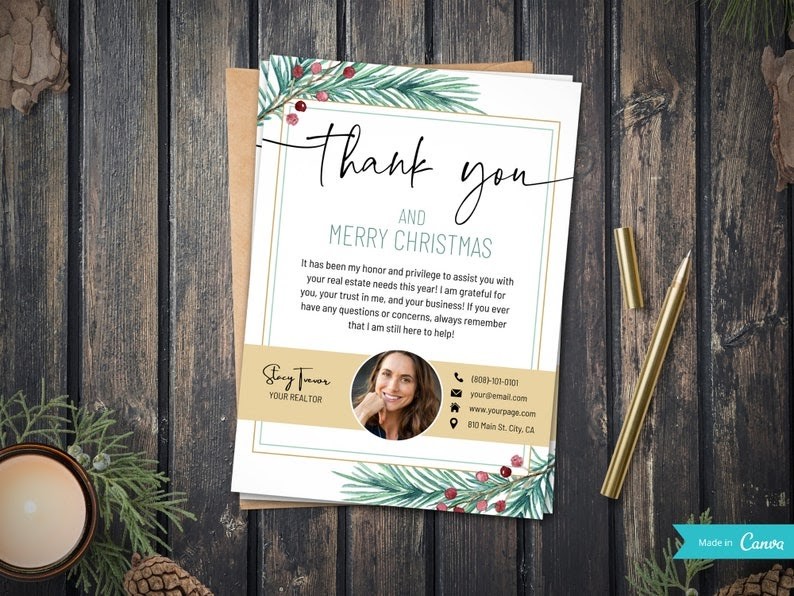 This holiday card is designed to be sent to past clients or other professionals you've collaborated with. When you send a card to thank someone, remember to avoid making a hard pitch. This template balances it perfectly, keeping the message focused on providing a heartfelt thank you but leaving the contact information highly visible.
21. Same Agent, New Company
Cost: $179.99 for 400 postcards
Edit with: Printer Bees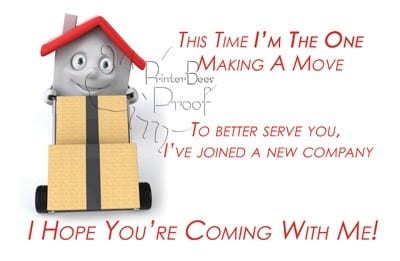 Whether or not past clients found you through your previous brokerage or company, it's a good idea to let them know if you make a change in your business. Sending a mailer like this gives you the opportunity to update them on your status, provide them with your new contact information, and invite them to reach out to you if they plan to buy or sell again in the near future.
Buyer Postcards
Finding a new home can be a long, difficult, and emotional process for homebuyers. They often don't even realize what kind of help they need, so it's your job to make it easy for them to take the right steps. Sending a postcard to those who may be interested in buying a home is the first step to attracting prospective leads and offering your unique personality and strengths to help them.
22. Front Door Buyer Postcard
Cost: $179.99 for 400 postcards
Edit with: Printer Bees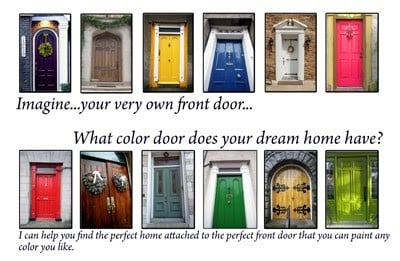 Using photos of so many different types and colors of front doors can pique the recipient's curiosity. For those wanting to buy a home or move into a new home, it also touches on their desire for a dream home. It's a more laid-back approach to direct mail but serves as another way to break the ice and market to potential buyers.
23. Free Homebuying Resource
Cost: Subscriptions start at $10 per month
Edit with: LucidPress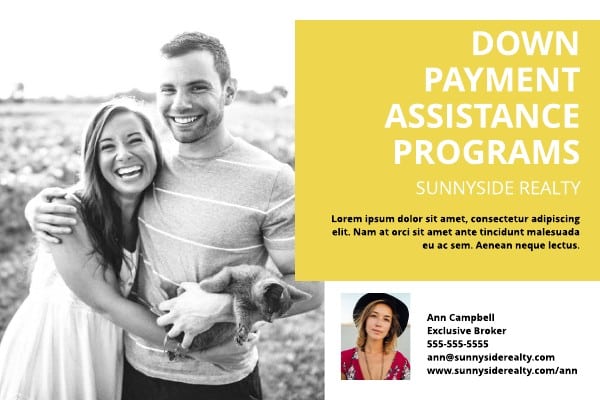 Even though there are multiple elements to the front of this postcard template, the eye-catching yellow square is the immediate focus. Instead of asking obvious questions like "Are you ready to buy a home?" or "Do you want to buy a home?" including an offer of assistance like this lets you stand out. Plus, when you have connections, programs, or resources that can help people overcome obstacles to buying a home, you're more likely to get immediate results from postcard sends.
Market Trends & Knowledge Postcards
Sending market trends is an effective strategy because future and current homeowners are usually interested in local pricing information. Use postcards like these to translate what can feel complex into easily understandable information, and communicate exactly what it means for them.
24. Home Values in Your Neighborhood
Cost: Starts at 12 cents per piece / standard size
Edit with: PostcardMania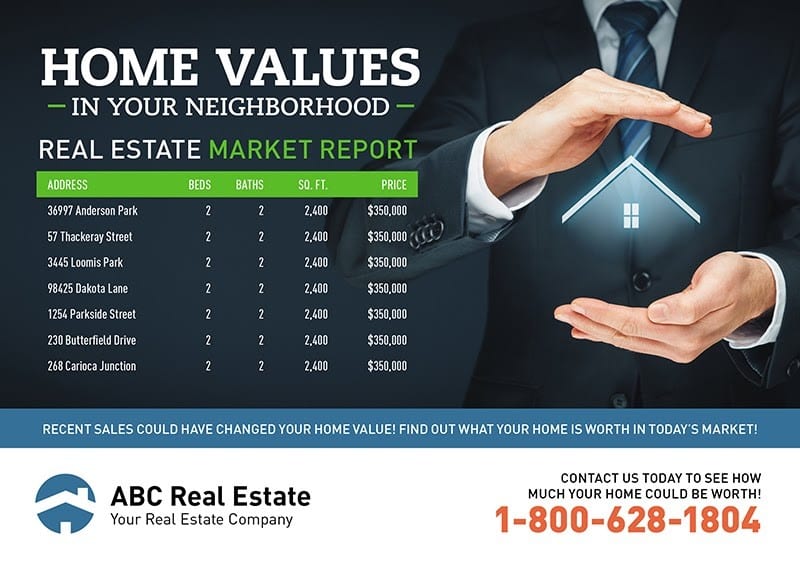 Many people are naturally curious about the local real estate market and pricing, even if they aren't immediately planning to buy or sell. This postcard gives specific property information about home values in an easy-to-digest chart. Don't forget to add your contact information and logo as this is the type of marketing collateral many recipients will hold onto.
25. Free Home Market Analysis
Cost: Starts at 73 cents per piece
Edit with: ProspectsPLUS!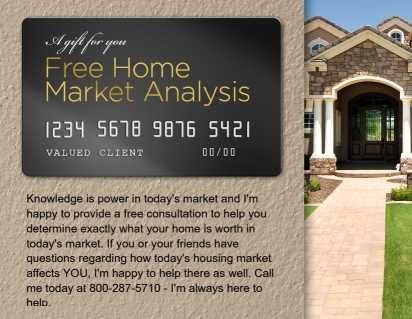 As you may have noticed throughout all the real estate postcard examples included in this article, offering an incentive is one of the more powerful and effective direct mail strategies. This postcard offers a free home valuation that will appeal to those who are in the beginning or exploratory stages of selling their home.
Holiday Postcards
People prefer to do business with those they know, like, and trust. While it is good to send periodic nudges about referrals, it can backfire if clients feel that they are receiving constant advertisements.
Use holiday real estate postcards as a top-of-mind brand awareness reminder or check-in rather than a hard pitch. During this time of year, people are already receiving and displaying cards from other friends and family, so this can group you in with some of the clients' closest loved ones.
26. Introduction Holiday Postcard
Cost: $3
Edit with: Etsy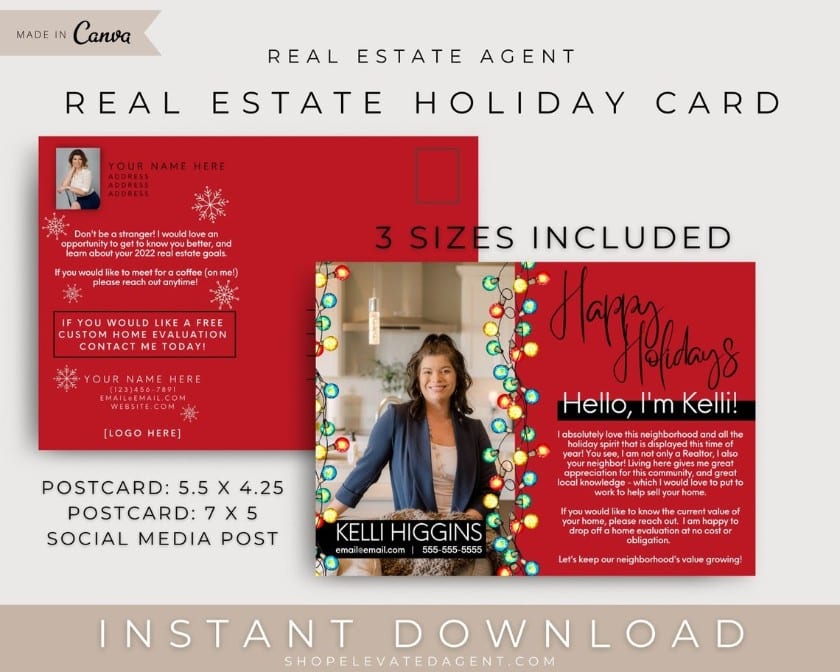 This holiday real estate postcard template stands out with a simple greeting and introduction. It's friendly and offers a way for you to introduce your services and build brand awareness. Just as with a personal holiday card, there's room enough for you to share some information about your business in general or showcase some of the successes you've had throughout the year.
27. Traditional Holiday Card Style
Cost: Starts at 12 cents per piece / standard size
Edit with: PostcardMania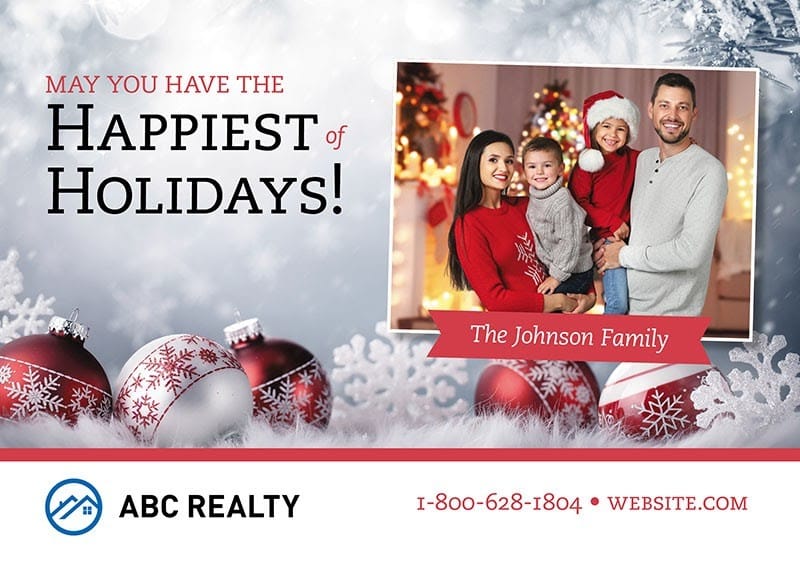 This real estate postcard looks almost identical to the holiday cards that many people send and receive to friends and family. It's intended to help people connect with you on a more personal level, sending the message that you and your family live in the same community they do. It's also a great option for sending to past clients and your professional colleagues.
Pro tip: While your family may celebrate specific holidays, like Christmas, other families may not. You can be more inclusive by using "Happy Holidays" or "Seasons Greetings" without losing the holiday spirit.
What to Include in Real Estate Marketing Postcards
Most people spend very little time on direct mail, especially when it comes to advertisements—you have only a second or two of their attention before they decide to throw your postcards in the trash or keep them. With a well-crafted message, you can get potential clients to read and even keep your postcards.
When planning what to include in a real estate postcard, consider these five elements:
Unique, memorable, recognizable branding: Even when you send out multiple real estate farming postcard campaigns, your branding and the general style of your marketing postcards should be consistent. When leads start to think, "This looks familiar!" you're on the right track.
A clear, valuable takeaway: When your mail is received, the question potential leads are ultimately asking is "What's in it for me?" Focus your postcard messaging on the client by providing a guarantee, a successful result, or some unique benefit they will receive when they choose to work with you.
An incentive: There are very few instances when giving away money or a gift does not generate results. An incentive can be a coupon, a gift card, free evaluation, free drawing at an open house or educational event, or being entered into a giveaway.
Useful information: By including a calendar, recipes, common measurements, or local events, or by printing the schedule of a local sports team on a magnet, leads are much more likely to save your marketing collateral and even display it where it will be seen often. Alternatively, including a competitive market analysis or sending marketing mailers with local market statistics is another way to draw prospective clients in.
Easy-to-take call to action: Use a quick response (QR) code recipients can scan with their smartphone's camera, which instantly sends them to a landing page and makes it as simple as possible for them to take the next step and self-identify as a lead in your sales pipeline.
How Much Do Real Estate Postcards Cost?
According to our research, real estate postcards can cost anywhere from around 50 cents to $2 each, including postage and mailing to your contacts. However, there are many factors that affect any real estate direct mail pricing. To get the most accurate estimate of how much it costs to send real estate postcards, look into these three elements:
Design costs: There are generally three choices for direct mail design: design it yourself, customize a template, or hire a professional graphic designer through a platform like Fiverr. Even though Fiverr freelancers can be hired for as little as $5, any time you outsource part of the process your costs will be higher.
Printing costs: Platforms like VistaPrint and ProspectsPLUS! include printing services in your overall cost. However, you may choose to do the printing yourself or work with an independent printing company.
Mailing costs: With a mailing service, a postcard will generally cost between 23 and 41 cents per card. Another option is to use Every Door Direct Mail (EDDM), which will send a postcard to every door in a specific neighborhood location.
Bottom Line
Sending real estate postcards is one of the most time-tested real estate marketing ideas, and can still be a powerful part of your business. By sending postcards to the right people at the right time, keeping your message targeted, and offering value, your real estate marketing mailers can have a huge positive impact on your bottom line. Barcodes printed on the postcards track when your mail arrives and then automate text and image ads that complement your mailer for optimal brand awareness.