Are you looking for an easy way to sell products on a WordPress site? Then look no further than the Ecwid online store plugin. This full-featured ecommerce platform turns any WordPress site into a selling machine, and our guide will get you up and running in 8 easy steps.
Before We Begin, Do You Have a WordPress Site?
Ecwid is an ecommerce plugin that turns any WordPress website into a full-featured online store. If you don't already have a WordPress website, check out our guide on how to set one up. Once your WordPress site is up and running, then you're ready to add an Ecwid store using the 8 steps outlined below.
Step 1. Decide Which Ecwid Plan is Right for You
Ecwid's plans meet a full range of online selling needs and budgets; one is even free. Plus, its paid plans tend to be about half the price of other top ecommerce platforms, making Ecwid quite a deal. You'll even find a simple starter site option listed below.
Ecwid Store Free Plan:
Ecwid has a free plan if you sell 10 items or less, and it includes a Facebook Shop plus other features, shown in the image below.
Ecwid Store Starter Site Plan:
If you're in a hurry to post a few items for sale online or on a Facebook Shop, Ecwid provides a 1-page starter site with all plans, even the free plan. With it, you can build a simple store now, then add it to your WordPress site anytime you wish.
Ecwid Store Paid Plans:
Ecwid's paid plans let you list more items than the free plan, starting at 100 items for $15/mo., as shown below. It's important to note that Ecwid's paid plans are about half the price of other top ecommerce platforms, yet offer comparable selling and order management features. In this Ecwid is definitely a good value.
Here's a snapshot of Ecwid seller plans and their costs. You get increased features at each paid level, which you can see in more detail here.
As you can see, you have plenty of selling options using Ecwid, even with the free plan. So if you already have a WordPress site, need a simple starter site, or want an alternative to pricier platforms like Shopify or BigCommerce, then versatile Ecwid is right for you.
Now let's look at how to build your Ecwid store and connect it to your WordPress site.
Step 2: Open Your Free Ecwid Account and Set up Your Store Information
It costs you nothing to open an Ecwid account and use it with WordPress or as a starter site. This isn't a trial, either. This is a free account, no credit card needed, no expiration date. You only have to pay a monthly fee if you sell more than 10 items. Even then, the fees start at $15/mo. which is half the cost of most other ecommerce platforms.
To start your account, go to Ecwid and click on Get Started, you'll see a screen like the one below. Enter your name, email, and a password, then click Next: Set up Your Store and you're in. Notice you also can sign in via Facebook, Google, or PayPal, too. But I went the old-fashioned way and used my email: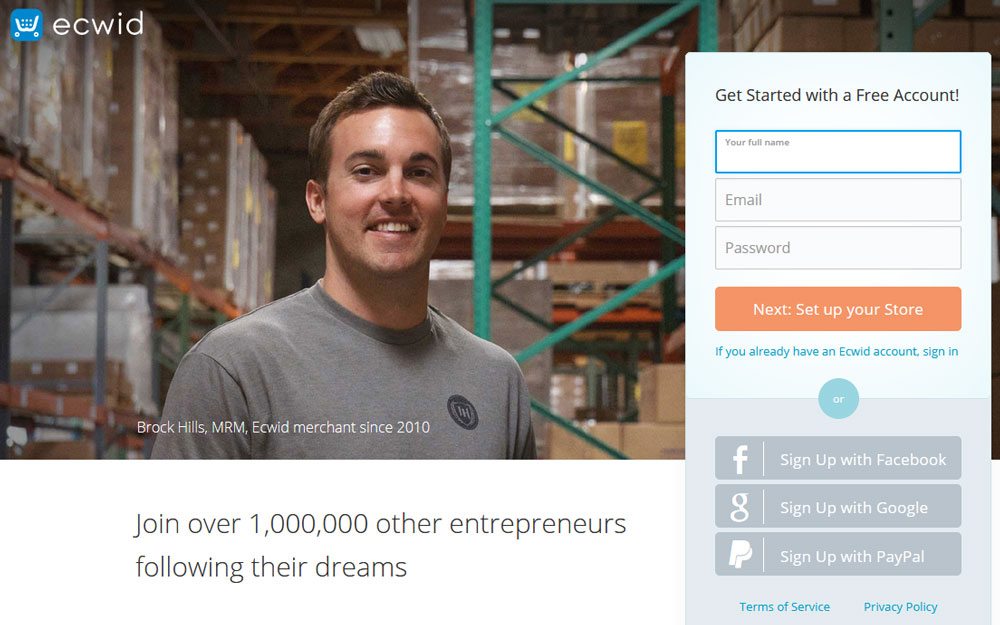 The next screen asks you information about your store so Ecwid can start its automated setup. Here, I used the pull-down menus to answer their questions for my tee shirt shop, which already has a WordPress site, but doesn't yet sell online: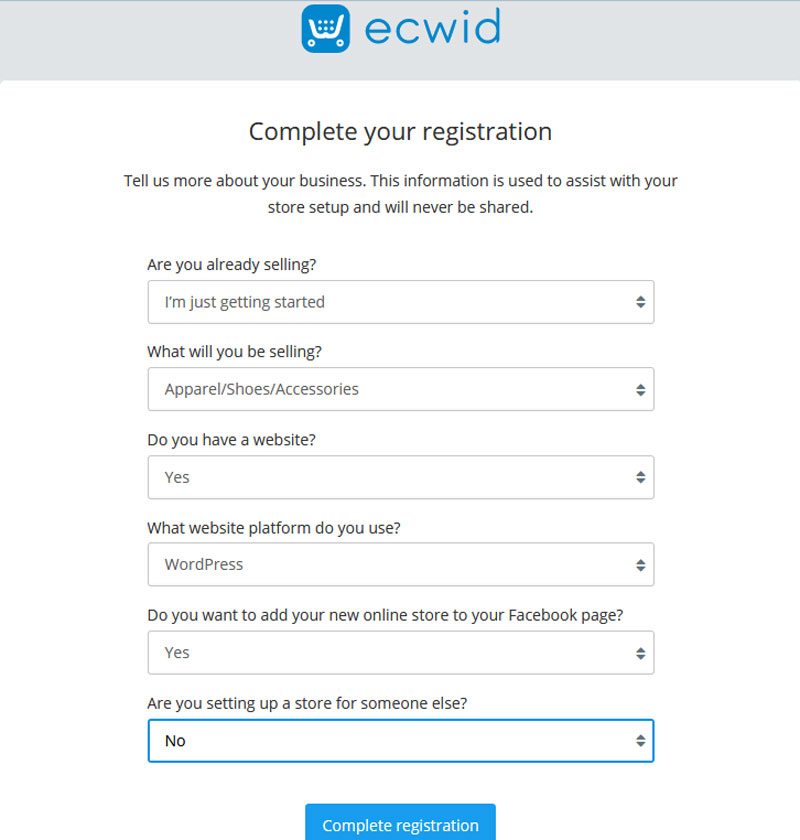 After clicking Complete Registration, Ecwid's dashboard screen opens up and I click on Let's Set Up Your Store: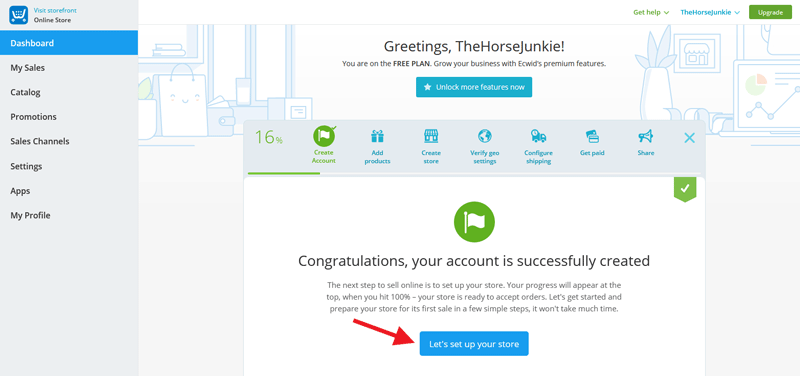 Note that Ecwid tracks your progress at the top of your setup screen, shown below. You can click on these icons to go back or even skip around in the setup process. This is a real no-commitments setup procedure which is nice if you're just testing the waters. No decision is final with Ecwid.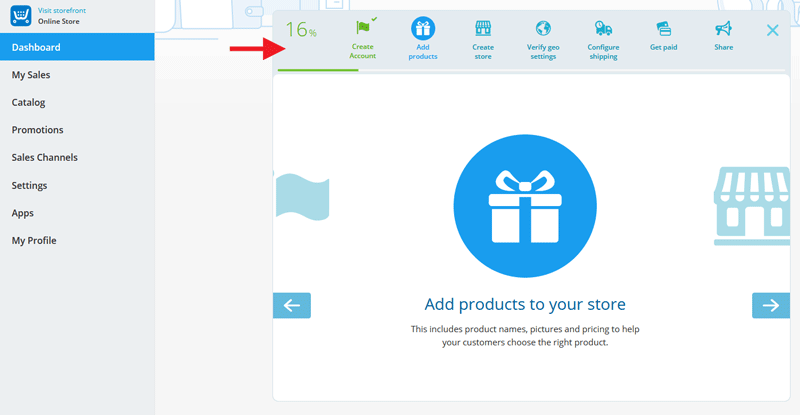 So our initial setup is complete, the next step in our Ecwid Setup is adding some products.
Step 3: Add Products to Your Ecwid Store
To start adding some products, I click the button: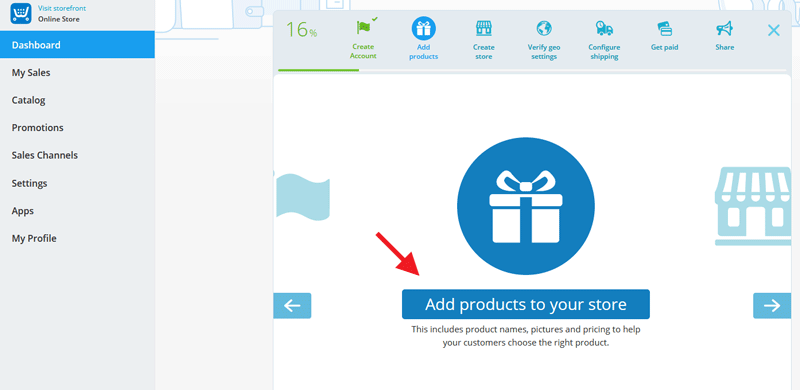 Next, the screen below pops up. In this simple screen, you can quick-add items with just the Item Name, Price, and Image. This is handy if you want to quickly populate your store with a few test items. Or, you can click More Powerful Options to add more item details at this stage: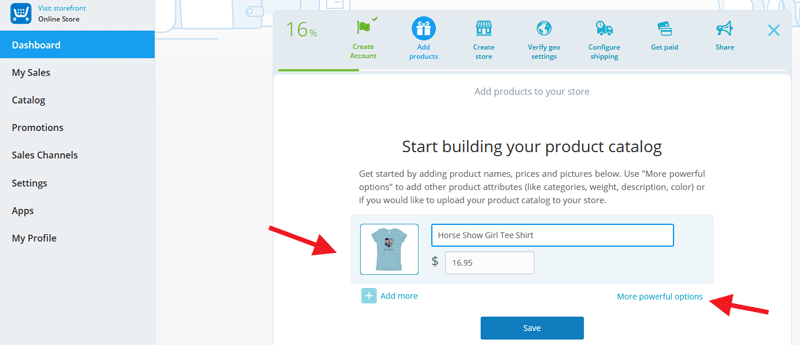 If you click More Powerful Options, you'll see Ecwid's full product entry screen, shown below. In it, you can enter item descriptions, set options like size and color attributes, create pricing variations, and categorize your products. You can get to product entry/edit screens anytime by clicking on Catalog in the left column, too.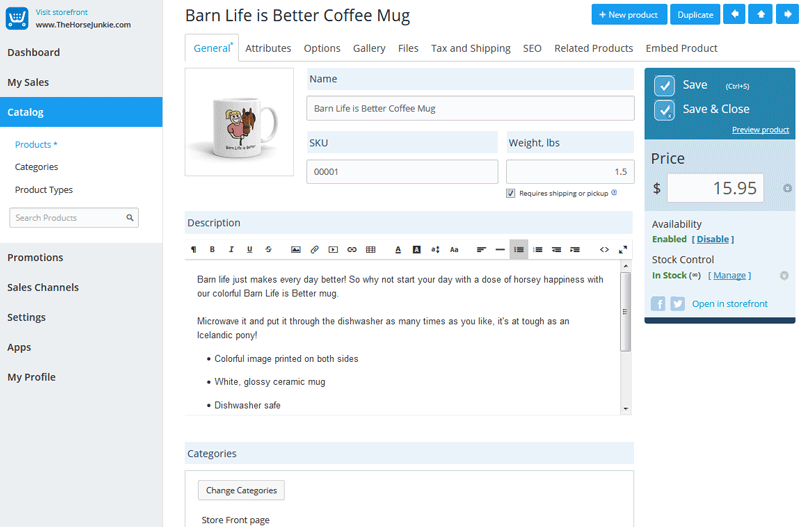 In Ecwid, you can sell virtually any type of item and categorize them any way you wish. All of those controls are in the Catalog section, under Product and Category. See Ecwid's full product entry tutorial here and learn all about Ecwid's category controls here.
For our guide, I'm just adding a few items using the setup's quick-add screen. I can always click on Catalog>Product later to add more images and product descriptions to these items. To add more items using the quick-add screen, simply click Add More, as shown below: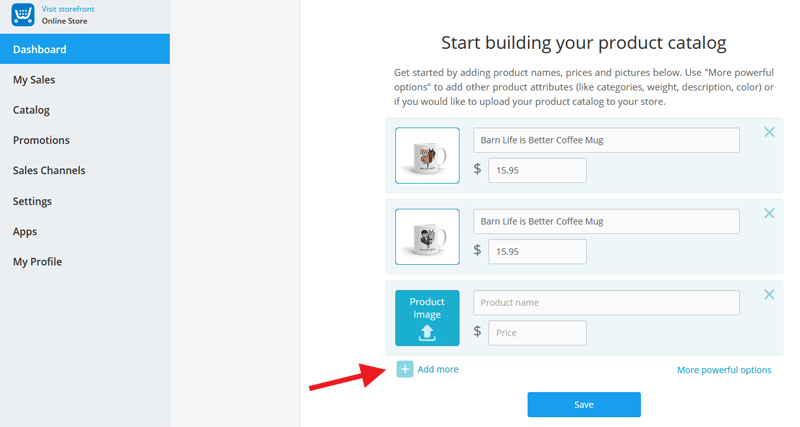 Remember, the free version limits you to 10 items. If you want to add more than 10 items, click Unlock More Features, which appears at the top of your Ecwid dashboard, then select a paid plan that fits your selling needs.
After adding my items, I hit Save, and then see this screen. Here, I have options to view items or add more items. But I'm fine with the ones I entered, so I'm moving on to the Next Step:

This is the screen I see next. Every Ecwid store comes pre-populated with a few demo items in case you skip the Add Products step. Here you can delete these items, or click Do it Later if you want to keep these in your catalog for test purposes. Since I entered some items, I don't need the demos, so I click Delete to remove these items now.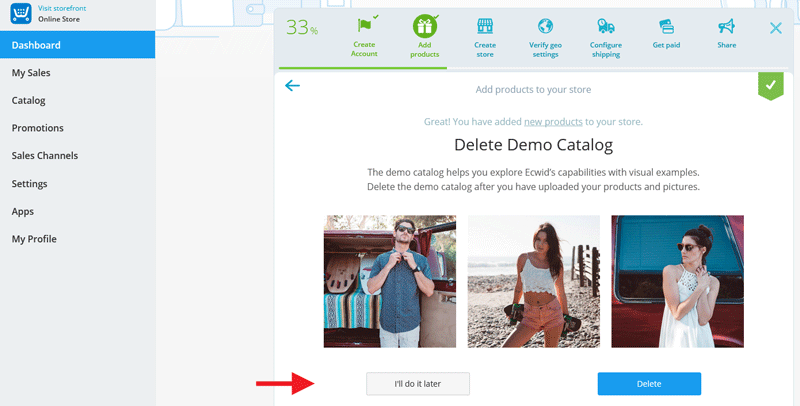 Note: If you don't delete these now, you can later by clicking on Catalog in the left column and deleting them from your product list. It's a snap.
This is the last step in Ecwid's quick-add product step. Next, we'll continue on to our next step in Ecwid's automated setup.
And if you're curious, it's only been about 20 minutes since I signed up my Ecwid account. This is a super quick process.
 Step 4: Connect Ecwid to Your WordPress Site
In this step, I connect Ecwid with my WordPress site, so I click on Create your online store: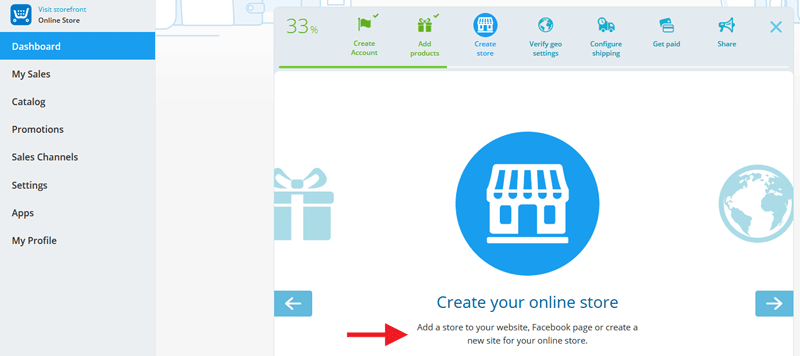 Next I see this screen. Since I have a WordPress website already, I click Yes, I have a website.
(Remember that starter store mentioned in Step 1? If I didn't already have a WordPress site, I could click the other button and set up a starter store.)

After clicking Yes, I have a website, this screen pops up and I click on WordPress.
Note: here you'll see other options since Ecwid works with many web platforms and Facebook, too. But I'm attaching it to my WordPress site, so that's what I choose: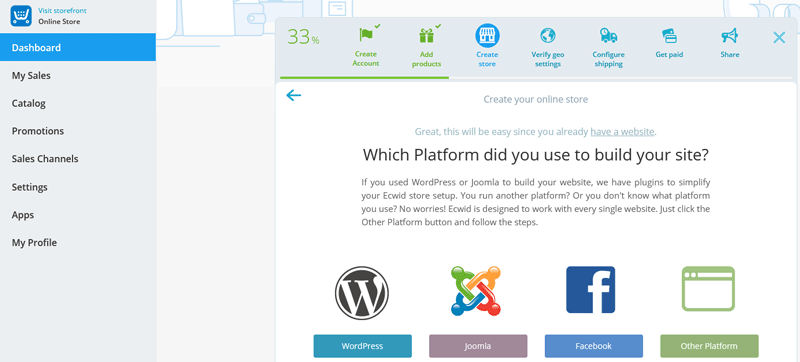 After I click WordPress, this screen pops up with instructions to connect my existing WordPress site to Ecwid. I follow the directions and head to my WordPress admin panel: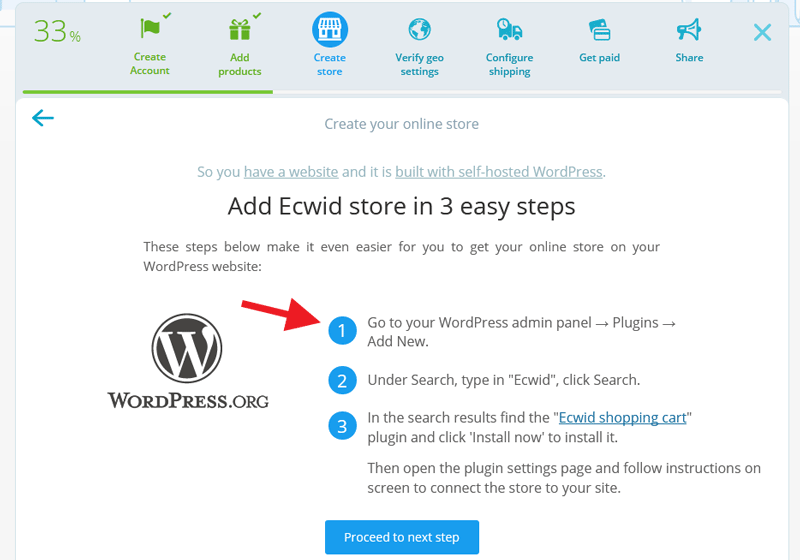 Once in my WordPress site dashboard, I click on Plugins, then Add Plugins, as shown below. If you aren't familiar with WordPress, you can click here to see how to start and set up a WordPress site.
In my Plugins screen I search for Ecwid. The Ecwid app is the first one in the list (and look at all of those ratings stars!). So I click Install Now, then Activate:

Once activated, this pops up in my WordPress dashboard and I click on Set up Ecwid Store: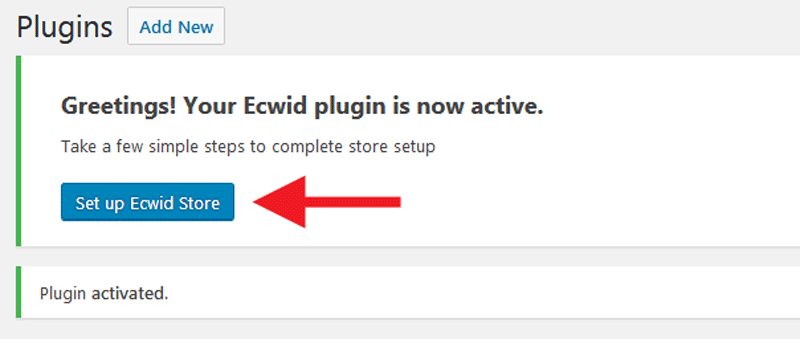 Next the screen below pops up within my WordPress dashboard.
Note! Apparently, the Ecwid plugin lets me sign up for a new account from my WordPress dashboard, too. But, I already have an Ecwid store started, so I click on Connect your store to WordPress site: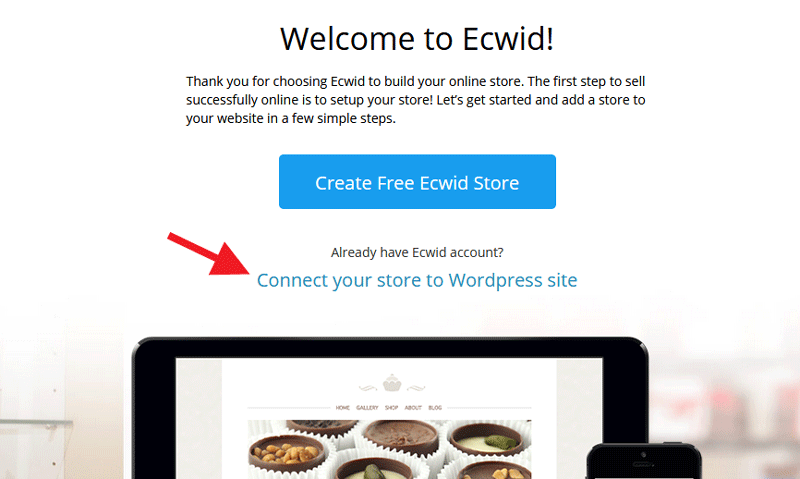 Next this screen pops up and I click Accept: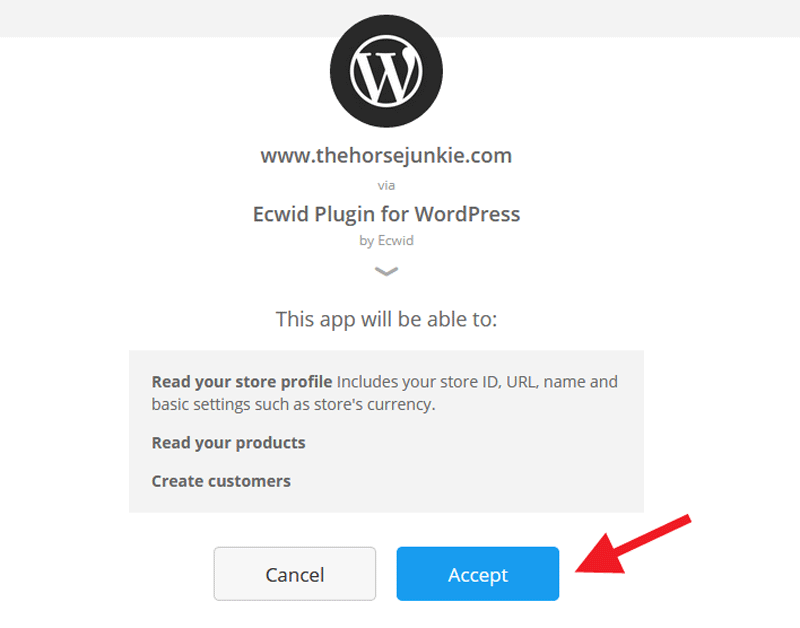 At this point, Ecwid actually installs its full store dashboard within my WordPress dashboard. This took seconds and was completely hiccup-free.
Now I see Ecwid's Setup screen where I left it, but now it's successfully connected and installed in my WordPress store. So, within WordPress, I click Proceed to Next Step: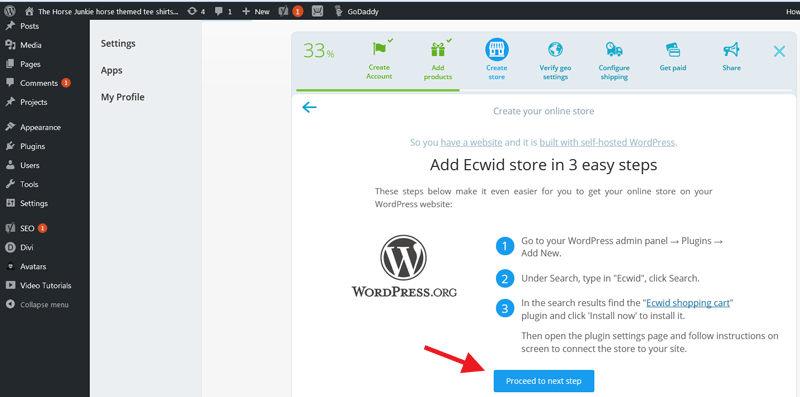 In the next screen, Ecwid asks for my store URL, which is my existing website's address:

Note! I'm finishing the Ecwid setup within my WordPress dashboard, but I can do it within Ecwid, too. It's all connected now, so it doesn't matter which dashboard I use. All changes are recorded to the store's master Ecwid account which feeds data to my WordPress site, Facebook Store, and whatever else I connect. I can even connect the same Ecwid store to multiple websites. Nice!
So, once I click on Proceed to Next Step, I see Ecwid has a few more store setup tasks for me.
Oh, and time spent on Ecwid's setup so far? About 30 minutes.
Step 5: Complete Your Physical Location Information
In this quick step, Ecwid asks for my location information to determine the currency, measurement standards (for item weights), and sales taxes. Note, you can create or adjust your your sales tax settings anytime in Ecwid, see how here.
So now, I click on the Customize your store for your local market button: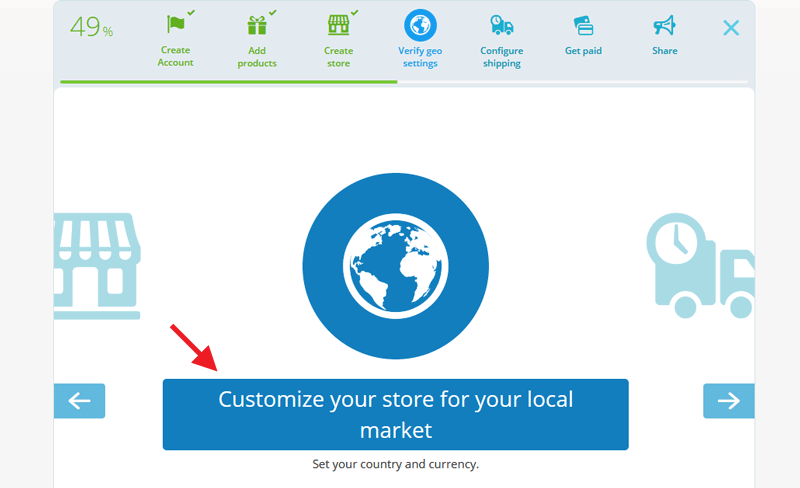 Next this screen appears. It all looks correct, so I click Proceed to Next Step: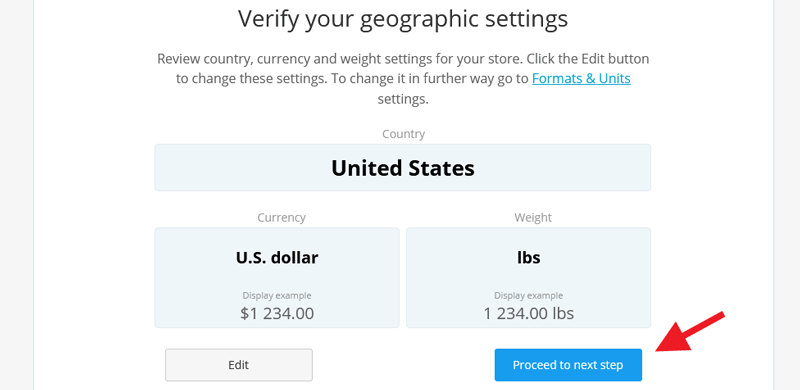 Here, I enter my company's location information. Note, this is public information and will appear on customer invoices and emails: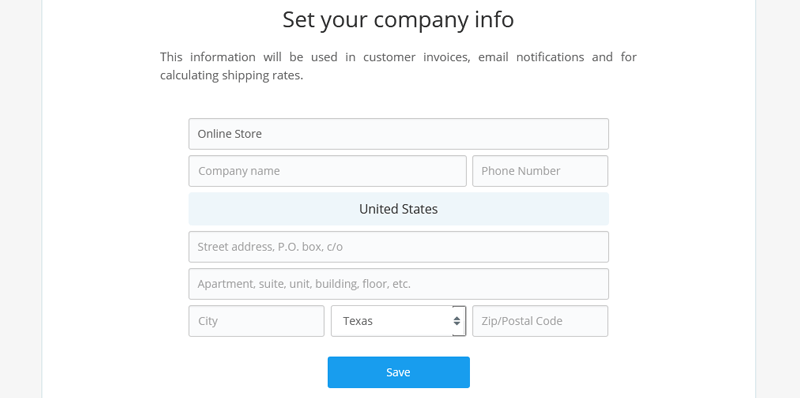 After I complete this and click Save, I'm on to the next step: Shipping.
Step 6: Set Up Your Shipping Options
A quick click gets this process started: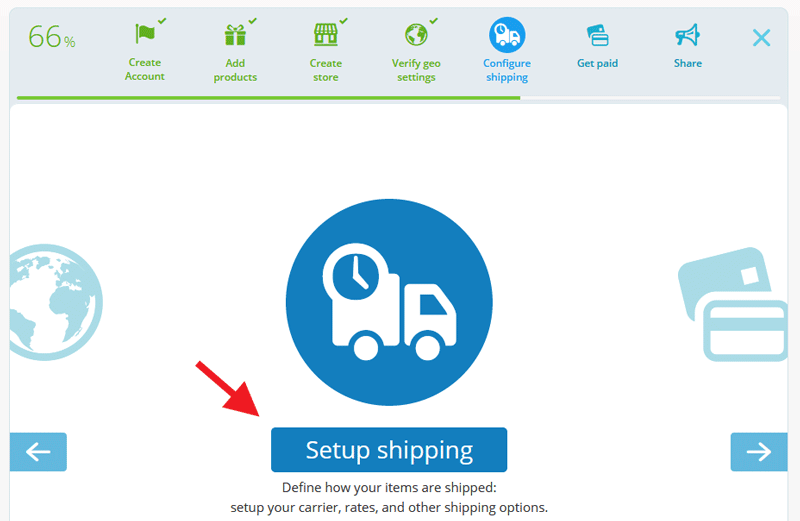 Next this screen pops up. Clearly we can sell both physical items like tees and mugs, plus digital products like image downloads or podcasts, using Ecwid. (Note, the free account doesn't support digital items.)
Since I'm selling tees and mugs and need to ship them, I click Set up shipping:

Next this screen pops up. Here, I can elect to use real-time shipping rates from UPS or USPS, or set up flat rates. I use a simple, customer-friendly flat rate of $5.95 per order since tees and mugs are cheap to ship via USPS. So, I click on Set custom flat-rates and follow the directions to create my shipping charges.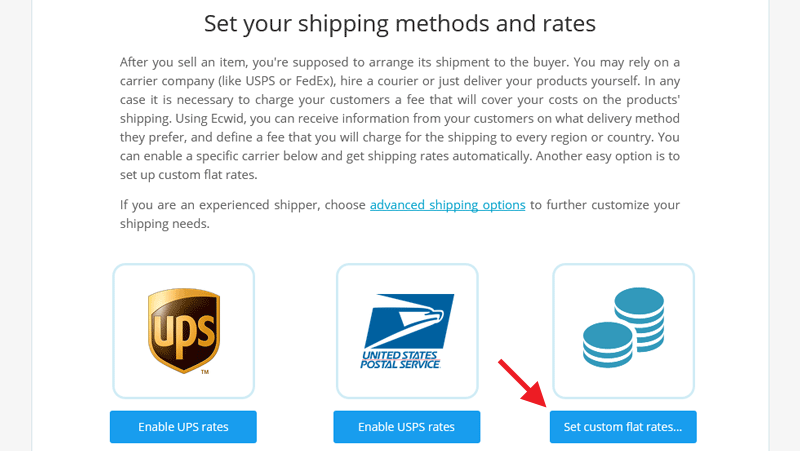 Ecwid gives you many shipping options and you can learn about setting up all types of shipping in Ecwid here. Ecwid also integrates with several top shipping solutions, including ShipStation, Shipping Easy, and Ordoro, to quickly print labels which is handy if you ship in volume. See our in-depth comparison and review of all three of these shipping solutions here.
After I'm finished setting up my flat rate shipping charge, Ecwid's store setup brings me to my final, but very important, setup step: Payments.
Step 7: Select a Payment Processor for Your Ecwid Store
The next screen that pops up is the payment setup screen, so I click on Setup payment options: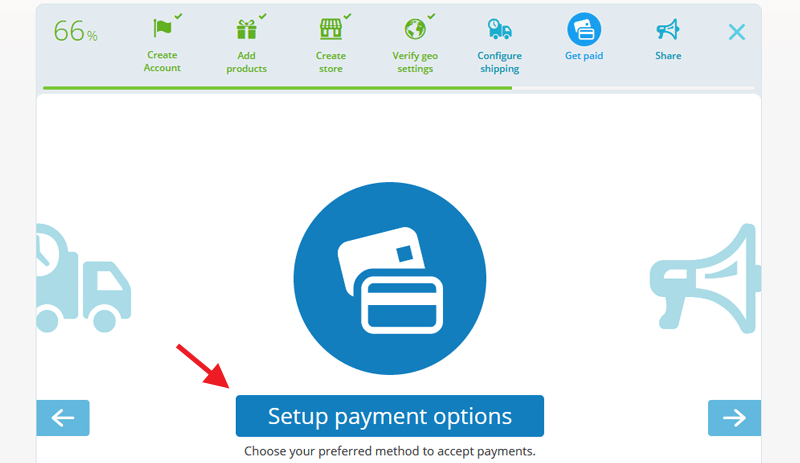 Next, the payment options screen appears and, like everything in the Ecwid store setup, they make connecting a payment solution a snap. Here, I have several 1-click payment choices including EcwidPay, Square, and PayPal. Or, I can use other payment options like Stripe or other top payment gateways, which you can see here.
If you're not sure which to use, see our in-depth comparison of Stripe, PayPal, and other payment gateways here.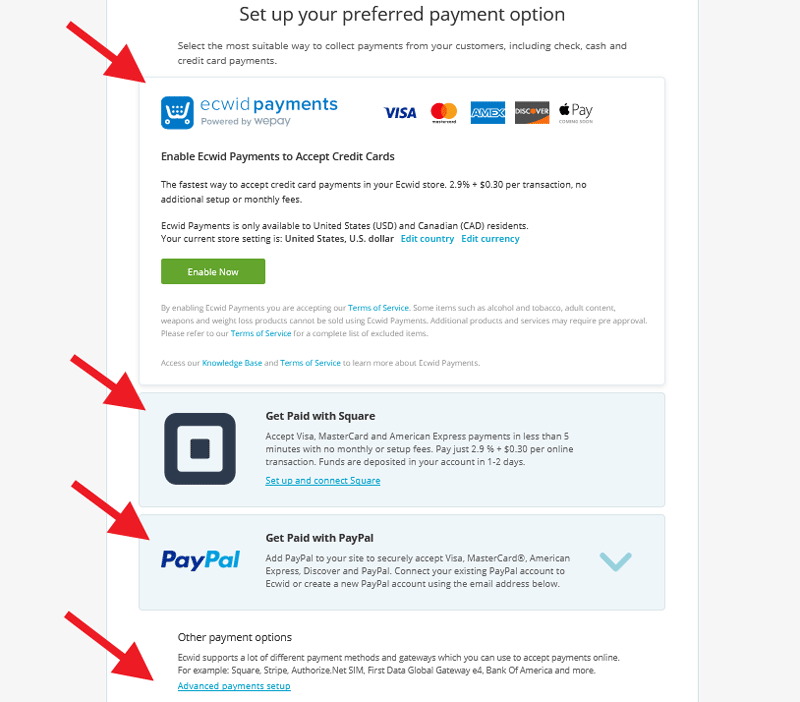 Since I already have PayPal, I click on that and follow the setup instructions to connect my Ecwid store to PayPal.
When it comes to payments, the great thing about Ecwid is they provide a secure checkout and only work with payment systems that support their secure connections. This minimizes your data security and PCI-compliance responsibilities. You can learn more about Ecwid's checkout security here, and about PCI-compliance and your business here.
After I complete this step, my store is live and I'm nearly done:

Step 8: Review Your Live Store and Add Customer Information & Policy Pages
Here's my live Ecwid Store in my WordPress site, all ready to accept orders. Ecwid automatically adds a Store section to my WordPress Menu, right alongside my blog section, Barn Life & Beyond. In WordPress, I can rearrange my menu order or change the name, say to "Shop Now" or something else if I wish. See how to change your WordPress menu here.
Within the Store section, the Shopping Bag automatically appears, so customers can review their cart while shopping. Plus there's a Product Search box and other features that let customers View and Sort my store's products however they wish. It's all built right in, thanks to Ecwid.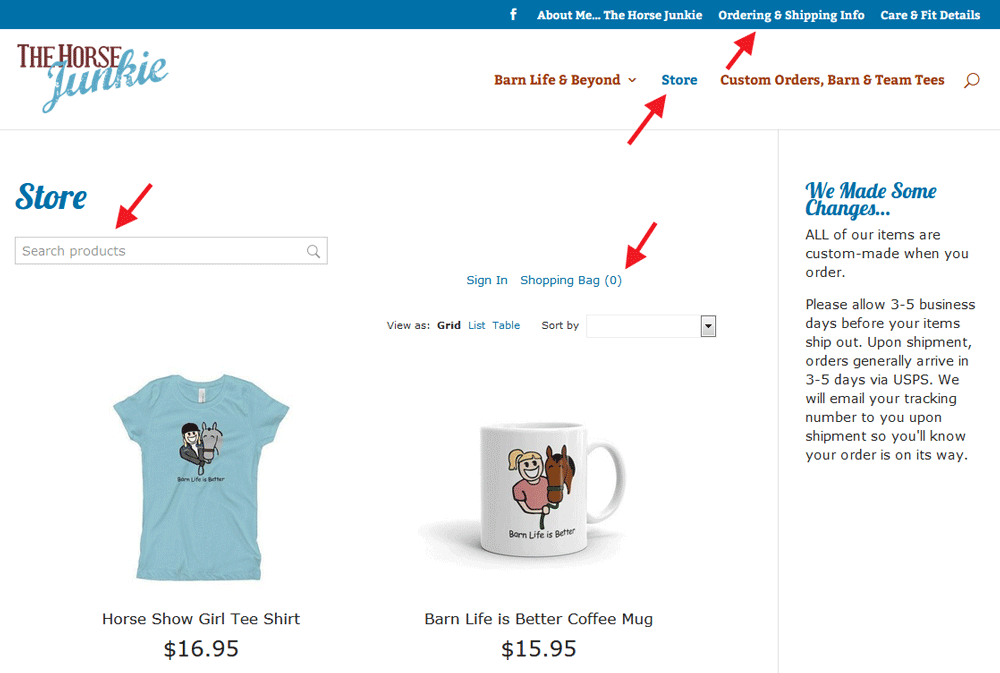 To finish up my store, I add an Ordering & Shipping Info page in WordPress, and add it to my WordPress site's top menu. On this page, customers can quickly see our policies and other info like how we ship orders, return information, shipping prices, and our privacy policy. I keep this short and sweet on one page, but you can add as many pages as you need in WordPress.
One final thing: Let's check the clock again. We're at just under one hour. Not bad for going from no store at all to a live, ready to accept payments online store with 10 item listings.
The Bottom Line
Ecwid is hands-down the easiest online store setup I've attempted to date. Now, I already had a WordPress site up and running, so that took some time out of the equation. But setting up a full-blown, ready-to-sell store in under an hour, without ever having used the system, is still quite a feat. That's a testament to Ecwid's excellent startup tutorial. You simply can't mess it up.
If you want to sell products on a WordPress site, seriously consider the Ecwid store plugin. It offers every selling feature of the top ecommerce platforms, but at half the price. Add to that the fact that Ecwid gives you a starter store, supports a Facebook Shop and multiple websites, and integrates with order management, multichannel selling, and shipping apps, and it's really quite a deal.
And if you have a website on a different platform like Wix or Weebly and want to add a store, Ecwid will work for you, too. Along with WordPress, Ecwid works with all of these platforms.