Van Education Center Review: Is It Right for Your Real Estate Education?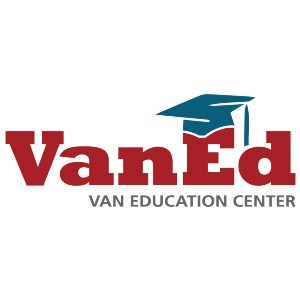 What We Recommend VanEd For
Van Education Center (VanEd) is ideal for aspiring agents looking for online prelicensing courses and national exam prep materials as they prepare to get their licenses. Active agents in 17 states can also take online post-licensing, broker licensing, and continuing education at affordable rates. Furthermore, VanEd offers professional and designation programs, such as Graduate, Realtors Institute (GRI) designation, and real estate appraisal courses, to real estate professionals who want to take their careers to the next level.
Who VanEd Is Good For
Aspiring and current agents looking for affordable, self-paced real estate course options: Though course availability varies by state, VanEd offers budget-friendly education for every stage of the real estate profession. In Nebraska, for example, VanEd is one of the best schools offering comprehensive online courses for all real estate licensees—from prelicensing to exam prep, post-licensing, broker licensing, and continuing education.
Prelicensure students who need additional exam prep materials: For only $59, aspiring agents in all 50 states can purchase VanEd's National Real Estate License Exam Prep course. This is designed to provide additional practice to students before taking the state exam. Students in Colorado, Texas, Oklahoma, and Nebraska can purchase expanded exam prep modules with state-specific topics.
Agents who want flexible payment options: VanEd offers flexible payment options for students who purchase a licensing course program. Aside from providing a free trial, VanEd allows students to choose whether to pay in full or in two or three separate monthly payments.
Who VanEd Is Not a Good Fit For
Real estate agents located in states where VanEd courses are unavailable: While VanEd's national exam prep course is available in all 50 states, VanEd's prelicensure course is only available in 14 states, while continuing education is present in nine states only. Aspiring and current agents in states like Massachusetts, Wisconsin, Minnesota, and New Mexico need to look for other education providers, like The CE Shop and McKissock Learning.
Students who prefer in-person classes: An online real estate education provider, VanEd doesn't have in-person classes for students who prefer the traditional classroom method of learning. If you're looking for such courses, check local schools in your state by visiting the article How to Get a Real Estate License in Every State.
Real estate professionals who need course format variety: VanEd only offers self-paced courses. Although learning content utilizes a variety of elements—text, course progress charts, videos, and infographics—classes lack real-time interaction and live discussion with an instructor. If you're looking for courses with various learning formats, look into Kaplan and Colibri Real Estate.
VanEd Overview
PROS

CONS

Self-paced learning
Lacking in-course format variety
Instructor and customer support
No in-person classes or a physical school to visit for support
Flexible payment options
Limited course selection in most states
1-year access to courses
Short time frame for refunds
Accredited by the Association of Real Estate License Law Officials (ARELLO), International Distance Education Certification Center (IDECC), The Real Estate Educators Association (REEA), and Certified Distance Education Instructor (CDEI)
Pass guarantee not available in all states
VanEd Pricing
Van Education Center's pricing structure includes education packages and individual courses at more affordable rates than other national online real estate schools. For example, a Texas prelicensing course package that includes exam prep costs $495 on VanEd, compared to a similar package on The CE Shop and Colibri Real Estate, which cost $629 and $649, respectively.
Prices vary by state, as well as by topic and the number of education hours included in the course. Prelicensing education tends to cost more, starting at $50, as it requires the most education hours. If you purchase prelicensing course packages, you may get several add-ons, such as downloadable e-books, exam prep, and post-licensing courses.
For budget-conscious students, VanEd offers flexible payment options in monthly installments. In addition, while a pass guarantee is currently only available for students in Colorado, VanEd offers a free five-day trial for some prelicensing and broker licensing courses. If you're not satisfied with your education, you can ask for a refund within 72 hours from the date of purchase.
Check out the table below to see the features included in each type of education:
Types of Education

Prelicensing

Post-licensing

Broker Licensing

Continuing Education

Exam Prep

Who It's Best For

Aspiring agents getting a real estate license for the first time

New agents who need to fulfill additional prelicensing requirements

Active licensees looking to upgrade to a broker level

Current agents needing to renew their real estate license

Prelicensure students who want additional preparation to pass exams

Price Range*

($/User/Course)

$50 to $799

$39 to $636

$50 to $749

$9 to $568

$59 to $99

LMS Platform

✓

✓

✓

✓

✓

Self-paced Learning

✓

✓

✓

✓

✓

Instructor Support

✓

✓

✓

✓

✓

Exam Prep Materials

✓

✕

✕

✕

✓

Supplemental Learning Tools

✓

✓

✓

✓

✓

Free Trial**

✓

✕

✓

✕

✕

Customer Support

✓

✓

✓

✓

✓
*Price range includes all course packages in all states
**Availability varies by state
Types of Education Available
Depending on your location, Van Education Center provides multiple course options, including prelicensing, post-licensing, broker licensing, continuing education, and exam prep.
Prelicensing
For aspiring real estate professionals, VanEd offers prelicensing education in 14 states. You can purchase individual courses or packages that include all the education hours you need to become a licensed real estate agent. In most states, the standard package includes exam prep materials to help you ace the exam. All prelicensing courses are 100% online and self-paced, giving you the flexibility to complete your education as quickly (or as slowly) as you want.
As of this writing, a money-back guarantee and live instructor support are only available for courses in Colorado. However, students from other states can avail of the free five-day trial to see if the course is a right fit. Students also have one year to access the course, as well as instructor support through email or phone when they have questions about the learning content.
See the table below for a comparison of VanEd's prelicensing course packages.
Standard Package

Premium Package

State-specific prelicensing coursework
Exam prep*
Payment plans
Downloadable e-books*
Live customer service
Instructor support
Free 5-day trial*
Real estate math*

State-specific prelicensing coursework
Exam prep*
Payment plans
Downloadable e-books*
Live customer service
Instructor support
Free 5-day trial*
Real estate math*
Post-license courses*
*Availability varies by state
VanEd Features
With over 24 years of experience in real estate instruction, VanEd has developed courses utilizing multiple features to deliver high-quality real estate education. Among the features are a modern learning management system (LMS) platform, self-paced education, and instructor support. Customer support is also available for students through multiple channels.
Here are key features you can find on VanEd:
Learning management system (LMS) platform
Self-paced learning
Instructor and customer support
VanEd's modern LMS platform enables students to easily access their online lessons anytime from any mobile device. To give students scheduling flexibility, classes are 100% self-paced, so they can complete their education requirements wherever they may be.
Students are provided with instructor support, as well as multichannel customer support accessible seven days a week, assisting them with any questions or concerns.
LMS Platform
Easy to navigate
Multiple interactive features
Course progress tracking
VanEd's modern learning management system (LMS) platform enables students to master their online real estate course materials as conveniently as possible. Online courses are organized in such a way that students can control the pace of their class and suit their learning styles. To work on a course, you only need to log in to your student account and navigate to the "Courses" menu to view all of the courses you are currently enrolled in.
The platform is designed with navigation tools so you can follow your lessons easily without needing to be a tech expert. When you open your course, you will find a navigation bar on the left-hand side of the screen to work through the class. You can also use the "Next" and "Previous" buttons at the bottom of every page. The left-hand course navigation also serves as a useful outline for the course content. This allows students to return to sections of the course for additional review or skip topics they've mastered.
Once you've completed a course, a completion certificate will be immediately available on your student account, including all of the regulatory information necessary for state compliance. Completion certificates are permanently available in your online account for as long as you remain a VanEd student.
---
Self-paced Learning
Utilizes different multimedia elements (e.g., texts, graphics, audio, and video)
Multiple exercises, quizzes, and exams to check for understanding
Free downloadable e-books in some courses
All of VanEd's real estate courses are 100% online and self-paced. Work on your learning materials whenever it's convenient and stop and start between classes. When you leave a course, the last page you worked on will automatically be bookmarked, so you can immediately resume where you've left off. Courses have a mix of text and graphics. Videos and audio are also incorporated into the lessons to keep agents engaged and meet the learning objectives.
To complete the online classroom experience, VanEd provides interactive quizzes and exams throughout every course, reinforcing knowledge and enabling students to acquire specific real estate skills. At the end of each quiz and exam, immediate feedback is provided to highlight areas that need more mastery. Students can check their exam and quiz scores through the "Course Progress" and review individual questions.
Exercises utilize several techniques, such as vocabulary matching, poll questions, online worksheets, student forums, computation problems, interactive scenarios, and questions that require written answers (reviewed by instructors). These allow students to interact not only with the learning material but also with their classmates and instructors.
Many of VanEd's courses have optional e-books of the entire course content available for download. These e-books are suitable for printing and are helpful to students who prefer to read and take handwritten notes.
---
Instructor Support
Instructor Q&A system
Instructors available via email and phone
Licensed and accredited real estate experts
Though VanEd's classes are self-paced, students are provided ample instructor support throughout their learning process. If you have a question while progressing in your course, VanEd's Q&A (Question and Answer) system allows you to post questions directly to their professional instructors.
You can browse VanEd's database of previously posted questions from other students and instructor answers in your online real estate course. Furthermore, students can contact instructors via email and phone during office hours.
Instructors are not only licensed industry experts, but are also approved by the appropriate regulatory agencies. Most of VanEd's teachers have earned their Certified Distance Education Instructor (CDEI) designation through the International Distance Education Certification Center.
---
Flexible Payment Options
Competitive course rates
Monthly installment plans available in some licensing courses
Courses payable via check or credit card
Aside from competitive pricing, VanEd also offers multiple payment plans. Agents can make split payments of their course fee over two or three months by check or credit card. Upon purchasing a course, you will have the option to select a payment plan for all packages.
Here's a sample of two-month and three-month payment structures for a VanEd prelicensing course:
---
Real Estate Agent Resources
Free access to blogs, how-to's, and real estate tips
Free downloadable e-books and audiobooks
Free real estate business practices
The VanEd Real Estate Agent Blog is a valuable page of free real estate industry news, career tips, how to's, business practices, and infographics. These resources help agents gain valuable knowledge and improve their skills in their day-to-day real estate practices. You can also find course updates on the website to see new VanEd programs being offered in your area.
For aspiring or newly licensed agents, download e-books and audiobooks from VanEd's school website for free. These resources teach you how to start a successful real estate career and business, as well as marketing and lead generation tips.
---
Career Enrichment & Professional Development Programs
Real estate appraisal courses
Designations and certification courses
Real estate professional training programs
Aside from real estate licensing courses, VanEd provides additional online courses for agents who want to upgrade their real estate career. These courses include the National Association of Realtors (NAR) Ethics Training, appraisal license and continuing education, and mortgage broker and loan originator licensing. VanEd also offers certification courses, such as Graduate, Realtor Institute (GRI), and Accredited Buyer Representative (ABR) designations.
VanEd also provides a variety of real estate training programs for professional development. These courses are helpful to agents who want to provide their clients with expert insights into the real estate market. Professional development programs cover topics such as real estate blogging, social networking, and modern real estate essentials.
---
Customer Support
Available via a toll-free phone number, email, and live chat
Comprehensive FAQs available on the website
Connect with VanEd on different social media platforms
VanEd provides student support from registration to course completion in four ways: call, live chat, email, and knowledge bank. Whether you need technical assistance or have questions about your course, you can contact VanEd 24/7. Technical support is always available via phone, email, and online chat during VanEd's business hours. If you need assistance after hours, you can contact the customer support team via email, and they will respond to you as quickly as possible.
Agents can connect with VanEd's customer support via social media channels. For updates and the latest news about VanEd, you can follow them on Twitter, Instagram, Facebook, YouTube, and LinkedIn, among others.
---
Length of Course Access & Refund Policy
One-year access in most courses
72-hour refund policy
Course extension available for an additional fee
Unlike Kaplan and Colibri Real Estate courses, most of VanEd's courses can be accessed for one full year. In a typical licensing package, VanEd suggests allocating 10 to 15 hours a week to work on your material so you can complete your requirements as soon as possible. However, you can always choose to move at a quicker or slower pace within a year—depending on your schedule and learning style. If you need more time, you can extend your course for a small course reactivation fee.
If you're not satisfied with VanEd's education program, you may ask for a refund within 72 hours of purchase. Some conditions may apply to be eligible for a refund, such as not having completed 50% or more of the purchased course. To learn more, read VanEd's refund policy.
---
Ease of Use
Using VanEd is fairly simple. When you check out a course, you only need to hover over the type of education you want to purchase, choose your state, and add the desired course to your cart. You can either create a New Student Checkout or use your existing student account to pay for the course. Upon checkout, you will be presented with an option to pay for the course in full or choose a monthly payment plan (if the course is eligible).
After you complete your course registration, you will be given a student account protected by a unique username and password of your choice. You will have access to all your real estate courses upon logging in to your account, as well as your completion certificates, receipts, and many program-specific features, such as license renewal tracking. A certificate of completion will be available in your account once you complete a course. In some states, VanEd will automatically report your completion to the appropriate agency.
VanEd Alternatives
If VanEd doesn't offer the course you need in your state, check other accredited online real estate schools that offer multiple course selections in convenient learning formats and competitive rates.
Use Promo Code: FSB25 for 25% off

Use Promo Code: FSB30 for 30% off

Use Promo Code: Kapre5 for 5% off

Best For: Aspiring agents looking for self-paced prelicensing education with ample instructor support

Best For: Self-paced online curriculum for all stages of your real estate career

Best For: New and experienced agents who need course format variety

Starting Price: $10.95*

Starting Price: $19.95*

Starting Price: $19.95*

Key Features:

Multiple course formats
Customizable packages
Extensive career support
Available in 26 states

Key Features:

Customizable online education
Self-paced formatting
Customer support available 7 days a week
Available in 50 states

Key Features:

Multiple course formats
Customizable packages
Extensive career support
Available in 26 states
*Pricing here is for comparative purposes; exact price range depends on course selection and format
What Users Say in VanEd Reviews
Van Education Center reviews show that agents love the school for its easy-to-follow courses and convenient learning format. Some also appreciate the school's website because it is easy to navigate and provides comprehensive information about the licensing process in each state. Other agents recommended VanEd's test prep classes for its well-summarized topics, which helped them pass the exam on the first try.
Agent Advice: 4.36 out of 5 stars (based on 28 reviews)
Indeed: 4.4 out of 5 stars (based on 18 reviews)
In some VanEd real estate reviews, however, agents are dissatisfied with courses that have too many video and reading materials. Others also found the course content unengaging, making it difficult to complete the course. If you're looking for real-time class discussions with instructors, we recommend checking out other schools like Kaplan, The CE Shop, and Colibri Real Estate.
Bottom Line
Van Education Center (VanEd) provides convenient online real estate education, including prelicensing, post-licensing, broker licensing, and continuing education courses. Take advantage of the school's flexible payment options to split course package fees in monthly installments. VanEd real estate reviews show that agents prefer the school's self-paced learning. On the other hand, some were not satisfied with the amount of video and reading assignments required to finish the course.