Van Education Center Review: Pricing & Features for 2023
Van Education Center (VanEd) is a provider of affordable online real estate education. Currently, VanEd is offering real estate courses across 17 states. The online courses are self-paced with content, features, and instructor access that meet rigorous online education standards. Van Education Center reviews boost its affordability and assistance in helping students pass the real estate exam. Continue reading to see if VanEd is the best choice for your real estate education.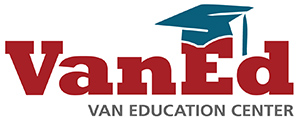 Cons
Pass guarantee has restrictions for full refund
For some states like AL, VanEd will offer national exam prep, but has a referral to another school for prelicensing and post-licensing courses
Only offers broker courses in OK and NE
Who Van Education Center is Recommended for:
Students who are interested in receiving GRI (Graduate REALTOR Institute) designations
Five-day free trial available for select courses
Best for students who enjoy engaging online learning with quizzes, exams, and interactive exercises.
Who Van Education Center is Not Recommended for:
Not ideal for students looking to receive an in-classroom learning experience
Not recommended for students looking to have one provider for all stages of real estate career education
Students who want live chat support after business hours
Prelicensing: $50
Post-licensing: $39
Continuing education: $9
Broker Prelicensing: $50
Exam Prep: $59
---
---
Van Education Center Reviews: What Users Think
The affordability of the courses offered by Van Education Center has garnered many positive VanEd Reviews. Students found the online courses and customer support received from the program contributed to successfully passing the state exams. Other students found the learning platform easy to navigate and contributed to comprehending the material being taught. The exam prep also received high praise for having the necessary information that prepared students for the state and national exams.
Agent Advice: 4.3 out of 5 rating based on 28 Van Education Center reviews
Indeed: 4.3 out of 5 rating based on 30 VanEd real estate school reviews
There were only a few negative VanEd real estate school reviews. However, those reviews mentioned the course format. Some students found the learning module to lack some interactivity and found scrolling through the course material to be not engaging. For students who prefer live webinar courses and more instructor interaction, consider Colibri Real Estate course formats instead.
Would Our Expert Use Van Education Center?
Since obtaining a real estate license could take months with coursework alone, we appreciate that the VanEd real estate course lets students take the course on their own time and allows them also to be employed while learning. The one-year course access also means students can take the time necessary to complete and comprehend their education. In our opinion, having exam prep included in prelicensing packages along with a payment plan available to students really helps set them up for success in their real estate careers.
Although the Van Education real estate courses are IDECC approved, we would have liked the school to offer more variety in course formats to increase student interaction. Having livestream online courses or live webinars could really increase the interaction and engagement of students. For students interested in live course options, consider Colibri Real Estate livestream course packages offered for selected states.
Types of Education Available at Van Education Center
The Van Education Center provides real estate education across 16 states. However, each state's course offering varies. Some states, like New York, only have prelicensing courses, while Oregon only has continuing education courses.
Prelicensing
The prelicensing course offered by VanEd, lets aspiring real estate agents complete their state-required real estate education hours to receive a license. Prelicensing courses are offered in 14 states. These courses help students meet the mandatory education hours to meet state requirements to be a licensed real estate salesperson.
Not all states have the same exact course package offerings. Students can usually choose between a package that contains required courses plus the exam prep materials, or they can purchase just the course and materials without exam prep.
See the table below for a comparison of VanEd's prelicensing course packages.
Standard Package

Premium Package

State-specific prelicensing coursework
Exam prep*
Payment plans
Downloadable e-books*
Live customer service
Instructor support
Free 5-day trial*
Real estate math*

State-specific prelicensing coursework
Exam prep*
Payment plans
Downloadable e-books*
Live customer service
Instructor support
Free 5-day trial*
Real estate math*
Post-license courses*
*Availability varies by state
The post-licensing education requirement is only mandatory in a select number of states and is only expected of new licenses who are renewing their salesperson or broker license for the first time. VanEd has post-licensing courses for Alabama, Florida, Georgia, Nebraska, Oklahoma, and Texas. However, courses for AL are not directly through VanEd, but instead through their partnership with 360training.com.
The courses are all online and self-paced. VanEd does offer a veterans discount, free e-books, and a free trial for some of the states. Course packages and individual courses are available for purchase.
The VanEd continuing education courses help experienced real estate agents renew and maintain their real estate license. It's offered across 17 states and helps students meet the course and hour requirement regulated by each state's real estate commission. The wide range of courses offered cover different real estate topics and trends, from fair housing to property management. Individual courses are available for purchase, but students can receive a discount of up to 20% by purchasing a course package.
These are the 17 states where CE is offered:
Alabama
Arizona
California
Colorado
Connecticut
Delaware
Florida
Georgia
Indiana
Kansas
Michigan
Missouri
Nebraska
Oklahoma
South Dakota
Texas
Washington
Agents in Oklahoma and Nebraska who are interested in growing a successful real estate career can complete their broker education with the VanEd real estate license courses. VanEd provides the courses to meet the broker licenssing requirements at an affordable price.
For both states, course packages and individual courses are available for purchase. The advantage to purchasing a package is the included exam prep to help pass the state exam and the option to enroll in a payment plan for package purchases. There is a five-day free trial offered, and free e-books are provided for each course.
Purchasing exam preparation material is ideal for students who have completed the prelicensing coursework and want a little extra practice before taking the final state real estate exam. VanEd's exam prep can apply to exams for all 50 states as it covers the national portion of the state exam. The Exam prep material includes practice tests, topic review, interactive exercises, and a comprehensive final practice exam to engage and prepare students for the final test. The national exam prep is offered at a flat rate of $59.
For students in Colorado, Nebraska, Oklahoma, and Texas, VanEd offers an extended exam prep to help students pass on their first try. The expanded exam prep for these states covers state-specific material like topic reviews, practice exams, and summary exams.
Van Education Center Alternatives
If the VanEd real estate reviews don't persuade you to enroll immediately, then you should consider other real estate education providers. Compare Van Education Center to these online real estate education schools:
Schools

Best for

Real estate school with courses available in all 50 states

Education with interactive course features

Livestream course options

Affordability of prelicensing courses

Key Features

Extend customer service hours
Available career resources
Pass guarantee offered

Variety of course formats
Interactive study groups available
Several course package options

1-on-1 access to instructors
Access courses on multiple devices
Centralized student dashboard

Top pass guarantee for risk-free learning
Customer support via phone, chat, or email
Available career resource center

Starting Prelicensing Cost

 $129

$149

$119

$100

Learn More
Van Education Center Pricing & Plans
The pricing and plans structure for VanEd varies by the real estate course offered and which states are covered. Each course pricing plan varies by state since each state has different course and hour requirements to satisfy each license. For example, a Colorado package with 120 prelicensing education hours across six courses and exam prep costs $500, whereas the California package with 135 required hours over three courses and exam prep is priced at $160.
Each state does not contain all of the same courses. For example, Montana only offers prelicensing courses, whereas CE courses are only offered in Oregon. However, all courses offered by VanEd are self-paced and online. The plans give students access to the LMS system, instructor access, and customer support.
| Plans | Prelicensing | Post-licensing | Broker Licensing | Exam Prep | Continuing Education |
| --- | --- | --- | --- | --- | --- |
| Who Plan is Best for | Aspiring real estate agents who are getting their license for the first time | Agents who are in states with a post-licensing requirement and want to continue practicing real estate after a year | Agents who want to grow their careers by building a brokerage | Students who would like extra study material covering national and local exam questions | Practicing real estate agents who need to renew their license to keep it valid |
| Price Range* | $50 to $799 | $39 to $636 | $50 to $749 |  $59 to $99 | $9 to $568 |
| LMS Platform | ✓ | ✓ | ✓ | ✓ | ✓ |
| Online Learning | ✓ | ✓ | ✓ | ✓ | ✓ |
| Self-paced course format | ✓ | ✓ | ✓ | ✓ | ✓ |
| Exam Prep Materials | ✓ | ✕ | ✕ | ✕ | ✓ |
| Instructor Access | ✓ | ✓ | ✓ | ✓ | ✓ |
| Package discounts | ✓ | ✓ | ✓ | ✕ | ✓ |
| Customer Support | ✓ | ✓ | ✓ | ✓ | ✓ |
General Van Education Center Features
Complete courses at your own pace
Customer support available five days a week
One year access to courses
Package discounts available
Accredited by the Association of Real Estate License Law Officials (ARELLO)
Some prospective students may be wondering, is VanEd legit? Given the abundance of available features to suit all students' needs, it seems that the education provided by VanEd is exceptional for students needing an online course that they can complete on their own time.
Its education programs are taught by experienced and practicing industry professionals to provide a high-quality education. Students are provided with an instructor and customer support to assist them during their enrollment.
In addition to real estate licensing, exam prep, and continuing education, VanEd also offers education in real estate topics to support a successful real estate career. Accreditations like the GRI or certified property manager help agents find a marketable niche to service their real estate clients. Overall, VanEd has designed its courses to mimic a traditional classroom environment through the presence of audio, video, and interaction with other students without needing to leave the comfort of your home or office.
We found the following features of VanEd provided students with a positive learning experience:
Student Portal
Centralize online dashboard to access course materials
View all your enrolled courses
Access to student referral program for financial compensation
Having an LMS that is IDECC-approved means students are accessing an online course designed to meet distant learning standards set by the ARELLO. The student portal is accessible via a sign-in button on the top right of the VanEd website. Once logged in, the portal will have you select all courses you are enrolled in, whether that's continuing education or prelicense courses.
Navigating the student portal (Source: VanEd)
Within the provided student dashboard, students have a high-level view of the courses in progress. Even students who are on the free trial will have access to the student portal and can choose to purchase the course right in the portal with just a few clicks to continue the course. The portal is also where students will find their course exam results, revisit the course test, or access completion certificates.
Free Trial
No credit card needed
Access for 5 days
Only available for licensing courses in select states
A free trial gives students the ability to test out the school and learning format before committing to purchase. The VanEd trial is only available to salesperson and broker licensing courses in Colorado, Nebraska, and Oklahoma. For aspiring or experienced real estate agents in Oklahoma and Nebraska, students can trial packages or individual courses.
Students have five days of free enrollment and will get all the same experience as a paying student. If students want to continue with the course, they can purchase the full package directly through the student portal that they will have access to. No financial commitment is necessary to participate in the trial.
Real Estate Designations & Certifications
Sets agents apart from competitors
Showcases your niche and expertise in real estate
Some CE courses can count towards designations
Real estate designations and certifications help agents stand out from their competitors. VanEd offers the GRI designation and partners with the National Association of REALTORS and Real Estate Learning Library to offer additional designation courses. The GRI courses include 60-105 hours of coursework depending on state requirements and can be taken in a combination of online and in-person course formats. The GRI designation is offered for Colorado, Florida, Missouri, Nebraska, South Dakota, and Wyoming.
These designations help agents advance their professional careers and identify a niche to help them further market their services. Every designation has its own individual impact and benefits for a real estate agent. For example, an agent who wants to excel in their career in the commercial real estate space may be interested in the Certified Commercial Investment Member (CCIM) designation. Commercial deals may also be more lucrative than residential deals.
Real Estate Appraisal Courses
Offered in seven states
Course support via email, live chat, or online Q&A
Available free trial enrollment
To receive an appraisal license, students must complete 75 hours of appraiser education. VanEd provides the required education hours to satisfy the state appraisal license requirement, along with support to pass the appraisal exam. Experienced appraisers can renew their licenses with VanEd's appraisal continuing education courses. All courses are offered online with access to instructor support from experienced appraisers by phone, email, live chat, or online Q&A.
The courses consist of a basic real estate appraisal principles course, a basic appraisal procedures course, and 15-hour national uniform standards of professional appraisal practice (USPAP) course. Once complete, a final course exam must be completed online in the presence of a proctor. The course package includes online exercise problems, flashcards, and chapter exams to help students retain course material.
Flexible Payment Options
Two payment plan options
Only offered for real estate license courses
Full payment needed before course certificates are received
Payment plans are only offered for VanEd course packages with exam prep. Having a payment plan helps students alleviate the burden of having to pay upfront for the entire cost of education. Students are provided with three payment options when purchasing course packages.
Choose to pay in full or choose to pay for the course in two or three separate monthly payments. If students decide to take advantage of the payment plans, they'll need to pay the first payment at enrollment and the subsequent payments at 30 or 60-day intervals.
VanEd National Exam Prep Course
Covers national topics on real estate exam
Can supplement tests in all 50 states
Exam results for all practice tests completed
Students who are looking for extra practice before their final exam can use VanEd's national exam prep material. The exam prep is best for students who have completed their prelicensing at VanEd or with another education provider. This national exam prep is not specific to VanEd's program, and can be applied to all 50 states whether or not VanEd offers education there. The exam prep comes with practice tests and topic review, along with topic exams and final exams with varied questions that are pulled from a question bank.
Money-back Pass Guarantee for Colorado Licensees
Only applicable to Colorado license education
Refund course fee except for any processing fees
Minimum of 7 weeks of education to be eligible
Colorado real estate prelicense students are lucky to have a money-back pass guarantee if they enroll in the 168-credit hour real estate licensing package. Unlike other money-back guarantees from other online real estate education providers, VanEd will not only refund the state exam fee but refund the cost of the courses minus processing fees.
The refund will only occur if a student fails the Colorado real estate license exam. There are a few restrictions to receiving the money back. Students must participate in at least seven weeks of education, but request a refund before 11 weeks of enrollment.
Ease of Use for Van Education Center
Navigating the VanEd website can be a bit tricky if you don't already know which course you need to take and which states they cover. At first glance, visitors might assume that each state contains the same course offering or that VanEd covers more states than they really do. This is due to the find your course drop-down available on the homepage.
Visitors may choose prelicensing, and then the drop-down includes all states, even ones they don't service, like Indiana, in the below image.
Once students find the courses they are interested in purchasing, adding the course to the cart is easy with one simple click. After reviewing the course in your cart, you are directed to a payment page for students to log in and securely check out. After getting access to the LMS system, which has a responsive design to fit all devices, students have an easy-to-navigate dashboard that helps them successfully complete the required courses and access certificates of completion.
Bottom Line
VanEd real estate school has straightforward online education offerings that support different stages of their real estate careers, from prelicensing to continuing education. The strictly online-only program means students can fit their real estate education within their daily lives, whether they're getting their license for the first time or needing to renew. The flexible payment offerings minimize the upfront financial commitment so students can launch their real estate careers at any time.