Aceable Agent is a national online real estate school pioneering in affordable distance prelicensing, continuing education, and professional development courses. Students have access to self-paced courses, real estate exam preparation, a money-back guarantee, flashcards, audio lessons, and instructor support. Based on our Aceable Agent review, the school is an excellent choice for aspiring agents looking to complete their prelicensing courses on the go.
Visit Aceable Agent
25% off; no promo code required

Pros
Ace or Don't Pay Guarantee
Mobile application
Courses developed by industry experts
Phone, email, and live chat customer support
Practice tests, study guides, and flashcards provided
Cons
No live or in-person course offering
Continuing education is only offered in TX, NY, and GA
Limited states covered in prelicensing and post-licensing provided
No real estate broker license courses
Live Q&A is only accessible with Premium packages
Who Aceable Agent Is Recommended For
Aspiring agents who need flexible course scheduling to complete coursework on their own time.
Tech-savvy students who prefer to complete prelicensing coursework on their cell phones, tablet devices, desktops, and other online devices.
Agents who like professional development training led by real estate experts, focusing on how to be successful in the real estate industry, team building, becoming a neighborhood expert, and listing appointments.
Who Aceable Agent Is Not Recommended For
Agents planning to obtain a broker's license, as Aceable Agent does not offer broker licensing coursework.
Newly licensed agents needing post-licensing outside Texas since Aceable Agent only offers TX post-licensing courses.
Students outside of AZ, CA, CO, FL, GA, MI, NC, NY, PA, SC, TN, TX, VA, and WA who are planning to take the real estate licensing exam since Aceable Agent's course offerings are available in these states only.
Pricing depends on location and course selection, but start at the following:

Prelicensing (includes exam prep): $116
Post-licensing: $40
Continuing education: $19.95
---
---
Aceable Agent Reviews: What Users Think of Aceable Agent
Is Aceable Agent legit? Based on positive Aceable real estate school reviews, students recommended its courses as they were easy to understand. One Aceable Agent review said that reading the lessons helped them stay focused. Another customer appreciated how specific the learning materials were, adding that short videos helped him understand concepts better. One agent appreciated the school's modern classroom experience and easy-to-use interface, which allowed her to access the course on her mobile phone and laptop.
Trustpilot: 4.9 out of 5 based on 6,242 Aceable real estate reviews
Indeed: 4.7 out of 5 based on 25 Aceable real estate reviews
In less favorable Aceable Agent reviews, one student was disappointed that he couldn't retake the level assessments. Another negative review said that the practice test didn't have similar questions to the final exam, which made him feel ill-prepared. Aceable Agent's courses are also very limited and are only available in 14 states. If you need post-licensing and continuing education (CE) courses to keep your license active, check out courses from other real estate schools, like Kaplan and Colibri Real Estate.
Would Our Expert Use Aceable Agent?
We recommend Aceable Agent specifically for aspiring agents who prefer self-paced prelicensing education on the go. With a robust mobile application, students can sync their online courses across multiple devices to complete their education, whether at home, at work, or in a coffee shop. What we like most about Aceable Agent is its tiered prelicensing packages, including instructor support and Lite Exam Prep. Premium plans also provide private tutoring, helpful to students needing direct guidance from experts.
However, Aceable Agent is only available in 14 states, with only prelicensing education in most locations. There are post-licensing and CE courses in very few states. This makes The CE Shop and Colibri Real Estate a better option for aspiring and experienced agents looking for online real estate education across the country. Instructor support in Aceable Agent is only via email, which may provide slower responses than phone calls.
Types of Education Available at Aceable Agent
Aceable Agent primarily offers prelicensing education with exam prep bundles in 14 states. There are also post-licensing and CE courses in select states. Read on to find courses available in your area.
Prelicensing
As mentioned, Aceable Agent's prelicensing education is only available in 14 states. These courses are designed for students who want to become a real estate agent and developed by real estate experts to be mobile application-friendly while also meeting each state's course requirements. The self-paced learning slides, along with the ability to download learning PDFs, allow students the flexibility to complete the course on their own time with or without an internet connection.
Although courses are primarily online, students can contact instructors via email to get adequate support for completing the course. All prelicensing packages include real estate practice questions to help students prepare for the state exams. In some state packages, like New York, Aceable Agent offers career assistance courses to help agents find a sponsoring broker.
The table below outlines what's included in each Aceable Agent prelicensing package. Note that the plans vary slightly by state.
Basic

Deluxe

Premium

State-approved courses
Lite Exam Prep (real estate exam practice questions)
Instructor support
Help Starting Your Career course*

State-approved courses
Real estate exam practice questions
Instructor support
Help Starting Your Career course*
Additional practice test questions
PrepAgent State Exam Prep course
Premium study aids (video and audio lessons)
Exam prep e-book

State-approved courses
Real estate exam practice questions
Instructor support
Help Starting Your Career course*
Additional practice test questions
PrepAgent State Exam Prep course
Premium study aids (video and audio lessons)
Exam prep e-book
1 hour of private tutoring
Live webinars
Access to the webinar archive
Live question and answer (Q&A)
*Not available in all states
Real estate post-licensing education is designed to give agents continued learning as they begin their real estate careers and is only required in some states across the United States. Aceable Agent currently only offers post-licensing education in Texas. Through Aceable Agent, Texas-based agents can complete these courses online at their own convenience. Post-licensing is also available for agents in Georgia via affiliation with Kaplan. While self-paced, these courses are designed with interactive content and access to customer support.
Specifically for Texas, post-licensing courses include PDF versions of the content so agents can quickly search for any terms and review all the topics covered. Purchase course packages with all the post-licensing hours required or individual courses based on the number of credit hours you need.
Aceable Agent currently offers continuing education (CE) for agents in Texas, New York, and Georgia looking to renew their licenses. TX CE courses contain all the general features provided on Aceable Agent's platform, like mobile-friendly flexible learning and interactive state-approved content. On the other hand, CE courses for NY and GA are administered through partner school ]Kaplan. Regardless, agents are still able to complete the courses online with similar schedule flexibility, a money-back guarantee, and customer support.
Aspiring agents looking for extra practice or mock exams should take advantage of the exam prep materials provided by Aceable Agent. The prelicensing plans include exam prep materials like exam practice questions, exam prep e-books, and a state exam prep course from PrepAgent, depending on which plan you choose. These features give students familiarity with exam questions and exam structure, thereby increasing their knowledge of test material.
At the time of writing, Aceable Agent doesn't offer its own separate exam prep courses. If you need standalone exam prep, Aceable Agent has partnered with Kaplan to provide complete real estate drill and practice Qbanks, and state and national exam prep solutions to aspiring agents in New York and Georgia. Moreover, free exam practice tests are available on Aceable Agent's website, where you can practice as many times as you need.
Aceable Agent Alternatives
Schools

Best For

Agents looking for convenient online education

Agents needing multiple course formats

Realtors looking for an intuitive and interactive learning platform

Real estate professionals who prefer flexible payment options

Key Features

Pass guarantee
Diverse course options in
Instructor support
Real estate education available in 50 states

Livestream, self-paced, on-demand, and home study learning options
Interactive Study Groups
Instructor support
Real estate education available in 23 states

Proprietary Leap 2.0 learning platform
Agent Essentials and career resources
Customer support available seven days a week
Real estate courses available in 50 states

1-year course access
Professional development courses
Instructor support
Courses available in 50 states

Starting Price*

$19.95

$16

$9

$9

Learn More
*Pricing is for comparable options; the exact price depends on location, course selection, and learning format.
Aceable Agent Pricing & Plans
Pricing for Aceable Agent courses varies by state due to each state's required number of education hours. Prelicensing courses are divided into three plan options: Basic, Deluxe, and Premium, starting at $116. Aceable Agent's post-licensing course is only available in Texas and offers bundled course options and individual courses to meet the state's requirements. CE classes are also offered in limited states through Aceable Agent's partnership with Kaplan.
All plans include customer service support, a money-back guarantee, downloadable PDFs, and state-approved content. Upgrading to Deluxe and Premium prelicensing plans will include extra features such as webinars, live Q&A, private tutoring, and extra exam preparation from PrepAgent.
| Plans | Prelicensing | Post-licensing | Exam Prep | Continuing Education |
| --- | --- | --- | --- | --- |
| Who Plan Is Best For | Prospective agents who want schedule flexibility and want to complete courses on their own timeline | Agents who want to continue their real estate careers after one year of practicing while in a state with the requirement | Students who need a little extra practice before taking the state exam | Agents who want to further their careers and meet license renewal requirements |
| Course Price Range* | $116 to $799 | $40 to $567 | $69 to $169 | $19.95 to $133 |
| Mobile Application | ✓ | ✓ | ✓ | ✓ |
| Auto-save Feature | ✓ | ✓ | ✓ | ✓ |
| Customer Service Support | ✓ | ✓ | ✓ | ✓ |
| Exam Prep | ✓ | ✕ | ✓ | ✕ |
*Pricing varies depending on location and course package.
General Aceable Agent Features
Mobile application
Ace or Don't Pay guarantee
Interactive learning platform
Mastery tracking
Aceable Agent enables students to obtain their real estate license by providing convenient education to help them advance in their careers. Through self-paced online courses, flexible learning styles, an advanced technology platform, and an Ace or Don't Pay Guarantee, Aceable Agent simplifies the process for aspiring and active agents to complete necessary coursework.
In addition, Aceable Agent gives students access to state-approved instructors, along with an online platform that is tech-savvy, easy to navigate, and can flow with the busy schedule of aspiring and experienced agents. Additionally, the interactive learning videos and answer boxes in the prelicensing course assist students in passing the required exams and equip them with skills to eventually become real estate brokers.
Additional Aceable Agent Features
Read more about each of Aceable Agent's features by clicking on the tabs below:
Complete courses at your own pace
Syncs automatically with other devices
Downloadable on Apple Store or Google Play
The mobile app enables you to sign up and complete your Aceable Agent real estate course entirely on any online device. Since Aceable Agent was designed first on mobile, the application was developed with engaging content perfect for students to complete at their leisure. Download the app for free from the Apple Store or Google Play.
What's great about the app is that it will sync with all your other devices—whether on your mobile phone or desktop—so you can pick up where you left off instantaneously and will not lose any completed progress. If there are issues with the app, contact the Student Concierge seven days a week to assist with mobile application troubleshooting.
---
Money back if you don't pass after three attempts
Must purchase the course directly through Aceable Agent
Some states don't allow refunds
Complete your prelicensing course risk-free. Aceable Agent's Ace or Don't Pay Guarantee allows you to get a refund or retake a course if you don't pass after attempting the state test three times. If you choose to obtain a refund, you will no longer have access to your Aceable Agent courses or materials. However, students who want to pursue their real estate careers can forgo the refund and retake their prelicensing courses at no additional cost.
---
Engaging real estate topics
Audio and video lessons
Pop-up questions for learning retention
Aceable Agent utilizes a variety of learning styles with features that keep students engaged and help them retain the information better, despite the self-paced format. If you purchase Deluxe and Premium prelicensing, you get access to video and audio lessons as well as digital flashcards on key real estate concepts.
Aceable Agent's course further includes a mix of multiple choices and open-ended questions that are reviewed by a real estate instructor. It also created a sorting game called Facts of a Feather—flashcards that will pop up during content-heavy portions of the course to ensure students focus on the most important pieces of information.
---
Tracks course progress
Makes studying more effective
Identified areas of improvement
As you progress in your courses, Aceable Agent's Mastery Tracking allows you to gauge your understanding of each topic through practice questions scattered between course content. If you fail to answer a question correctly or fail a practice quiz, Mastery Tracking will identify which topics should be reviewed with a lightning bolt icon next to the corresponding chapters.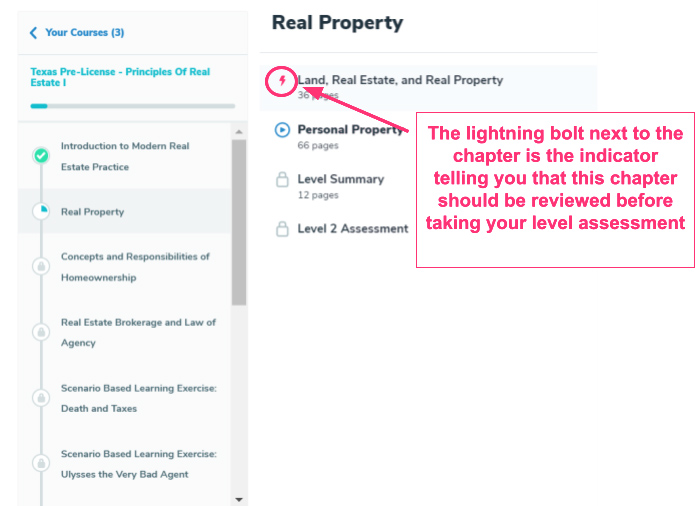 ---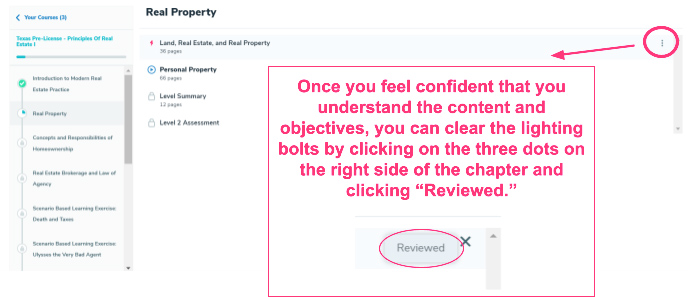 ---
The bolt icon signifies which chapters should be reviewed. You can also view the correct answers to the questions. Once you're done reviewing the chapter topics, manually clear the lightning bolts or keep them attached to the chapters as bookmarks to circle back to before the final exam.
---
Free real estate practice test available
Practice questions included in the Basic plan
Deluxe plan contains over 3,000 additional practice questions
Having proper exam preparation boosts an aspiring agent's confidence in passing the state exams. Depending on your exam prep needs, you can choose from course packages with different exam preparation offerings. Aceable Agent also offers free practice tests on its website. Complete the tests multiple times to improve learning retention.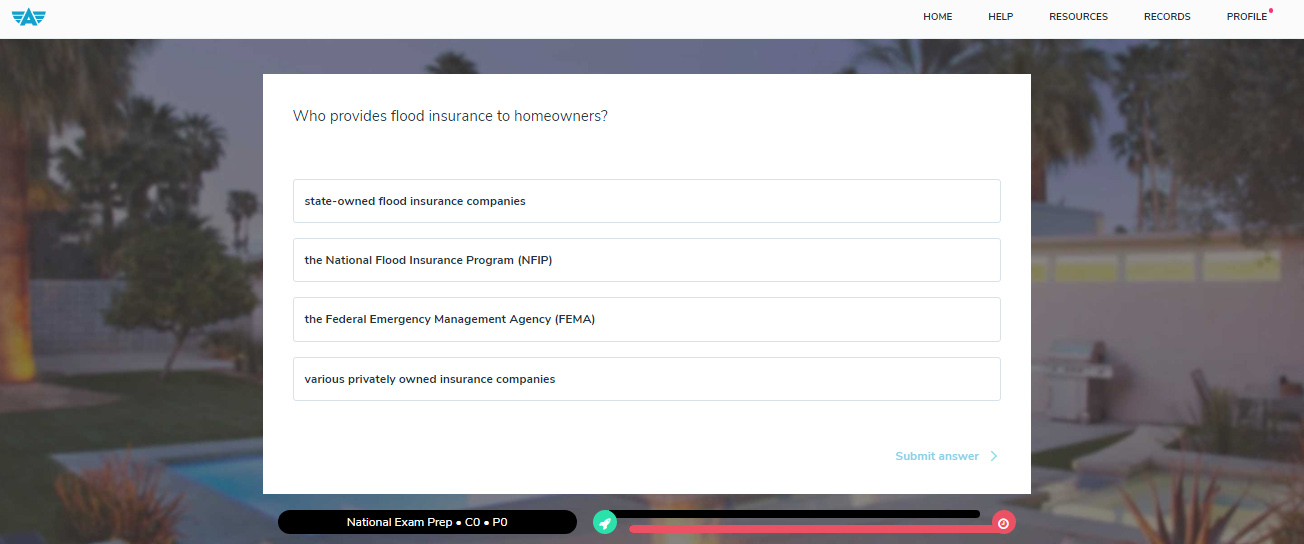 ---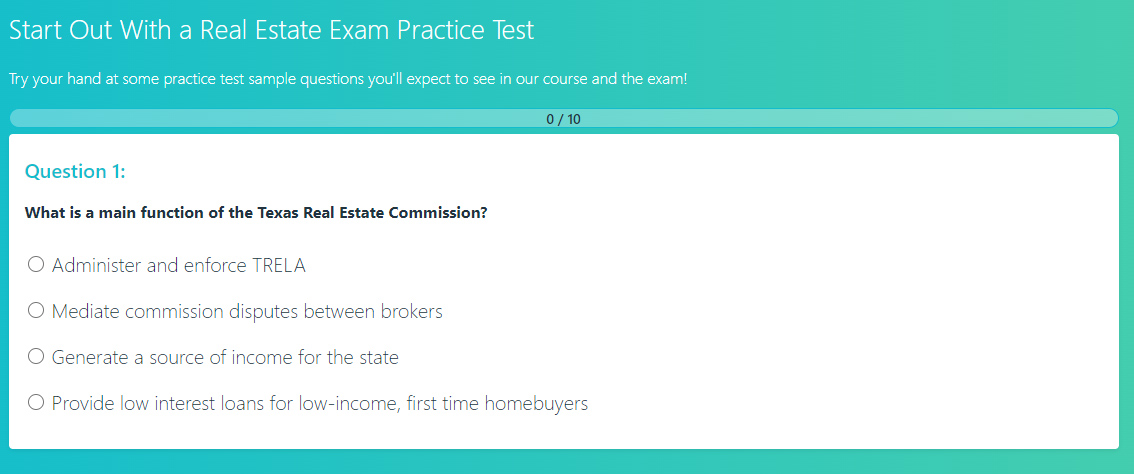 ---
Even the Basic prelicensing plan offers hundreds of practice questions depending on the state. The Deluxe plan unlocks a ​​real estate exam prep e-book, whereas the Premium plan contains more interactive exam preparation with individual tutoring, live webinars, and live Q&A with real estate experts.
---
Video-based and self-paced
Courses can be synced across phone, tablet, and home computer
Developed and taught by industry experts
Aside from state-approved real estate education, Aceable Agent offers professional development courses designed to help strengthen the foundation of an agent's career. Choose from four career training programs. For those who are just starting out in their career, Proven Path will help you navigate the ins and outs of the industry using a proven method of success.
Other courses will equip you with skills in listing presentation and lead generation. For aspiring brokers, Aceable Agent's Million Dollar Real Estate Team course will teach you a strategic and efficient brokerage model. Professional courses are video-based and self-paced, so you can complete them on your own schedule. You can also sync these courses across your mobile and desktop devices to access the courses from anywhere.
---
Instructor support via email
Student Concierge via phone, chat, and email
Available seven days a week
If you enroll in any of Aceable Agent's prelicensing courses, you get access to instructor support to answer your questions about your course content. These instructors are comprised of educators, real estate experts, experienced customer service professionals, and engineers with a deep understanding of the real estate industry. Find your instructors' email addresses in the intro chapter of the course. The school's Student Concierge Support Team can also connect you to them.
Aceable Agent's Student Concierge Support Team is available to assist students seven days a week. Contact Aceable Agent customer service via phone and chat, Mondays through Fridays, during business hours. If your concern is not too urgent, you can email them instead.
---
Ease of Use for Aceable Agent
Aceable Agent's technology-forward platform makes the course easy to sign up for and begin on any device. The software was designed to be intuitive for all students without being too technically complex. The course dashboard has an easy-to-read navigation bar outlining course lessons and topics along with the course completion rate.
Course content is presented in slide-based lessons, so you can easily move through the materials, answer course questions, watch videos, and pause when necessary. The auto-save feature ensures all work is saved, and you can pick up exactly where you left off.
Courses are further synced across all your devices, so you can take your education anywhere. Aceable Agent's website is also easy to navigate. Just click the course you need in your desired state to view all the available education packages, along with course rates and inclusions.
Bottom Line
Aceable Agent is one of the best online real estate schools for students looking for convenient education to obtain their real estate license. The free mobile application allows course completion from anywhere and anytime, reducing any barrier to successfully completing the course within an appropriate period. Based on our Aceable Agent review, the school's prelicensing packages, along with exam prep courses and an Ace or Don't Pay Guarantee, empower aspiring agents to successfully pass the actual licensing exams.