The 6 Best Vonage Alternatives
This article is part of a larger series on VoIP.
The best Vonage alternatives are voice-over-internet-protocol (VoIP) providers offering plans with unlimited international calling, high-definition (HD) video conferencing, and advanced analytics. In addition, top Vonage competitors offer some of the same fan-favorite features that come with Vonage, such as call flip and intuitive mobile apps. To determine which are the best, we evaluated the top alternatives to Vonage based on price, features, and usability.
Based on our research, the six best Vonage alternatives are:
Vonage & Best Alternatives at a Glance
Vonage & Alternatives

Starting Price

Key Features

Free Trial

FSB Rating

$19.99 per user, per month

Unlimited team messaging
Video meetings with up to 100 people
Virtual receptionist

14 days

Check out our

$29.99 per user, per month

International phone number support
Video conferencing with up to 200 participants
Integrates with hundreds of third-party services

15 days

4.61 out of 5

$15 per user, per month

Unified text, voice, and video
Video meetings with up to 500 attendees
Unlimited international calling to up to 48 countries

30 days

4.58 out of 5

$20 per user, per month

Voice intelligence
Video conferencing with up to 100 people
Multilevel auto attendant

14 days

4.16 out of 5

$24 per user, per month

Unmetered international calling to 52 countries
Video meetings with up to 250 participants
Automotive software integrations

14 days

3.96 out of 5

$0 per license & $100 for annual hosting

On-premise or cloud-hosted solutions
Video conferencing with up to 250 attendees
Advanced call routing capabilities

12 months

3.75 out of 5

$19.95 per user, per month

Unlimited international calling for up to 70 countries
Local and toll-free virtual numbers
Video conferencing with up to 25 attendees

No free trial

3.55 out of 5
RingCentral: Best Overall Vonage Alternative for Scalability & Integrations
What We Like
Includes an uptime service-level agreement (SLA) on the base plan
All subscriptions come with toll-free minutes
Local support for direct inward dial (DID) international numbers and employees
What's Missing
The base plan lacks video conferencing and internet faxing
No unlimited international calling plans like 8x8 and GoTo Connect
More expensive entry-tier package for small teams compared to 8x8 or Dialpad
How It Compares to Vonage
RingCentral MVP provides four cloud-based VoIP subscriptions, and RingCentral Contact Center also has four options. Vonage has three business plans and four contact center plans
Vonage doesn't have HD video, and HD voice is an add-on feature; in contrast, RingCentral supports HD video and audio
RingCentral supports 200 video conferencing participants vs 100 with Vonage
RingCentral offers hundreds of out-of-box integrations whereas Vonage has about 20
RingCentral MVP is a top Vonage competitor and the best business phone system for organizations wanting to scale and integrate existing tools. It provides four feature-rich plans, and each subscription supports team messaging, texting, document sharing, and unlimited calling within the United States and Canada.
RingCentral also supplies the highest number of integrations, allowing business users to connect their phone system to customer relationship management (CRM), helpdesk, and calendaring tools. However, RingCentral can be expensive for small teams, and the entry-tier plan lacks video and audio conferencing.
In comparison, 8×8 has a $15 plan (monthly per user) for up to 10 people. The 8×8 Express plan supports team messaging and unlimited domestic calling like RingCentral and includes video meetings with 100 people and meeting recording and transcription. Learn more about how these providers compare in our RingCentral vs 8×8 comparison guide.
RingCentral Pricing at a Glance*
Essentials: $29.99 per user, per month, for up to 20 users for unlimited calls and texting, team messaging, voicemail-to-text, and document sharing
Standard: $37.99 per user, per month, for 100 video participants, integrations, unlimited internet fax, and a multilevel auto attendant
Premium: $44.99 per user, per month, for 200 video meeting participants, automatic call recording, call whisper, single sign-on (SSO), and call barge
Ultimate: $59.99 per user, per month, for unlimited media storage, device status reports, device alerts
*Pricing is based on two to 20 users with monthly billing. Prepay annually and save up to 33%.
RingCentral Features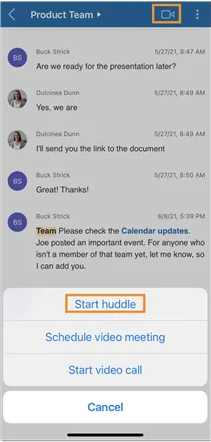 International support: Establish a global presence with virtual international or DID numbers. You can forward calls to your US-based team or employees located worldwide. The RingCentral MVP app provides language support for German, English, and Spanish, and you can set up a bilingual auto attendant for customers.
Integrations: Connect your phone system to your favorite tools with RingCentral's out-of-box integrations. Popular voice apps and integrations include Freshdesk, Microsoft Teams, HubSpot, and Salesforce. You'll also find several industry-specific connections, such as Canvas and Lawmatics.
Team collaboration: Keep your team in the loop and encourage interaction with RingCentral's collaboration tools. RingCentral users can share documents and chat in real-time like other Vonage alternatives. But your team can also interact with co-workers in a persistent Team Huddle room and send individual messages quickly during a meeting by simply tapping and holding their teammate's portrait.
8×8: Best Vonage Alternative for High-capacity Video Conferencing
What We Like
Affordable entry-tier plan with voice and video features
Can livestream to YouTube
Unlimited calling to 14 or 48 countries
What's Missing
Fewer integrations than RingCentral
Can't send outbound text messages internationally
No volume-based discounts
How It Compares to Vonage
All 8×8 subscriptions include an auto attendant whereas Vonage doesn't offer a virtual receptionist on its entry-tier plan
Meet with up to 500 people with 8×8 X series plans compared to 100 with Vonage
Vonage doesn't offer unlimited calling plans. 8×8 supports international calling to 14 or 48 countries
8×8's base plan offers more features at a cheaper price for teams of 10 than provided by Vonage
8×8 is one of the best small business VoIP services for reaching a vast audience during a video conference. Its X series plans support 500 participants, including 25 simultaneous video displays. The 8×8 Express package is also the best value for teams of 10 or fewer people. You can meet with 100 people, livestream to YouTube, and view meeting recordings or transcriptions.
8×8 features 59 integrations with services such as Microsoft Teams, Salesforce, and HubSpot. While there are fewer integrations than offered on RingCentral's Standard package, the 8×8 X2 plan costs less and provides unmetered calls to 14 countries.
8×8 Pricing at a Glance*
8×8 Express: $15 per user, per month, for unlimited domestic calling, 100 video conference participants, an auto attendant, meeting recording and transcription, file sharing, and visual voicemail
X2: $32 per user, per month, for unlimited calling to 14 countries, 500 video conference attendees, Microsoft Teams integration, text messaging, and a multilevel auto attendant
X4: $57 per user, per month, for unlimited calling to 48 countries, supervisor analytics, call whisper, and call barge
X6: $125 per user, per month, for post-call surveys, call recording, customer experience journey mapping, and an autodialer
X7: $138 per user, per month, for omnichannel routing for social media and email, skills-based routing, and co-browsing
X8: $175 per user, per month, for speech and text analytics and quality management tools
*Pricing is based on a monthly payment plan. Prepay annually to save up to 25%.
8×8 Features
Video meetings: Host large meetings and webinars from your mobile phone, tablet, or desktop. 8×8 features the largest conferencing capacity at 500 participants. In comparison, Vonage and Dialpad allow up to 100, whereas RingCentral has a limit of 200, and GoTo Connect and 3CX support 250. 8×8 video conferencing tools include breakout rooms, attendee polling, and YouTube live-streaming.
International calling: Lower your phone bill with 8×8's unlimited international calling plans. Or connect your overseas team to your business phone system with local number support in more than 40 countries and virtual numbers in over 120.
Unified communications: The 8×8 Work app keeps your conversations in one spot. Without switching applications, your team can access text messages, video meeting transcripts, shared content, and visual voicemail.
Dialpad: Best Vonage Alternative for Advanced AI & Automation Tools
What We Like
Automatic call recording comes with all subscriptions
A multilevel auto attendant is a standard feature
All VoIP packages include voice intelligence (VI) features
What's Missing
Less scalable for enterprises compared to RingCentral
Single sign-on (SSO) is only available with the Enterprise plan, whereas it comes with all GoTo Connect subscriptions
Limited video conferencing duration and capacity
How It Compares to Vonage
Automatic meeting recording comes standard with all VoIP packages whereas automatic recording is an add-on for Vonage users
Dialpad provides AI-based tools like speech coaching and after-call summaries; although Vonage offers analytics, advanced tools are premium add-on features
A multilevel auto attendant comes with all subscriptions, and Vonage doesn't offer one on its base tier
Most Vonage competitors lock multilevel auto attendants, call recording, and voice intelligence behind more expensive packages. In contrast, Dialpad is one of the best Vonage alternatives because it offers an expansive list of VoIP phone features on its base plan. You'll also find plenty of AI and automation tools, allowing your team to work faster and avoid tedious data entry tasks.
Automatic post-call notes summarize your meeting points and CRM integrations keep data synced. These tools come on the Pro plan, reasonably priced at $30 per user, per month, or $20 per month with annual prepayment.
Similar packages from RingCentral and 8×8 cost over $7 more. However, Dialpad only supports five-hour video meetings with 100 participants, whereas 8×8 users can scale from 100 to 500 attendees.
Dialpad Pricing at a Glance*
Standard: $20 per user, per month, for unlimited calling and texting within the US and Canada, voicemail transcription, schedule-based routing, call recording, and a multilevel auto attendant
Pro: $30 per user, per month, with a three-seat minimum for 25 ring groups, hold queues, international texting, and CRM integrations
Enterprise: Request a custom quote for a minimum of 100 licenses with a 100% uptime SLA and unlimited ring groups
*Pricing is based on monthly billing. Prepay yearly to save $5 per user, per month.
Dialpad Features
Advanced analytics: View heat maps with call volume or answer time trends. Or explore your interactive voice response (IVR) menu effectiveness with menu analytics. Additionally, real-time metrics highlight calls and availability, allowing supervisors to manage call queues before service quality drops.
Voice intelligence: Use Dialpad's VI to transcribe meetings in real-time, automatically detect customer sentiment, and monitor keywords in conversations. Plus, automatic call notes and identify action items to keep your teams focused.
Call routing: Advanced call routing tools direct customers to suitable agents. Along with standard schedule-based call routing, you can forward calls based on agent skills or who's been idle the longest. Dialpad also supports queue prioritization, so your very important person (VIP) or emergency callers can move to the top of the line.
GoTo Connect: Best Vonage Alternative for Call Routing
What We Like
The Dial Plan Editor allows users to quickly alter and configure efficient call routing
GoTo Connect is the only service with built-in integrations for automotive software
Offers unmetered calling to 52 countries
What's Missing
Electronic faxing isn't available with the base plan
Doesn't offer international phone numbers like Dialpad and RingCentral
Analytics are locked behind the highest plan tier
How It Compares to Vonage
You can bundle LogMeIn services like LastPass with GoTo Connect subscriptions, but Vonage doesn't offer plans with password management
GoTo Connect supports unlimited calling to 52 countries; however, international calls with Vonage incur per-minute charges
Unlike Vonage, GoTo Connect provides internet protocol (IP) phone support on the base plan
GoTo Connect, which is part of LogMeIn's GoTo package, provides easy ways to customize how calls are handled. Formerly known as Jive, GoTo Connect has a Dial Plan Editor that permits you to create a quick diagram of inbound calls so that you can decide where they go. Each stage of the process can be dragged and dropped so that call routing is intuitive and efficient.
GoTo Connect is also a top Vonage alternative for companies with high volumes of international calls. The Standard and Premium packages let you call 52 countries for free with pricing starting at $29 per user, per month, vs 14 countries for $32 or 48 regions for $57 with 8×8. Still, GoTo Connect falls slightly behind Ooma, which grants unmetered calling to 70 countries with some of its plans.
GoTo Connect has limited video conferencing capacity on its base plan, supporting 40-minute video calls with just four people. 8×8 Express costs $9 less per user for unlimited meetings with 100 participants. Teams with fewer international calls may prefer the less expensive Dialpad or 3CX systems, as they provide similar feature sets without unmetered international calls.
GoTo Connect Pricing at a Glance*
Basic: $24 per user, per month, for an auto attendant, unlimited extensions, smart call routing, and team messaging
Standard: $29 per user, per month, for unlimited ring groups and call queues, hot desking, internet faxing, and unmetered calling to 52 countries
Premium: $39 per user, per month, for call analytics, real-time queue updates, call monitoring, supervisor dashboards, and call whisper
*Pricing is based on two to 10 users with monthly bills. Prepay annually to save up to 12%.
GoTo Connect Features
Auto integrations: GoTo Connect is an excellent fit for companies in the automotive industry as it works with dealer tools like DealerSocket and Cox Automotive. Plus, you can use GoTo Connect's video conferencing feature to give virtual vehicle tours.
Bundled services: GoTo Connect is part of the LogMeIn family of companies. It offers additional tools like GoToWebinar Lite and LastPass as part of its bundled plans. This can provide extra savings and help with password security.
Smart call routing: Preconfigure your call flow to ring multiple devices in a preset sequence. Or map out call flows based on your holiday, weekend, or after-hour schedules. Learn more about the dial plan editor in our GoTo Connect VoIP feature spotlight.
3CX: Best Vonage Alternative for Flexible Deployment Options
What We Like
Unifies web chat and Facebook Messenger conversations on one platform
The most affordable pricing for on-premise and cloud-hosted services
Supports video meetings with up to 250 participants
What's Missing
Video meetings only show 16 streams vs 25 with 8x8 and RingCentral
Integrates with fewer third-party tools compared to other Vonage alternatives
Only the Enterprise plan includes skills-based call routing
How It Compares to Vonage
Vonage provides cloud-based VoIP services, whereas you can deploy 3CX in your private cloud, hosted, or on-premise
3CX centralizes conversations from your website chat and Facebook Messenger onto one platform, and Vonage lacks these capabilities
You can use the hardware of your choice with any 3CX subscription. Vonage's base plan doesn't offer IP phone compatibility
3CX has the lowest fees of all Vonage competitors and is the only service you can deploy onsite using a computer as a server or through private cloud services. It provides a free license for up to 12 users and four simultaneous calls. Or add eight or more concurrent calls with 13 or more users for ultra-low pricing. For instance, it'll cost you $0.58 per user for 25 employees plus an additional $100 hosting fee per year.
All 3CX subscriptions include unlimited extensions, an auto attendant, and screen-sharing tools. Enterprise-grade capabilities like skills-based routing and Microsoft Teams integration require the highest plan tier—but you'll pay a total of just $280 for the year for four simultaneous calls and 10 users. Compare that to $1,800 per year with 8×8's basic plan tier with fewer features.
However, 3CX pricing doesn't include customer support as other Vonage competitors offer. For example, you'll pay $75 per tech support call. If you prefer more customer service options, like live chat, helpdesk tickets, and phone, consider hosted VoIP systems like Dialpad, RingCentral MVP, and GoTo Connect.
3CX Pricing at a Glance*
Standard: $0 licensing fees and $100 per year for hosting for an auto attendant, 25 video participants, unlimited extensions, and screen sharing
Pro: $145 per year licensing fee and $100 per year hosting fee for Microsoft 365 and CRM integrations, 100 video conference attendees, call queues, and call recording
Enterprise: $180 per year licensing fee and $100 per year hosting for Microsoft Teams integration, skills-based routing, and 250 video meeting participants
*Pricing is based on 12 users and four simultaneous calls. Additional licensing and hosting fees apply for eight or more simultaneous calls.
3CX Features
Video conferencing: Share screens, documents, or whiteboards with up to 250 people during video meetings. Your team can also use remote screen controls to assist customers or co-workers. However, it lacks breakout rooms offered by other Vonage competitors like RingCentral and 8×8.
Multichannel communications: While other VoIP services unify voice, chat, and video into one application, 3CX goes a step further. It pulls conversations from Facebook Messenger and your website's live chat into the 3CX app, allowing employees to view and respond to communications from multiple channels. Similar omnichannel capabilities from 8×8 cost $138 per user, per month.
Call center capabilities: Scale your customer service department with 3CX's rich feature set. It can alert you to missed service level agreement (SLA) metrics and let supervisors monitor and coach agents in real-time. Discover more features in our 3CX review.
Ooma: Best Vonage Alternative for Unlimited International Calling
What We Like
The base-level Ooma plan (with the Ooma Telo) is useful for smaller businesses and solopreneurs
Up to 70 international locations with unmetered calling
Virtual receptionist included with Office plans
What's Missing
Features like video conferencing are only available at the Office Pro level and above
Ooma doesn't grant access to vanity or international numbers
There aren't many useful call center features
How It Compares to Vonage
Unlike Vonage, Ooma has a "free" plan with the purchase of a Telo, which comes with voicemail, call hold, caller ID, and call return
Ooma uses its proprietary PureVoice technology to improve call quality, even if there's as much as a 30% packet loss on the VoIP call; Vonage's call quality experience doesn't use any special technology
Vonage has a much stronger integration experience than Ooma, such as the Vonage App Center, which provides access to things like CRMs; CRM integration is available through Ooma only on its enterprise packages
Businesses are becoming more global, which is why a provider like Ooma is so valuable; with Ooma, you're able to dial unmetered to 70 countries. This means you can significantly cut international calling costs and pay only a monthly subscription fee. Ooma also comes with access to both local and toll-free numbers so that you can provide domestic customers with multiple means of contact with your business.
While Ooma and GoTo Connect both offer unmetered international calling plans, neither offers international numbers. If you want your international customers to be able to reach you outside of their country, you'll have to provide them with local numbers to do so. Currently, of the Vonage alternatives in this guide, 8×8 is the only one to provide both unlimited international calling and numbers.
Ooma Pricing at a Glance
Ooma Home: Free with purchase of the $99 Ooma Telo analog telephone adapter. Includes basic service, which allows you to call domestically for free.
Ooma Office: $19.95 per user, per month, for a virtual receptionist, extension-to-extension dialing, call forwarding, call flip, and multidevice ring
Ooma Office Pro: $24.95 per user, per month, for video conferencing, call recording, enhanced call blocking, and voicemail transcription
Ooma Features
Extensive hardware and software support: Ooma isn't limited to the Telo. Not only does the service have its own listing of Ooma VoIP phones from Grandstream, but it also supports several of these devices from other manufacturers.
Multidevice ring: Multidevice ring allows inbound calls to ring on multiple devices so that your agents can pick up whichever phone is most convenient. Devices supported include the softphone, IP phone, or smartphone app on their Android or iOS device, ensuring that customer needs are met efficiently.
Extended support: Ooma has extensive phone support that's available 24x7x365. While some providers charge extra for comprehensive support, Ooma's agents help customers for free via website and chat options as well as on the phone in the US and Canada.
How We Evaluated the Best Vonage Alternatives
Several Vonage competitors offer basic and advanced VoIP features at comparable prices. In addition, these business phone systems provide capabilities you won't find with Vonage, including unmetered international calls and online faxing capabilities. We reviewed the top Vonage competitors and rated them based on several factors, including scalability, analytics, and video conferencing tools.
Here's a breakdown of how we measured each provider:
15% of Overall Score
Pricing among providers varies, with some providers offering annual and volume-based discounts to lower the per-user fees. We assessed the costs of each subscription plan and scored those with free trials higher.
35% of Overall Score
All of our Vonage alternatives offer subscriptions with unlimited calling and short message service (SMS) texting, but some lack team chat with presence and a base-level uptime SLA. We also gave points to systems with meeting recording and in-depth analytics.
30% of Overall Score
We verified the VoIP systems offering HD video conferencing and mobile applications. Plus, we looked at the costs for international calling and plan requirements for IP phone connectivity.
20% of Overall Score
We rated each Vonage alternative based on their value for the money, popularity, and ease of use. We also considered stand-out features that set the VoIP systems apart from Vonage competitors.
*Percentages of overall score
Bottom Line
Although Vonage is an excellent phone system, it's a la carte features can add to the monthly cost. In comparison, top Vonage competitors provide advanced capabilities packaged into affordable monthly plans. Once you determine your budget and must-have features, explore the complimentary trials offered by the best Vonage alternatives.
RingCentral MVP earned 4.61 out of 5, making it the best alternative to Vonage. It provides a robust entry-tier plan for up to 20 users and is scalable up to contact center packages. RingCentral has user-friendly mobile apps with team messaging and video conferencing tools. Take RingCentral for a test run by signing up for a 15-day free trial.