Remarketing is a strategy used to re-engage customers using information collected while they navigated your website. And because 97% of first time online store visitors leave without purchasing anything, remarketing is the best approach to encourage conversions by bringing back customers who visited your site. Examples of remarketing include email reminders for abandoned shopping carts, upsell and cross sells, and purchase confirmations.
In this article, we will discuss the basics of how remarketing works and what the benefits of remarketing are for your business.
Remarketing vs. Retargeting
Remarketing and retargeting are often used interchangeably, but, there is an important difference between the two. Remarketing utilizes email to directly re-engage customers who have visited your website and market new sales opportunities to them based on data collected from their browsing activities. Retargeting uses browser cookies to follow your customers and display your ads when they visit other websites.
How Remarketing Works
What makes remarketing so effective are the layers of information it uses to re-engage potential customers. This is possible through the data collected while they make their way through the pages of your website, such as their email address or small bits of data that are stored on their computer when they interact with specific webpages. This data includes information such as the pages they visited, how long they stayed, and the products they viewed or clicked on.
By analyzing this combination of actions, you can identify which product(s) the user was interested in and if they were interested enough to come close to purchasing them. The behavior determines the type of remarketing action the campaign will initiate.
One example is how TeesandTankYou's online store have created a customer loyalty program through their order notification emails designed with MailChimp. After realizing that order notification emails enjoy a significantly higher open rate, they designed their own emails with a signature TeesandTankYou look that not only provides their customers with transaction information, but also included relevant items for cross selling and promotions. As a result, their product recommendations produced an extra $31.95 per order notification.
Remarketing Emails
As emails play a huge role for your remarketing strategy, it's important to note that remarketing emails are different from marketing emails. Some of the characteristics that make them unique include dynamic delivery, improved metrics, and escalating incentives.
Dynamic Email Delivery
A remarketing email campaign is dynamic because the emails are always in response to a website visitor's actions. The type of email the user receives will differ as they move along the buying stage. For example, a customer who just registered on your online store would receive a welcome email with a special discount, while a customer who stays on a specific product page will get emails related to the product. People who abandon their shopping cart will also get a different email from someone who had just completed a purchase.
Increased Open Rate
Because remarketing emails are dynamic and more personalized, they have higher open rates when compared to marketing emails. With order confirmation emails alone, ecommerce business owners enjoy 114.3% click rates as opposed to 14.4% with branding-focused and promotional emails.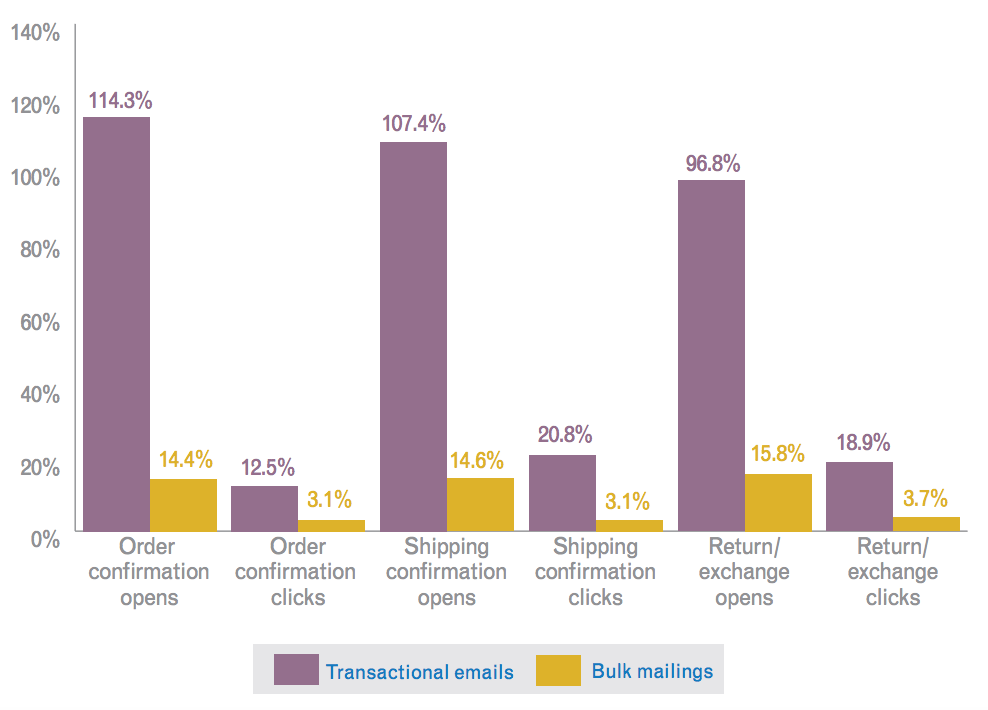 Escalating Incentives
In remarketing emails, incentives like discounts are as dynamic as the email itself. The idea is to give users escalating offers that will convince them to return to your website and make the purchase. It can start from a simple reminder and progress to your best offer after some time. For example, customers who abandon their shopping carts get a series of emails that begin with a reminder, which may move to an alert of an expiring discount for the same product, and finally an email offering a special discount that may also include waived shipping fees.
You can also easily identify remarketing emails by the content. These are some examples of common remarketing emails visitors would get after spending time on a website:
Cart Abandonment– sent to customers who abandoned the purchasing process before moving to checkout
Checkout Abandonment – sent to customers who left their items at the checkout stage
Purchase Confirmation – sent to customers after a successful online purchase
Post-Purchase – may include an invitation to review a recently purchased product coupled with an incentive for their next purchase
Upsell/Cross-Sell – may contain suggestions to related or complimentary products for a recently purchased item from the online store
While there is no assurance of being able to persuade all recipients of your remarketing email to go back to your website and complete their purchase, it's still worth the effort to reach out and ease as many apprehensive shoppers as you can because most of these hesitations can be easily resolved with the right approach. Transactional emails used for remarketing campaigns like order, shipping and returns confirmations are opened eight times more than regular marketing emails.
Benefits of Remarketing
The objective or remarketing is to maximize the opportunity of every potential sale that passes through your online store. Remarketing can help to increase your conversion rate, build better relationships with your customers, promote your brand, and generally improve your return on investment (ROI).
Increases Conversion Rate
Remarketing increases conversion rates by reaching out to customers that expressed an interest on your products but did not complete the purchase. An example would be the use of abandoned cart emails that consistently receives a click-through rate of at least 21%.
Fosters Better Relationships with Customers
Remarketing builds better relationships with your customers and promotes loyalty by providing personalized attention. Because of its nature, transactional emails are better received as it provides information your customer needs. This builds customer trust, making it easier to accept cross-selling and upselling messages within the email.
Promotes Brand Recognition
Remarketing improves brand recall by being able to constantly connect with your customer with messages that matches their stage in the buying process. A well-made remarketing email is able to reflect the business brand as a whole by making use of the company's logos and colors.
Improves Offline Marketing Campaign
Remarketing can improve offline campaigns by building your offline strategy to drive online actions. It makes it easier to measure how effective your offline marketing is while also increasing your remarketing list by driving more potential customers to your website. For instance, by providing special discount codes to your online shop for customers reached through flyers, you would be able to determine how effective your offline marketing campaign is and nurture it with remarketing emails.
Scalable Cost
Most remarketing tools provider offer flexible pricing that can fit almost any type of budget. This makes it easier to set up and implement a remarketing campaign in any scale. MailChimp's services, for instance, range from free to $199 depending on your business size.
Improves ROI
Remarketing helps you improve your ROI by optimizing conversion rate and effectively minimizing lost sales through second chance efforts on leads that would have otherwise already been lost. With emails alone, remarketing is known to generate $38 for every $1 cost to implement a campaign.
Disadvantages of Remarketing
While remarketing is generally accepted as an important arsenal to your overall marketing strategy, its easy, cost effective nature can also cause some drawbacks to business owners if left unchecked.
May Create a Negative Brand Impression
Customers can get overwhelmed and build a negative impression on your brand if your messages come too frequently or strongly. Timing is everything in remarketing. Try to build a time frame and content that will not intimidate an already reluctant shopper. One key tip is to analyze your shopper's behavior and tailor the frequency and tone of your communication according to their disposition. For instance, instead of persistent calls to return to their carts, offer shipping incentive or alternative payment option to address possible pain points of your customer.
Customers May Refuse to Purchase at Regular Price
Customers may get used to alluring deals that they won't bother purchasing with the regular price. Consider alternatives such as add-ons or free shipping to convince customers that you have the right product or service for them. You can also offer non-monetary incentives such as overnight shipping and point earnings to redirect the emphasis away from discounts.
Remarketing Tools
There are a number of providers that offers tools to assist with your remarketing campaign. What they offer is usually a platform that provides a complete marketing service. These include display ad networks like Adroll, email marketing platforms like MailChimp, marketing automation platforms like Hubspot, and social media networks like Facebook.
Adroll
Adroll offers a wide range of solutions that help win customers from "check us out" to "check out". They serve display ads across the web, social channels, emails and other devices and have access to over 500 ad exchanges that include popular sites like Facebook, Twitter, Instagram, and Google.
MailChimp
MailChimp is primarily an email marketing service with an extensive remarketing tool that lets you send out targeted emails and post ads on social media platforms as well. They offer flexible plans that will suit startups to professional marketers.
Hubspot
Hubspot has an all in one inbound marketing software that assures effective marketing campaigns. This includes features such as marketing automation, emails, a Hubspot CRM, and an easy integration with Salesforce.
Facebook Email Remarketing
Facebook Email Remarketing or Facebook for Business introduces their custom audience feature that lets you upload your list of email leads and match them with Facebook's accounts. This allows you to post targeted ads automatically for specific leads in your list and easily return their attention back to your brand.
The Bottom Line
The current consumer demand of personalization proves remarketing will continue to grow into a strategy, crucial to your marketing campaign. By combining it with other strategies like retargeting and SEO, you improve your business' chances of significantly increasing its revenue through gaining optimizing opportunities for conversion of leads into closed sales.