No matter the size of your nonprofit organization, being able to take credit card donations can radically increase the amount of money you can raise. It also allows you to set up recurring donations or online giving easily. Some traditional merchant account providers and credit card processors offer discounted rates for nonprofits, whereas other solutions are designed specifically to help nonprofits collect donations and include tools to make fundraising easier.
The best nonprofit credit card processing providers are:
Best Nonprofit Credit Card Processors Compared
Monthly Fee

Discounted Processing Rates

Payment Types

Fundraising Tools

$0

Card network discount, Zero-cost processing

Card-present, Online, Recurring, Invoicing, Virtual terminal, ACH/e-check

Donate button
QR code
Sharable payment link
Hosted donation page
Memberships

$0

Default nonprofit rates (2.49% to 3.2%)

Card-present, Online, Recurring, ACH/e-check

Hosted donation page
Online forms
Event registration
Text-to-donate
Auction bids

$0–$30

From 1.99% + 49 cents

Card-present, Online, Recurring, Invoicing, Virtual terminal, ACH/e-check

Donate button
QR code
Sharable payment link
Hosted donation page

$0

Custom nonprofit rates

Card-present, Online, Recurring, Invoicing, Virtual terminal, ACH/e-check

Custom donation page & donate button
Shareable payment links
Fundraising platform integration

$0–$60

No discount

Card-present, Online, Recurring, Invoicing, Virtual terminal, ACH/e-check

Hosted donation page
Memberships
Ticket and merchandise sales

From $350

Custom nonprofit rates

Online, Recurring, Virtual terminal, ACH/e-check

Hosted donation page
Donate button and forms
Memberships
Ticket and merchandise sales

$0

2.2% + 30 cents

Online, Recurring, Virtual terminal

Hosted donation page
Donate button and forms
Ticket and merchandise sales

$20–$25

From interchange plus 0.1% + 8 to 11 cents

Card-present, Online, Recurring, Virtual terminal, ACH/e-check

Hosted donation page
Donate button
Memberships
Ticket and merchandise sales
All of the payment processors on this list, except for Square, offer discounts for nonprofits or are created specifically for nonprofit organizations.
Helcim: Best Overall

Pros
Customer portal tools for donation
In-person donation through mobile
Built-in CRM, invoicing, and recurring billing tools
Cons
Lacks dedicated fundraising tools
Limited third-party integrations
Discount only through card network fees, not Helcim's markup
What we like:
Helcim is one of the most cost-effective payment processors in the industry, with very low per-transaction costs and zero monthly fees. It comes with a full suite of online and in-person payment tools, plus customer relationship management (CRM) features that can easily be adapted to nonprofit functions.
While it does not offer discounted processing fees, Helcim does offer Visa and Mastercard special interchange rates for nonprofits, which lowers your overall processing fee. It also supports free credit card processing for merchants accepting ACH payments.
Monthly fees: $0
Nonprofit discount: Card network discounted interchange rates
Card-present fee: Interchange plus 0.15% + 6 cents to 0.4% + 8 cents
Card-not-present fee: Interchange plus 0.15% + 15 cents to 0.50% + 25 cents
Amex surcharge fee: + 0.5% + 25 cents per transaction
ACH fee: 0.5% + 25 cents
Additional fee for international payments: $0
NSF / Reject / Return fee: $5
Chargeback fee: $15 refundable
Hardware: Starts at $109
Contract: Month to month
---
International payments processing: Helcim does not take any cross-border fees (except for what card networks are charging) or collect any currency conversion fees when you accept donations from overseas—unlike most providers on our list.
Over-the-phone payments: Use Helcim's virtual terminal to collect donations over the phone. It can be accessed from any browser and even allows you to set up recurring payments.
Customer portal: Helcim provides a free customer portal where your donors can manage their memberships and subscriptions, including a card vault feature that securely stores credit card information.
Online donations: Helcim's payment gateway is easy to set up with its payment page wizard for customization. You can also design "Donate" buttons and QR codes to embed in your emails and social media campaigns.
Deposit speed: Helcim can transfer funds to your bank account within one to two business days.
Free credit card processing: Helcim offers an automated zero-cost processing program for merchants accepting ACH payments. Read more about free credit card processing.
---
iATS: Best for Donations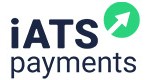 Pros
Integrates with charity/donation-specific software and organizations
No chargeback or early termination fees
International donations capable
Cons
ACH transactions are deposited only once a week
Customer database requires integration
May require a 1-year contract
What we like:
Built for nonprofits, iATS Payments is an all-in-one payment solution for international credit card (very much like PayPal) and ACH payment processing. However, iATS is unique because it works with charities of all sizes and offers secure online forms, making accepting donations safe and easy.
Over 15,000 nonprofits work with iATS, and it partners with over 100 different CRM, event management, and charitable services. It has a mobile app for accepting donations and a Salesforce payment processing app, Brickwork, which makes it easy to take donations, simplify donor updates, and keep donor information and transactions on the same platform.
Monthly fee: $0
Per transaction: Not advertised (third-party sources say from 2.49% to 3.2% for cards, 26 cents per ACH transaction)
Additional fee for international payments: $0
Chargeback: $0
Early termination/cancelation fee: $0
Hardware: Purchased separately
Contract: 1 year, with 6 months automatic renewal
---
Online forms: iATS specializes in creating online forms that you can customize for different types of donations such as tithing, event signups, and auction bids.
Mobile payment: iATS was specifically designed for nonprofits and includes a mobile payment app. It's a simpler version than PayPal Zettle or Square, so it is good for donations, but not if you also sell items for your charity.
Third-party integrations: iATS integrates with hundreds of technology partners and can manage payments from your CRM, auction software, and online fundraising platform. It compares well to Stripe in this way.
Salesforce integration: Brickwork by iATS is a native Salesforce app that opens you to more nonprofit and management tools, such as online and offline virtual terminals, donor database, and scheduling recurring donations. Others, like Stripe, also integrate with Salesforce, but only for the collection of payment.
Deposit speed: iATS lists variable deposit times based on payment type, from one to two business days for Visa, Mastercard, and American Express transactions to every Thursday for Discover transactions. Meanwhile, ACH transactions are deposited every Wednesday.
---
PayPal: Best for Payment Variety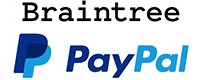 Pros
Discounted rates for nonprofits
Easily accept Venmo, PayPal, ACH, and other payment types
In-person and online payment processing
Cons
Limited customer database tools
Discounts for confirmed IRS 501(c)3 nonprofits only
Collects chargeback fees and monthly fees for virtual terminal
What we like:
With no minimums and a name trusted by consumers and donors everywhere, PayPal is a good match for nonprofits of any size looking to accept donations easily. It can accept international currencies, ideal for international organizations or nonprofits looking to fundraise overseas. What makes it unique, however, is that, in addition to accepting PayPal payments, nonprofits can accept PayPal Credit, Pay in 4, and Venmo, which PayPal also owns.
PayPal's sister service, Braintree, is best suited if you need greater online customizability and want to accept donations through ACH payments.
Monthly fees:

PayPal account: $0–$30
Virtual Terminal: $30
Recurring Billing: $10
Recurring Payment Tool: $30
Payment Gateway: $0–$25

Transaction fees for confirmed nonprofit accounts*:

1.99% + 49 cents for online transactions
Zettle: 2.29% + 49 cents to 3.49% + 49 cents

Instant transfer: 1% fee
Additional fee for international payments: 1.5%
Chargeback: $20 (PayPal), $15 (Braintree)
Hardware: $29 for first card reader, $79 for additional
Contract: Month to month
*Discounts for 501(c)3 are only for nonprofit organizations confirmed by PayPal. Otherwise, donations to PayPal Business accounts incur a 2.89% + 49 cents transaction fee.
Update: PayPal no longer charges extra monthly fees for recurring donations (subscriptions), but it may charge a higher transaction rate.
---
Online donations: PayPal lets you create customized donate buttons to add to your website or send via email and shareable URLs for your social media account and other online platforms.
In-person donations: Create a QR code you can display during events that your guests can scan to take them directly to a mobile-friendly checkout to make payments. You can also add a donate button on your mobile payment app.
Recurring payments: You can safely store your donors' credit card information to process automatic recurring payments or send invoices via email with a link to your payment page.
PayPalMe: Set up a donation link for social channels (higher transaction fees apply).
PayPal Giving Fund: Register to receive donations through PayPal, eBay, and other partner platforms. This program is unique to PayPal.
Deposit speed: PayPal alone gives you immediate access to your funds, if you use your PayPal account, or you can pay extra to transfer them immediately to your account. Otherwise, it's a two-day transfer to your bank upon request, or on a schedule you set.
PayPal offers more discounts for nonprofits, and users give it a much higher ease-of-use score. Braintree fared better for features and customizations. Both are excellent for a nonprofit and popular with 501(c)3s of all sizes.
When to Choose Braintree: Braintree is run by PayPal but offers more customizability, such as transaction reporting for its online tools. However, it's also more complex, and according to users, you need someone tech-savvy to get the most from it. It accepts ACH and echecks (PayPal cannot), is better for handling Bitcoin payments, and has cheaper international payment processing. It is also the processor to choose from if you are developing a marketplace. Read our full Braintree review to learn more.
---
Stripe: Best for Online Donations

Pros
Versatile: 450+ integrations, 135+ currencies
Handles recurring donations, invoicing
24/7 support
Cons
Complex pricing; need to call for the nonprofit discount
Discount only for 501(c)3 and donations
No nonprofit-specific tools
What we like:
Stripe is a popular PayPal competitor for payment processing because it, too, offers good rates and works on a per-transaction schedule rather than requiring a lengthy contract. It also gives 501(c)3 nonprofits a discount on processing fees. While it does not have special tools for nonprofits, its comprehensive feature set includes an advanced fraud protection system. Many crowdfunding platforms that offer nonprofit fundraising also work with Stripe. It is great for online donations, with tools that enable you to customize your checkout and donation pages.
See our Stripe vs PayPal comparison.
Stripe offers nonprofit credit card processing discounts, though it does not disclose them publicly. The following are Stripe's merchant rates to be used as a comparison for its discounted nonprofit rates:
Monthly fee: $0
Online: 2.9% + 30 cents
In-person via Terminal: Starts at 2.7% + 5 cents
Digital wallet: 2.9% + 30 cents
ACH direct debit: 0.8% capped at $5
Recurring payments: 0.5%–0.8% per transaction
Invoicing: 0.4%–0.5%
Additional fee for international payments: 1.5%
Chargebacks: $15
Hardware: Starts at $59
Contract: Month to month
---
Customizable checkout page: Use Stripe's dashboard to customize your checkout settings with client-only integrations for accepting donations.
Customizable donation pages: Set up your donation pages by adding donation amounts as products that your donors can choose from. They will be redirected to your thank-you page.
Nonprofit integrations: Integrate with POS and ecommerce systems or build your own. Stripe has the greatest flexibility with over 450 integrations. For example, Stripe integrates with CharityWeb, Kindful, Donorbox, and others.
Customizable fund transfer: Get a two-day transfer to your bank or on a schedule you set. Stripe, however, does not have same-day or next-day funds availability. For that, consider PayPal or Square.
Global payments: Stripe supports 135+ currencies and has 24/7 support. Most on our list offer multiple currencies, but only Braintree comes close in the number available.
Business support: Stripe also offers financial and business tools that include financing, banking, accounting, and more. Only Square offers as many additional tools.
---
Square: Best for Small Nonprofits Needing In-person Sales

Pros
Free POS software and ecommerce tools
Includes CRM tools for donor database management
No chargeback fee
Cons
Requires integration for some fundraising tools
No discounts for nonprofits
Live support during business hours only
What we like:
Square is the only standard payment processor on this list that does not have discounts for nonprofits. However, it's still competitively priced, and the lower base rate (10 cents vs 30 cents) for in-person donations makes it a good option if you take many small payments rather than a few larger ones.
Its tools are extremely flexible, making it a good service for nonprofits as well, especially those that sell items or hold events in person. It offers CRM functions for communicating with your donors and functions for monitoring campaigns and setting up recurring donations.
Monthly fee: $0–$60
In-person transaction fee: 2.6% + 10 cents
Online transaction fee: 2.9% + 30 cents
Keyed-in/ virtual terminal, card in file: 3.5% + 15 cents
Invoices and online payments: 3.3% + 30 cents
Additional fee for international payments: None
Chargeback fee: $0
Same-day transfers: 1%
Hardware: First magstripe reader is free; additional readers start at $10
Contract: Month to month
---
Online donation options: With Square, you can create donate buttons, set recurring payments, and customize invoiced donations.
Mobile payments: Square is known for its mobile payments capabilities, with its free mobile app and card reader, so you can turn your phone into a payment processor.
Built-in payment tools: It offers a free virtual terminal, native POS, and ecommerce systems to give you various ways to accept donations.
Reporting features: You gain access to analytics and real-time reports to monitor your different donation payments from one platform.
CRM tools: The system includes a customer engagement feature, which allows you to maintain a customer database, send emails, and monitor campaigns.
Business tools: Square offers banking features, including an account that lets you get quick access to your funds, payroll and employee benefits, and more.
Deposit speed: Square offers next-day funding and same-day options for a fee (1.5%).
Want to learn more about Square?
---
CharityEngine: Best for Online Fundraising & Marketing

Pros
All-in-one fundraising solution
Processes ACH and credit cards
Customer database and CRM
Cons
Basic mobile payment processing
Batch (specific-day) fund processing
Expensive monthly fees based on number of contacts
What we like:
If your nonprofit runs multiple campaigns, then a solution that handles everything from events to regular donations could save you hours of time, not to mention headaches. CharityEngine is a full-featured fundraising solution with payment processing. However, it lacks in-person payment tools, so it's a better fit for nonprofits that only accept online donations.
You can run events, set up regular donations, have a website, manage direct mail campaigns, and run peer-to-peer fundraisers. It can even process funds from credit cards, e-checks, and direct transfers/ACH. It's an excellent system, so it's worth calling to inquire about pricing for your organization.
Because CharityEngine is a complete software solution, prices vary by the tools you get. You'll need to call for a quote.
Average monthly fee: $350–$1,500
Plans based on the number of contacts you can manage with their CRM
Additional fee for international payments: None
Hardware: Mobile swiper, price not disclosed
Contract: At least 1 year
---
Mobile payment processing: CharityEngine supports basic mobile payments processing with its mobile pay app. Note that the mobile credit card reader can only accept swiped payments and merchants will have to purchase the device. The app is also only compatible with Android OS.
Online donation tools: CharityEngine's online fundraising tools include a website, a shopping cart builder, and an online form. The system also offers branding and product promotion tools, something the others on our list don't do.
CRM and marketing: You can run a direct mail fundraising program, organize events with integrated email communications and payment tools, and market your campaigns from a single platform.
User center: This allows your recurring donors to manage their personal information (such as credit card details, address, and communications preferences) on your branded donation platform. Helcim has a similar feature.
Donation management: With CharityEngine, you can safely secure transaction data, handle recurring donations, track pledges, and generate comprehensive reports.
Workflow automation: It features automated workflows to handle billing and fundraising, the transfer of data between finance teams, and reconciliation between departments. No one else on our list has this feature.
Deposit speed: CharityEngine pays out funds in a batch system on specific days, which means you may not get same-day or next-day access to funds you raise.
---
GoFundMe Charity: Best for Crowdsourcing Donations

Pros
Top social fundraising platform—$15 billion raised
Comes with CRM, registration, ticketing, and email
For individuals, communities, and recognized charities
Cons
No card reader capability
No ACH, e-check processing
Limited integrations
What we like:
Most people know GoFundMe as the crowdfunding tool individuals use when they have immediate financial needs. However, it has services specifically for charities. It doesn't charge a platform fee, and its per-transaction rate, while depending on individual or charity fundraisers, is nonetheless competitive in both cases. Payment transfers for charity fundraisers are handled through the PayPal Giving Fund.
GoFundMe rates are competitive, and you can accept donations via your own website and the GoFundMe website, which increases your visibility.
Monthly fee: $0
Per transaction fees:

Individual/Business Fundraisers: 2.9% + 30 cents
Charities: 2.2% + 30 cents

Additional fee for international payments: None
Chargeback fee: Depends on the processor (PayPal/Stripe/Ayden)
Contract: Month to month
---
GoFundMe platform: GoFundMe has a platform where philanthropists can search for causes to give to. It alone offers such a function. The GoFundMe platform is free to use, so you get 100% of the donation, minus processing fees.
Branded campaign materials: It gives you access to design tools for creating branded campaign pages and email appeals for donations and invitations to fundraising events.
Social crowdfunding tools: GoFundMe's platform is easy to use and offers text, photo, and video storytelling capabilities.
Reporting tools: You get full access to your transaction data and can generate reports for useful insights on your campaign.
Deposit speed: GoFundMe takes two to five business days to send funds to your bank account.
---
Dharma Merchant Services: Best for Larger Charities

Pros
No long-term contracts
Virtual terminal
Works with credit cards to get low interchange fees
Cons
$20–$25 monthly fee
Does not accept international donations
Ecommerce, recurring billing, and invoicing cost extra
What we like:
Dharma Merchant Services is a direct credit card processor that works with nonprofits and regular businesses. It not only offers discounted processing fees but also ensures you are registered with credit card companies to receive the lowest interchange rates. If you handle more than $10,000 in transactions per month, it's a good service to have.
Dharma provides a virtual terminal (which PayPal charges extra for) for phone or mail order donation processing, and it integrates with 4aGoodCause, which manages donation pages for a monthly fee.
Monthly fee: $20–$25
Per transaction:

Storefront (from 0.1% + 8 cents) above interchange
Virtual (from 0.1% + 11 cents) above interchange

Ecommerce feature: $10/month
Recurring invoicing: $10/month
Integrated ACH (check) processing: $25/month, 40 cents/transaction
Additional fee for international payments: N/A
Chargeback: $25
Account closure fee: $49
Hardware fee: Mobile card reader $149
Contract: Month to month
---
Merchant virtual terminal: You can access Dharma's online virtual terminals where donors can manually enter their payments from a browser. Others on our list also have terminals, although PayPal charges for it, and Stripe's requires some programming.
Invoicing and recurring billing app: The MX invoicing app allows you to set up monthly donation options through memberships and signups. Stripe, by contrast, allows membership but does not discount for them.
Mobile payments: Dharma offers a mobile payment processing solution with a free app and a card reader for $149. Others on our list have cheaper card readers for mobile.
Donation platform integration: It integrates with 4aGoodCause to get donation buttons, pages, and reports.
Ecommerce integration: You can integrate an ecommerce gateway with your website or online shopping cart and customize it with donation amount options.
Deposit speed: Dharma offers to deposit funds to your bank account by the next business day.
---
How to Choose Your Nonprofit Credit Card Processor in 4 Steps
Still not sure how to choose the best credit card processor for your nonprofit? Follow these simple steps:
Step 1: Determine how you want to accept donations
Create a list of merchant account providers and payment processors that can match your requirements (online, in-person, or both). To help you get started, consider these questions:
Does your nonprofit only accept donations online?
Are you looking to expand your online campaign by attending events that require tools to accept donations in person?
Step 2: Match your payment processing methods
Narrow down your list by identifying the payment processing tools you need and matching these with what each provider has to offer. For example, if you want to accept payments in person, do you prefer a mobile device so you can move around during events? Or, when considering the best way to collect donations online, decide if you want to sign up donors for a recurring collection, just a one-time payment, or both.
Payment Processing Methods to Look for in Nonprofit Payment Solutions
Card-present/mobile
Card-not-present/online
Recurring payments
Invoicing
Virtual terminal
ACH/e-check
Most payment processors come with additional features such as a website builder, rewards program, accounting tools that can track NGO payments, and more. However, be sure to watch out for extra fees that sometimes come with these functions. Start a tally and compare; then go ahead and remove those that tack on the highest add-on cost from your list.
Step 3: Choose your preferred donation tools
Now that you have a solid list of payment processor options, it's time to take a closer look and find out which ones support the donation tools you need.
For example, not all payment processors that allow you to accept donations online have the ability to set up registration for events or manage auction bids. In the same way, not all in-person payment processors can manage inventory to sell tickets or other merchandise.
What Tools to Look For in Nonprofit Credit Card Processors
Donate button
QR codes
Shareable payment link
Hosted donation page
Membership/sign-up forms
Event management
Ticket and merchandise sales
You may also be looking for a marketing feature that goes with your donation tools. As with step 2, look out for extra fees and decide whether that additional cost is worth the role that these functionalities play in your nonprofit.
Step 4: Identify your nonprofit's size
Once you have all the features you need in place, it's time to consider the cost of accepting donations. To do this, you need to identify the size of donations your nonprofit processes in a month or year.
Your goal should be to accept the most donations with the lowest payment processing fees. If you process less than $10,000 in donations per month, look at payment processors that charge flat rate fees (example: 1.9% + 49 cents). Otherwise, consider payment processors with interchange plus pricing like Helcim and Dharma, which offer big discounts to large volume transactions.
Before disregarding payment processors that charge a monthly subscription straight away, consider what comes with these paid plans. It may have interchange-plus rates and/or free payment and donation tools that may actually save you money depending on your processing volume.
How We Evaluated Nonprofit Credit Card Processors
For charities and nonprofits, credit card processors should do more than handle your payments. They should provide discounted rates, simple tools for fundraising, and the ability to reach out to donors. We examined 15 solutions for credit card processing for nonprofits to determine the eight best in 2023.
With an overall score of 4.24 out of 5, Helcim ranked as the best credit card processor for nonprofits. It offers good rates with no contracts or monthly fees—in fact, it's also our top recommendation as the cheapest credit card processor for most nonprofit organizations and for-profit businesses.
Click through the tabs below for a full list of our scoring criteria:
25% of Overall Score
You may not have full-time fundraising needs, so we favored processors that did not have contracts or charge monthly fees. We also looked for discounted rates, low chargeback fees, and no cancellation penalties. GoFundMe had the best score with 4.75 out of 5, followed by PayPal at 4.63.
30% of Overall Score
You need to be able to accept multiple payment types and from many places. Thus, we gave points for in-person payments (including tap payments like Apple Pay), ecommerce transactions, ACH and e-checks, and stored payment information for recurring donations. Square and Helcim had perfect scores here.
30% of Overall Score
The best credit card processors for nonprofits don't stop at managing payments. They also offer fundraising tools, a customer database, and marketing functions. We favored those that offered quick disbursements and had 24/7 live customer service. CharityEngine earned 4.38 out of 5, the highest scores in this category, followed by Helcim with 4 out of 5.
15% of Overall Score
In addition to our own evaluation of the features and platform, we considered the opinions of the real-world experts: nonprofits that use these platforms. We examined ratings and comments on independent user review sites. Square earned a perfect score, followed by Stripe with 4.63, and Helcim with 4.44 out of 5.
*Percentages of overall score
Nonprofit Credit Card Processing Frequently Asked Questions (FAQs)
No—the closest you can get to fee credit card processing for nonprofits is lower/discounted fees. Card network interchange rates are significantly lower than regular commercial transactions. Some payment providers also offer lower rates. Note, however, that most of the time, businesses are required to provide proof that it is registered as a charitable organization before receiving the discounted fees.
---
Like regular businesses, nonprofit organizations can accept credit card payments through all types of payment methods (in-person and online). The limitation will only depend on the payment processing platform that you choose. Some platforms, like PayPal, have a POS solution, while others are built-in with a CRM software.
---
The cheapest nonprofit payment processing solution would depend on your transaction volume. Small nonprofits would benefit from payment processors that offer zero monthly fees with a flat rate and in-person payment methods as fees are lower for in-person than online. For larger nonprofit organizations, look for payment processors that offer interchange plus rates.
---
This depends on your preferred method for online donations. Generally we recommend PayPal for small nonprofits that accept low-volume online payments. But if you need specific donation functionalities, there's iATS with hundreds of integrated donation tools and GoFundMe for crowdfunding features.
---
Yes. All card payments done in-person and online are required to observe PCI compliance to protect the integrity of all transactions. The PCI standards ensure that cardholder data is always encrypted and your online platforms have security to prevent risk of being hacked.
---
Bottom Line
If you are a nonprofit, you should be getting a discount on your payment processing. There are many fantastic merchant services and credit card processors, both direct and third-party, that work with nonprofits. Third-party processors offer not only reduced rates but also additional tools to make fundraising easier.
Overall, Helcim offers the best credit card processing for nonprofits with its free merchant account, interchange-plus rates for low-volume transactions, and automatic volume discounts for nonprofits processing $25,000 per month and above.