6 Best Vape Shop POS Systems in 2023
This article is part of a larger series on POS Systems.
In addition to covering the basics like handling sales, inventory, and customer relationships from a single platform, vape shop point-of-sale (POS) systems need to support high-risk payment processors, offer tools to manage age-restricted products, and allow for sale restrictions when necessary.
Based on our evaluation, the best vape POS systems are:
Best Vape Shop POS Systems Compared
Monthly Fee

In-person Transaction Fee

Online Transaction Fee

Offline Mode

Age Verification Tools

$59–$89 (Custom quote for enterprise)

Varies depending on chosen third-party processor

Varies depending on chosen third-party processor

Limited

Built-in (in person and online)

$89–$269

2.6% + 10 cents

2.6% + 30 cents

Limited

Add-on (in person and online)

Retail: $60–$185 (includes hardware and software)

2.3%–2.6% + 10 cents (Fiserv)

3.5% + 10 cents (Fiserv)

Yes

Built-in (in person only)

$39–$399 (+ $89 for Shopify POS Pro)

2.4% *

2.4% + 30 cents *

Limited

Add-on (online only)

$0–$60

2.6% + 10 cents

3.5% + 15 cents

Yes

Reminder pop-ups only

From $99

Varies depending on chosen third-party processor

Varies depending on chosen third-party processor

Yes

Built-in (in person and online)
* If you use a third-party payment processor, Shopify charges additional fees based on your chosen subscription:
Basic Shopify: +2%
Shopify: +1%
Advanced Shopify: +0.5%
KORONA POS: Best Overall Vape Shop POS System

Pros
Built-in age verification tool
Built-in ecommerce integration available (WooCommerce)
Complete CRM plus direct loyalty integration with bLoyal
Automated ordering and vendor management
Good value for price (Unlimited free trial available)
Cons
Gated, limited integrations
Lacks inventory management in base plan
No staff management in base plan
Not RACS-compliant
KORONA POS Pricing
Monthly POS plans:

Core: $59
Advanced: $69
Plus: $89
Enterprise: Custom quote
Unlimited free trial available

Hardware:

$120–$3,400
Option to use third-party systems
Cloud-based

Contract length: Month-to-month
Leading our list of best vape shop POS systems is KORONA POS. This cloud-based software offers competitive subscription pricing, works with high-risk payment processors, and provides complete multilocation management features and ecommerce tools for vape shops—starting at only $59/month. It works best for high-risk retailers, ticketing businesses, and retail-focused food and beverage operations.
KORONA POS highlights include several useful built-in tools, such as age verification and an ecommerce integration. The unlimited free trial is a major plus point. KORONA POS could have done better with its number and variety of integrations, as well as having staff and inventory management in the base plan. It is also not RACS-compliant.
Did You Know?:
JUUL Labs created Retail Access Control Standards (RACS) to enforce age restrictions for its products at the point of sale. This requires ID scanning for age verification and limits how much product a buyer can purchase.
KORONA POS payment processors include:
TSYS
First Data
Heartland
Priority/Bold
Cayan Genius
Clearant
Elavon
Evo Merchant Services
---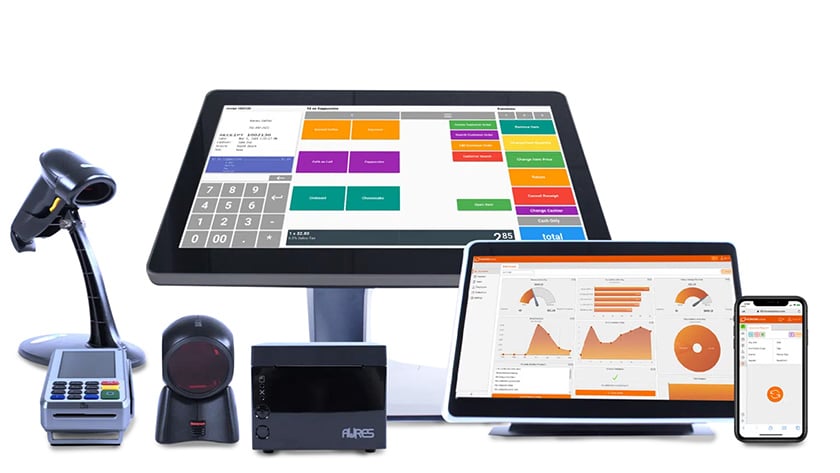 ---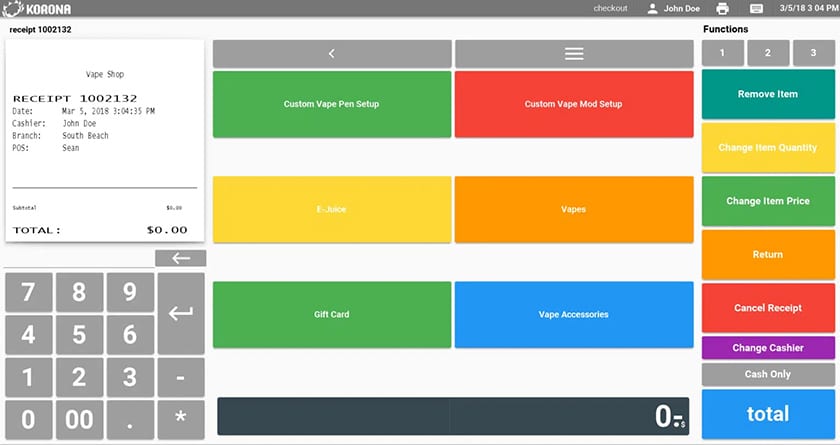 ---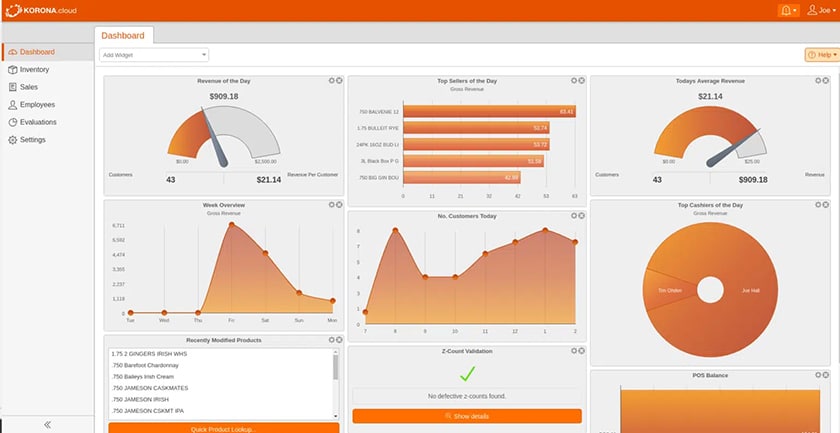 ---
KORONA provides vape shop owners with flexible solutions that can grow along with their businesses. While most of these capabilities can also be found in other POS providers, there are several functions where KORONA excels, including:
Integrated payment options: KORONA POS does not have its own payment processing system. Instead, it partners with popular merchant service providers, which allows users with high-risk businesses to get the best transaction rates.
Age verification function: KORONA offers a built-in age and ID verification functionality for both in-store and online checkout. The system prompts the user to enter the customer's birth date or provide a valid ID. Otherwise, the age-restricted products will be removed from the receipt.
Complete CRM and built-in point-based loyalty program: KORONA allows you to engage your customers through short message service (SMS), email, and branded applications. It also comes with a point-based loyalty program and lets you build your customer database to help you track customers and process their special orders.
Flexible multistore management: At $89 a month, KORONA's Plus POS subscription provides you with multistore management tools to consolidate data and reports in real time. You can manage inventory, conduct inventory counts, award loyalty points, track sales, and monitor employee performance for all locations from a single platform.
Retail loss prevention: Set customizable security features to minimize retail loss and permissions to limit access to back office tools, where bad actors can do harmful things like alter prices and tamper with returns processes. Add authorization tools to prevent impromptu discounts, price changes, and no-sales tenders.
Inventory management: KORONA POS includes a mobile inventory app that allows you to manage inventory on the go. It also supports adding inventory using a barcode scanner and lets you track inventory movement with automated counting that generates a daily count list on demand. You can also set automatic reordering, track shipment, and manage your vendor list.
---
Lightspeed: Best for Growing Businesses With Large Inventory

Pros
Extensive and granular inventory management tools
Age and quantity restriction regulations
Rich reporting features
RACS-compliant
Cons
Relatively high price point
Lacks offline card payment processing
Extra monthly fee if you use a third-party payment processor
Lightspeed Retail Pricing
Monthly POS plans:

Lean: $89
Standard: $149
Advanced: $269

Hardware: Custom pricing

Option to use third-party systems
Cloud-based
Android and iOS apps

Contract length: Month-to-month or annual
Lightspeed Retail is our recommended vape shop POS system for growing businesses that handle complex or large volumes of inventory. This cloud-based POS software is known for its robust inventory management features and detailed reporting features. Lightspeed Retail also includes an ecommerce integration with built-in age verification solutions, payment processing, and a wide variety of add-ons, making it an excellent choice for sellers looking for ways to sell in-store and online seamlessly.
The lack of offline card processing and extra fees for using a third-party payment processor cost it a few points in our evaluation. The POS is also fairly expensive; businesses that want a cheaper (or free) option can go for Square for Retail instead.
Lightspeed Retail's payment processors include:
Lightspeed Payments (default)
Vantiv
Cayan
Element Express
Mercury Payments Services
Note that your monthly POS rates will increase if you use a third-party processor.
---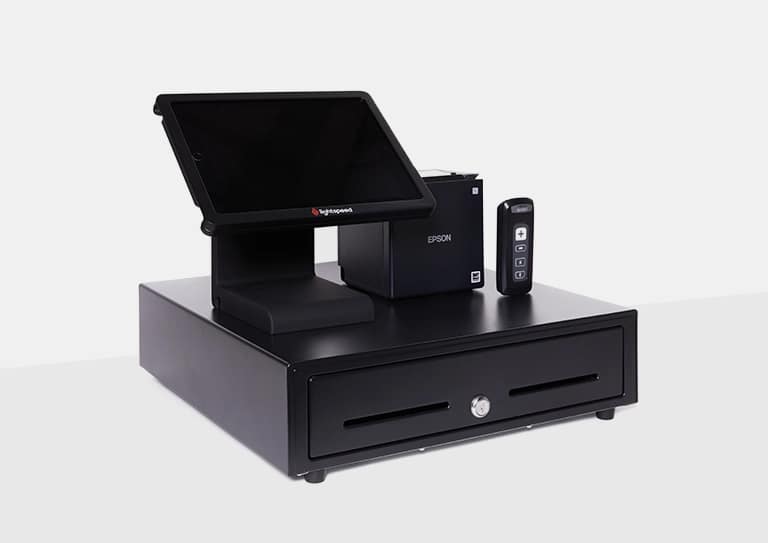 ---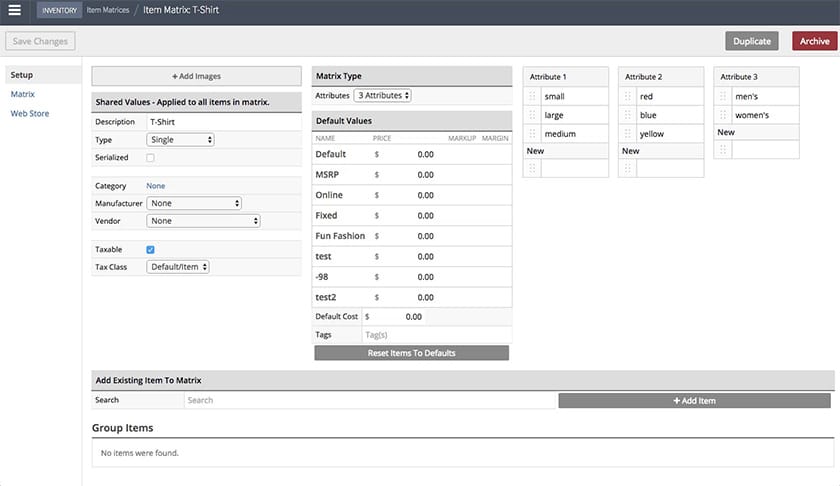 ---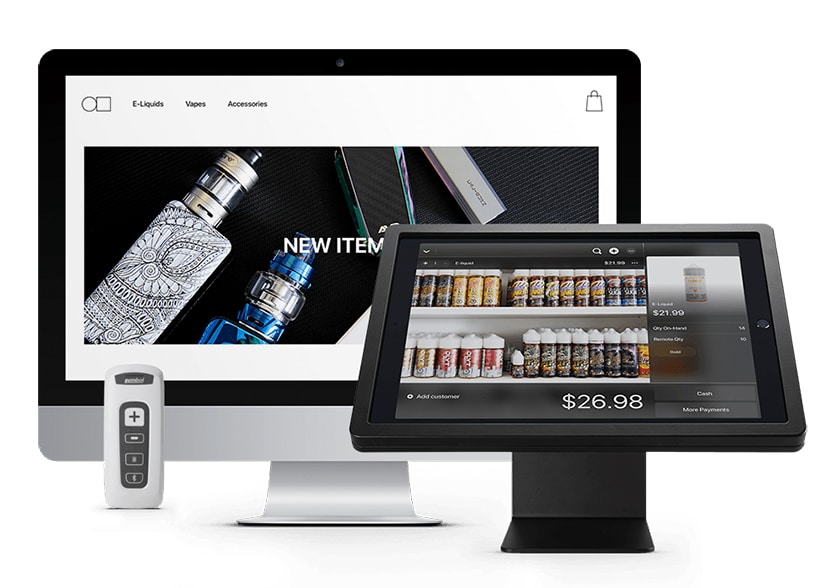 ---
Lightspeed Retail, which has built-in RACS compliance, is equipped with a wide variety of tools to manage vape shops smoothly across multiple platforms. This includes the ability to take special orders, create in-depth customer profiles, and define rules to regulate sales. Lightspeed registers can also be programmed with age and quantity sale restrictions.
Take a look at some of Lightspeed Retail's most notable features:
Customized selling restrictions: Lightspeed Retail is currently beta-testing register rules features that enforce limitations for the sale of high-risk products. The POS allows users to prevent bulk purchases by setting quantity limits, as well as performing age verification during transactions using ID-scanning technology.
Wide selection of integrations and add-ons: Lightspeed Retail offers significant integration tools that vape shop owners will find useful. Its long list includes high-risk-business-friendly payment processors and age-verification solutions for its ecommerce platform. These industry-specific integrations allow vape shop owners to sell online while staying compliant with legislation requirements.
Inventory management features: Vape shop owners will appreciate Lightspeed Retail's ability to create custom matrix sets and build as many variants as they need for their products. It also allows users to easily manage products that are acquired in bulk and then sold individually. The same platform can also be used to track sales orders, submit purchase orders (POs), and manage vendor information. Lightspeed's detailed inventory management tools, alongside its solid reporting capabilities, can also help with loss prevention by letting you spot anomalies or inconsistencies with your stock.
---
Clover: Best for Vape Shops With Existing Merchant Accounts
Shopify: Best for Online Vape Shops With Storefronts
Square for Retail: Best Free POS for Small Vape Shops
POS Nation: Best for Perishable Goods Tracking
How We Evaluated Vape Shop POS Systems
We compared more than a dozen POS systems based on price, general POS tools, vape-specific POS features such as age and quantity sales restrictions, and RACS compliance. We also asked our retail experts to weigh in with their personal knowledge of each software.
Based on our evaluation criteria, KORONA is the best vape shop POS. The software received the highest overall score in our grading system for vape shop software (4.46 out of 5). Our vape shop POS evaluation resulted in rankings that are also in line with what we would recommend personally based on our experience testing different software and working with small businesses that use POS systems every day.
Click through the tabs below for a more detailed breakdown of our evaluation criteria:
20%
Pricing & Payment Processing
20% of Overall Score
We first looked at each software's pricing plans for options under $75 monthly and affordable hardware plans because small vape shops usually operate on a budget. Then, we checked if those plans include unlimited transaction processing and whether they offer volume discounts.
20% of Overall Score
Retail shops require an efficient method for managing sales and inventory. We looked at POS systems that not only allow users to accept different modes of payment but also manage employees, loyalty programs, and inventory. This includes barcode scanning, bulk updating, and variant tracking of inventory as well as custom permission and logins for employees.
30% of Overall Score
Vape shops require functions that help manage sales and comply with FDA regulations for selling vape products. We gave premium points for RACS-compliant systems and providers with built-in ID verification functions. We also evaluated each software's product variants and modifiers' capabilities for tracking things like different flavors or strengths of the same product. Finally, we awarded high marks for systems that offer vape shop-friendly integrated payment processing options.
20% of Overall Score
Retail businesses like vape shops that sell both in-store and online require round-the-clock support and a user-friendly interface. We gave premium points for cloud-based solutions and those offering 24/7 customer support. We also gave additional points for systems that can work offline and are compatible with both iOS and Android devices as these features ensure efficient and seamless operation for busy vape shops.
10% of Overall Score
Finally, we considered any standout features of each individual system and whether the software and hardware options offer a good overall value for their price. We also judged each system's popularity to help ensure safety and security. We also awarded points based on my personal experience interacting with the software and the company's customer support.
*Percentages of overall score
What to Look for in a Vape Shop POS
While vape shops need many of the same POS features that retail and restaurant businesses do—inventory management, vendor management, loyalty programs, integrations—they have other needs that are particular to selling regulated products.
The most important of these needs is age verification. You don't want to end up selling vape products to minors, even by accident, so you need tools in your POS that prevent this from happening. Age verification tools can range all the way from simple pop-up reminders to built-in, purpose-made functions that make it impossible to complete the transaction if the buyer is found to not be of legal age. Vape shops also benefit from having POS systems with weighing scale integrations, since vape products are often sold in this way.
Both of these needs are served by having a POS that is Retail Access Control Standards (RACS)-compliant, so systems that have this compliance are much more valuable to users.
Vape Shop POS Frequently Asked Questions (FAQ)
Electronic nicotine delivery systems (ENDS) products are also known as vapes, e-cigarettes, e-liquids, and e-juice.
---
---
Retail Access Control Standards (RACS) are a set of guidelines created by JUUL Labs to enforce age restrictions for JUUL products at the point of sale. A RACS-certified POS system:
Requires the scanning of a valid government ID for age verification
Limits the number of products per transaction to one device and four JUULpod packs
Integrates sales transactions to prevent manual override by sales staff
Lightspeed and Clover are the RACS-compliant providers on our list.
---
Not all POS systems are RACS-compliant, but this does not technically prevent a merchant from opening a vape shop business. However, having a RACS-compliant POS helps vape shop owners obtain the proper licenses to operate legally much easier.
---
Bottom Line
While we had other top contenders that showed potential in terms of vape shop-specific features, we wanted to ensure that our top vape shop POS systems offer the best value for features every retailer needs. Square for Retail is the best choice for vape shop sellers working on a limited budget. If you process large inventory, Lightspeed is the most efficient solution, while Shopify is the best match for online sellers.
However, we find KORONA the best overall vape shop POS system. It received the highest score across our grading system for pricing, general POS and vape shop-specific features, ease of use, and our own expert review. On top of being one of the most affordable systems, KORONA puts together the best tools for vape shop owners in one neat package. Try KORONA on an unlimited free trial.