6 Best VoIP Apps for iPhone in 2023
This article is part of a larger series on VoIP.
The best voice-over-internet-protocol (VoIP) app for iPhone provides the same features and functions offered by desk phones and its desktop counterpart. It should provide call management capabilities, video meeting features, and collaboration tools to help you run your business remotely and stay connected with your customers and teams in real-time. We evaluated dozens of platforms to identify the six best VoIP apps for iPhone and their use cases.
Based on our research, the best VoIP apps for iPhone are the following:
Best VoIP Apps for iPhone at a Glance
VoIP Apps for iPhone

Monthly Starting Price

Key Features

Free Trial

FSB Rating

$19.99 per user

Call conference
Do Not Disturb
Simultaneous ring

✕

4.37 out of 5

$29.99 per user

Call flip
Video conferencing
Real-time analytics

✓

4.36 out of 5

$30.95 per user

Team chat
Professionally recorded greetings
Advanced call routing

✕

4.21 out of 5

Free or $10 per user

Voicemail transcription
Multilevel auto-attendant
Spam filtering

✕

3.93 out of 5

$31

Virtual phone numbers
Wi-Fi calling
Custom greetings

✓

3.78 out of 5

$15.99 per user

Call forwarding
Voicemail recording
SMS and MMS

✓

3.77 out of 5
Your business needs and priorities will determine the type of VoIP system you should purchase. Before you identify the top VoIP iPhone apps, check out our guide on how to set up a VoIP system.
Vonage: Best Overall VoIP iPhone App
What We Like
Import, view, and edit contacts across multiple devices
Full integration with Siri
All plans include 50+ VoIP features
What's Missing
Must sign in to the web admin portal to change the settings
No tablet-specific app version
Vonage Monthly Pricing (per User)*
Mobile: $19.99 for unlimited domestic calls and texts, team messaging, App Center integrations, and mobile/desktop app
Premium: $29.99 for 100 video participants, multilevel auto-attendant, customer relationship management (CRM) integrations, and desk phone compatibility
Advanced: $39.99 for 15 hours of on-demand call recording, call group, and visual voicemail
All plans include 50+ business phone features, 24/7 tech support, and 99.999% uptime reliability.
*Volume discounts apply
Vonage earns the top spot as the best iPhone VoIP app, as it offers over 50 voice and unified communications features regardless of the business phone plan you choose. It offers greater cost savings since you don't have to upgrade to advanced plans to access all call management features, such as call flip, simultaneous ring, and call screening.
On top of these, Vonage provides users the freedom to add features to their subscriptions as needed. Flexible service plans ensure your phone system can handle your business growth.
The Vonage mobile app stands out for its advanced mobile messaging functionality. Using your Vonage business number, send individual or group texts to and from any U.S. number. The unified inbox lets you view all messages from your private and business number in a single feed. Plus, the instant messaging feature allows you to communicate with team members privately or in group conversations.
Vonage requires mobile users to use the browser-based admin portal if they need to modify their call handling rules. However, this will likely cause issues for those who cannot access their desktop at that moment. A VoIP provider like RingCentral lets you customize your answering rules directly on its mobile app.
Vonage Features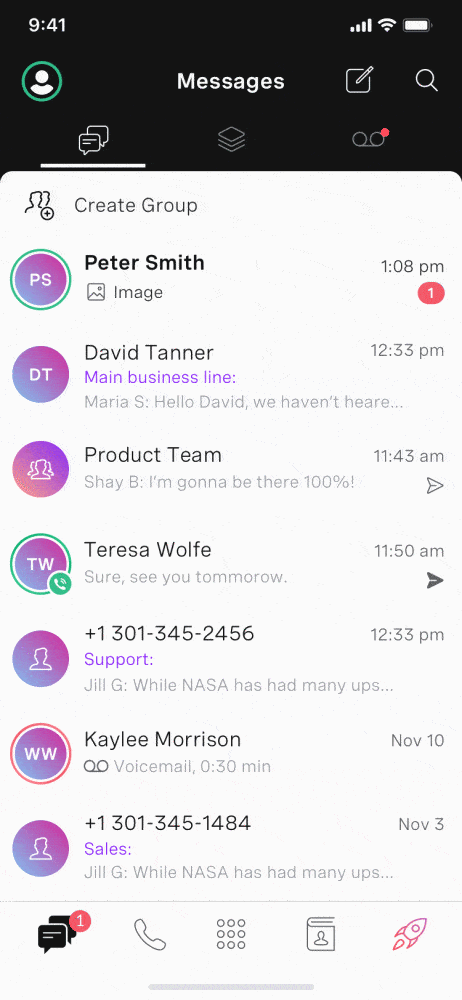 Busy Lamp Field (BLF): Indicates which phones are idle, in use, or ringing by displaying the status on your phone display. It also acts as a speed dial, allowing you to press a specific key to dial the corresponding extension.
Business SMS or MMS: Send and receive business texts and multimedia messages from any U.S. phone number. You may also chat internally with co-workers using the mobile app.
Call continuity: In the event of an emergency or power outage, this feature will reroute incoming calls to a backup phone number of your choice. This allows you to accommodate calls if you're losing power or your internet connection.
Learn more about Vonage as a unified communications platform in our Vonage review.
RingCentral: Best for Unified Communications Features
What We Like
Background noise reduction keep phone calls distraction-free
Forward multiple text messages to a single recipient
View meetings in a smaller window while multitasking on other apps
What's Missing
Call management features are not available on the base plan
User reviews report poor customer service
Steep learning curve for beginners
RingCentral Monthly Pricing (per User)*
Essentials: $29.99 for 20 users, local or toll-free number, unlimited domestic calls, business SMS, team messaging, visual voicemail, mobile app, call log reports
Standard: $27.99 for 1,000 toll-free minutes, call management features, 100 video participants, unlimited internet fax, unlimited audio calls, multilevel auto-attendant, and third-party integrations
Premium: $34.99 for 2,500 toll-free minutes, 200 video participants, multisite management, hotdesking, advanced call handling, automatic call recording, and real-time analytics
Ultimate: $49.99 for 10,000 toll-free minutes, unlimited cloud storage, device status reports, and alerts
Free trial: 14 days
*Discounts apply for annual billing and bulk purchases
RingCentral is the best VoIP for iPhone users needing a robust unified communication solution. There's no need to pay separately for conferencing, business SMS, and instant messaging because it supports various channels alongside team collaboration tools. From file sharing, task management, and whiteboarding, RingCentral encompasses all the features you need to streamline remote communication.
Switching between channels is easy because it combines video meetings, team messaging, virtual phone features, and integrations in one unified app. It is designed to function across any device, including mobile phones, laptops, and desktops, allowing users to switch between different modes of communication with a single click or tap.
RingCentral has tons of advanced capabilities that may be too overwhelming for small businesses with limited needs. A better alternative would be Grasshopper, which offers a more basic and affordable VoIP solution. It comes with an intuitive mobile app interface and charges a flat monthly fee for all its plans regardless of the number of users.
RingCentral Features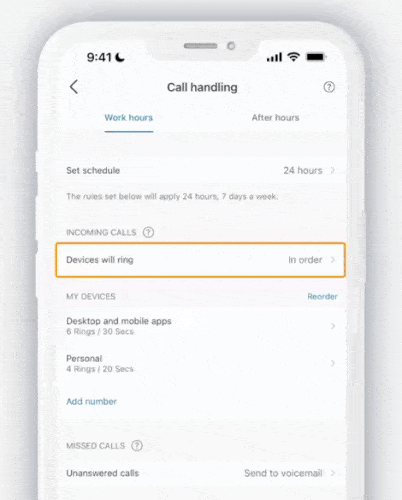 Call forwarding: Set up call handling rules based on how you want your calls to be handled during work hours, after hours, or by multiple condition rules. You may also route calls based on the day of the week, time of day, or caller ID.
Visual voicemail: Manage your voicemails through the RingCentral desktop or mobile app. It provides options to preview, listen, delete, or forward voicemail messages.
Team collaboration: RingCentral provides a centralized workspace for instant messaging, video conferencing, file sharing, and project management. Live video chat rooms let you set up a virtual meeting room for your remote teams.
Discover what makes RingCentral the leading business phone system in the market in our RingCentral review.
Nextiva: Best for Mobility Features
What We Like
Access call settings directly from the Nextiva app
Advanced team collaboration functionality
All plans include 24/7 customer support
What's Missing
Video meeting duration is limited to 45 minutes
Logging into the Nextiva app requires using a web browser pop-up instead of an in-app login
Business texting is not offered on the base plan
Nextiva Monthly Pricing (per User)*
Essential: $30.95 for unlimited domestic calls, 250-participant video meetings for 45 minutes, one local/toll-free number, 1,500 toll-free minutes, unlimited internet fax, video meeting recording, auto-attendant, call history, call log reports, voicemail transcription, hold music, call group, and team chat
Professional: $35.95 for 3,000 toll-free minutes, mobile SMS/MMS, multilevel auto-attendant, one professionally recorded greeting, 40 audio participants, and CRM integrations
Enterprise: $45.95 for 12,500 toll-free minutes, unlimited audio participants, and three professionally recorded greetings
*Discounts available for annual prepayments and volume purchases
Nextiva is the best iPhone VoIP app for remote teams needing access to their business phone system wherever they are. Its mobility features enable calls to remain on the Nextiva network even when transferred to another device. For example, Nextiva Anywhere lets you make and receive calls at any location using only one phone number, one dial plan, one voicemail box, and a unified set of features.
Remote office is another Nextiva mobility feature that allows you to use a different phone number (e.g., mobile phone, home phone, or even a hotel phone) as your office phone number. Sequential ring benefits distributed teams because it rings multiple phone lines until someone answers the call, ensuring the customer never hears a busy signal.
Nextiva has a meeting limit of 45 minutes per session. For hosting longer group meetings, consider RingCentral, which offers a free video conferencing plan that allows up to 24 hours of meeting duration. It also offers various video conferencing tools, such as closed captioning, desktop and application sharing, and co-annotation.
Nextiva Features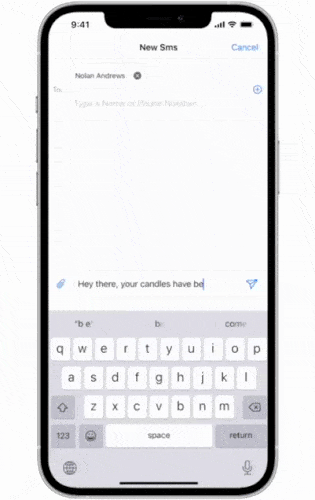 Mobile SMS/MMS: Send and receive unlimited text messages to your customers and employees from your business phone number. If the message exceeds 160 characters, it will be split into multiple messages.
Team chat: A unified communication tool that lets you collaborate with your team through file sharing, video meetings, or screen sharing. The group messaging functionality lets you add multiple users to join a room.
Call flip: Move an ongoing call to your desk phone, desktop, or smartphone. The call resumes when you pick up the handset and press the Pull Call softkey.
Check out our Nextiva review for more in-depth information about its features and pricing structure.
Google Voice: Best Free VoIP iPhone App
What We Like
Integrates with Google Workspace apps
Easy-to-use interface
All plans include a free local phone number
What's Missing
Limited VoIP features
No team messaging feature
Global coverage is limited to 14 countries
Google Voice Monthly Pricing (per User)*
Personal use: Free for one user, one phone number, call forwarding, voicemail transcription, and mobile app
Starter: $10 for 10 users, unlimited domestic calls and texts, voicemail transcription, call forwarding, and usage and activity reporting
Standard: $20 for unlimited users, multilevel auto-attendant, ring group, and on-demand call recording
Premier: $30 for unlimited international locations, advanced reporting, and automatic call recording
*Pricing plans apply to Europe, Africa, and Middle East regions only
Google Voice is one of the best VoIP iPhone apps for solopreneurs and budget-conscious business owners. Anyone with a Google account has access to the free version, which gives you a phone number for calling, text messaging, and voicemail. Business phone plans are available at budget-friendly costs if you need additional VoIP features like ring groups, call forwarding, and multilevel auto-attendant.
As part of the Google Workspace ecosystem, the Google Voice mobile app has a familiar look and user-friendly feel. Mobile users who are relatively new in the VoIP space will appreciate the platform's simplicity and ease of use. Given its limited VoIP features, Google Voice is not ideal for businesses handling high call volumes or those with advanced call management needs.
Google Voice Features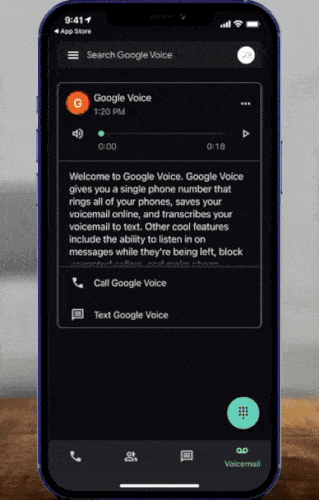 Voicemail transcription: Transcribes voicemails to other languages, such as English, French, German, and Spanish. You may also forward your voicemails to your email.
Spam filtering: Block unwanted calls and messages or mark them as spam. When a blocked caller calls your number, they will hear the message, "Number not in service."
Google Meet integrations: Join a Google Meet session using your Google Voice number. You will be automatically connected to the meeting when you answer the call of the meeting host or participant.
Grasshopper: Best VoIP iPhone App for Separating Personal & Business Calls
What We Like
Intuitive mobile app interface
Offers local, toll-free, and vanity numbers
Charges a flat monthly fee regardless of the number of users
What's Missing
Lacks video conferencing and team collaboration features
Limited business phone functionality
No app integrations
Grasshopper Monthly Pricing*
Solo: $31 for one phone number and three extensions
Partner: $51 for three phone numbers and six extensions
Small Business: $89 for five phone numbers and unlimited extensions
Free trial: 7 days
All plans include business texting, Wi-Fi calling, call forwarding, virtual fax, voicemail, custom greetings, call transfers, and reporting.
*Annual billing is available
Grasshopper is one of the best VoIP apps for iPhone because it provides a straightforward solution for those wanting to keep their personal and business calls separate. The Grasshopper mobile app gives full access to your virtual phone system, allowing you to send and receive calls and messages from your business number. This way, your personal number stays private, and you always know when a business-related call or message comes in.
Grasshopper is also designed for business owners who aren't always tied to their office desks all the time but want to stay connected to their phone system anywhere. The mobile app offers all the standard VoIP features, such as voicemail transcription, custom greetings, and virtual fax.
You also get to choose the type of phone number you need, whether local, toll-free, or vanity. Though Grasshopper has a powerful virtual phone system, it may not be sufficient for teams with unified communications needs.
Grasshopper Features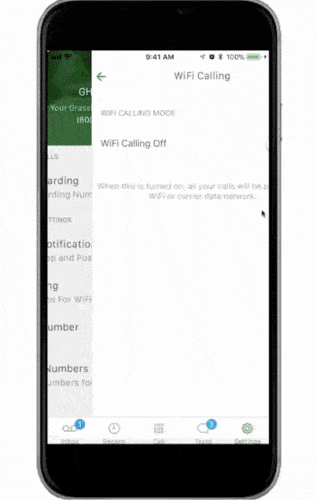 VoIP plus Wi-Fi calling: Place calls over a Wi-Fi network in areas with weak cellular reception. Switching to Wi-Fi for outbound calls and texts helps you save minutes and data.
Simultaneous call handling: Assign multiple call forwarding numbers, so you never miss a call if the other line is busy or unavailable. This allows everyone on your team to answer all incoming calls, even during high call volumes.
Reporting: Monitor company performance with detailed call tracking metrics. Get an overview of the overall usage, types of calls, average call length, and caller profile.
Visit our Grasshopper review to learn more about its features, subscription packages, and different use cases.
Line2: Best for Businesses With Multiple Phone Lines
What We Like
Single plan structure makes it easy to scale
Simplified user interface
Takes up minimal storage space on iPhone
What's Missing
No video meeting or collaboration tools
Lacks third-party integrations
Charges a one-time fee of $45 for vanity numbers
Line2 Monthly Pricing (per User)*
Monthly: $15.99 for unlimited domestic calls, unlimited SMS/MMS, call blocking, call screening, voicemail transcription, voicemail recordings, caller ID, and call forwarding
*Annual billing is available
Line2 is an excellent option for businesses looking for a simpler way of managing multiple phone lines. The iOS app allows simultaneous logins of up to five Line2 numbers. This allows users to seamlessly call and text through different numbers without having to sign in and out of the application.
Another thing that's great about Line2 is it has the smallest app size among the providers on this list. Its iOS app takes up only 62.8MB, compared to RingCentral (299.6MB), Vonage (192.3MB), and Nextiva (101.9MB).
Like Google Voice, Line2 has limited business phone features. If you're looking for more capabilities and inclusions without paying high subscription rates, consider Vonage. It offers flexible phone plans with 50 standard phone features and 18 add-on options.
Line2 Features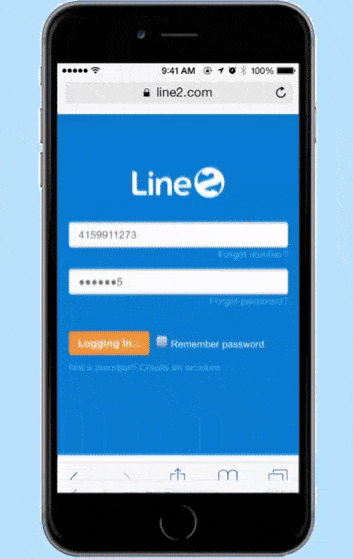 Voicemail recording: Records and saves voicemails so you can listen to them at a later time. All voicemails will also be transcribed in a readable format and emailed to you.
Call forwarding: Forward calls to another phone number or have multiple numbers called in sequence or simultaneously to avoid missing calls.
Call screening: Automatically plays a prerecorded message when an incoming call comes in. You have the option to accept, decline, or send the call to voicemail.
How We Evaluated the Best VoIP iPhone Apps for iPhone
We reviewed iOS VoIP apps and compared them based on pricing, general features, and advanced functions. In addition, we considered the apps' overall popularity, value for the price, and ease of use. Lastly, we looked for unique or standout features that made an app better for iPhone users.
Learn how we evaluated the best VoIP apps for iPhone by clicking on the tabs below:
25% of Overall Score
We examined each app's subscription plans, including discounts for annual billing and the length of free trials or money-back guarantees. We also considered the inclusions of each package, such as messaging, voice calling, and conferencing.
20% of Overall Score
We reviewed iOS VoIP apps that sync with contact lists and supply a separate business voicemail box with custom greetings. We rated applications with an auto-attendant, schedule-based routing, and vanity phone numbers higher than those without.
30% of Overall Score
Apps with custom ringtones and call blocking earned higher scores, as did those with voicemail transcriptions and multilingual support. We also considered each provider's uptime service level agreement (SLA) and rated the apps accordingly.
25% of Overall Score
We based our expert score on the overall value for money and popularity. We also judged each app based on its ease of use and unique features that gave it an edge over others.
*Percentages of overall score
Free iPhone VoIP Apps
For smaller businesses and solopreneurs, many owners seek purely free VoIP apps that run on iPhones. While the ones covered in our guide primarily have subscription fees, there are solutions that are low-cost or even free. For the most part, these apps allow you to reach others on their service without additional metered or unmetered rates. Here's a selection of the top three solutions you can choose for your business:
Skype: While Microsoft has been promoting Teams as a solution for team chat and VoIP, it's important to understand that Skype is still available as a communication platform. With Skype, you can reach other Skype users for free and even host video meetings directly on your iPhone. Calling non-Skype numbers costs a very reasonable metered rate.
Talkatone: If your phone runs iOS 4, then you'll be able to use this VoIP solution in conjunction with your Google Voice app. Talkatone provides a free phone number, free texting, and calling over Wi-Fi or cell data. There are also no roaming fees. Ooma is actually part of Ooma's ecosystem.
TruPhone: Like Skype, calling users within the TruPhone network is completely free, and if you're calling numbers outside of TruPhone, then there's a very reasonable pricing structure.
Bottom Line
VoIP apps allow business users to stay connected to their business phone systems even when working remotely. It also keeps their personal and professional communications separate without needing extra devices. Plus, VoIP apps include features like professional greetings, video conference calls, and searchable messages, thereby turning your mobile phone into a virtual office with unified communications tools.
Vonage is our top pick for the best VoIP app for iPhone. All plans include over 50 business phone system features and basic third-party integrations. Its flexible service packages make it easy to add features and integrations to your plans as your business grows. Schedule a conversation with its sales team to learn the best plan that works for you.