Most of today's leading voice-over-internet-protocol (VoIP) solutions offer softphone apps for iPhones and other mobile devices. We looked at the best VoIP apps for iPhone and evaluated them based on cost, features, and usability. We narrowed them down to the best six before picking a best overall solution.
6 Best VoIP Apps for iPhone for 2020
VoIP App for iPhone
Best For

(Best overall) Teams looking for a complete phone solution in a friendly mobile package

Organizations wanting a VoIP app with Apple Watch integration

Professionals needing an iPhone VoIP app with screen sharing for mobile presentations

Businesses wanting an iPhone app with collaboration functions such as chat and file share

Solo workers and freelancers who need robust virtual faxing capabilities

Teams that need to make frequent international calls while on the go

Last updated on 04/16/20
How We Evaluated VoIP Apps for iPhone
A mobile VoIP app should let you easily make and receive calls with your VoIP number via your iPhone. The best services also let you use other modules such as text messaging, voicemail, advanced functions like video chat and file sharing, and work with other products like Apple Watch and iPad. Services should come at price points that small businesses can afford.
Therefore, we evaluated the best VoIP apps for iPhone based on:
Price
Ease of use
Integration with Apple products
Call features
International calling
Integrations
Additional features
Customer support
Ooma: Best Overall VoIP iPhone App for Small Businesses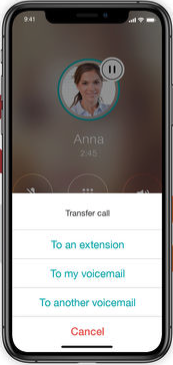 Ooma is a small business VoIP service that starts at $19.95 per user, per month and comes standard with access to the company's iPhone app. We like Ooma's app because it has a modern-looking and intuitive interface that looks almost identical to the iPhone's default phone apps. That, plus the fact that it offers E911 and faxing, make this our best overall pick for those seeking a VoIP iPhone app.

| Ooma Strengths | Ooma Weaknesses |
| --- | --- |
| Exceptionally easy-to-use mobile interface | Lacks video conferencing |
| Unlimited calling to most of North America | Simplistic compared to other solutions |
| E911 service | No native Apple Watch integration |
Ooma Pricing
Ooma Office: $19.95 per user, per month
Ooma Office Pro: $24.95 per user, per month, which extends service to the desktop app
Service can also be bundled with office phone accessories.
Ooma Features
Call transfer: The mobile app allows you to use extension dialing to transfer calls to other co-workers or to voicemail.
Call flip: Those who upgrade to the Pro plan can flip a call from the mobile phone to the desktop app without interrupting a conversation in process.
Group messaging: You can set up group chats from within the mobile app for collaboration with team members.
Wi-Fi calls: The service allows you to make and receive calls either over your data network or over Wi-Fi.
Call management: Ooma can be set to ring multiple phones simultaneously if a specific number or extension is dialed, ensuring your customers' needs are being addressed promptly.
RingCentral: Best VoIP iPhone App With Apple Watch Integration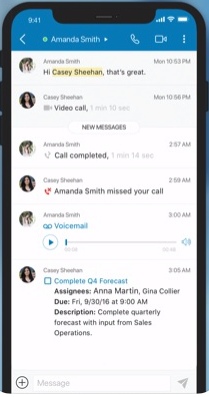 RingCentral is a robust business phone system with a VoIP app that offers access to its iOS app with all service packages. The app, which offers plans starting at $19.99 per user, per month, also offers the ability to take calls, read texts, and control calls via an Apple Watch. This is a great fit for any worker who wants to use their smart wearable in their daily workflow.
| RingCentral Strengths | RingCentral Weaknesses |
| --- | --- |
| Powerful, mobile multilevel automated attendant | Price structure can be overwhelming |
| Video chat, file share, and other advanced features right on your smartphone | No unlimited international calling |
| Use your VoIP service through your Apple Watch | Feature set can be overwhelming at first |
RingCentral Pricing
Essentials: $19.99 per user, per month for up to 20 users
Standard: $24.99 per user, per month; unlimited users
Premium: $34.99 per user, per month; unlimited users
Ultimate: $49.99 per user, per month; unlimited users
Pricing listed requires an annual agreement.
RingCentral Features
Apple Watch integrations: RingCentral allows you to make calls, send texts, and even be reminded of upcoming meetings through the Apple Watch screen.
Call management: RingCentral's mobile app provides all of the same call management functionality as the desktop version.
Video conferencing: You can join and initiate video meetings from the RingCentral app, which ensures you can stay productive even while away from the office.
For more information about RingCentral and to hear what our readers think, go to our RingCentral user reviews page
Nextiva: Best VoIP iPhone App for Screen Sharing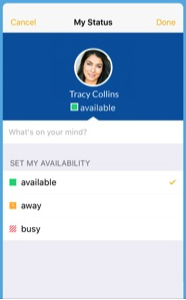 Nextiva is a business phone service with standard features for unlimited domestic calls, texts, and voicemail. Its iPhone app is available for all versions of the solution. Nextiva offers plans starting at $21.95 per user, per month for five to 19 users on a 36-month agreement. What makes the app stand out from others is its robust mobile screen-sharing tools, making it a great option for professionals who want to host presentations on their mobile device.

| Nextiva Strengths | Nextiva Weaknesses |
| --- | --- |
| Powerful mobile screen sharing | Limited conferencing tools |
| Team messaging functionality on mobile and desktop | Lacks full Apple Watch integrations |
| Simple user interface on iPhone app | Contracts demand a lengthy commitment |
Nextiva Pricing*
Essential: $21.95 per user, per month
Professional: $25.95 per user, per month
Enterprise: $35.95 per user, per month
Ultimate: $65.95 per user, per month
*Pricing is for a prepaid 36-month agreement for five to 19 users. Pricing goes down as you add more users.
Nextiva Features
Screen share: You can quickly share the contents of your iPhone screen with coworkers via Nextiva's robust, fast, screen-sharing capabilities.
Call queuing: Nextiva comes with call queuing capabilities to make sure that callers are connected on a first-come, first-served basis.
Customizable hold music: You can upload your own audio files to the system and have full control over what callers hear when they are on hold.
For more information on Nextiva and its benefits, check out our Nextiva user reviews page.
Vonage: Best VoIP iPhone App With Collaboration Tools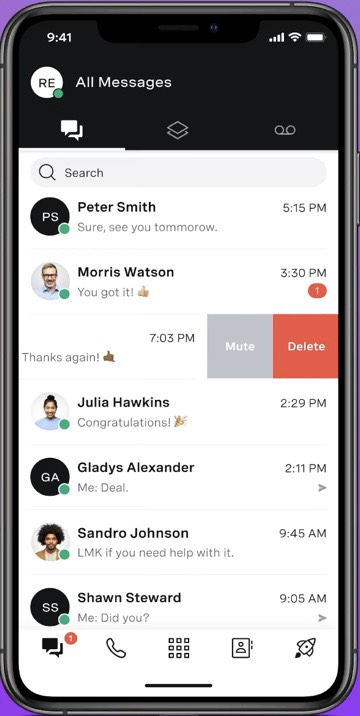 Vonage, which offers plans starting at $19.99 per user, per month, is a small business telephony system that comes standard with access to the company's iOS app. On top of features for calling and texting, Vonage comes with a powerful set of tools for collaboration among teammates. This includes group messaging, call center functionality, and more, making it a good option for distributed teams.

| Vonage Strengths | Vonage Weaknesses |
| --- | --- |
| Best-in-class mobile team messaging tools | Conferencing limited compared to other systems |
| Multilevel mobile auto-attendant | No wearable integrations |
| Integrations with CRM platforms | App looks a bit simplistic compared to others |
Vonage Pricing
Mobile: $19.99 per user, per month
Premium: $29.99 per user, per month
Advanced: $39.99 per user, per month
Pricing shown requires an annual agreement.
Vonage Features
Collaboration: Vonage allows teams to message one another, hold conferences, and share files via the mobile app.
Simultaneous ring: The service can be set to ring on multiple devices at the same time.
Call forwarding: You can set up the app to redirect calls to your desk phone or to another extension after a preset number of rings, allowing a teammate to assist customers when a chief point of contact is unavailable.
Call monitoring: The solution provides detailed reports on call activity and can record all conversations.
Vonage meetings: Vonage's telephony package offers access to the company's mobile video conferencing tool.
Grasshopper: Best VoIP iPhone App for Mobile Faxing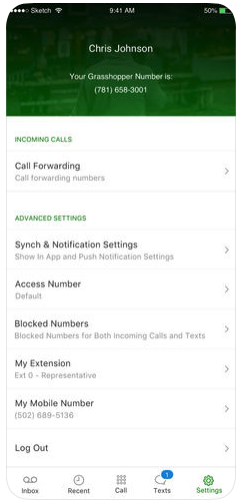 Grasshopper is a virtual phone solution that offers both desktop and mobile apps. The system starts at $26 per month on an annual basis. In addition to call management and SMS features, what makes Grasshopper especially useful is its intuitive mobile faxing module. This makes Grasshopper a great mobile calling solution for those who need to send documents while in the field.

| Grasshopper Strengths | Grasshopper Weaknesses |
| --- | --- |
| Fast, powerful faxing on your iPhone | Requires existing line to forward calls from |
| Streamlines pricing structure | No video chat |
| Custom greetings | Collaboration tools lacking compared to competitors |
Grasshopper Pricing
Basic: $26 per month for one number and three extensions
Premium: $44 per month for three numbers and unlimited extensions
Platinum: $80 per month for five numbers and unlimited extensions
Prices shown require an annual agreement.
Grasshopper Features
Mobile fax: Grasshopper makes it exceptionally easy to send and receive faxes from your iPhone.
Toll-free numbers: When you sign up for a new Grasshopper account, you have the choice of either a local telephone number or a toll-free number with a 1-800 prefix.
Automated attendant: Grasshopper's automated attendant can handle all incoming call traffic without human intervention.
For more information on Grasshopper and how the virtual phone solution can help your team, visit our Grasshopper user reviews page.
8×8: Best VoIP iPhone App for International Calling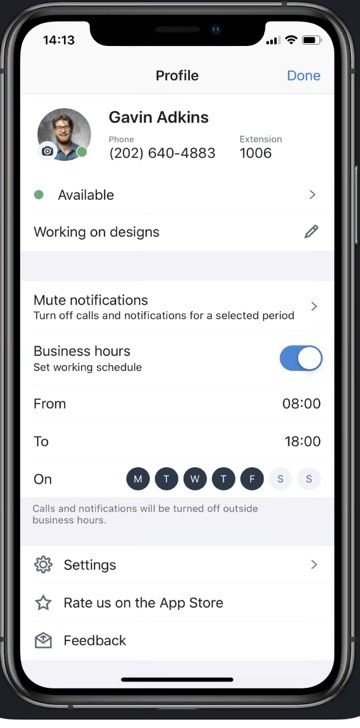 8×8, which offers plans starting at $25 per month, is a business VoIP system that provides standard iPhone app access and unlimited calling to up to 47 countries around the world. This is useful if you have overseas contacts you need to keep in constant contact with. It is also useful if you have worldwide customer service.
| 8x8 Strengths | 8x8 Weaknesses |
| --- | --- |
| Unlimited international calling | Specific countries locked behind premium plans |
| Mobile video conferencing for up to 100 people | Limited media storage |
| Call center features | Somewhat clunky interface |
8×8 Pricing
X2: $25 per user, per month and calling for up to 14 countries
X5: $35 per user, per month and calling for up to 32 countries
X8: $55 per user, per month and calling for up to 47 countries
8×8 Features
International calling: 8×8 lets you call up to 47 countries at no extra charge.
Call center features: The solution comes with features such as call queuing, reports, logs, and other features that lend themselves well to call center environments.
Video conferencing: 8×8 comes with video conferencing for 100 participants at once.
Bottom Line
The fact that VoIP systems are internet-based provides a number of advantages. This is especially true in the sense that they allow use over mobile apps on iPhones and other smart devices. In most cases, these apps are available for free with any service packages.
We recommend Ooma to any small business that is looking for a small business VoIP app for iPhones. The app provides a smooth, painless user experience and provides a complete set of phone features. Click the button below to get started today.