12 Business Networking Statistics to Generate New Opportunities
Business networking is developing professional relationships to generate referral sources, sales leads, partnerships, and career opportunities. Traditionally, this process takes place in-person through trade shows and other face-to-face events. However, many networking opportunities have gone virtual due to COVID-19. In this article, we offer business networking statistics that would help you explore how networking impacts your business and career.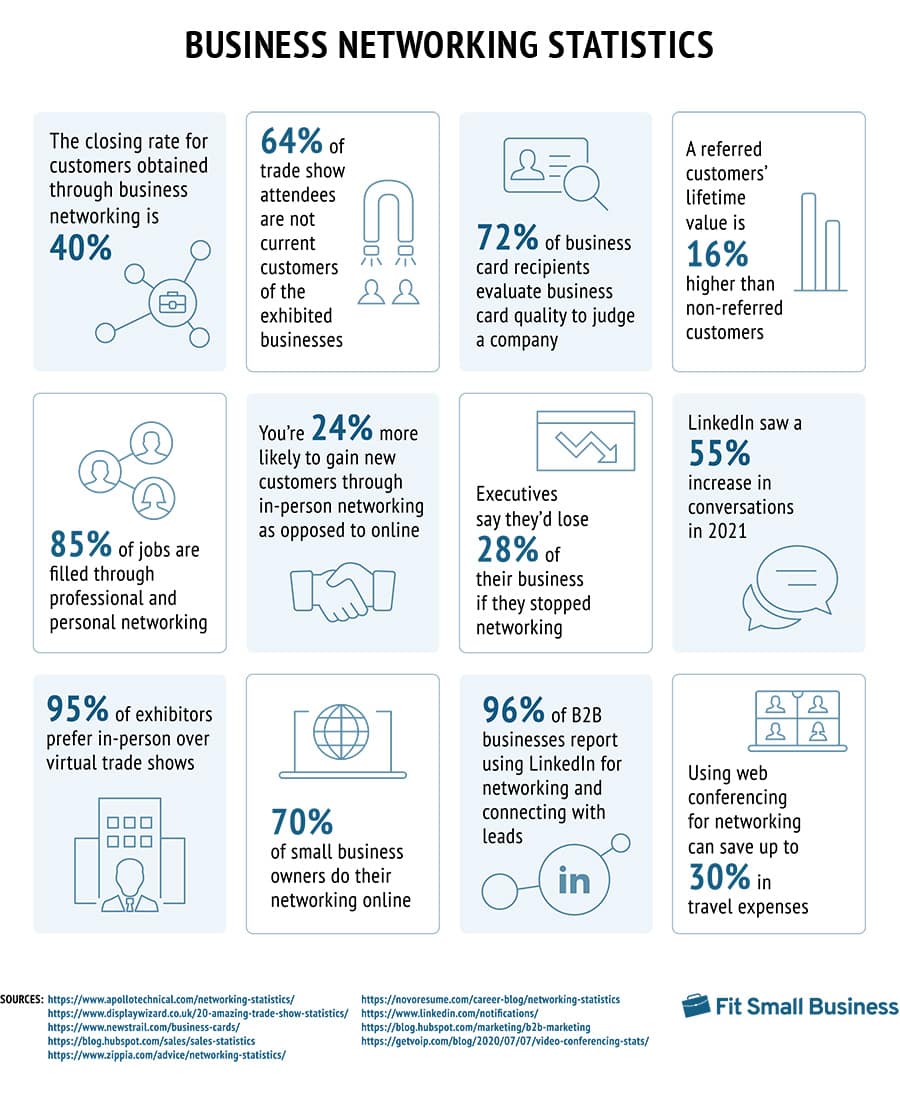 General Business Networking Statistics
These business networking statistics give an overall picture of what networking can do for you, whether in-person or online. Some of these data points also show the types of opportunities created as a result of networking and how people evaluate those they meet at various events.
1. The closing rate for customers obtained through business networking is 40%
While much of networking is for developing referral sources or career advancement, attending professional events can also be an effective lead generation method that offers high conversion rates. Forty percent closing in any sales position and industry is quite high and should not be taken for granted. In-person events specifically provide one-on-one, personal conversations to help develop trust in your brand—yielding a better chance of obtaining new customers.
Source: Apollo Technical
2. 64% of trade show attendees are not current customers of the exhibited businesses
Trade shows and expos over the years have been one of the most traditional places for showcasing products and business networking. The events allow you to meet hundreds of decision-makers in a short period and begin developing meaningful relationships with them. This statistic, in particular, shows how much opportunity a single trade show offers as a majority of the attendees do not have paying relationships with any exhibitors.
Source: Display Wizard
3. 72% of business card recipients evaluate business card quality to judge a company
Business cards have always played a key role in traditional business networking by condensing basic company and contact information onto one card. With virtual events popularized, the volume of business cards in circulation decreased significantly. A recent study, however, found that their quality in design still plays a huge role.
The majority of potential leads, partners, and decision-makers receiving a business card use it as a reference point for evaluating a business. Another similar survey found that 39% of potential clientele would walk away from becoming a customer because of how a card is presented. To find the right business cards for your company, explore our guide on the best business card design ideas.
Source: News Trail
Pro tip: Getting dozens of business cards at an event means tons of entries to add to your database. By using customer relationship management (CRM) software with business card scanning capabilities, you can expedite the data entry process. Popular CRMs like Bitrix24, for instance, have card scanning capabilities on the mobile CRM where you can scan a card and have the data automatically added to the system as a lead or contact record.
4. A referred customer's lifetime value is 16% higher than non-referred customers
Business networking events such as lead share meetings or professional gatherings provide opportunities to present your offerings and for other members to refer to your business. This stat shows that referrals not only give you more qualified leads with a higher chance of converting to customers, they enhance your ability to retain those customers over time, achieving maximum revenue value from them.
Source: HubSpot
5. 85% of jobs are filled through professional & personal networking
Networking of any kind gives you a leg up on other candidates for job opportunities according to this statistic. Simply establishing a relationship with someone involved in a company's hiring process significantly improves your chances of getting hired. Furthermore, this same source also indicated that 79% of Americans believe networking has played a vital role in their career progression.
Source: Zippia
Pro tip: A CRM system is a great tool to remind you to attend professional events, reach out to your referral network to catch up, and connect with new decision-makers on LinkedIn. Many CRM products such as Freshsales have task management features where you can add recurring tasks that pop up in your system as a to-do list.
6. You're 24% more likely to gain new customers through in-person networking as opposed to online
Consider this important stat when you're drafting your sales plan and looking for the best ways to develop customer relationships. You may use a strategy that incorporates leveraging networking to bring in high-quality leads through referral or direct connections. The issue becomes which groups, associations, or chapters will give you these leads and offer the best return on investment.
Maximize your ability to convert leads by finding a networking group that does plenty of events, with at least some of them being in-person. The counterargument is that virtual events are more easily accessible—letting you attend more in one day. They also give you the ability to network with more people in a shorter time.
Source: Zippia
7. Executives say they'd lose 28% of their business if they stopped networking
Many business owners, executives, and salespeople are "serial networkers," and use it as their primary sales method for leads. The good news with this tactic is that by expanding your network to exponential levels, you create a pipeline of solid leads and tons of revenue-converting opportunities.
The downside is that relying strictly on business networking could slow down your ability to grow if you stop doing it for whatever reason. For those running a business or in a sales management role, it's essential to supplement professional network building with other outreach initiatives such as cold calling new leads, running content marketing campaigns, and making email introductions.
Source: Novo Resume
Statistics on the Impact of COVID-19 on Business Networking
These networking statistics specifically dive into the story of how COVID changed the way we do business and connect with others. By understanding these trends, you can see where people's priorities and preferences are both during the pandemic and ongoing.
8. LinkedIn saw a 55% increase in conversations in 2021
COVID created a paradigm shift—forcing us to network using newer methods many of us hadn't used previously. One of these methods involves using LinkedIn to make new connections, promote virtual events, deliver sales pitches, and engage in insightful conversations. The increase in 2021 doesn't appear to be a fad and will likely only lead to heavier use for business owners and sales reps to network in the years to come.
Source: LinkedIn
9. 95% of exhibitors prefer in-person over virtual trade shows
One of the biggest impacts of the COVID-19 shutdowns was the way trade associations managed their shows. They went from hosting in-person expos at large venues to providing value to their members in a video conferencing environment. While virtual shows are more convenient and don't require traveling with a load of materials and equipment, nearly all exhibitors still prefer to participate in person.
Much of this is tied to the high-quality leads generated from an in-person meeting rather than virtual. Most exhibitors of trade shows are in a sales role and attend for the purpose of making solid connections—something better achieved in-person. Another reason is that most trade shows take place in larger cities within the United States and around the world that attendees desire to visit—which becomes obsolete for virtual events.
Source: Display Wizard
Virtual Networking Statistics
Virtual networking is now more popular than ever, and these statistics show how it's being used in today's digital age. Furthermore, you see how grasping the actual benefits of virtual networking can add value and create opportunities for your business.
10. At 70%, online is where most small business owners do their networking
A survey found that online (virtual) networking events, as well as social media platforms such as LinkedIn, are now where a majority of business owners do their networking. The next-highest business networking function is a party or social event at 51%, followed closely by professional conferences at 49%.
To collaborate with other business owners, it's essential to utilize numerous avenues to conduct your business networking for more opportunities. This same survey found that only 6% of business owners don't do any networking at all—emphasizing its importance in starting and growing a business.
Source: Zippia
11. 96% of B2B businesses report using LinkedIn for networking & connecting with leads
Because the majority of users on LinkedIn work for a business that sells to other organizations and have the ability to connect directly with decision-makers, it's not surprising that a majority of business-to-business (B2B) businesses are on the platform. What's more astounding is the proportion of B2B businesses using it—almost 100%. This demonstrates the value offered as a commercially focused social media tool that can generate connections and build revenue.
Source: HubSpot
12. Using web conferencing for networking can save up to 30% on travel expenses
The relatively new virtual environment has allowed business networking to be more cost-effective than in the past. Ordinarily, small businesses had to deal with the expenses of joining a professional organization, the admission fees to an event, and the costs of attendance, including traveling expenses while at the event, such as buying food or drinks.
Many of these costs are obsolete thanks to virtual networking, and most people can save more money as a result. As we head into the future, this trend will free up budgets and resources businesses can allocate toward other sales and marketing projects to grow their customer base.
Source: Get VoIP
Pro tip: CRMs offer tools that allow sales teams to coordinate and better collaborate on sales or networking activities. For instance, HubSpot has a built-in team calendar that syncs everyone's individual events as well as team-based events into one viewable place. This lets you track who's doing what and what networking events your team is attending so you can make sure at least one of your reps is attending upcoming networking events.
Bottom Line
Business networking has and always will be an important activity for building professional relationships to generate sales, job, or partnership opportunities. The only thing that will change that's backed up by these business networking statistics is where and how we connect with others. By putting a plan in place to consistently attend virtual or in-person events, you ensure excellent results in terms of business and individual growth.