America has a love-hate relationship with sales. We are quick to shut the door on individuals peddling their wares, yet it is the same enterprising spirit that sustains the country. Love it or hate it, sales is what makes America great. You can help keep that spirit alive starting with these 15 sales statistics that you should know.
1. What percent of my market is actively buying?
At any given time, only 3% of your market is actively buying while 56% are not ready and 40% are almost ready. (Source: Vorsight)
2. How many people in a company are usually involved in the decision to buy?
A typical firm of 100-500 employees has an average of 7 people who are involved in most buying decisions. (Source: Marketing Blender 2016)
3. What are the top sales priorities of companies?
The latest research by Hubspot reveals the top sales priorities of companies:
71% – Closing more deals
44% – Improving the efficiency of the sales funnel
29% – Social selling
27% – Training the sales team
26% – Reducing the length of the sales cycle
23% – Improving existing sales technologies
16% – Investing in sales enablement
14% – Investing in a CRM
3% – Don't Know/NA
(Source: State of Inbound 2017)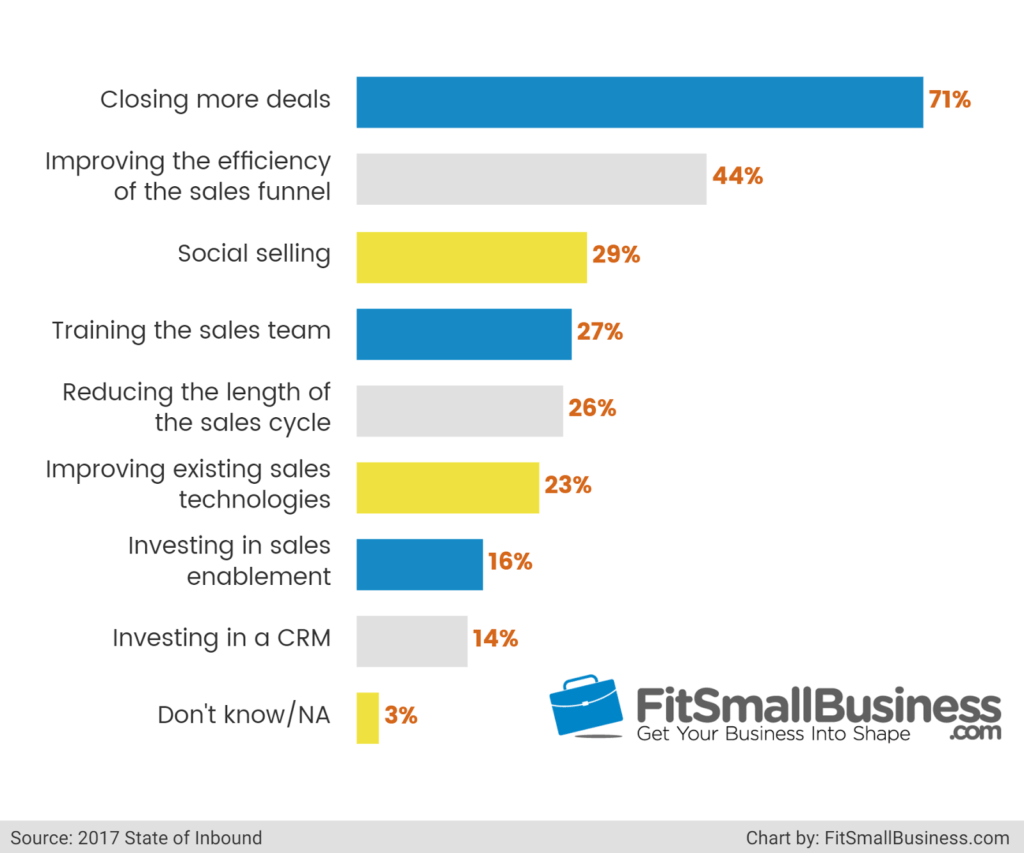 4. What do sales leaders find as the most urgent challenges?
Sales leaders find these three challenges the most pressing ahead of tools and technologies and coaching.
Training and development (27.1%)
Lead quality and quantity (24.3%)
Recruiting and hiring (20.5%)
(Source: Insidesales 2016)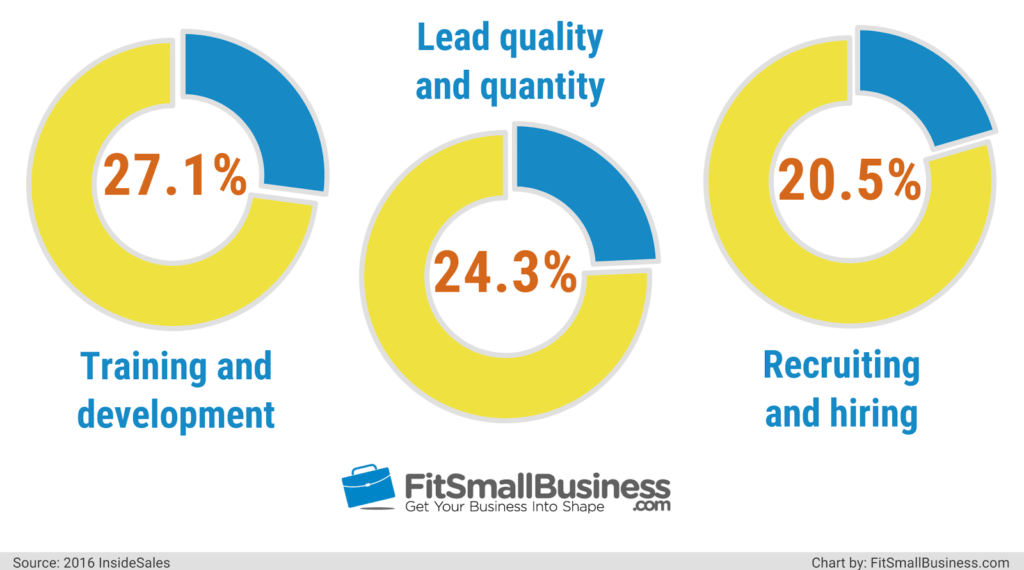 5. What percentage of leads actually get contacted
Only 27% of leads get contacted. (Source: Forbes)
6. What are the most widely used sales technologies?
Over 70% of sales professionals use social selling tools, including LinkedIn, Twitter and Facebook, making them the most widely used sales technology. In addition, sales professionals believe relationship building tools have the highest impact on revenue. (Source: LinkedIn 2016)
7. After a prospect submits a web form, how long should a company or sales representative wait before calling?
If the company wants the prospect to respond, the call should be within five minutes. Companies that call within 5 minutes are 100 times more likely to get that prospect on the phone than if the contact was attempted 30 minutes later. (Source: LeadResponseManagement)
8. In reality, what percent of sales teams responded within five minutes?
Out of the 433 sales teams tested, only 7% responded within 5 minutes. (Source: Drift)
9. To get the overall picture, how long does it take for U.S. firms to respond to web-generated leads?
2,241 U.S. companies were tested and their response times were measured:
37% responded to their lead within one hour.
16% responded within 1 to 24 hours.
24% responded after 24 hours.
23% failed to respond at all.
(Source: Harvard Business Review)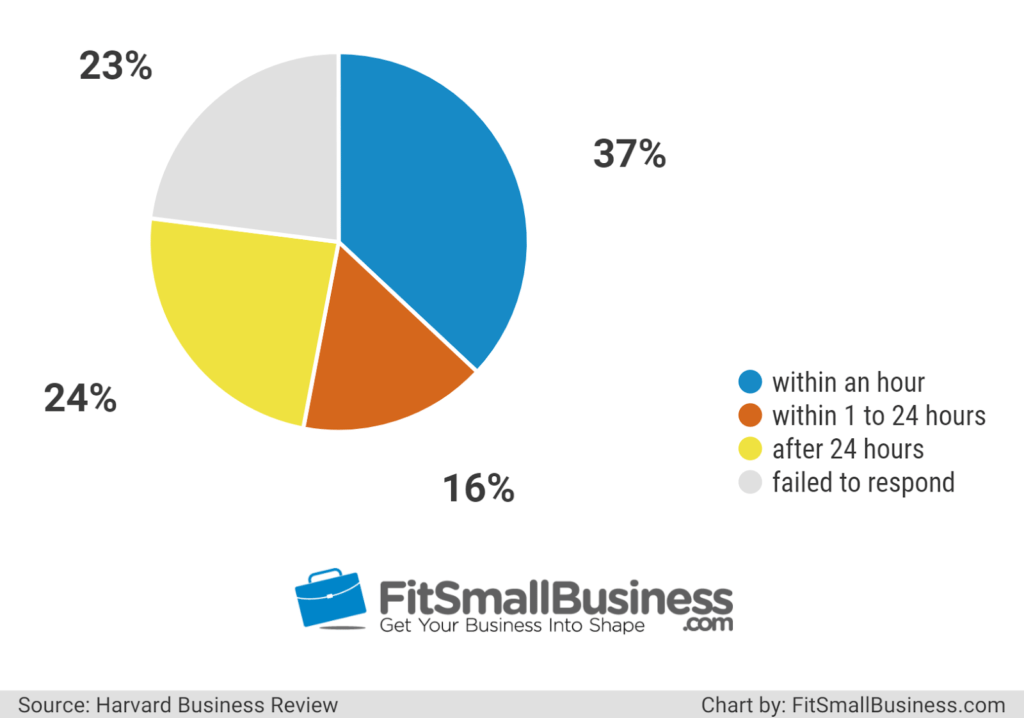 10. When should a sales professional stop pursuing leads for efficiency?
Sales professionals should stop pursuing leads after the sixth call. Leads that require seven or more calls to establish initial contact are 45% less likely to convert than those that are initially contacted in six or fewer calls. (Source: Velocify)
11.  How many times should a sales professional follow-up after a meeting to close a sale?
80% of sales require five follow-up calls after a meeting. Unfortunately, 44% of sales professionals give up after a single follow-up. (Source: Marketing Donut)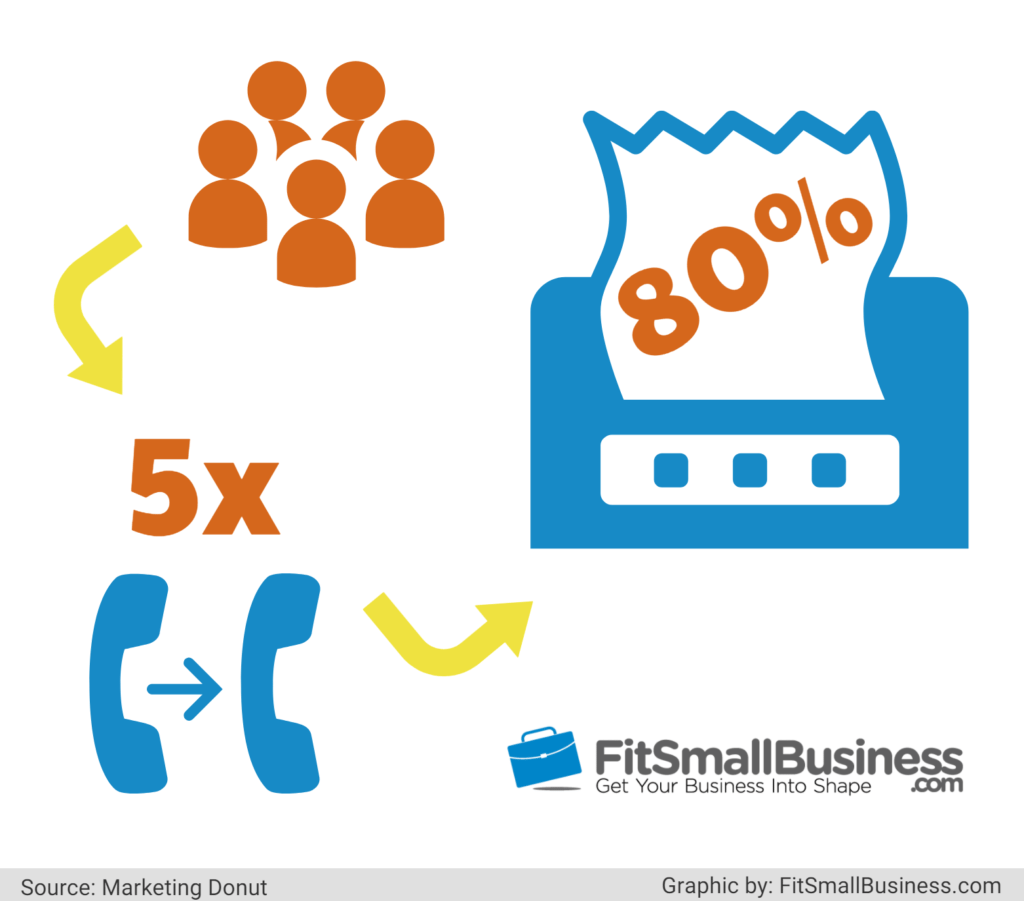 12.  What is the average contact attempt and how many attempts does it take to outperform the competition?
8 is the average contact attempt and those that make 12 attempts perform 16% better. (Source: Bridge Group 2016)
13. What is the effect of implementing a mobile-centric sales strategy?
Expect an increase in revenue when you implement a mobile-centric sales strategy. The 500 companies that adopted a mobile-centric approach when selling to customers showed an 80% jump in sales. (Source: Social Race Media 2016)
14. What personality type is best for sales?
Ambiverts, the type that combines the qualities of introversion and extroversion, outperformed their introvert and extrovert counterparts over a 3-month period, generating 24% more sales than introverts and 32% more sales than extroverts. The study suggests that ambiverts engage in a flexible behavior between talking and listening. They show sufficient assertiveness and enthusiasm and are more inclined to listen to clients' interests. (Source: Science of People)
15. Does racial diversity foster growth in terms of sales?
Yes, it does as companies with racially diverse teams generated mean revenues 15 times more than those with low diversity ($761.3m v $51.9m). (Source: Cedric Herring)
In Conclusion
Sales will keep the great American engine humming. What are your thoughts about these sales statistics? Let us know in the comments section below.