Sales has always been a game with two principal actors: people and numbers. However, it's also increasingly more about using the right technology and tools to communicate at just the right time. Below are 20 sales stats about technology, processes, and people you should know in 2019 to help you sharpen your sales game.
1. Only 3% of your market is actively buying
At any given time, only 3% of your market is actively buying while 56% are not ready and 40% are almost ready. The small number of people actively buying reinforces the need to be prospecting consistently to stay in front of your contacts as you won't know when they are ready to buy. Keep track of your hot and warm leads with a visual sales pipeline dashboard in a customer relationship management tool like Pipedrive.
(Source: Vorsight)
2. Execs don't respond to 90% of cold calls
If your cold calls exclusively target executives, your results are likely to be dismal. Some 90% will ignore your prospecting calls and won't bother responding to your emails either. Surprisingly, executives are much more responsive to being engaged over social media, so set up a Twitter or LinkedIn account to get the results you're looking for.
(Source: Harvard Business Review)
3. Sales reps should talk 55% & listen 45%
As a salesperson, you are taught to do more listening than talking, and this lesson is true in some stages in the sales process, but not in a cold call. In the most successful cold calls, top reps own more of the conversation, according to a study by Going.io. Successful cold calls occurred when reps talked 55% and listened 45% of the time. By contrast, reps who made unsuccessful cold calls talked 42% and listened 58% of the time.
(Source: Gong.io courtesy of Sales Hacker)
4. The average buying decision involves 7 people
A typical firm of 100-500 employees has an average of seven people who are involved in most buying decisions. This means that for the best-selling results you should identify and pursue multiple contacts in a company — a strategy called account-based sales.
(Source: Marketing Blender 2016).
5. Closing deals is priority of 75% of businesses
The latest research by HubSpot reveals the top sales priorities of companies, with closing more deals at the top of the list. These figures represent the percentage of companies surveyed that agreed with these priorities. Second to closing more deals is improving sales funnel efficiency, which helps sales reps identify and work more efficiently to close leads.
(Source: HubSpot's State of Inbound 2018)
6. About 69% of marketers' top priority is converting leads
As a salesperson, your success depends on how well sales and marketing work together. It should be comforting to know that their top priority is your top priority ― converting contacts and leads to customers. These figures represent the percentage of companies surveyed that agreed with these priorities.
69% – Convert contacts/leads to customers
54% – Grow traffic to website
44% – Increase revenue from existing customers
42% – Prove ROI of marketing activities
37% – Sales enablement
29% – Reduce acquisition costs for contacts, leads, customers
(Source: HubSpot's State of Inbound 2018)
7. Hiring is a challenge for 40% of sales leaders
InsideSales.com, in collaboration with Sandler school of sales training, polled 500 sales leaders on their top challenges in 2018. Recruiting and hiring was the top challenge for 41% of sales managers, even eclipsing lead quality, prospecting, and compensation. Savvy sales leaders should always be on the lookout for good sales reps, not just when they need to make a hire.
(Source: Insidesales 2018)
8. Only 27% of leads get contacted by sales
Forbes' in-house research reveals a mere 27% of leads get a call from the sales team. The magazine doesn't explain why this is but it's a sign something isn't right. It's another reason for sales and marketing to work closely together to define and identify qualified leads as well as tracking leads through a visual pipeline tool like Pipedrive so nothing slips through the cracks.
(Source: Forbes)
9. Social selling salespeople exceed quota 23% more often
Social selling means using your social network to communicate and build relationships with prospects as part of your sales process. According to one study, 72% of salespeople who use social media as part of their sales strategy exceeded quota 23% more often than their peers.
(Source: A Sales Guy Consulting)
10. A whopping 70% of sales teams use social media
LinkedIn, Facebook, and Twitter are the most widely used social media platforms used by sales teams. This reinforces the need for relying on more than just email or phone calls while prospecting. If you need another reason to dip your toes into social selling, sales professionals believe these relationship building tools have the highest impact on revenue.
(Source: LinkedIn 2016)
11. Texting converts 40% more leads to customers
Texting can convert leads to customers, but there's a caveat to this statistic. Texting before the relationship has been established (e.g., before a phone call) decreases the likelihood of ever connecting with the lead by 39%. Sending three or more "purposeful text messages" after the initial phone call can increase conversion rates by a whopping 328%. The study by Velocify suggests that purposeful should be timely, important, and quick messages.
These are examples of purposeful text messaging scenarios:
Request for missing info
Follow-up on a commitment made
Appointment reminder
Acknowledgement of document approval or receipt
(Source: Velocify)
12. Trustworthy reps are key, say 51% of buyers
The No. 1 factor decision makers want in a salesperson is trust (51%), followed by responsiveness (42%), expertise in the field (42%), problem-solving (37%) and transparency (34%). To build better trust among leads and customers, make sure to be a transparent, responsive, problem-solving expert in your field.
(Source: LinkedIn State of Sales 2018)
13. Only 37% of businesses respond to online leads in under an hour
The bar is set low for how quickly companies respond to online leads since it takes 40% of companies over an hour to respond. Only 37% respond in less than an hour and a full 23% don't respond at all. However, the faster you respond, the more likely you'll connect with that lead on the phone.
(Source: Harvard Business Review)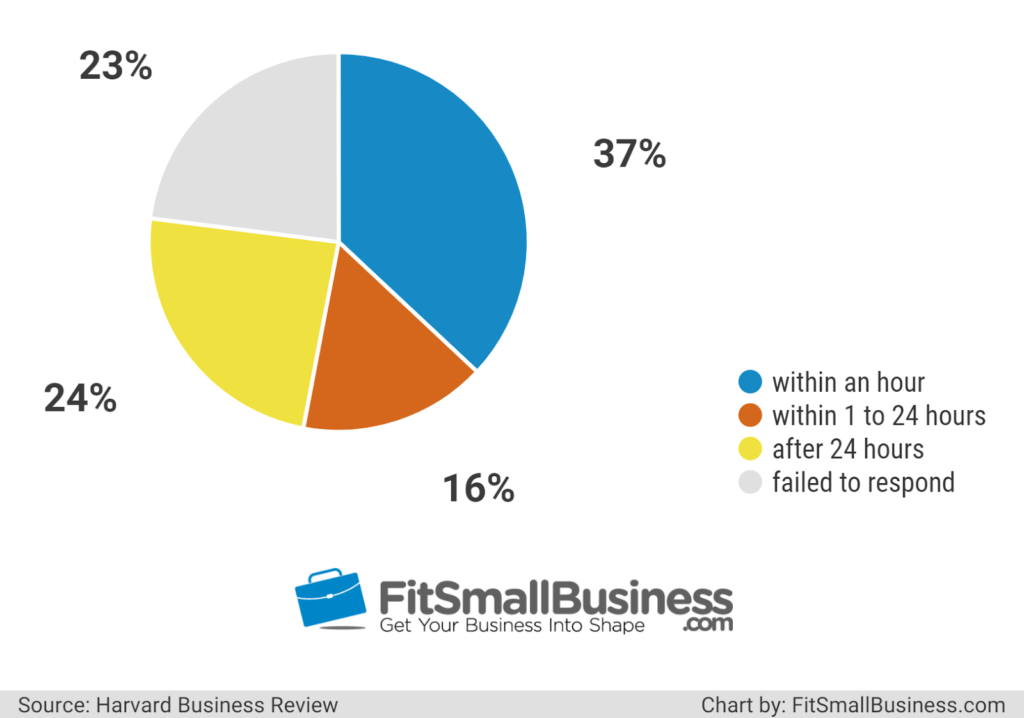 14. Call leads within five minutes for 100x greater connection rate
If a company wants the prospect to respond, the initial prospecting call should be made within five minutes. Companies that call within five minutes are 100 times more likely to get that prospect on the phone than if the contact is attempted 30 minutes later. Leads should be sent automatically ― and immediately ― from the point of contact to a sales rep via CRM like Pipedrive to be assessed for lead quality.
(Source: LeadResponseManagement)
15. Only 7% of companies respond to web forms within five minutes
Out of 433 sales teams surveyed, only 7% respond to web form leads within five minutes. A full 55% didn't respond after five business days, losing many quality leads in the process. Interestingly, the companies with the 10 fastest response times all had live chat on their website. Whether this was causation, correlation, or just coincidence is unknown, but live chat best practices indicate this technology can drastically improve your sales and customer service.
(Source: Drift)
16. A full 93% of leads convert by sixth call attempt
Research shows 93% of all converted leads are reached by the sixth call attempt. Meanwhile, only 7% of calls convert when reached for the first time after seven or more attempts. Leads that require seven or more calls to establish initial contact are 45% less likely to convert than those that are initially contacted in six or fewer calls. In other words, you'll get diminishing returns on your conversion rate after six call attempts.
(Source: Velocify)
17. Sales teams working with marketing are 67% better at closing deals
A great way for sales and marketing teams to work in harmony is by creating a lead scoring system to help prioritize leads and identify their sales readiness by looking at demographics and behavior. Based on the scoring, leads can then be classified as marketing qualified leads (MQLs) and sales qualified leads (SQLs). After MQLs reach a certain score, they are passed to sales for follow up. SQLs are qualified by sales and have the highest potential to close.
(Source: Marketo)
18. It takes at least five follow-ups for 80% of sales conversions
A recent survey showed it takes five or more "no's" before getting to a "yes." Unfortunately, 44% of sales professionals give up after a single follow-up and 22% give up after two "no's." This means it pays to be persistent, but we know the window of opportunity begins to close at six attempts so it's a delicate needle to thread before persistence turns into inefficiency.
(Source: Marketing Donut)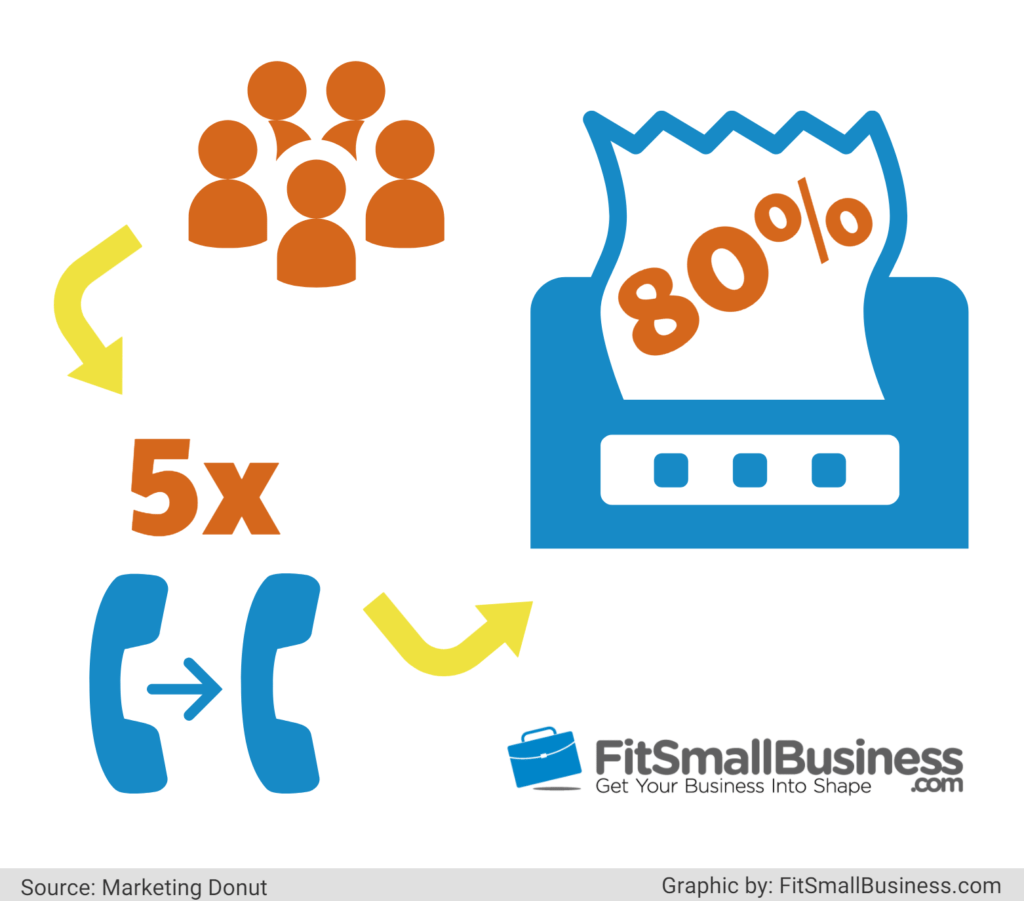 19. Ambiverts generate 32% more sales than extroverts
Ambiverts, personalities that combine the qualities of introversion and extroversion, outperformed their introvert and extrovert counterparts over a three-month period, generating 24% more sales than introverts and 32% more sales than extroverts. The study suggests that ambiverts engage in a flexible behavior between talking and listening. They show sufficient assertiveness and enthusiasm and are more inclined to listen to clients' interests.
(Source: Science of People)
20. Racially-diverse teams generate 15 times more revenue
Companies with more racially-diverse teams generated mean revenues 15 times higher than those with low diversity ($761.3 million vs $51.9 million). Furthermore, higher levels of racial diversity are associated with more overall customers. Companies with low levels of racial diversity average 22,700 customers while those with high levels average 35,000.
(Source: American Sociological Review)


Bottom Line – Sales Stats
The processes, numbers, people and technologies illustrated in these sales statistics are actionable right now so try a few and see if they result in increased sales. However, while these statistics are great to keep in mind, you are far more likely to succeed in sales when you track and manage your sales workflow process using a tool like a CRM.
Pipedrive is a low-cost, and easy to use CRM designed for small business. Its visual pipeline dashboard makes it easy to see where leads are in the process and what follow-up activities are expected so you don't follow-up too often or not often enough. To try it for yourself, sign up for a free trial today, no credit card required. Head to Pipedrive's website to learn more.