2022 Chase Payment Solutions Review (formerly Chase Merchant Services)
This article is part of a larger series on Payments.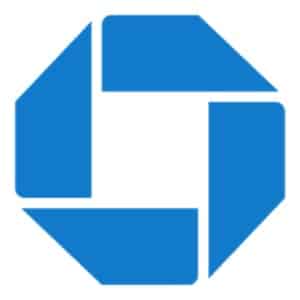 When to Use Chase Payment Solutions
After spending years reviewing credit card processors, I can say Chase Payment Solutions strives to provide a strong toolset for businesses of all sizes. It has a history of acquiring high-quality companies such as WePay and Paymentech, and adding them to its already strong banking infrastructure. As a result, Chase offers an affordable and secure payment processing program that, overall, is one of our top-recommended merchant services for small businesses.
In particular, Chase Payment Solutions is best for:
Businesses with Chase accounts: Businesses with Chase accounts can take advantage of same-day or next-day access to funds and Chase's new QuickAccept mobile payment app.
Multichannel payment processing: Chase works with ecommerce, virtual terminals, and in-person POS systems. Its reporting lets you keep all the information in one place.
International payments: Chase is a global banking institution and can work with foreign companies and currencies.
When Chase Payment Solutions Would Not Be a Good Fit
Businesses doing infrequent sales: For those processing small-scale or infrequent sales, such as hobbyists, Chase may be more than you need. Instead, opt for one of our leading mobile payment apps or top-recommended free merchant accounts.
Businesses with frequent low-cost transactions: Chase's processing fees include a flat cents fee in addition to a percentage. If your transactions are commonly low (such as <$5), you may do better with a flat percentage rate or interchange-plus pricing. See our guide to the cheapest credit card processing companies to calculate the most affordable option for your business.
High-risk businesses: These businesses may not be approved for a merchant account with Chase. Instead, check out one of our best high-risk merchant account providers.
Looking for something specific? Check out our reviews on the best payment solutions for restaurants, retailers, nonprofit organizations, B2B businesses, and credit cards.
Chase Payment Solutions Overview
PROS

CONS

Same-day and next-day funds possible
Some services (Chase QuickAccept) limited to the US.
Rates negotiable in some cases
Complaints of cancellation fees
140+ integrations
Reports of poor customer support
Signing up with Chase Payment Solutions is easy—you can call or fill out the contact form. Someone will discuss your needs with you and get you set up. You can purchase equipment from Chase or reprogram your own in most cases. You can integrate Chase Payment Solutions into your POS and online store or take advantage of Chase's partnerships with vendors like BigCommerce and Vend.
For US merchants, it usually takes only a few days to set up accounts and get trained, whereas international merchants may need up to two weeks.
Chase Payment Solutions Deciding Factors
Processing fee: From 2.6% + 10 cents to 3.5% + 10 cents
Monthly fee: $0
ACH Processing: $25 per month for 25 transactions, 25 cents for each additional, or 1% for certain platforms
Contract length: No long-term contracts
Application and approval process: Few days
Payment types: Card-present, card-not-present, online, ACH, invoice and recurring payments
Cancellation/early termination fee: $0
Chargeback fee: $25–$100 per transaction
Deposit speed: Same-day deposit and next-business-day funding
Hardware options: $49–$399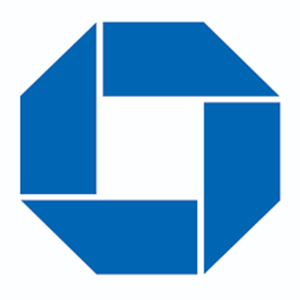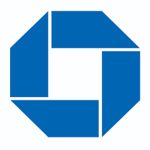 Chase Payments Solutions Payments Calculator
Enter your current in-store and/or online sales volumes and average order values for an estimate on the monthly fees you would pay using Chase.
Chase Payment Solutions Alternatives & Fees Comparison
Best for

Businesses processing $10,000+ monthly

High-volume sales ($20,000+ monthly)

Small businesses, especially those with low sales

Infrequent and online businesses

Monthly fee

$79–$199

$99–$199

$0

$0

Card-present transaction fee

Interchange + 8 cents

2.6% + 10 cents

Keyed transaction fee

Interchange + 15 cents

3.5% + 15 cents

3.5% + 49 cents

Ecommerce transaction fee

Interchange

+ 7–15 cents

Interchange + 15 cents

2.9% + 30 cents

starts at 2.59% + 49 cents
Looking for the lowest rates? Leading merchant service providers offer custom payment processing rates based on your business size, type, and average order value. To find the most affordable option for you and compare multiple processing rates, read our guide on the cheapest credit card processing companies.
Chase Payment Solutions Pricing
Chase Payment Solutions, in general, does not charge monthly fees or require long-term contracts, and its fees depend on the type of transaction you are processing. You'll get customized rates if you have a Chase Business Account, but since it's also a direct processor, you can access Chase's merchant services from numerous platforms. Below are some examples. You can contact Chase for a more customized quote.
Processing Rate

Best For

In-person Transactions

Chase Quick Accept

Chase Mobile

Chase Standalone Terminal

Chase Smart POS

2.6% + 10 cents per card-present transactions; 3.5% + 10 cents per keyed-in transaction (Chase Business Complete Account required)

Accepting mobile in-person payments

Online Transactions

Virtual Terminal

2.9% + 25 cents per transaction; custom pricing available

Accepting card payments from any browser

Online Transactions

Payment Gateway

2.9% + 25 cents per transaction; interchange pricing available

Creating variety of online payment options

Online Transactions

With FreshBooks

2.9% + 25 cents per transaction; customized pricing available

Managing sales with accounting and billing tools

Online Transactions

With BigCommerce

2.9% + 25 cents per transaction; customized pricing available

Selling on your own website
Other fees include:
ACH Processing: $25/month for 25 transactions, 25 cents for each additional, 1% for certain platforms
Chargeback fee: $25–$100
Since Our Last Update: Chase Merchant Services is now Chase Payment Solutions. With lower ecommerce transaction rates and strong in-person and online payment processing tools, Chase is ramping up its payment services for small businesses. We took a closer look at its integrations and hardware solutions, highlighted Chase's merchant agreement terms, and offered tips on how to read its billing statement.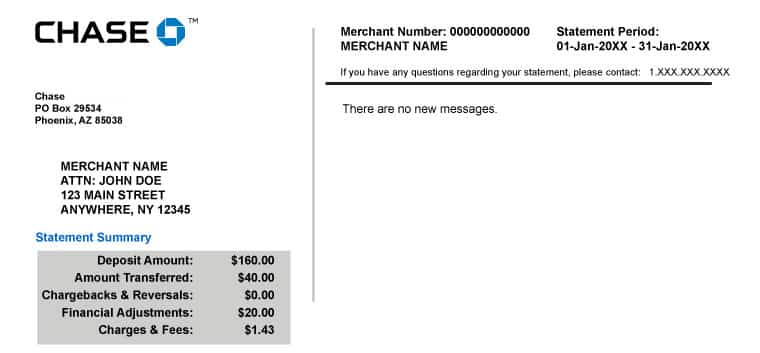 ---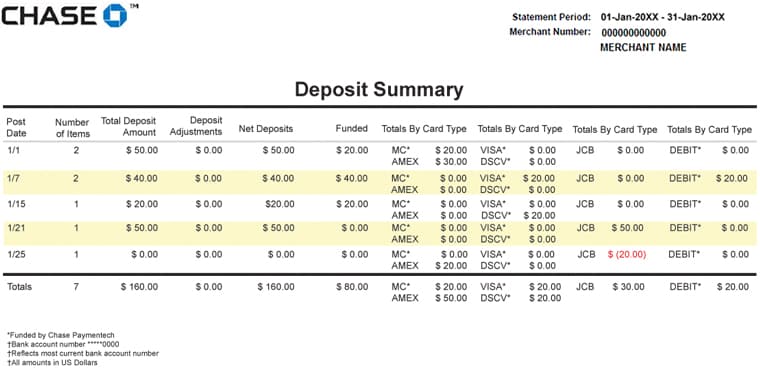 ---

---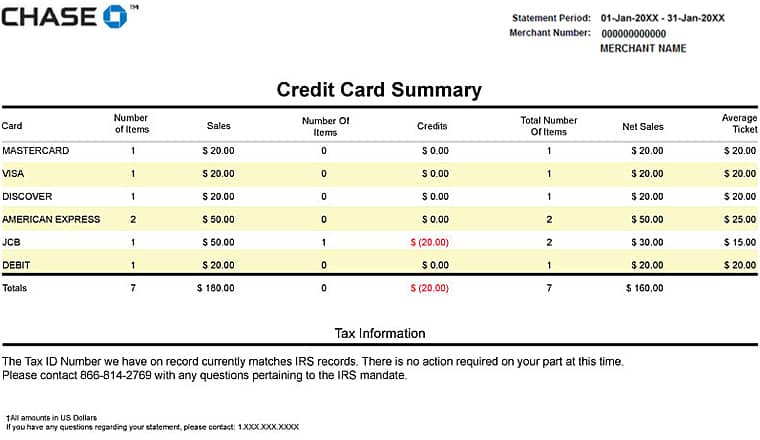 ---

---

---

---
Chase Payment Solutions Hardware
Chase offers several mobile card readers that run from $49.95 to $399, and you may get the mobile card reader for free with a long-term contract. If you have credit card terminals or POS software, you can also have them programmed to accept Chase Payment Solutions. However, Chase also offers several credit card processing terminals that work with chip, swipe, or tap payments.
| | | |
| --- | --- | --- |
| | | |
| Mobile Card Reader | Countertop/Mobile Terminal | Smart Terminal |
| Best for accepting payments while on the go | Best for traditional countertop setup | Best for processing sales around the store |
| $49.95 | $299 | $399 |
In addition, it offers:
Verifone VX520 and VX680 card readers
Ingenico ICT250 and iWL250 pin pads
Ingenico Move or Desk 5000
Online terminal with iPP 320 pin pad and an Epson TM-2011 receipt printer
Vend iOS tablet and Verifone P400 or v400m
Vend desktop or laptop and Ingenico Move or Desk 5000
Many of these devices are available commercially on Amazon and elsewhere. The user reviews vary greatly, so do a little research before selecting a system.
Chase Payment Solutions Features
Chase Payment Solutions comes with a lineup of payment processing tools for all business sizes and types. Click through the items below to learn more about its key features.
Contract & Merchant Agreement Terms
Generally, Chase doesn't impose long-term merchant agreements, but its website specifies that it offers several different contracts. This should be expected as all merchant accounts are customized, and the actual contract length and fees will always depend on your unique business needs. For instance, you may get exclusive promotional rates if you subscribe to a Chase partner POS system integration; however, you'll likely have to sign up long term to use its hardware.
That said, most merchants get a pay-as-you-go contract, with no monthly account maintenance, account setup, or early termination fees associated with opening a Chase merchant service account. And while merchant accounts are approved based on estimated volume, Chase Payment Solutions will review terms of agreement for businesses whose sales consistently exceed or fall below their original estimated sales volume.
---
Direct Processor
When Chase acquired Paymentech, it became a direct processor, meaning it works both as the payment processor and the acquiring bank in transactions. This streamlines the process of getting the money into your accounts, allowing you faster access to your funds without sacrificing security. Additionally, direct processors are naturally a hub for business integrations such as accounting, point-of-sale systems, and ecommerce platforms, so you get a variety of options for building your business.
However, having a merchant account with a direct processor doesn't automatically mean you get the lowest rates. It's still important that you do your due diligence and look around to find the best match for your business needs. What's great about a direct payment processor, though, is that you'll always get the best banking and financial tools, no matter the type of business you have.
---
Same-day Deposits & Next-day Funding
Depending on the type of service you use, you can qualify for Chase's same-day deposits at no extra cost. Local businesses that process payments through Authorize.net and Chase Integrated Payments (powered by WePay) or deposit into a Chase business checking account are automatically qualified for same-day deposits upon sign up.
If you have a Chase business checking account, you can generally get your funds the next business day. There are some conditions, like having business credit approval.
---
Chargeback & Risk Monitoring
Chase has several fraud protection tools for its business customers. You can set up dispute alerts, and Chase offers instructions on how to deal with chargebacks
Fraud Protection Services: This applies to business checking account holders subscribed to Check Protection Services, Check Monitoring, and ACH Debit Block Service.
Check Monitoring: This is a complementary service for all Chase business checking customers.
Account Alerts: The account alerts service is another free service from Chase, and you can get notifications on your phone for any activity on your account. Message and data rates may apply.
Zero Liability Protection: Chase will reimburse unauthorized debit card transactions for customers using certain platforms.
---
Business Funding & Banking
Chase offers a complete suite of business banking, from checking accounts to loans to credit cards. It also offers business services like global wire transfers.
---
Chase Payment Solutions Ease of Use
Integrations
Chase Payment Solutions supports a variety of integrations that cover everything from online payments to business management tools. Hardware from popular brands such as Verifone, Ingenico, and Vend can also be programmed to fully integrate with Chase. Note that on top of unique transaction rates attached to each platform, most of these third-party integrations come with additional monthly costs, while some may require long-term contracts.
Some of Chase's notable integration partners are:
| | Additional Cost | Tools For |
| --- | --- | --- |
| | Custom rates for B2B and large-ticket discounted rates | Virtual Terminal |
| Authorize.net | Interchange pricing based on sales volume | Payment Gateway |
| FreshBooks | Contact FreshBooks for monthly fees | Accounting and Invoicing |
| BigCommerce | $29.95–$299.95 per month | Website Builder |
| Vend POS | Monthly from $99; contact sales for transaction fees | Retail POS |
| TouchBistro | Contact sales for pricing | Restaurant POS |
Check out Chase's full list of partner integrations
Fast Access to Funds
Chase Payment Solutions provides you with same-day deposits and next-day funding for certain services. This is one of the advantages for signing up with a direct processor like Chase.
Customer Support
Live support 24/7 year-round
Online support center with guides and articles
Online guides for hardware
Error message support online
The online resource and support section is a good place to start when getting to know your Chase hardware or software. While there are a few videos and FAQs, most of the articles are tutorials with clear steps and illustrations. There's also a section devoted exclusively to error codes, making it easy to troubleshoot and solve common problems. If you need further assistance, you can contact its support center anytime, night or day.
What Users Think of Chase Payment Solutions
We found very few user reviews online, having looked at several common sites. CardFellow has around 10 reviews, with an overall 2 out of 5 rating. Complaints included terminating accounts with little warning or explanation and bad customer service, especially when the merchant was dealing with credit card fraud and chargeback issues.
Customers have logged about 40 complaints with the Better Business Bureau in the past three years, 10 of which have been closed within a year. Considering that Chase is one of the largest credit card processors, this is not bad. Complaints were mostly about problems with receiving payments or overcharges, but more concerning is that while Chase responded to the complaints, the customer had followed up to say the representative was nonetheless unhelpful and the problem remained unresolved. It has a B rating, and many complainants have canceled their accounts.
Bottom Line
Chase is a major bank and credit card processor with a lot of tools for small to large businesses. Its merchant account integrates with over 140 applications, and it offers flat-rate pricing starting at 2.6% + 10 cents per transaction. While it has some complaints around canceled accounts and customer service, for a company this size, the percentage is small. Contact Chase for a custom quote.