2023 Chase Payment Solutions Review (Formerly Chase Merchant Services)
This article is part of a larger series on Payments.
Chase Payment Solutions (formerly Chase Merchant Services) stands out as one of the few global financial institutions that offers both banking and merchant service solutions directly to small businesses. This results in affordable rates, seamless transactions, better customer service, and faster access to funds.
Chase has also spent the past year improving its small business merchant services with a healthier mix of card-present and card-not-present payment solutions—all of which earned Chase an overall score of 4.04 out of 5 in our evaluation of best merchant services.

Pros
Direct processor
Faster fund access without extra cost
Unique business analytics tools
Cons
Some tools require a Chase banking account
Complaints of cancelation fees
Expensive chargeback fee
When to Use Chase:
When to Use an Alternative:
With Chase Payment Solutions, small businesses—with or without a Chase business bank deposit account—can apply directly for a merchant account, although those with a Chase deposit account do have the advantage of faster access to funds. The system offers multiple payment methods, including business-to-business (B2B), with a unified reporting function ideal for multichannel merchants.
While it did not make our list of top international payments processors, a global banking institution like Chase is also perfect for accepting cross-border payments.
Occasional sellers and merchants with commonly low-ticket sales, such as less than $5, may find other payment providers with a lower flat percentage rate or interchange-plus pricing a better alternative. High-risk businesses may also have a hard time getting approved for a merchant account with Chase.
However, large banking institutions like Chase rarely offer payment processing services directly to small merchants. So, for those who already have a Chase deposit account, using Chase to run their business and accept payments should be an easy choice.
Chase Payment Solutions Deciding Factors
Supported Business Types

Flexible

Brick-and-mortar, online, B2B, and international merchants

Standout Features

Direct processor
Free merchant account
Flexible payment methods
Advanced analytics that offer unique insights
Free same-day and next-day funding

Monthly Software Fees

Very Competitive

$0-$15 (If you sign up for a Chase business checking account)

Setup and Installation Fees

$0

Contract Length

Month-to-month (customizable)

Point-of-Sale (POS) Options

Basic proprietary mobile POS
Integrates with popular POS systems

Hardware

Proprietary $49.95 to $399

Payment Processing Fees

Very competitive for small businesses

In-person transactions: 2.6% plus 10 cents
Online transactions: 2.9% plus 25 cents
Keyed-in transactions: 3.5% plus 10 cents

Custom rates may be available to qualifying merchants

Customer Support

Live support 24/7
Online support center with guides and articles
Online guides for hardware
Error message support online
Chase Payment Solutions Fee Calculator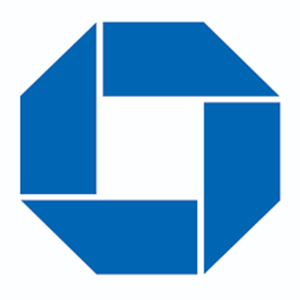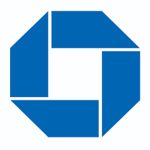 Chase Payments Solutions Payments Calculator
Enter your current in-store and/or online sales volumes and average order values for an estimate on the monthly fees you would pay using Chase.
Top Chase Payment Solutions Alternatives
| | | | |
| --- | --- | --- | --- |
| Best for | Mid-volume credit card processing | Low-volume sales and startups | Infrequent and online businesses |
| Monthly fee | $79 | $0 | $0 |
| Card-present transaction fee | Interchange plus 8 cents | 2.6% plus 10 cents | 2.29% plus 9 cents (PayPal Zettle) |
| Keyed transaction fee | Interchange plus 18 cents | 3.5% plus 15 cents | 3.5% plus 49 cents |
| Ecommerce transaction fee | Interchange plus 18 cents | 2.9% plus 30 cents | Starts at 2.59% plus 49 cents |
| | | | |
Are you looking for the lowest rates? Leading merchant service providers offer custom payment processing rates based on your business size, type, and average order value. To find the most affordable option for you and compare multiple processing rates, read our guide on the cheapest credit card processing companies.
We love that Chase offers zero monthly fees and a very competitive flat rate for payment processing (similar transaction rates with Square). One advantage it has over its competitors for this criteria is that it can offer custom interchange rates for qualified merchants. However, Chase does not offer free or discounted hardware and imposes significant chargeback fees that ultimately affected its score.
In general, Chase Payment Solutions does not charge monthly fees or require long-term contracts, and its fees depend on the type of transaction you are processing. You'll get customized rates if you have a Chase Business Account, but since it's also a direct processor, you can access Chase's merchant services from numerous platforms.
Monthly fee: $0-$15 (With a Chase checking account)
In-person transaction fee: 2.6% plus 10 cents
Online transaction fee: 2.9% plus 25 cents
Keyed-in transaction fee: 3.5% + 10 cents
Automated clearing house (ACH) processing fee: $25/month for 25 transactions, $0.15 for additional
Chargeback fee: $25 to $100 per transaction depending on dispute volume
Note that if you sign up for a Chase Business Checking account to access specific payment processing features, you are required to maintain a minimum balance of $2,000 or a monthly service fee of $15 will be imposed.
---
Chase offers several mobile card readers that run from $49.95 to $399. If you have credit card terminals or POS software, you can also have them programmed to accept Chase Payment Solutions. However, Chase also offers several credit card processing terminals that work with chip, swipe, or tap payments.
| | | |
| --- | --- | --- |
| | | |
| Mobile Card Reader | Countertop/Mobile Terminal | Smart Terminal |
| Best for accepting payments while on the go | Best for traditional countertop setup | Best for processing sales around the store |
| $49.95 | $299 to $399 | $399 |
---
Signing up with Chase Payment Solutions is easy—you can call or fill out the contact form. Someone will discuss your needs with you and get you set up. You can purchase equipment from Chase or reprogram your own in most cases. You can integrate Chase Payment Solutions into your POS and online store or take advantage of Chase's partnerships with vendors like BigCommerce and Vend by Lightspeed.
The application process will depend on the type of payment processing you need as some services require you to sign up for both merchant and checking accounts. For US merchants, it usually takes only a few days to set up accounts and get trained, whereas international merchants may need up to two weeks.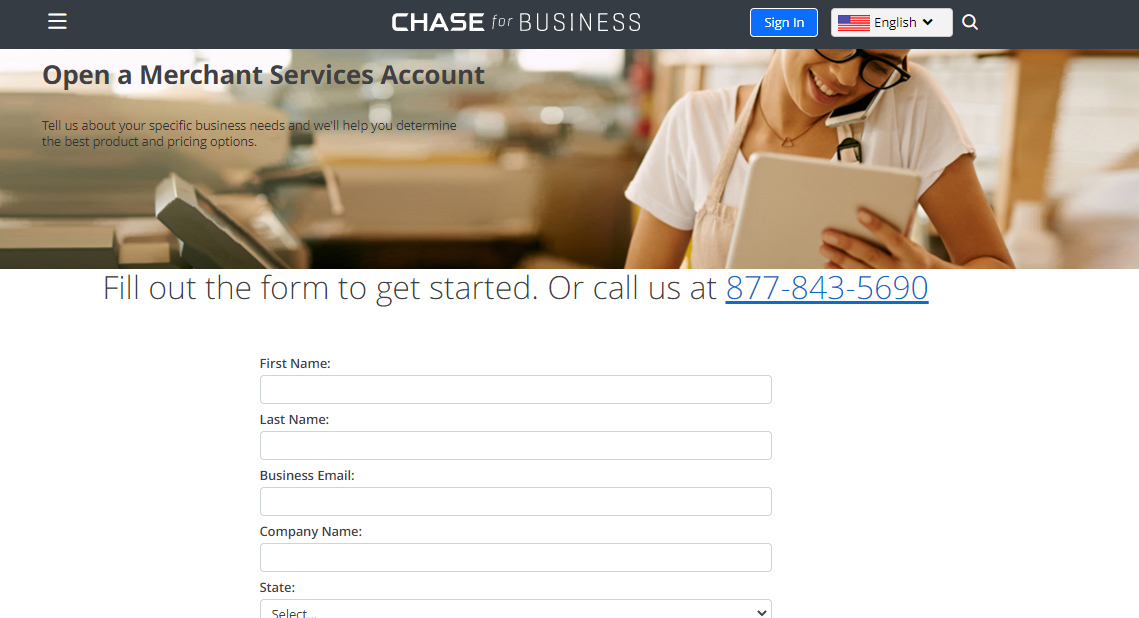 ---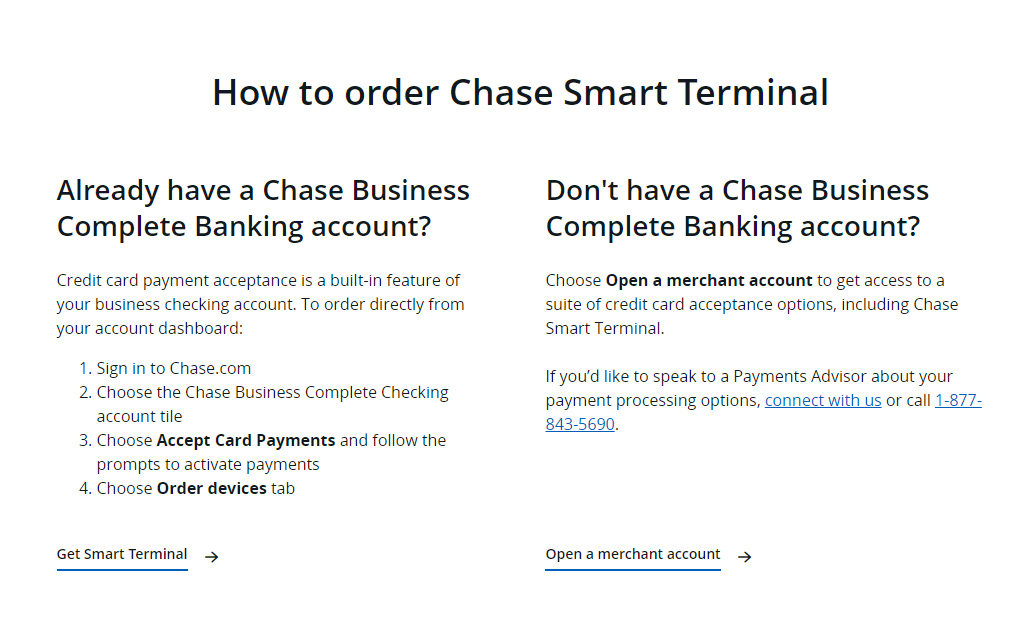 ---
---
Generally, Chase doesn't impose long-term merchant agreements, but its website specifies that it offers several different contracts. This should be expected, as all merchant accounts are customized, and the actual contract length and fees will always depend on your unique business needs. For instance, you may get exclusive promotional rates if you subscribe to a Chase partner POS system integration; however, you'll likely have to sign up long term to use its hardware.
Most merchants get a pay-as-you-go contract, with no monthly account maintenance, account setup, or early termination fees associated with opening a Chase merchant account. While applications are approved based on estimated volume, Chase Payment Solutions will review the terms of the agreement for businesses whose sales consistently exceed or fall below their original estimated sales volume.
---
Chase offers a complete suite of payment types for small businesses, from mobile to B2B payment processing. While it did not receive a perfect score because some methods require integrations with possible add-on fees, we recognize Chase's ability as a direct processor to provide faster access to funds without any extra cost as a major advantage to consider for small businesses.
Chase Payment Solutions comes with a free mobile checkout feature that allows merchants to accept payments on the go with their mobile devices connected to a Chase 3-in-1 mobile card reader ($49.95). The app includes an image-based product catalog and the ability to customize taxes and tips. This payment method works similarly to a mobile POS and is great for service professionals and outdoor market sellers.
---
Chase QuickAccept is the mobile payment service available to merchants with a Chase business deposit account. It also comes with the free Chase mobile app and 3-in-1 credit card reader ($49.95), along with options to accept payment from your computer through the Chase website (note that this method charges the keyed-in transaction rate).
The advantage of QuickAccept over Mobile Checkout is that with a Chase bank account, merchants enjoy free same-day deposits for faster access to funds.
---
The Chase Smart POS Terminal is an in-person payment service designed to allow merchants to accept payments anywhere in the store, including curbside. It has the same mobile POS software with product catalog management, so the hardware can be set up as an extension of your countertop POS or an independent POS for smaller establishments. Like QuickAccept, it requires merchants to sign up for a Chase business deposit account.
---
Chase countertop and mobile terminals are in-store payment methods that do not require merchants to sign up for a Chase business deposit account. The device itself offers color screens and built-in receipt printing and supports on-screen tipping. It also allows users to accept swiped, dipped, and tapped payments within the store, including curbside, but it does not have mobile POS software, unlike the Smart POS terminal.
---
With Chase Payment Solutions, merchants can accept payments online through their ecommerce website or on any device with a browser via a payment gateway. This is made available through direct integrations with BigCommerce (for those with a Chase business deposit account) and Authorize.net.
BigCommerce: Chase offers direct integration with BigCommerce that allows users to create or redesign their website through BigCommerce's easy-to-use website builder tools. It also includes features such as inventory management, personalized shopping, fraud security, and more. Note that there is a monthly subscription fee to use this service ($29.95 to $299.95) and requires a Chase business deposit account. Read our BigCommerce review.
Authorize.net: Businesses that use Authorize.net with their Chase merchant account get access to features like custom payment buttons, recurring billing service, customer portal, and customer information manager that allows customers to save billing, payment, and shipping information. It also comes with a virtual terminal that lets users accept payments over the phone. Read our Authorize.net review.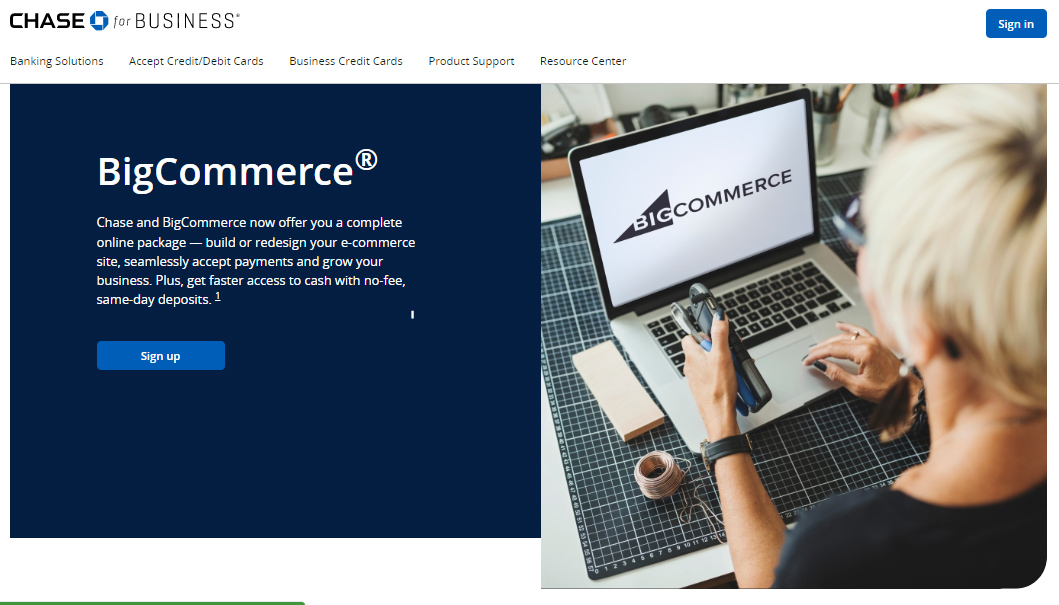 ---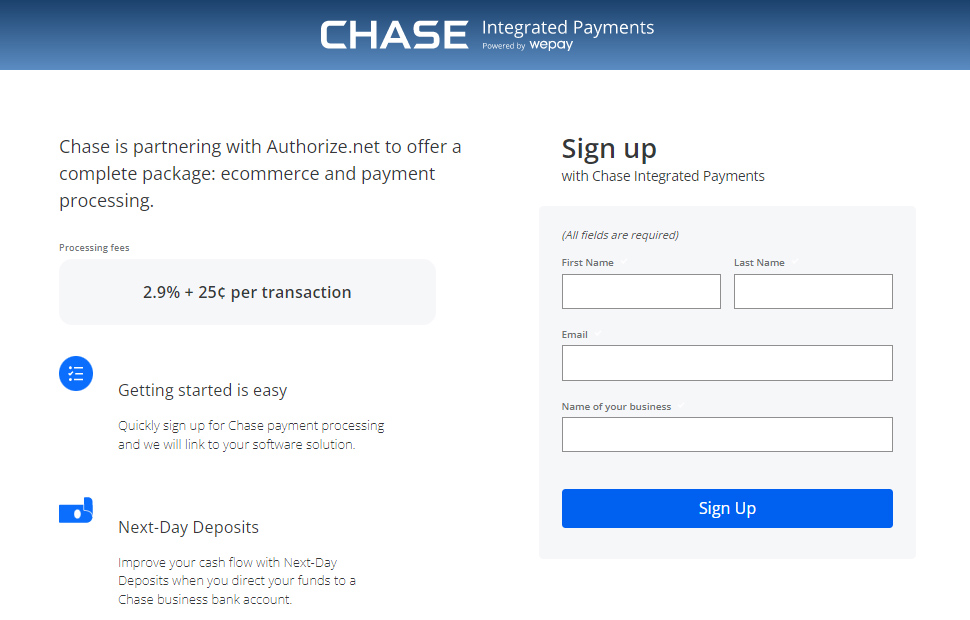 ---
---
Orbital is Chase Payment Solutions' proprietary virtual terminal that supports a wide range of online payment functions, including B2B payments. It allows merchants to process recurring billing, set custom taxes, cancel orders, issue refunds, view transaction histories, and safely save cards on file. The system is also equipped to accept cross-border payments and provide custom B2B transaction rates for merchants with high-ticket sales.
---
Chase Payment Solutions already stands out for offering free same-day deposits, faster access to funds and B2B and cross-border payment processing—all backed with advanced fraud detection and payment security you can expect from a well-established name in the banking industry. However, there is still a huge room for improvement in terms of business management tools, which are currently somewhat limited and mostly available only through paid integrations.
When Chase acquired Paymentech, it became a direct processor, meaning it works both as the payment processor and the acquiring bank in transactions. This streamlines the process of getting the money into your accounts, allowing you faster access to your funds without sacrificing security. Additionally, direct processors are naturally a hub for business integrations such as accounting, POS systems, and ecommerce platforms, so you get a variety of options for building your business.
However, having a merchant account with a direct processor doesn't automatically mean you get the lowest rates. It's still important that you do your due diligence and look around to find the best match for your business needs. What's great about a direct payment processor, though, is that you'll always get the best banking and financial tools, no matter the type of business you have.
---
Depending on the type of service you use, you can qualify for Chase's same-day deposits at no extra cost. Local businesses that process payments through Authorize.net and Chase Integrated Payments (powered by WePay) or deposit into a Chase business account are qualified automatically for same-day deposits upon signup.
If you have a Chase business checking account, generally you can get your funds the next business day. There are some conditions, such as having business credit approval.
---
Chase has several fraud protection tools for its business customers. You can set up dispute alerts, and Chase offers instructions on how to deal with chargebacks.
Fraud protection services: This applies to business checking account holders subscribed to check protection services, check monitoring, and ACH debit block service.
Check monitoring: This is a complimentary service for all Chase business checking customers.
Account alerts: The account alerts service is another free service from Chase, and you can get notifications on your phone for any activity on your account. Message and data rates may apply.
Zero liability protection: Chase will reimburse unauthorized debit card transactions for customers using certain platforms.
---
Chase offers a complete suite of business banking, from checking accounts to loans to credit cards. It also offers business services like global wire transfers.
---
Perhaps one of its biggest highlights for 2022 is the launch of Customer Insights—Chase's powerful business analytics tool, which provides users with actionable insights from customer data. It includes information—such as detailed sales overviews, shopping and purchasing trends, and in-depth customer profiles—that is compared against competitor data, which merchants can use to make critical business decisions.
Aside from harnessing Chase's massive merchant-acquiring and card-issuing data to produce game-changing insights, another great thing about this feature is that it's fairly easy to use and comes free with every Chase Payment Solutions merchant account.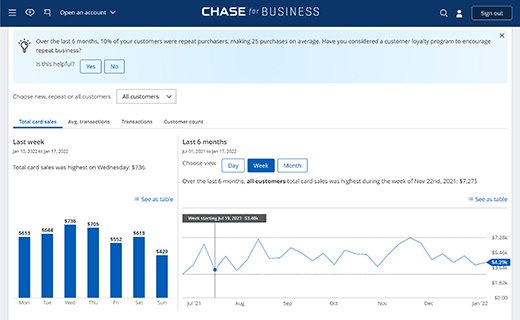 ---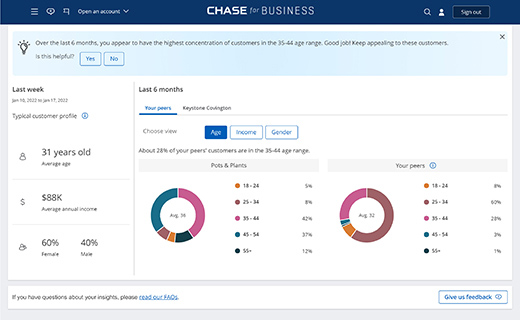 ---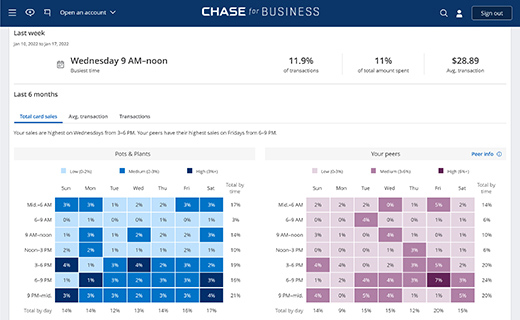 ---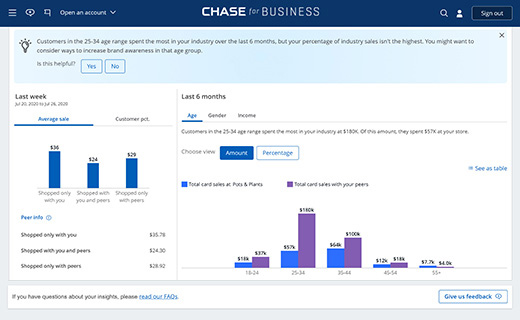 ---
---
Chase Payment Solutions supports a variety of integrations that cover everything from online payments to business management tools. Note that on top of unique transaction rates attached to each platform, most of these third-party integrations come with additional monthly costs, while some may require long-term contracts.
Some of Chase's notable integration partners are:
| | Additional Cost | Tools For |
| --- | --- | --- |
| Orbital (In-house) | Custom rates for B2B and large-ticket discounted rates | Virtual terminal |
| Authorize.net | Interchange pricing based on sales volume | Payment gateway |
| FreshBooks | Contact FreshBooks for monthly fees | Accounting and invoicing |
| BigCommerce | $29.95 to $299.95 per month | Website builder |
---
Chase Payment Solutions provides you with same-day deposits and next-day funding for certain services. This is one of the advantages of signing up with a direct processor like Chase.
---
Live support 24/7 year-round
Online support center with guides and articles
Online guides for hardware
Error message support online
The online resource and support section is a good place to start when getting to know your Chase hardware or software. While there are a few videos and FAQs, most of the articles are tutorials with clear steps and illustrations. There's also a section devoted exclusively to error codes, making it easy to troubleshoot and solve common problems. If you need further assistance, you can contact its support center anytime, night or day
---
It's easy to look at Chase as a large financial institution and think that it can provide better merchant services than smaller payment processors. But what sets Chase apart is its focus on expanding its small business solutions. It has not only diversified its suite of payment methods but also launched an advanced analytics tool that provides merchants with unique and very specific customer insights using Chase merchant-acquiring data and card issuing data.
In our evaluation, Chase lost points for pricing, specifically for chargeback fees and hardware cost, but it can also do well with a better selection of business integrations. With a promised "robust Chase Payment Solutions roadmap for 2023," what I'm really looking forward to seeing is Chase's plans for improving its support for business management tools to round out its small business services.
What Users Say of Chase Payment Solutions
There are zero new user reviews online since our last update. CardFellow still has the same number with an overall 2 out of 5 rating and complaints that include terminated accounts with little warning and bad customer service. To some, this lack of feedback could reflect poorly―the constant rebranding may have affected Chase Payment Solutions' popularity―while others would take the lack of recent negative reviews as a good sign.
Previously, there were about 40 customer complaints with the Better Business Bureau (BBB), which have all been closed. Considering that Chase is one of the largest credit card processors, this active response to Chase's customer service is an improvement. The rating has also been updated from B to A.
Methodology—How We Evaluated Chase Payment Solutions
We test each merchant account service provider ourselves to ensure an extensive review of the products. We then compare pricing methods and identify providers that offer zero monthly fees, pay-as-you-go terms, and low transaction rates. Finally, we evaluate each according to a range of payment processing features, scalability, and ease of use.
The result is our list of the best overall merchant services. However, we adjust the criteria when looking at specific use cases, such as for different business types and merchant categories. This is why every merchant services provider has multiple scores across our site depending on the use case you are looking for.
Click through the tabs below for our overall merchant services evaluation criteria:
25% of Overall Score
We awarded points to merchant account providers that don't require contracts and offer month-to-month or pay-as-you-go billing. Additionally, we prioritized providers that don't charge hefty monthly fees, cancellation fees, or chargeback fees and only included providers that offer competitive and predictable flat-rate or interchange-plus pricing. We also awarded points to processors that offer volume discounts, and extra points if those discounts are transparent or automated.
Chase somewhat struggled in this category. While it offers transparent and competitive pricing, it missed the mark for automated volume discounts, hardware costs, and chargeback fees.
30% of Overall Score
The best merchant accounts can accept various payment types, including POS and card-present transactions, mobile payments, contactless payments, ecommerce transactions, and ACH and e-check payments, and offer free virtual terminal and invoicing solutions for phone orders, recurring billing, and card-on-file payments.
Chase scored well in this section, only missing points for add-on fees
25% of Overall Score
We prioritized merchant accounts with free 24/7 phone and email support. Small businesses also need fast deposits, so payment processors offering free same- or next-day funding earned bonus points. Finally, we considered whether each system has affordable and flexible hardware options and offers any business management tools, like dispute and chargeback management, reporting, or customer management.
Chase Payment Solutions received a respectable score in this criterion, but points were docked for business management integrations.
20% of Overall Score
We judged each system based on its overall pricing and advertising transparency, ease of use (including account stability), popularity, and reputation among business owners and sites like Better Business Bureau. Finally, we considered how well each system works with other popular small business software, like accounting, point-of-sale, and ecommerce solutions.
Again, Chase scored well in this category, with minor points docked for pricing, popularity, and integrations.
*Percentages of overall score
Frequently Asked Questions (FAQs)
Do I need a Chase Business Deposit account to sign up for a merchant account?
No, there are Chase merchant services that do not require you to sign up for a Chase bank account. Small businesses can sign up for Chase Mobile Checkout (for in-person mobile payments), Chase Countertop and Mobile Terminal (for in-store payments), and Authorize.net integration (for online payments).
How much does Chase Payment Solutions charge for merchant services?
A Chase Payment Solutions merchant account is free to use and does not require a long-term contract. However, note that some tools such as integrations and credit card readers require a separate fee. Check out other free merchant accounts with additional business management features.
Is Chase Payment Solutions good for merchant services?
Chase is the best merchant service option for small merchants who already have a Chase deposit account. This cuts a significant amount of the application process plus free same-day deposits and access to funds. For other small businesses that require more affordable transaction rates, consider our list of cheapest credit card processing options.
Bottom Line
Chase is a major bank and credit card processor with a merchant account service that integrates with more than 140 applications. With its pivot to make Chase more accessible to small businesses, merchants can enjoy better transaction rates, faster access to funds, and security from a strong banking infrastructure. If you already have a Chase deposit account or are planning to open one for your business, contact Chase for a custom quote.