2022 Authorize.net Payment Gateway Review: Pricing & Features
This article is part of a larger series on Payments.
Authorize.net is a Visa-owned company that offers one of the oldest and most trusted ecommerce payment solutions. However, it's important to note that Authorize.net is not a merchant account or payment processor. It is a payment gateway that can facilitate virtual terminal, phone, recurring, mobile, e-check, and virtual point-of-sale (POS) payments.
You'll need a separate merchant account to use the platform, which you can sign up for separately or through Authorize.net. This means you can shop around for the best payment processors that fit your budget to create a tech ecosystem tailored to your business needs.
Authorize.net Payment Gateway

What We Like
Easy to set up and use
Extremely reliable
Discounted rates available for nonprofits
Free mobile app
What's Missing
Has a monthly fee
Lacks some reporting and in-person payment features
Requires separate merchant account
Deciding Factors
Monthly fee: $25 per month
All-in-one transaction fee: 2.9% + 30 cents
Payment gateway transaction fee: 10 cents per transaction + 10-cent daily batch fee
International payments fee: 1.5% per transaction
E-check processing fee: 0.75% per transaction
Automatic card updater: 25 cents per update
Chargeback fee: $25 per chargeback
Verbal authorization fee: $1.20 per transaction
No setup or cancellation fees
When to Use Authorize.net
Authorize.net offers one of the more flexible options for accepting payments online. It's secure, reliable, feature-packed, and compatible with many payment processors. However, since Authorize.net has its origins as an online payment gateway, storefronts and brick-and-mortar businesses may be better suited with a different payment processor.
In particular, Authorize.net is best for:
Secure payment gateway: Authorize.net is a PCI-compliant payment gateway that works with many payment processors, POS systems, ecommerce platforms, and website builders to add payment processing to just about any setup. It also has top-notch security and anti-fraud features to protect both your business and your customers.
International merchant accounts: Authorize.net allows you to accept international payments using more than 140 payment solutions, along with a wide selection of software integrations.
When to Use an Alternative
Top Authorize.net Alternatives & Fees Comparison
| | | | |
| --- | --- | --- | --- |
| | | | |
| Best for | Small and midsize businesses with growth goals | Online businesses accepting B2B payments | Merchants needing a simple online payments solution |
| Monthly fee | $99–$199 | $0/month | Starts at $0/month |
| Card-present transaction fee | Interchange + 8 cents | 2.7% + 5 cents | 2.29% + 9 cents |
| Keyed transaction fee | Interchange + 15 cents | 2.9% + 30 cents | 3.5% + 49 cents |
| Ecommerce transaction fee | Interchange + 15 cents | From 2.9% + 30 cents | Starts at 2.59% + 49 cents |
| | | | |
The payment processing rates you will pay can vary based on your business's size, type, and average order value. To find the most affordable option and compare multiple processing rates, explore our guide on the cheapest credit card processing companies.
Since Our Last Update: In April 2021, Authorize.net launched a partnership with Everyware, a two-way communication software that allows users to accept payments via SMS through a payment link. We also take a closer look into Authorize.net's pricing, payment features with in-person payment solutions, and terms of service.
Authorize.net Pricing
Authorize.net has two core plans: the All-in-One package that includes the payment gateway and merchant account (it'll set you up with a third-party processor) and a payment gateway-only option. There are no setup or cancellation fees, but you will be charged a monthly fee of $25 for either plan.
Some services and fees are applicable depending on the type of account. Processing fees are broken down as such:
| | Payment Gateway Only | All-In-One Account |
| --- | --- | --- |
| Monthly fee | $25 | $25 |
| Transaction fee | 10 cents per transaction + 10-cent daily batch fee | 2.9% + 30 cents |
| Merchant account w/ Authorize.net partner | N/A | Included |
| Payment gateway | Included | Included |
| Setup fee | $0 | $0 |
| International payment processing | N/A | 1.5% per transaction |
| Chargeback fee | N/A | $25 per chargeback |
| Verbal authorization | N/A | $1.20 per transaction |
| Recurring billing service | Included | Included |
| Fraud detection service | Included | Included |
| Customer management service | Included | Included |
Discounted rates are available to nonprofit organizations. Both plans come with free recurring billing, fraud detection, and customer management tools. On the other hand, payment processing for e-checks costs an additional 0.75% per transaction. And if you accept automatic recurring payments, Authorize.net offers an optional card updating service at 25 cents per update.
Please note that while not advertised, Authorize.net may charge other fees such as for returned and late payment. Fees for your requested additional services will be found within the Additional Service documentation page accessed at the time of enrollment. Your exact fee schedule will be determined by Authorize.net during the application and approval process.
To view your monthly billing statement, log in to the merchant interface and go to Statements > Billing.
Authorize.net Hardware
Authorize.net doesn't have its own hardware, but has a long list of compatible platforms and integrations. So, you can use your existing hardware or purchase a new system to set up with your Authorize.net payments.
However, the provider offers a free mobile POS app, which supports a couple of mobile credit card readers.
Authorize.net ID Tech Augusta USB Smart Card Reader

BBPOS Chipper™ 2X

Best for: Users with a First Data Nashville (FDC Nashville) merchant account

Best for: Users who want more flexible payment processing

EMV chip and magnetic stripe reader
USB connection
EMV payments accepted only through FDC Nashville merchant account

Comes with Bluetooth or Audio Jack versions
USB Connection
EMV payments accepted through a number of merchant account providers

$195 or $11.10/mo.

Bluetooth: $130 or $5.66/mo.

Audio Jack: $65 or $5.66/mo.
Those with a merchant account with Wells Fargo and PaySafe should contact Authorize.net's customer support to find out about compatible card readers. Other in-person hardware and accessories compatible with the platform can be found in the partner POS portal.
Authorize.net Features
Setup & Application
As Authorize.net is a purely payment gateway service, you will need your own merchant account. If you don't have one, you can sign up for an all-in-one service, which includes a merchant account with an Authorize.net partner or choose to contact a reseller like Worldpay, TSYS, and Wells Fargo for a merchant account with an Authorize.net integration.
Most applications qualify for validation through Authorize.net's automated underwriting system; however, other businesses may be flagged for considerable risk, in which case, approval can take as long as two business days. Authorize.net will offer assistance in migrating data over from another platform, and there are no associated setup fees. Merchants don't have to sign up for a long-term contract, either, an added benefit.
Note that there are significant differences in the application forms of the payment gateway-only and all-in-one options, including the schedule of standard and additional fees.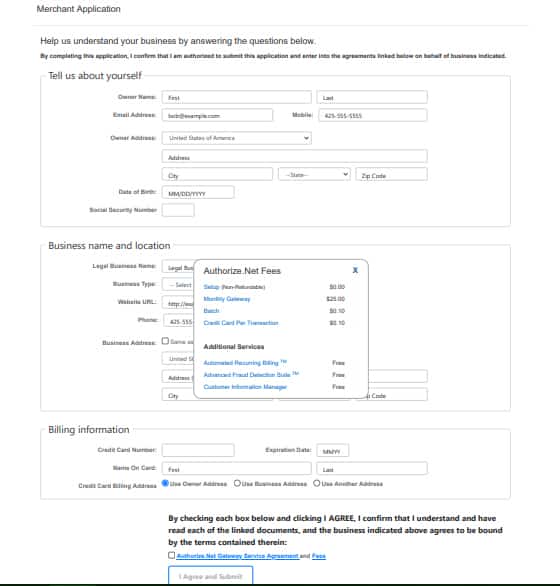 ---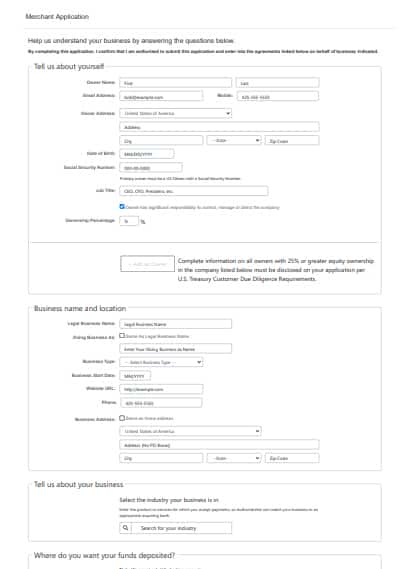 ---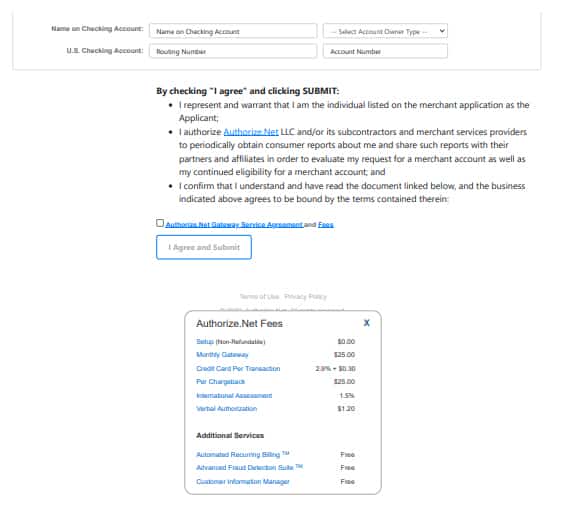 ---
Contract & Terms of Service
The Authorize.net merchant agreement is anchored on a payment gateway service. Adding a merchant account subscription through Authorize.net's payment processing partners means additional services and additional fees. Don't hesitate to ask an Authorize.net sales representative for all the details.
Some stipulations of note within the merchant agreement are as follows:
Late payment fee is imposed 15 days after bill is due
Authorize.net may suspend or terminate your service if it receives notice of your merchant account services termination from your merchant account provider
Ecommerce Payments
You can use Authorize.net to quickly and easily embed a "buy now" button on your existing website. Nonprofits can use the "donate now" embed option. These hosted payment forms are PCI compliant and compatible for simple and advanced customization requirements.
Simple Checkout is an easy-to-use HTML code generator you can find on your merchant interface. After customizing the settings for your payment button, copy and paste the HTML code on your website and immediately start accepting payments.
For a more customized payment page, Authorize.net has a set of tools called Accept Suite, designed for developers looking to create a more streamlined checkout experience. It allows you to design a customized payment form from scratch and gives you the option to either host it on your own website or embed as an Authorize.net hosted form while still maintaining PCI DSS compliance.
Authorize.net also lets you accept e-check payments through its virtual terminal at a rate of 0.75% per transaction. It is included with your daily batch processing but will take up to three business days for funds to reach your bank. Most businesses use this service over paper checks because it is processed faster and works well if you regularly accept subscription or invoiced based payments.
---
In-person Payments
Although not that well known, Authorize.net does support in-person payments. It has an mPOS software (allows you to connect a card reader to your mobile device) and a vPOS (lets you process in-person payments on a desktop). Both are free to download and give you the ability to accept swiped and EMV payments. However, the biggest downside is that not all card readers and payment methods are available to Authorize.net payment processor partners.
---
Compatible Card Readers & Payment Processors
| Processor* | EMV Payments | Swiped Payments |
| --- | --- | --- |
| First Data (FDC Nashville) | ✓ | ✓ |
| TSYS | ✓ | ✓ |
| WorldPay/Vantiv | ✕ | ✓ |
| Paymentech (Now Chase Paymentech) | ✕ | ✓ |
| Global | ✕ | ✓ |
| WePay | ✕ | ✕ |
| EVO | ✕ | ✕ |
| Elavon | ✕ | ✓ |
| EPX | ✓ | ✓ |
*To determine your merchant processor, go to your merchant interface: Account > Merchant Profile > Payment Methods.
Additionally, reviews for the mPOS app are less than encouraging, earning 3.2 out of 5 stars from about 160 reviews on Google Play and 2.6 out of 5 stars from around 190 reviews from the App Store. Users unanimously raise concerns over features not working properly and card readers getting disconnected.
---
Digital Invoicing & Automatic Recurring Billing
Those accepting payments through invoice—such as wholesalers and subscription-based businesses—will find Authorize.net's digital invoicing and recurring billing features an advantage. Not only does it come free with a payment gateway subscription, but these features also do not require any integration. So, you can start sending invoices for one-time and recurring payments as soon as you have customized your settings.
Customizing your digital invoice is easy, allowing you to include discounts and accept partial payments in the form of card or echeck payments. For subscriptions and repeat customers, Authorize.net's recurring payments tools allow you to save billing and payment information for a faster, automatic payment option. The responsive invoice design makes it easy for customers to read and make payments on any device.
---
Customer Information Management
Authorize.net will save cards on file, billing information, and shipping locations for each customer to make it easier for returning customers to complete future purchases. Each profile can hold up to 10 payments and 100 shipping details and can be used within your merchant interface or on your website through an API. And because Authorize.net stores your customer information within its secure servers, you will always be PCI compliant.
However, while there's a mention of integrating this feature on your website, there is no reference to creating a customer portal, which would allow your customers to sign up and manage their own profile. That said, APIs are available, so contact Authorize.net's technical support to ask for options.
---
Advanced Fraud Protection
Authorize.net's Advanced Fraud Detection Suite (AFDS) helps identify, manage, and prevent suspicious and potentially fraudulent transactions, which can be costly. It lets you customize fraud detection with 13 rules-based filters and tools such as country limitations and payment velocity settings to suit your business model. You can also set up per-transaction notifications to alert you of suspicious activity as soon as it happens. What's best about this feature is that unlike popular payment gateways, it is included with Authorize.net's monthly subscription.
---
Authorize.net Ease of Use
Simple Merchant Interface
Because it's a specific platform with a narrow focus, the interface isn't too cumbersome or overwhelming. People find it easy to get acclimated with the tool. Authorize.net was made to fit into a lot of existing platforms and processes, so it has a ton of integration options that make it easy to add to your existing merchant account and business software. It has integrations for ecommerce platforms, POS systems, accounting, and tools for pretty much every aspect of your business.
Integrations
Most payment processors offer Authorize.net alongside their built-in payment gateways as an alternative or an add-on. Authorize.net is partnered with about 160 software development platforms and 145 systems ranging from accounting software to POS hardware. Additionally, its open API makes it flexible enough to work with third-party and custom-built technologies.
Customer Support
Customer support is available via phone 24/7, except on major holidays. Merchants can also submit an online support case or use Authorize.net's live chat. There's even an online support center with an FAQ section, where merchants can troubleshoot issues themselves.
What Users Think of Authorize.net
The majority of Authorize.net customers like the platform. They like that it provides peace of mind with its security features and is easy to integrate with other solutions. On the flip side, some users note a dated interface and complex dashboard.
G2: Authorize.net has 3.9 out of 5 stars from around 120 reviews. Reviewers love the straightforward platform, though there is a small learning curve in getting used to the dashboard. One user mentioned that searching for transactions isn't easy.
Capterra: Authorize.net gets 4.3 out of 5 stars from about 130 reviews for its security, integrations, and reliability. Negative comments are centered around fraud prevention and difficulty reaching customer support.
We noticed the following trends when reading through Authorize.net reviews:
| Users Like | Users Don't Like |
| --- | --- |
| Fair pricing | Clunky design |
| Integration options | Limited search options |
| Customizable security settings | Limited report generation features |
| Easy to set up | Customer support is hard to reach |
Bottom Line
Ultimately, Authorize.net is a great payment processing tool for merchants needing secure, reliable online transactions. It has flexible pricing and plans and many integrations, so you can set up your tech stack according to your business needs.