Shopify is consistently regarded as one of the best ecommerce website builders, but it's not the only option you have, and it may not be the best option for you. The powerhouse site builder, Squarespace, is also ecommerce-enabled, in addition to offering cheaper plans and a more user-friendly site editor. So which is right for you, your budget, and your online store? Let's compare Shopify vs Squarespace to find out.
Shopify: Best for omnichannel selling across multiple sites and in-person
Squarespace: Best for the average online store that wants an affordable ecommerce site that looks great
Shopify vs Squarespace at a Glance
*If paid annually (only showing commerce plans)
Best for Price: Squarespace
To fairly compare Shopify vs Squarespace, you'd have to look at Squarespace's Business plan for $18 per month, enabling you to sell and process payments online. Shopify starts at $29 per month. Keep in mind that Squarespace offers more than 200 templates for free, whereas Shopify only offers nine free themes—any other theme will cost you $100 to $180 each.
There are a few other factors to consider. Shopify offers its own payments solution, which costs 2.9% plus 30 cents per transaction. Choose a different payment processor, and you'll have to pay Shopify .5% to 2% per transaction, depending on the plan you pick (that's on top of whatever your rate is with your payment provider). Squarespace lets you choose your own payment processor (but you're limited to a handful of providers), and with the Basic Commerce plan, you won't pay any transaction fees to Squarespace.
Winner: Squarespace is more affordable at each tier, and it includes a ton of value with its free templates and zero transaction fee for the Basic Ecommerce plan.
Best for Ease of Use: Squarespace
One of the best features of Squarespace is how intuitive it is to use compared to Shopify. You can start customizing the look of your Squarespace site and online store right away. Although Shopify is easy to use, it isn't instantly intuitive. You have a few clicks to make before you even make it into the editor, and once you're there, it still isn't completely clear what you should do next.
Building a Site With Shopify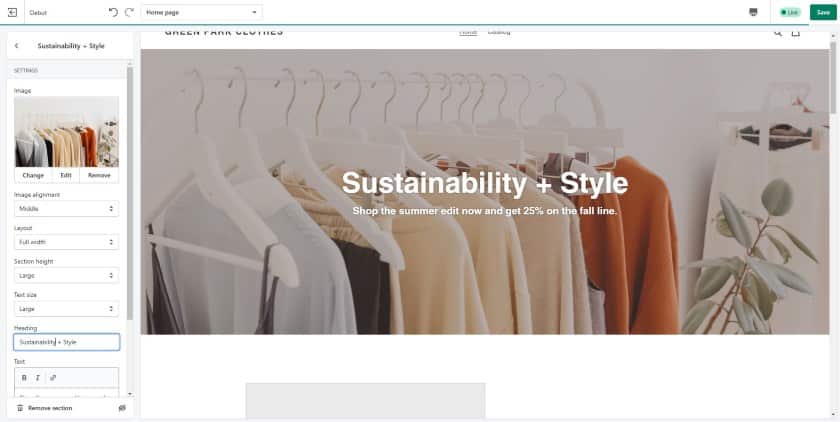 Shopify is an ecommerce solution first and a website builder second. Perhaps that's why the editor seems almost like an afterthought. You'll set up a Shopify store by adding products first. You can add product details, including descriptions, variants, photos, pricing, shipping information, and SKU numbers.
When you're ready to work on the look of your Shopify site and online store, you'll choose a theme and then go into the editor to customize. It isn't immediately apparent that you'll use the left menu to make changes to images and text on each page. Although Shopify gives you a visual editor and it's easy to use, it does have a slight learning curve.
Building a Site With Squarespace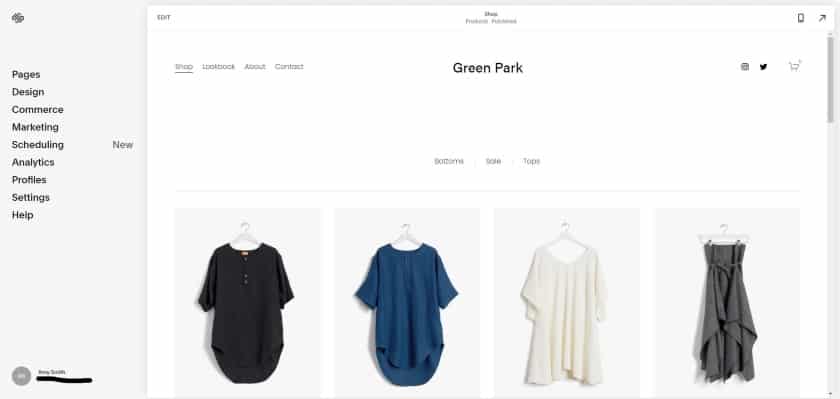 Squarespace puts design first, which seems to be why it throws you right into the editor once you choose a theme you like. Building a Squarespace site is easy—just click on whichever element on a page you want to change and do it. It helps that the images and text from the template are still there to help you picture what a professional site should look like. Then you can add products and their details.
The drag-and-drop visual editor that Squarespace provides makes it simple to add or remove any element on a page. Changing a template is easy—just pick another and swap it over (on the 7.0 editor). So, there's no need to start all over with your content in most cases.
Winner: Squarespace has created an editor that's intuitive with its on-page editing and drag-and-drop interface.
Best for Design: Squarespace
It's almost an unfair fight to pit Shopify vs Squarespace in the design arena. Squarespace always puts design first, and it shows in the more than 200 templates available to users for free. Each one is crafted to show off a website owner's art, portfolio, or products. Customizing designs is a bit easier with Squarespace, but you're still limited to the template's basic design—good thing there are so many to choose from.
Shopify was built to be an online store creator, so ecommerce comes first. That isn't to say that Shopify's designs aren't good, but you only get nine free themes and 64 paid themes ($100 to $180 each). If you stick with the free options, you'll be limited to extremely simple designs that are difficult to customize to make them unique.
Winner: Squarespace is the clear winner here in terms of quality of design and quantity of templates.
Most Comprehensive Ecommerce Solution: Shopify
Both Shopify and Squarespace are both high-quality options for those who want to build an online store. Either one will let you list an unlimited number of products, and you can sell digital or physical goods, subscriptions, or services. The decision of which is better for you depends on which ecommerce features your business demands.
Shopify lets you sell subscriptions at the lowest plan, and it gives you abandoned cart recovery, but you'll have to get the highest-priced plan on Squarespace for those features. Shopify also allows for multiple currencies, automatic tax rating, and more advanced point-of-sale (POS) solutions for selling in-person. Squarespace is a better choice for those who only plan to sell in a single currency in the United States and don't require a storefront POS solution.
Winner: Shopify focuses solely on ecommerce, and it shows in all the advanced ecommerce features.
Best for Functionality: Shopify
When it comes to choosing which is best for functionality, Shopify or Squarespace, it comes down to your needs. There's native functionality, and then there's the added functionality from apps. Shopify has more than 5,400 apps you can use, and that number is always increasing. Squarespace only has 24 extensions that you can use to, well, extend its functionality.
Shopify's inventory and product management feature is more advanced compared to Squarespace. For example, you can automate product categorization, which is a big deal for sellers that have large inventories. Dropshipping is going to be easier with Shopify, as it lets you use Oberlo, but Squarespace only includes Printful.
Winner: Shopify wins because it offers more advanced native functionality, and more than 5,400 apps to extend its functionality.
Best Customization Capabilities: Squarespace
Customization in any website builder is going to come with limitations because you're using a toolset rather than building a custom solution on a platform, such as
WordPress
. You can customize the functionality and design of both Shopify and Squarespace, but you have fewer limitations with Squarespace.
Squarespace makes it much easier to customize, such as with template switching. Another standout feature is how Squarespace handles product image sizing. You can set the ratio for all product images, so you get consistency across your site. Plus, Squarespace includes an easy-to-use content management system (CMS), so you can include blogs on your site.
Shopify recently upgraded its editor, so it's much easier to change fonts and colors, for example (earlier versions required you to edit code). Blogging on Shopify is easy enough, but customizing each blog is a bit trickier because the CMS is so limiting. You can change fonts, add an image, and such, but the layout isn't as customizable as with Squarespace.
Winner: Squarespace wins this one because it includes a better set of tools for customizing layouts, designs, and images across all areas of a site.
Best Customer Support: Shopify
The biggest difference between Shopify and Squarespace in terms of customer support is a single channel. Shopify offers phone support, while Squarespace doesn't. Otherwise, the two ecommerce solutions are fairly similar. They both offer 24/7 support via email. Squarespace offers live chat support on weekdays from 5:30 a.m. to 8 p.m. Eastern Time, whereas Shopify has 24/7 live chat support. They'll both help out via Twitter, but Squarespace makes this a bit more known. Both have robust knowledge bases with guides, tips, and videos to help.
Winner: Shopify wins here because it gives round-the-clock support via phone, live chat, email, and social media.
Best Alternatives
If you're still on the fence and neither Shopify nor Squarespace seem to quite fit your needs, there are lots of Squarespace alternatives you should consider. For example, Weebly is a top ecommerce website builder that offers the ease of use of Squarespace, but with a long list of features designed to help you sell online like Shopify.
Check out these top alternatives to Shopify and Squarespace:
Weebly: Best for those who want a provider packed with ecommerce features, like Shopify, but with the ease of use and design flexibility of Squarespace
Wix: Best for those who want to easily build an online store like Squarespace, but with even more design freedom with a true drag-and-drop editor
WordPress: Best for those who want nearly limitless ecommerce capabilities and do not mind a steep learning curve or have the budget to hire a web designer
All three of the website builders above make the list of the best website builders, so you can't really go wrong, regardless of which you choose.
Frequently Asked Questions (FAQs)
Is Squarespace good for ecommerce?
Squarespace offers a platform and pricing plans specifically for online stores, so yes, it's a good fit for anyone who wants to start selling online. You can sell almost anything with a Squarespace online store, and the pricing is reasonable for a large feature set. There are some limitations when it comes to payment processors and brick-and-mortar shops, though.
Can you use Shopify with Squarespace?
If you already have a Squarespace website, it might make more sense for you to add a Shopify buy button to sell products. Shopify Lite ($9 per month) allows you to do this without having to create a full-fledged online store. Learn how you can also use Shopify on Facebook to sell.
Is Shopify suitable for beginners?
Yes, Shopify is a good choice for beginners to ecommerce. There's going to be a learning curve involved. Though it's not the most user-friendly website builder on the market, Shopify is generally considered easy to use—especially in comparison to WordPress. Shopify is considered one of the best eCommerce platforms, so it's a great pick for beginners and online stores of all sizes.
Bottom Line
Shopify and Squarespace are excellent choices for building an eCommerce or small business website. Each offers robust feature sets and easy-to-use editors. Squarespace is the best choice for anyone who wants to start an ecommerce site because it's affordable, customizable, and offers some of the most impressive designs. The Squarespace Business plan starts at $18 per month—making it a lot more affordable than Shopify, and you can try it free for 14 days.
You Might Also Like…