Stripe vs PayPal: Which Online Payment Processor Is Best?
This article is part of a larger series on Payments.
Looking for a high-quality, reasonably priced payment processing service that handles online sales and international currencies? Both Stripe and PayPal are excellent choices. We like Stripe for international sales and B2B businesses, while PayPal is great for small businesses, solopreneurs, and as an additional payment method to any website or online store.
Stripe: Best for tech-savvy startups and growing ecommerce businesses, B2B sales, and international sales
PayPal: Best for small or casual retailers and those needing an additional payment option
Stripe vs PayPal Quick Comparison
Best for

Businesses focused on online sales and international markets

Small or casual retailers and an additional payment choice

Monthly fee

$0

$0

Processing fee

2.9% + 30 cents per transaction

1.9% + 49 cents to 3.49% + 49 cents

Average payout time

2 business days, per a schedule you set; instant payout for 1%, minimum 50 cents

Next day, or instant for 1%, maximum $10

Online payments

Integrate with ecommerce, mobile apps, CRM software, and more

Integrate with ecommerce, mobile apps, CRM software, and more

POS features

Custom build or connect to existing POS

PayPal Zettle and third-party solutions

POS Hardware

Offers both proprietary and pre-certified card readers

Card-readers, all-in-one register, accessories

Integrations

710 in areas of payments, operations, marketing, and finance

Over 1,000 in areas of payments, growing business, operations, ecommerce, and marketplaces

Inactivity fee

$0

$0

Ease of use

Good

Very Good

Customer service

24/7 chat and phone support, email, resource library

Phone support hours: 5 a.m.–8 p.m. M-F, 6 a.m.–6 p.m. Sat. and Sun. (Pacific time)

24/7 chat support, in-app troubleshooting, FAQs, resource library
Compare Stripe vs PayPal fees. Enter an estimate of your monthly sales data in the calculator below:
Stripe vs PayPal Calculator
Using Stripe vs Using PayPal
Stripe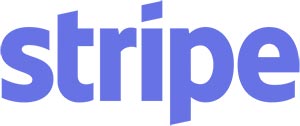 What We Like
Free merchant account
Highly customizable, secure platform
Low-cost ACH processing
Powerful, well-documented APIs
What's Missing
Limited option for in-person processing
Complex installation process
Lacks a POS and a reporting solution
Expensive chargeback fee
Stripe Is Best For
Creating a fully customizable and secure checkout: Stripe comes with customizable security features for checkout carts along with assurance of strict PCI (Payment Card Industry) compliance in its free account.
Fast-growing ecommerce businesses or service providers: Software developers can scale their business' checkout process using reliable APIs and integrations.
Local and international B2B businesses: Stripe accepts international transactions for over 135 currencies and processes extremely small, as well as large, payments. It handles recurring billing, invoicing, and domestic ACH transactions.
PayPal

What We Like
Seamless online checkout integration
Known and trusted platform by consumers
Instant deposits into your PayPal account
Discounted processing fees for nonprofits
What's Missing
Unpredictable freezing of funds
Expensive for international payments
No offline payment processing
Few POS features and benefits
PayPal Is Best For
Quickly adding online payments to your business: Provides a simple and easy way to add payment options on your checkout page with secure payment buttons.
Boosting online conversions: PayPal is recognized as one of the most trusted security seals in the payments industry and online shoppers may be more willing to make a purchase knowing it's backed and protected by PayPal.
Processing low-volume and occasional in-person payments: PayPal has no monthly or cancellation fees for accepting card payments, so you can use the payment processor and pay for it only when you need it.
Key Differences Between Stripe & PayPal
PayPal's transaction fees are more complex compared to those of Stripe. Stripe charges a simple 2.7% + 5 cents for in person and 2.9% + 30 cents flat rate for online payments, vs PayPal's fees, which range from 1.9% + 49 cents to 3.5% + 49 cents per transaction.
Stripe offers volume discounts for businesses that process large volumes of transactions while PayPal does not.
Stripe can be integrated to numerous point-of-sale (POS) systems while PayPal offers its own POS app, PayPal Zettle.
While both offer pay-as-you-go and free plans, PayPal requires a $30 monthly fee for the use of its virtual terminal and recurring payments
PayPal offers simple plug-and-play checkout solutions while Stripe requires some technical skill to add its checkout templates on your website.
Both PayPal and Stripe offer micropayment transactions, however, PayPal comes with a built-in dynamic transaction fee method while you need to contact Stripe to sign up for its microtransaction program.
PayPal offers instant fund access with PayPal balance while Stripe's charges a fee for instant payouts.
Not sure which option is the best for you? Take this 2-minute quiz
When to Use an Alternative
If you run a small business that also makes in-person sales, you will be better off using an all-in-one merchant services solution like Square Payments. Like Stripe and PayPal, Square provides you with a host of tools to process online transactions but stands out because it includes a built-in, fully integrated ecommerce, mobile, and in-store POS features—all in a free plan.
Here are the top Stripe and PayPal payment processing alternatives:
| | | | |
| --- | --- | --- | --- |
| | | | |
| Best for | Low-volume merchants with less than $10,000 monthly transactions | Low-cost payment processing w/free POS | High-volume merchants |
| Monthly fee | Starts at $0 | $0 | Starts at $59 |
| Card-present transaction fee | 2.6% + 10 cents | Interchange plus 0.1%–0.3% + 5–8 cents | Interchange + 8 cents |
| Keyed transaction fee | 3.5% + 15 cents | Interchange plus 0.2%–0.5% + 10–25 cents | Interchange + 15 cents |
| Ecommerce transaction fee | 2.9% + 30 cents | Interchange plus 0.2%–0.5% + 10–25 cents | Interchange + 15 cents |
| | | | |
Square's flat-rate transaction fees are also one of the most competitive rates in the market today, and Square tops our list of best merchant services for small businesses and individuals.
Find out how Square stacks up against Stripe and PayPal
If you're looking for a more specific solution, both Stripe and PayPal frequently make our lists of the following:
Best for Affordability: Stripe
Monthly POS subscription

Varies (third party)

$0

Monthly ecommerce subscription

Varies (third party)

$0, $25/month for use of payment gateway

Card reader pricing

$59

$29–$79

Terminal and register pricing

$249

(Wise Mobile POS Terminal)

Virtual Terminal $30/month, All-in-One, call for pricing

Card-present transaction fees

2.7% + 5 cents, 2.9% + 30 cents for touchless

2.29% + 9 cents to 2.7%

Ecommerce transaction fees

2.9% + 30 cents

2.9% + 49 cents

Virtual terminal transaction fees

2.9% + 30 cents (terminal not provided)

3.09% + 49 cents

ACH transaction fees

0.8%, $5 cap

E-checks vary, $300 cap; Upgrade to Braintree for ACH

Invoice fee

2.9% + 30 cents plus 0.4%–0.5% per invoice, depending on plan

3.49% + 49 cents plus $10–$30/month for recurring billing/payments

Chargeback fees

$15

$20 US (varies by country) + potential dispute fees ($15 US)

Failed transactions fees

$4 to $15, depending on the type of transaction

$0

Special pricing for nonprofits

Custom, discounted

1.99% + 49 cents to 2.89% + 49 cents

High-volume discounts

Offers custom rates

None
We choose Stripe as the overall winner for affordability. Its payment processing fees are overall less expensive and easier to understand. PayPal, on the other hand, has a long list of differing payments for varying situations, plus different fees for individual countries.
Why We Choose Stripe
Stipe has a simpler, less expensive schedule of fees, discounts for high-volume sales and nonprofits, and lower chargeback fees. If you primarily handle online sales or need a full POS system, it's the more economical choice.
When to Choose PayPal
For businesses with very basic POS needs, such as retailers at farmers markets, food trucks, or stores with limited inventories, the PayPal Zettle mobile app may have sufficient POS capability for free. For an advanced POS system, you'll need to go to a third party, just like with Stripe. Learn more in our PayPal Zettle review.
PayPal offers excellent rates for nonprofits and deserves consideration. However, the main reason to choose PayPal as a payment processor is if you want an affordable, trusted alternative for your customers.
Best for Ecommerce Payments: Tied
| | | |
| --- | --- | --- |
| | | |
| | | |
| Ecommerce payment tools subscription | Varies (third party) | $0, $25/month for payment gateway |
| Online transaction fee | 2.9% + 30 cents, plus, $0–$2/active user/month | 2.59% + 49 cents |
| Payment types | Credit card, debit card, digital wallets, ACH, gift cards | Credit card, debit card, digital wallets, e-check, digital gift cards, bitcoin, Venmo |
| Accepts international payments | 135 currencies, 1.5% fee, 1% spread for currency conversion | 24 currencies, 1.5% fee, 4% spread for currency conversion |
| Card on file | Included | Included |
| In-person payment tools | Included | Included |
| Multichannel (eBay, Amazon) | With third-party integrations | eBay, WooCommerce, Magento, Amazon (via third party) |
| Buy buttons | Stripe Payments | PayPal button generator, PayPal standard integration, PayPal advanced integration |
| Social selling | Stripe Payment Link, Stripe Connect | Payment link, Seller Profile for personal PayPal accounts |
| Ecommerce integrations | 239 | 33 online stores, 18 marketplaces, 17 website design systems, shipping label tools, and many others not mentioned on the website |
| PCI compliance | Included | Included |
| Fraud protection | Chargeback protection, advanced machine-learning fraud protection, ID verification | Seller protection against chargebacks, transaction monitoring |
| | | |
We called a tie for ecommerce payments between Stripe and PayPal. While both providers are focused primarily on online payment solutions, their best features are directed to different user types.
When to Use Stripe
If your online business regularly handles large-volume transactions for both local and international customers, such as B2B, Stripe is the better option. While it requires third-party integrations for ecommerce and multichannel tools, Stripe's advanced fraud protection measures ensure security for active businesses that constantly accept online payments. It also offers a simple flat rate for processing online transactions, and charges less for currency conversion compared to PayPal.
When to Use PayPal
PayPal is the better choice for smaller businesses, as well as those that sell occasionally, such as hobbyists or those participating in trade fairs. It provides more payment flexibility compared to Stripe, with Venmo and bitcoin on its list, plus built-in Buy Now, Pay Later and PayPal Credit options to encourage more customers to buy (Stripe integrates with Afterpay to offer its own Buy Now, Pay Later payment method). Users with only personal accounts on PayPal can even create a seller profile, which can be used to sell products on social media.
When to Use an Alternative: Shopify
If you plan on extending your ecommerce business and increasing revenue through multichannel sales, we recommend using Shopify instead. It is an all-in-one ecommerce solution that offers payments and a free POS solution. It is also fully integrated, so your inventory is automatically synced whether you process a sale in person, via mobile, over social media, or on your website. Read our Shopify ecommerce and Shopify POS reviews.
Best for Micropayments: PayPal
| | | |
| --- | --- | --- |
| | | |
| | | |
| Minimum transaction value | 50 cents | 1 cent |
| Micropayment fee | 5% + 5 cents* | 4.99% + 9 cents or applicable standard transaction rate |
| Payout speed | Instant with Stripe Corporate Card, and Instant transfer w/ fee | Instant with PayPal balance, PayPal Debit Card (also called PayPal Cash Card), and Instant transfer w/ fee |
| Peer-to-peer transactions | N/A | Via Venmo |
| Micropayment methods | Sharable link, digital wallets | Sharable link, QR code, Venmo, digital wallets |
| | | |
*Must contact Stripe to apply for a custom microtransaction rate.
PayPal offers a dynamic transaction fee method for accepting micropayment transactions. On the other hand, Stripe does not publicly disclose a microtransaction program, but if you contact Stripe Support, you may be eligible for a custom micropayment rate, which is typically quoted at 5% + 5 cents for transactions under $5.
Another drawback to Stripe is that opting into a custom rate, even for microtransactions, means that you will be charged 5 cents for every attempted transaction that goes through the Stripe Radar security program. These fees are waived for businesses using Stripe's standard pricing.
Why We Choose PayPal
PayPal is our choice for micropayments, mainly because it is more upfront with its micropayment fees. Businesses that directly open a business account with PayPal are automatically enrolled in its dynamic micropayment pricing scheme. This means you receive the more favorable rate between micropayment fee or standard commercial transaction fee for every transaction.
PayPal also has more methods for accepting micropayments, supports peer-to-peer transactions, and provides easier access to your funds.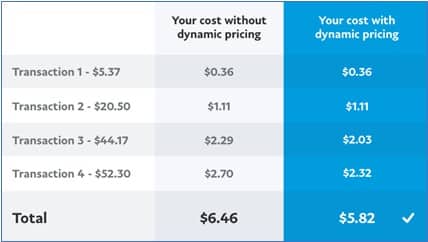 When to Use Stripe
Based on the information provided on Stripe's website, microtransaction payment is not available for all types of markets, and it's best that you contact Stripe Support for more information. However, you will likely get better rates with Stripe if you have an active business that processes micropayments regularly.
With Stripe, you can also batch multiple payments from a single person into one charge to mitigate transaction fees, which could be useful if you are accepting lots of micropayments from a small number of people.
Best for Invoicing & Recurring Billing: Stripe
Invoiced payments fee

2.9% + 30 cents plus 0.4% with 25 free invoice processing per month, or 0.5% per invoice, depending on plan

3.49% + 49 cents

Recurring payments and card on file fee

2.9% + 30 cents plus 0.5% per month or 0.8% per invoice, depending on plan

$10 gateway fee + 3.49% + 49 cents per transaction

International payments

1% + 1% currency conversion spread

1.5% + 4% currency conversion spread

ACH Debit/Credit payments fees

$1/payment (debit)

0.8% capped at $5 (credit)

Echecks only 3.49% + 49 cents, capped at $300

Request deposits/down payments

✓

Can request partial payments

Partial payments

✓

✓

Automated payment reminders

✓

✓
Stripe stands out for invoicing and recurring payments. The flat rate plus service fee is still slightly lower than that of PayPal, which also charges $10 for the use of its recurring billing service, and another $30 to access recurring billing tools, on top of a gateway fee. Stripe accepts ACH debit and credit payments with fees ranging from $1–$5 per transaction, while PayPal e-check fees for invoices cost 3.49% + 49 cents, capped at $300 per transaction.
Why We Choose Stripe
Stripe is our clear winner for invoicing and recurring billing features. Aside from the lower fees, it also offers a variety of customization options for one-time and recurring transactions. Stripe features a simple invoicing tool that you can set up from your dashboard, or you can use its API for more advanced features that allow you to automate the collection, tracking, and reconciliation of your invoices.
For subscription-based businesses, you can use Stripe Billing, which lets you create a variety of subscription models—whether it's per-seat or metered, flat rate, or usage-based. You can customize it further by adding coupons, free trials, prorations, add-ons, and other options. Once your customer selects their preferred plan, you can automatically generate a corresponding invoice with Stripe invoicing.
When to Use PayPal
Use PayPal if you need to send out local invoices on occasion and if you prefer receiving e-check payments over ACH. PayPal's tools are easy to use, and the PayPal for Business app lets you create professional invoices and schedule send-out requests for recurring transactions from your mobile phone with a few clicks. It creates a link, which you can then send to your customers via email or messaging.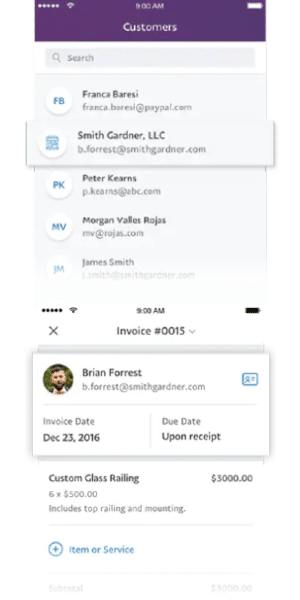 Best for Security: Stripe
Chargeback protection

Included

Included

Dispute fees

$15 (refundable)

$20

for transactions not processed through a buyer's PayPal account or a guest checkout

Dispute management tools

Included

Included

Advanced risk monitoring

$0–7 cents per transaction

With an upgrade to PayPal Enterprise

Payment security features

Payment data encryption

Built-in machine-learning fraud detection

Customized payment risk evaluation

3D secure authentication

Secure data migration

Online identity verification

Email confirmations

PayPal Security Key

TLS connection

Key pinning

Data protection

Machine-learning fraud detection technology

PCI compliance

Included

Included
Both Stripe and PayPal offer significant security for online payments, but Stripe provides more customization, including identity verification. Dispute fees for Stripe are refundable and lower compared to PayPal. On the other hand, PayPal only charges dispute fees for transactions that are not processed through a buyer's PayPal account.
Why We Choose Stripe
Stripe is clearly miles ahead when it comes to online payments security and has built a strong infrastructure for monitoring tools to protect your transactions. It provides advanced machine-learning fraud detection features and allows you to customize your acceptable payment risk level, so you won't miss out on sales that regular fraud monitoring tools might rule as suspicious and block the transaction.
Real-time risk assessment is also central in Stripe's chargeback protection features. Its Dynamic 3D Secure tool is built in on every checkout page and screens medium-risk buyers to protect any size of business from potential disputes.
When to Use PayPal
Consider PayPal if your customers are primarily domestic and mostly PayPal account holders as well. This ensures that your transactions are covered by PayPal's Seller Protection policy. Also, while Stripe provides more sophisticated payment security features, PayPal is still one of the most trusted security seals in the payments industry, making it an ideal choice if you're trying to boost sales.
Best for Ease of Use & Setup: PayPal
Setup fee

$0

$0

Application and approval requirements

None

None

Account setup duration

Minutes

Minutes

Payment platform setup

Requires some coding skills

Easy

Technical skill required

Some coding skills

None

Ease of use

Plug-and-play integrations

Customizable checkout templates

Third-party platform sign-up option

Machine learning fraud security to help you manage risk

Easy-to-use app

Plug-and-play integrations

Customizable checkout templates

Third-party integrations

Instant fund access with PayPal balance

Business type restrictions

Customer service

24/7chat and phone support, email, resource library

Extended phone support, active seller community, help center, text messaging and social media customer support
Signing up for Stripe and PayPal is free, and both can be set up in minutes. However, you will need some level of technical skills if you want to thoroughly take advantage of Stripe's payment and security features. PayPal customer access to support is also broader (though you may encounter difficulties reaching a live person over the phone) and lists thousands of integrations for a variety of functions.
Why We Choose PayPal
PayPal provides you with a more rounded business solution that you can set up in minutes, with a business app, POS software, and hardware options for selling online and in person. This means you need fewer third-party integrations, and if you do, PayPal offers plug-and-play integrations, so you can easily add PayPal checkout to any website and online marketplace.
While PayPal's phone support is limited, it has an active seller community that provides almost every answer for using PayPal, along with access to customer service via text messaging and social media. It also has a long list of integrations, including payments, business management, operations, ecommerce, and marketplaces.
When to Use Stripe
Stripe is the better option if you want a more customized payment solution for your business. B2B businesses that deal with large volumes of international transactions will require a more sophisticated fraud detection system to minimize risk and provide maximum seller protection—and Stripe provides this.
It also offers a number of plug-and-play integrations, including access to its invoicing and recurring billing tools. Stripe is also compatible with many popular POS and ecommerce software.
Best for Cash Flow & Money Management: PayPal
Money management tools

Stripe Corporate Card, Stripe Issuing

PayPal balance, Bank deposit, PayPal Debit Card

Bank deposit speed

2 business days, first deposit takes up to 14 days

Approximately 3 business days

Option for instant deposit

1% of payout volume plus a minimum fee of 50 cents

1.5% of payout volume

Dispute management

Included

Integration

Loan options

Stripe Capital

PayPal Working Capital

PayPal Business Loan

Loan fee

Fixed amount

Fixed amount
While Stripe's deposit speed is faster and costs less to opt for instant payout, we have to give it to PayPal for its broader range of money management solutions. PayPal also provides a number of alternatives for users to access their funds directly from the platform.
Why We Choose PayPal
We considered PayPal's ability to provide its users with a means of accessing their funds instantly from their PayPal account. While it takes PayPal three business days to transfer funds to your card or bank account, you can still use your PayPal balance to make payments online. And, if you sign up for a PayPal Debit Card, you can earn rewards while being able to spend the funds in your PayPal account for in-person purchases or withdrawing money from any ATM that accepts Mastercard.
PayPal also offers two different financing options for business account holders: PayPal Working Capital and PayPal Business Loan. Both allow you to tailor your terms based on your requirements, and then PayPal will calculate the repayment amount and fixed fee.
| | PayPal Working Capital | PayPal Business Loan |
| --- | --- | --- |
| Best for: | Those that regularly accept payments through their PayPal accounts | Those that have a business account but do not actively accept payments |
| Loan amount: | $1,000–$125,000 | $5,000–$500,000 |
| Loan approval requirements: | None | Creditworthiness |
| Loan funding speed: | Minutes | Next business day |
| Repayment method: | Percentage of your PayPal balance plus a fixed fee | Agreed upon amount drawn from your linked bank account within a payment period |
When to Use Stripe
Similar to PayPal's Working Capital, Stripe offers financing options for active merchant accounts. While its website does not list the maximum loan amount possible, the examples show a loanable amount of up to $25,000. Stripe also indicates that each loan is payable for up to 18 months, meaning Stripe Capital is best suited for businesses that need short-term financing.
Best for Integrations: Stripe
| | | |
| --- | --- | --- |
| | | |
| | | |
| North America, Great Britain, and Australia app integrations | 622 | Thousands (exact number not specified) |
| International app integrations | 710 | Thousands (exact number not specified) |
| Categories | 28 | Undefined |
| Industries covered | 10 | Undefined |
| API | ✓ | ✓ |
| Developer tools | CLI, Visual Studio Code, live event monitoring, advanced SDKs | API executor, multiple languages, interactive mode, or mock mode |
| Developer support | Documentation, YouTube tutorials, newsletter, live chat with developers, 24/7 support | Documentation, updates, demos, developer community, FAQ, live support via ticket |
| | | |
While PayPal is integrated into just about any retail application you can think of, Stripe takes the lead for integrations because of its app marketplace and developer tools.
Why Stripe Is Best for Integrations
Stripe offers over 700 partner apps, and it's very easy to find them on its website. You can search for apps by name or use the menus to narrow them down by industry, need, and location. You'll find popular apps like Salesforce, Harvest, Shopify, QuickBooks, and Eventzilla.
Can't find the app you need? Stripe offers excellent API and SDK support with documentation, video tutorials, and live chat with developers through Freenode IRC. Build, test, and manage your integration from your terminal through its CLI. Use the Visual Studio Code extension to generate sample code, view API request logs, forward events to your application, and use Stripe within your editor.
When to Use PayPal
Taking the lead for retail is PayPal, with integrations to thousands of shopping and mobile applications, from eBay to Facebook. However, that's from the consumer's POV. Businesses will have a harder time finding integrations when looking from the PayPal page. The app center is focused on PayPal apps, with only a handful of third-party apps listed. When using the search bar, it does not pull up apps that we know work with PayPal—QuickBooks, for example. It may be easier to look at your other software and see if it has a PayPal API.
PayPal has native apps for adding pay buttons, processing subscriptions, invoicing, or accepting money casually. It also has native apps for digital advertising, messaging customers, offering digital gift cards and discounts, and fundraising, to name a few.
It even has developer programs for marketplaces and enterprise-level businesses. It offers documentation on existing APIs, a sandbox for development and testing, and a community for support. Live tech support is by ticket only.
Stripe vs PayPal Frequently Asked Questions (FAQs)
What does Stripe do differently than PayPal?
Stripe is known for its ability to provide a range of customization options for different types of payment methods. While it does support simple hosted payment links, Stripe stands out for its level of customization, including payment security and fraud detection features. This is made possible through higher-level coding, which Stripe makes available through APIs.
Is Stripe or PayPal better for small businesses?
PayPal and Stripe are outstanding choices for online payment processing. However, PayPal is ideal for low-volume, seasonal, small businesses. It charges cheaper in-person transaction fees and supports peer-to-peer payments like Venmo. Stripe is the better option for merchants with regular monthly sales, especially for B2Bs.
Is Stripe cheaper than PayPal?
Stripe is cheaper than PayPal for processing international payments and accepting online transactions, which makes it the best option for B2Bs.
Bottom Line
In the debate of PayPal vs Stripe, there is no clear winner. However, even if you have your own payment processing service or choose to go with Stripe, PayPal makes a good addition because it is a trusted service, expands your payment processing capabilities, and has no additional fees if it's not used regularly.
You May Also Like…