The main difference between Square and PayPal is that Square offers a complete suite of business management tools, whereas PayPal is simply for accepting payments. This difference makes Square a better option for small businesses processing in-person sales. However, PayPal's name recognition and easy One-Touch payments make it a better solution for online sales. Square and PayPal invoicing features are tied, and payment processing fees are very similar.
When to use an alternative: If you process over $20,000 monthly, you can get lower rates by using a traditional merchant account instead of Square or PayPal. Our recommendation for cheapest credit card processing is Payment Depot.
Square vs PayPal Overview
| | | |
| --- | --- | --- |
| | | |
| Monthly account fees | $0 | $0 for Standard account, $30 for Pro account |
| In-person payment processing fees | 2.6% + 10 cents | 2.7% |
| Ecommerce and invoice payment processing fees | 2.9% + 30 cents | 2.9% + 30 cents |
| Keyed-in payment processing fees | 3.5% + 15 cents | 3.5% + 15 cents |
| Accept PayPal Payments | Only with Square Online Store | Yes - online, mobile app, and invoicing |
| QR codes for contactless payments | In-app and online | In-app and printed |
| Chargeback fee | $0 | $20 |
| Card reader price | Free magstripe reader, $49 chip and contactless reader | $24.99 for chip and swipe reader, $79.99 for chip and contactless reader with stand |
| Deposit times | 1–2 business days, instantly for 1.5% fee | Immediately in PayPal account, approximately 3 business days to a bank account |
| | | |
Takeaway: Square and PayPal are two of the best credit card processing companies and two of the most popular mobile POS apps on the market with user-friendly and affordable solutions. PayPal's in-person transaction fees are slightly lower and have the benefit of accepting PayPal payments. If you are an individual looking for low, reliable rates, PayPal is a good choice. However, for business owners, Square is a much more scalable solution that can adapt to your changing needs.
When To Choose Square

| Square Strengths | Square Weaknesses |
| --- | --- |
| Full-featured multichannel POS | Potential for frozen accounts |
| Online store | Not suited for large businesses |
| Faster bank deposits | |
Square is recommended for businesses and individual sellers who want a low-cost way to sell anywhere, accept all types of payments, and manage everything in a centralized POS system. This includes:
In-store retailers
Sellers using mobile devices to accept payments
Service providers sending invoices or using automated payments
Ecommerce store owners
Multichannel sellers that combine in-store, online, and mobile sales
With your free Square account, you get access to all payment options plus a full suite of inventory, sales, customer, and employee management tools. You even get a free magstripe credit card reader upon signup. If you're looking for a payment solution that lets you start with zero cost, supports all types of sales, and helps you manage your entire business, Square is the best solution for you.
With Square, your only costs are your credit card processing fees, and Square's are competitive with PayPal. What sets Square ahead of PayPal is its feature-packed POS software that lets you manage every aspect of your business―inventory, sales, employees, customers, and more―all for free.
When To Choose PayPal

| PayPal Strengths | PayPal Weaknesses |
| --- | --- |
| Accept PayPal payments | Potential for frozen accounts |
| Instant deposits into your PayPal account | $20 chargeback fee |
| Add PayPal "Buy Now" or "Donate" buttons to any website | Limited POS features |
| Discounted processing fees for nonprofits | Extra fees for international-issued credit and debit cards |
PayPal is an online payments powerhouse. If your focus is running an online store, you should seriously consider using PayPal as your payment provider. Online buyers appreciate having PayPal as a payment option, and PayPal's secure system integrates with virtually all ecommerce platforms.
You can do plenty with PayPal beyond online selling too. PayPal Here is a mobile payments service that lets you accept payments using mobile devices and even set up in-store checkout registers with approved third-party hardware. PayPal also offers virtual terminal and recurring payment options, but both come with monthly costs, unlike Square, which provides them for free.
If you sell online and use your ecommerce platform or an order management system to manage inventory, sales, and customers, PayPal's POS won't matter to you. However, if you want to tie together brick-and-mortar, online, mobile, and other types of sales under one roof, Square's free POS beats PayPal's hands down.
When To Choose an Alternative: Payment Depot

| Payment Depot Strengths | Payment Depot Weaknesses |
| --- | --- |
| Low-cost processing | For established businesses |
| All-in-one membership for in-person and online sales | Best for companies processing over $10,000 monthly |
| Works with SwipeSimple mobile app | Requires separate POS software |
| | Monthly fee |
Payment Depot may be a better option if: You are an established business looking to save money on processing fees. Square is a great opinion for new businesses just starting out, and PayPal has excellent name recognition for online sales. However, if your business is growing and you want low-cost, reliable processing, we recommend trying Payment Depot.
Continue reading to learn more about how Square and PayPal compare for mobile, point-of-sale, online, and invoice payment processing. At the end, we'll also compare the companies' customer support and user reviews.
Square: Best Mobile Credit Card Processing
Both Square and PayPal Here mobile payment processing apps:
Are free to use with $0 monthly fees—just pay transaction fees as you go
Support multiple mobile users on one account
Accept all major credit cards, plus e-wallet payments like Apple Pay and Android Pay
Have an offline mode to accept payments even without an internet connection
Have options for QR code and contactless payments
Support a product list
Record customer data and send e-receipts
Record check and cash payments
Include a variety of business sales reports
Square vs PayPal Mobile App Features
| | Square mPOS | PayPal Here |
| --- | --- | --- |
| Affordable mobile payment processing | ✔ | ✔ |
| Instant setup | ✔ | N/A |
| Offline mode | ✔ | ✔ |
| Free virtual terminal | ✔ | N/A |
| Accept PayPal Payments | N/A | ✔ |
| Free mobile card reader | ✔ | ✔ |
| Inventory tracking | ✔ | N/A |
| | | |
Takeaway: Square tops PayPal in mobile payment processing because it delivers a full range of sales, inventory, customer, employee, and business management features. PayPal offers a reliable payment processing app, called PayPal Here, but it has rather basic business management features.
Why Square Is the Better Choice for Mobile Payments
Square mobile POS has more features: Square beats PayPal's mobile POS in many areas, most notably in inventory counts, employee time tracking, and various customer management features.
Square mobile POS includes a free virtual terminal: A virtual terminal is what allows you to key-in payments rather than swiping a card. You can key-in an occasional payment into PayPal's mobile POS app. However, if you do this often, PayPal requires the virtual terminal feature for your account to be activated, which costs $30 per month. Square includes this feature for free without limitations.
To learn more about why Square is one of the best POS apps, read our full Square Payments review.
When PayPal's Mobile App Is the Right Choice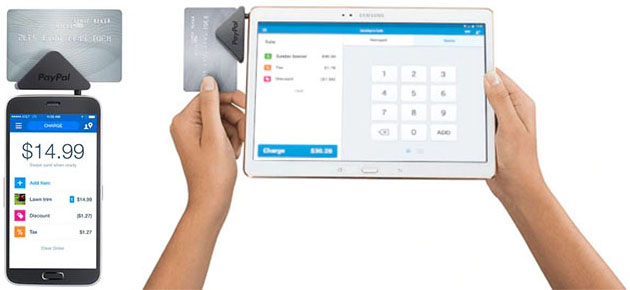 PayPal Here also has a few key features that might make it a better option for some sellers:
PayPal payments: PayPal Here mobile POS offers something that Square can't top―buyers can pay using their PayPal account, including One Touch payments. That may not be a big deal for some sellers, but if you're leaning toward PayPal for other reasons, it's a nice plus.
Lower card-present transaction fees: PayPal Here's 2.7% transaction fee is the more economical option for vendors selling lower-priced items than Square's 2.6% + 10 cents fee. That 10 cents does not sound like much but can add up for businesses selling $3 cups of coffee.
To learn more about the pros and cons of using PayPal Here to accept payments on the go, read our full PayPal Here review.
Square: Best for Point-Of-Sale Payments
Square and PayPal both:
Have startup hardware costs around $800 for a full POS register
Have similar flat-rate transaction fees
Offer a free basic POS app with unlimited users, transactions, and items in a product list
Provide general sales reports
Allow you to create customer profiles, save contact information, and track purchase history
Offer contactless payment options including QR codes
Square vs PayPal POS Features
| | Square POS | PayPal Point-of-Sale |
| --- | --- | --- |
| iOS and Android POS app | ✔ | ✔ |
| Inventory quantity tracking | ✔ | N/A |
| Customer feedback collection | ✔ | N/A |
| Employee management | ✔ | N/A |
| Multi-location management | ✔ | N/A |
| | | |
Takeaway: Square soundly beats PayPal for managing in-store sales. Square's major brick-and-mortar strength is its free, and quite robust, POS software. It delivers an array of business management tools geared to help retailers, dining establishments, service providers, and others run efficient, profitable day-to-day operations.
Square has a few other checkout features PayPal is missing, like the ability to open and split tabs. Square's employee management features include time tracking and tip reconciliation. Plus, Square offers a range of sleek in-store checkout registers suited to any sales need and budget.
PayPal is moving into the in-store sales arena and offers iPad-based registers. While PayPal's POS system is improving, it has a long way to go before it is a reliable alternative to Square's feature-rich POS system. For managing in-store sales, Square's full suite of inventory, sales, employee, and customer management tools beats PayPal, period.
To learn more about why Square is one of the top-rated small business POS systems, read our full Square POS review.
PayPal: Best for Ecommerce and Online Payments
PayPal and Square both:
Have a 2.9% + 30 cents transaction fee for online payments
Offer sleek hosted checkout pages
Accept credit cards, Apple Pay, and Google Pay
Square vs PayPal Online Payment Features
| | Square | PayPal |
| --- | --- | --- |
| "Buy now" buttons | N/A | ✔ |
| Discounted processing for nonprofits | N/A | ✔ |
| Hosted checkout | ✔ | ✔* |
| Accept PayPal Payments | ✔* | ✔ |
| | | |
*Requires a plan upgrade with a monthly fee
Takeaway: PayPal is one of the most widely adopted payment methods and represents 22% of all online transactions. PayPal's One-Touch checkout means shoppers can check out quickly and securely without having to enter any personal information. Studies show that accepting PayPal increases online sales by as much as 44% compared to credit cards alone.
PayPal also has secure integrations with virtually every ecommerce platform and web builder on the market (including Square Online). Plus, PayPal's "Buy Now" or "Donate" buttons make it easy to monetize any aspect of any site. These features make PayPal one of the top payment processing choices for online sellers.
Though Square's payment processing tools are more commonly thought of for in-person or mobile payments, Square's online payment features make a great PayPal alternative. In addition to a free online store with built-in checkout features, Square also offers a basic Online Checkout tool so businesses can create a single standalone checkout page without a full ecommerce website.
If you want to accept PayPal payments online, but don't have a website, you can actually build an online store with Square, and accept PayPal payments through your Square store.
Square and PayPal: Tied for Invoicing Tools
PayPal and Square both:
Offer free online invoicing—just pay transaction fees as you go
Can be used to set deadlines and send payment reminders
Have features for creating and sending estimates
Track invoice payment status
Have options for bulk invoicing
Can record cash and check payments for free
Let you customize invoices with designs, logo, and business information
Have options for tipping, sales tax, and discounting
Save customer contact information for future invoices
Square vs PayPal Invoicing Features
| | Square | PayPal |
| --- | --- | --- |
| Request deposits or down-payments | ✔ | N/A |
| Allow partial payments | N/A | ✔ |
| See when an invoice has been viewed | ✔ | N/A |
| Automatic payments reminders | ✔ | N/A |
| Recurring invoices | ✔ | ✔* |
| Can store customer payment information | ✔ | N/A |
| Mobile app | ✔ | ✔ |
| | | |
*Available for $40 monthly fee
Takeaway: Square and PayPal both offer online invoicing for free with very similar invoice creation, payment, and tracking features. In terms of online invoicing, neither of the two payment providers are significantly better than the other. Both Square and PayPal let you create invoices and email them to your customers. Customers can then click the "Pay" button to pay online conveniently.
However, there are a few situations where Square Invoicing would be a better fit:
Appointment-based service providers: Square has a free appointment management system that works seamlessly with payments, invoicing, and online scheduling, so businesses can create and manage invoices before or after each appointment.
Recurring billing: Square allows businesses to store customer payment information, so you can use the card on file for approved recurring payments. Square also offers recurring billing for free, and PayPal requires a $40/month upgrade ($30 for a PayPal Pro account and $10 for recurring payments).
Although Square and PayPal are tied for most small invoicing needs, there are a few exceptions.
Square and PayPal: Tied for Customer Support
Neither Square nor PayPal has excellent customer support for businesses. They both have limited live support hours and rely on community forums and documentation as a first-line of response. Both help centers have extensive Q&As and instructional content to answer any technical questions. However, for most small businesses, when something goes wrong, you want to get help right away, especially if you are not able to process payments or access your funds.
Square vs PayPal User Reviews
Square and PayPal are both aggregate payment processors. This means that businesses using Square and PayPal to process payments do not actually have their own merchant accounts. Aggregate payment companies process transactions from all their merchants together to get lower rates.
Because of this, both Square and PayPal sometimes freeze customer accounts if there is any suspicion of fraud or activity outside the norm, such as a sudden high-value charge, or a mostly in-person business processing a lot of card-not-present payments. The business accounts will be flagged and frozen by Square or PayPal to reduce risk from chargebacks.
Frozen accounts, unexpected chargebacks, and closed accounts are among the top reasons you'll see unfavorable reviews for Square and other providers. These complaints are the exception rather than the rule, but customers who face these issues tend to be more vocal in review forums.
Bottom Line
Square and PayPal are both popular, user-friendly options with affordable and transparent pricing for individuals and small businesses. When it comes to online payment processing, PayPal is a solid option, given its well-established user base. For a payment processing solution that meets all your needs, Square is the better choice. Square offers superior POS solutions and hardware. Plus, Square delivers the most integrated multichannel payment solution at the best price.
Every free Square account comes with a free mobile POS app, invoicing, appointment booking, online store, and ecommerce payment processing, and multichannel sales management. As your business grows, you can add features for employee and payroll management, marketing, loyalty, and more. Visit Square to create your free account.