Square vs PayPal: Price, Features & What's Best
This article is part of a larger series on Payments.
Square and PayPal are popular tools for accepting payments and work well for most small businesses. Both can serve as merchant services providers and point-of-sale (POS) and ecommerce platforms. The primary difference lies in what they do best.
While both offer free POS systems, Square's is more feature-rich and has add-on software to grow with your business. PayPal's Zettle POS app is more rudimentary, but PayPal has stronger online and international payment processing tools. PayPal checkout is also a popular payment option with online shoppers, making it a great addition to any website.
When to use an alternative: If you process over $20,000 monthly, you can get lower rates by using a traditional merchant account instead of Square or PayPal. We recommend Helcim. It offers interchange-plus pricing with no monthly fee and automatic volume discounts. Plus, like Square and PayPal, Helcim offers free tools like a POS system and online store, making it the best payment processor for retailers.
Square vs PayPal At-a-Glance
Payment Processing monthly fees

$0

$0 for Standard account

$30 for Pro account

POS monthly fees

$0 for basic

$60 for Pro

$0

Virtual terminal

$0

$30 (needs Pro Plan)

In-person payment processing fees

2.6% + 10 cents

2.29% + 9 cents

Keyed-in fees

3.5% + 15 cents

3.49% + 9 cents

Online fees

2.9% + 30 cents

2.59% + 49 cents

Invoice

2.6% + 10 cents (in person)

2.9% + 30 cents (online)

3.49% + 49 cents

ACH fees/eCheck fees

1%, min. $1 (ACH)

3.49% capped at $300 (e-check)

Chargeback fees

Waived up to $250/month

$20

for transactions not processed through a buyer's PayPal account or a guest checkout

Card Reader

First magstripe reader free, $49 for chip and contactless reader

$29 for your first reader, $79 for subsequent readers

QR codes for contactless payments

2.9% + 10 cents per transaction

1.90% + 10 cents–2.4% + 5 cents per transaction

Buy Now Pay Later (BNPL)

6% + 30 cents, 4 payments, 0% interest

In person and online

3.49% + 49 cents, 4-24 payments, 0% interest

Online only

Deposit times

1–2 business days, or same-day for 1.5% fee

3 business days, immediately to PayPal account, or instant for 1.5% fee

Additional payment types

Third-party Gift Cards

Third-party Gift Certificates

Cash App

Check

Digital wallets

Health Savings Account (HSA) and Flexible Spending Account (FSA) cards

Employment Development Department (EDD) Debit Cards

PayPal Balance

PayPal Credit

Pay with Rewards

Venmo

Buy Now, Pay Later

Cryptocurrency

Digital wallets

Business tools

Business loans, savings and checking accounts, product photography, business events

PayPal balance, working capital, business loans
Takeaway: Square and PayPal are two of the best credit card processing companies. PayPal's card-present transaction fees are lower than Square's and it has a wider global reach. Meanwhile, Square has a stronger business toolset for small businesses with in-person sales. (See our article on what Square is and why small businesses love it.)
Does Square work with PayPal?
Square does not accept PayPal payments. However, with a paid plan, you can add a PayPal checkout button on your Square Online store. Go to your Square Online overview page: Settings > Checkout > Select PayPal > Connect, which will then ask you to log in to your PayPal account to authorize the connection.
When to Choose Square
PROS

CONS

Reliable and easy to use
Reports of frozen funds
Flexible POS system that grows with your business
Not suited for large businesses
Price and software good for solopreneur or SMBs
Not for high-risk businesses
High customer satisfaction rate
No discounts for nonprofits, educational institutions
Bank deposits in 1–2 days
Square is better than PayPal for small businesses that sell products or services in person, whether in-store or via mobile. In particular, it works extremely well for
Brick-and-mortar stores
Farmers markets or booths
Restaurants, food trucks, quick-serve restaurants
Beauty salons, spas, gyms
Repair shops
Smaller B2B businesses
While its online component is not as extensive or popular as PayPal's, it nonetheless offers a synchronized online store, buttons and links for social selling, invoices, and a virtual terminal for phone orders.
With your free Square account, you get access to all payment options plus a full suite of inventory, sales, customer, and employee management tools. You even get a free magstripe credit card reader upon signup.
In the News
In September 2021, Square launched Cash App Pay for in-store and online checkout. This feature is rolling out to Square sellers across the US.
If you're looking for a payment solution that lets you start with zero cost, supports all types of sales, and helps you manage your entire business, Square is the best solution for you. However, if you need more advanced tools as you grow, Square offers over 100 integrations and paid additions to its plans—even payroll and banking.
When to Choose PayPal
PROS

CONS

Takes PayPal, PayPal Credit, and Venmo payments
Bad reputation for frozen accounts
Instant deposits to your PayPal account
$20 chargeback fee
Easy to sell online or through social
Complex international fee structure
Used globally
Not for high-risk businesses
Discounted fees for nonprofits
E-check only for invoices
PayPal beats Square when it comes to online or international payment processing. It's also the best choice as a supplemental payment provider. PayPal's rates are cheaper, and it has deep discounts for nonprofits.
PayPal's new POS system is Zettle. It is widely used and well-regarded in Europe and replaced PayPal Here. Like Square, Zettle covers the most important retail functions and has impressive inventory management. However, it lacks some of the tools and integrations that make Square so suited for small businesses and the best bet for in-person sales. See our full PayPal Zettle review to learn more about the solution.
If your primary sales occur online, then PayPal is the better choice. Widely trusted by consumers and with programmable links and buttons that fit Facebook to emails to the customer support chat, it's a versatile system. Read more about the pros and cons of PayPal for small businesses, or visit PayPal to create a free account.
PayPal's & Square's Reputations for Holding Funds
All credit card processors reserve the right to hold funds or cancel accounts at will. This might happen if you misrepresent your business, have excessive chargebacks, experience a sudden surge in frequency or amount of payment processing.
Both Square and PayPal have a high number of complaints concerning held funds. However, PayPal has the worse reputation of the two, not only for the number of complaints but also for how unhelpful customer support was in resolving the situation. That being said, both providers rate high in customer satisfaction.
Calculate Square & PayPal Estimated Processing Fees
Compare your estimated payment processing fees with Square and PayPal for each type of payment service. Enter your estimated monthly sales volume (in $) and the number of transactions per month.
Best for Affordability: PayPal
Payment Processing monthly fees

$0

$0 for Standard account

$30 for Pro account

POS monthly fees

$0 for basic

$60 for Pro

$0

Virtual terminal

$0

$30 (needs Pro Plan)

In-person payment processing fees

2.6% + 10 cents

2.29% + 9 cents

Keyed-in fees

3.5% + 15 cents

3.49% + 9 cents

Online and invoice fees

2.9% + 10 cents

2.59% + 49 cents to 3.49% + 49 cents

ACH fees/e-check fees

1% (min $1)

3.49% capped at $300 (e-check)

Chargeback fees

Waived up to $250/month

$20

for transactions not processed through a buyer's PayPal account or through a guest checkout
PayPal's rates are generally better than Square's, except for when choosing between ACH or echeck payment options (where Square makes ACH significantly more affordable). Not only is the percentage part of the fees lower, but so is the flat added amount. This makes a big difference with smaller-ticket items. Square, however, may be cheaper on invoices.
Note that this is a comparison of US prices; if you do business elsewhere, PayPal has different flat added amounts for different countries. In addition, PayPal offers significant discounts for nonprofits, making it a better choice for many 501(c)3s.
While both offer free POS versions, PayPal requires you to have a paid account for using its virtual terminal, hosted checkout pages, and chargeback protection. Square does not charge for these.
Square's card readers are cheaper, but PayPal's simplest model does more. When you start looking at POS systems, the prices are close enough to be negligible.
Best for Mobile: Square
User score on Android

User score on iOS

First card reader

Free—magstripe only

Contactless and chip—$29

Subsequent readers

$10 (magstripe)

$49 (contactless and chip)

$79

(same card reader)

Full POS on mobile

✓

✓

Backend on mobile

✓

✓

Offline mode

✓

✕

Digital receipts

✓

✓
Takeaway: Square's mobile app is better than PayPal Zettle's because it does more. And, while PayPal Zettle's mobile card reader includes a PIN pad, it doesn't have a card swipe option. You get a complete three-in-one (swipe, dip, and tap) payment setup for $49 with Square. Real-world users also rate Square more highly on iOS and Android.
Why Square Is Better Than PayPal for Mobile Payment Processing
Square's POS system and credit card processing make it the better choice for mobile sales. Optimized so you can easily ring up sales on a smartphone or tablet, the POS system does everything on mobile that it does on desktop, including reports. The offline mode lets you continue to take payments and have them sync when the internet is back. Square took the top spots on our list for best mobile POS and leading mobile credit card processing.
When to Use PayPal for Mobile Payment Processing
Zettle is also on our list for the best mobile POS apps and best mobile credit card processors, so if you prefer PayPal to Square, you are getting a great system. This is especially important if you want to offer Pay by PayPal as Square can't handle this. While you can put the same Zettle account on multiple systems, it does not distinguish locations like Square can.
Zettle's card reader is more sophisticated than Square's simple version. To get PIN pad capability, you'd need to upgrade Square to its $299 card reader terminal.
Best for POS: Square
Latest Fit Small Business evaluation score

4.48 out of 5

3.55 out of 5

POS hardware starting at

$169

$249

Register

Excellent

Excellent

Virtual terminal

✓

$30

Accept PayPal

Online only

✓

Inventory tracking

Excellent

Good

Clock-in/out

Free add-on

None

Offline mode

✓

None

Appointments/

reservations

Yes, with Square Appointments

None

Restaurant tools

Yes, with Square for Restaurants

Basic

Customer loyalty

From $45

✓

Multi-location management

✓

✕

Integrations

POS, Restaurants, Inventory, Rewards, Marketing, Delivery, Booking and Scheduling

Ecommerce and Marketplaces, Accounting, Shipping, Dispute Management

Add-on features

Advanced POS, Loyalty, Team Management, Marketing, Payroll

Third-party apps only
Takeaway: Square's versatility and breadth of features for specialty stores put its POS system ahead of PayPal Zettle's.
Why Square Is Better Than PayPal Zettle
Square offers POS systems for various industries. For example, while the main version has some tools for ringing up restaurant items, like open checks, its free Square for Restaurants software includes clock-in, table management, and auto 86ing of items. Meanwhile, the salon version, Square Appointments, lets you set up an appointment calendar. Zettle does not have this breadth of capability.
Square easily integrates with over 100 apps geared toward all levels of business. It even has some for the health industry, insurance, and fieldwork. Plus, it has some add-ons of its own. Meanwhile, we found limited integrations for Zettle.
Square POS Hardware Options
Square offers a wide range of full POS hardware solutions with optional accessories such as cash registers, thermal printers, and barcode scanners.
Square Stand for Contactless and Chip

What's included: Square Stand with a built-in contactless and chip reader
Best for: Affordable countertop setup using an iPad
Cost: $149 or $14 per month for 12 months

Square Terminal

What's included: Square Terminal and Receipt paper rolls
Best for: Full mobile POS with built-in printer for in-store mobility and curbside sale
Cost: $299 or $27 per month for 12 months

Square Register

What's included: Square Register and customer display with built-in card reader
Best for: Retailers wanting a countertop POS that encourages customer engagement
Cost: $799 or $39 per month for 24 months
When to Use PayPal Zettle
Like the mobile version, Zettle is a good alternative to Square, especially if you want to offer payment through PayPal. The system has a modern interface that users say is simple and easy to work with. The European version of Zettle had a restaurant version, but PayPal does not mention it on its US website.
Zettle does not have cross-border sales capability at this time but works in 13 countries. Square, by contrast, only works in six.
What about PayPal Here?
PayPal is driving new customers to Zettle. While PayPal's US site said it would continue to support Here users, there are reports from users in Australia that the Here service has been canceled.
PayPal POS Hardware Options
While not as robust as Square, Zettle also offers a range of hardware solutions for its users:
Store Kit Mini

What's included: Zettle Stand 360, Zettle Reader 2, and Zettle Dock 2
Best for: In-store startups
Cost: Starts at $249 (add $329 for iPad)

Store Kit Portable

What's included: Zettle Reader 2, Bluetooth-enabled portable reader, and Thermal Rolls for Portable Printer
Best for: In-store mobility and curbside sales
Cost: Starts at $339

Store Kit Standard and Plus

What's included: Zettle Stand 360, Zettle Reader 2, Zettle Dock 2, Smart Printer, Thermal Rolls for Smart Printer, and optional Barcode Scanner.
Best for: Retail businesses issuing paper receipts and handling larger inventories
Cost: Starts at $499 without barcode scanner; and from $699 with barcode scanner
Best for Ecommerce & Online Payments: PayPal
| | | |
| --- | --- | --- |
| | | |
| | | |
| Accept PayPal | ✓ | ✓ |
| Social selling | Products, subscriptions, appointments | Products, subscriptions |
| Buy buttons | ✓ | ✓ |
| Multichannel (eBay, Amazon) | ✕ | ✓ |
| Hosted checkout | ✓ | $0 and 25 |
| Subscriptions/Recurring | ✓ | ✓ |
| Buy Now Pay Later (BNPL) | ✓ | ✓ |
| Ecommerce integrations | 32 ecommerce, 35 delivery, 21 invoicing, 9 ticketing and events | 33 online stores, 18 marketplaces, 17 website design systems, shipping label tools, and many more not mentioned on the website |
| Marketing | Square Marketing, 22 apps | Store Cash programs, Smart payment buttons |
| | | |
Takeaway: This was close, but PayPal is still the better choice for online sales. It has a greater reach, is accepted by multichannel sales like eBay, and can integrate with many ecommerce apps.
Want more customizability? Consider Stripe. Its API and SDK programming are excellent, making it the best for standalone online payments and specialty cases, like monetizing an app. Check out how Stripe compares to both Square and PayPal.
Why PayPal Is Better Than Square for Online Payments
While Square ties tightly to its POS tools, PayPal can work as an independent payment gateway. This means you can have customers pay by PayPal just about anywhere, even third-party sales sites like eBay. Its ability to handle cross-border payments and make currency exchanges is also important when selling on the World Wide Web.
One standout feature for PayPal is its "layaway" or Buy Now Pay Later plan. For example, you can set up high-ticket items with the PayPal Pay in 4 system. This lets customers pay for an item in four installments, and PayPal handles this for you. Alternatively, it can offer customers credit. Some charges may apply. Enterprise businesses have additional options called Pay Monthly for larger purchases.
PayPal is not as thorough as Square when listing all its integrations, but if you search for a particular ecommerce software, chances are it will list a PayPal integration. However, you can always program your buttons to add to any site. (Square has button programming too.)
When to Use Square for Ecommerce
PayPal charges extra for customizable hosted checkouts. If hosted checkouts are something you want, choose Square. Square also integrates with over 100 applications for online sales. Of special note are all the third-party delivery options. If you run a restaurant, this is a good way to expand your customer base. (Learn more about the best delivery services.) Also, while PayPal has programmable buttons, Square has a website builder to help you design a beautiful online store that integrates with your Square POS system.
Square completed its acquisition of Afterpay in 2021 and has since launched several integrations. It began offering its buy now, pay later (BNPL) feature for online purchases in January and extended the service to in-person sales in May.
Best for Invoicing: Square
| | | |
| --- | --- | --- |
| | | |
| | | |
| Request deposits/down payments | ✓ | Can request partial payments |
| Partial payments | ✓ | ✓ |
| Automated payment reminders | ✓ | ✓ |
| Recurring invoices | ✓ | ✓ |
| ACH/e-checks | ACH only: 1%, min $1 | E-checks only: 3.49% + 49 cents capped at $300 |
| | | |
Takeaway: Both of these systems are good for invoicing, allowing you to create and send custom invoices, handle recurring payments, and send reminders. Square, however, is the cheaper choice.
Why Square Is Best for Invoices
Square is best when you want a completely free invoicing system that accepts ACH transfers. It lets you send multiple estimates, request a deposit, set partial payments by milestones, and more. When paying by ACH, it charges 1% of the invoice, a minimum of a dollar, making it cheaper than PayPal. Otherwise, it costs 2.9% + 10 cents per invoice or 1% per invoice using the ACH payment method.
When to Use PayPal
Like Square, PayPal lets you generate attractive, branded invoices for full, partial, or recurring payments. It boasts a 76% paid rate within the first day of sending the invoice. Unlike Square, it accepts e-checks rather than ACH transfers. Regardless of how your customer pays, it charges 3.49% + 49 cents including for e-checks, which are also capped at $300 per transaction. This makes it more expensive than Square.
Best for Payment Processing: Square
| | | |
| --- | --- | --- |
| | | |
| | | |
| Reputation for paying merchants | Not great—many complaints | Bad—mostly complaints |
| Average user score on third-party sites | 4.65 out of 5 | 4.55 out of 5 |
| International commerce | 6—also not available in US territories such as Puerto Rico, Guam, the US Virgin Islands, American Samoa, and Northern Mariana Islands | 100 currencies, 200+ markets |
| Chargeback Protection | Free—Up to $250/month | 0.4% to 0.6% on transactions—unlimited for qualifying chargebacks |
| Fraud prevention | Machine learning, dispute management, risk manager program | Machine learning, seller protection, dispute management |
| Card on File | ✓ | Upgrade |
| Partial Payments | ✓ | ✓ |
| Accounting software integrations | 24 | 12 |
| Administrative integrations | 24 | 24 |
| Business Solutions | Working capital, checking and savings account, product photography, business events | Working capital, business loans, credit cards |
| | | |
Takeaway: Both of these payment processors are secure and easy to use. Taking price out, Square simply beats PayPal on features, especially protection and versatility, and fewer complaints about held funds when processing credit card payments with Square. Despite PayPal's popularity and international scope, Square is the better payment processor for small businesses doing domestic sales.
Why Square Is Best for Payment Processing
Square tops our list of best merchant services. While its fees are higher, it makes up for it in the versatility and tools it includes. Plus, it continues to expand its offerings, not only by introducing a kitchen display system and contactless QR coding, among other features, but in business services. Most recently, it added banking, making it possible to have checking and savings accounts. You can get your money paid out faster to these accounts.
This provider also stands out in its chargeback protection. In addition to working with you to manage disputes, it forgives the first $250 a month in chargeback fees. If you are an occasional seller, this is probably more than sufficient, and if not, it's still a big help. Speaking of help, Square has a risk management program for an additional charge if you are concerned about chargebacks and transaction issues.
Aside from EMV, mobile wallets, and digital invoicing, Square lists nine additional methods of accepting payments, including payments unique to Square such as Cash App integration, ecommerce APIs, and appointment prepayments.
When to Use PayPal
PayPal, hands down, is the best choice when selling internationally or when offering PayPal in addition to another payment processor. It also provides seller dispute help and protection. It has a chargeback protection program for physical items at an additional 0.4% to 0.6% per transaction.
Another reason to use PayPal is for its unique alternative payment methods. For example, you can include a cryptocurrency option on your PayPal checkout page. Personal PayPal account holders who buy and sell cryptocurrencies using their PayPal account can convert their cryptocurrency holdings into fiat currency during checkout to pay for goods and services.
An interesting difference between Square and PayPal is that PayPal does not share customer credit card information with you (although you do get data like contact and shipping information). This can be reassuring to your customers, who may not want their card numbers widely shared, but if you need this information, you can pay to access it.
Best for Banking & Money Management: Square
Immediate access of funds within the software

With Square Banking

As PayPal balance

Additional fees for banking and money management tools

None

None

Money Management Tools

Square Savings

Square Checking

Square Debit Card

Working Capital

PayPal Working Capital

PayPal Business Loan

PayPal Debit Card

Deposit speed to your bank

1–2 business days

Approximately 3 business days to a bank account

Option for instant deposit

Same-day for 1.5% fee

Instant with 1.5% fee

Loan sourcing

1 option

2 options

Loanable amount

$300—$250,000

$1,000—$125,000 (Working Capital),

$5,000—$500,000 (Business Loan)

Loan approval speed

Minutes

Minutes (Working Capital),

Next business day (Business Loan)

Loan funding speed

Next business day

Minutes (Working Capital),

Next business day (Business Loan)
Takeaway: Square beats PayPal with its more well-rounded suite of banking and money management features. Aside from offering working capital loans, it also provides traditional banking services at no extra cost.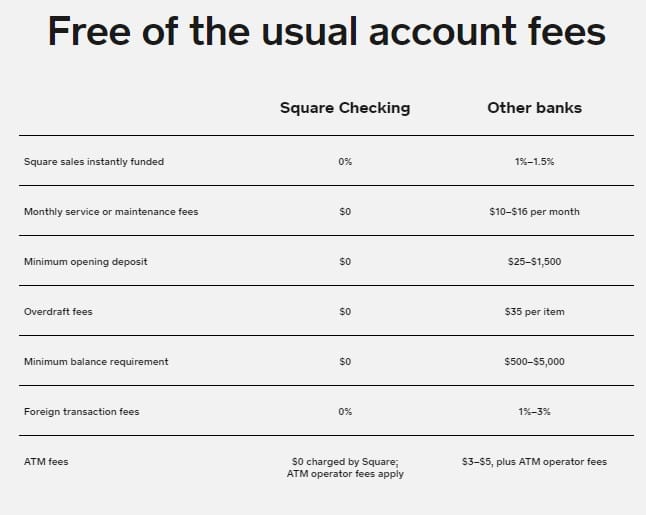 ---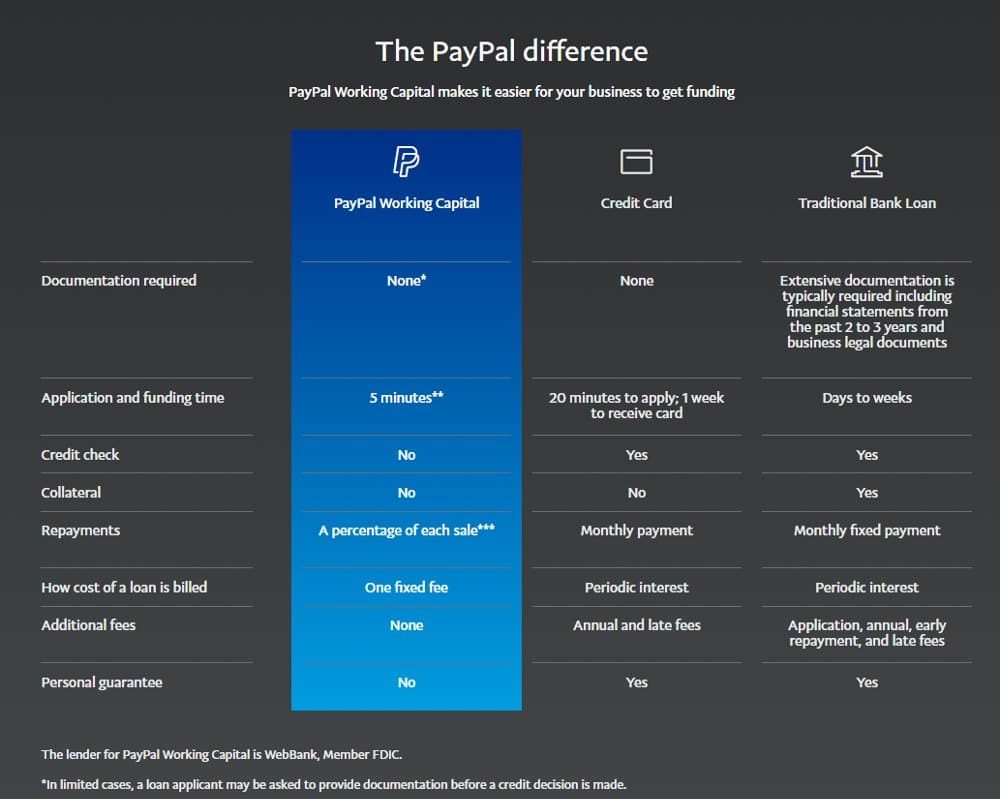 ---
Why Square Is Best for Banking & Money Management
Square offers a single platform for Square merchants to manage their finances. Similar to traditional banking, you can sign up for a savings account and a checking account with Square. There's no minimum opening deposit or balance requirement, and there's also no charge for service and maintenance fees, as well as overdrafts.
You can set up an automatic saving feature with a Square Savings account, so Square will regularly deposit a percentage of your sales into your savings account, which will then regularly earn interest. On the other hand, a checking account gives you instant access to your funds as your sales proceeds will directly be deposited there. You can then use Square's debit card to spend your money digitally or in person.
As for loans, Square's working capital offer is similar to PayPal's working capital loan, which gives you the ability to choose your loan size and will then provide you with a customized offer based on your card sales. There's no interest fee, and you pay it automatically with a percentage of your daily card sales made through Square so you never get charged a late fee.
When to Use PayPal
If you don't process payments through PayPal but have a PayPal business account and want to apply for a loan, then PayPal is your best option. However, unlike Square and PayPal's working capital, your approval will depend on your creditworthiness such as your minimum annual revenue and credit score. Repayments will also be automatic; however, they will be deducted from your linked bank account within the agreed payment period.
PayPal's other financial program similar to Square's bank loan is PayPal Working Capital. This option is available for PayPal business account holders who regularly accept payments through their PayPal accounts. It essentially lets you take an advance on anticipated credit card sales, which you then pay back with a percentage of those future sales.
Best for Customer Support: Tied
| | | |
| --- | --- | --- |
| | | |
| | | |
| Capterra user Customer Support-specific review score | | |
| JD Power Customer Satisfaction Index Ranking | 878 | 877 |
| Live support | Extended hours, chat | Extended hours, message or phone |
| Live hardware support | 24/7 phone | Extended hours, message or phone |
| Online knowledgebase | Good | Good |
| | | |
Takeaway: Despite complaints of frozen funds and canceled accounts, customers are overall satisfied with PayPal and Square customer support. Both also offer good user knowledge bases with an extensive, searchable database of tips, how-to articles, and more. There are a few illustrations and some videos in each as well.
The 2022 study by JD Power concerning customer satisfaction for merchant services saw a reverse in rankings, with Square now placing third while PayPal slides into the fourth spot. Only Bank of America and Chase Merchant Services beat them out.
Square vs PayPal Quiz
Bottom Line
Whether you use Square or PayPal, you are going to get a strong payment processor with a free, fully-featured POS system and online sales tools that include social selling. Both have complaints about held funds but strong customer satisfaction, nonetheless.
While most of PayPal's rates are cheaper than Square's, Square is overall the more robust solution. It has free specialty POS software for restaurants and salons, add-ons for all aspects of a business—from customer loyalty to payroll and banking services. It's the most complete solution at an excellent price. Sign up for a free Square account today.