How to Get Seller Leads in Real Estate: Top 9 Tips for 2023
While buyer leads are lucrative, seller leads are equally beneficial in creating a thriving real estate business. Seller leads increase business by providing agents with real estate listings that naturally generate leads and build connections. However, it can be challenging to learn how to get seller leads as a new real estate agent with a limited network. With the right tools and strategies, like real estate referrals, social media, and lead software, agents can attract seller leads and build a strong reputation.
The following nine strategies will help you get real estate seller leads effectively:
1. Invest in Lead Generation Software
In general, real estate professionals prefer to generate real estate leads organically, through methods like referrals, social media, or your website. However, paid methods are essential as you learn how to get seller leads in real estate. The right lead generation software helps you generate, organize, and nurture real estate seller leads quickly and effectively.
Although lead generation software is an investment, the money you spend comes back to you in high-quality homeseller leads and a growing business. For example, agents who use Market Leader receive exclusive real estate leads in their local market with guaranteed quality. Plus, leads are automatically imported to the client relationship manager (CRM) and can be immediately contacted and nurtured with customizable campaigns through email, text, or direct mail.
On the other hand, software programs like Zillow or Market Leader might be a better fit for your business or location. Make sure to research the best places to buy real estate leads. A few of our top choices include:
Software

Best For

Real estate agents wanting exclusive leads and marketing tools for themselves and listings

Agents and teams seeking personalized and automated lead nurturing campaigns

Real estate agents and brokers wanting prime visibility on Zillow listings

Features

Exclusive seller leads
Automated marketing

Websites for multiple geographic areas
Personalized and automated nurture campaigns
Behavior analytics

Listing management
Pipeline and transaction management
Return on investment (ROI) calculator

Starting Price

$139 per month

$309 per month

$20-$60 per lead

Learn More
2. Request Referrals From Past Clients & Your Professional Network
The single best organic way to get seller leads is through real estate referrals. Studies show that 63% of homesellers found their agents through a referral from a friend or family member. There is no one better to sing your praises than a previous client who understands the value you bring to the table. If your list of previous clients is slim, you can still get the same results from your friends, family members, and colleagues—also known as your sphere of influence (SOI). These individuals already know your value and trust you to get the job done.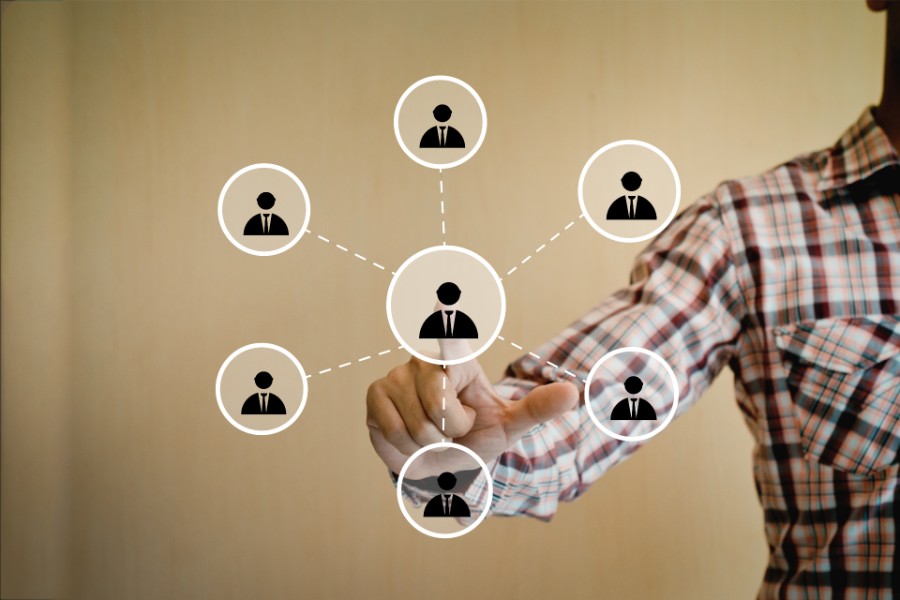 Your professional network is also an equally powerful source of property seller leads. As a real estate professional, you frequently connect with other professionals and local businesses, including doctors, lawyers, loan officers, financial advisers, accountants, and teachers (to name a few). Each of these connections have their own SOI with both personal and professional relationships that include real estate seller leads. It is crucial to stay in touch with these individuals and offer referrals to them in turn.
To generate real estate seller leads from your SOI, nurture them with consistent reminders that you are a real estate agent available for their connections. For example, try dropping off pop-by gifts for homebuying or selling anniversaries.
For previous clients, give them a real estate closing gift that will start conversations in their new home. Send holiday cards or wish them a happy birthday to get the conversation going. Use your real estate CRM to track your communications and set reminders to touch base with your SOI about once a quarter.
Another extremely valuable professional referral source is agent-to-agent referrals. If you work at a large firm, you may already have a built-in referral network; if not, you can use social media platforms like LinkedIn to connect with other real estate professionals.
3. Be Active on Social Media
According to the National Association of Realtors (NAR), 52% of realtors said that social media is the best tool for generating high-quality real estate leads. Although learning how to get seller leads through social media can be challenging, the research clearly shows that it is one of the most powerful tools to grow your business and attract realtor seller leads.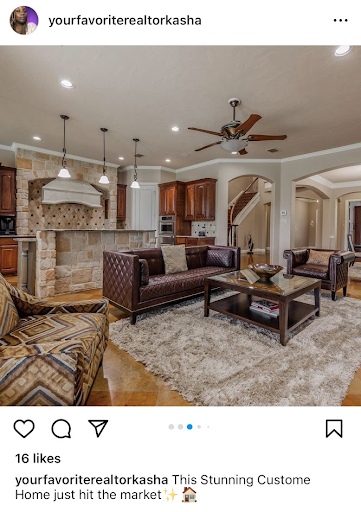 ---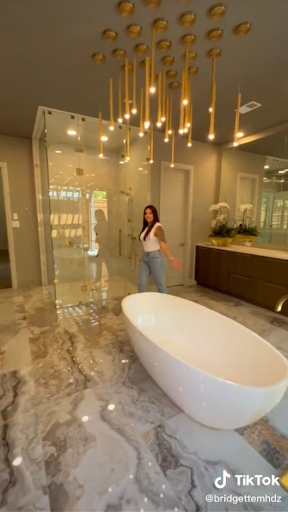 ---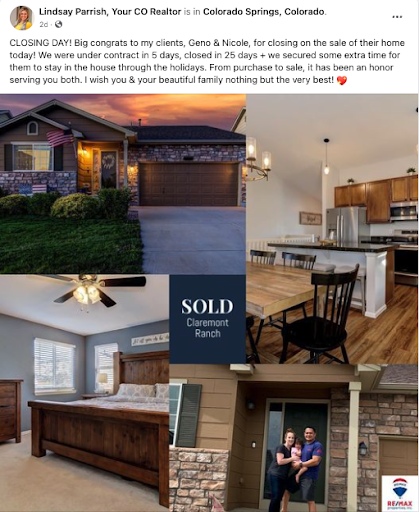 ---
To attract real estate seller leads, you need a social media strategy that showcases your ability to sell houses quickly and for the best value. For example, you can share listing photos, property walk-through videos, stories of successful listings, or tips for homesellers. While 97% of realtors use Facebook, you should repurpose all content and share it on multiple social networks to naturally expand your reach.
For example, the top social media networks for real estate include:
Many real estate agents get overwhelmed by the idea of being consistent online. To address this, there are social media tools you can use to plan, optimize, and schedule content quickly and efficiently. For example, Sprout Social's platform allows you to create multiple posts in one place, schedule them for the most optimal times, and publish them to multiple social media channels.
Sprout Social allows you to create the most effective content to get more seller leads without spending time online daily. It also provides easy-to-understand analytics to help you improve your content based on what your audience responds to.
4. Build Trust & Authority With a Real Estate Website
Research from the NAR shows that 80% of recent sellers worked with the first real estate agent they contacted. However, even when you are recommended to a potential seller lead, they are likely to visit your social media profiles and your website before reaching out. Therefore, it's extremely important to have a professional, visually appealing website that builds trust with new leads.
Your real estate website should show you're an expert who provides value to potential sellers. This should include past listings you've sold, testimonials from past clients, example comparative market analysis (CMA) reports you've produced, or blog posts that provide tips, tricks, and market trends for the areas you specialize in. As you learn how to get sellers in real estate, make sure your website provides enough information to convince them that you are the right choice along with an easy method to contact you directly.
There are many real estate website builders to choose from, but if you're looking to start immediately, we recommend GoDaddy. With a variety of premade real estate templates, a low monthly fee, and an easy-to-use editor, GoDaddy is a great website builder that grows with you as you become successful in real estate.
5. Capture Real Estate Seller Leads With Specialized Landing Pages
Real estate landing pages are incredibly effective ways to attract property seller leads because they can be highly targeted. While your website should showcase you as a whole and be helpful for all potential clients, landing pages can be designed specifically for a real estate seller's needs. This increases conversion rates and allows you to generate high-quality leads online.
For example, home valuation landing pages allow visitors to input their address and get a customized estimation of their home's value in the current market. This is highly appealing for homeowners considering whether or not to sell their home and want to know how much it might sell for. By offering this tool, you provide something valuable to sellers, and they eagerly provide their contact information and open the door for you to contact and nurture them.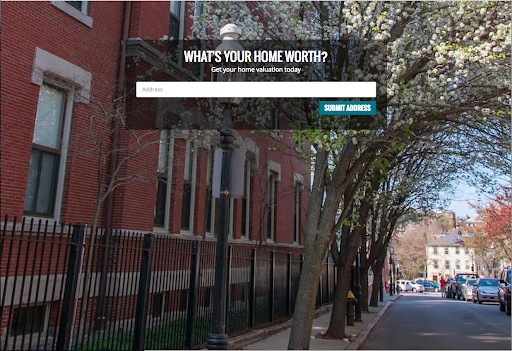 ---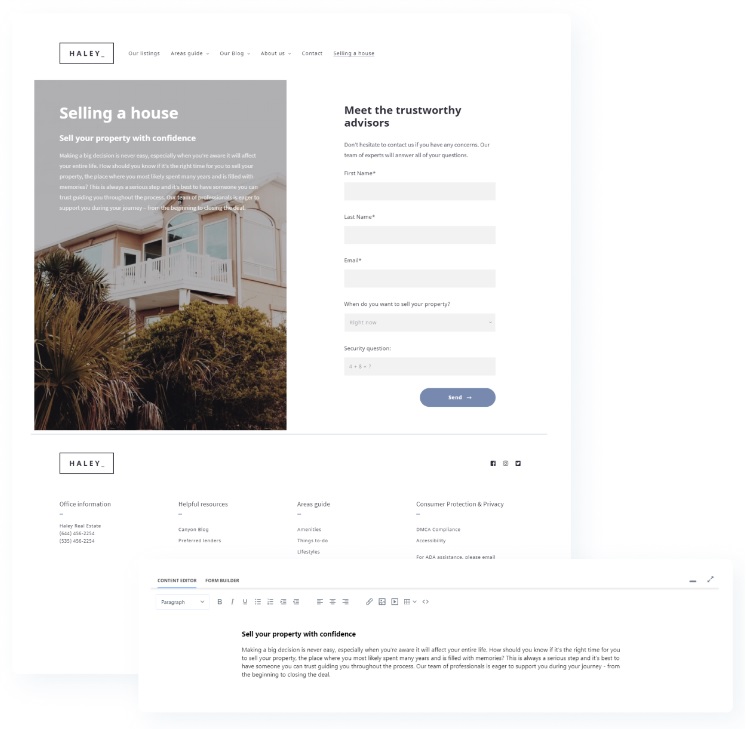 ---
Another benefit of using landing pages to get more seller leads is that they are easy to create with the right tool. One of the best and most user-friendly real estate landing page tools is Placester, which provides over 30 ready-to-use website and landing page templates for real estate seller leads. With its simple drag-and-drop editor and beautiful templates, you could have a highly targeted landing page customized and published in a matter of hours. Start signing up for Placester's 30-day free trial.
6. Target a Farm Area With Direct Mail
Real estate farming is a prospecting strategy that focuses your lead generation efforts on a specific location. When you're figuring out how to find seller leads, direct mail is a tried-and-true strategy to target a large number of potential leads in a specific geographic area. Direct mail can include postcards, letters, flyers, or brochures, and a wide variety of campaign strategies.
For example, a common direct mail campaign for real estate listings is sending market updates. This can include information about the current real estate market, like interest rates and buyer demand. Other campaign types include introductions, just sold postcards, sphere of influence (SOI), holidays, farm areas, and mail directed at absentee owners.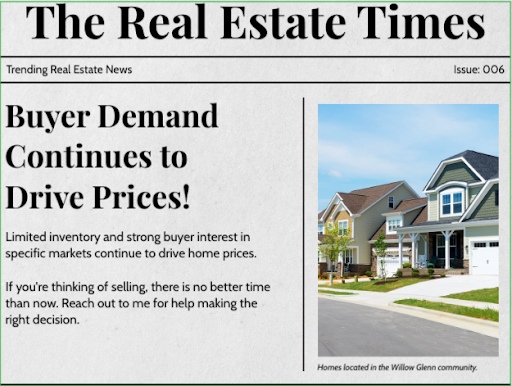 ---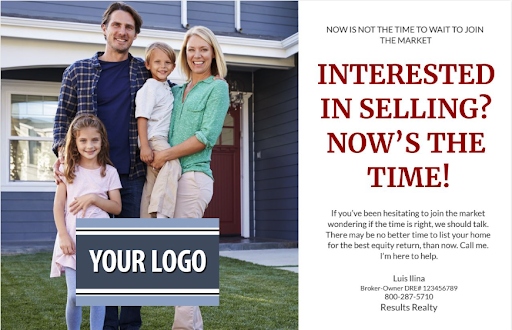 ---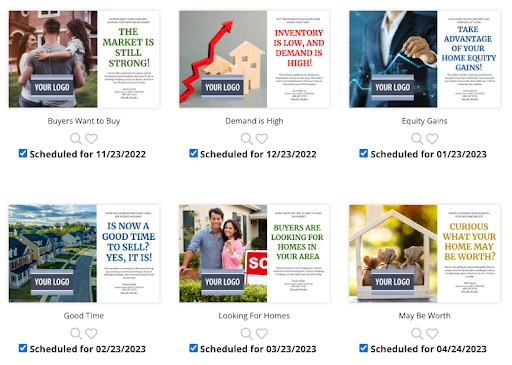 ---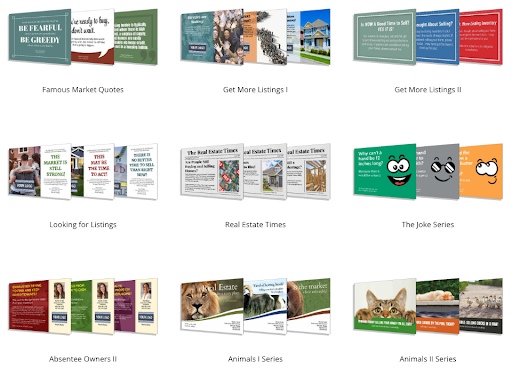 ---
Both real estate farming and direct mail marketing work best when you are consistent and purposeful. This is incredibly easy to achieve with a real estate direct mail service like ProspectsPLUS!. It offers a variety of real estate farming campaign templates that you can brand with your logo and schedule ahead of time with just a few clicks. ProspectsPLUS! also provides a variety of unique and engaging real estate farming campaigns, like a joke series or famous quotes. Learn more about how ProspectsPLUS! can help you target your farm area.
7. Offer a Comparative Market Analysis (CMA)
A comparative market analysis (CMA) is a report that compiles data from recent home sales to estimate a property's current value. When determining how to attract sellers in real estate, CMAs are valuable because they provide potential sellers with necessary information like the value of their home and how their home compares to others in the area. Offering a free CMA to a potential client is a great way to get their interest and build trust.
Consider offering a CMA on your website and social media as an incentive for potential sellers to contact you. Include a brief description of what is included in a CMA and highlight what makes it valuable for homeowners who aren't familiar with the terminology. For past clients, you could create a CMA every year on the anniversary of their closing date. For additional personalization, include a short video message explaining what the information means and remind them that you are always looking out for their best interests.
8. Target Niche Seller Leads
Listing leads are valuable for all real estate agents, so marketing strategies can be highly competitive. A great way to get more sellers in real estate is by niching down. A few examples of seller real estate niches include FSBO (for sale by owner) listings, expired listings, and inherited properties.
For sale by owner (FSBO) listings mean that a homeowner is attempting to sell their home without the help of a real estate agent. As real estate agents know, selling a house can be quite complex, so many homeowners who attempt this strategy quickly regret their decision. This provides you with an opportunity to help the homeowner by offering your expertise and connections.
However, finding FSBO lead sources and contacting the owners can be challenging. The owners can be determined to sell the home themselves and irritated to get calls from an agent. Plus, many agents reach out to FSBO listings, so you'll have to find ways to stand out from the competition in order to close these leads. Be mindful of your approach, and offer your support to the homeowner instead of trying to sell them during your first conversation.
Another way to find niche seller leads before your competition does is by using a tool with predictive analytics, like Offrs. Offrs uses over 1 billion real estate data points to pinpoint homeowners considering selling their homes and provides you with contact information and extensive marketing tools to reach them. It maximizes accuracy by cross-checking all data from over 25 different providers, allowing you to accurately predict 72% of all listings. Sign up for Offrs to get real estate seller leads before your competition.
---
Expired listings are another lucrative lead source that must be handled carefully. While FSBO listings are currently on the market, expired listings were previously on the market but, for some reason, did not sell before the listing expired, and the listing was not renewed. This means that owners may feel frustrated, angry, or stressed, and may have had a negative experience with another real estate agent. However, with a well-thought-out expired listing script, you can begin building trust with owners of expired listings.
It also helps to use a lead source like REDX for both FSBOs and expired listings. REDX automatically identifies FSBOs and expired listing leads before they can be found manually and provides you with accurate contact information. You can even import new leads directly into your CRM to start nurturing them. Learn more about REDX today.
---
An unfortunate reality is that many listing leads come after a homeowner passes away and the property ownership is transferred to someone else. While these situations are sensitive, they are also valuable opportunities to offer your expertise to someone who may not know what to do with a newly inherited property.
Until recently, it was difficult for real estate agents to target these leads because the data was limited. With a tool like Catalyze AI, agents can now pinpoint inherited properties with extreme accuracy based on specific actions and behaviors. It uses 400 million data points to find inherited leads and provide contact information for new homeowners. Since approximately 40% of Catalyze AI property leads sell within 12 months, this is one of the highest-quality lead sources available.
---
9. Join a Real Estate Team
One of the top reasons for agents to join a real estate team is the addition of lead generation tools and expertise. When you're part of a team, you'll share listings, clients, and marketing strategies. You'll be able to take advantage of the contacts your more experienced teammates already have, more efficiently building your confidence and SOI.
Many teams also specialize in working primarily with sellers, so you can participate in open houses and listing presentations as well as create CMA reports specifically for sellers. Not only will you gain valuable knowledge about selling homes, but you'll also learn how to get more sellers in real estate through experience.
Bottom Line
Learning how to get seller leads can be complex, but the result of your hard work will help you build a thriving real estate business. It's always best to diversify your approach to generating real estate seller leads, so take advantage of the ideas listed here and try them until you see what works best. No matter which strategies you use to get real estate clients, make sure you stay consistent.