ShipBob vs Fulfillment By Amazon (FBA): Pricing, Features & What's Best
ShipBob and FBA are two of the top third-party order fulfillment solutions used by small businesses. They work with ecommerce sellers to outsource product storage, inventory management, order processing, shipping, and returns.
We compared ShipBob vs Fulfillment by Amazon based on price, functionality, ease of use, and special services to identify the differences between the two and help you choose the best option for your business. In particular, we recommend:
If you're currently performing fulfillment in-house, consider strengthening your operation with shipping software. These platforms allow you to efficiently manage orders from all of your sales channels and compare shipping rates with added discounts. We recommend:
ShippingEasy: Best overall shipping software
OrderCup: Best for small-scale sellers and those seeking a starter plan
FBA vs ShipBob Quick Comparison
Monthly Minimum Requirement

None

None

Competitive Pricing

($–$$$$)

$

$$$

US Warehouse Locations

23

110

International Warehouse Locations

7

75

Shipping Partner Options

FedEx, UPS, USPS, DHL, OSM, CDL Last Mile, UDS, LSO, OnTrac

Amazon Logistics, UPS

B2B Fulfillment

✓

✓

Batch/Crowdfunding Fulfillment

✓

✕

Error Rate

0.05%

Undisclosed

Amazon Prime or Seller-Fulfilled Prime (SFP) Eligibility

✕

✓

Client Support

Very Good

Poor
When to Use Each
ShipBob
ShipBob is the better choice for multichannel sellers, ecommerce startups, and retail stores expanding into the ecommerce space. Unlike FBA, ShipBob is also a good fit for crowdfunding ventures, subscription services, dropshippers, and other non-traditional retailers.
PROS

CONS

Affordable two-day ground shipping anywhere within the continental US (plus options for same-day delivery)
Cannot fulfill Amazon SFP (Seller-Fulfilled Prime) orders
Growth Plan program designed for startups
Client support issue resolution needs improvement
Wide network of 23 US and seven international fulfillment centers
High storage fees
FDA-certified climate control and product handling
No refrigeration or frozen warehousing for cold chain compliance
Advanced reporting and analytics software
Reported billing discrepancies and hidden fees
ShipBob delivers sophisticated software, economical pricing, practical special services, and excellent ease of use—ultimately earning it the top spot in our evaluation of small business-friendly fulfillment companies with a score of 4.75 out of 5.
Not many providers can compete with FBA's vast warehouse network, but ShipBob maintains a wide global footprint of 30 facilities spanning six countries. This enables affordable domestic shipping and accessible international expansion for businesses of all sizes.
For details on ShipBob's infrastructure, pricing, software, and more, read our ShipBob review.
---
FBA
Fulfillment By Amazon is the better fulfillment service for competitive, Amazon-focused sellers. The service provides robust advantages to help your Amazon listings rank highly in search results, win sales, ship quickly, and achieve customer satisfaction.
PROS

CONS

Prime shipping designation provides access to over 150 million Prime subscribers
Expensive storage fees that fluctuate seasonally
Improves Amazon search rankings and 'Buy Box' placements
Low visibility into stock levels, plus inventory pooled between sellers
Fast turnaround and shipping times
No common specialty services like kitting, assembly, or branded packaging
Hands-off return and refund management
No refrigeration or frozen warehousing for cold chain compliance
FBA leverages its vast infrastructure to support rapid fulfillment with unlimited growth. The company works with small businesses regardless of size or order frequency, and includes services for non-Amazon sales.
In our evaluation of the leading fulfillment services, Fulfillment By Amazon scored 3.51 out of 5. While it lacks many of the features commonly offered by competing fulfillment companies, much of FBA's unique value comes from its special services and benefits for Amazon sellers.
---
Easiest to Use: ShipBob
| | | |
| --- | --- | --- |
| | | |
| Accuracy Rate | 99.95% | Undisclosed |
| Packaging Requirements | ✕ | ✓ |
| Liability Insurance on Inventory | ✕ | ✕ |
| Flexible Special Services | ✓ | ✕ |
| Software Functionality and Interface Usability | Excellent | Good |
| Billing Format | Visibility by line item | Visibility by line item |
| Hidden Fees Reported by Users | ✓ | ✓ |
| Termination of Services | Easy | Easy |
Users of both ShipBob and FBA report that the services are generally easy to use, but FBA has a steeper learning curve. This is largely because of the strict packaging and labeling requirements that result in penalty fees if not met.
ShipBob maintains an error rate of 0.05%, while FBA does not disclose its accuracy levels. It's reported that FBA's error rate is as high as 1%–1.25%, resulting in an annual loss of thousands of dollars for the average user. FBA does offer reimbursement for errors, but its claims process is not efficient or user-friendly.
Both companies deliver an online platform to monitor your inventory and orders. ShipBob's fulfillment software is more robust than FBA's, with better reporting, analytics, and inventory management—plus a friendlier user interface. That being said, a number of auxiliary programs and apps have been developed to supercharge your Amazon Seller Central account and improve the platform's functionality.
Billing is equally transparent with ShipBob and FBA alike. Your monthly statements are managed through an online portal and itemized down to the individual charge. Expenses are more predictable with ShipBob due to FBA's fluctuating storage fee structure and FBA fulfillment price increases that have been known to occur multiple times throughout the year.
Ultimately, ShipBob is the easier service to use thanks to its simplified billing structure, powerful software, and low error rate.
Did You Know?
Fulfillment By Amazon practices inventory pooling or commingling, which aims to streamline distribution by grouping identical products from different sellers.
This means the goods another retailer bought and shipped to FBA could be sent to the customer who made a purchase on your listing. In notable cases, this has involved counterfeit goods, faulty items, and improperly screened returns.
While somewhat rare, issues resulting from this practice can generate customer complaints, damage your ratings, and compromise seller eligibility.
Most Affordable: Varies
Onboarding and Implementation

$975 or $0 on the Growth Plan

$0

(plus monthly Amazon seller fees)

Inbound Shipping

Discounted rates available

Discounted rates available

Receiving

$25 first two hours, $40 per person-hour after that

$0 when guidelines are met

Storage

$40 per pallet/month, $10 per shelf/month, or $5 per bin/month

53 cents–83 cents per cubic foot/month during January–September;

$1.20–$2.40 per cubic foot/month during October–December

Fulfillment Fee

Varies based on weight and shipping distance

$3.07–$11.88 per unit for standard-size non-dangerous products (up to 20 lbs.)

$17.39–$200+ for oversize non-dangerous products (21-150+ lbs.)

Pick and Pack

Free up to four picks, 20 cents per additional item

Included in fulfillment fee; each unit charged separately

Packaging Materials

Free

Free

Shipping

Included in fulfillment fee

(discounted rates available)

Included in fulfillment fee

Returns

$3 per order

(plus return shipping costs)

Equal to original fulfillment fee

(plus repackaging fees if necessary)
Both ShipBob and FBA have affordable pricing based on usage, so you only pay for the services you use. They also share similar pricing structures. But the more affordable option between the two depends on which sales channels you use and what kind of products you stock.
FBA tends to be the more economical option for Amazon sellers—especially those who qualify for its discounted Small and Light program. ShipBob is more affordable for ecommerce stores and multichannel sellers that don't maintain a focus on Amazon.
Take a look at our ShipBob vs FBA comparison of each major cost center below.
Onboarding
There's no charge for onboarding to start using FBA. The same is true of ShipBob's Growth Plan, which aims to be a cheaper option geared toward startups. With these services, you'll handle the bulk of stock migration, platform integration, and account setup on your own.
Both of these free options are the superior choice for bootstrapped startups with more time than money. But, business owners with less experience, less time to spare, and/or more financial resources would greatly benefit from assistance with onboarding.
ShipBob's standard service charges a $975 implementation fee, which employs a dedicated "Implementation Engineer" who stays with you for 30 days to facilitate the onboarding process. This option is less affordable but can create a more hands-off experience and help to avoid bumps in the road.
Although FBA doesn't charge onboarding fees, you will need to start paying seller fees if you're new to the Amazon marketplace. A professional seller account is $39.99 per month, or individual sellers can opt to pay $0.99 per item sold.
---
Receiving
ShipBob charges $25 for the first two hours that it takes to receive your inventory—which is typically all that is needed. Each additional hour is charged at a rate of $40 per person it takes to complete the task. This service includes meeting the delivery driver, inspecting shipments against your purchase orders, unpacking goods, checking them in, organizing them in storage, and reconciling inventory counts.
FBA doesn't charge for receiving inbound inventory shipments as long as packaging and prep guidelines are met. These requirements are notoriously stringent; adhering to them is a process you'll need to plan or arrange for.
In lieu of handling them yourself, you can opt to have Amazon pack, label, and prep your products upon inbound receiving for a fee. Many third-party logistics (3PL) companies, including ShipBob, offer cheaper FBA prep services, and will send the prepared merchandise to FBA on your behalf.
If you don't opt into FBA's prep service in advance, you'll incur an unplanned prep fee for sending improperly prepared products. These charges vary by product and service type and range from 20 cents–$2 per unit.
Ultimately, FBA's 'free' receiving offer will cost you—whether it's in your own labor, separate third-party prep fees, or FBA prep fees. So, while it may appear to be more affordable than ShipBob's receiving service, the final verdict depends on your products and approach.
---
Storage
ShipBob provides a storage-optimization service that's included in your monthly storage cost.
Staff use Warehouse Management System software to constantly evaluate the space your goods are occupying and how they could be most efficiently arranged. For example, if you have a pallet of merchandise at the beginning of the month and 50% of it sells, ShipBob will reorganize the remaining products into bins or shelves.
While this benefit can help reduce your storage bill, ShipBob's storage fees are still significantly more expensive than most of its competitors—including FBA during non-peak months.
FBA storage fees vary by season, increasing up to 200% during the months of October–December. Your FBA storage charges also depend on the size of your products and whether they fall into the "dangerous goods" category, which includes batteries and magnets. It also charges pricey long-term storage fees for inventory held longer than 270 days.
---
Fulfillment Fees (Pick & Pack, Packaging Materials & Shipping)
ShipBob charges a single fulfillment fee for each order—which includes pick and pack (up to four items), basic packaging materials, and shipping.
FBA uses the same compound fee structure, but a fulfillment fee is charged for each unit in any order. This can make multi-item orders add up quickly.
Additionally, FBA charges higher fulfillment fees for MCF, or multichannel fulfillment orders. This refers to any order coming from a marketplace or website other than Amazon. As shown below, MCF increases your fulfillment costs by 75%–275%. Because of this, FBA is recommended for sellers who make 80%–90% or more of their sales on Amazon.
Item: Tablet Case

Shipping Weight: 2.88 oz

Amazon Order

FBA Fulfillment Fee

MCF Order

FBA Fulfillment Fee

$3.07

Standard: $5.35

Expedited (Two-day): $8.15
Source: Amazon
FBA charges greater fulfillment fees for certain product categories, as well. This includes apparel, collectibles, and grocery items. Read more about FBA fee categories here.
Conversely, ShipBob charges fulfillment fees at the same rate regardless of sales channel or product category. Pricing is determined by parcel dimensions, weight, and shipping speed.
But it's important to note that ShipBob cannot fulfill Amazon Prime or Seller-fulfilled Prime orders—so you won't be able to boast the sales-boosting Prime badge (even if you pay for expedited shipping.)
---
Best for Scalability: ShipBob
| | | |
| --- | --- | --- |
| | | |
| B2B Fulfillment | ✓ | ✓ |
| Maximum Order Volume | None | None |
| Number of US Warehouses | 23 | 110 |
| Number of International Warehouses | 7 | 85 |
| Volume Discounts | ✓ | ✓ |
| B2B Fulfillment | ✓ | ✓ |
Both ShipBob and FBA are highly capable of promoting and facilitating growth. There's no minimum or maximum order volume required to use either company, and they both offer programs for B2B fulfillment.
FBA's industry-leading warehouse network boasts 195 total fulfillment centers—making it better for global distribution than ShipBob—but both providers offer cross-border shipping and international fulfillment to enable international expansion.
Ultimately, FBA is strongly geared toward Amazon sales, which makes it difficult (and costly) for users to expand into new sales channels. This makes ShipBob the more scalable option overall. Furthermore, ShipBob offers better volume discounts and unique programs to help startups grow.
Best for Amazon Sellers: FBA
| | | |
| --- | --- | --- |
| | | |
| Amazon Prime or Seller-Fulfilled Prime (SFP) Eligibility | ✓ | ✕ |
| FBA Prep Service | ✓ | ✓ |
| Boosts Amazon Visibility | ✓ | ✕ |
If you're an Amazon seller or customer, you likely understand the gravity of the Prime badge. Selling Prime-qualified products opens you up to a customer base of 200 million Prime subscribers, but not all fulfillment partners are eligible to help you achieve that.
Prime orders must be fulfilled either through FBA or another method registered with Amazon's Seller-fulfilled Prime (SFP) program.
ShipBob is not SFP-eligible, so its users must either:
Participate in the Fulfillment By Merchant (FMB) non-Prime program for their Amazon sales
Have ShipBob prep and send a portion of their inventory to FBA, where it can be fulfilled for Prime orders
Meanwhile, FBA is designed specifically for Amazon sellers. Every Prime-eligible order fulfilled through FBA receives the coveted Prime badge automatically.
Using FBA also provides other competitive Amazon advantages. First, FBA listings get a significant edge over non-FBA items in Amazon's search engine algorithm. This leads to higher rankings for FBA products in Amazon's product search results—which typically generates more sales.
Additionally, using FBA can help your listing own the "Buy Box," which is the "Add to Cart" button on most product listings. When viewing a product sold by multiple sellers, hitting this button will add one chosen listing to the customer's cart. An algorithm determines which seller owns each Buy Box by considering price, shipping speed, seller metrics, and fulfillment method. The most heavily weighted factor in determining Buy Box ownership is the use of FBA.
Another FBA benefit for Amazon sellers is access to the Subscribe & Save program. The feature gives customers a discount and free shipping when they sign up for a product subscription—which is a recurring, automated purchase.
Among a few other basic requirements, the Subscribe & Save program is only available to FBA sellers, and it's one of the best ways to have consistent revenue with Amazon.
Needless to say, Fulfillment by Amazon is the better option for Amazon sellers or multichannel merchants that rely on Amazon for a significant portion of their sales.
Best Customization & Branding: ShipBob
Branded/Custom Product Packaging

✓

✕

Branded/Custom Shipping Supplies

✓

✕

Custom Packaging Sourcing Assistance

✓

✕

Gift Notes

✓

Branded

✓

Unbranded

Branded Inserts

✓

✓

Branded Confirmation Emails and Tracking

✓

(through third-party integration)

✕
Every FBA package promotes Amazon's own brand thoroughly—from the confirmation email to the box, tape, and dunnage. This minimizes any opportunity for customization and detracts from the sellers' branding.
FBA users can convey branding through custom internal product packaging and inserts, but a complete unboxing experience is not possible through the service.
ShipBob allows you to provide custom packing materials and designate the specific way you want orders assembled. You can even send videos demonstrating how you want each custom-packed order to be done.
Additionally, for 50 cents, ShipBob can supply branded gift notes that display custom messages written by your customers. Orders processed through FBA also have the option of pairing with a customer-written gift note, but they take the form of plain, Amazon-branded slips.
ShipBob doesn't include any of its own branding on your orders, which keeps your brand in focus for the customer. While the company can't create custom packaging elements for you, ShipBob can help source custom materials through a partner solution. These extensive options make ShipBob the better choice for customization and branding.
Best Special Services: ShipBob
| | | |
| --- | --- | --- |
| | | |
| Post-sale Servicing | ✕ | ✓ |
| Temperature Control | ✓ | ✓ |
| FDA Certification | ✓ | ✕ |
| Freight Management Services | ✓ | ✕ |
| Retail Dropshipping | ✓ | ✕ |
| Subscription Fulfillment | ✓ | ✓ |
| Crowdfunding Reward Fulfillment | ✓ | ✕ |
| FBA Prep Service | ✓ | ✓ |
| Reporting and Analytics | Very Good | Fair |
ShipBob surpasses FBA when it comes to special services. The company has a range of hard-to-find features like FDA-certified handling, crowdfunding fulfillment, and retail dropshipping. Sellers in need of these services would be a poor fit for FBA.
Both providers offer subscription box programs and climate control in certain locations—but FBA's ability to maintain temperature-sensitive goods is frequently criticized.
ShipBob recently launched freight management services to support importers, with priority discharge at multiple ports, 100% guaranteed weekly sailings, and competitive rates for shipments as small as 1 cubic meter. It also has the upper hand when it comes to reporting and analytics services. Its fulfillment platform allows users to track key metrics and visualize data at an advanced level, while FBA's reporting tools are less robust.

---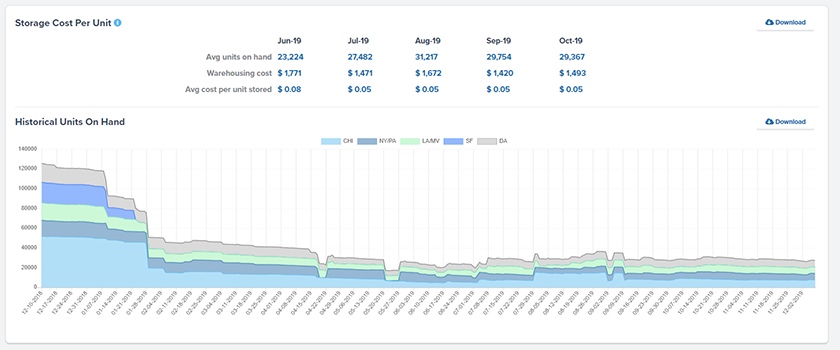 ---
These special service options make ShipBob the best choice in this category.
However, it's important to mention FBA's post-sale customer service features, which are a major advantage that FBA has over ShipBob. At no additional cost, FBA provides customer support for all of your Amazon orders—including troubleshooting and refund management. Support personnel are available to consumers 24/7, which tends to increase customer satisfaction and loyalty.
The cost of outsourcing this level of support on its own would be astronomical for any small business. So, if hands-off customer service is a priority for you (as an Amazon seller), FBA may be worthwhile for that special service alone.
Best Customer Support: ShipBob
Communication Channels

Phone, live chat, and email

Online ticket form

Hours of Availability

9 a.m.–5 p.m. Central time

Monday–Friday

Undisclosed

Average Response Time

1.23 hours

24-48 hours*

Dedicated Account Service Rep

✕

✕
*Exact response time unpublished. Estimate reported by service users and third-party reviewers
Client support for FBA users is an extension of Amazon's Seller Support team. While FBA ratings on sites like Trustpilot and G2 are scarce, there's an abundance of discussion about the service elsewhere—such as forums like Reddit, Quora, and Amazon's own Seller Forums.
Unlike Amazon customer service, Seller Support is notoriously unreliable, leaving users frequently waiting multiple weeks or even months for issue resolution. It's also reported that the majority of Seller Support is outsourced to third-party representatives with insufficient training.
If you search for Seller Support contact info online, you'll come across a phone number that's actually reserved for Amazon customers. The only way to contact Seller Support is by filling out a ticket and requesting a call or email. A seller community forum and online knowledge base are available for users to troubleshoot on their own.
ShipBob also outsources a portion of its customer support staff, which has earned the company criticism from its users. But, ShipBob support reps are generally well-trained, knowledgeable, and accessible. They can be reached by phone, live chat, and email during standard business hours.
Online reviews of ShipBob's client support are mixed, and it's clear that there's significant room for improvement. That being said, many users commend the ShipBob reps they've worked with, and the general backlash pales in comparison to FBA.
Overall, ShipBob's client support is the far better service thanks to its accessibility, effectiveness, speedy response time, and user reviews.
Best Connectivity: ShipBob
ShipBob offers some of the best connectivity in its class, delivering pre-built, turnkey integrations with over 85 partners. FBA's proprietary integrations are far more limited—but thanks to its open APIs and enormous popularity, hundreds of FBA integrations are readily available through third-party developers.
This makes a direct comparison tricky. While a greater number of integrations are available for FBA, the vast majority of them cost extra since they come from third-party developers. They also might be difficult to find and could lack security. Because of this, ShipBob offers the best connectivity at no extra charge with a wide range of proprietary integrations.
Both companies provide developer-friendly open APIs that make it possible to have a connection custom-made fairly easily.
Ecommerce platforms, shopping carts, and marketplaces: WooCommerce, VTEX, 3dcart, Shopify, and ByteStand
Freight and shipping solutions: AfterShip
Operations, inventory, and order management: ChannelAdvisor, Listing Mirror, Orderhive, Zentail, Skubana, Sellbrite, and Sellercloud
Digital connectivity: WebBee
Additional integrations are available through Zapier and other third-party developers.
Ecommerce platforms and shopping carts: Shopify, Shopify Plus, BigCommerce, WooCommerce, Squarespace, Wix, Square
Online marketplaces: Amazon, Walmart, eBay
Freight and shipping solutions: DHL, FedEx, UPS, USPS, Pachama, ShipStation, Rush, AfterShip, Anvyl, Echo Global Logistics, FlavorCloud, Flexport, Freightos, Route, Shippo
Operations, inventory, and order management: Order Desk, Package Bee, Cin 7, Zentail, Skubana, Inventory Planner, CartRover, SPS Commerce, Brightpearl, Brij, Cogsy, Cimbio, Fulfil.io, Linnworks
Custom packaging and design solutions: Arka, Noissue, Packhelp, Packlane
Returns management: Happy Returns, Loop Returns, Returnly
Accounting, tax, and financing: Avalara, Canusa Logistics, Clearco, DSP Insurance Services, Firstbase.io, Kickfurther, KickPay, Mercury, SimplyVAT, TaxJar, ZonKeepers
Marketing and CRM: CartHook, Checkout Champ, Gorgias, Klaviyo, Octane AI, Okendo, Omnisend, Pagefly, Privy, Recharge, Rise.ai, Sezzle, Simplr, Skio, Smarter, TalentPop, Zaius, Zip
Crowdfunding: BackerKit, Crowd Ox, Wefunder
Branding and web development agencies: adQuadrant, BVAccel, eHouse Studio, Envoy, Eventige, Hawke Media, Priceless Consulting, MuteSix, ROI Revolution
Bottom Line
ShipBob and FBA are two strong options for outsourcing your ecommerce order fulfillment and making room for growth. The option that's best for you depends on your specific business needs.
Since it's owned and operated by Amazon, FBA functions differently than most fulfillment providers. It's designed to serve and prioritize Amazon customers, so multichannel orders don't receive the same affordability or special services. If you're an Amazon seller, FBA offers many competitive advantages that can help your business succeed.
ShipBob's services and platform are built to work well for any sales channel—but the company can't fulfill Amazon Prime orders, so it's best for non-Amazon sellers.
To find more fulfillment options that fit your business, visit WarehousingAndFulfillment.com. It's a brokerage service that matches you up with compatible providers, and it's completely free to use.