Square credit card processing offers an affordable, easy, and immediate way of accepting card payments. Square comes with a suite of free business management tools like customer directories, an online store, inventory tracking, and customer feedback collection. Learning how to use Square means you can get the most out of Square's free tools.
Square's credit card processing gives you a variety of transaction options at transparent prices, along with a full management toolkit, including a free point-of-sale (POS) app. Plus, Square has tons of other software add-ons, like email marketing and loyalty programs. Visit Square to get started with a free account and mobile card reader.
How To Use Square Credit Card Processing
Square lets businesses accept credit card payments via the following: the mobile POS app, in-store through a traditional POS setup, an online store, a virtual terminal for phone or keyed-in payments, and invoices. The first step in using Square credit card processing is signing up for a free account.
After entering some basic information, including an email address and password, you will select how you want to use Square to accept credit card payments. Then, you'll confirm your identity and link your bank account to finish creating your free Square account. Unlike traditional merchant accounts, Square does not require an application or credit check. Once your account is set up, you're ready to learn how to use Square credit card processing. To learn whether Square Payments is right for you, read our full Square Payments review.
For a full breakdown on what it costs to use Square to run your business, visit our Square Fees & Pricing Guide.
Continue on to learn how to accept in-person, online, and invoice payments using Square.
How To Use Square Mobile Payments
To use Square to accept mobile payments, you'll need to download the free Square POS app on an Apple or Android smartphone or tablet. When you sign up for your free Square account, you can choose to have a free magstripe card reader mailed to you. You can also purchase other card readers to accept chip and contactless card payments or key-in the card number to process mobile transactions.
Using Square's mobile app, you can accept:
Cash
Manually entered credit and debit cards
Manually entered gift cards
Card on file payments
Invoices
Online checkout with QR code
Checks
Custom payment methods
Once you connect a card reader, you can accept swipe, chip, and contactless payments.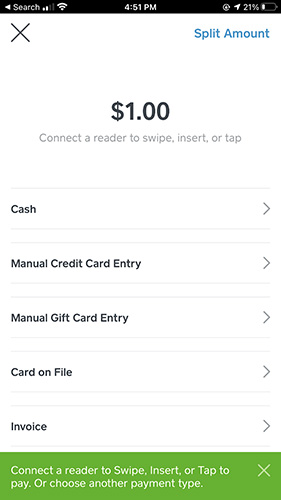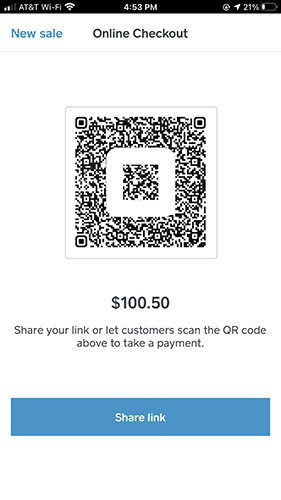 How To Use Square In-Store Payments
Square's powerful, free POS software can be paired with a checkout register for in-store sales. While you can use the mobile readers covered above for in-store sales, most retail stores and eateries prefer using a checkout register with a cash drawer and receipt printer.
Use Square To Run Your Business
Square's POS app is a very powerful sales and inventory management tool that seamlessly ties into your online Square dashboard. With it, you can maintain many aspects of your business using just your smartphone or tablet, such as:
Manage inventory: You can add items to your Square inventory list, track your quantities in stock, and even record key details like wholesale costs. When you make a sale, Square automatically reduces item inventory levels so your stock numbers are always correct.
Track sales: Every mobile sale is tracked in detail, and you can access sales reports to help you track growth and make key business decisions. Plus, if you sell via other methods, like online or in-store, all of your sales tie seamlessly in one system.
Manage customers: Square's mobile app lets you enter and track your customer data, such as email addresses and purchase history, so you can provide better service or grow your business via email marketing.
Through Square Dashboard, you can:
Manage Square Online: Set up an online store, quick checkout page, or Instagram shop. Use templates to design your website, ship and track orders, manage products, create pop-ups, view site activity like abandoned carts, and set fulfillment options like curbside pickup.
Manage employees: Add and remove employees, track clock-ins and clock-outs, view timecards, and manage breaks and overtime. Upgrade to Team Plus ($35 per month) for employee activity logs and more detailed sales and labor reports.
Process payroll: If you upgrade to Square Payroll, you can run payroll with direct deposits anytime, manage benefits like healthcare, pay out tips, file new hire paperwork, and view federal and state tax withholdings and filings.
Run marketing campaigns: Through Square Dashboard, you can create one-time email campaigns for coupons, business updates, sales, and more. You can also generate automated campaigns for new customers, lapsed customers, birthdays, and more. Connect your Facebook account to set up marketing campaigns on Facebook. You can also see reports for email, Facebook, and receipt messages.
View detailed reports: On the home screen of Square Dashboard, you can view sales and transactions for the day, plus an overview of the last 30 days. Click into the reporting tile to see transaction lists, sales trends, dispute management, activity logs, cash drawers, custom reports, and more.
Manage inventory: With Square, you can make inventory adjustments on the POS app or Dashboard, and they all sync together. The app is great for on-the-fly changes, but any bulk uploads or adjustments, variant management, or low-stock tracking is easier on the Dashboard.
Take phone orders: Every Square account comes with a virtual terminal to quickly type in orders and payments without any hardware.
Send and receive invoices: Create estimates and send one-time or recurring invoices. View paid and outstanding invoices, plus pending and accepted estimates. Set up reminders for invoices and expiration dates for estimates, and see when they are viewed or paid by customers.
Manage finances: From the Dashboard, you can manage bank transfers, set up a Square Card (business debit card tied to your Square sales balance), and request a business loan through Square Capital.
To learn more about setting up Square POS, read our Square POS Ultimate Guide. If you're ready to get started, visit Square to create your free account.
How To Use Square Online Payments
Square makes it easy to expand your existing business into online sales or launch a completely new business online. You have two options for using Square for online sales:
Use Square Online's store feature: Every free Square account includes a free Square Online account with options to create a website, online store, checkout page, or shoppable Instagram page that integrates directly with your existing Square inventory list. This is the fastest, easiest, and cheapest way for Square users to start selling online.
Use Square Payments with top ecommerce platforms: Top web builders, including WordPress and Wix, integrate with Square if you need more online selling features than the free Square Online store offers.
How To Use Square Online Store
If you already use Square and have inventory items set up, you can quickly launch a free Square Online store to sell some or all of your existing products online. In addition to the free online store, Square has a few paid ecommerce plans that have more advanced features.
If you're new to Square, here are three things you'll need to do to launch a free Square Online store:
Open a free Square account.
Enter products into your Square inventory, with good product photos and product descriptions.
Decide on a domain name for your website (you'll create this during your Square online store setup).
For more information on accepting payments with Square Online, read our step-by-step guide on How to Set Up Square Online Store.
How To Use Square With Other Ecommerce Platforms
You can use Square as your online payment processor for other ecommerce platforms like WooCommerce, and Ecwid. If online sales are your focus, these platforms offer a stronger set of online sales features than the free Square online store. These platforms charge monthly fees, but Square charges you nothing more to go this route (you just pay credit card processing fees).
A few platforms fully integrate their inventory, sales, and customer tracking data with Square. This can be a major plus if you sell online, in-store, and via mobile. This integration lets you conveniently manage all of your sales functions within Square.
To use Square with one of these ecommerce platforms, you need to:
Open your free Square account.
Choose your ecommerce platform.
Connect it to Square using the platform's built-in integration app.
Build your online store.
Use Square To Manage Your Online Business
If you use Square's free online store feature or an integrated ecommerce store, you'll be able to manage online orders right from your Square Dashboard or POS screen.
Square's free online store comes with many features, including:
Automated, secure online payment processing
Customer tracking and management
Inventory management for both online and in-store sales
Shipping label printing and order tracking
Virtual terminal screen in the Square dashboard for entering and processing customer phone-in orders
Sales tracking and business reports
Visit Square Online to create a free account and start accepting payments in minutes.
Use Square To Manage Invoices & Recurring Payments
Square lets you create invoices and email them to your customers from both your Square Dashboard and POS app. Once received, your customers can conveniently pay invoices using a credit card by clicking the "Pay" button on their invoice. They can even choose to save their payment information to use for future payments or as a recurring payment.
To use Square for invoicing, you need to:
Set up a free Square account: Invoicing is done through the same dashboard and POS app as mobile and in-store payments.
Generate and send invoices: Create invoices in your Square POS or via your online Square dashboard, and then email them to customers or print as needed; you can enter inventory items on invoices or create custom charges.
Track payment status: Online invoice payments record automatically as customers pay; you can also enter check or cash payments, or process phone-in credit card payments within your Square dashboard or app.
Recurring payments are a handy feature that Square provides. They're ideal for automating monthly service fees, e.g., lawn care and housekeeping services or monthly tuition and dues. Customers enjoy the convenience of automated payments and you enjoy a steady stream of predictable, on-time income each month.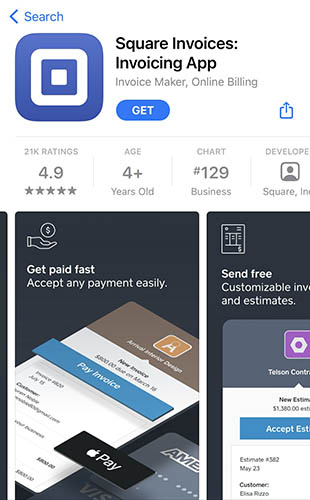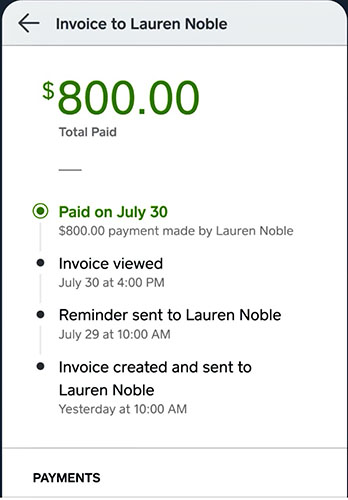 Use Square Invoice Payments To Manage Your Business
Square gives you a powerful set of invoicing tools to help you track payments and stay on top of late accounts. Best of all, if you combine invoice sales with other types of selling, such as online, in-store, and mobile sales, everything is recorded in your Square Dashboard for an accurate view of your entire business.
If you use invoices, you'll find that Square makes it easy to:
Create and send single or batch invoices
Track sales and payments by customer
Track aging and late-pay accounts
Assign inventory to sales tickets
Charge for parts, items, and services on one invoice
Accept invoice payments via credit card, check, and cash
Set up secure and convenient recurring billing
Pull up-to-date sales reports
Send automated payment reminders
Market or send service updates to customers
If you're ready to get started, our Square Invoice Guide offers step-by-step instructions.
Bottom Line
When someone asks how to use Square credit card processing, there is no one straightforward answer because Square can be used in so many different scenarios, including mobile sales, in-store sales, online sales, and invoicing. However, the first step is always creating a free Square account and downloading the free POS app.
Square credit card processing is so popular because it is quick, easy, and affordable. Once you know how to use Square, you're not held back by troublesome integrations, equipment add-ons, or software learning curves. Everything is streamlined into one tidy package. Visit Square to create a free account.