Square credit card processing offers an affordable, easy, and immediate way of accepting card payments. Square comes with a suite of free business management tools like customer directories, inventory tracking, customer feedback collection, and an online store. Learning how to use Square means you can get the most out of Square's free tools.
Square's credit card processing gives you a variety of transaction options at transparent prices, along with a full management toolkit, including a free point-of-sale (POS) app. It's one of our top-recommended merchant services for small businesses. Plus, Square has tons of other software add-ons, like email marketing and loyalty programs. Visit Square to get started with a free account and mobile card reader.
How to Accept Payments With Square
You can accept both in-person and remote payments using the free Square POS software. For on-the-go mobile payment processing, download the free mobile Square POS app, which is available for both iOS and Android devices.
For in-person payments, you'll want a card reader or other POS hardware. While you can always enter payments manually, processing fees are typically higher for card-not-present transactions—as is the case with Square. If you're using the mobile POS app, you can connect your device to a card reader or have customers pay by scanning a QR code.
You can accept remote payments through invoicing, online store checkout, virtual terminal, or payment links—each of which can be managed in your Dashboard. You can also create and send invoices and payment links from your mobile POS app.

Click through the dropdowns below to see how to use Square to accept mobile, in-store, online, and invoice payments:
How to Use Square With Other Ecommerce Platforms
You can use Square as your online payment processor for other ecommerce platforms like WooCommerce, Wix, Magento, BigCommerce, WordPress, and Drupal Commerce. If online sales are your focus, these ecommerce platforms offer a stronger set of sales features than the free Square Online store. Square doesn't charge a fee to integrate payment processing into these platforms (you just pay payment processing fees).
A few platforms can fully integrate inventory, sales, and customer tracking data with Square—a major plus if you sell online, in-store, and through mobile.
To use Square with one of these ecommerce platforms, you'll need to:
Open your free Square account.
Choose your ecommerce platform.
Connect it to Square using the platform's built-in integration app.
Build your online store.
How to Use Square to Run Your Business
In addition to payment processing, you can use Square's mobile POS app to help run your business on the go. These management tools are available through the app:
Order and inventory management: Add items to your library, track in-stock inventory, and check order status. When you make a sale, Square automatically updates your inventory, so your stock numbers are always up-to-date.
Sales reports: Sales are recorded and summarized to help you track growth and make key business decisions.
Customer management: Enter your customer information such as email addresses and purchase history so you can provide better service or grow your business via email marketing.
Team member profiles: Add and view team members to quickly reference contact information.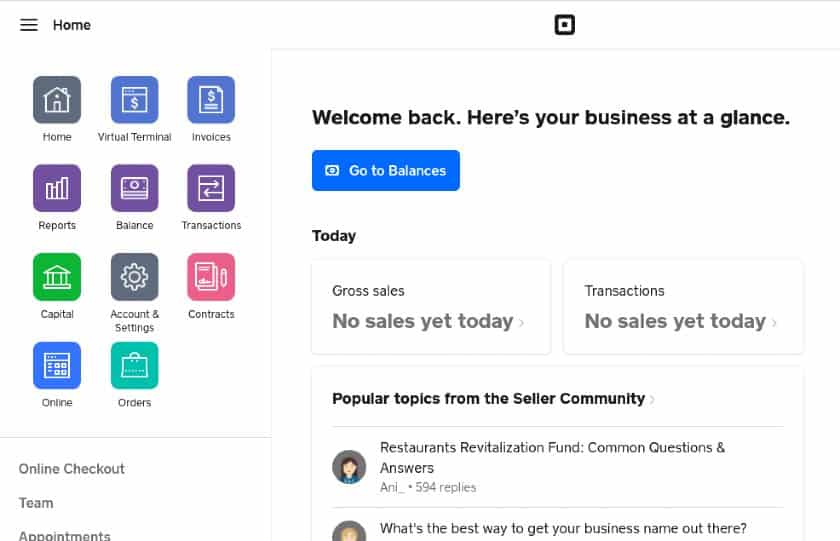 Since your Square Dashboard is your business hub, this is where you'll manage many of the payments-related aspects of your business. Use your Dashboard to access tools and features like:
Online store: Create a free online store with the website builder—connect your Instagram account to make it shoppable. Sell online, manage products, view reports, set fulfillment options, and create marketing campaigns. You can also use your online store to accept donations, allow customers to book appointments, or order food.
Team management: Add/remove employees, track clock-ins/clock-outs, view timecards, and manage breaks and overtime. Upgrade to Team Plus for $35/month to access employee activity logs and detailed sales and labor reports.
Payroll: If you upgrade to Square Payroll, you can run payroll with direct deposits anytime, manage benefits like healthcare and pay-out tips, file new hire paperwork, and view federal and state tax withholdings and filings.
Marketing: Create email campaigns for coupons, business updates, sales, and more. You can also generate automated campaigns for new customers, lapsed customers, birthdays, and more. Connect your Facebook account to set up marketing campaigns and access marketing reports.
Reports: Pull detailed daily, weekly, or monthly sales reports and trends. Track analytics like payment methods, individual team member sales, labor vs sales, comps, voids, disputes, taxes, and more.
Inventory management: Adjust and sync inventory from your mobile POS app or Dashboard. The app is great for on-the-fly changes, but any bulk uploads or adjustments, variant management, or low-stock tracking is easier on the Dashboard.
Virtual terminal: Use your virtual terminal to quickly manage transactions like phone orders and process payments without any hardware.
Send and receive invoices: Create estimates and send one-time or recurring invoices. View paid and outstanding invoices, as well as pending and accepted estimates. Set up invoice reminders and estimate expiration dates, and see when these are viewed or paid by customers.
Manage finances: Monitor bank transfers, set up a Square Card (a business debit card tied to your Square sales balance), and request a business loan through Square Capital.
How Much Does It Cost to Use Square?
It's free to create your Square account and use the POS and payments software. Square charges a processing fee for every transaction, which varies depending on payment process method. Some of these tools, such as Square Online, offer paid upgrade plans for access to more advanced features.
When you create your Square account, you'll receive a free magstripe card reader that can connect to your device and accept swiped card payments. You can purchase additional hardware and POS equipment, like chip/contactless card readers, terminals, registers, and accessories.
Bottom Line
You can use Square in so many different scenarios, including mobile sales, in-store sales, online sales, and invoicing. But the first step is always creating a free Square account and downloading the free mobile app.
Merchants like Square credit card processing because it's quick, easy, and affordable. Once you know how to use Square, you won't face troublesome integrations, equipment add-ons, or software learning curves. Everything is streamlined in one tidy package. Visit Square to create a free account.
You May Also Like …