Square credit card processing is an affordable, easy, and immediate way to accept card payments. It gives you various transaction options at transparent prices and a full management toolkit, including a free point-of-sale (POS) app. You can accept both in-person and remote payments using various free Square software. Square is also our top-recommended merchant service for small businesses.
For in-person payments, download the free mobile Square POS app, available for iOS and Android devices. The app can connect your device to Square's card reader, create and send invoices and payment links, and allow customers to pay by scanning a QR code. For remote payments, Square offers invoicing, online checkout, payment links, and a virtual terminal—each of which can be managed in your Square Dashboard. Whichever solution you choose, they all begin with creating your free Square account. Visit Square to get started.
Here is a complete guide, including a handy video overview, on how to use various Square tools to process credit cards and run your business:
How to Use Square Credit Card Processing Video
Now, let's cover how to use Square for mobile payments, in-store payments, online payments, invoices, and remote payments through Square Virtual Terminal.
Square in-person payments:

2.6% + 10 cents for every tapped, dipped, and swiped payment

Card-not-present and manually keyed transactions:

3.5% + 15 cents when you enter a credit card number manually in the Square Point of Sale app

Best for:

Mobile businesses, occasional sellers that need a fast, user-friendly payment solution
To use Square mobile payments, you'll need to download and sign in to the mobile POS app on your iOS or Android device. Log in and hit the "Checkout" button on the left side of your screen to log your sale. You can manually enter the transaction amount or select items from your Item Library if you've created one.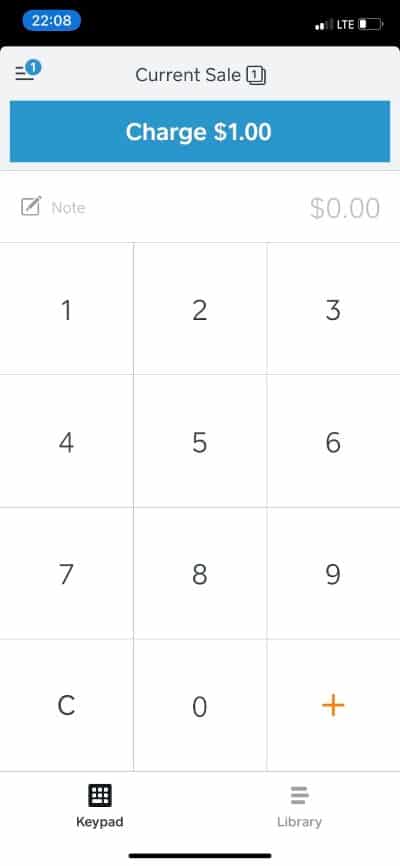 When you're ready to accept payment, hit the "Charge" button. You can process payments in several ways:
Swiping, tapping, or dipping a card through the card reader
Cash
Keyed-in credit/debit card
Keyed-in gift card
Card-on-file
Invoice
Send payment link
Check or another miscellaneous payment method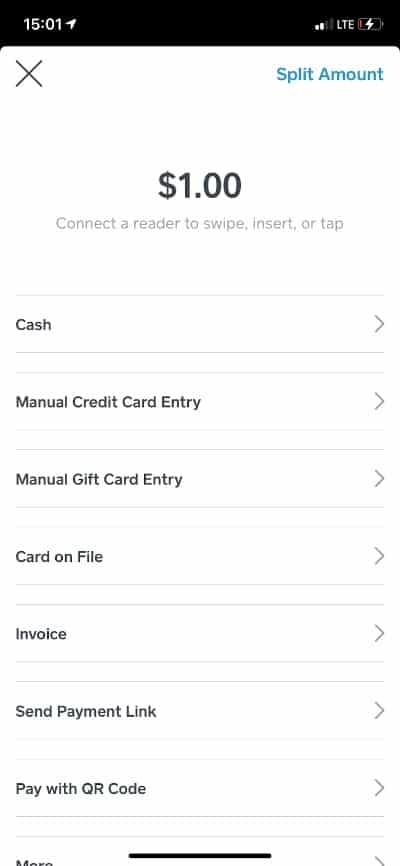 After every successful payment, you can choose between issuing a digital or printed receipt.
Step 1: Enable digital receipts on the Square app, click More > Settings > Checkout > Signature and Receipt.
Step 2: Toggle Skip Receipt either on or off.
Step 3: Authorize the payment by processing your customer's card or recording another form of tender on the payment screen.
Step 4: Ask your customer to enter their phone number or email address on the receipt screen.
Step 5: Tap Send.
Step 1: Authorize the transaction by swiping your customer's card or recording another form of tender on the payment screen.
Step 2: If you have in-person order tickets turned on, a prompt to enter a customer name or order number will appear, or the ticket number will be automatically assigned.
Step 3: Tap Print Receipt.
Step 4: To print a gift receipt (for iOS devices), tap Transactions from the navigation bar at the bottom of the screen.
Step 5: Locate and tap the payment > Print Gift Receipt.
To issue printed receipts, you'll first need to configure a printer to communicate with your Square POS app. Read our guide to setting up your Square POS for the process. You can purchase compatible printers directly from Square's online store.
Square Compatible Receipt Printers
| Square Terminal | Star Micronics mC-Print3 | Star Micronics SM-T300i |
| --- | --- | --- |
| | | |
| $299 (or $27 per month) | $499 | $399 |
| Handheld POS terminal with integrated receipt printer | Bluetooth/ Ethernet/ USB thermal receipt printer | Mobile Bluetooth Receipt printer |
| | | |
Square Tap to Pay
If you have an iPhone 11 or later, you can enable Tap to Pay directly on the phone itself. Like the other payment functions, Tap to Pay is a setting available in the Square POS app. If your phone has the ability to accept Tap to Pay payments, Square will prompt you to enable the Tap to Pay on iPhone function when you process your first payment.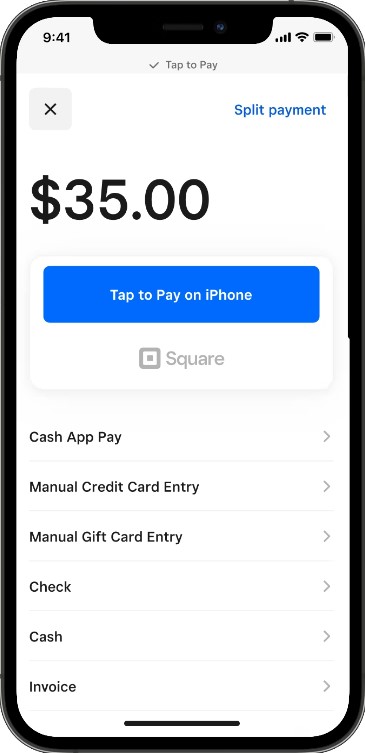 You enter the sale the same as you would any mobile sale and then choose the Tap to Pay on iPhone option on the payment screen. Your customer can tap the base of your phone with their tap-enabled card or use their own phone's mobile wallet to pay.
---
Square in-person payments:

2.6% + 10 cents for every tapped, dipped, and swiped payment

Card-not-present and manually keyed transactions:

3.5% + 15 cents when you enter a credit card number manually in the Square Point of Sale app

Best for:

Brick-and-mortar retailers, service businesses, and restaurants
You can certainly use a smartphone running the Square POS app to accept in-store payments, but most brick-and-mortar Square users opt for sturdier POS hardware. Square offers everything from simple iPad stands with peripheral card readers to hardware kits that include a checkout register with a cash drawer and a receipt printer.
Square POS Hardware Kits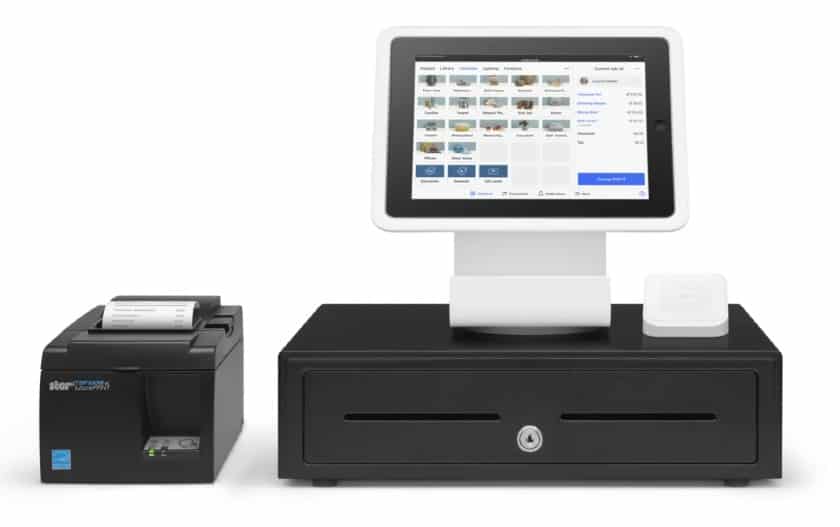 ---
---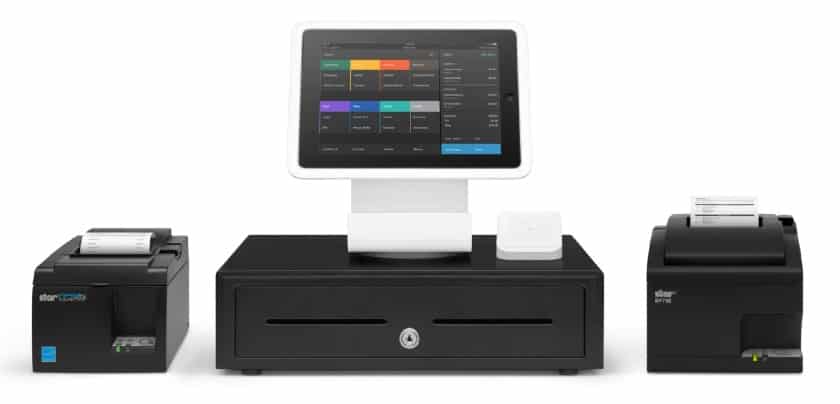 ---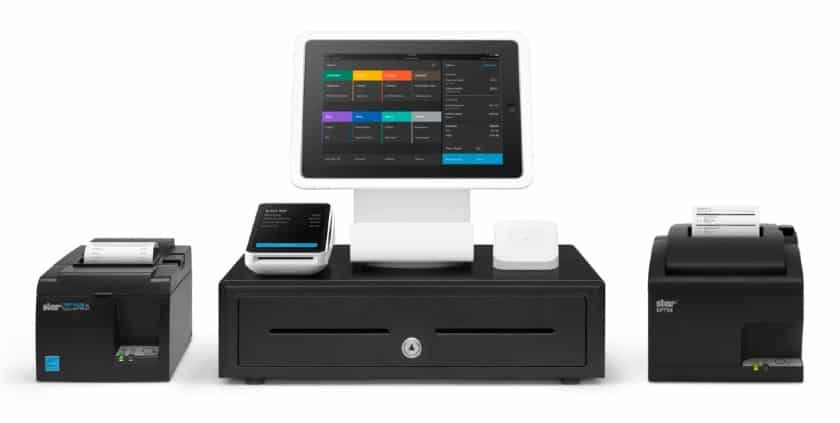 ---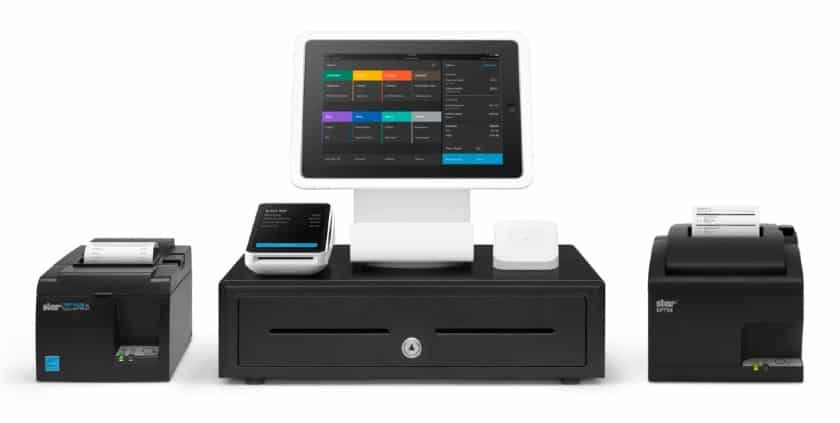 ---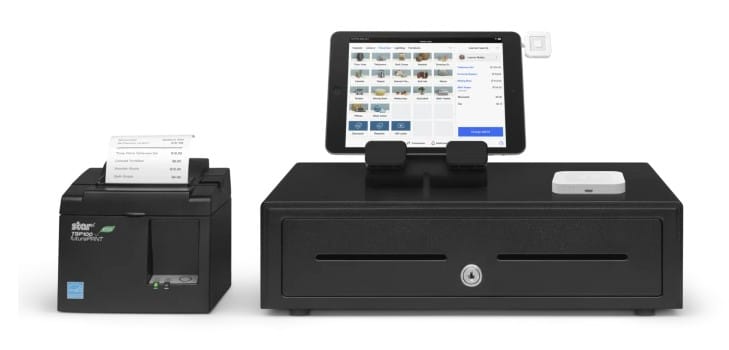 ---

---
If you prefer a terminal with a smaller footprint, Square also offers simple countertop POS displays with built-in card readers. These streamlined systems are ideal for small shops with limited counter space.
Square POS Displays with Built-in Card Readers
| Square Stand | Square Terminal | Square Register |
| --- | --- | --- |
| | | |
| Best for: Businesses using an iPad as a countertop POS | Best for: Businesses looking for a portable POS machine | Best for: Small businesses looking for a sleek countertop system |
| $149 or $14 per month for 12 months | $299 or $27 per month for 12 months | $799 or $39 per month for 24 months |
| | | |
Square recently upgraded its Square Terminal, making this hardware available to merchants using the Square Retail and Square Appointments software. The Square Terminal now has an offline mode so users can complete transactions and accept payments without an internet connection, and the handheld device can also handle detailed tableside restaurant orders.
To process a credit card payment in your store, open the Square POS app on your preferred hardware. Generate a sale by selecting items from your POS touch screen or via an attached barcode scanner. Press the charge option on the bottom left corner of the screen and swipe, dip, or tap the customer's card or smartphone on your card reader to accept the credit card or mobile wallet payment information.
Just as with the mobile app, you then have the option to text, email, or print a receipt.
---
Square ecommerce transaction fee:

2.9% + 30 cents per transaction

Best for:

Ecommerce businesses; brick-and-mortar shops expanding their revenue streams; restaurants wanting simple online ordering
Square makes it easy to launch a new business online or expand your existing business into online sales. Here are your online payment options with Square:
Square Online: Create a free online store, connect your Instagram account to make it shoppable, and integrate with your existing Square inventory list.
Online checkout: Create and send checkout links or buttons to process payments from your social media channels or email; no website required.
Payment integrations: Connect Square Payments to your existing ecommerce platform, like WooCommerce, Wix, Magento, BigCommerce, WordPress, and Drupal Commerce.
If you already use Square and have inventory items set up, you can quickly create and launch your free ecommerce store to sell products online. Upgrade to a paid plan for access to additional store features and tools. The basic Square Online is free to use, while advanced functionalities are available at $12 per month.
How to Use Square Online Checkout
The Square Online Checkout allows users to generate payment links or buttons, which merchants can add to almost any online platform, such as emails, blogs, and social media sites. Once customers click on the payment links/buttons they are taken to a checkout page which users can customize and track until payments are completed. This is the same feature used in Square's Buy Now, Pay Later app AfterPay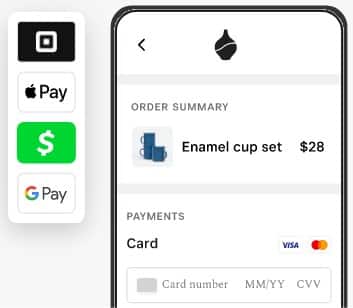 ---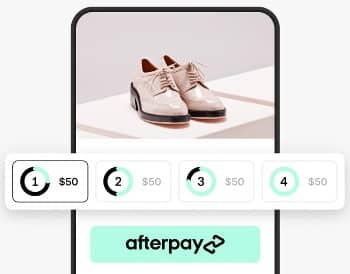 ---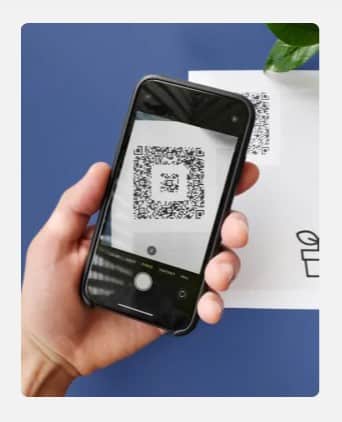 ---
To generate payment links, buttons, or QR codes for payments:
Step 1: From the Square Dashboard, go to Online Checkout.
Step 2: Choose "Create Link/Button"
Step 3: Under Link Purpose, choose "Collect a Payment"
Step 4: Enter a name for your link
Step 5: Enter the amount to be collected (if any)
Step 6: Select "Add Image" if you want to add one
Step 7: Enter "Frequency" if prompted (used for recurring payments)
Step 8: Select "Create Link"
Step 9: Select "Copy Link"
Step 10: Track the sales from checkout links from Square Dashboard> Online Checkout Settings> General> Select Primary Location
Note that only one location can be tracked per payment. You can manage all your active payment links, buttons, and QR codes from the Item Library of your online Square dashboard.
How to Use Square App With Other Ecommerce Platforms
You can use Square as your online payment processor for other ecommerce platforms. If online sales are your focus, these ecommerce platforms offer a stronger set of sales features than the free Square Online store. Square doesn't charge a fee to integrate payment processing into these platforms (you just pay payment processing fees).
The following online platforms are compatible with Square:
Weebly
Wix
BigCommerce
GoDaddy
Ecwid
3dcart
WooCommerce
Drupal Commerce
Magento
Zen Cart
OpenCart
nopCommerce
Miva
BentoBox
WP EasyCart
XY Retail
A few platforms can fully integrate inventory, sales, and customer tracking data with Square—a major plus if you sell online, in-store, and through mobile.
To use Square with one of these ecommerce platforms, you'll need to
Step 1: Open your free Square account.
Step 2: Choose your ecommerce platform.
Step 3: Connect it to Square using the platform's built-in integration app.
Step 4: Build your online store.
Detailed steps vary depending on your ecommerce website host; you can find them on Square's support website.
---
Square Invoices card transactions:

3.3% + 30 cents for every online card payment you accept using Square Invoices

Card-on-File transactions:

3.5% + 15 cents for every payment you accept using payment details stored in your point of sale, Invoices, and Virtual Terminal, including automatic recurring payments

Best for:

Service businesses and food service business that perform work in the field (handyman businesses, caterers, etc.); office-based service providers that bill clients (wellness businesses, wholesale bakers, therapists, etc.); subscription-based businesses
You can bill clients and process recurring payments via Square Invoices. Like all Square products, Square Invoices offers a free plan, with advanced features available for a low monthly fee. With Square Invoices, you can generate and send invoices from either your Square Dashboard, or the POS app (if you also use the POS). But many service businesses use Square Invoices without any POS app. You will still need a free Square account, though.
To process an invoice payment, you first need to create an invoice. You can create invoices from your Square dashboard, or download the Invoices app onto a tablet or smartphone. It allows you to:
Generate and send invoices: Follow the template to create your invoice. You can add items manually or from your inventory library, create custom charges, add discounts, and set payment terms. Send instant digital invoices that customers can use to pay directly or generate invoices as a PDF in-person or mail delivery.
Track payment status: Invoices paid online are recorded automatically; you can also record check, cash, or other payments in your dashboard or POS app.
Charge recurring payments: Recurring payments are ideal for automating payments for monthly services, like lawn care and housekeeping services, subscriptions, and ongoing dues. Customers will appreciate the convenience of automated payments, and you can enjoy a steady stream of predictable income.
To accept payment via Square Invoices, you must first create the invoice for the product or service you are providing. For one-time payments, you set the "frequency" to one time; for recurring payments, you'll select "recurring" from the frequency drop-down options. You can then send the invoice to a customer via text, email, or a custom URL. Customers can add their payment details directly to the invoice, or you can close the invoice using credit card information that you have on file.
But be aware—card-on-file payments have a higher processing fee. So, it's generally better to let customers complete the payment details themselves.
---
Square Virtual Terminal manually keyed transactions:

3.5% + 15 cents for keyed-in card details from your browser

Square Virtual Terminal in-person transactions:

2.6% + 10 cents for swipe, chip, or tap payments

Best for:

Businesses that do not need a full POS; those that process phone payments; office or warehouse-based businesses
You can turn your computer into a credit card terminal for remote billing or taking payments over the phone with Square Virtual Terminal. It allows you to accept, split and record cash, card, check, gift cards, and other payment types from any browser.
Follow these simple steps to get started.
Step 1: Sign in to your Square Dashboard.
Step 2: Open the Virtual Terminal on the left-hand panel of your Dashboard; then click "Take a Payment."
Step 3: Enter the payment amount and your customer's payment details, including CVV and billing ZIP code.
Step 4: Add a note or description of the purchased item for your customer.
Step 5: Click "Charge."
Your customer will receive a receipt for their purchase via email if the payment is successful.
If you also want to accept in-person payments from your computer, connect a card reader to your computer and start accepting card payments, such as Apple Pay, Google Pay, cash, checks, and Square Gift cards. We like the Square Terminal for this, since the terminal combines a card reader with a built-in thermal receipt printer.
---
Like most popular POS systems, Square allows merchants to run their business on a computer and on mobile. While the range of available features varies by provider, users can get the same tools available from both methods with Square. It also provides kitchen display system (KDS) software for restaurant businesses.
From a Computer
Since your Square Dashboard is your business hub, this is where you'll manage many of the payments-related aspects of your business. Use your Dashboard to access tools and features like:
Team management: Add/remove employees, track clock-ins/clock-outs, view timecards, and manage breaks and overtime. Upgrade to Team Plus for $35/month to access employee activity logs and detailed sales and labor reports.
Payroll: If you upgrade to Square Payroll, you can run payroll with direct deposits anytime, manage benefits like health care and pay-out tips, file new hire paperwork, and view federal and state tax withholdings and filings.
Marketing: Create email campaigns for coupons, business updates, sales, and more. You can also generate automated campaigns for new customers, lapsed customers, birthdays, and more. Connect your Facebook account to set up marketing campaigns and access marketing reports.
Reports: Pull detailed daily, weekly, or monthly sales reports and trends. Track analytics like payment methods, individual team member sales, labor vs sales, comps, voids, disputes, and taxes.
Inventory management: Adjust and sync inventory from your mobile POS app or Dashboard. The app is great for on-the-fly changes, but any bulk uploads or adjustments, variant management, or low-stock tracking are easier on the Dashboard.
Financial management: Monitor bank transfers, set up a Square Card (a business debit card tied to your Square sales balance), and request a business loan through Square Capital.
Square Banking: Integrate your payments, banking accounts, and cash flow when taking payments and banking through Square. Products include Square Checking, Square Savings, and Square Loans.
From the Mobile App
In addition to payment processing, you can use Square's mobile POS app to help run your business on the go. Aside from the back office management tools, the following features are also available through the app:
Order and inventory management: Add items to your library, track in-stock inventory, and check order status. Square automatically updates your inventory when you make a sale, so your stock numbers are always up-to-date.
Sales reports: Sales are recorded and summarized to help you track growth and make key business decisions.
Customer management: Enter your customer information, such as email addresses and purchase history, so you can provide better service or grow your business via email marketing.
Team member profiles: Add and view team members to quickly reference contact information.
Square KDS for Restaurants
The Square Kitchen Display System is a restaurant software application that allows you to organize tickets for any type of kitchen setup. You can prioritize orders; customize ticket details, timers, and alerts. Expeditor Mode gives you a central overview of all active orders while cooks at each prep station see only their relevant tickets.
If you are using the Free Square for Restaurants POS, the Square KDS costs $20 per month per device, but you can test drive it free for the first 30 days. Signing up for the Plus or Premium Square Restaurant POS software allows you to set up the KDS on unlimited devices.
If you're ready to get started, read our Square POS guide for step-by-step instructions on setting up your account and using its POS features.
---
How Much Does It Cost to Use Square?
It's free to create your Square account and use the POS and payments software. Square charges a processing fee for every transaction, which varies depending on the payment processing method. Some of these tools, such as Square Online, offer paid plans for access to more advanced features.
When you create your Square account, you'll receive a free magstripe card reader that can connect to your device and accept swiped card payments. You can purchase additional hardware and POS equipment, like chip/contactless card readers, terminals, registers, and accessories.
We've included the Square fees for every Square feature above, but to summarize:
Monthly POS subscription: $0–$60
Monthly payment processing subscription: $0
In-person transaction fee: 2.6% + 10 cents; 2.5% + 10 cents when using Square Register
Online transaction fee: 2.9% + 30 cents
Ecommerce sales: 2.9% + 30 cents
Keyed-in, Recurring billing, and card-on-file transactions: 3.5% + 15 cents
Square Credit Card Processing Frequently Asked Questions (FAQs)
Square POS comes with a built-in payments processing feature (Square Payments), allowing merchants to accept credit card payments from customers. Square partners with large financial institutions that approve transactions and safely transfer funds from customers to your bank in exchange for a flat-rate fee. Learn more about Square.
---
Square has a flat rate fee for credit card transactions. Square charges 2.6% + 10 cents if you accept swiped, dipped, and tapped credit card payments. Meanwhile, fees are at 3.5% + 15 cents if you or your customers key in their credit card information to pay for their purchases. For credit card payments made over the internet (through a website or payment links), the rate is 2.9% + 30 cents per transaction.
---
Square allows you to accept credit card payments in-person (via swiped, tapped, and dipped transactions in-store or from a mobile device) and online (through a website, payment links, and payment buttons from a website or virtual terminal). You can also set up Square to accept credit card payments for invoices and recurring payments.
---
One of Square's best features is that it's easy to set up and lets you start accepting payments in minutes. All you have to do is create an account on Square, provide your business information and your banking details, download the app to your mobile device or iPad, and set up your store. There's no wait time for account approval, and you can start accepting payments even without a credit card reader by keying in your customer's credit card information.
Square offers a wide range of solutions for running a business. And if you're having trouble, its website contains many guides so you can learn how to use Square App with its variety of POS add-ons and back office tools. Read our step-by-step guide for setting up Square.
---
Bottom Line
You can use Square in many different scenarios, including mobile sales, in-store sales, online sales, and invoicing. The first step is always creating a free Square account and downloading the free mobile app, which comes with a suite of free business management tools.
Merchants like Square credit card processing because it's quick, easy, and affordable. All of Square's payment processing tools seamlessly communicate with other Square business tools for managing payroll and employees and marketing your business. Everything is streamlined in one tidy package. Visit Square to get started with a free account and mobile card reader.