HubSpot CRM and Zoho CRM both have excellent reporting and analytics, automation, online marketing, and deal, pipeline, and inventory management. HubSpot, however, stands out for its ease of use, email marketing, artificial intelligence (AI), and deal and pipeline management. On the other hand, Zoho CRM offers tools for inventory management, lead generation, and integration with accounting tools like QuickBooks and Xero—all at a reasonable price.
When comparing Zoho and HubSpot, it is important to first assess your specific customer relationship management (CRM) needs to make the best decision. In general, we recommend:
HubSpot CRM: Excellent choice for email marketing and pipeline deal management
Zoho CRM: Best all-in-one CRM solution for revenue management
Zoho vs HubSpot Compared
Our CRM Rating Out of 5

4.23

4.44

Free Trial or Plan

Free for up to three users, plus 15-day free trial for paid plans

Free plan

Starting Monthly Price*

$14 per user, monthly, billed annually

Free (unlimited users) or $18 (two users)

Workflow Automation

✓

✓

Reporting & Analytics

✓

✓

Email Marketing

Bulk emailing, email insights, ready-to-use email templates, and email marketing third-party integrations

Advanced email automation, mass email, plus templates and segmentation

Mobile Application

✓

✓

Artificial Intelligence (AI) Tools

Generative AI-now powered by ChatGPT

Generate emails, social media posts, etc., with
Zoho's Zia AI

HubSpot AI

Website generator, AI content writer, social caption generator, and AI email writer

Integrations

200+ third-party and native software options

1,000+ third-party and native software options

Ease of Use

Difficult to navigate interface but great feature usability ratings

Great usability for setting up, operating features, and navigating interface

Customer Support

Tier-based access to email and live chat for lower-tiered plans

24/7 tier-based email, chat, and phone support on paid plans

 

*Pricing is based on annual billing on a per user, per month breakdown. Pricing reflects pricing info available at the time of publishing. While we update pricing information regularly, we encourage our readers to check current Zoho CRM pricing and HubSpot CRM pricing to stay up to date.
Best Alternatives to Zoho & HubSpot
If you are unsure what to choose between Zoho and HubSpot, you might want to consider checking other providers that you can compare them with.
Best For

Great for teams using omnichannel outreach campaigns

Best for customizing sales pipelines

Solid option for proposal and deal management

Best for Google integrations

Free (up to 3 users)

$10

(3-user minimum requirement)

$14.90 per user, per month

$23 per user, per month

or

or

or

or
Find more options in our lists of recommended Zoho CRM alternatives and HubSpot CRM competitors.
Most Affordable: Zoho CRM
| | | |
| --- | --- | --- |
| Our Pricing Rating Out of 5 | 5 | 4 |
| Freemium Trial or Plan | ✓ | ✓ |
| | $14 per user | $18 (two users) |
| | $40 per user | $5,000 (10 users) |
| Billing Options | Monthly and annual | Monthly and annual |
| Free Trial | 15 days | 14 days |
Zoho CRM offers a free option for up to three users with limited features for contact, lead, and document management and bundled plans. The Standard plan costs $14 per user, monthly. The Professional plan costs $23 per user, per month and the Enterprise plan is $40 per user, monthly. If your business needs to scale exponentially and requires business intelligence capabilities, Zoho has an Ultimate plan at $52 per user, per month.
On the other hand, HubSpot offers forever-free foundational tools, and the starting paid plan price is $18 for two users per month. HubSpot offers higher-tiered plans, including Professional at $1,600 per month and Enterprise at $5,000 per month, both for 10 paid users and paid annually. This provider also offers bundled plans and software packages for sales, marketing, operations, customer service, and content management operations in its CRM Suite.
HubSpot stands out when it comes to offering free foundational tools to get small businesses started with lead and sales generation. But Zoho's higher-paid plans are more affordable than HubSpot, giving you access to more advanced modules and features ideal for a growing business.
Winner: Zoho CRM wins in the HubSpot vs Zoho pricing category as it offers more scalable premium plan options at lower prices than HubSpot.
Best for Email Marketing: HubSpot
Mass Emailing

Yes, create auto-responders and monitor and create ready-to-use email templates

Yes, with static and dynamic customer segmentation options

Email Templates

✓

✓

A/B Testing

✓

✓

Campaign Tracking for Email Results & Return on Investment (ROI)

Yes, with email insights used for monitoring email response contextually, filter records, and
gather email analytics and template performance

Yes, with email health reporting to monitor open rate, click-through rate, unsubscribe rate, and hard bounce rate
One of the essential business activities is customer communication, which includes emails. Email marketing features enable sales and marketing teams to nurture leads by sending bulk email messages and deploying email campaigns to CRM contacts.
Zoho's Standard plan comes with email templates, email authentication, mass email, and social profile integration in the list of marketing features. Email relay, auto-responders, and other more advanced marketing features are available in higher plans.
Zoho CRM integrates with email management tools like Email Parser and Mailchimp, which help automate the extraction of data (such as a subscribers' list) and then use this data for targeted email marketing campaigns. You can also access Zoho Campaigns as an add-on feature that costs $3 per user, monthly, which can help teams in automating and tracking their email campaigns.
Meanwhile, HubSpot's Starter plan already includes email automation and other email marketing features. This plan is a good deal for startups and small businesses since they don't have to pay for an add-on or upgrade plan for these features. The higher-priced plans, Professional and Enterprise, offer unlimited actions and omnichannel marketing automation.
HubSpot allows you to create and send bulk emails using customizable sales email templates. You can also A/B test your messages and categorize contacts into detailed customer segments. For instance, you can create a dynamic list that automatically updates based on contact behavior to obtain the right leads for your business.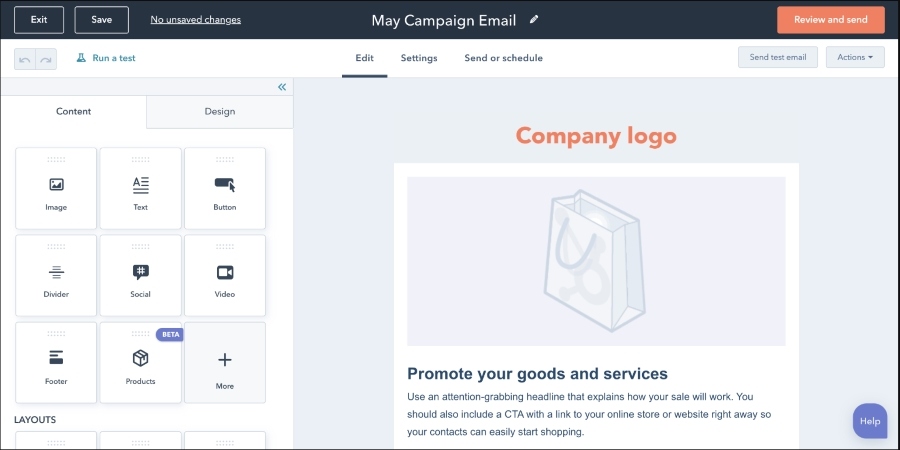 ---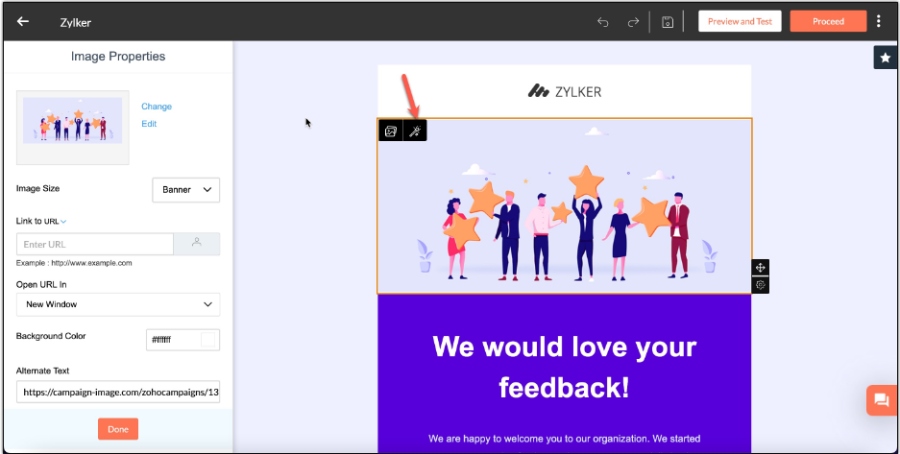 ---
Winner: HubSpot's built-in email features give teams comprehensive automation, optimization, and analytics for their sales and marketing campaigns. It has built-in, easy-to-use email templates and advanced email communication tools, whereas you'll find these capacities in Zoho as add-ons or through third-party integrations.
Best Reporting & Analytics Tools: It's a Tie
| | | |
| --- | --- | --- |
| Reporting Capabilities | Key performance indicators (KPIs), funnels, targets, cohorts, and activity | Revenue, email campaign results, pipeline health, and activity |
| Customization | Custom reports and dashboards | Custom analytics, reports, and dashboards |
| Predictions & Forecasting | Custom prediction builder feature | Custom forecasting, including across team hierarchies |
| Scheduled Reporting | ✓ | ✓ |
| AI Insights | (Zia) Workflow, assignment, automation, and reminder suggestions | Data enrichment, deduplication, and easy imports |
In HubSpot's starter plan, you can monitor high-level email campaign metrics, allowing teams to view lead generation and sales activities on an individual or team basis. Users can also develop revenue forecasts and assess sales performance metrics on customizable dashboards, downloadable reports, or auto-generated scheduled reports, and automatically send them through Slack or email.
On the other hand, Zoho's Standard plan comes with predefined dashboards, custom reports, basic dashboard components, and an analytics mobile app. The more advanced reporting and analytics tools, like custom reports, advanced dashboards, advanced dashboard components, anomaly detectors, web form analytics, and Zoho Analytics, are only available in higher plans.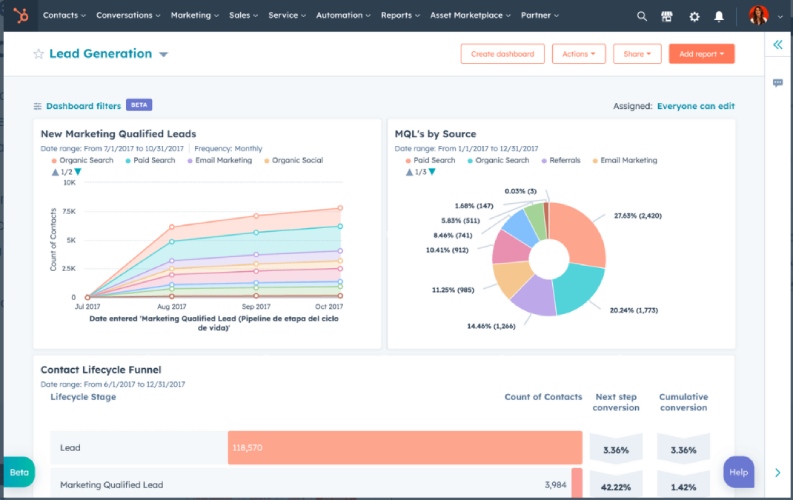 ---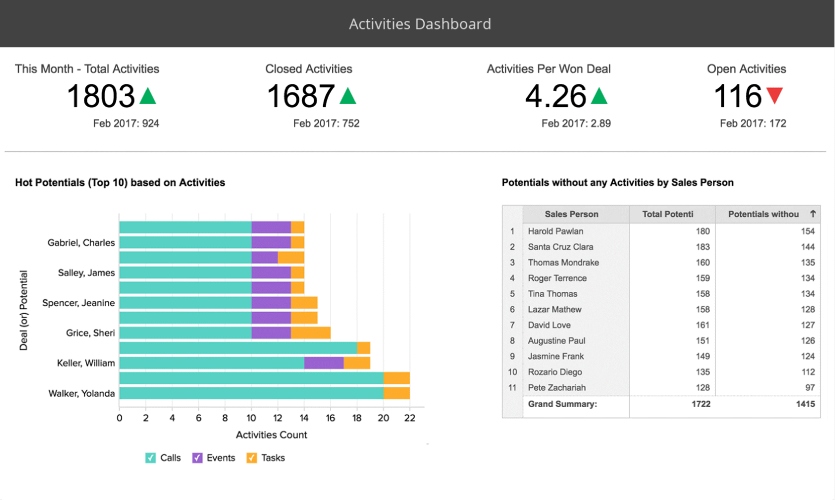 ---
Winner: Both CRMs offer topnotch sales reporting and analytics tools that are easy to use and come with customizable dashboards and views. For these, we gave Zoho and HubSpot equal scores.
Best for Artificial Intelligence (AI) Tools: HubSpot
| | | |
| --- | --- | --- |
| Task Command Functions | ✓ | ✓ |
| Chatbot | ✓ | ✓ |
| Free AI Tools | ✕ | ✓ |
| Performance Recommendations | ✓ | ✕ |
| Content Generation | Business emails and social media posts | Blogs, emails, meta descriptions, single-page website, and social media captions |
| Intelligent Insights | Strategy influencer, forecast, competitor alert | Lead scoring, marketing metrics, internal sales team performance, forecast, and customer satisfaction levels |
HubSpot CRM includes an AI-powered tool called ChatSpot, which can help teams navigate CRM using natural language processing (NLP). Users can access HubSpot's AI features for free across all plans. Because of these AI capabilities, HubSpot is one of the best AI CRMs that functions as a smart assistant, chatbot builder, and content assistant. You can ask questions or utilize it to automate tasks such as sending email follow-ups, receiving updates, generating support tickets, and creating reports.
Zoho CRM, on the other hand, has an add-on AI-powered sales assistant called Zoho Zia. This AI feature is also available in the Zoho CRM mobile app, providing you with reliable and accurate sales forecasts. Zia offers AI functionality across Zoho CRM's key categories, including data management, insights and analytics, customer experience, intelligent alerts, productivity, and customer engagement and retention.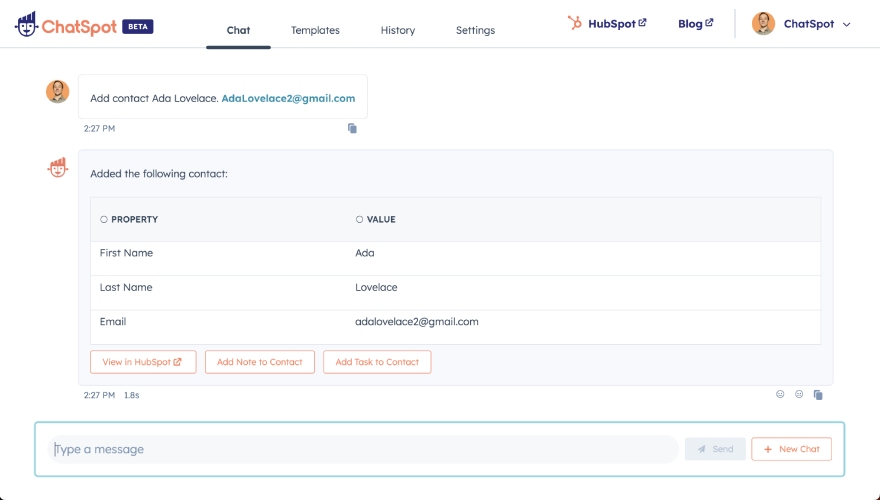 ---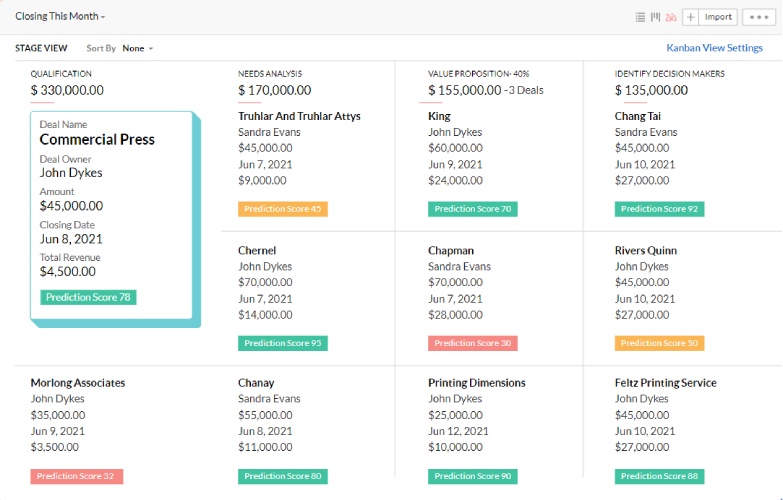 ---
Winner: When it comes to the AI capabilities category, HubSpot is the winner. HubSpot offers free AI tools, such as chatbot and template generation, making this CRM a more cost-effective solution than Zoho's Zia, which is only available on all paid plans.
Best Mobile App: It's a Tie
| | | |
| --- | --- | --- |
| Mobile Data Management | Task and record management plus analytics | Access tasks, deals, CRM records, and dashboards |
| Mobile Communication & Collaboration Tools | Quick account access, built-in calling feature, live chat, emails, leads/contacts near me, check-in features, and clear tasks using the mobile app | Live chat, email, outbound phone calls, and call recording |
| Mobile Interface Design | Simple, user-friendly interface | Clean interface that's easy to navigate |
Zoho mobile CRM blends AI and analytics into the user mobile experience. Also, you can call Zia on your smartphone to get quicker access to information, take notes, add reminders, set up meetings, and more.
Meanwhile, HubSpot allows users to handle and schedule tasks and access all important CRM records. This CRM provides an activity feed so you stay informed of the latest activities related to your emails, documents, website visits, and more.

---

---
Winner: In the mobile app category, Zoho and HubSpot are equally excellent players for their wide range of CRM capabilities. Both mobile apps create exemplary customer experiences with easy-to-use and powerful on-the-go apps.
Best Integrations: It's a Tie
| | | |
| --- | --- | --- |
| Third-party Integrations | 200+ third-party and native software options | 1,000+ third-party and native software options |
| Native Software Tools | Sales, marketing, social, customer service, help desk, content, and revenue management native apps available for enterprise operations | Marketing, Service, and Content Management Hubs available to bundle plus hundreds of native tools |
HubSpot has its own marketplace, making direct app integration possible. Hence, you don't have to leave HubSpot when using the apps. This CRM can also be integrated with essential apps like Slack, Trello, Mailchimp, and Facebook.
Zoho's Standard plan incorporates free integrations with online meeting providers, visitor tracking, and other Zoho-specific connections. This CRM also has native integrations with its other products like Zoho Books and other accounting tools like QuickBooks, Xero, and Zoho Finance Suite. This makes Zoho CRM great for revenue operations.

---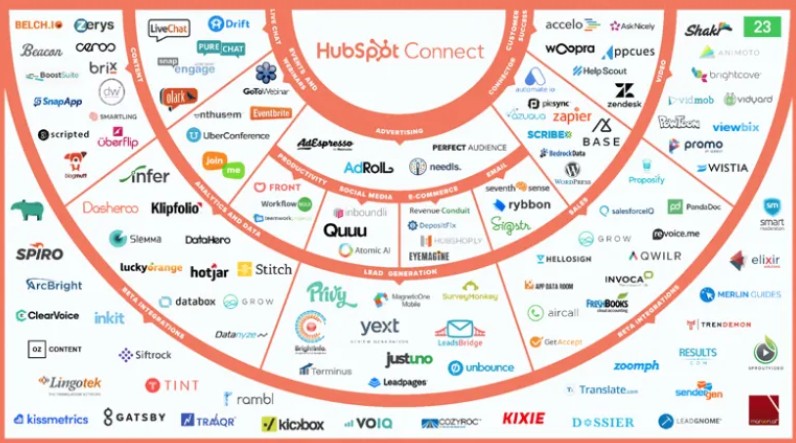 ---
Winner: When evaluating Zoho and HubSpot for integration capabilities, both received equal scores for their native tools, direct integrations, and Zapier connections. They provide equal value because of the broad range of integration options available, allowing small businesses to choose the apps they need and combine them in a centralized place—the CRM.
Most User-friendly: HubSpot
| | | |
| --- | --- | --- |
| System Setup | Requires detailed configuration | Easy and simple configuration |
| Feature Operations | Involves a substantial learning curve | Intuitive tools without significant learning curve |
| Interface Navigation | Feature-rich, but can get complicated for beginners | Simple, highly intuitive user interface design |
HubSpot has a clean and modern-looking interface that is user-friendly for those of varying technical expertise. This CRM is easy to set up with easy-to-create data fields, automation building, and pipeline customization options.
On the other hand, Zoho requires detailed configuration upon setup, and first-time users usually spend more time learning how to use it due to its overwhelming number of features. Zoho's user interface design is simple but some features can be hard to find.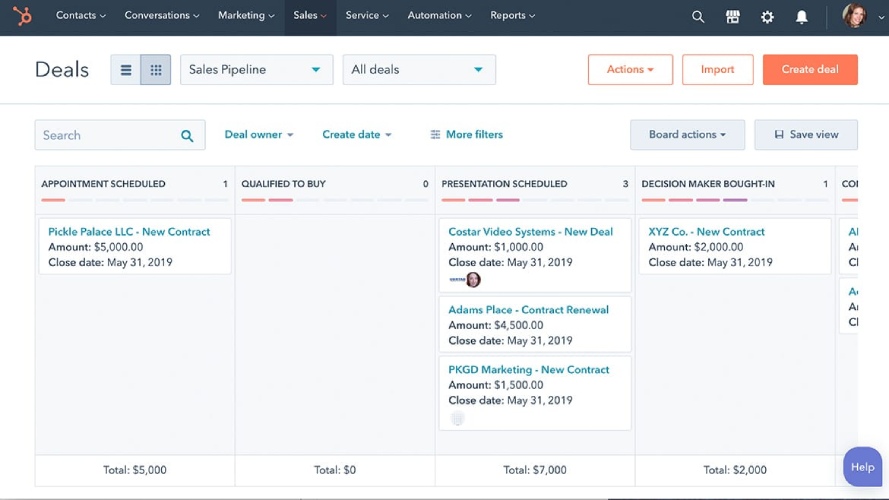 ---
---
Winner: While both CRMs compete closely when it comes to system setup, HubSpot gains an advantage thanks to its notable user-friendliness and intuitive platform navigation. This advantage primarily stems from its straightforward and easy-to-use interface.
Best Customer Support: HubSpot
| | | |
| --- | --- | --- |
| Online/Self-help Resources | Knowledge base, blog, community forum | Knowledge base, blog, community forum, and certifications through HubSpot Academy |
| Phone Support | Tier-based support with time and availability depending on the paid plan | Available 24/7 for Professional and Enterprise plans only |
| Live Chat Support | Tier-based support with time and availability depending on the paid plan | Available 24/7 on all paid CRM Suite plans |
| Email Support | Tier-based support with time and availability depending on the paid plan | Available 24/7 on all paid CRM Suite plans |
Both CRM systems have online resources, such as self-help guides, tutorials, documentation, and forums. Online courses are available at HubSpot Academy with certifications for free. On the other hand, Zoho CRM Training Programs come with an extra charge.
HubSpot provides a comprehensive customer support system. This CRM has a phone hotline for urgent issues and an email for general queries with a one-day response time. Phone support, however, is only available on Professional and Enterprise plans. Nevertheless, email and chat support are available across all paid plans. HubSpot also has a callback option for multitasking while a support rep investigates your case, as well as an active user community for community-based assistance.
If you have a paid Zoho CRM subscription, you obtain classic support by default, which is free, 24/5 on business days. This includes call, chat, or email, or set up a remote assistance session. If your business requires a highly personalized, guided onboarding service, Zoho offers 24/7 Premium Support as a paid add-on.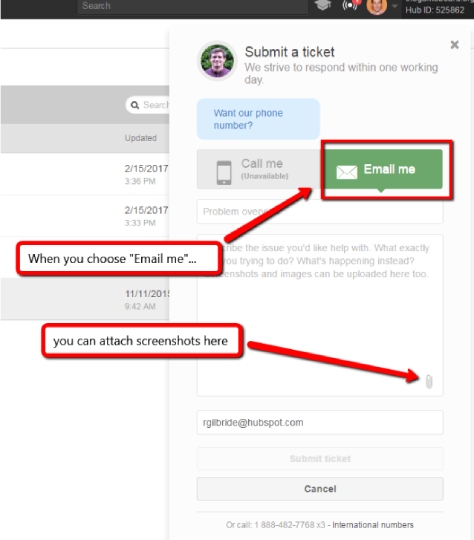 ---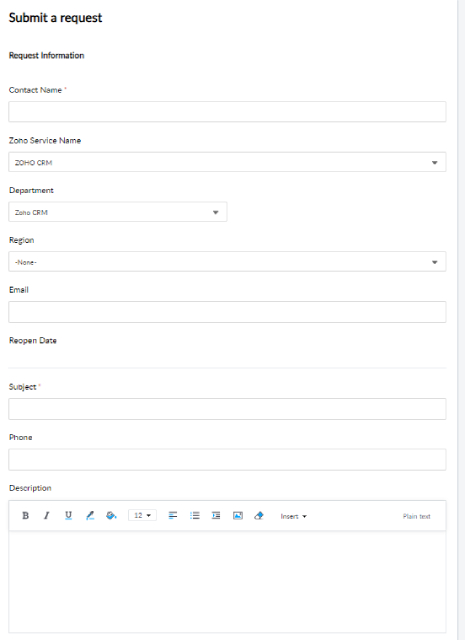 ---
Winner: Both CRM systems offer excellent customer support. But HubSpot lands as the winner in this category as it provides 24/7 availability on all customer support channels, while Zoho only has 24/5 in the lower-tiered paid plans.
What Users Say About Zoho & HubSpot
Both Zoho and HubSpot are two of the best CRMs for small businesses as most users express satisfaction with their investments in terms of user-friendliness, functionality, and overall value. In this sense, they go neck to neck when it comes to public preference. Still, there are specific use cases and industries that prefer one over the other. Below, we present a comparison of Zoho and HubSpot based on review scores from well-known software evaluation websites: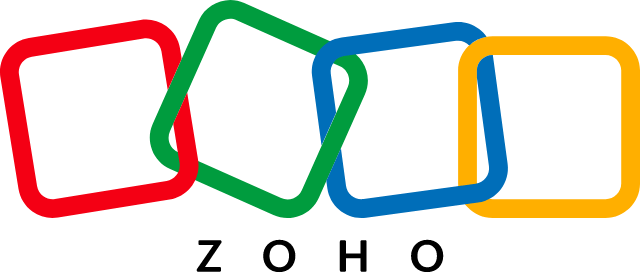 Users express significant appreciation for HubSpot's unmatched email marketing capabilities and its user-friendly interface. However, users frequently highlight limitations related to the restricted number of custom fields and the absence of options for acquiring extra ones.
On the other hand, Zoho CRM users love the platform's analytics and automation features, helping teams generate leads and sales effortlessly. Zoho users suggest improvement in some features, such as, for Android users, an incoming call overlay caller ID to know which contact is calling you. At this time, this feature only works on Apple devices.
How We Evaluated Zoho vs HubSpot
We thoroughly ran this HubSpot comparison with Zoho by assessing key product attributes that are of utmost importance to small businesses and sales teams when choosing a CRM software. In this head-to-head comparison, we meticulously scrutinized the pricing, features, user-friendliness, customer support, our expert rating, and feedback from actual users.
Below, you'll find tabs that provide an in-depth look at how we conducted our Zoho vs HubSpot CRM evaluation:
15% of Overall Score
When assessing pricing, we took into account the availability of a free plan and the range of flexible pricing options that users could comfortably afford. Additionally, we examined whether subscribers had the choice to either make monthly payments or opt for annual billing to potentially save on costs.
25% of Overall Score
We assessed fundamental features that we believe are essential in any CRM product, including CRM integration, system customization capabilities, and the availability of a mobile application. Additionally, we examined typical modular features present in both Zoho and HubSpot's systems, which encompass reporting and analytics tools, integration possibilities, and mobile app accessibility, as well as pipeline and deal management.
25% of Overall Score
In this category, we focused on examining tools and modules that are frequently sought after by users and teams who lean toward Zoho and HubSpot. Notably, features like email marketing, inventory management, lead management, artificial intelligence, and document templates are areas where both CRMs excel, providing more advanced capabilities compared to alternative CRM solutions.
15% of Overall Score
Comprehensive support and customer service play a crucial role in mitigating potential user issues and ensuring positive outcomes when utilizing either of these CRM systems. We considered customer service hours and the accessibility of support channels including phone, live chat, and email. Furthermore, we assessed the availability of online resources for users, such as tutorials, forums, or training modules, to aid in their CRM experience.
20% of Overall Score
Apart from our direct experience with these software systems, we also conducted an evaluation based on user feedback. These criteria take into account user reviews to gauge platform popularity, user-friendliness, standout features, and the overall value offered at their respective price points. This approach helps us gain valuable insights into customer sentiments.
*Percentages of overall score
Frequently Asked Questions (FAQs)
HubSpot is better than Zoho when it comes to email marketing, AI tools, and pipeline and deal management. On the other hand, Zoho has more scalable pricing and is the top choice for revenue management features.
---
Zoho CRM and HubSpot CRM both provide reporting, analytics, deal and pipeline management, inventory, email marketing, and document templates for lead and sales generation. Zoho has more revenue generation native apps, breaking data silos and boosting sales. On the other hand, HubSpot App Marketplace has more marketing apps in its arsenal, allowing you to use apps without leaving the platform.
---
Zoho CRM is the top all-in-one CRM solution for revenue management, suitable for businesses looking to streamline their operations. The best examples include retailers who want to optimize their inventory workflow through automation.
---
Bottom Line
Zoho and HubSpot are two of the most popular CRMs available due to their robust general and advanced features that suit the varying needs of small businesses. HubSpot CRM has the best email marketing and deal and pipeline management features. It also provides free AI tools for generating templates. On the other hand, Zoho offers greater automation and built-in inventory management capabilities at higher pricing tiers, which can benefit growing businesses.