Monday.com Review: Is It Right for Your Business?
This article is part of a larger series on CRM.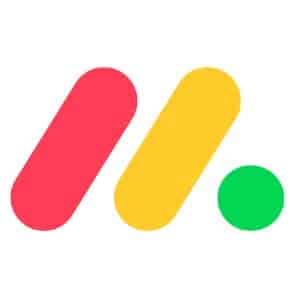 Who Monday.com Is Best For
Solopreneurs or freelancers: As a result of the low-cost options and simplicity of the platform, Monday.com is an ideal solution for solopreneurs and freelancers who don't need some of the advanced functions that come in traditional CRM software. If you are a freelancer who does want a robust CRM, however, check out our picks for the top CRM software for freelancers in 2022.
Media development businesses: Developing media content such as websites, videos, articles, and graphics is often project-based, requiring a high degree of collaboration. The customization ability enables you to use Monday.com as a CRM, project management, and content management tool. It also has excellent collaboration features, making it ideal for just about any project-based business.
Marketing teams: Businesses looking for ways to foster internal collaboration and better organize marketing and sales campaigns will also find Monday.com useful. Its board templates let you manage things like editorial calendars, email marketing campaigns, social media campaigns, content calendars, events, and brand management initiatives.
Work from anywhere teams: Monday.com is a great option for distributed teams or a remote-hybrid workforce. You and your team can work from anywhere with the platform's cloud-based features such as interactive whiteboards for brainstorming and collaborating on projects, project visualization capabilities, automated workflows for task assignment and notifications, and dashboards that give a high-level view of everything.
Who Monday.com Is Not a Good Fit For
Sales teams that want to communicate with contacts through a CRM: While Monday.com can organize and store contact information, there are no built-in tools to communicate directly with them through email or phone. To find a customer relationship manager (CRM) with built-in communication tools, check out our guides on the best CRM software for email marketing and the best CRM call center platforms.
Organizations that want to use artificial intelligence: Artificial intelligence (AI) in CRMs is useful for data analytics, automation, lead behavior and activities, and insights to improve performance. Monday.com, unfortunately, does not have AI features without integrating the system with a third-party application.
Customer support teams: Because customer support usually requires tools like ticket management, live chat, and built-in billing management, it's better to use a CRM that includes those features. Monday.com does not have any of those features and only has limited access to those types of functions through integrations. Check out our picks for the best free customer service software to find high-quality affordable alternatives.
Monday.com Overview
PROS

CONS

Inexpensive for all plan options
Lacks advanced features such as artificial intelligence
Intuitive to use for projects and managing sales leads
Performance insights and analysis only available on Enterprise plan
Highly customizable with capabilities to manage sales, marketing, information technology (IT), operations, and human resources (HR) activities as well as projects
Directly contacting contacts through email, phone, or live chat requires integrations
Monday.com Pricing
Monday.com pricing is not expensive overall, even on the Standard and Pro plans. The main differences tier-to-tier are more advanced project management features, which include more boards, charts, and views the user has access to. In addition, many CRM or sales-specific features like automation, integrations, tagging, and commission management can only be accessed on higher-cost plans.
| | Individual | Basic | Standard | Pro | Enterprise |
| --- | --- | --- | --- | --- | --- |
| Best For | Startups, freelancers, and solopreneurs | Startups and small teams | Project-based freelancers | Small or midsize project-based businesses | Midsize or large project-based or sales teams |
| Monday.com Pricing if Paid Monthly | Free | $10 per user | $12 per user | $20 per user | Contact for pricing |
| Monday.com Pricing if Paid Annually | Free | $8 per user, per month | $10 per user, per month | $16 per user, per month | Contact for pricing |
| Users | Up to 2 | Unlimited | Unlimited | Unlimited | Unlimited |
| Kanban View | ✓ | ✓ | ✓ | ✓ | ✓ |
| Custom Shareable Forms | ✓ | ✓ | ✓ | | ✓ |
| Custom Dashboards | ✓ | ✓ | ✓ | ✓ | ✓ |
| Two-way Email Sync | ✕ | ✕ | ✓ | ✓ | ✓ |
| Commission Management | ✕ | ✕ | ✕ | ✓ | ✓ |
| Guest Access | ✕ | ✕ | Up to 4 guests billed as one seat | Unlimited | Unlimited |
| Advanced Project Management | ✕ | ✕ | ✕ | ✓ | ✓ |
| Automation | ✕ | ✕ | 250 actions per month | 25,000 actions per month | 250,000 actions per month |
| Integrations | ✕ | ✕ | 250 actions per month | 25,000 actions per month | 250,000 actions per month |
| Custom Tagging | ✕ | ✕ | ✕ | ✓ | ✓ |
For more details, review our descriptions of each plan by clicking on the drop-down menu below:
Individual
The free Individual plan is perfect for solopreneur startups or new freelancers looking for a simple way to manage sales opportunities and projects. There is no cost for access for up to two users, Kanban-style boards, and the option to create and share forms directly from the Monday.com platform.
Basic
Monday.com pricing for the Basic plan costs $8 per seat, per month when billed annually, and includes everything the Individual plan offers. The main substantial difference is that user access expands to an unlimited number of users, making it ideal for small companies needing more than two seats.
Standard
This plan is the first tier that has a significant feature difference from the previous one, including everything in the Basic as well as guest access, two-way email syncing, advanced item searching, and integration and automation capabilities. Guest access, in particular, makes this plan great for project-based freelancers who need a way to manage and share projects with clients for review.
Pro
The Pro plan includes everything in the Standard and Basic plans but offers more integration and automation actions per month. It also adds features for workload management, time tracking, tagging, and multi-chart views that let you visualize your data on various graphs. Because of these expansions, the Pro tier is also best suited for project-based businesses, but more ideal for small teams as opposed to individual freelancers.
Enterprise
The Enterprise plan is best suited for sales teams that don't need the robust features found in traditional CRM software and who don't need built-in communication tools. The Enterprise-level tier includes everything in the other plans and offers more actions on integration and automation as well as work performance insights, automatic dashboard email reports, and advanced board analysis.
Monday.com Features
Monday.com refers to its software as a Work OS, or Work Operating System. As such, it is a highly customizable solution for streamlining collaboration, organization, task assignment, and project management, as well as visualizing information for sales, marketing, HR, IT, or any other project-based team or business. As previously mentioned, while you can customize it and use Monday.com as a CRM, it lacks the more robust, traditional CRM features in other platforms.

General Features
Everything starts with a board, and Monday.com has more than 200 premade templates you can use to visualize processes and status, manage workflows, and track progress. There are more than 30 different types of columns you can drag and drop onto your boards, status buttons to reflect your team's activities and automated notifications, and your boards can be interlinked with one another.
Let's take a closer look at some of the features that make Monday.com so popular with users:
Multi-view Visualization
Whether you want to use Monday.com as a CRM for your sales team, for marketing campaigns, for product development, or for any other type of projects, the project visualization tools and views are among the most valuable features in the platform. For example, you can input information for leads, contacts, project stages, or tasks in a spreadsheet-style table and it will be automatically converted into multiple views, such as Kanban, timeline, calendar, or a Gantt chart.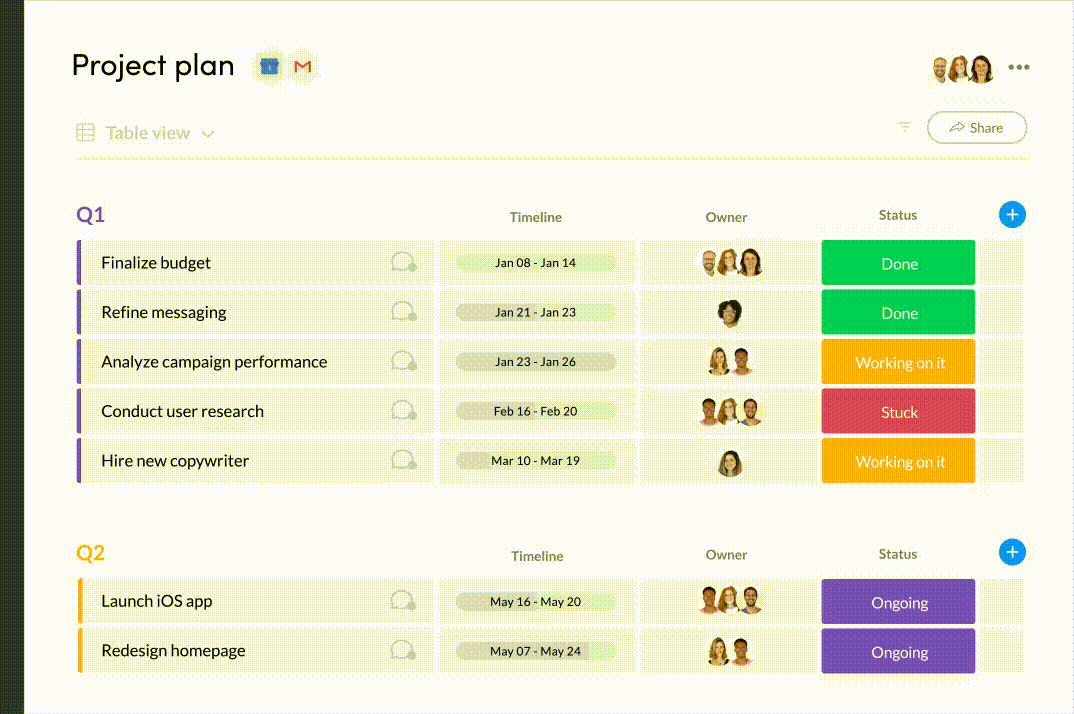 ---
Collaboration Features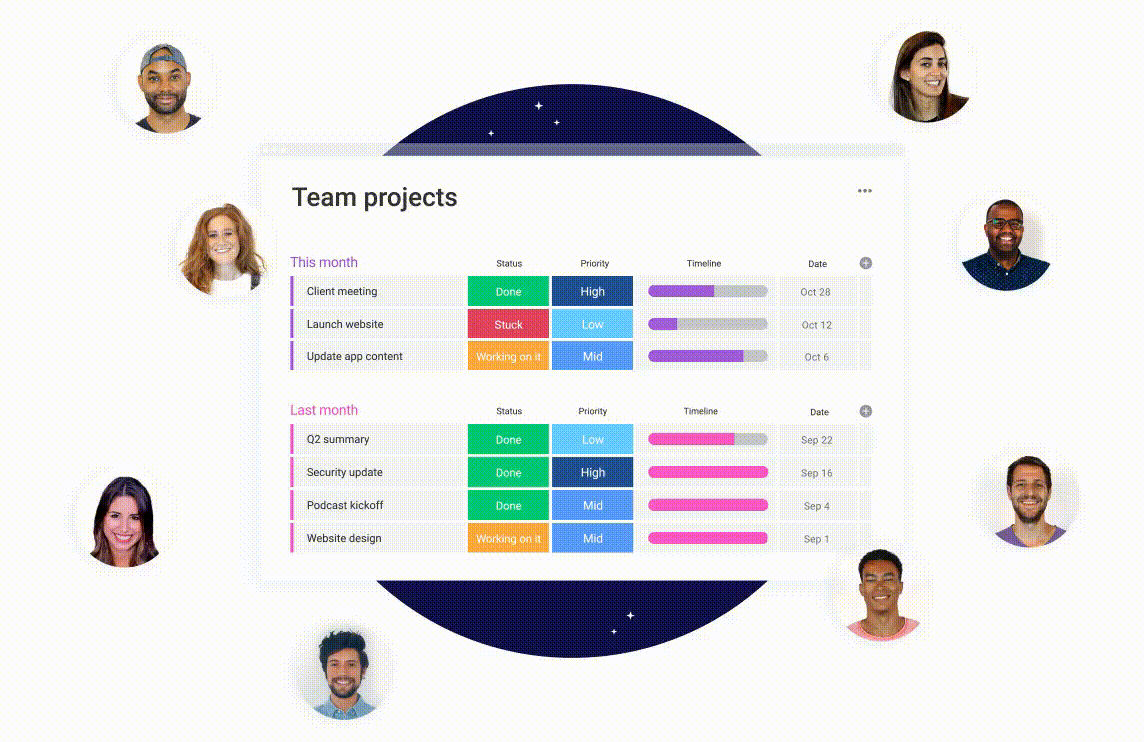 Monday.com is well-suited for project-based businesses and teams with remote workers. Available even on the free plan, Monday.com has an interactive whiteboard collaboration tool that lets users and guests communicate ideas and creative suggestions on a visual board.
Dashboards and project board views make it easy to assign, track, and manage tasks and see the status of projects. Automated notifications keep everyone in the loop and alert your team as to the next stage of the project.
A great use-case scenario for this feature is if you are a small brand development firm and wanted to share ideas on how to design logos, website pages, and other content. The internal team can brainstorm using this board then present ideas to their clients by giving them guest access for viewing.
---
Activity Tracking
Monday.com lets you quickly view activity that has taken place, such as status changes, data alterations, and task finalization on all of your boards. This lets you know any progress made on tasks, sales activities, and long-term projects as well as who took action and when. As you go up the pricing tiers, you are able to increase the duration of activity tracking.
For instance, the Individual and Basic plans let you track activity for up to one week while the Standard plan expands to let you see the last six months of activity. The Pro plan increases that to one year and the Enterprise plan lets you view up to five years of work activity.
---
Mobile Application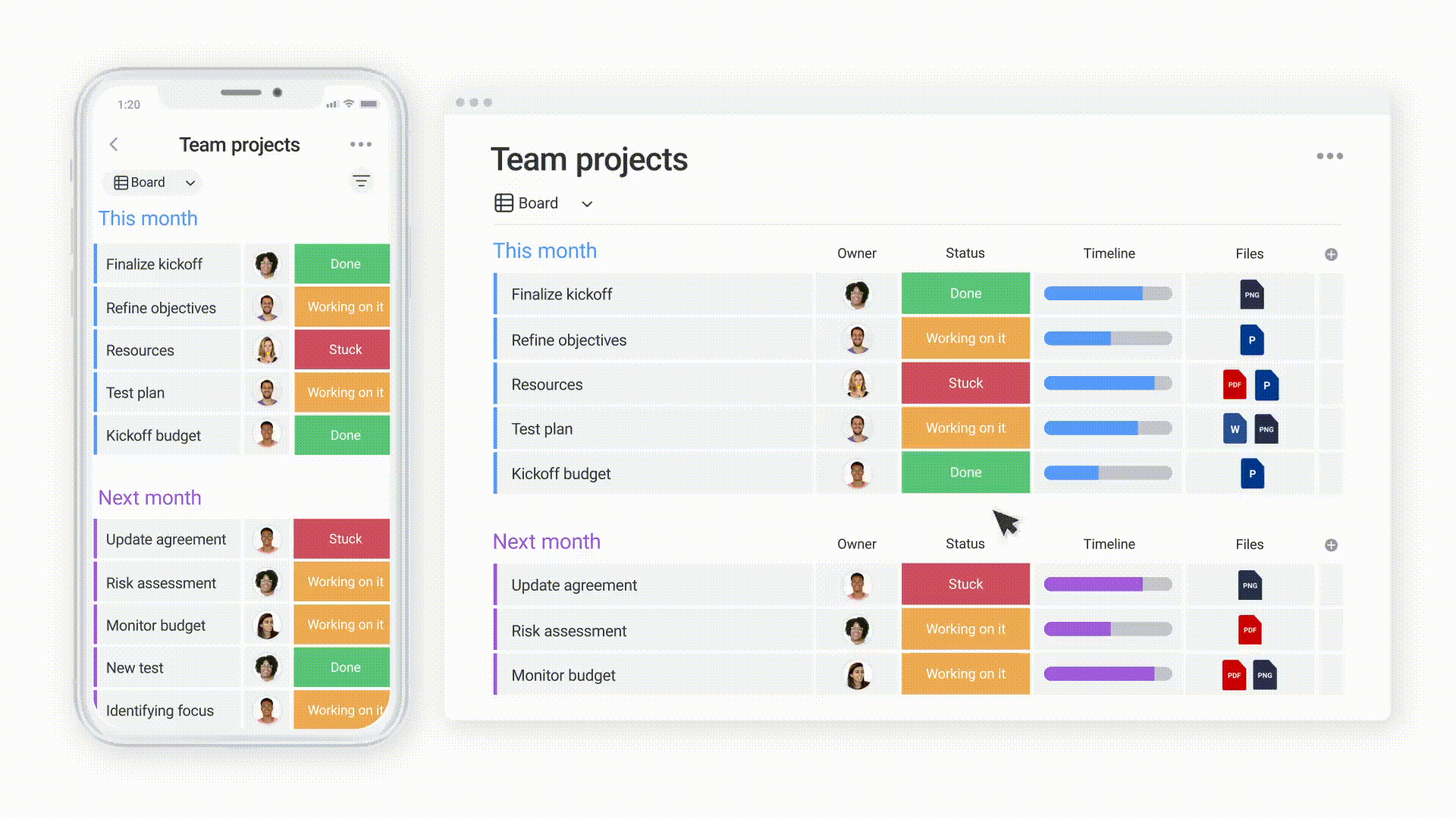 Monday.com has a mobile application for iOS and Android devices. The mobile app is available on all tiers and lets you stay connected to access and manage your boards all while on the go. The mobile app is arguably just as easy to use as the web application and lets you receive similar notifications for changes to your board.
---
Customer Support & Training Resources
Monday.com customer support is available 24/7 by phone and email. They also have self-serve options that include a library of video tutorials, product guides, and articles about Monday.com features and how to use them. Additionally, they conduct live webinars available to help any user discover new tools and find ways to improve the overall user experience.
---
Ease of Use
Its easy-to-use intuitive interface, comprehensive customization options, and the platform's highly visual aesthetics make Monday.com's usability superior to other platforms. For example, you can add data in table views that are very similar to Excel or Google Sheet spreadsheets, and the platform automatically converts them into other views.
The spreadsheet format also makes customizing a board an intuitive process because the data fields are just added as if they were headers in an Excel sheet. Plus, everything is mostly done on one screen. You can accomplish everything needed directly from your board's page and easily navigate to other boards, shift to new pages, view your inbox, invite members, integrate apps, and set your notifications from an icon-based menu on the left bar.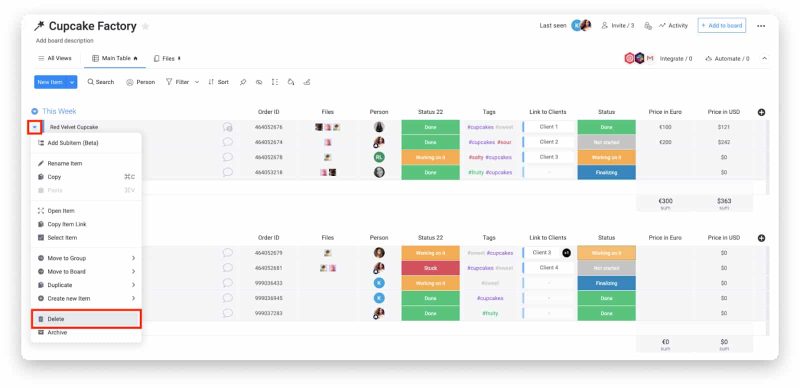 ---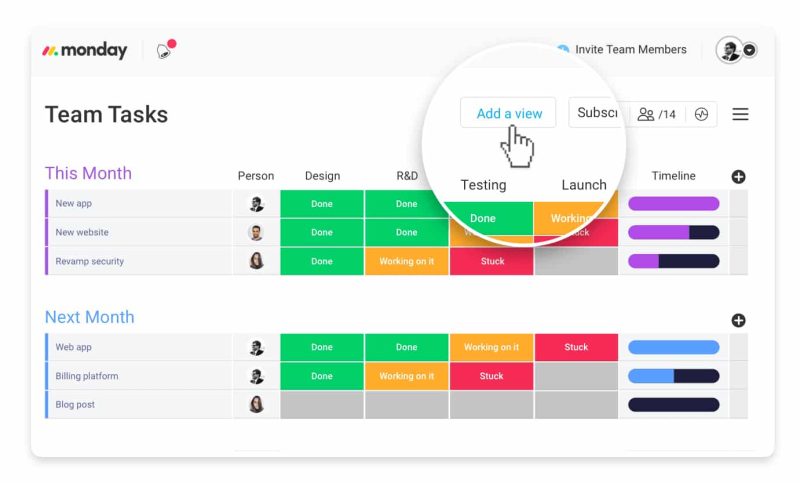 ---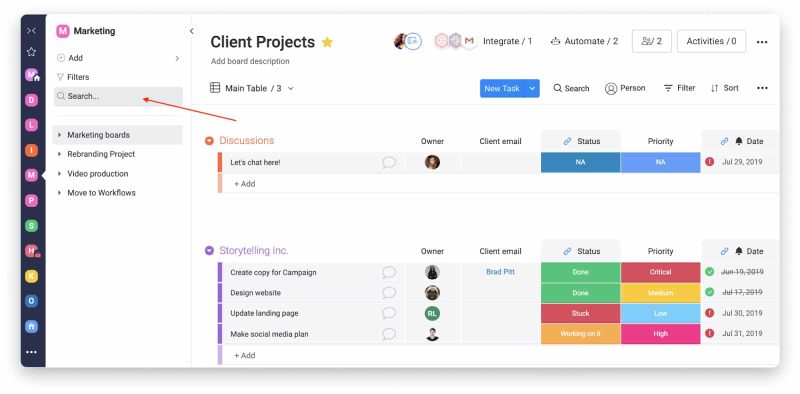 ---
Monday.com Alternatives
If Monday.com isn't quite right for your business, or you want to compare its capabilities with those of CRMs with project management tools, below you will find our recommendations for the best Monday.com alternatives. Like Monday.com, all of these providers offer a free version you can explore before upgrading to a paid plan when your business needs more features.
| | | | |
| --- | --- | --- | --- |
| | | | |
| Best For | Project-based businesses looking for a traditional CRM system with strong project management features | Small businesses looking for an easy-to-use traditional CRM or a free CRM solution | Small teams looking for software with built-in tools to communicate with leads |
| Starting Price | Free or starts at $39 per month | Free or starts at $45 per month | Free or starts at $15 per user, per month |
| Reviews | | | |
*Pricing above based on annual billing
What Users Say in Monday.com Reviews
Based on the vast number of overall positive Monday.com reviews online, users find the platform easy to use with an aesthetically pleasing interface ideal for managing projects. At the time this review was published, Monday.com reviews had garnered the following average scores on these popular software review sites:
The main negative reviews found mostly reference a lack of desired features or too much versatility, to the point where users found it difficult to focus on specific functionality. There are also reports of glitches and slowness when opening the application.
Bottom Line
Monday.com is project management software that can be used in a variety of ways depending on your business needs. The free plan availability and low-cost Monday.com pricing, project management capabilities, and collaboration tools make it a perfect CRM alternative for freelancers or smaller project-based businesses. This platform is highly acclaimed for its usability, but finds itself limited in advanced sales features and communication tools.