7 Best Shopify CRM Integration Options in 2022
This article is part of a larger series on CRM.
For business owners who run an ecommerce store, integrating customer relationship management (CRM) software with Shopify creates a seamless customer experience. The best Shopify CRMs allow you to better understand purchasing behaviors, market more effectively, and communicate with customers from your CRM through email, social media, and phone.
We compared dozens of providers to find the seven best CRM-Shopify integration options based on cost, general and Shopify-specific features, ease of use, quality of support, and expert score. Check out each of the seven top Shopify-friendly CRM software platforms below and their best use cases:
Best Shopify CRMs Compared
Free Plan

Free Trial for Paid Plan

Starting Price for Paid Plans*

Help & Support

N/A

30 days

$19/user, per month

Help center
Email and phone support
Premier support

Yes, unlimited users

14 days

$45 for up to 2 users

Self-help resources
Email and in-app chat

Yes, 1 seat

N/A

$11 per month for up to 3 seats

Self-help resources
Email, live chat, and phone

Yes, unlimited users

21 days

$19/user, per month

Knowledge base
24/5 phone, chat, and email support

N/A

14 days

$99 per month for unlimited team members

Yes, up to 10 users

N/A

$9.99/user, monthly

Self-help resources
Email and phone support

N/A

14 days

$25/user, every month (max 10 users)

Online learning
Help portal
Paid phone support
*Pricing based on annual billing
Zendesk Sell: Overall Best Shopify CRM for Omnichannel Customer Service Communication
What We Like
Communicate with customers through email, phone, and text from the CRM
Detailed customer profiles include purchase history, web activity, and loyalty status
Robust customer service analytics and reporting tools
What's Missing
Most of the reporting tools require higher-priced plans
Lowest-priced plan lacks key features like lead scoring, task automation, and bulk emailing
No free-forever plan option
Zendesk Sell Pricing at a Glance*
Sell Team: $19
Sell Growth: $49
Sell Professional: $99
Sell Enterprise: $150
Free trial: 30 days
*Pricing (per user, monthly) based on annual billing. Monthly billing is available at a higher cost.
Zendesk Sell clinched the top spot in this guide because it has a dedicated app for Shopify and excellent features for lead and direct sales management. Its Shopify for Sell app helps streamline your sales reps' work by uniting customer data from your CRM and Shopify on a single screen. This makes service more efficient because reps can access details on order information, billing, and shipping while they scroll through leads and deals.
In addition, Zendesk Sell provides various omnichannel communication tools such as email, an in-app phone dialer, and SMS for convenient customer outreach. These tools are particularly useful for Shopify users who want to integrate their online store with a CRM system that offers channels that enable them to answer customer queries, facilitate requests, or address complaints while logging them in the CRM.
Besides allowing users to manage diverse communication channels, Zendesk Sell also has reporting capabilities, covering several areas. These include sales forecasting, goal tracking, email campaign performance, call analytics, and agent performance.
However, Zendesk Sell does not offer a free plan—unlike HubSpot CRM and Freshmarketer. This platform also lacks the marketing tools users can get by subscribing to either Mailchimp or Agile CRM. Finally, lead scoring and workflow automations aren't available at the lowest-cost tier, but both are available in the free version of Agile CRM.
Zendesk Sell Plan Summary
| | Sell Team | Sell Growth | Sell Professional | Sell Enterprise |
| --- | --- | --- | --- | --- |
| Number of Sales Pipelines | 2 | 10 | 20 | Unlimited |
| Email Sequences | N/A | Up to 50 active enrollments per user | Up to 300 active enrollments per user | Unlimited |
| Enrichment Credits per User, per Month | N/A | 1,000 | 3,500 | 10,000 |
| Prospecting Credits per User, per Month | N/A | 25 | 150 | 300 |
| Document Storage per User | 2GB | 5GB | 10GB | 25GB |
| Unlimited Paid Users | ✓ | ✓ | ✓ | ✓ |
| Email Tracking & Text Messaging | ✓ | ✓ | ✓ | ✓ |
| Sales Forecasting & Goals Tracking | ✕ | ✓ | ✓ | ✓ |
| Lead & Deal Scoring | ✕ | ✕ | ✓ | ✓ |
| Automated Power Dialer | ✕ | ✕ | ✓ | ✓ |
Zendesk Sell Key Features
Prospect list building: Build targeted lead lists using industry, company size, and role, and automate outreach to leads on your lists with its integrated communications tools.
Lead scoring: Define scoring formulas, such as level of engagement or job titles, to quickly prioritize which leads are most likely to convert into paying customers.
Easy customer data access: Access relevant customer Shopify data such as order information, billing, and shipping within Zendesk Sell.
Task automation: Create triggers to set tasks automatically and assign them to specific agents based on their expertise or availability.
Shopify for Zendesk Sell: Allows sales reps to access relevant customer Shopify details such as orders, billing, and shipping to reduce context-switching.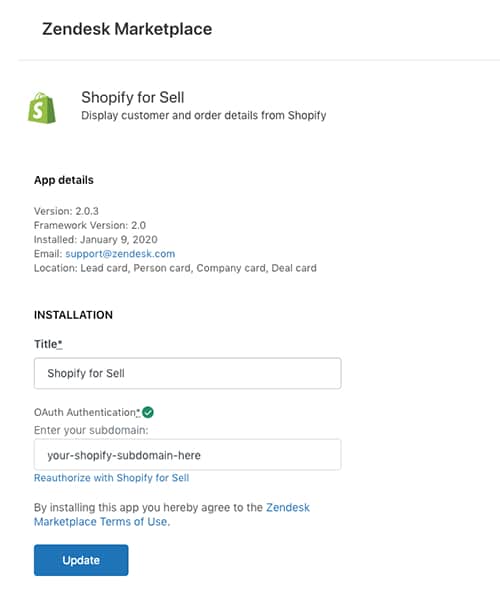 ---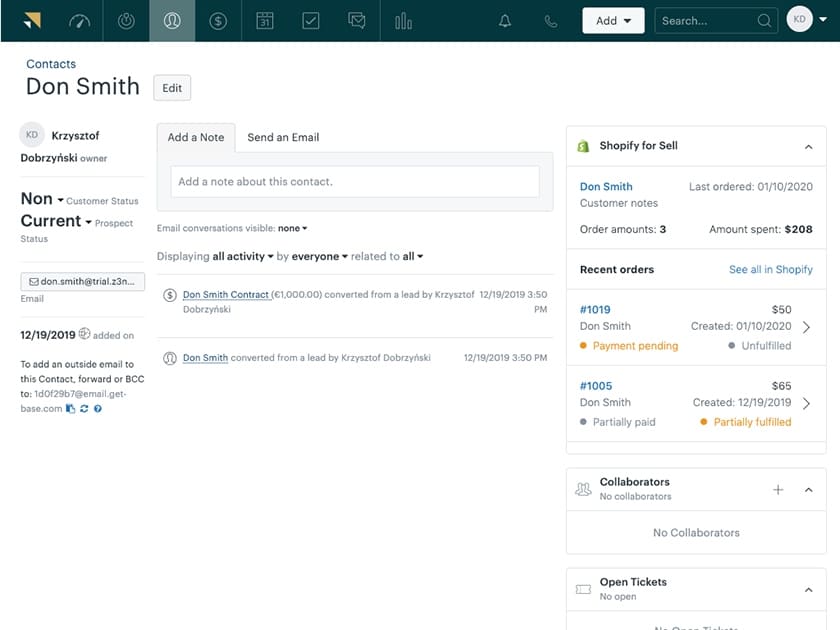 ---
Zendesk Sell enables businesses to manage and optimize their sales processes through its excellent lead management capabilities, mobile application, and communication tools. It also has an advanced mobile CRM application and a user-friendly interface. To learn more about its features and functionalities, read our Zendesk Sell review.
HubSpot CRM: Best Shopify CRM for Custom Product Workflows
What We Like
Ability to create multiple product workflows based on customer actions
Feature-rich free plan that includes things like an in-app dialer and bulk email sending
Provides users with a 1 million-contact allocation
What's Missing
Free plan doesn't offer email campaign performance insights
Steep increases to access higher-tier plans
HubSpot CRM Pricing at a Glance*
Free: Supports an unlimited number of users
Starter: Starts at $45 (2 users)
Professional: Starts at $450 (5 users)
Enterprise: $1,200 (10 users)
Add-on for paid plans:
CRM Suite: Starts at $45 per month
Additional user: Starts at $23/user/month
*Monthly pricing based on annual billing. Monthly billing is available at a higher cost.
HubSpot CRM's Shopify integration enables the creation of custom workflows by analyzing customers' interactions with your site, products, and deals. For example, it can customize a workflow when a customer scans your online store but does not make a purchase. The system can trigger abandoned cart email nurturing, smart "calls to action" (CTAs) in content, and product-specific re-engagement ads.
In addition, once integrated, ecommerce reports will also be added to your account. This allows you to generate reports that track orders and customer engagement, such as average order value, best sellers, low-performing products, and abandoned carts.
However, HubSpot CRM's free plan lacks data-backed insights for email campaigns (unlike Mailchimp). Furthermore, higher-tier plans are relatively expensive, which makes it a drawback for small businesses that are steadily growing and startups planning to scale quickly. For more budget-friendly options across pricing plans, consider using Freshmarketer or Agile CRM.
HubSpot CRM Sales Hub Plan Summary
| Sales Hub Key Features | Free | Starter | Professional | Enterprise |
| --- | --- | --- | --- | --- |
| Users | Unlimited | Includes 2 paid users | Includes 5 paid users | Includes 10 paid users |
| Contact Management | ✓ | ✓ | ✓ | ✓ |
| Live Chat & Basic Bots | ✓ | ✓ | ✓ | ✓ |
| Customizable Quotes | ✓ | ✓ | ✓ | ✓ |
| Sales Automation | ✕ | ✓ | ✓ | ✓ |
| Payments | ✕ | ✓ | ✓ | ✓ |
| Sales Analytics & Custom Reporting | ✕ | ✕ | ✓ | ✓ |
| Forecasting | ✕ | ✕ | ✓ | ✓ |
| Predictive Lead Scoring | ✕ | ✕ | ✕ | ✓ |
| Recurring Revenue Tracking | ✕ | ✕ | ✕ | ✓ |
HubSpot CRM Key Features
Email marketing: Excellent email marketing tools for users who need to send professional-looking marketing emails to expand their customer base.
Task management: Set up a series of follow-up tasks to better manage multiple clients and projects.
Sales and lead prospecting: See when leads visit your website in real time and determine which prospects are the most engaged so sales agents know who to prioritize.
Live chat: Communicate with your Shopify store visitors in real time using live chat.
Shopify Integration: Analyze Shopify data (average order value, lifetime order value, and abandoned cart recovery), segment contacts based on products, automate ecommerce campaigns, and automatically sync products, contacts, and orders from Shopify to HubSpot CRM.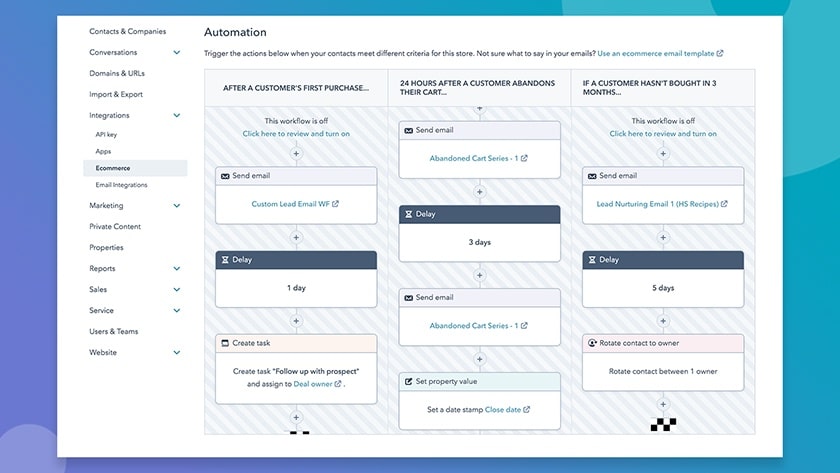 ---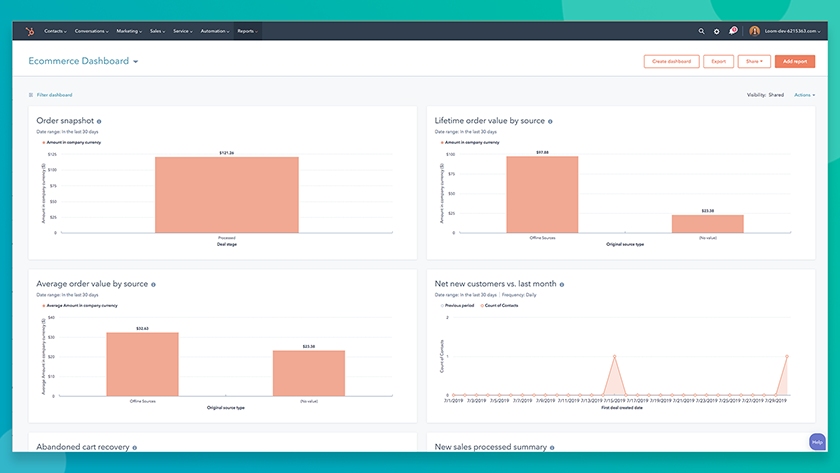 ---
Upgrade your growth strategy with new tactics like abandoned cart email nurturing, smart CTAs in content, product specific re-engagement ads, and much more. You'll also have the full capabilities of HubSpot at your fingertips to build a brand and voice that'll help you stand out.
HubSpot CRM provides you with tools for creating workflows to automate your marketing, sales, and service processes. Check out our comprehensive HubSpot CRM review to learn about other ways that this platform can help your business grow.
Mailchimp: Best Shopify CRM With Robust Email Marketing Tools
What We Like
Robust email marketing tools that can be tailored based on customer behavior
All plans include free marketing and commerce tools
Feature-packed free plan supports up to 2,000 contacts with helpful tools like customer behavior analytics and personalized product recommendations
What's Missing
No sales and pipeline management tools
Expensive to scale as costs quickly add up based on the number of subscribers
Mailchimp Pricing at a Glance*
Free: Up to 2,000 contacts (limited features and templates)
Essentials: Starts at $11**
Standard: Starts at $17**
Premium: Starts at $299**
Add-ons:
Websites and Commerce: From $0 to $29 per month
Advanced Scheduling: $8 per month
Transactional Emails: Starts at $20 per month
*Only monthly billing option is available
**Starting price for 500 contacts
Mailchimp is one of the leading email marketing tools in the market that integrates easily with Shopify. This CRM integration helps you to market more effectively to prospects and customers using custom and prebuilt audience segments. Based on audience segmentation, you can send various types of marketing emails. These include prospect offers, new subscriber welcomes, coupons and time-limited deals, order updates, and repeat buyer rewards.
Mailchimp's email marketing tool is guided by its Customer Journey Builder, which helps users send relevant content based on customers' actions and behavior. These are helpful when sending abandoned cart reminders to potential buyers or winning back inactive customers with promotional emails. It also allows you to create emails with personalized suggestions based on the purchase history of your customers with relevant product recommendations.
Since Mailchimp is not a traditional CRM, it does not offer deal and sales pipeline management tools. Another major setback is its pricing model—the cost adds up quickly as your subscribers, contacts, and emails increase. However, with effective email marketing, your return on investment may be well worth the expense.
If you want a CRM tool with fundamental CRM features, we recommend subscribing to Zendesk Sell. Meanwhile, if you need a more affordable allocation for emails and contacts, your best option is HubSpot CRM.
Mailchimp Plan Summary
| | Free | Essentials | Standard | Premium |
| --- | --- | --- | --- | --- |
| Seats | 1 | 3 | 5 | Unlimited |
| Max. Contact Counts | Up to 2,000 contacts | Up to 50,000 with $299/month tier | Up to 100,000 contacts with $605/month tier | Contact sales team for custom contact limit |
| Max. Monthly Email Sends | 10,000/month (daily limit of 2,000) | Up to 500,000 with $299/month tier | Up to 1.2 million with $605/month tier | 15 times the plan's custom contact limit |
| Audiences | 1 | 3 | 5 | Unlimited |
| Behavioral Targeting | ✓ | ✓ | ✓ | ✓ |
| Audience Dashboard & Surveys | ✓ | ✓ | ✓ | ✓ |
| A/B Testing | ✕ | ✓ | ✓ | ✓ |
| Social Post Scheduling & Retargeting Ads | ✕ | ✕ | ✓ | ✓ |
| Content Optimizer | ✕ | ✕ | ✓ | ✓ |
| Comparative Reporting | ✕ | ✕ | ✕ | ✓ |
Mailchimp Key Features
Customer lifetime value: Historical data provides analysis of purchase behavior, which then allows you to create customer segments based on how likely they are to spend, enabling you to gain insights to reward VIPs or bring occasional buyers back.
Contact profiles: Helps users understand their contacts on a deeper level by allowing them to check individual contact profiles and get insights from their actions—like whether they took advantage of past promotions, which devices they used, or what products they purchased.
Subject line helper: An interactive tool that provides feedback on word and character count, as well as emoji and punctuations to use to help users draft catchy and effective email subject lines.
Split testing: Allows you to test up to three email variations for a campaign, including elements like subject lines, images, layouts, and time and day of the week sent.
Shopify integration: Features you can access through this integration include prebuilt segments, audience dashboard, drag-and-drop email templates, social post scheduling, real-time revenue reporting, A/B testing, and marketing campaigns.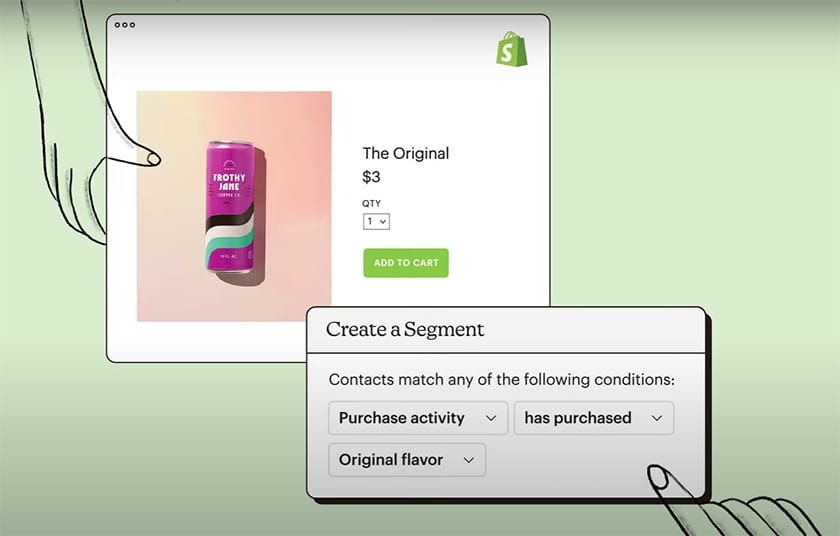 ---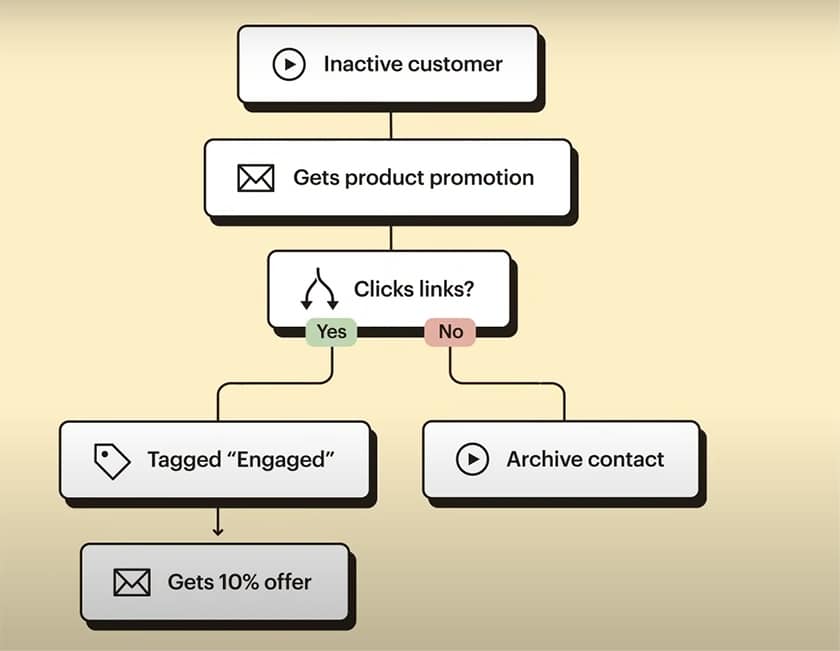 ---
Mailchimp offers email marketing, basic contact management, surveys, and social posting functionalities. It provides a range of plans for small businesses that give them access to an extensive template library, making it easy to create professional-looking email marketing emails for their business. Learn more by reading our article on how to use Mailchimp for email marketing.
Freshmarketer: Best CRM for Shopify for Multichannel Customer Engagement
What We Like
Native integration with Shopify
Website visitor activity tracking is available across all plans
Robust performance reporting tools for all paid plan users
What's Missing
No inventory and order management features
Lacks built-in tools for invoicing and payment processing
Upgrade is required to increase marketing contact storage
Freshmarketer Pricing at a Glance*
Free: 100 marketing contacts
Growth: Starts at $19
Pro: Starts at $149
Enterprise: Starts at $299
Free trial: 21 days
Add-ons for paid plans:
Marketing contacts: Starts at $100 for 5,000 contacts
Conversion rate optimization: Starts at $219 for 10,000 monthly unique visitors
Additional bot sessions: $75 for 1,000 bot sessions per month
Messaging agent: Starts at $180/agent/month
*Pricing (per user, monthly) based on annual billing. Monthly billing is available at a higher cost.
Freshmarketer is a marketing automation suite that natively integrates with Shopify. This makes it easier for ecommerce businesses to engage with their customers using email, SMS (short message service), WhatsApp, live chat, and custom bots. You can further expand your marketing efforts using its segmented multichannel campaigns, cart abandonment reminders, drag-and-drop email templates, and predesigned landing pages.
This platform seamlessly integrates with other apps within the Freshworks ecosystem, such as customer service management app Freshdesk and sales force automation software Freshsales. These integrations allow you to close the gap between your sales, marketing, and service departments. You can sync contacts between these apps in real time to help improve the tracking of customer journeys and lead conversion.
Unfortunately, Freshmarketer does not have built-in tools for order management and payment processing. HubSpot CRM, on the other hand, offers customizable quotes across all plans and payment solutions for all paid plans. Meanwhile, Salesforce allows you to create contracts, orders, quotes, products, and price books when you subscribe to its Professional plan at $75 per user, per month.
Freshmarketer Plan Summary
| | Free | Growth | Pro | Enterprise |
| --- | --- | --- | --- | --- |
| Marketing Contacts for Shopify Businesses | 10,000 | 12,000 | 15,000 | 20,000 |
| Bot Sessions | N/A | 2,000 per month | 3,000 per month | 5,000 per month |
| Website Tracking | ✓ | ✓ | ✓ | ✓ |
| Shopify Playbooks | ✕ | ✓ | ✓ | ✓ |
| Multichannel Engagement | ✕ | ✓ | ✓ | ✓ |
| Performance Report | ✕ | ✓ | ✓ | ✓ |
| Time Zone-based Campaign Delivery | ✕ | ✓ | ✓ | ✓ |
| Auto-profile Enrichment | ✕ | ✓ | ✕ | ✓ |
Freshmarketer Key Features
Conversion rate optimization (CRO): Features for identifying problems, attracting quality leads, and improving website performance include personalized website sections, A/B testing, split testing, heatmaps, session replay, funnel analysis, form analytics, journey analytics, and polls and feedback.
Multichannel engagement: Create personalized engagement with your subscribers using the drag-and-drop email builder, email campaigns, Subscriber Preference Center, web forms, Apple Business Chat, Facebook Messenger, WhatsApp, triggered messages, in-app messages, and chatbots.
Automation: Automation features for a seamless experience include website tracking, transactional emails, predictive contact scoring, journey builder, custom flows, auto-resolve chat, and IntelliAssign (auto-assignment of messages to agents based on skill level).
Segmentation: Features that help you understand your contacts' behavior include marketing lists, customer segmentation, event tracking, auto-profile enrichment, and offline event tracking.
Reporting and analytics: Monitor your marketing performance using standard reports, email campaign metrics, key marketing analytics, and custom reports and dashboards.
Native Shopify integration: Attract, engage, and nurture your Shopify customers using Freshmarketer's segmented campaigns, email templates, multichannel communication (WhatsApp, SMS, email, and chat), event tracking, and Shopify Playbooks.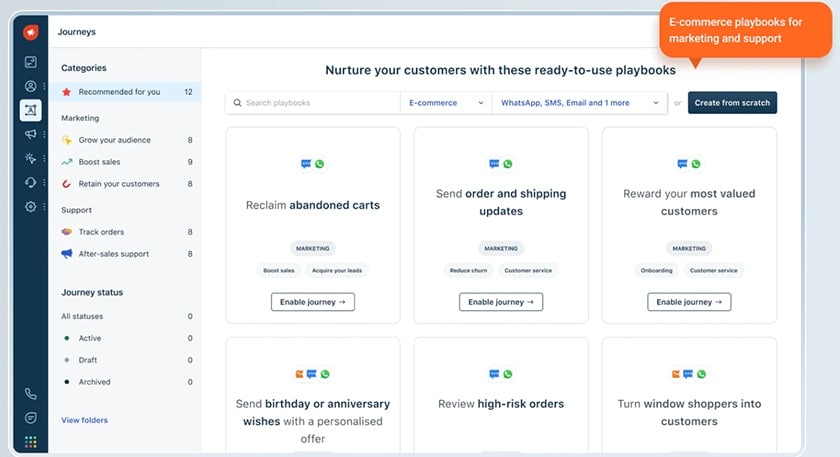 ---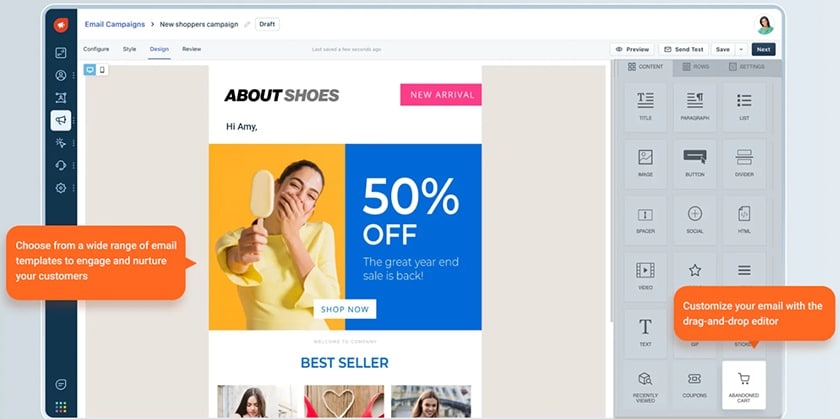 ---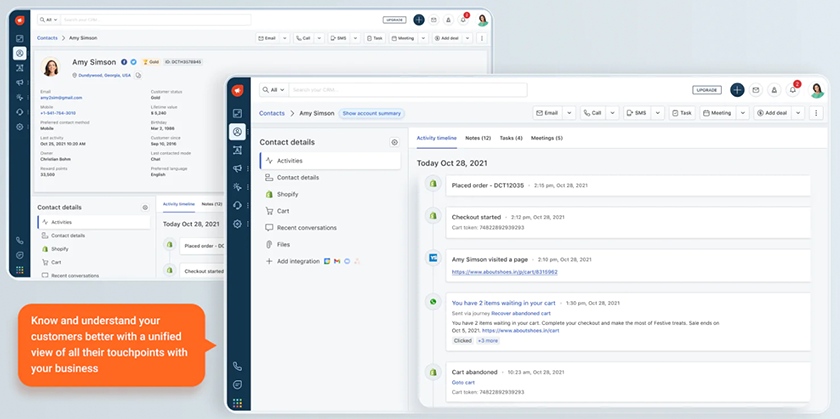 ---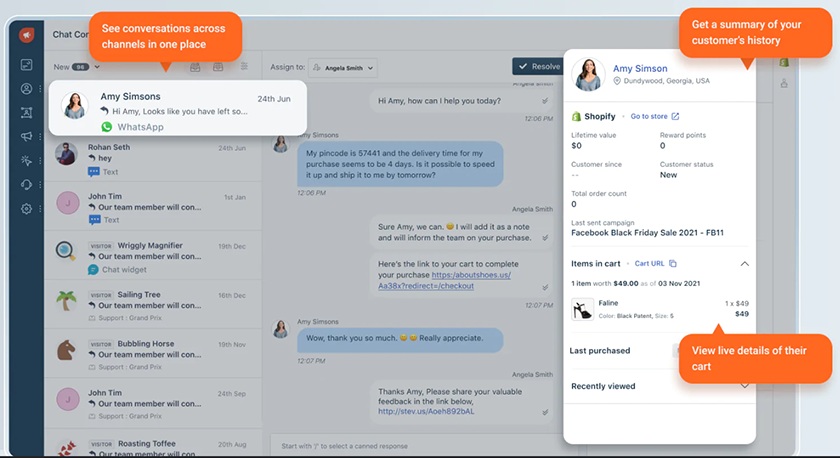 ---
Check out our comprehensive Freshsales review to learn more about its features and how it seamlessly integrates with Freshmarketer to streamline your sales and marketing processes.
Metrilo: Best Shopify CRM for Ecommerce Analytics Access
What We Like
In-depth ecommerce analytics and advanced customer data
All plans support an unlimited number of users
Offers abandoned cart email campaigns and unlimited emails
What's Missing
No free plan; can be budget prohibitive for startups and small businesses
No mobile app
Metrilo Pricing at a Glance*
Essential: $99
Pro: $165
Premium: $249
Free trial: 14 days
*Monthly pricing based on annual billing. Monthly billing is available at a higher cost.
Metrilo is an ecommerce CRM equipped with robust analytics tools to monitor and evaluate Shopify store performance. It does this by tracking marketing campaign performance, engagement metrics, and sales attribution. The CRM-Shopify integration allows Shopify sellers to monitor marketing channels, referrals, influencers, and coupon codes easily to better optimize their marketing spending and allocate budgets on channels that bring in the most revenue.
Metrilo's ecommerce platform includes analytics tools that provide a detailed overview of your store's income sources, including revenue from new versus returning customers, social media leads, and country and city of purchases. The platform also offers product analysis reports so you know how your products perform in terms of views, purchases, and cart abandonment.
The most significant disadvantage of Metrilo is its pricing scheme. While larger teams can make it work because of its unlimited user allocation, it can be expensive for startups and small businesses that keep costs down with per-user subscriptions. For the best Shopify CRM for this, we recommend subscribing to either Freshmarketer or Agile CRM instead, where startups and small operations can access higher tiers without breaking the bank.
Another drawback is its lack of a mobile app, which is crucial for users who don't always have desktop access. Users who are on the go and need a reliable mobile app to access their CRM data should consider Salesforce.
Metrilo Plan Summary
| | Essential | Pro | Premium |
| --- | --- | --- | --- |
| Growth Assistant | ✓ | ✓ | ✓ |
| Ecommerce Analytics | ✓ | ✓ | ✓ |
| Ecommerce Customer Database, Profiles & Segmentation | ✕ | ✓ | ✓ |
| Customer Retention Analysis | ✕ | ✓ | ✓ |
| Email Marketing Designer | ✕ | ✕ | ✓ |
| Email Automation | ✕ | ✕ | ✓ |
Metrilo Key Features
Automated product bundle suggestions: Shows which products get ordered together or instead of one another to help you create high-performing product bundles.
Rich customer profiles: Shows customers' behavior, orders, money spent, and products bought, as well as basic contact information like name, address, and location.
Customer segmentation: Ability to segment users based on actions such as store site visits, interaction with specific products, coupons used, or total amount purchased.
Customer retention analysis: Provides insights on which campaigns and products stimulate customer loyalty, and helps you better prepare for seasonal changes as well as cyclical ups and downs with accumulated year-on-year behavior data.
Shopify integration: Metrilo's integration with Shopify allows you to access customer profiles with orders and use other features such as visitor tracking, event tracking, cart monitoring, customer retention reports, product performance statistics, and emails, and customer segmentation.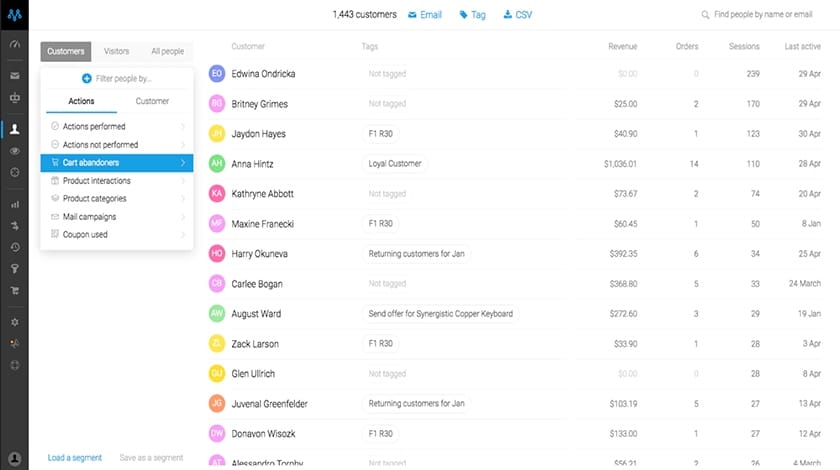 ---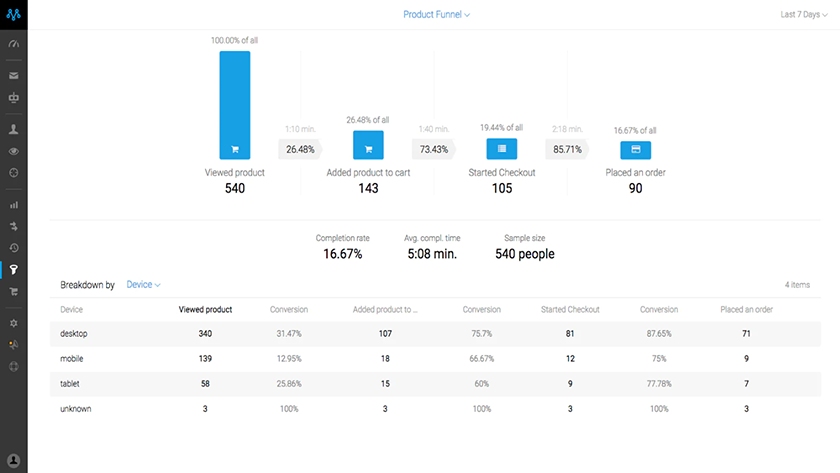 ---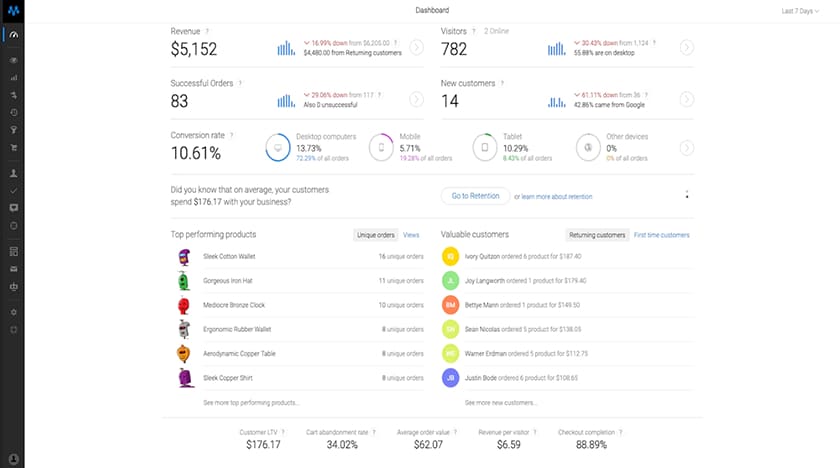 ---
Agile CRM: Best Shopify CRM for Marketing Automation
What We Like
Extensive marketing tools, such as multichannel marketing via email, text, social media, and landing pages
Useful CRM analytics that include customer behavior and website statistics
Free plan for up to 10 users
What's Missing
User reviews suggest support quality can be improved
In-app dialer is only available in paid plan
No free trial for paid plans
Agile CRM Pricing at a Glance*
Free: Up to 10 users
Starter: $9.99
Regular: $39.99
Enterprise: $64.99
*Pricing (per user, monthly) based on annual billing. Monthly billing is available at a higher cost, and bi-annual rates at a lower cost.
Agile CRM features extensive marketing automation tools to help Shopify ecommerce businesses increase sales and engage with customers. This is made easy with a drag-and-drop marketing campaign builder that lets you create multistep marketing workflows visually.
The platform also allows you to schedule auto-responders and follow-up messages based on time or contact actions, while its mobile marketing tool can be programmed to send personalized SMS messages to prospects. In addition, the CRM-Shopify integration enables you to create coupons to boost sales and send surveys to collect feedback to improve your marketing results.
While Agile CRM is an ideal Shopify CRM for users who need extensive marketing automation tools, its free plan lacks an in-app dialer, and some users don't find its support team reliable. Users who need access to an in-app dialer for free should check out HubSpot CRM, while those who want a more reliable customer support tool should consider Salesforce.
Agile CRM Plan Summary
| | Free | Starter | Regular | Enterprise |
| --- | --- | --- | --- | --- |
| Contact & Company Management | Up to 1,000 | Up to 10,000 | Up to 50,000 | Unlimited |
| Plugins/Integrations | 1 | 3 | 50+ | 50+ |
| Landing Page Builder | ✓ | ✓ | ✓ | ✓ |
| Customer Help Desk | ✓ | ✓ | ✓ | ✓ |
| Email Campaigns & Template Builder | ✓ | ✓ | ✓ | ✓ |
| Google, Shopify & Stripe Sync | Google only | ✓ | ✓ | ✓ |
| Automation Rules & Configurable Triggers | 1 | 5 | 10 | Unlimited |
| Marketing Automation | ✕ | ✓ | ✓ | ✓ |
| Mobile SMS Text Marketing | ✕ | ✕ | ✓ | ✓ |
Agile CRM Key Features
Contact-level analytics: Analyze customer interests and web engagement patterns, such as products deleted and pages visited, and turn them into real-time activity reports.
Exit-intent pop-ups: Set web rules to trigger campaigns in response to store visitors in real time and for past behavior, like sending personalized and targeted messages to your visitors the moment they are about to abandon their cart.
Task management: Use a drag-and-drop Kanban board project management tool to sort tasks based on priority, due date, owner, or status.
Lead behavior tracking on social: Maximize the return on investment (ROI) of your marketing automation campaigns by tracking the social behavior of leads and customers.
Shopify integration: Access Agile CRM's tools for online engagement (smart pop-ups and discount coupons), offline engagement (automated emails, personalized newsletters, and social feedback), contact-level web analytics, data sync, and Shopify event triggers.
Agile CRM is ideal for Shopify users who need a CRM that offers a well-rounded view of customers and provides fundamental lead and deal management features. Read our Agile CRM review to learn more about the pros and cons of using this software.
Salesforce: Best CRM Option for Multiple Shopify Stores
What We Like
Sync multiple Shopify stores with a single Salesforce account
Offers built-in tools for customer service
Mobile app allows users to perform nearly all the same functions as the web application
What's Missing
Best suited for more advanced users; beginners will have a learning curve
No free plan option, and pricing gets expensive quickly
Limited customer support—premium support requires a separate purchase and is expensive
Salesforce Pricing at a Glance*
Essentials: $25
Professional: $75
Enterprise: $150
Unlimited: $300
Free trial: 14 days for Essentials and 30 days for Professional
Add-ons**
Sales Dialer: Starts at $5/user/month
Social Intelligence: $25/user/month
Partner Relationship Management (PRM): $25 per member, per month or $10 per login, per month
Sales Cloud Einstein: Starts at $50/user/month
CPQ (Configure, Price, and Quote): $75/user/month
*Pricing (per user, monthly) based on annual billing. Monthly billing is available for Essentials only at a higher cost.
**Check Salesforce's website for more add-ons and their respective plan eligibilities.
Salesforce is an advanced CRM system that allows businesses of all sizes to manage their sales, marketing, and support processes from a centralized platform. It boasts sophisticated sales tools as well as robust reporting and integration capabilities. Shopify Made Easy is a connector app you can download for free from the Salesforce AppExchange marketplace to integrate your CRM with Shopify.
Shopify Made Easy's zero-code integration allows you to instantly import all legacy Shopify data, sync records in real time, and manage inventory from a unified platform. Best of all, you can synchronize multiple Shopify stores with a single Salesforce account. This means that you can increase productivity by managing unlimited records, products, inventory, and orders from multiple Shopify businesses from one dashboard.
The most glaring disadvantages of Salesforce are its pricing scheme and ease of use. Unlike HubSpot CRM and Freshmarketer, it does not offer a free plan option. Users intimidated by Salesforce's higher-tier plans may consider Agile CRM an alternative. If you are comfortable with this level of pricing but want a solution with robust ecommerce analytics, try Metrilo.
Salesforce Plan Summary
| | Essentials | Professional | Enterprise | Unlimited |
| --- | --- | --- | --- | --- |
| Unlimited Users | ✓ | ✓ | ✓ | ✓ |
| Lead & Contact Management | ✓ | ✓ | ✓ | ✓ |
| Campaign Management | ✓ | ✓ | ✓ | ✓ |
| Mass Email | ✓ | ✓ | ✓ | ✓ |
| Rule-based Scoring | ✕ | ✓ | ✓ | ✓ |
| Collaborative Forecasting | ✕ | ✓ | ✓ | ✓ |
| Track Quotes & Orders | ✕ | ✓ | ✓ | ✓ |
| Territory Management | ✕ | ✕ | ✓ | ✓ |
| Advanced Reporting | ✕ | ✕ | ✓ | ✓ |
| Developer Sandbox | ✕ | ✕ | ✕ | ✓ |
Salesforce Key Features
Customer service features: Tools for servicing customers through email, phone, live chat, social media, and a self-service help center.
Lightning App Builder: Build custom applications within the Salesforce platform using prebuilt templates and a drag-and-drop interface.
Email auto sync: Email data automatically syncs with CRM to create contact profiles.
Deals and opportunities: Custom visualization options for deal and opportunity management.
Shopify Made Easy: This Shopify-to-Salesforce connector app automatically create orders, contacts, and accounts in Salesforce when a customer is created or updated in multiple Shopify stores.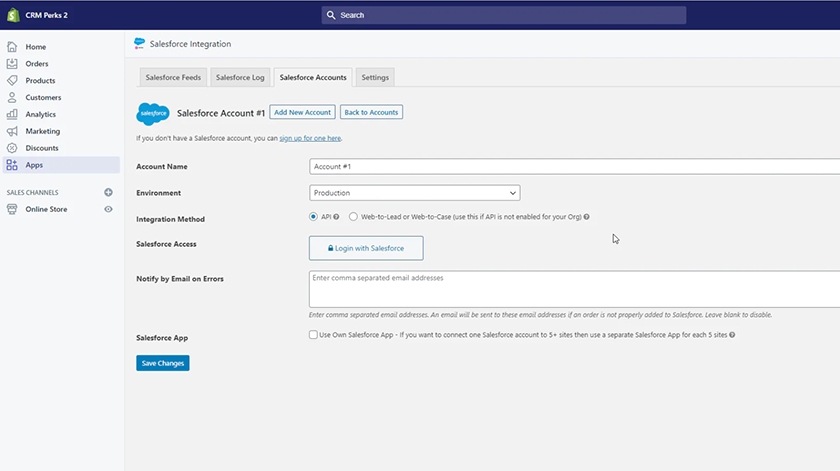 ---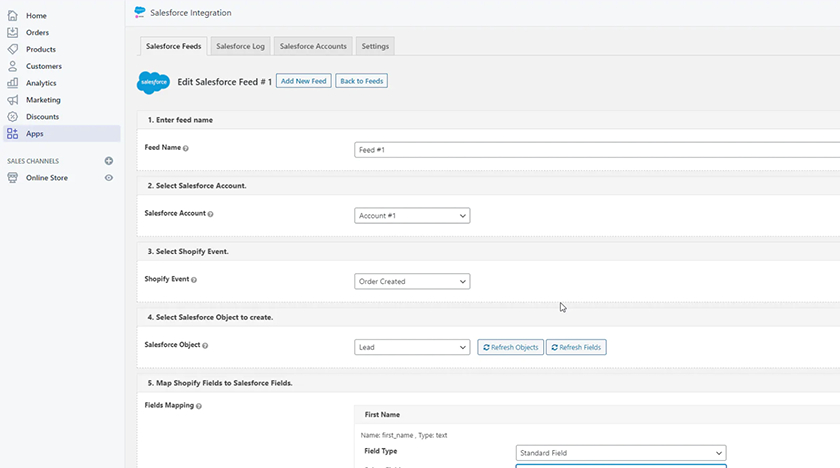 ---
Salesforce is best for businesses looking for a highly customizable CRM solution with robust reporting and integration capabilities. Read our Salesforce review to learn out more about its features and functionalities. For smaller teams, we recommend reading our Salesforce Essentials review to explore how its advanced sales pipeline management tools and email marketing capabilities can help your organization.
How We Evaluated the Best Shopify CRM
CRM systems can store and analyze your customers' shopping data and behavior, which gives you a data-backed basis for personalizing your marketing campaigns at every stage of the customer journey to make them more effective. The integration of your CRM with Shopify provides access to data-backed insights as to what your customers truly want.
Zendesk Sell is our top choice for ecommerce businesses looking for the best Shopify CRM, with an overall score of 4.68 out of 5. It's the top option because of the combination of its smooth Shopify integration and excellent tools for lead management, direct sales management, and reporting. It also offers omnichannel communication tools, which include email, an in-app phone dialer, and SMS. On top of all these, it offers free and affordable pricing options.
The tabs below offer more insight into our evaluation process for selecting the best Shopify CRM integration options:
30%
Shopify-specific Features
10% of Overall Score
Cost is typically among the most important criteria for any small business. We considered the availability of free plans, capability for various subscription options, and whether or not monthly billing is available.
10% of Overall Score
The quality of its integration with Shopify was one of our main deciding factors. We evaluated the overall set of features that come with CRM-Shopify integration, including customizable pipelines, reporting, and analytics. In addition, we looked at the availability of a mobile app and third-party integrations.
30% of Overall Score
The availability of Shopify-specific features was the most heavily weighted criterion when evaluating the best CRM solutions for Shopify. We assessed each platform in our list to see if they offered features like inventory management, email and SMS marketing, lead scoring, and workflow automation. We also checked if these features were offered for free or at a cost.
20% of Overall Score
User-friendliness and intuitiveness were two of our key considerations when looking into a software's ease of use. This was analyzed in terms of the expertise needed to integrate it with Shopify, the skill required to operate the system, and the overall usability.
20% of Overall Score
Support is a critical part of running any CRM system, especially for small businesses that don't have in-house technical support. We analyzed the types and availability of support offered by these providers through live chat, email, and phone.
10% of Overall Score
We looked through existing customer reviews on credible sites to measure the level of satisfaction current users have and any problems they typically encounter. We also added our thoughts and expert opinion on key features, value for money, and popularity.
*Percentages of overall score