Zendesk Sell Review: Is It Right for Your Business?
This article is part of a larger series on CRM.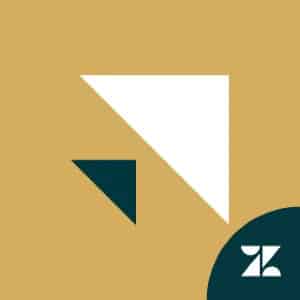 Zendesk Sell is popular customer relationship management (CRM) software that enables businesses to organize, manage, and optimize sales processes. It lets users easily track leads and sales tasks while also allowing them to communicate with their contacts through email, phone, or text. This CRM software works best for teams that use direct sales tactics in their overall business strategy. Read our Zendesk Sell review to determine if it's the right solution for your business needs.
Who Zendesk Sell Is Best For
Sales teams using multi-channel communication as a sales strategy: Zendesk Sell has features—both built-in and through outside integrations—that allow sales reps to communicate with leads through multiple channels, like phone calls, texts, and emails. These capabilities make Zendesk Sell especially useful for sales teams that introduce their offerings and nurture their leads via multiple channels. Part of this is also why Zendesk is one of our picks for the top customer database software options.
Businesses that frequently have sales reps in the field: One of the most standout attributes of Zendesk Sell is its mobile sales features, which include SMS texting, GeoVerification, and visit tracking. For that reason, it's also one of our picks for the top mobile CRM systems and one of the best business account management CRM software systems.
Small businesses looking for high-level lead management tools: When it comes to managing leads like collecting their data, organizing their contact information, assigning them to reps, scoring them, and putting them into categorical lists, this CRM system is top of the line. It also happens to be our number one pick as the best CRM for lead management. Some of these lead management tools are especially useful for freelancers, putting it on the map as one of the best CRM software for freelancers.
Who Zendesk Sell Is Not a Good Fit For
Businesses selling multiple products or services: Unless you subscribe to the Sell Elite plan, which is expensive for many small businesses, you can only have one customizable sales pipeline on the Team or Professional plans and two for the Enterprise plan. This makes this CRM software a poor fit for businesses with multiple offerings that require various pipelines. For businesses selling multiple lines of solutions and need to visualize several pipelines, we recommend Pipedrive as an alternative.
Sales managers who need low-cost sales reporting features: While there are sales forecasting and goal tracking features on the lower-tiered plans, features for activity reporting, individual rep performance monitoring, and advanced sales insights are not available until the Enterprise or Elite plans. Zoho CRM is a great alternative solution if you need low-cost reporting and analytics features in your CRM. Learn more about the reports your CRM should produce by going through the list of seven essential CRM reports.
Small businesses that utilize social media content marketing: Although Zendesk Sell is solid CRM software for direct sales, there's no functionality for content management and social media marketing. If this type of marketing is important to your sales strategy, we recommend HubSpot or Zoho CRM, both of which are considered some of the best social media CRM platforms.
Zendesk Sell Overview
Zendesk Sell can be best summarized as a user-friendly CRM system packed with lead management features. Any issues found will stem from the lack of a free option and additional costs or upgrades to get certain features, such as lead data generation and reporting tools.
PROS

CONS

Excellent features for lead management and direct sales activities
Most of the reporting tools require the higher-priced plans
Advanced mobile CRM application
Lead generation and data enrichment features require an add-on for a higher cost
User-friendly interface and is easy to integrate with third-party apps
No free forever plan option
Zendesk Sell Pricing
Zendesk Sell's pricing is not that bad per user until the higher-tiered Enterprise and Elite plans. The main differences in each plan come down to modular features and the advancement of a tool, e.g., expanded lead management tools, which include automation, is the first major adjustment from the Team to Professional plan.
Plans

Sell Team

Sell Professional

Sell Enterprise

Sell Elite

Best For

Startups looking for basic lead and contact organization features

Small businesses that want to automate lead management tasks

Small sales teams that want a boost for their cold calling activities

Large sales teams that need advanced reporting and insights

Monthly Pricing

($/User/Month)

$25 per user, per month

$59 per user, per month

$125 per user, per month

$249 per user, per month

Annual Pricing

($/User/Month)

$19 per user, per month

$49 per user, per month

$99 per user, per month

$199 per user, per month

Users

Up to 3

Unlimited

Unlimited

Unlimited

Duplicate Data Detection

✔

✔

✔

✔

Mobile Geolocation, Visit Tracking, and GeoVerification

✔

✔

✔

✔

Telephone Features With Call Tracking, Recording, and Click-to-Dial

✔

✔

✔

✔

Smart Lists With Templates

✔

✔

✔

✔

Customizable Sales Pipelines

One

One

Two

Unlimited

Automated Lead Distribution

✕

✔

✔

✔

Lead and Deal Scoring

✕

✕

✔

✔

Power Dialer

✕

✕

✔

✔

Advanced Sales Insights Reports

✕

✕

✕

✔
Feel free to review our descriptions of each plan below by clicking on the drop-down menu:
Sell Team
With access for up to three users, this plan gives you basic contact and lead organization features. You'll also get appointment setting, email integrations, and everything the mobile application can offer, including geolocation tools and visit tracking. There's an option to enable Sell Voice, a built-in phone system that lets you make calls from contact pages and manage SMS texting campaigns.
Sell Professional
In addition to everything the Sell Team plan offers, those who wish to upgrade to the Professional plan get unlimited users and the ability to send bulk emails from the CRM system. The lead management features are also more advanced with the inclusion of automated lead distribution to your sales reps based on triggers or criteria, as well as the ability to capture leads into the CRM system from online website form submissions.
Sell Enterprise
Sell Enterprise includes everything that the Professional plan offers but adds in lead scoring, product catalog customization, and role-based permissions where you can set access restrictions based on a person or team's position and hierarchy. For the calling features, this plan gives users access to an automated power dialer, where you can preset outgoing calls to have the phone dialed for you based on a contact list in the system.
Sell Elite
The primary addition to upgrading to the highest Zendesk Sell plan is the reporting features that extend to viewing rep performance, advanced sales insights, and success insight reports. This plan also gives you the ability to customize and use an unlimited number of sales pipelines to account for variance in your sales process for different products and services.
Zendesk Reach
Zendesk Reach is an optional add-on for prospecting and data enrichment. The add-on comes with three options, billed annually:
Reach Basic: $27 per user, per month
Standard: $63 per user, per month
Advanced: $81 per user, per month
Depending on the plan you choose, you get a certain number of credits you can allocate toward automated marketing email sequences, data enrichment to update or improve profiles, and purchasing new contact lead lists. The Advanced plan gives you the most credits for these tools and extends to offer direct dial phone numbers and information about the current technology stack a lead company is using.
Zendesk Sell Features
Zendesk Sell gives sales teams a centralized system for managing leads and communicating with contacts. The mobile application is also available to let teams manage their sales teams from the road or in the field.
Lead Management
This CRM platform offers lead management tools, including basic contact information organization, lead duplicate data detection, lead tagging, list filtering, and automated lead assignment. There's also the ability to score leads to measure how likely they are to become closed deals and the option to create hierarchies for if you're selling to parent or subsidiary companies.
As you manage lead data, users can create customizable data fields to account for unique information they want to collect. There's also the option to set up required fields within lead records and configure online web forms to automatically add leads into your CRM as inquiries are submitted. Smart Lists and Smart List Template features let you save lead data views rather than continuously re-customizing filters to view a lead list.
---
Multi-channel Communication Features
Zendesk Sell gives your sales reps options to communicate directly with leads and customers through a phone system that can be built in using the Zendesk Voice software or by integrating the CRM with a third-party voice-over-internet-protocol (VoIP) provider. Furthermore, it lets you craft and send emails and SMS texts either individually or to a large number of recipients at once.
---
Mobile App
Zendesk Sell's mobile application synchronizes data from the web application so you can manage leads and sales tasks on the go. There's also a geolocation tool to find nearby leads and get directions to their address from the app.
Lastly, you can verify your sales reps actually visited the lead they said they were visiting with the visit tracking and GeoVerification feature. This functionality uses the rep's location on the mobile app to confirm location.
---
Third-party Integrations
Through API and standard integrations, you can sync the data and use the features of hundreds of your favorite third-party applications from the CRM system. Zendesk Sell integrates with some popular applications, including Zapier, Mailchimp, HubSpot, QuickBooks, Slack, and Trello.
---
Customer Service
Zendesk Sell offers users tremendous customer support options that include 24/7, around-the-clock service by live chat, phone, or email. Its company website also has a wide range of articles on different topics related to setting up and using the features it offers, ensuring users always have the resources they need to use the platform.
Ease of Use
Overall, the product usability ranks high relative to other CRM systems. The interface is clean and uses simplified color schemes that don't overwhelm users. Most users also find setting up and integrating the CRM with other applications to be an easy process with the availability of the Zendesk Marketplace to find and connect applications. Reported usability issues have to do with data synchronizing issues, specifically from email integrations.
Zendesk Sell Alternatives
If Zendesk Sell isn't the right fit for your business, below are some excellent alternatives to consider:
| | | | |
| --- | --- | --- | --- |
| | | | |
| Best For | Businesses that want social media management tools in their CRM | Small businesses looking for a free CRM option with solid sales tools | Teams looking for advanced reporting tools at a low cost |
| Starting Price | Free or starts at $45 per month for up to 2 users | Free or starts at $15 per user, per month | $25 per user, per month |
| Reviews | | | |
*Pricing above is based on annual billing.
What Users Think of Zendesk Sell
Based on Zendesk Sell reviews online, users find the platform easy to use and integrate with other software applications. Reviews also show that the lead management tools are extremely convenient for users. The main issues that arise are data inconsistencies when users are synchronizing email systems into the CRM. There's also reported difficulty in getting in touch with customer support.
At the time this review was published, Zendesk Sell had the following review scores from popular software review sites:
Bottom Line
Zendesk Sell stands out for its lead management capabilities, mobile application, and communication tools, including a built-in phone system, mass emailing, and texting campaigns. For that reason, businesses that engage in direct selling through a multi-channel strategy either from an office or while in the field can benefit from what Zendesk offers.