Purchasing a customer relationship management (CRM) system is like committing to any other big ticket business software. Research and preparation are crucial to the successful implementation of the CRM you select. Our free interactive guide helps organize your decision process and keeps all the details in one place.
Free Interactive Guide to Choosing a CRM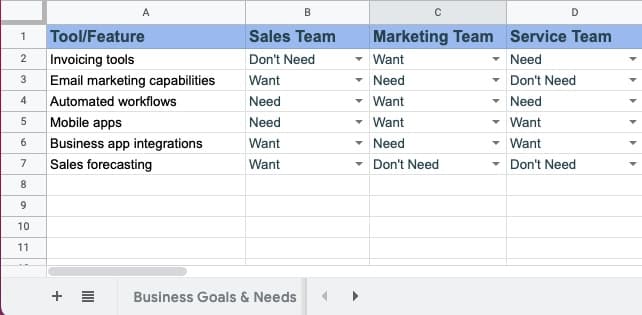 Download Your Free Guide to Choosing a CRM
Pro tip: Before beginning the CRM software selection process, it's helpful to create a CRM strategy to make sure the solution you choose helps improve customer service and grow sales. If you haven't already created this plan, set aside some time to review our guide to creating a CRM strategy.
1. Identify Pain Points Your CRM Will Fix
If you're shopping for a CRM, it means your current customer relationship management process isn't working. In order to buy the best CRM to fix your pain points, you need to know exactly what's broken, but it can be difficult to know where to begin diagnosing the problem. Page one of our guide helps you reverse engineer the issues, starting with your overarching company goals.

Define Business Goals
Before you begin the shopping process, take a look at your company's mission statement for a summary of its goals, which will help determine your business needs. If you don't yet have a mission statement, think of a few that align with your company's overall vision. Note these goals on page one of our interactive guide.
The best goals are specific, measurable, achievable, relevant, and time-bound (SMART). You learn more about how to set SMART goals as well as examples in our article on the subject.
Define Business Needs
This is where your CRM shopping list begins to take shape. Take a look at your company goals and consider what tools your team needs in order to reach those goals. Make a list of these tools on page one of the guide, next to its corresponding goal.
For instance, if one of your business goals is to improve the efficiency of your sales team, then a business need might be a CRM solution that includes workflow automation features. If a business goal is to establish sales goals for your team, then a business need would be a CRM with sales forecasting tools.
You can jump-start the thought process of this step by reviewing the features and functionality of CRM solutions to prompt business need suggestions. Common CRM features and functions include:
Social media integration: Pulls contact and profile enrichment data from sources like Twitter, Facebook, and LinkedIn
Mobile apps: Provide sales professionals a means of accessing CRM information while out of the office, on sales calls, or while working remotely
Email marketing integration: Features tools to send bulk emails to entire or segmented contact lists
Cross-platform compatibility: Ensures sales agents can access the desktop CRM from multiple operating systems
2. Gather Input From Teams & Departments
For a CRM ecosystem to work harmoniously, each team, division, or department that will use it should have input in the buying process, even if the final purchasing decision rests elsewhere. Therefore, it's important to poll the needs of all potential users, including employees outside the sales team.

For example, if your marketing, customer support, and accounting departments will also be using the new CRM, they're likely to have different requirements and feature requests than your sales agents. That's good information to have before making a big investment on a CRM platform.
Page two of our interactive guide centralizes all the feedback you receive and gives you the total picture of how teams will use your CRM. This also ensures the CRM you select includes the tools your team needs without paying for features no one will use.
3. Finalize a List of Features
Once you've reviewed your company goals, determined your business needs, and asked teams for their input, it's time to put together a shopping list of features you want and need in a CRM solution. In fact, it's even more helpful to create two: a must-have feature list and a nice-to-have feature list. Use the sorting and filtering tools on page two of our interactive guide to automatically create these lists for you.
Pro tip: When creating your feature lists, there are two areas where you don't want to skimp: data security and vendor customer support. When selecting a CRM, make sure it includes features to keep your data safe, like two-factor authentication and advanced user permissions. It should also be backed by reliable customer support that's easily accessible across multiple channels so help is available when you need it.
Must-have Features
This list contains mission-critical customer relationship management software feature requirements that mean the difference between a successful CRM implementation and one that falls short. These could include robust contact management tools to keep your growing database of customers and clients organized, or perhaps lead management features are a necessity to keep leads from falling through the cracks.
At this stage, you should also identify any industry-specific CRM features you need that can help eliminate some CRM solutions right off the bat. Businesses that might benefit from the features industry-specific CRMs bring to the table include:
Real estate agencies: These CRMs typically include listing and advanced document management features.
Construction companies: CRMs designed for the construction industry include tools for project, proposal, and work order management.
Startups: CRMs for new or very young businesses are scalable and offer a low (or free) cost of entry. However, the downside is that they're often available for only one or two users.
No matter what your must-have feature list includes, be sure it takes into account all the teams and departments that provided input during the initial research phase. While it may not be possible to accommodate all requests, keeping a list at hand ensures all teams are equitably considered.
Nice-to-have Features
This list includes a log of features that would be useful to have in a CRM solution but won't impede the ability to reach business goals if they're missing. These may include tools like team collaboration tools or cloud storage capabilities that your existing business apps may already provide. Keep in mind that many CRM platforms offer tiered pricing, so nice-to-have features not included in your initial purchase may be available with higher service plans as you grow.
4. Research CRMs
Armed with interdepartmental input and lists of what features you're looking for, now it's time to research which customer relationship management software options on the market best meet your needs. You'll want to take a three-pronged approach to narrow down your options and decide which ones to test drive.

Get word-of-mouth referrals: Ask peers, colleagues, and other business owners what CRM they use and if they're happy with it. Find out what they consider its pros and cons to be, and whether they'd purchase it again over other options.
Read trade magazines and websites: Online and print publications related to your business or trade can be a great source of information and give you an idea of what CRM software is popular in your industry.
Check out user reviews: The best way to get a sense of how good a CRM may be is by reading reviews from its customers.
Use page three of our guide to track recommendations, collect individual contact information from vendors, and keep notes on your interactions with each company.
Sign Up for Free Trials
Most CRM companies offer free trials of their software so potential customers can try before they buy. The best free trials provide access to all features to allow for a full assessment and include enough free trial days for you to get a real sense of the product. If possible, have multiple people in your company use the trial for the widest variety of opinions during this important trial run.
Things to look for during a CRM trial period:
Do the features work as described?
Is the CRM easy to use regardless of technical knowledge?
Are the mobile apps full-featured enough to be useful in the field?
Is there any noticeable lag in the software?
Is the user interface intuitive?
Pro tip: Free trials are often designed to showcase a CRM's premium features to help upsell the platform. Make sure to ask what features are available in the base plan and take a day or two to test out whether you can get by with only those features. Otherwise, you risk signing up for services you don't need.
5. Final Selection & Implementation
Once you've selected and purchased the CRM, implementation is the next step. While it may be the final phase of the process, it's equally important as the steps that came before it. Indeed, it's so integral to the overall success of the CRM experience that we've created a guide on how to complete a CRM implementation in just five steps.
From creating an implementation plan to establishing your CRM's settings and integrating it with other business apps, the steps are outlined in detail to help you get your CRM up and running as effortlessly as possible. Once in place, you'll want to regularly measure its effectiveness to make sure it's delivering as promised and establish an ongoing training program to increase user efficiency.
Top-rated CRMs to Consider for Your Business
With so many CRMs on the market to choose from, it can be difficult to know where to start shopping. Here are three solutions to consider that represent a variety of price points and a wide range of features. For more choices, check out our list of 2021's 6 best CRMs for small businesses.