Sales management software refers to any tool that can be used to oversee sales personnel or enhance or monitor the performance of your sales operation. While it includes customer relationship management (CRM) systems, sales managers and executives can also use other project management, sales enablement, and data analytics tools to understand and improve their team's sales process.
We've reviewed dozens of software products to identify the top 13 sales management systems:
Best Sales Management Software at a Glance
| Provider | Category | Starting Price* | Key Features |
| --- | --- | --- | --- |
| | CRM | Free to $14 per user, per month | Custom sales predictions, competitions, and territory management |
| | CRM | $15 per user, monthly | Automated lead generation through text, email, and chat |
| | CRM | Free to $15 per user, per month | Built-in telephone and account management features |
| | CRM | Free to $45 per month (2 users) | Free multi-dashboard views and simple report generation |
| | Project management software | Free to $8 per user, monthly | Easy-to-use project and task management |
| | Project management software | Free to $10 per user on a monthly basis | Multi-view interface plus application designer |
| | Sales enablement solution | $10.48 to $13.48 per user, per month | Call center platform with voice calling and meeting management |
| | Sales enablement solution | $80 per user, monthly | Auto lead routing and dialing plus appointment setting |
| | Sales enablement solution | Free to $64 per month | Credit-based lead data generation, enrichment, and tech stack insights |
| | Sales analytics tool | Must contact for pricing | Artificial intelligence (AI) for revenue, account, and opportunity insights |
| | Sales analytics tool | Must contact for pricing | Revenue forecasting plus data-based coaching program development |
| | Performance management | Must contact for pricing | Rewards management, gamification, and internal communications |
| | Performance management | Must contact for pricing | Gamification plus coaching and rep development features |
*Based on annual billing; monthly billing is also available for slightly higher rates
Best CRMs for Sales Management
CRM systems help businesses manage leads and sales activity while acting as a database of customer and contact information. Due to their built-in features and integrations, CRMs serve as a central platform to oversee the sales cycle, track team performance, and improve the production of sales reps. Additionally, CRM platforms often come equipped with tools for goal setting, quota management, and gamification to boost performance—making them some of the most effective sales management tools available.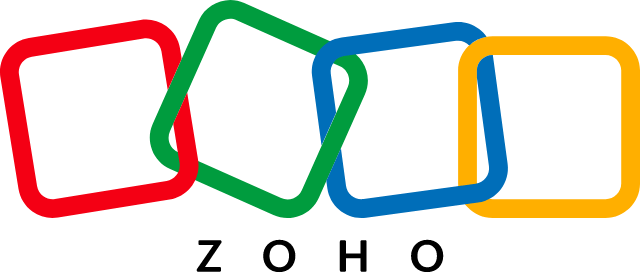 Pros
Free plan plus low-cost and scalable paid plans
Highly customizable to meet all types of sales management and operational needs
Native integrations and built-in management features for gamification, forecasting, and territory management
Cons
Sales forecasting not available for free
Zoho Motivator features requires Professional plan
Expensive prediction-building and approval management for managers to accept, reject, or auto-approve requests by other users
Zoho CRM is highly tailorable for various sales management purposes. It includes capabilities to make customizable forecast and conversion predictions using Zia, the artificial intelligence (AI) tool. There's also gamification through Zoho Motivator for team managers to design games with points rules and sales targets, such as leads generated, to let reps compete and improve. Finally, Zoho comes with territory management options like the auto-lead assignment to reps based on product or region, and activity analysis across various territories.
Zoho CRM Monthly Pricing (per User) at a Glance*
Free: Up to three users
Standard: $14
Professional: $23
Enterprise: $40
Ultimate: $52
Free trial: 15 days
Additional Plans
Bigin: $7 for basic sales pipeline management
Zoho CRM Plus: $57 for added help desk, email and social media marketing, survey, and analytics functions
*Pricing based on annual billing; monthly billing is also available for a higher cost.
Want more product information? Learn more about why Zoho CRM is one of the best small business sales software by checking out our Zoho CRM review.
---

Pros
Robust CRM insights like goal reporting, forecasting, performance tracking, and win-loss analytics
Multi-channel lead communication through email, text, chat, phone, and messenger apps
System lets users create live chatbots and email and text sequences for automated lead generation
Cons
No lead scoring until Enterprise plan
Does not have sales gamification or other performance management capabilities
Territory management capabilities limited to creating user teams for data access
Formerly known as amoCRM, Kommo is known for its communication capabilities that include channels through live chat, email, text, phone, and integration with messenger apps. Managers can also utilize the sales enablement features that let reps automatically generate and nurture leads through omnichannel capture forms, its bot builder live chat engagement, and drip text and email campaigns. Lastly, the system offers valuable insights tools, like chat performance tracking, forecasting, lead scoring, goal monitoring, and deal win-loss analysis.
Kommo Monthly Pricing (per User) at a Glance*
Base: $15
Advanced: $25
Enterprise: $45
Free trial: 14 days
*Pricing based on a minimum of six-month billing
---
Freshsales is excellent sales software for small businesses that stands out for its features and functionality, particularly for account management activities. The system includes modules for managing client data, organizing product catalogs, and tracking account activity. There are also options for contact engagement through a built-in phone, email, and chat. Sales managers who oversee account management departments can set and track upsell quotas, define specific account management teams, and create forecasts for upselling or cross-selling.
Freshsales Monthly Pricing (per User) at a Glance*
Growth: $15
Pro: $39
Enterprise: $69
Free trial: 21 days
Add-ons
Configure, Price, Quote: $19 per user, per month for quote document templates, invoicing, and document activity tracking
Additional Bot Sessions: $75 for 1,000 bot sessions per month for automated customer or lead support
*Pricing based on annual billing; monthly billing is also available for a higher cost.
Did you know Freshsales is also considered one of the best CRMs for small businesses? Find out why in our Freshsales CRM review, which has insights on features, pricing, and best-for circumstances.
---

Pros
Free plan for unlimited users includes sales, customer service, and marketing dashboard and reporting capabilities
Clean interface with visually aesthetic report generation
Excellent marketing automation and content management features
Cons
Expensive forecasting and sales analytics features
Goal management unavailable on Free plan
Lacks performance management and gamification features
HubSpot's free plan allows for unlimited users and has excellent reporting capabilities. Managers can include up to three unique, real-time data dashboards to monitor the activity and performance of their sales, marketing, and customer service teams. The reporting features are easy to operate, and users can design highly aesthetic, downloadable reports to share insights. Managers can look at things like sales input activity, deals closed, sales pipeline conversion rates, marketing campaign performance, and case resolution efficiency.
HubSpot Monthly Pricing at a Glance*
Free: Unlimited users
Starter CRM Suite**: $45 (for two users)
Professional CRM Suite: $1,600 (up to five users)
Enterprise CRM Suite: $5,000 (up to 10 users)
Free trial: 14 days
*Pricing based on annual billing; monthly billing is also available for a higher cost.
**CRM Suite includes sales, marketing, customer service, content management system (CMS), and operations software. Individual modules can be purchased for lower monthly costs.
HubSpot is considered an all-in-one marketing automation platform, sales team management software, and CRM system. Find out if it's right for your business by reading our full HubSpot CRM review.
---
Best Project Management Software
Project management software is used to track, assign, collaborate on, and visualize operational activities or tasks. These systems are highly customizable and can be used as a CRM alternative for sales, marketing, projects, and customer service functions. Managers use these products as sales management tools for pipeline activity and tasks outside the typical day-to-day, such as training campaigns, data migration projects, and content development tasks.

Pros
Free and low-priced plans
Multiple work management views including Kanban, timeline, calendar, map, Gantt, chart, and workload capacity view
Easy-to-design data entry and automated workflows
Cons
Lacks sophisticated AI tools for advanced work or sales analytics
Users must design their own system or use a premade template for CRM capabilities
Features mostly limited to record, workflow, and task management, lacks communication or gamification capabilities
monday.com is a work management platform known for its simplicity. It uses a spreadsheet-style format for users to add and edit data records of their choosing. This can include information on leads, employees, partners, contacts, tasks, or deals, which be presented on visual boards like Kanban views, timelines, Gantt charts, and capacity trackers. Because of the customization and ability to use CRM board templates, sales managers can use monday.com to manage sales processes and special projects.
monday.com Monthly Pricing (per User) at a Glance*
Free: Up to two seats
Basic: $8
Standard: $10
Pro: $16
Enterprise: Contact for pricing
*Pricing based on annual billing; monthly billing is also available for a higher cost.
Like what you see? Check out our monday.com review for a detailed analysis of features and use-case scenarios to see if it's right for your business.
---

Pros
Free and low-cost plans
Users can create custom, interactive applications with drag-and-drop capabilities
Rich data field options plus grid, calendar, form, Kanban, gallery, Gantt, timeline, and section-based views
Cons
Free plan only allows 1,200 records per base and table
Limited automations available on Free plan
Granular interface permissions for customizable applications aren't available until Pro plan
Airtable's system is similar to monday.com in that users can create a data system to track contact, sales, and workflow information. The main contrast is that Airtable is more dynamic for data management purposes and advanced in terms of other functionality. For instance, managers can use Airtable for sales enablement with a low-code application interface designer for their reps to view information, collaborate, and manage sales tasks. Additionally, the data fields offer rich property options like checkboxes, attachments, and drop-downs.
Airtable Monthly Pricing (per User) at a Glance*
Free: Up to five users
Plus: $10
Pro: $20
Enterprise: Contact for pricing
*Pricing based on annual billing; monthly billing is also available for a higher cost.
Ever wondered if you can use Airtable for lead and deal management, as well as other sales activities? The answer is yes. Learn how in our guide on how to use Airtable as a CRM.
---
Best Sales Enablement Solutions
Sales enablement solutions are implemented by sales managers to improve productivity, efficiency, and, ultimately, sales performance. While the enablement process can include training, creating additional marketing assets, or adjusting operations, these solutions specifically refer to sales technology and online services that help teams reach their goals.

Pros
Integrates with popular CRMs like Salesforce, HubSpot, Zendesk, Microsoft Dynamics, and SugarCRM
All-in-one call center, meetings, conference call, internal chat, and text campaign management system
All voice calling features for placing and receiving calls are available on Essential plan
Cons
No free option available
Most CRM integration capabilities aren't allowed until Enterprise plan
Texting channels not available until Professional plan
Nextiva is a voice-over-internet-protocol (VoIP) phone system, call center, and collaboration platform built into one. Sales managers can use Nextiva to help their sales reps place more calls while improving collaboration and communication within their team. The product includes a built-in phone to place and receive calls, a video meeting scheduler, and live chat tools. There are also short message service (SMS) communication options, contact data storage, call activity reporting, and integrations with popular CRMs like Salesforce, HubSpot, and Zendesk.
Nextiva Monthly Pricing (per User) at a Glance*
Essential: $10.48 to $13.48, depending on the total number of users
Professional: $12.98 to $15.98, depending on the total number of users
Enterprise: $17.98 to $20.98, depending on the total number of users
Free trial: 30 days
*Pricing based on annual billing; monthly billing is also available for a higher cost.
Considering Nextiva as your VoIP provider? Our Nextiva review tells you everything you need to know about its features, integrations, and other capabilities that can add value to your business.
---

Pros
Includes end-to-end communication and automation features for improving the sales process
Sales intelligence features that can upload business-to-business (B2B) contacts directly into your system
Multi-channel engagement through phone, email, and text campaigns
Cons
Non-transparent pricing
Automated email campaigns and B2B contact generation require Auto Kloser add-on for additional costs
CRM integrations limited to Salesforce
VanillaSoft is sales manager software great for improving pipeline efficiency and closing more deals. Users can increase workflow productivity by auto-routing leads to reps, auto-dialing the phone while calling prospects, and deploying automated email and text campaigns. The platform also has a VoIP phone system, appointment scheduling, and data tracking to report rep, lead, and deal activity. Finally, VanillaSoft offers sales intelligence that lets users filter and upload business-to-business (B2B) contacts from the provider's database of nearly 40 million records.
VanillaSoft Pricing at a Glance
Must contact for pricing but starts at $80 per user, per month
Auto Kloser Add-on*
Auto Kloser: $49.99 per user, monthly
Advanced Kloser: $59.99 per user, monthly
Accelerated Kloser: $89.99 per user, monthly
*Pricing based on annual billing; monthly billing is also available for a higher cost.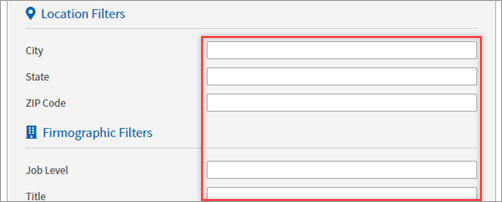 ---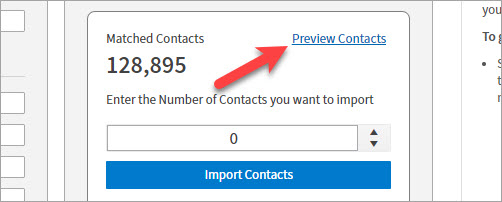 ---
---

Pros
Integrates with popular CRMs such as Salesforce, Zoho CRM, HubSpot, Copper, Nimble, and Pipedrive
Offers verified emails and phone numbers of business-to-business (B2B) leads
Includes a powerful technographics feature that lets users see which software products a lead company is using
Cons
Purchase intent data not available until Professional plan
Only one account can be used on the Free Trial, Essentials, and Plus plans
Free trial only allows five credits
UpLead is a business-to-business (B2B) database that enables sales managers to supply reps with reliable lead data for outreach campaigns. It uses a tier-based credit system where users get more annual credits to purchase contact data and better insights as they upgrade plans. Teams can filter out B2B leads based on job titles, industry, location, and company size to meet their desired customer profiles. Once subscribed to the Plus plan, you can begin auto-enriching data sets and seeing the technology stacks a company is using.
UpLead Pricing at a Glance*
Free trial: Up to five credits for one user account
Essentials: $64 per month for 2,040 annual credits
Plus: $129 per month for 4,800 annual credits
Professional: $259 per month for 12,000 annual credits
Enterprise: Contact for pricing
*Pricing based on annual billing; monthly billing is also available for a higher cost.
---
Best Sales Analytics Tools
Sales analytics tools let managers convert stored data into actionable insights. They centralize, analyze, and interpret sales information, such as lead profiles, pipeline activity, and sales performance, for intelligence purposes. Any insights a sales manager gathers, either through artificial intelligence (AI) or other analytics tools, can be used to improve team performance and operational efficiency using appropriate enablement solutions.

Pros
Offers insight tools for sales, marketing, finance, customer success, and revenue operations
Uses artificial intelligence (AI) for forecasting, obtaining deal visibility, and identifying pipeline risks and opportunities
Sales analytics features available to determine account and pipeline health
Cons
No transparent pricing, you must contact the sales team for a quote
Platform is so sophisticated it can be challenging to set up and operate for new users
Limited third-party integrations
Clari is a revenue intelligence platform that uses artificial intelligence (AI) to understand what's happening with sales, marketing, and customer success teams—also known as revenue teams. Managers can forecast sales based on current opportunities and track all activity associated with a deal. They can determine pipeline risks and opportunities based on scores and key events, such as adding a decision-maker to the process. Finally, the AI helps see if reps maintain healthy relationships with accounts based on engagement and activity gaps.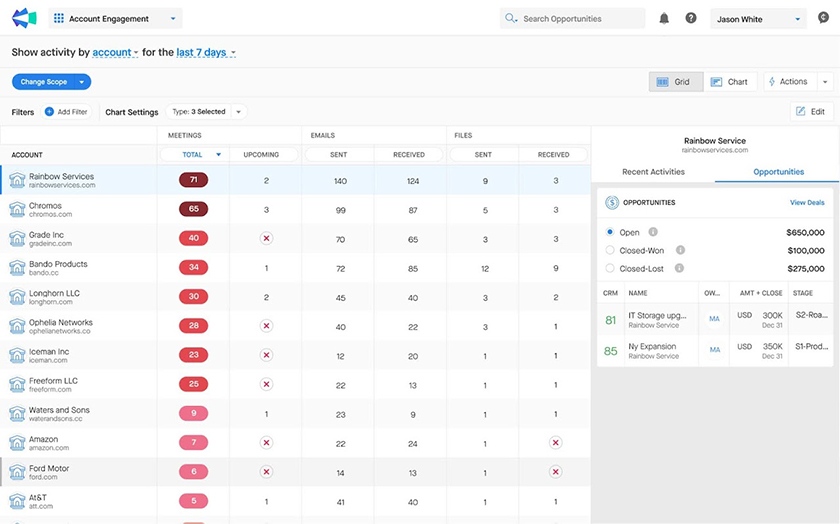 ---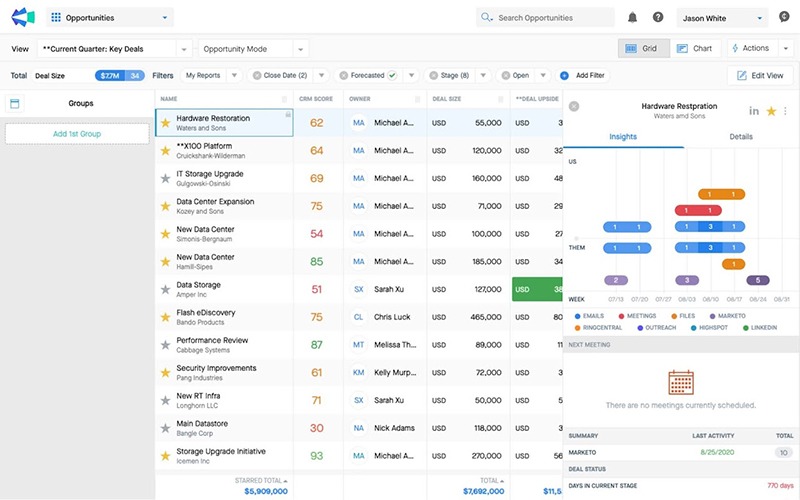 ---
---

Pros
Highly intuitive sales forecasting tools
Users can build personalized coaching programs based on data insights on deals and individual rep activity
Data collection from multiple tech stack sources including CRMs, phone systems, performance management software, and email tools
Cons
Pricing is unclear, you must contact the sales team for a quote
CRM integrations limited to HubSpot, Salesforce, and Microsoft Dynamics 365
Integration with customer success software only available for Gainsight, Productboard, and Zendesk
Gong.io is an intelligence tool that takes data from numerous technology stacks for a holistic analysis. Some of these data sources include CRMs, communication systems, performance management tools, video conferencing software, and calendar platforms. The idea is that all sales activity stored on all those platforms can paint the real picture of what's happening in the business. From there, the AI will give a more accurate sales forecast, find early insights into deal success, and help design coaching programs based on rep performance and activities.
---
Best Performance Management Tools
Performance management tools are a subcategory within sales management software. These solutions aim to improve sales rep effort and engagement through sales gamification tools and material motivators such as gift cards, cash prizes, or additional days off. Many performance management software products also have a system for administering sales training and coaching to individual reps.

Pros
Employee experience management platform includes internal communications and digital signage features
Performance management features include gamification, a rewards catalog, and sending alerts for praising employees
Modular-specific solutions available for all types of industries and verticals
Cons
Lacks transparent pricing, must contact the company for a quote
Users report functional issues when integrating with third-party applications
Platform lacks intuitive features
Raydiant, which acquired Hoopla for its rewards system, markets itself as a full employee experience platform. It lets managers distribute company communications, present leaderboards, and send out employee praise all in one system. With the Hoopla, Raydiant can now be used as a rewards management system—letting high-performing reps select from a wide menu of options, including travel destinations, gift cards, and electronics. Managers can also administer sales contests to give out reward points and recognition for excellence.
---

Pros
Offers gamification, goal management, and coaching features
Elaborate coaching tools such as one-on-one and team coaching sessions and action plan development
Huge variety of sales contest options including fantasy, one-on-one, and team-based competitions
Cons
Lacks transparent pricing
Salesforce is the only CRM integration available
Users must subscribe to Pro or Enterprise plan if they want gamification, goal management, and coaching in one system
Coaching sales reps to identify weaknesses and improve their skills is a crucial responsibility of a sales manager. While other tools on this list offer some coaching capabilities, none do it like Ambition. The system lets users collect activity and performance data to provide attribute ratings and compile notes about each rep. Managers can use that information for coaching sessions and creating development action plans. Ambition also supplements its excellent coaching modules with gamification and goal management features.
Ambition Pricing at a Glance
Ambition offers four different software packages depending on your business needs, all of which require you to contact the provider for pricing. These include:
Gamify: For creating, administering, and tracking sales contests
Coaching Orchestration: Managing rep coaching profiles, developing coaching action plans, and monitoring rep development progress
Pro: Combination of Gamify and Coaching Orchestration plans plus Salesforce integration
Enterprise: Includes features on all plans for many users at enterprise-size businesses
---
How We Evaluated the Best Sales Management Systems
Sales management consists of various responsibilities, like monitoring deal activity, managing individual rep performance, and supplying team members with resources to succeed. That said, we divided our evaluation into categories of sales management systems that can assist managers in overseeing and optimizing their operations. Once divided, we made a more direct comparison of products within each category regarding the following criteria:
Pricing: The availability of a free plan or free trial by the provider, as well as cost-friendly and scalable paid plans with flexible billing options.
Features: The functional capabilities of each product through built-in features or third-party integration options, specifically ones relevant to its category. CRMs, for example, should offer sales reporting tools, forecasting and analytics, activity monitoring, and sales automation tools.
Customer support: The options for customer support personnel to help users with product issues. We considered the selection of support channels through live chat, phone, email, and self-service resources, as well as customer service hours of availability.
Expert score: The perception of how real users feel toward each product based on their reviews. These helped us evaluate how they like the product's features, the value users have extracted for the price paid, and the ease of use when operating the features and navigating the interface.
Frequently Asked Questions (FAQs)
What is sales management software?
Sales management software is a platform a sales manager or executive uses to keep sales data organized, improve operations, monitor activity, and discover insights to help optimize performance. Due to a sales manager's wide range of responsibilities, many of these solution capabilities are often found in a customer relationship management (CRM) system. Alternatively, users could access sales management capabilities in specialty tools, such as project management, sales enablement, or data analytics software.
What is the best sales management software product?
Because sales management software can take many forms depending on the features offered, there's no "best" sales management system. Rather, some products offer more value and benefits depending on the user's needs. For example, if you only need sales intelligence, invest in data analytics tools like Gong.io for insights about your sales process. If you need multiple sales management functions in one platform, look to a CRM for your software needs.
Bottom Line
Sales management software is the broad term for technology that helps sales professionals understand and improve their sales operations. It can include various product types, such as a CRM system, gamification tool, project management platform, performance management system, data analytics tool, or sales enablement solution. Depending on your use cases and purchase preferences, one (or a combination) of these sales management products will help monitor activities and get the most out of your sales force.