Businesses in California with one or more employees need to do payroll in compliance with federal, state, and local laws – like paid sick leave and commuter benefits. Due to the potential to incur penalties and fines, the best way to do payroll in California is to outsource it using these five steps.
Gusto is a small business payroll provider that offers payroll compliance in all U.S. states, including California. You can set up payroll by answering questions online and even offer benefits to your employees through their easy-to-use system. Gusto provides your first payroll for free with their 30-day trial.
Disclaimer: Fit Small Business does not operate as a licensed legal or tax professional. We recommend you consult with your lawyer, payroll accountant, or licensed professional for decisions related to your payroll process.
How California Payroll Works
California payroll requires that you track more than hours worked and pay rates. In fact, small businesses that expand from other states into California often find that paying workers there adds significant complexity to their payroll process. California has its own way of counting overtime and managing breaks.
And you also have to track leave accruals, leave taken, and leave balances. That's because if an employee is terminated or quits, you have to pay out any unused sick pay or vacation balances, which isn't required in many other states.
Multi-state employers that expand into California may find it easier to work with a professional employer organization (PEO) like Justworks due to their HR, payroll, and tax compliance expertise across all states, including California. When you outsource to a PEO like Justworks, you avoid risk, such as potential California labor law violations. Get a demo of Justworks.
Here are the five steps to use an outsourced provider to do your company's payroll in California:
1. Determine Which Payroll Laws Affect Your Business
Before processing payroll in California, you need to understand what rules apply to your business and to the types of workers you hire. Various California payroll laws come into play based on the size of your business, its location, the industry you're in, and whether you hire employees, contractors, or both. In addition to federal labor laws that affect all U.S.-based employers (like workers' compensation insurance requirements), California has its own statutes that govern employment, such as mandatory sick leave, pay stub requirements, unemployment, and overtime.
Examples of Differences Between Federal & State Laws
Just to give you an idea of how complex this is, look at how California and federal payroll laws differ:
Federal Payroll Laws vs California
| Payroll Impact | Federal Payroll Laws | California State Payroll Laws |
| --- | --- | --- |
| Pay Rates, Payment Types, Pay Cycles & Pay Stubs | Minimum wage of $7.25 an hour per FLSA. There are no federal laws to prescribe what type of payment, payroll cycle, or whether pay stubs are needed. | California minimum wage is $11 or $12 an hour, based on employer's size. Other rates apply to different kinds of workers. They also prescribe the exact information that must appear on a pay stub. |
| Overtime & Breaks | Overtime is 40 hours in a week per FLSA. There are no breaks mandated, but policy documentation is required if breaks are offered. | California overtime is based on hours in a day, hours in a week, and the number of contiguous days worked. In addition, breaks are defined and you must pay employees $100 per day extra if they can't take their break. |
| Paid Time Off & Leave | FMLA requires unpaid leave once an employer has 50 employees. | California has many state laws that mandate paid sick leave, pregnancy leave, disability, unemployment, and many others based on company size, starting with employers that have as few as 5 employees. |
| Equal Pay | EEOC requires employers with 15 or more employees to comply. | California extends anti-discrimination laws to multiple classes such as pregnant women and an individual's sexual orientation. |
| Unemployment, Disability & Workers' Comp | The DOL requires employers to participate in providing unemployment insurance but doesn't mandate workers compensation. The ADA requires employers with 15 or more employees to accommodate disabled workers. | California allows employers to participate in the state unemployment fund. Disability insurance is also state-mandated as is unemployment insurance in California. And, California adds requirements to accommodate new parents as well as pregnant and nursing moms. |
| Payroll Taxes | The IRS requires businesses and employees to pay federal payroll and income taxes. | California adds four additional taxes - two paid by the employer and two paid by employees. |
In addition, some urban areas have labor laws like additional mandatory paid sick leave that affect employers in those jurisdictions. If you employ workers in California, you'll want to be aware of these laws to avoid audits, fines, and penalties.
While we can't cover all laws that affect payroll processing in California, we'll do our best to alert you to the payroll areas that are unique in that state. For a list of California laws that may impact how you do payroll, please see our California Laws table below.
Let's go through a few examples:
Minimum Wage
California's minimum wage is much higher than the federal minimum wage and comes with extra rules regarding who can get it. In fact, the minimum wage you can offer varies in California based on employer size:
Here are the two minimum wage rates in California by employer size:
Employers with 25 or fewer employees: $11 per hour per employee
Employers with 26 or more employees: $12 per hour per employee
There are additional minimum wage rules for specific situations, such as employees who earn tips. Further, many cities, such as Los Angeles and San Francisco, have their own minimum wage. Thankfully, the UC Berkeley Law Center provides city by city details on minimum wage rates for California.
Overtime in California
Nationwide, overtime is calculated as any hours worked over 40 in a standard workweek, and typically affects workers who are non-exempt. California adds to this by requiring overtime to be paid at time and a half for any hours worked over eight hours in a day. Then, after 12 hours worked in a day, overtime is paid at double the worker's regular wage, as are first eight hours on the seventh day worked in a row.
As you can see, it's complicated. It's important to calculate overtime accurately as well as to classify your employees correctly to avoid workplace audits, penalties, and fines, which can run into the thousands. Some job types, like live-in home health care workers, are exempt from overtime in California. That's why we recommend using payroll software to manage these overtime rules and calculations for you.
Rest & Lunch Breaks
In California, you must provide 10-minute paid rest breaks and 30-minute unpaid lunch breaks. If you're unable to do so on a given workday, you must add one hour of paid time to the employee's check for that day. This is different from federal guidelines, which don't require breaks. They suggest breaks under 15 minutes be paid and lunch breaks over 30 minutes be unpaid, and for your policy to be documented if you offer breaks.
To manage breaks in California, we highly recommend you use time and attendance software pre-programmed with these rules to ensure that employees log their rest and lunch breaks correctly. That way, you'll have required documentation and be able to pay them based on the duration of their break and number of hours worked.
For a free electronic time clock software that can also manage your employee scheduling, try Homebase. Homebase is intuitive to set up and use, provides a mobile app, and includes communication tools to keep your workforce informed of changes. It also allows you to pre-approve time off requests and track sick leave. In addition, data from Homebase transfers seamlessly to Gusto.
Paid Time Off
Paid time off (PTO) isn't required at the federal level. In fact, California is one of just a handful of states in the U.S. that requires employers to provide paid sick leave to their staff. In addition, California law ensures that employees are paid their vacation time too. There are no "use it or lose it" PTO policies allowed. If you terminate an employee who has earned vacation on the books, you have to pay the dollar amount of that unused vacation time in their final check. Therefore, we highly recommend California employers use some kind of time tracking software to help manage sick leave and PTO requests.
Leave
Federal law provides the Family Medical Leave Act that affects all employers that have 50 or more employees. However, California has leave laws that affect many kinds of leave and different sizes of employers. For example, if you have five or more employees, you have to allow pregnancy leave; if you have over 20 employees, you have to give your emergency responders time off.
These are just a few examples of leaves that you need to track as part of your payroll process in California. For this reason, some businesses choose to upgrade from payroll software to an HRIS system that keeps track of multiple kinds of leave balances and the policies that govern them.

Payment Types & Frequency
Cash and check are the only legal way to pay employees in California. You can't force an employee to accept direct deposit as a payment method. However, if you draft a policy, employees agree to accept direct deposit, and they get to choose the bank to use, you can offer it.
In addition, there are rules in California for how frequently employees must be paid. In fact, only certain employees, like administrative and professional staff, can be paid monthly. All other employees must be paid at least every other week or bi-monthly, with no more than 15 days between paychecks.
Pay Stubs
Some states don't require pay stubs. But California law is quite specific about what information needs to be included on a pay stub. For instance, your pay stub needs to include things like:
Pay period start and end dates
Employee name and ID (can be the last four digits of the Social Security number)
Hours worked during the pay period and pay rates for each hourly rate
Gross and net wages for the pay period
All deductions are taken out of the employee's paycheck
Employer name (legal entity) and address
Here's an example:
Final Check
The timing for when a final check needs to be provided varies by state. California is stricter than most and requires you provide payment within 72 hours if you terminate an employee. Employees who give 72 hours' notice should receive their final pay on their last day worked. This is another area where using payroll software can help, as you'll be able to run an off-cycle paycheck and pay the employee right away.
Equal Pay & Wage Theft
In California, you can't pay your employees willy-nilly. You must ensure that your pay rates provide equal pay for similar work. Therefore, you'll need to have processes in place to monitor your employee pay rates, manage pay increases, and document job descriptions (which describe the job duties) as part of your payroll process.
In addition, you must provide employees with their pay rate, basis of pay (i.e., hourly or salaried), and pay period in writing when you hire them, change their pay, or terminate their employment.
Disability
California is one of a handful of states that requires you to pay for disability insurance, either through the state disability insurance (SDI) fund or through a third party. This must be calculated and processed with each payroll.
Unemployment Insurance
Unemployment insurance must be provided for all employees, regardless of company size. New businesses with no unemployment claims history are assigned a unemployment insurance (UI) rate of 3.4% for the first two to three years. After that, your rate is based on a complex formula that includes your unemployment claims experience.
California Employee State Payroll Taxes
California provides two ways to determine employee taxes: the Wage Bracket Table Method and the Exact Calculation Method. The instructions and tables to calculate the Wage Bracket method are 27 pages long. If this seems complex, it's because it is. There are also low-income exemptions and specific instances in which one should be used instead of another, such as if you have to do a manual calculation. We provide information on all California employer and employee state taxes below.
Wage Bracket: Used for manual calculations; find instructions here.
Exact Calculation: Used for computerized calculations; find instructions here.
For more information on California labor laws, refer to this government website that goes into exquisite detail on labor laws and regulations that affect California employers.
California is one of the most complex states in which to ensure your payroll is compliant. That's why we recommend that you not only work with a payroll provider like Gusto, or a PEO like Justworks, but also purchase a time and attendance system that can protect you in case of a dispute or audit. Homebase is timekeeping software that's free if you have only one work location. Try Homebase for free.
2. Find a Payroll Service
Let's cut to the chase: doing your own payroll in California makes no sense. In some states, you may be able to get by with a free payroll software or use a payroll calculator. That's risky in California due to the requirement to track and pay out sick leave as well as ensure your pay stubs provide all required information, such as leave balances and accruals.
If you choose to do your own payroll, we recommend you follow our guide on how to do payroll, and consider working with an attorney or labor law expert to ensure your payroll processing and calculations are compliant with state and local employment laws. In that case, you'll find the California payroll taxes section above critical, as you'll need to manage these calculations for each employee each pay period. You'll also have to pay all the requisite government and tax agencies on your own.
Instead, we recommend that you find a payroll service that knows the difference between what California requires versus what the federal workforce and employment laws require. A service may be as simple as a software provider (software as a service, or SaaS), a payroll service that can provide consulting, and HR compliance features. Or, consider a PEO that manages the employee paperwork and payroll for you, including providing big company benefits. Of course, it's possible to do your own payroll in California, but due to the risks, the remainder of this article will focus on doing payroll in California via an outsourced payroll service company.
Payroll services have extensive data programming and are built with coding to manage the differences between federal and California workforce laws, like the ones shown in the table below. In addition, they have certified HR and payroll experts on staff as well as IT programmers who review changing laws (like San Francisco's commuter benefits and Los Angeles' sick leave laws) and then program the software to manage those changes each year.
Payroll providers like Gusto provide California compliant payroll, pay cycles, and pay stubs, saving you the trouble of keeping track of when labor laws change while letting employees view their pay stubs online. They can manage all payroll cycles, track leave, and ensure your tax payments are correct and made on time.
3. Provide Your Payroll Data to Your Chosen Provider
There are two kinds of data you'll send to your payroll provider so they can get your payroll set up and ready to process. The first is information you provide once. It includes data like your company name, list of employees, and how you want them to be paid. Each pay period, you'll provide information on new hires, employee hours worked, and any changes like terminations or promotions.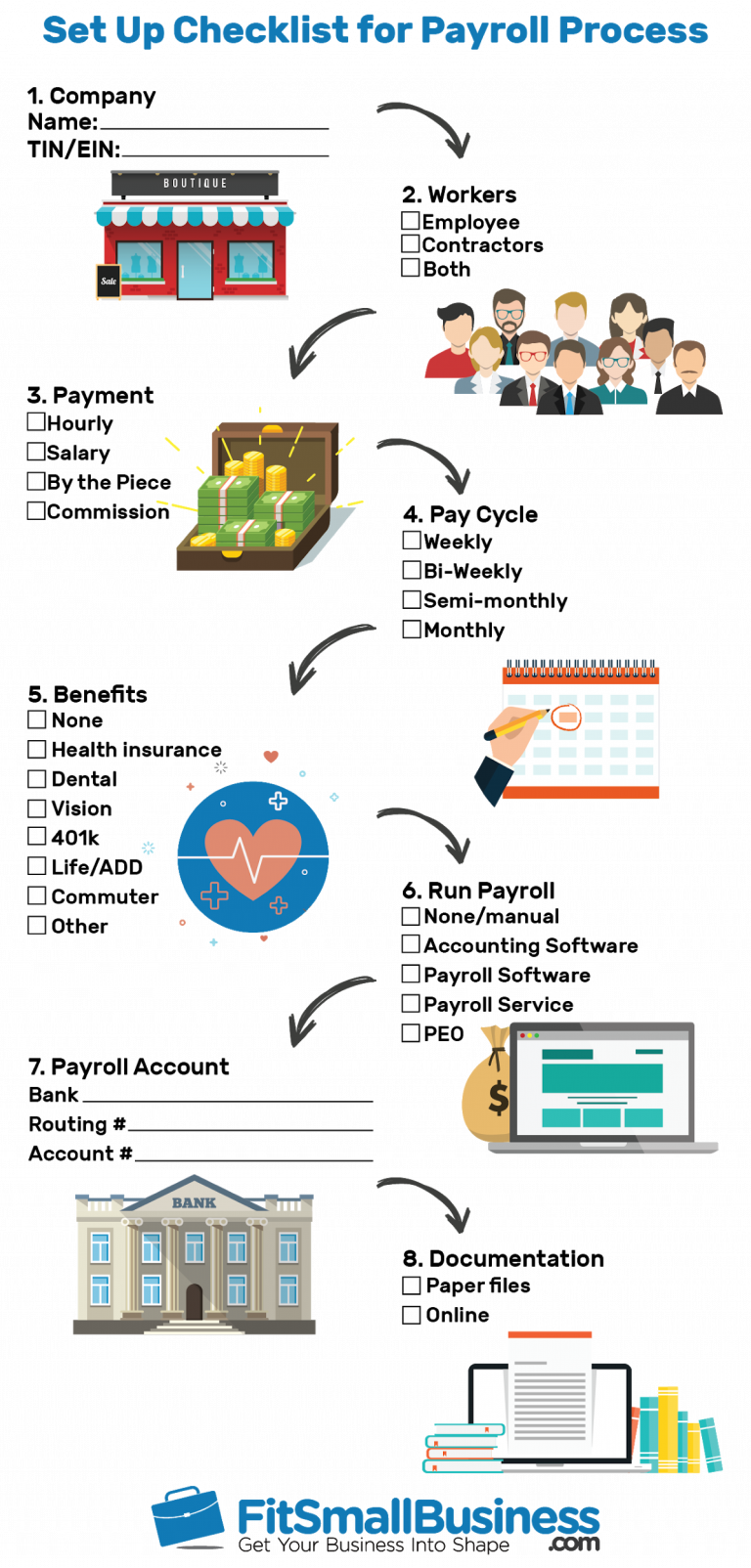 Some Data You'll Provide Just Once
Your payroll provider will need all your company information, tax information, payroll bank account numbers, employee data, and any documentation you have on the benefits you provide. If you're already using some kind of software, your existing data can often be uploaded using a spreadsheet, such as an XLS or CSV file format.
Some Data You'll Provide Each Pay Period
Once your payroll software is set up with the vendor, you're ready to input data for your payroll run. That's the process you run each payroll cycle that calculates gross and net payments for your employees. You won't have to retype the employee's name and pay rate each pay period (that data is stored online). However, you will input new data for things like employee time worked, new hires, sick leave taken, and employees who have terminated their employment.
In many cases, you can input data like hours worked using payroll software like Gusto. Or, you might consider using Homebase time and attendance software to track employee time worked, and then use an interface to move that data into your payroll software (Homebase interfaces with Gusto). In addition, your payroll provider will need to know if you've promoted or changed anyone's pay so they can adjust that employee's status and pay rate.
California employers that want to get out of the business of managing payroll entirely might find working with a
PEO
to be a better solution. An established PEO like
ADP TotalSource
provides HR and payroll consulting, and partners with your business to ensure compliance with all federal and state laws.
4. Process Payroll & Pay Employees
Once you input time worked and any other changes each pay period, you're ready to run payroll and pay employees. Most online payroll software will give you a chance to preview your payroll numbers before finalizing your payroll. During this step, you'll eyeball the calculations to make sure they look correct.
You'll look for accuracy in your payroll calculations like:
Gross pay: Do payment amounts appear to be in line with what is typical for employees?
Taxes: Do taxes look about right as a percentage of pay (should not be zero)?
Benefits: Are deductions within range of what you'd expect per worker?
Total: Is the total in line with your expected total payroll amount?
Date: Is the date correct to ensure employees are paid on time?
Running Payroll
Some payroll services, such as ADP TotalSource, will do the payroll processing for you. Whereas with payroll software like Gusto, you will add time-worked data, bonuses, new hires, and terms yourself. Or, if you use timekeeping software, like Homebase, it will pull the time worked data into your payroll software, including PTO and sick leave taken. You'd then verify that information during your payroll run.
Paying Employees
Paying employees can take many forms. You can give them cash (not recommended), provide them a check with a pay stub (required in California), or pay them with direct deposit if you've met the conditions listed above. For example, if you were working with Gusto, you'd print out the paychecks yourself using bank-approved check stock (paper). ADP, however, will print checks and mail them for you. Both vendors can provide direct deposit and pay card options too.
Exceptions
Your payroll process may include exceptions or special circumstances. For example, let's say you pay employees every other week, but noticed that an employee forgot to input their overtime in the last pay period. Or, what if your salesperson sold a big-ticket item, and was promised their bonus before the weekend?
Here's how you'll need to handle these exceptions when you're doing payroll in California:
Retro pay: Retro pay needs to be processed no later than the current pay period.
Back pay: Back pay needs to be processed immediately.
Bonus: Bonuses should be paid in the pay period they are due.
New hires: Non-exempt new hires must be given their first paycheck within 15 days.
Terms: Terminated employees must be given their final paycheck within 72 hours.
Overpayment: Employers may not deduct pay for prior hours paid at the wrong rate.
5. Save Your Payroll Documents
Document retention rules in California require you to keep your payroll records for six years, which is longer than most federal agencies require you to keep files on hand. For complete information, read our article on what payroll records to keep and how long to keep them.
The best way to manage your payroll documents and employee files is to use payroll software that has a document storage feature included, like Gusto. Gusto retains documents by employee, so that you can quickly find everything from signed I-9 forms and W-4s to pay stubs in one affordable and easy to use system. Get your first payroll free.
California Payroll Tax
California has four kinds of payroll taxes. Two are paid out of the employee's earnings, and two are paid by the business. It's your job to ensure not only that the correct amounts are deducted from each employee's paycheck each pay period, but that the tax payments are made to the correct agency on time, typically each month, quarter, and year. Here are the exact dates.
Employee-paid Payroll Taxes in California
Employees pay two state taxes when they work in California, in addition to the federal income tax. In fact, if there's a local income tax, you'll have to deduct and manage that on behalf of your employees as well. The two state payroll taxes paid by California workers are:
State Disability Insurance (SDI) Tax: Used to pay employees on disability (1.0%).
California Personal Income Tax (PIT): Similar to other states; based on income.
Employer-paid Payroll Taxes in California
Employers pay two additional state taxes when they employ workers in California. To comply with California's tax reporting requirements, you have to register as an employer, set up an account, and make quarterly payments. The two taxes that employers pay (these can't be deducted from the employee's paycheck) are:
Unemployment Insurance (UI): For unemployment claims; 3.4% for new employers.
Employment Training Tax (ETT): Provides funds to train employees in targeted industries (.01%).
New Hire Reporting in California
New hire reporting is mandated in California and if you're not using a payroll service, you'll need to do it manually. You have 20 days in which to report to the state any time you hire an employee. You also have to report when you hire a contractor who works for you as an independent contract worker and is paid using a 1099.
California Laws That Affect Payroll
We've done our best to list every agency in California that regulates employee pay in some way, from anti-discrimination and equal pay, to sick leave compliance and tracking. However, this list may not be all-inclusive, as there may be new legislation added over time, or local statutes we're not aware of. We recommend you work with a payroll expert or labor law attorney to be sure you're in full compliance with all California payroll legislation affecting your workers.
California Laws That Affect Payroll
Most Common Payroll Mistakes in California
We asked our experts about some of the most common payroll mistakes made by California employers. They reminded us that whenever laws appear to be in conflict, it's in your best interest to follow the guidelines most favorable to the employee.
Here's are other common mistakes they offered:
Failing to Comply With Labor Laws

Derek Jones, Vice President, Enterprise Solutions, Deputy

(The) first mistake is not recognizing that 74% of schedulers are hourly supervisors or managers, who usually have no or little training in labor law compliance. Major mistakes are incorrect (non-neutral) rounding rules, auto clocking in/out for breaks, punching or editing time cards without employees knowing, scheduling meal and rest breaks incorrectly, and allowing their employees to work off the clock – not paying them for compensable time.
Misclassifying Employees as Independent Contractors

Emil Abedian, Founder & CPA, Anchor Bookkeeping

The California construction industry is a good example of how the misclassification of employees to independent contractors can cost a fortune:

Many contractors hire subcontractors and day labor as independent contractors rather than hiring them as employees, which California allows if the person is licensed. Contractors cannot hire unlicensed subs and classify them as independent contractors.

If the contractor is audited by the California Employment Development Department, the independent contractors will be reclassified to employees and all payroll taxes can be assessed to the contractor plus interest and penalties. In addition, if a 1099 is not issued to the payees, then the payees' California income taxes can also be assessed to the construction company.
Failing to Pay Out Earned PTO

Rick Chen, Company Rep, Gusto

California considers paid time off as a type of wages. When someone leaves the company, they are entitled to receive a payout of any unused vacation in addition to their final wages on their last day. The penalty is a full day of wages for every day the final payment is delayed, so it pays to be prompt.
Frequently Asked Questions (FAQs) About California Payroll
New businesses opening up in California, and those from other states hiring California workers, are often surprised by the complexity. Here are common questions asked.
How much is the California payroll tax?
There isn't one rate for California, as California has four different payroll taxes. You can find information about what the specific rates are and how they're calculated on the EDD website.
What payroll cycles are allowed in California?
In general, all payroll processing cycles are allowed in California, even monthly payroll. However, there are limitations. A best practice is to provide hourly workers with payroll every week, or no less frequently than every two weeks. However, you can pay workers twice a month if you like. Only professional, administrative, and executive staff can be paid monthly. Here's more information from the Department of Industrial Relations.
What must be printed on pay stubs in California?
California requires you to provide a pay stub or payroll advice to employees even if you pay them in cash. The specific details on what to include are provided on the Department of Industrial Relations website. (Scroll down to the Q&A section, question 8, for the complete list.)
Are employees allowed to share their pay rate with co-workers?
Yes. Even though employers may like to discourage this practice, there's nothing illegal about employees sharing what they get paid with their co-workers. In fact, California gives them to explicit right to do so.
How can I find out if my city has additional payroll requirements?
The best way to do this is to contact an employment law attorney in your location. You could also search for the name of your city plus the words, "employment law," "labor laws," "workforce regulations," or similar terms. If you're using a payroll provider, ask them to provide you with information on local laws that impact your workforce.
Do I have to provide my employees with their payroll files if they ask?
Yes. California is one of the few states that allows employees to see anything in their employee files without a court order. They need only make the request in writing. You then have 21 days to provide them with the employee or payroll information they request.
Where can I find information on new laws affecting California employers?
The Society for Human Resource Management (SHRM) tracks legislation across the U.S. You can often find state-specific information on their website.
Bottom Line
California payroll isn't a do-it-yourself task unless, perhaps, you're a CPA familiar with California labor law. That's why we recommend you start by educating yourself on all the various and sundry regulations. You'll then be in a good position to partner with a California-compliant payroll provider that can meet your needs.
Gusto is a small business payroll provider that offers payroll compliance in California. If you're a small business that wants to offer direct deposit as an option to your employees, consider Gusto. Your first payroll is free with their 30-day trial.