You can learn how to sell art online on your own website, online art galleries, social media, and digital stock sites. Each method can even help you develop new income streams via internet-driven technologies. For the savvy artist, the selling possibilities are endless, and the outlook is bright in today's booming online art market.
Best Ways to Sell Art Online
There are two basic ways to sell art online. The first is to sell your art through your own website. The second is to sell your art through a third party site or channel.
Most artists need to have their own website. It can be the most essential tool in your arsenal. There are three excellent website platforms perfect for artists: Squarespace, a self-hosted WordPress website using Bluehost as your hosting provider, and Shopify. There are also artist-centric website builders that some artists prefer, including FASO, Other People's Pixels, and Artist Run Website.
The second way to sell your art online is through a third-party outlet where you can get your creative works in front of larger numbers of online buyers. There are several artist networks, marketplaces, and social media channels where you can sell your art online. Artfinder, Artplode, and Fine Art America are examples of online art marketplaces. More options will be discussed throughout this article.
The Basics of Selling Art Online
While there are many ways you can sell art online, the best place to list your artwork depends on several factors, from the type of art you create to the buyer you're hoping to attract, so different online selling outlets are best for specific needs. The chart below gives you a quick glimpse at the best places to sell different types of art online.
Where to Sell Different Types of Art
| Type of Art You're Selling | Try Selling on | Best for |
| --- | --- | --- |
| Original works, limited editions, prints, and sculptures that you sell and ship yourself | | Fine artists, printmakers, sculptors, mixed media artists, photographers & more |
| Custom-made items and commissioned works created when ordered that you ship yourself | | Commission artists, illustrators, photographers, handmade goods artisans & more |
| Your art images and designs printed on various items via print-on-demand (POD) dropship partners | | Fine artists, printmakers, graphics designers, cartoonists, photographers & more |
| Digital artwork, fonts, photographic images, website themes and graphic media templates delivered via digital download | | Photographers, illustrators, website designers, graphics designers & more |
How to Sell Art Online From Your Website
Art world experts have many different opinions about the best places to sell art online. There's one point upon which most agree―every artist should have their own website that's more than an online showplace. It should be a full-featured online store.
Your website is home to your unique brand, and there you have complete control. Plus, with your artwork front-and-center on your own website, you aren't vulnerable to competing listings, high commissions, or unexpected art marketplace or online gallery closures.
Best of all, anyone can launch a gorgeous, modern online store without any web design knowledge or programming experience. If you can log into a website, you have the skills needed to build a full-featured online store with many top web platforms. You can choose from several website platforms and site builders to create your website. The most popular and effective options are listed in the table below.
Top Platforms for Creating Your Own Website
| Website Platform | Cost | Our Pick for | Ease of Use |
| --- | --- | --- | --- |
| | From $12 per month | All-in-one website services | Easy |
| | From $3.95 per month | Art sales + active blogging | Medium |
| | From $29 per month | Online sales across all sales channels | Easy |
| Artist-centric Website Builders | From $8 per month | Fine artists presenting a gallery to a variety of buyers | Easy to medium |
Sell Art Online With Squarespace
Squarespace is the website platform more artists choose over any other. Personal accounts, which are suitable for online portfolios, cost a mere $12 per month. If you want a site with full ecommerce functionality so you can begin selling your artwork from day one, plans start at just $18 per month.
Who Squarespace Is Right For
Squarespace is an all-in-one platform, which means you don't have to purchase separate hosting services. If you're looking for a super-easy way to get started selling your artwork on your own website, it doesn't get much easier than Squarespace.
Artists flock to Squarespace for its modern, sophisticated design templates. Squarespace removes all the technical hassles of setting up a website and lets you build a site that focuses on your art in far less time than it takes on other platforms. If you want to create a beautiful website with minimal hassles, Squarespace is right for you.
How to Set Up a Website With Squarespace
It's easy to set up a website on Squarespace. Visit Squarespace, click on the "get started" button, and sign up for your free trial. The Squarespace site then walks you through the process of choosing a template and designing your website.
Downsides to Selling Art on Squarespace
The one downside to selling art on Squarespace is that while the templates are gorgeous, they're not all that flexible. If you want more flexibility in your website layout, Squarespace might not be the best option for you. Luckily, you have plenty of other options to choose from, including building a highly flexible and customizable WordPress site with Bluehost.
Sell Art Online With WordPress
WordPress is the leading blogging platform and is fast becoming a leading online selling tool too. With a WordPress site, the sky's the limit when it comes to design and functionality. The WordPress platform is free, but you will need to secure hosting services. Bluehost will host your website with plans starting at just $2.95 per month. Learn how to set up a WordPress site using Bluehost.
Who WordPress Is Right For
WordPress lets you display and sell art online just about any way imaginable. Of all the online store options, WordPress allows you the most creative freedom. If total control over your website design is important to you, WordPress is your best choice.
WordPress is also an excellent choice for artists who want to actively blog to share updates, new releases, and other information like upcoming gallery shows. It has the most robust blogging tools of all selling platforms.
With WordPress, you can display gorgeous online galleries, sell single finished works or mass-produced goods, take commission orders, sell custom pieces, distribute digital downloads, and even sell your images using print-on-demand services like Printful.
How to Set Up a Website With WordPress
WordPress can be a bit tricky to set up. With a little patience on your part and help from Bluehost, even first-timers can launch a stunning online store with WordPress.
Here are the three main steps:
Set up your WordPress site with a web hosting provider like Bluehost. Use a WordPress guide to help you get started.
Choose an ecommerce plugin that lets you sell online.
Choose a theme (design), and then set up your store and enter your products plus blog content if you wish.
Downsides to Selling Art on WordPress
WordPress lets you do anything imaginable, but its versatility comes with a learning curve. If you're technologically savvy, you won't have any trouble setting up a WordPress site. If you want a super-easy way to create a website, WordPress is not your best option.
Sell Art Online With Shopify
Shopify is the most popular full-featured ecommerce platform for small business. That's what selling art online really is—a business. Shopify offers a full range of display, marketing, online selling, social selling, order management, and customer follow-up tools, all in one easy-to-use system.
You can create a store on Shopify starting at $29 per month. You'll also pay a 2.9% plus 30 cents fee for each transaction.
Who Shopify Is Right For
Shopify is a great choice for the artist who is or is planning to, sell in volume. Since Shopify is a top ecommerce platform, it's chock-full of features designed to make online selling hassle-free. It's easy to sell installation pieces, mass-market works, customized items, print-on-demand goods, or digital downloads on Shopify. As a bonus, Shopify makes it simple to sell on Facebook, Instagram, and Amazon.
How to Set Up a Website on Shopify
First, you need to open a free Shopify trial account. After that, Shopify's new store tutorial will walk you through every step. By the end of the tutorial, you'll have set up everything you need to launch from accepting payments to shipping methods to your first product listings. Learn more about selling on Shopify.
Downsides to Selling Art on Shopify
Shopify is designed for high-volume sales, so it comes with a heftier monthly fee than others on our list. If you need Shopify's volume-selling features though, it's worth every penny. One more relatively insignificant downside for most artists is that Shopify's blogging tools aren't a match for WordPress but are suitable for basic blogging needs.
Create Your Website Using an Artist-centric Website Builder
Artist-centric website builders are ecommerce website platforms that are tailored to artists' needs. Like the other three website-building options already mentioned, artist-centric site builders support a range of features, including showcasing your works, accepting online orders, marketing on social sites, and blogging features.
Here are three popular artist-centric ecommerce platforms:
FASO: This platform offers a free 30-day trial and plans range from $8 to $35 per month. According to its site, more than 12,000 artists use FASO websites to sell their art. FASO also offers marketing support so that you can promote your art to more than 39,000 collectors.
Other People's Pixels: This website builder has been serving artists for more than 10 years. Other People's Pixels has two website plans. The standard plan costs $16 per month while the multimedia plan costs $26 per month. A free two-week trial is available.
Artist Run Website: If you want an easy way to create an art portfolio and sell your artwork, you may want to consider using Artist Run Website. Free 30-day trials are available, and plans start at $14.99 per month when paid annually.
Artist-centric website builders tend to have less robust ecommerce features than ecommerce powerhouses like Shopify, Squarespace, and a self-hosted WordPress site. The design features for artist-centric site builders are tailored to an artist's unique needs, which is a major plus for some artists. This is why these platforms are growing in popularity.
Who Are Artist-centric Website Builders For
Artist-centric platforms are designed specifically to help artists sell their works. Each platform offers a different set of online art selling and marketing features. If you're considering this option, you should visit each platform's website to see which website builder more closely fits your specific art marketing and selling needs.
Setting Up a Website With an Artist-centric Builder
Visit FASO, Other People's Pixels, and Artist Run Website directly for specific directions on how to set up your artist website. Remember that all three of these options offer free trials so you can get started without spending a dime.
Downsides of Artist-centric Website Builders
Features vary greatly among each artist-centric website builder. It's essential to test each option to ensure you're getting the artistic versatility and flexibility you need.
Features-wise, artist-centric platforms offer the basic selling and promotion tools you'll find on traditional website builders. Artist-Centric site builders typically don't provide the number of features, flexibility, and integrations commonly seen on platforms like Shopify, Squarespace, and self-hosted WordPress sites using Bluehost.
5 More Avenues for Selling Art Online
Along with your own website, you can sell art online through a variety of online marketplaces. These are large websites that allow independent sellers to register an account and list works for sale any number of ways. The benefit is that they work hard to bring customers in so you don't have to. However, the downside is you're one seller among many, and there's a lot of competition for buyers' dollars.
Some, like art-focused marketplaces, cater to specific art-buying audiences. Others, like Etsy and Amazon, bring your works to the masses. Then there are specialty markets that allow you to sell digital images via download, and print-on-demand outlets that put your images on apparel and household items. Don't forget the power of selling on social media sites like Facebook and Pinterest.
Other Ways of Selling Art Online
Selling Platform

Cost

Best for

Ease of Use

Examples: Artfinder, Artplode & others

Varies; usually a commission-based or listing-based price structure

Finished works

Easy

Examples: Etsy, Amazon & eBay

Varies; usually a commission-based or listing-based price structure

Finished works, handmade & custom-made items

Easy

Examples: Fine Art America, Printful & others

Varies per item; no start-up costs

Art images, illustrations, photographs & cartoons that you want to sell in mass on a variety of materials and items

Medium:

You'll have to upload images to different specs depending on the products you sell

Examples Big Stock and Envato

Usually commission-based; no start-up costs

Digital artwork, illustrations, fonts, photographic images, website themes & graphic media templates

Easy to medium (varies by site):

You'll have to upload images to different size & file specs

Facebook, Pinterest, and Instagram

Free to monthly fees; depends on the ecommerce solution used to support social sales

Any art you sell online: gallery displays, finished works, digital art downloads, POD, custom & commission orders

Easy:

List items for sale and even create a Facebook store by connecting your online store to social sites
Taken as a whole, the table above can seem overwhelming. However, you don't have to use all of these methods to sell art online successfully. Focusing efforts on your own website first, then on one or two appropriate avenues is often the best way to sell your artwork while still having plenty of time to create more artwork.
Now let's take a look at all of the ways you can sell your art to large online audiences, including:
Online art marketplaces & galleries
Large seller marketplaces like Etsy, Amazon & eBay
Print-on-demand (POD) dropship vendors
Digital art stock houses
Social media sites like Facebook, Pinterest, and Instagram
1. Sell Your Art Through Online Marketplaces & Galleries
Art marketplaces are the art galleries of the online world. Some are very selective in the works they promote while others let anyone post listings. Most art marketplaces do the selling for you, much like a gallery. The client places the order online, you ship the piece and provide proof of shipment, and the marketplace pays you, less their commission. These commissions can be as much as 35%.
Art marketplaces are in the business of marketing art. The more artwork they sell, the more money they make. Because many are destination sites for serious art buyers, your works are exposed to a broad audience of paying customers.
The exposure you get on these marketplaces may have benefits beyond the sales you make there. Seeing your listings, customers might search your name and find your website where they may make a purchase. Plus, your creations are listed alongside other artists of note. It's always nice to be in good company.
There are several popular art marketplaces online. As you navigate the online art world, you'll find countless smaller, independent galleries that market online as well.
Some of the top online marketplaces where artists can list their work include:
Other online marketplaces that you can explore are Singulart and Ugallery. These sites require artists to undergo an intensive screening process to sell their art on these platforms. Not all artists qualify to list artwork on these sites.
2. Sell Your Art Through Large Seller Marketplaces
Significant online marketplaces like Etsy, Amazon, and eBay are other avenues for selling art online. Like online art galleries, these sites handle the selling process for you. They accept and process payment for an order, you ship it and provide proof of shipping, and they pay you less a commission.
Compared to art-focused marketplaces, the commission costs are much lower. However, unlike the art marketplaces, these sites don't target art-buying audiences.
Etsy is known for all sorts of artisan-crafted goods and attracts buyers looking for something unique, although not typically collector types. Amazon is a great way to sell items with mass-market appeal in volume. eBay is a mix of both. There, you can auction or sell a single item or hundreds of the same item quickly. But compared to the others, eBay listings can take a bit more management. Plus, eBay shoppers typically are looking for a deal.
Sell Art Online With Etsy
Etsy charges a 20 cent listing fee, a 5% transaction fee, and a 3% plus 25 cent payment processing fee for all items sold on the site. With its low listing and commission fees, the Etsy artisan marketplace is a great way for artists to get their work in front of millions of shoppers each month.
Sell Art Online With Amazon
You might want to consider selling art on Amazon since it's the most significant online marketplace in the world. If you ship mass-produced pieces in volume, you can even let Amazon do the shipping for you through Fulfillment by Amazon (FBA).
With Amazon, you can get your artwork in front of millions of potential buyers, but its fees can be significant, ranging from 15% to 40%, depending on the type of artwork sold. You'll also pay a listing fee of 99 cents per item plus referral fees and variable closing fees or $39.99 per month.
Sell Art Online With eBay
Another shopper destination site where you can sell individual pieces or multiple items is eBay. You can sell art online at a set price, via auction, or even accept offers, which are excellent options. Monthly listing fees are free for the first 50 items and 30 cents each for additional items. You'll also pay a 10% commission on all sales.
3. Sell Your Art Through Print-on-Demand Vendors
Print-on-demand art is a popular revenue stream for artists. Print-on-demand (POD) vendors are manufacturers that let artists, graphic designers, and photographers upload images to be printed onto a variety of marketable goods.
With POD vendors, you can monetize your works however you wish on mass-market goods. Most vendors like Printful and CGProPrints, work directly with ecommerce platforms like Shopify so that you can sell your art without any upfront production or costs. You take care of the sales and customer service.
Another top POD option is Fine Art America. This print-on-demand art marketplace puts your art in front of millions, plus handles the sales, production, and customer service for you too.
Overall, POD creates practical ways to make money with your art. A word of warning, however. Wholesale costs can be rather steep and leave you little room for profit. Most on-demand products are priced below $50. It's common for artists to only make 10% to 20% profit from each sale.
"Although I believe partnering with an on-demand company is a great way to gauge interest on products and specific designs without a big upfront investment, it's not a very practical way to make money in the long run. A better bet is to build and audience and make products that they want. By taking control of the manufacturing, you can make a lot more money. For example, we produce a calendar that sells out every year. This past holiday, we made more profit just on sales from that calendar than my wife made in an entire year teaching kindergarten. Of course, creating your own products carries more risk and building an engaged audience is never easy, but it's ultimately the only way to create a long-term business."

—Jason Kotecki, Chief Creative Guy, Escape Adulthood
4. Sell Your Art Through Stock Houses
Photographers, illustrators, and graphic designers can sell their downloadable works online through many specialty marketplaces commonly known as stock houses. These marketplaces cater to the commercial user, so your imagery can be purchased and downloaded for use in several outlets, including advertisements, websites, and other marketing materials.
Stock houses sell your images and pay you a percentage amount based on usage. They determine this through various licensing agreements, which the buyer agrees to upon purchase. Some agreements require attribution, so this can be an excellent way to get your name out there, too.
Here are a few popular stock houses you may want to consider:
Bigstock: You can sign up to sell images on Bigstock for free. Your earnings per download will be relative to what the customer pays for the image, which varies by the size of the image. On average, you earn from 50 cents to $3 per image, although you can make as much as $25 for an image when customers purchase an extended license.
Envato: You can sell all types of digital assets on Envato, including photos, graphic design assets, website themes, and more. Envato author fees range from 12.5% to 37.5%
Shutterstock: Since 2003, Shutterstock has paid out more than $500 million to its contributing artists. Artists earnings typically range from 25 cents to $2.85 per user download. Earnings for enhanced licensed images range from $80 to $120.
5. Sell Your Art Through Social Media Sites
Selling art on social sites might be a misnomer. Listing items for sale on Facebook, Pinterest, and Instagram generally require some ecommerce platform that feeds your listings into these social sites and then accepts orders and payments.
Many top online store platforms, including Shopify, integrate readily with Facebook so that you can create a Facebook Store and sell directly to your social followers. Plus, many platforms also let you sell via Buyable Pins on Pinterest and Shoppable Posts on Instagram. Best of all, most social selling features are included at no additional cost.
Shopify for Selling Art on Facebook and Instagram
With Shopify, a Facebook Store is included in all regular online store plans at no additional cost. Shopify's Facebook-only plans start at $9 per month while social selling is automatically included in Shopify online store plans for $29 per month.
It's easy to set up a Shopify Facebook Store. Shopify also lets customers buy directly from Instagram posts and stories.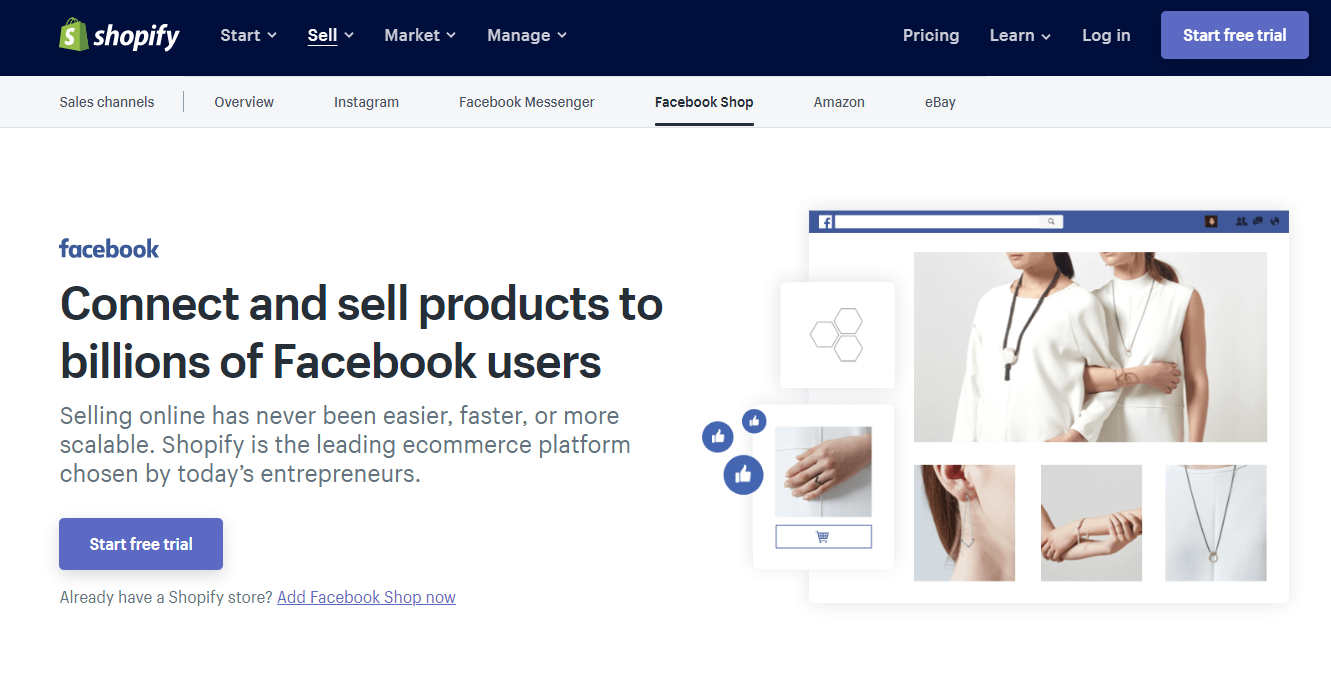 BigCommerce for Selling Art on Facebook and Pinterest
BigCommerce is another ecommerce platform that lets you sell directly on social media networks. You can sell your artwork on the shop section of your Facebook page or sell directly on Pinterest using Buyable Pins. Plans with BigCommerce start at $29.95 per month when purchased annually.
A Final Tip From the Marketplace Pros
One of the most important things that artists must keep in mind when selling art online is that bright, vibrant, and powerful images are a must. If your images don't accurately represent the beauty of your work, you'll have a hard time selling your artwork online.
"One of the main challenges that faces us when selling art online is the fact that, more often than not, art pieces are more beautiful in person than in the images. At the same time, when we are selling art, we cannot make changes to images to "beautify" them further, because it is unethical. This particularly applies to paintings, when you have to be very precise with colors, details and brush strokes."

—Niam, Snazzy Bazaar
Frequently Asked Questions (FAQS) About How to Sell Art Online
Below are a handful of the top questions that artists have about how to sell art online.
What is the best place to sell art online?
The best place to sell art online depends on the type of artwork you're selling. Most artists sell art directly from their own website. If you want to reach a larger audience, however, listing artwork on online art marketplaces and galleries is a popular way to sell art online.
How can I make money with my art online?
While you can make money selling art online, the amount earned varies greatly from artist to artist. According to the United States Bureau of Labor Statistics, fine artists, which includes painters, sculptors, and illustrators, typically earn between $21,590 and $102,540 a year. Multimedia artists earn an average of $72,520 per year.
How much should I charge for my art?
The price you should charge for your art is relative to the quality of your work and the demand in the marketplace. When pricing your work, it is best to do some market research. Visit other online galleries and large online general marketplaces to see what other artists charge for their artwork. A good rule of thumb for artists just starting out is to align your prices to within 10% to 25% of similar artists' works.
Bottom Line
The best place for artists to begin selling their artwork online is through their own websites. To reach an even larger audience, artists should explore listing artwork on online galleries, general online marketplaces, and social media. Some artists also find success with print-on-demand networks and stock houses that sell photographs and other images.