Your own website, online art galleries, social media, and digital stock sites all let artists sell art online as never before, and even develop new income streams via internet-driven technologies. For the savvy artist, the selling possibilities are endless and the outlook is bright in today's booming online art market.
"From our point of view, we've seen growth really speed up in the last year. Although the global art market is slowing down, the online market grew 24% in 2015.* We now have 9,000 independent artists in 108 countries selling on the site, and almost 50% of those have sold something."

— Jonas Almgren, CEO, Artfinder
There are many ways you can sell art online, but where you place your works ultimately depends on several factors. From the type of art you create, to the buyer you're hoping to attract, different online selling tools are best for certain needs.
Let's start by taking a quick look at which online selling tools are best suited for different types of artists and their creative works. We'll cover each in detail below.
How to Sell Different Types of Art Online Summary Table
| Type of Art You're Selling: | Try Selling On: | Best For: |
| --- | --- | --- |
| Original works, limited editions, prints, sculpture that you sell & ship yourself | | Fine artists, printmakers, sculptors, mixed media artists, photographers & more |
| Custom-made items & commissioned works created when ordered & that you ship yourself | | Commission artists, illustrators, photographers, handmade goods artisans & more |
| Your art images & designs printed on various items via print-on-demand (POD) dropship partners | | Fine artists, printmakers, graphics designers, cartoonists, photographers & more |
| Digital artwork, fonts, photographic images, website themes & graphic media templates delivered via digital download | | Photographers, illustrators, website designers, graphics designers & more |
Now we'll explore these primary ways to sell art online, starting with four ways to build the most important tool in your arsenal: Your own website. Then we'll look at five more ways to get your creative works in front of even larger numbers of online buyers.
How to Sell Art Online from Your Own Website
Art world experts may have different opinions about the best places to sell art online, but there's one point upon which most agree:
Every artist should have their own website that's more than an online showplace.
It should be a full-featured online store.
"If you don't have a proper online store setup to showcase your art and accept payments, your website is almost useless in today's market."

— Erick Sabelskjöld, Sabelskjold Art Agency
Your website is home to your unique brand and there you have complete control. Plus, with your works front-and-center on your own website, you aren't vulnerable to competing listings, high commissions, or unexpected art marketplace or online gallery closures.
Best of all, anyone can launch a gorgeous, modern online store without any web design knowledge or programming experience. If you can log into a website, you have the skills needed to build a full-featured online store with many top web providers. A few are completely free to build and operate, too. And those that aren't have very reasonable monthly fees.
Here is a summary of four simple, proven, and budget-friendly online store systems that let you quickly build a website and start selling your art online. We cover each option in detail below the table.
Website Platform:
Cost:
Our Pick for:
Ease of Use:
1. WordPress
Learn more
From $3.95/mo.
Our pick for art sales + active blogging. Try Bluehost for WordPress sites, get started here.
Medium
2. Square
Learn more
Free Website
Our pick for both online & in-person sales.
Easy
3. Shopify
Learn more
From $29/mo.
Our pick for concentrated online sales across all sales channels, get started here.
Easy
4. Artist-run Website Platforms
Learn more
From $8/mo.
Our pick for fine artists presenting a gallery to a variety of buyers. See more here.
Varies by site:
Easy to Medium
Now let's take a look at your website options in more detail:
1. Sell Art Online with WordPress
Price: Hosted Plans Starts at $2.95/mo. Store and other plugins start at Free.
WordPress is the leading blogging platform and is fast becoming a leading online selling tool, too. With a WordPress site, the sky's the limit when it comes to design and functionality. Plus the costs are exceptionally low, starting at just $2.95/mo with Bluehost. Click here to read our guide on setting up your WordPress website with Bluehost.
Who WordPress is Right for:
WordPress is right for all types of art sales since it lets you display and sell art online just about any way imaginable. Of all our online store options, WordPress allows you the most creative freedom. WordPress also is the best choice for artists who want to actively blog to share updates, new releases, and other information like upcoming gallery shows. It has the a strongest blogging tools of all selling platforms.
With WordPress, you can display gorgeous online galleries, sell single finished works or mass-produced goods, take commission orders, sell custom pieces, distribute digital downloads, and even sell your images using print-on-demand services like Printful.
How to Set Up a Website with WordPress
Of our four website options, WordPress can be the trickiest. But with a little patience, even first-timers can launch a stunning online store with WordPress. Here are the three main steps:
Set up your WordPress site with a web hosting provider like BlueHost. We have a guide that will get you started here.
Choose an ecommerce plugin that lets you sell online. Our WordPress selling guide walks you through several top options here.
Choose a theme (design), then set up your store and enter your products, plus blog content if you wish. Learn about WordPress store design themes in our guide here.
Downsides to Selling Art on WordPress
As we state above, WordPress lets you do anything imaginable, but its versatility definitely comes with a learning curve. If you're looking for a simple, super quick way to showcase and sell art online, one of the following options might be better for you.
2. Sell Art Online with a Free Online Store Website from Square
Price: Free Online Store! Pay only credit card processing fees: 2.9% + 30¢ per sale.
Square's main business is processing online, mobile, and in-store credit card payments, but they also offer a free online store with every free Square payments account. Read our article to see how easy it is to build one.
In fact, Square offers more than that with every account. From mobile credit card swipers, to point-of-sale systems, to store management tools, Square provides everything you need to run a business with minimal costs. In most cases, all you pay is credit card processing fees on your sales. Click here to learn all that Square has to offer.
Who Square is Right for:
Square's payment and sales management tools are right for any artist selling online and/or in-person. Its free online store feature is a great option for artists who want to sell up to 50 finished items, mass-produced pieces, or digital download works on their website.
Square is a simpler solution than other online stores and lists items all on one page. That's why we say it's best for artists selling around 50 items or less. More than 50 can make your page quite long. You can categorize and sort listings any way you wish, but they all appear in rows on a single web page. Item listings do open in a pop-up page when clicked, so you can show plenty of item details. But you can't create categories on different pages using Square's online store.
That said, what Square does, it does incredibly well. With Square's free online store, you can easily set up your site, add products, choose a website address, and start marketing and selling your art online within an afternoon. It's mobile-friendly, too.
Square is an especially good choice if you want to sell art both online and in-person in your gallery, at art shows or markets, and through other in-person means. All of Square's payment options; online, mobile, and in-store point-of-sale, neatly tie your entire business together, leaving you more time to create.
How to Set Up a Website with Square's Free Online Store
First, you need to open a free Square account here, which gives you the ability to accept credit card payments right away. Then you just click on the Online Store tab in your Square dashboard and start adding products and building your site. It's that easy. We even have a guide that walks you through setup in eight easy steps.
Downsides to Selling Art on Square's Free Online Store
As we state above, Square doesn't support multi-page websites, so if you want to list large numbers of works or mass-produced products, it's not the best choice. Also, it doesn't offer blogging features or support orders for customized goods.
If you're looking for a way to list and sell art in volume, easily sell customized goods, and even blog, our next option might be the right fit.
3. Sell Art Online with an Ecommerce Platform like Shopify
Price: Starts at $29/mo. 14-day free trial, see all pricing and features here.
Shopify is the most popular full-featured ecommerce platform for small business. And that's what selling art online really is — a business. Shopify offers a full range of display, marketing, online selling, social selling, order management, and customer follow-up tools, all in one easy-to-use, low-cost system.
Who Shopify is Right For
Shopify is a great choice for the artist who is, or is planning to, sell in volume. Being a top ecommerce platform, it's chock-full of features designed to make online selling an organized affair. Whether you produce and sell installation pieces, mass-market works, customized items, print-on-demand goods, or digital downloads, Shopify makes it all hassle-free. It also make selling on Facebook, Pinterest, and Amazon push-button easy.
How to Set Up an Website on Shopify
First, you need to open a free Shopify trial account here. After that, Shopify's new store tutorial will walk you through every step. By the end of the tutorial, you'll have set up everything you need to launch, from accepting payments, to shipping methods, to your first product listings.
You can learn more about selling on Shopify and their pricing levels in our guide here. Plus, see how Shopify make it easy to sell on a Facebook Shop here.
Downsides to Selling Art on Shopify
Shopify is designed for volume selling so it comes with a higher monthly fee than others on our list. But if you need Shopify's volume-selling features, it's worth every penny. And if you want to be really picky, their blogging tools aren't a match for WordPress, but are suitable for basic blogging needs.
If you sell just a few investment pieces, commissions, or special orders each month or year, less costly website options from WordPress or Square may be better choices.
4. Sell Art Online Through Artist-Run Website Platforms
Price: Starts at $8/mo. Specific platform costs and free trial options listed below.
Here's another artist website option to consider: artist-run web platforms.These are ecommerce website platforms created and operated by artists and tailored to artists' needs. Like our other three options, they support a range of features, including showcasing your works, accepting online orders, marketing on social sites, and blogging features.
Plus, being artist-run, they offer some industry-specific benefits over our other options. For example, some, like FASO, make your website part of a larger community, provide marketing, and even host monthly competitions.
Here are three popular choices among the artist-run online store platforms:
Price: Starts at $8/mo. 30-day free trial, see all pricing and features here.
Price: Starts at $16/mo. Two-week free trial, see all pricing and features here.
Price: Starts at $12.79/mo. 30-day free trial, see all pricing and features here.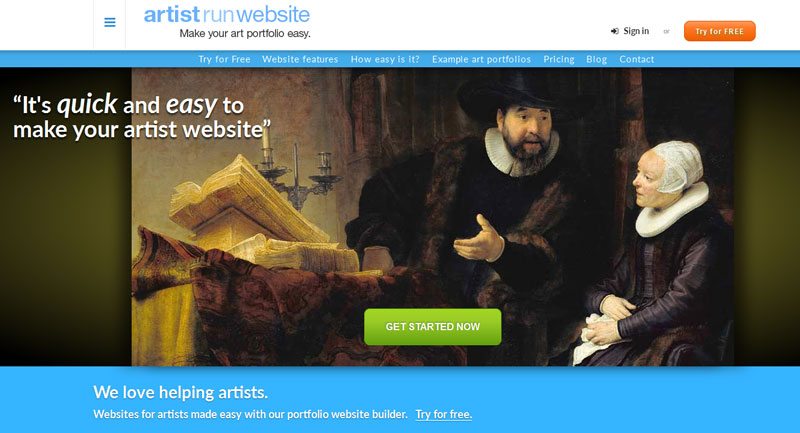 Features-wise, artist-run platforms offer much of the same selling and promotion tools as website options 1 through 3. However, they're run by smaller groups and their overall selling features may not be as broad compared to mass-market platforms.
That said, artist-run platforms are designed specifically to help artists sell their works. But remember, each offers a different set of online art selling and marketing features. If you're considering this option, you should visit each platform's website to see which group more closely fits your specific art marketing and selling needs.
We've covered four different ways that you can take that first important step towards selling art online: Setting up your own website. Of the options discussed above; WordPress sites, Square's Free online store, Shopify's volume-selling platform, and specialty artist-run art marketing sites, one is sure to meet your selling needs and budget.
So now let's look at other ways you can get your works in front of the buying public.
Other Avenues for Selling Art Online
Along with your own website, you can sell art online through a variety of online marketplaces. These are large websites that allow independent sellers to register an account and list works for sale any number of ways. The benefit is they work hard to bring customers in so you don't have to. But a downside is you're one seller among many, and there's a lot of competition for buyers' dollars.
Some, like art-focused marketplaces, cater to specific art-buying audiences. Others, like Etsy and Amazon, bring your works to the masses. Then there are specialty markets that allow you to sell digital images via download, and print-on-demand outlets that put your images on apparel and household items. And don't forget the power of selling on social media sites like Facebook and Pinterest.
While each is best-suited for selling certain types of art online, savvy sellers should be aware of every option. After all, one or two might pair perfectly with your other online selling efforts now or down the line. We'll explore each of these marketplace platforms in detail below:
Selling Platform:
Cost
Best for:
Ease of Use:
Art-Focused Online Marketplaces and Galleries:
Artfinder, Artplode & others
Learn More
Varies
Usually a commission-based or listing-based price structure
Finished works.
Since you can include an artist's profile on most, also a way to attract commissions
Easy
Large Seller Marketplaces:
Etsy, Amazon & eBay
Learn More
Varies
Usually a commission-based or listing-based price structure
Finished works, handmade & custom-made items
Easy
Print-on-Demand (POD) Dropship Vendors:
Fine Art America, Printful & others
Learn More
Varies per item, no start-up costs
Many items, from canvas prints, to tees, to mugs are available to sell printed with your art
Art images, illustrations, photographs & cartoons that you want to sell in mass on a variety of materials and items
Medium
You'll have to upload images to different specs depending on the products you sell
Digital Art Marketplaces:
Big Stock, Envato & others
Learn More
Varies
Usually commission- based & no start-up costs
Digital artwork, illustrations, fonts, photographic images, website themes & graphic media templates
Varies by site:
Easy to Medium
You'll have to upload images to different size & file specs
Social Media Sites:
Facebook, Pinterest & Instagram
Learn More
Free to monthly fees
Depends on the ecommerce solution used to support social sales
Any art you sell online: gallery displays, finished works, digital art downloads, POD, custom & commission orders
Easy
List items for sale and even create a Facebook store by connecting your online store to social sites.
Before We Explore These Options…
Taken as a whole, this list can seem overwhelming, but don't panic! You don't have to use all of these methods to successfully sell art online. In fact, focusing efforts on your own website first, then one or two appropriate avenues usually is the best way to be seen, sell, and still find plenty of time to create.
Now let's take a look at all of the ways you can sell your art to large online audiences, including:
1. Sell Art Online through Art Marketplaces & Galleries
Art marketplaces are the art galleries of the online world. Some are very selective in the works they promote, while others let anyone post listings. Most art marketplaces do the selling for you, much like a gallery. The client places the order online, you ship the piece and provide proof of shipment, and the marketplace pays you, less their commission. Speaking of commissions, these can be quite hefty, as much as 30%.
What do you get for that fee? Many things. Art marketplaces are in the business of marketing art. The more of your works that they sell, the more money they make. Since many are destination sites for serious art buyers, your works are exposed to a broad audience of paying customers. Seeing your listings, customers might just search your name and find your website, too. Plus, your creations are listed alongside other artists of note. It's always nice to be in good company.
There are a number of popular art marketplaces online, And, as you navigate the online art world, you'll find countless smaller, independent galleries that market online as well. Some of the top online art marketplaces include:
Price: $0 Listing Fee, 30% Commission. Learn more here.
Artfinder markets and sells the works of more than 9000 artists throughout 100 countries. They make it very easy to list your works on your own gallery pages within their marketplace. When a sale is completed, you ship the work to the customer. Shipping and taxes are added to customer orders at purchase, so you're covered there. After a 14-day return window, Artfinder pays you, less their 30% commission, via PayPal or bank transfer.
Price: $60 Listing Fee, 0% Commission. Learn more here.
Artplode is an open, zero-commission online art market that welcomes listings from artists, galleries, private collectors, and dealers alike. It tends to cater to higher-priced works and fine art. It's definitely an online market to consider if you're selling original works that command higher prices. Artplode also helps artists price their works through its Artplode Assistant, an optional service that's lower-priced than similar gallery services. However, you pay these fees plus the $60 listing fee whether or not your work sells. But that's all you pay. There are no additional commissions charged upon sale.
Price: Set by you, varies by product. Learn more here.
This online seller is a bit different from fine art online marketplaces, but worth a look if you want to sell original images, illustrations, prints, and more. In fact, this print-on-demand art gallery lets you upload your creations so people worldwide can purchase them printed any number of ways. From wrapped canvases to tote bags, greeting cards to apparel, you can add your art to a huge number of marketable goods. And you never have to lift a finger to produce them.
You set the price, they add their markup, produce the item when ordered, ship it, and handle the customer service for you. You can create your own website on their system to feature your works on their products. Or, you can list and sell their items on your Shopify store, Facebook page, and more. If this income stream sounds interesting, definitely check this one out.
2. Sell Art Online through Large Seller Marketplaces: Etsy, Amazon & eBay
Large online marketplaces like Etsy, Amazon, and eBay are other avenues for selling art online. Like online art marketplaces, these sites handle the selling process for you. They accept and process payment for an order, you ship it and provide proof of shipping, and they pay you less a commission. Compared to art-focused marketplaces, the commission costs are much lower. However, they don't target the art-buying audiences as do the art marketplaces.
Etsy is known for all sorts of artisan-crafted goods and attracts buyers looking for something unique, though not typically collector types. Amazon is a great way to sell items with mass-market appeal in volume. eBay is a mix of both. There, you can easily auction or simply sell a single item or hundreds of the same item. But compared to the others, eBay listings can take a bit more management. Plus, eBay shoppers typically are looking for a deal.
That said, you certainly can sell art online to huge audiences with little to no up-front costs with the internet's largest destination shopping websites:
Sell Art Online with Etsy
Price: 20¢ Monthly Listing Fee, 3.5% Commission. Learn more here.
With their low listing and commission fees, the Etsy artisan marketplace is a great way for artists to get their works in front of millions of shoppers each month.
Sell Art Online with Amazon
Price: From 99¢/item Listing Fee for individual sellers to $39.99/mo Flat Fee for business sellers, plus 15%- 40% Commission. Learn more here.
You might want to consider selling art on Amazon since, as of 2016, they account for nearly half, 43% to be exact, of all online purchases in the US, as reported by Internet Retailer. The buying audience definitely shops Amazon. If you ship mass-produced pieces in volume, you can even let Amazon do the shipping for you through Fulfillment by Amazon (FBA). Learn more about that option here.
With Amazon, you can get your works in front of millions of potential buyers, but its fee structure can be tricky. Items in the Independent Design and Handmade Item category, which artwork may fall under, can have a whopping 40% commission! However, you can sell prints and other pieces under the Home Decor category for a more reasonable 15% commission.
Sell Art Online with eBay
Price: Monthly Listing Fees: Free for the first 50 listings, 30¢/ea. over 50, plus 10% Commission on all sales. Plus additional fees for special listing needs, learn more here.
eBay is another shopper destination site where you can sell individual pieces or multiple items. You also can sell art online at a set price, via auction, or even accept offers, which are nice options. Reasonable fees (especially compared to Amazon!) make it a popular way for artists to get their works in front of buyers seeking new, unique, and one-of-a-kind items.
3. Sell Art Online with Print-on-Demand (POD) Drop-Ship Vendors
This is an area where the internet has helped create an entirely new revenue stream for artists. Print-on-demand (POD) vendors are manufacturers that let artists, graphic designers, and photographers upload images to be printed onto a variety of marketable goods like these, pictured below:
This process is called print-on-demand (POD). When the item is ordered, you collect the payment on your website, and release the order to the POD vendor. They print that one item using cutting-edge digital printing technology, then ship it direct to your customer. You are charged a wholesale fee and the rest is your profit.
I am a big fan of Printful because they offer great quality, a nice selection of products, way higher profit margins than most on-demand printers, and the ability to sync up with Shopify.

— Jason Kotecki, Chief Creative Guy @ Escape Adulthood
With POD vendors, you can monetize your works however you wish on mass-market goods. Most vendors, like Printful and CGProPrints, work directly with ecommerce platforms like Shopify and Ecwid for WordPress so you can sell your art on their products without any upfront production or costs. But you also take care of the sale and customer service.
Another top POD option is Fine Art America, which we already discussed in detail above. It's actually a print-on-demand art marketplace that puts your art in front of millions, plus handles the sales, production, and customer service for you, too.
Overall, POD creates entirely new ways to make money with your art. But wholesale costs can be rather steep and leave you little room for profit. If you find a thriving market for your art on specific goods, you might consider producing and shipping them yourself to maximize your income.
"Although I believe partnering with an on-demand company is a great way to gauge interest on products and specific designs without a big up front investment, it's not a very practical way to make money in the long run. A better bet is to build and audience and make products that they want. By taking control of the manufacturing, you can make a lot more money. For example, we produce a calendar that sells out every year. This past holiday, we made more profit just on sales from that calendar than my wife made in an entire year teaching kindergarten. Of course, creating your own products carries more risk and building an engaged audience is never easy, but it's ultimately the only way to create a long-term business."

— Jason Kotecki, Chief Creative Guy @ Escape Adulthood
4. Sell Digital Downloadable Art Online with Digital Marketplaces & Stock Houses
Photographers, illustrators, and graphic designers can sell their downloadable works online through a number of specialty marketplaces commonly known as stock houses. These marketplaces cater to the commercial user, so your imagery can be purchased and downloaded for use in a number of outlets including advertisements, websites, and other marketing materials.
Stock houses sell your images and pay you a percentage amount based on usage. They determine this through different licensing agreements, which they buyer agrees to upon purchase. Most agreements include attribution, so this can be a good way to get your name out there, too.
Each stock house has its own pay structure, but here's a look at BigStock's seller fees to give you a idea how they work. BigStock is considered an accessible site with good payouts, so it might be one to start with. Learn more about BigStock here.
Plus, if you're a graphic designer, you also can sell font designs, brochure templates, website themes, logos, and even corporate identity packages for buyers to download and customize. Envato is a great place to sell all types of graphic design works:
Basically, any image or design that can be sold via download is fair game for online stock houses. Here's a list of 15 top stock houses that you might want to consider if you sell any sort of downloadable art.
Now we've looked at many ways you can put your works in front of large buying audiences, from art-focused online galleries, to Amazon and Etsy, to digital and print-on-demand outlets.
Once your website is live, check out the marketplace sites featured above. Explore their terms, pricing, and, of course, the competition. Then try one or two on for size to see if marketplace selling is a fit for your creative works.
Next, let's see how you can put the power of your social media accounts to work selling your art.
5. Sell Art Online through Social Media Sites: Facebook, Pinterest & Instagram
Selling art on social sites might be a misnomer, because listing items for sale on Facebook, Pinterest, and Instagram generally requires some sort of ecommerce platform that feeds your listings into these social sites, then accepts orders and payments.
Many top online store platforms, including Shopify and Ecwid for WordPress, readily integrate with Facebook so you can create a Facebook Shop and sell directly to your social followers. Plus, many platforms also let you sell via Buyable Pins on Pinterest and Shoppable Posts on Instagram. Best of all, most social selling features are included at no additional cost.
Once your art is listed on social sites, marketing your artwork can be extremely cost-effective, and even free. We have a guide that will help you get started here.
Now let's take a look at some ways you can sell art online using various social media sites.
Shopify for Selling Art on Facebook and Pinterest
Price: Facebook Shop-only plan for $9/mo.
Social selling included in all online store plans, which start at $29/mo.
With Shopify, a Facebook Shop is included in all regular online store plans at no additional cost.
Here's a look at Shopify's Facebook Shop features, plus we have a guide that walks you through Shopify's Facebook Shop setup, step-by-step here. Shopify supports Pinterest's Buyable Pins, too on its regular store accounts.
WordPress & Ecwid for Selling Art on Facebook
Price: Free plan up to 10 items includes Facebook store
More than 10 items starts at $15/mo.
Ecwid is one of the leading shopping cart solutions for WordPress sites and offers a free Facebook store if you list just 10 items or less. This is a great no-cost way to test-drive social selling for your artwork. Learn more about selling on Facebook through Ecwid here.
Spreesy for Selling Art on All Social Sites
Price: No monthly fees, 3% of each transaction
If you don't have a website, or if yours doesn't play nice with social media sites, then Spreesy will let you sell your art online through every major social site: Facebook, Instagram, Twitter, Pinterest, and more. It's pretty slick! Learn all that Spreesy has to offer here.
As you can see, social selling is serious business. Paired with your own website, it might be all you need to start selling art online. Or you can add in a marketplace or two and see where your creations take you.
A Final Tip from the Marketplace Pros
And remember! However you choose to sell, there's one main thing you'll need for online selling success, and that is: Great images of your artwork.
"One of the main challenges that faces us when selling art online is the fact that more often than not, art pieces are more beautiful in person than in the images. At the same time, when we are selling art we can not really make changes to images to "beautify" them further, because it is unethical. This particularly applies to paintings, when you have to be very precise with colors, details and brush strokes." — Niam, Snazzy Bazaar
See how to capture great images and fine detail shots of your artwork using just a cell phone camera in our article here.
The Bottom Line
There's a huge demand for art, and an equally huge online art market that serves all types of buyers. As a busy artist, putting together a solution that hits all of your selling targets can be daunting, but not if you take it a step at a time.
To start, why not take the advice of many art dealers and other online art sales experts:
Start with your own website first — then branch out from there.
Once you have your website running on Shopify, WordPress, Artist-run Sites, or whatever platform you choose, test some works on larger marketplaces. We cover some top choices above, but that's far from an exhaustive list. Spend some time searching the art marketplace and online gallery landscape. Check out fees and pay structures, and try a few on for size. And don't forget the mass-market sites Etsy, Amazon, and eBay. They can drive sales your way, too.
And look around, art is everywhere. On tees, on totes, on mugs and cell phone covers. Should yours be there, too? If so, upload some of your creations to POD vendors and sell art-embellished items on your own website with no money down. Or try out Fine Art America's unique POD marketplace. You might score a following you never expected.
And use those social tools! After all, most online stores like Shopify and Ecwid support them at no additional costs. Or try Spreesy if you don't have a website going yet. You'll only see a fee when you sell something, and that's a price you'd happily pay over and over again.