Ghost kitchens, delivery-only restaurants that rely on third-party delivery platforms or other online ordering sites for sales, have become a major force in the food industry. They drive sales for food businesses and give customers more food variety. With no physical space for customers to dine, ghost kitchens have generally low overhead costs and are relatively inexpensive to start ($20,000–$60,000 on average compared to $40,000–$200,000 for food trucks, for example).
You can run an independent ghost kitchen from a freestanding commercial kitchen space, a shared commercial kitchen, or sublease space from an existing restaurant.
Learning how to start a ghost kitchen is pretty simple. Let's walk through the steps.
1. Create Your Concept
The first step to getting your ghost kitchen off the ground is choosing a concept. Your ghost kitchen concept is, essentially, your menu and brand name. Unlike traditional brick-and-mortar restaurants, ghost kitchens' names and menus need to be optimized to perform well in online searches.
When thinking of your concept, your goal is to hone in on a niche product that you can execute extremely well. Keep your menu streamlined and targeted to consumers looking for that exact product. A chicken wing concept is more likely to attract repeat orders with a name like Wing King rather than Third Street Bistro.
There are a couple of steps to creating your ghost kitchen concept.
Knowing your customer base and what they like to eat is key when creating your concept. Are you in a college town? Or do you offer food in a high-income, family-oriented community? Before settling on a concept, you should understand what customers are looking for, their lifestyle choices, and their price point.
---
All food from ghost kitchens travels to the customer. Consider the distance your food will likely travel and the time it will take to make the journey. For example, in a busy city, it may take twice as long for your food to travel short distances at the height of the dinner rush. So, think about foods that stand up to transport. Pizzas and wings are popular options for this reason. Curries, empanadas, and chicken sandwiches are also excellent choices.
---
---
Your ghost kitchen name should be catchy, be easy to read on a page of search results, and mention the type of food on your menu. To get your creative juices flowing, check out our restaurant name generator.
---
2. Incorporate Your Business & Set Up A Bank Account
Once you've settled on a concept and a name, you'll need to get some business bits out of the way. If you are adding a ghost kitchen as an additional revenue stream to an existing restaurant, you can skip this and move to step 3. But if you are operating as a new, independent ghost kitchen, you'll need to incorporate so that your business can be licensed and insured.
There are several types of business structures; the most common are:
Sole proprietorship
Partnership
Limited Liability Company (LLC)
S corporation
Corporation
Most ghost kitchens will find that an LLC is the best fit since it protects your personal assets in the event of a lawsuit or bankruptcy. If you plan to pay yourself more than $20,000 per year from your ghost kitchen, designating your LLC as an S corp may also be a good idea. You can explore other business structures in more detail by checking out our guide to choosing a business structure.
You can find all the forms you need to register your LLC on your state's official business registration website. The costs range from around $50 to $500, depending on where you are located. If you find your state's website confusing or tricky to navigate, you can also use legal sites like LegalZoom and Rocket Lawyer to guide you through the process.
3. Brand Your Business
Now that you have some of the dry business stuff out of the way, it's time to get creative. Your ghost kitchen needs an eye-catching logo that is easy to read in search results and will look good printed on bags, stickers, and to-go containers. You don't have to be a creative genius yourself; you can hire freelance designers easily via websites like Fiverr and Upwork.
When using these freelance sites, be sure to research and use verified or well-reviewed talent. They may cost a little more, but it is worth it to make your brand stand out!
You can find freelancers in virtually every price range, but you should plan to spend anywhere from $50 to $400 for a logo design. For ghost kitchens, getting a complete brand kit is also a good idea. A brand kit typically comes with multiple copies of your logo that are optimized for various social media platforms, printed media, and website use. A brand kit for a ghost kitchen might also include stickers for sealing to-go bags, business cards, and menu designs that you can use in social media ads. Brand kits tend to be pricey, but you can generally find them for around $350 to $800, depending on the designer's skill level.
4. Find a Location
Ghost kitchens can be housed in freestanding, independent delivery-only kitchens, shared commercial kitchen spaces, or subleased restaurant kitchens. Freestanding, delivery-only kitchens are the most expensive. You'll need to buy all of your equipment and secure all required licenses, and you may need to secure building permits.
Shared commercial kitchen spaces are easier to find in recent years. The COVID-19 pandemic encouraged a boom in commercial kitchen construction, and ghost operators can now find spaces in co-working kitchens built especially for ghost operations by CloudKitchens, Reef, and Kitchen United. You can also find general commercial kitchen spaces in your area by checking sites like the Kitchen Door and Commercial Kitchen for Rent.
Suppose commercial kitchens are filling up in your area. In that case, you can reach out to restaurants that operate during limited hours (breakfast only, dinner only, etc.) and ask if they would be interested in subletting their kitchen to you during the off-hours. Shared spaces offer one benefit that freestanding kitchens do not: they are often all set with the DOH on many of the rules considering owning a food operating space.
PROS

CONS

Can customize your kitchen layout
Most expensive option
Storage is all yours
Best suited for existing food brands
Can choose your ideal location
Must purchase equipment
Optimized for delivery operations
Must obtain all permits and licenses
May require additional steps of creating a business plan and finding investors
PROS

CONS

Camaraderie with other cooks
May need to purchase equipment, depending on kitchen
Accustomed to food business needs
Location may be far from residential customers and city centers
Meets fire and health codes
Locations in large cities fill quickly; you may end up on a waitlist
Optimized for delivery operations
PROS

CONS

Low cost
Less accessible for delivery drivers
Has all necessary equipment
Cannot customize kitchen layout
Meets health and fire codes
Tied to existing equipment
Usually located near customer base
Storage can be an issue
Widely available spaces
May limit your hours of operation
5. Get Permits, Licenses & Insurance
Like any restaurant, your ghost kitchen will need several permits and licenses from your local fire, health, and tax authorities. Some permits are tied to the building itself and require site inspections. If you operate your ghost kitchen from a new, freestanding, independent location, you'll need to obtain these.
If, however, you sublease from an existing restaurant or lease space in a shared commercial kitchen, you'll want to verify that the kitchen has the proper permits in place before laying down rent and security deposits. On the other hand, if you are adding a ghost concept to your existing restaurant, your existing licenses should cover your ghost operation.
Additionally, your space will be inspected and graded by the local health department and you'll need HACCP (Hazard Analysis and Critical Control Point) plans and other food and employee safety requirements before operating. Many states require a manager on site to have a food safety manager's certification, and you need an established system for food safety monitoring and traceability.
Business license: This license comes from your state or county and authorizes your business to operate in your location. Prices vary from state to state.
Employer identification number (EIN): This number is given by the IRS and used to file your federal business taxes. There is no charge to obtain an EIN, and you can find directions and forms on the IRS website.
State tax ID: This is your state's version of an EIN. This number can be found through your local state government, or use the Small Business Administration's directory to locate your state's appropriate website.
Sales tax license: This license allows your business to purchase wholesale goods tax-free.
Food Manager's certification: Most states require that any business serving food to the public have a food service manager's certificate. You'll need this even if you sublease space from a commercial kitchen. The certification requires you to take an in-person or online course and pass a test. You take the course and test through ServSafe; the cost is $179 for the course and test combined.
Food Handler's license: In many states, any employee who handles food must have a food handlers certificate. Like the Manager's Certificate, this document requires the worker to take a class (usually around two hours) and pass a test. Your staff can take the course and test online or in person via ServSafe; the cost is $15 to $18.
The licenses required can vary by location. If you are opening a new, freestanding ghost kitchen and unsure about which licenses are required in your area, consider hiring an online legal service for help. For example, Incfile offers a research package that finds the necessary licenses for your business type in your location and includes all the paperwork you need to file, along with instructions. Pricing for Incfile's Business License Research Package is $99.
Like all small businesses, ghost kitchens need insurance to cover them in case of accidents, food-borne illness, or employee injury. Suppose you lease your ghost kitchen from a shared commercial kitchen or sublease from an existing restaurant. In that case, you will likely be asked to provide proof of your liability insurance (and workers' comp if you have employees).
At a minimum, most ghost kitchens need:
General Liability: this type of insurance protects you in the case of a third-party driver injuring themselves on your premises, as well as from Property damage and claims brought by nonemployees. Pre-existing restaurants likely already have a general business liability policy but should check with their provider to ensure that adding a ghost kitchen is covered in their current policy.
Workers' Comp: If you have employees, you will be required by law to have workers' comp insurance to cover medical bills and lost wages if an employee injures themselves at work.
Commercial Auto or Hired Not Owned Policy: If you employ a team of delivery drivers, you will need a commercial auto policy if they drive company-owned vehicles. If your drivers use their personal vehicles, you will need a "hired not owned" policy to cover your business if these drivers get in an accident during work hours.
6. Raise Funds (If Needed)
Ghost kitchens are generally a low-cost affair—$20,000 to $60,000 depending on how much of a premium kitchen you build out. If that is outside your budget, you'll need to raise funds. Crowdfunding is a great option, as is reaching out to friends and family for contributions or loans. If you plan to approach a bank for a small business loan, you should create a business plan to strengthen your loan application.
Most ghost kitchens are housed within existing commercial kitchen spaces, so it is entirely possible to open a ghost concept without building or renovating a kitchen space. However, many ghost kitchens may discover that they need additional storage, especially if the business is busy. For example, if your chicken wing concept takes off, you may need to purchase additional freezers or reach-in refrigerators to hold enough stock for weekend rushes. If you work in a shared commercial kitchen like CloudKitchens, you may also need to supply your own equipment.
7. Take Mouthwatering Food Photos
Mouthwatering food photos are an absolute requirement for ghost kitchens. To encourage new orders, your food needs to stand apart from competitors on the same ordering site. It is a good idea to hire a professional food photographer to assist. Costs range from $500 to $50,000, depending on your market and the photographer's popularity.
You don't need a photo of every item on your menu; great images of your top five to 10 items are usually enough to get started. Prioritize photos of signature dishes, dishes that turn the best profit for your business, and partnerships with other brands.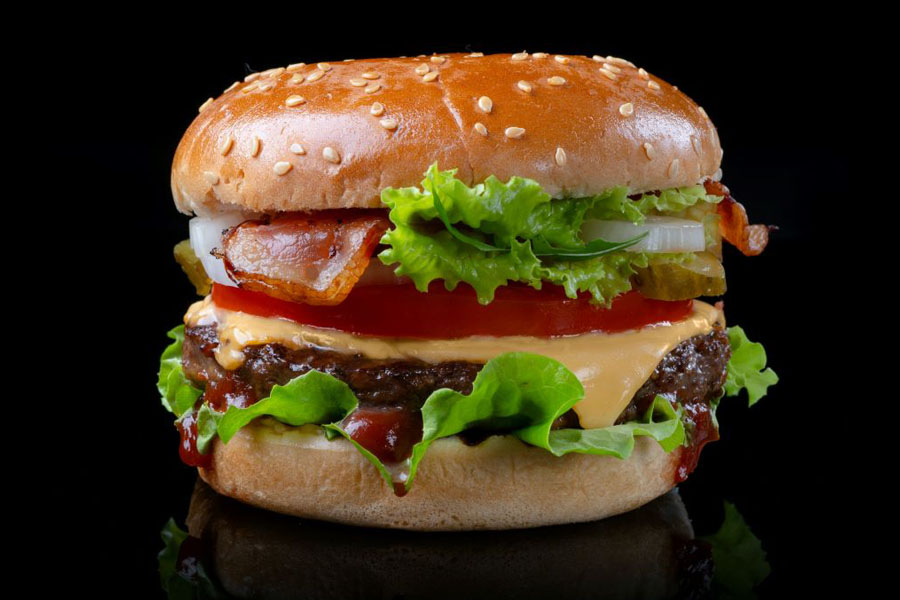 ---
---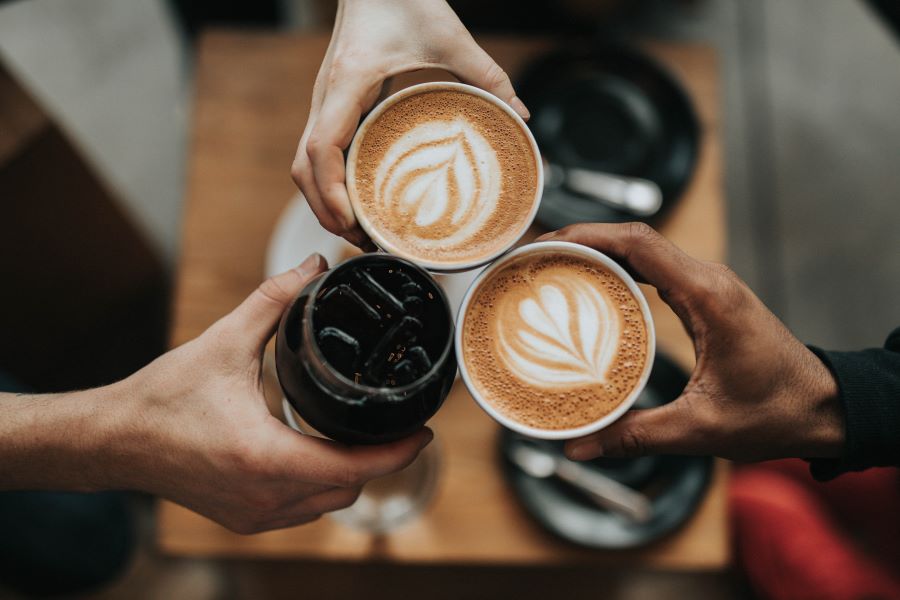 ---
The lowest-cost option, of course, is to take the photos yourself. If this is your only option, keep these food photography tips in mind:
Choose a simple background: Nothing should distract from your food. When in doubt, a white plate on a bright background is a good idea.
Focus on the food: Sides of sauce and garnishes are fine, but for your online ordering menu, you don't want extra items like cutlery, wine glasses, and hands in the shot.
Use even lighting: Good lighting does a lot to make a dish look appetizing. If you don't have access to lighting equipment, photograph your food under natural light, diffused with parchment paper (which any kitchen should have on hand).
If your menu is filled with common comfort foods, you might be tempted to use stock images. If your finished dish doesn't look like the image, however, your customers may be disappointed, and you may get many complaints and requests for refunds. Your food images should look like your actual finished dishes—and they should look as good as possible.
Tip: Some third-party platforms offer food photography as a service to partner restaurants.
8. Decide Your Ordering, Payment & Delivery Strategy
There are three basic ways to accept online orders and payments and deliver your food: third-party platforms, direct internal systems, or a hybrid strategy. One of the most compelling aspects of a ghost kitchen business is extreme flexibility. You can start with one ordering and delivery strategy—say, relying on third-party platforms exclusively—and shift to another as your business grows.
The most straightforward online ordering, payment, and delivery strategy for fledgling ghost kitchens is to sign up with third-party platforms like DoorDash, Grubhub, and Uber Eats. The platforms handle your online orders, process payments, send delivery drivers, then deposit your portion of the revenue into your business bank account. Like many small business solutions, third-party platforms have pros and cons, though.
PROS

CONS

Simple set up
No access to customer information
Orders, payments, and delivery are taken care of
No control over refunds
Easy for new customers to find you
High commission fees, especially for marketing and promotions
No need to hire additional driver staff
Locked into platform's payment processing fees
No need to purchase additional hardware
Can be tricky to stay on top of tablet orders
PROS

CONS

Full access to customer information
Requires additional software and hardware
No commission fees
Requires hiring additional staff
Full control over delivery team
Marketing can be difficult
Full control of refunds
Can offer deals and promotions to customers at no additional cost
Can shop for best payment processing rates
PROS

CONS

Lower cost of direct orders offsets third-party commissions
Requires your staff to pay attention to multiple order streams and promotions
New customers can find you on third-party platforms
Requires more robust hardware and software
You can convert third-party customers to direct-ordering customers with deals and promotions
Signing Up With Third-party Platforms
Signing up for third-party platforms is easy, and the contracts are nonexclusive. Most ghost kitchens rely on several third-party delivery platforms to boost their visibility. You can list your ghost kitchen on every third-party platform that operates in your location. When you sign up with DoorDash, Grubhub, Postmates, Uber Eats, Caviar, or others, you will be prompted to enter your restaurant information, like hours and phone number, along with your menu and sometimes menu photos.
To speed the signup process, you'll need to have a few things handy:
Your location address, phone number, and email address
A PDF copy of your menu or a web link to your menu
Business bank account information
EIN
You start by navigating to the platform site and finding the area designated for "merchants" or "partner restaurants." Most platforms' signup pages operate similarly, so let's take a look at DoorDash as an example: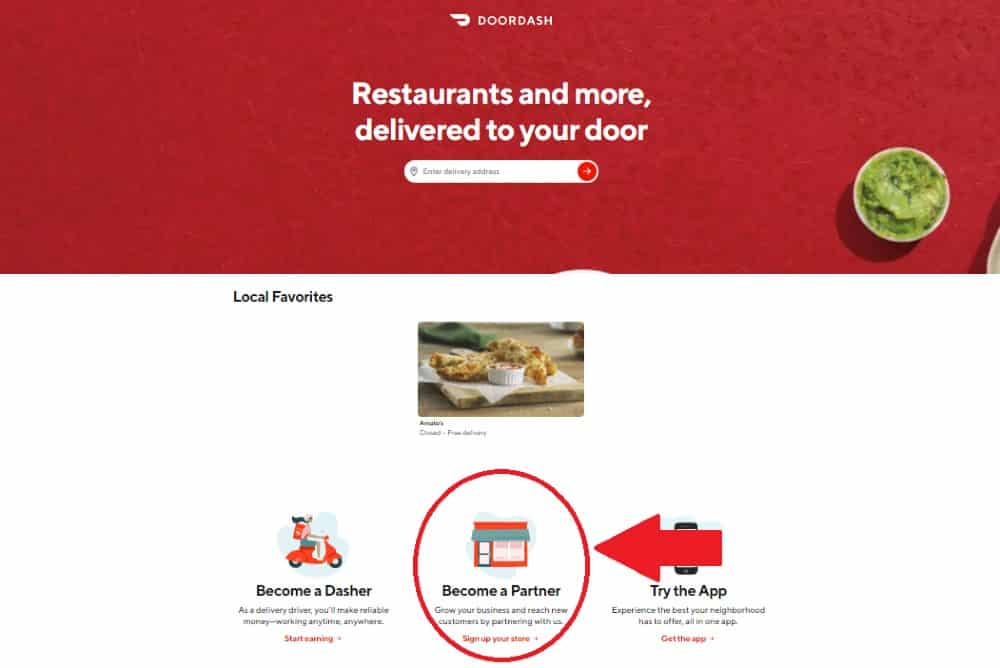 ---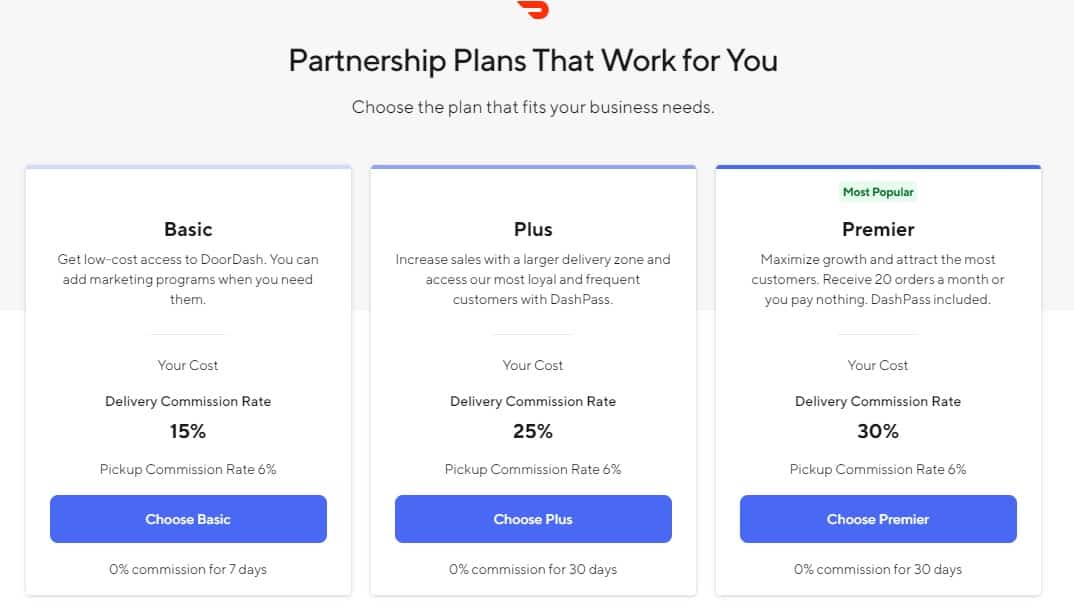 ---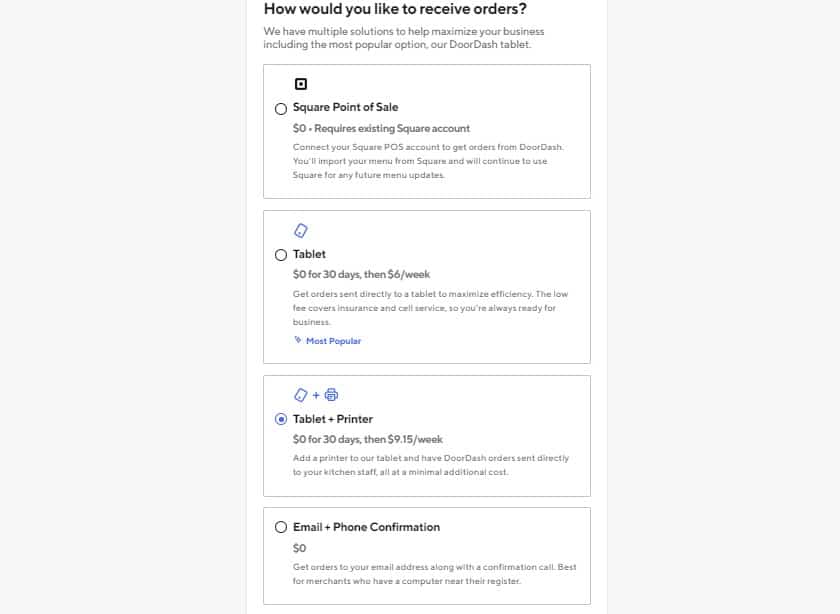 ---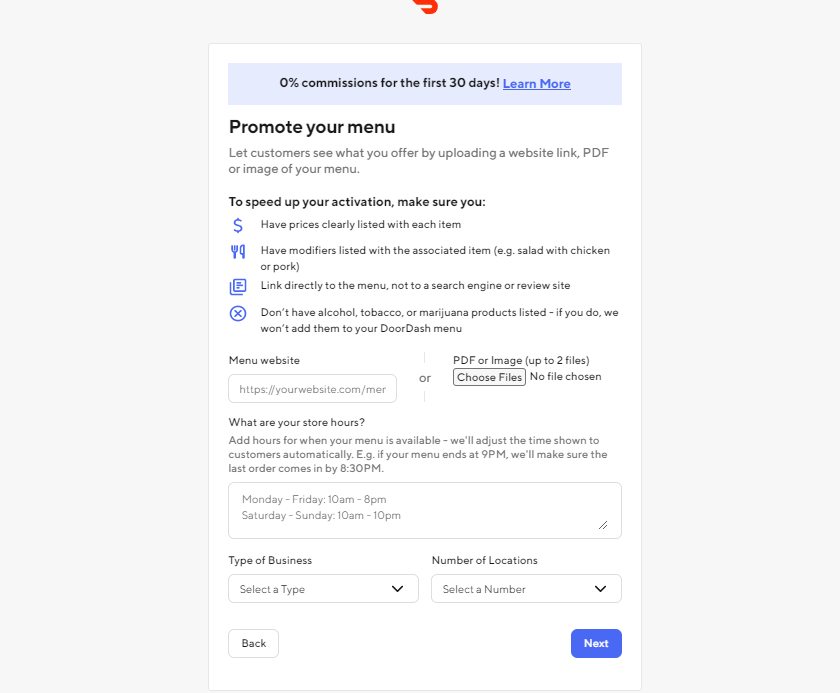 ---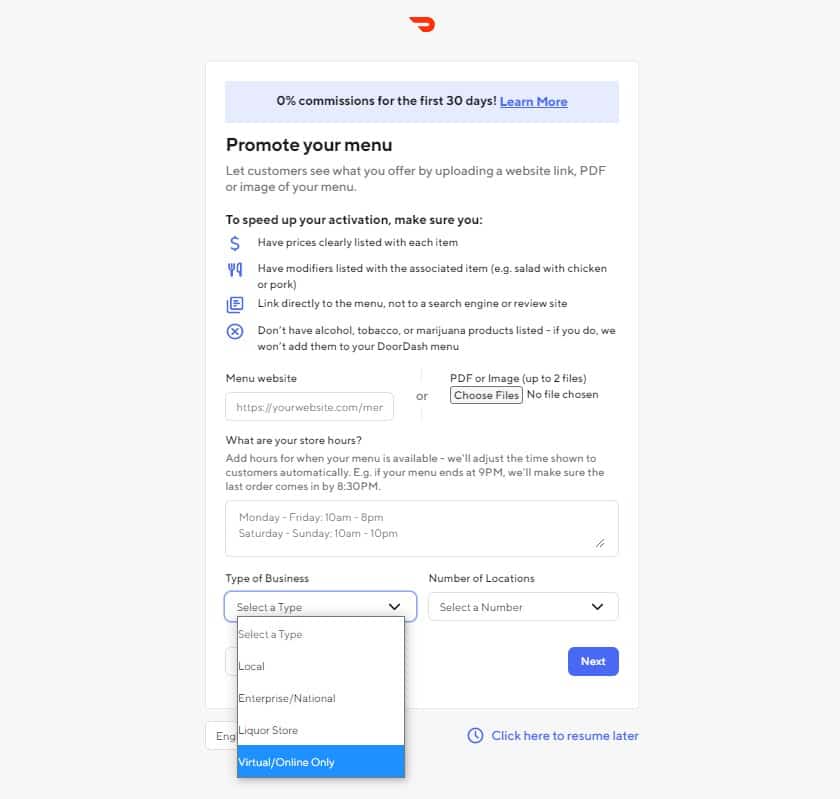 ---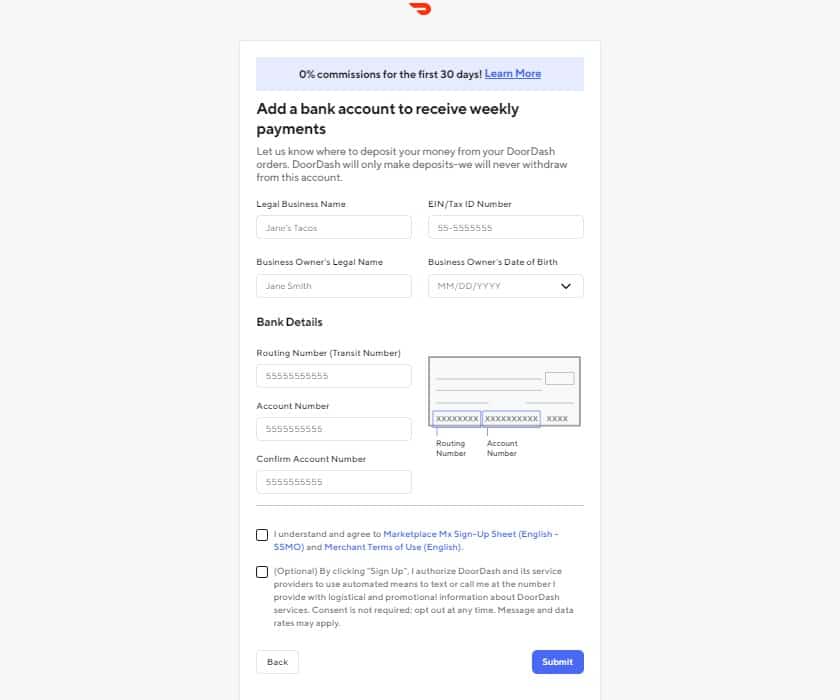 ---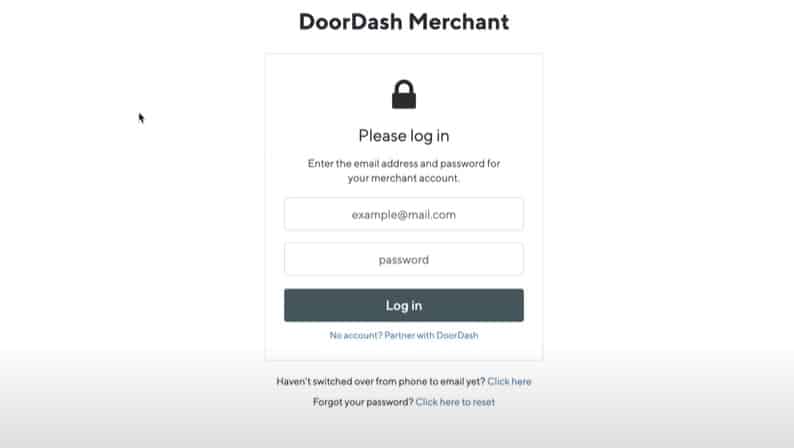 ---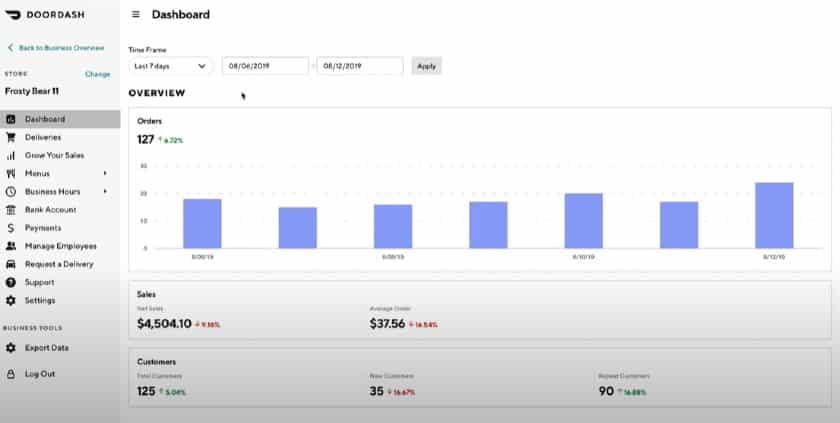 ---
Most third-party platforms grow so quickly that they cannot maintain an accurate list of all the ZIP codes they service. In most cases, you'll have to begin the signup process to see if the app operates in your area. However, once you enter your business address, the system will generally let you know if its service is unavailable in your location.
Recently, third-party platforms like DoorDash and Grubhub have carved out varying levels of delivery service. On those platforms, ghost kitchens can choose to use the sites only for online ordering and handle deliveries with an in-house driver team. Alternatively, ghost kitchens that accept online orders and payments via their own online ordering site can hail third-party drivers on-demand for a flat rate per order. Some sign-up sites will prompt you to choose delivery preferences as well.
Setting Up Direct Online Ordering & Delivery
Setting up direct online ordering and delivery is more involved than signing up with third-party delivery platforms, but not by much. We'll walk you through the process using Square Online. It is a good fit for ghost kitchens because it integrates with Square's POS, includes online payment processing, and is free to use when you create a Square account. All you pay are the card processing fees. There are additional fees for delivery, which we'll explore in detail below.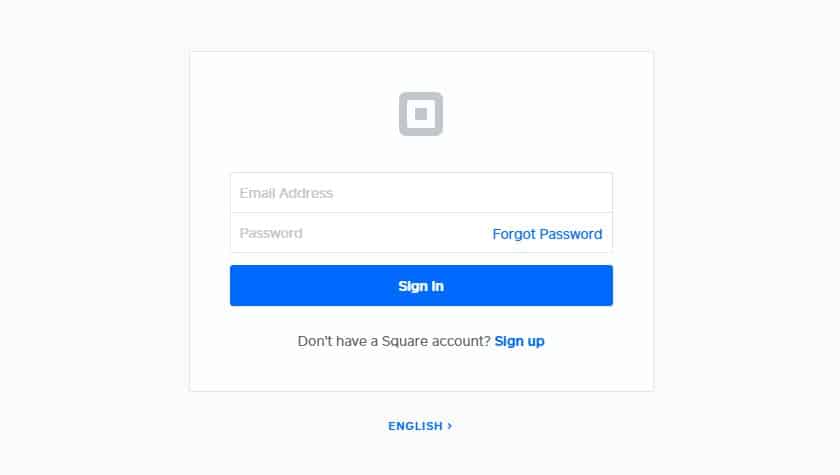 ---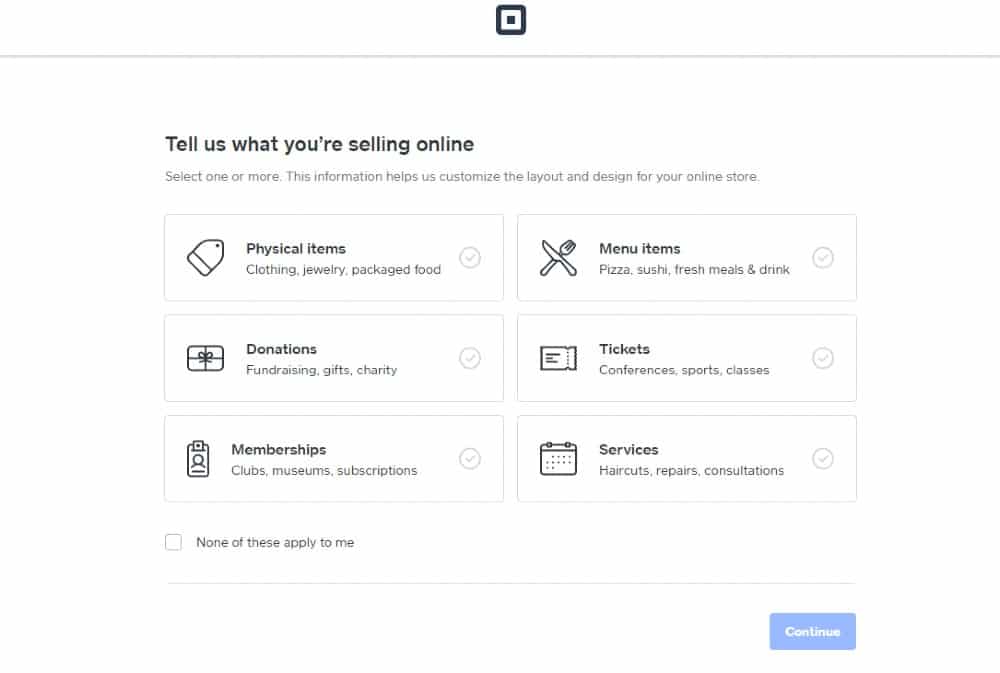 ---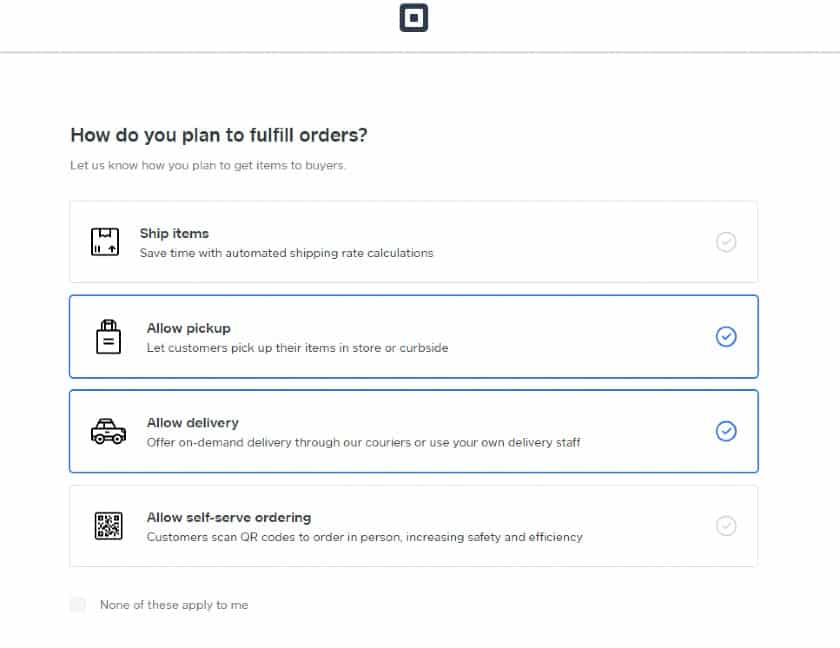 ---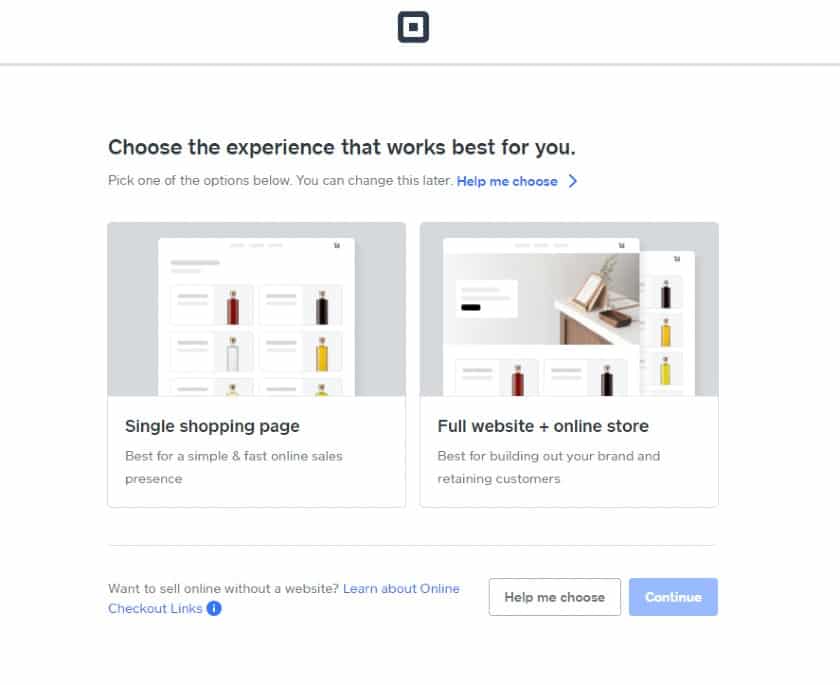 ---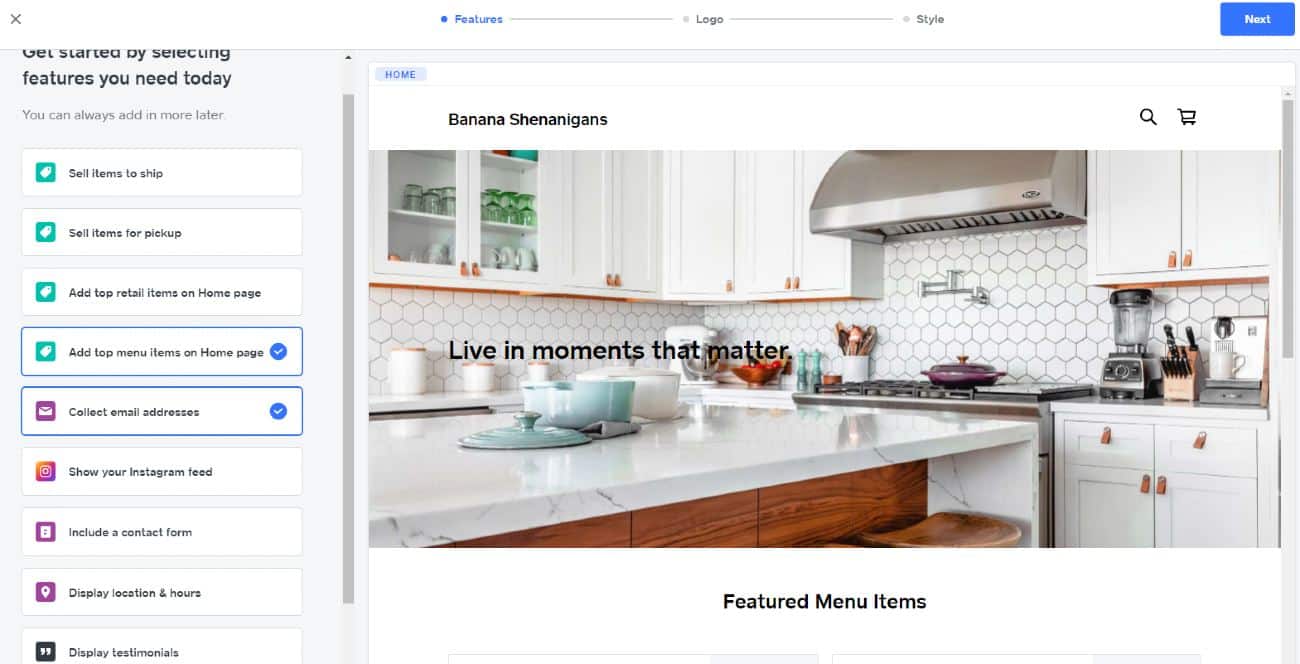 ---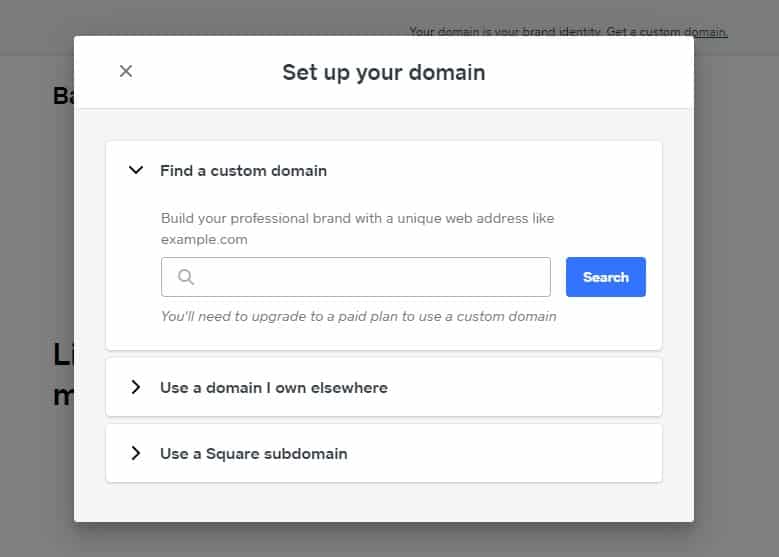 ---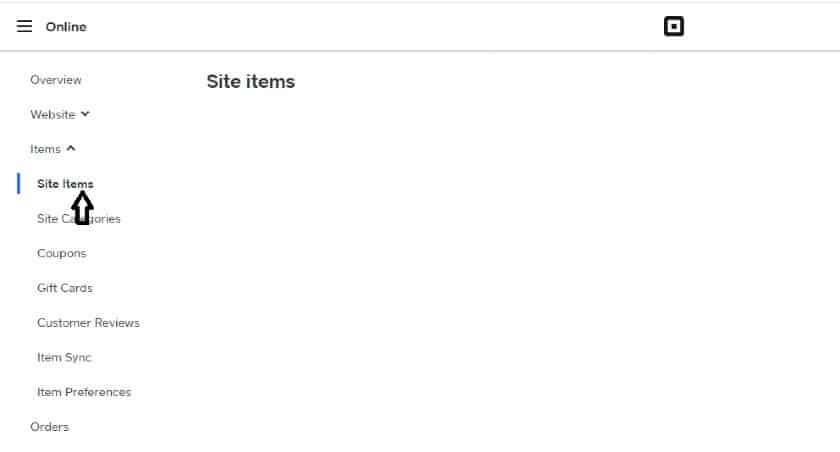 ---

---
Square supports two options for delivery: on-demand third-party delivery or in-house delivery. For on-demand third-party delivery, Square integrates directly with DoorDash, UberEats, and Postmates. Square charges $1.50 per third-party delivery, and the platforms charge their own rates separately.
DoorDash

Uber Eats/Postmates

On-Demand Driver Fees

All states except California: $6.99 fixed fee for up to 5-mile radius (DoorDash does not support deliveries outside of a 5-mile range)

 

California only: $8.99 fixed fee for up to a 5-mile radius

All states except California: $4.50 + $0.95/km rate fee (Uber Eats/Postmates measures in km)

 

California only: $7.20 + $0.75/km rate fee
Square also has tools for map-based driver dispatch if you want to manage a team of in-house drivers. The driver management tools cost 50 cents per order—which is nice because you only pay for what you use. If you upgrade to the Square for Restaurants POS, you can integrate with multiple third-party delivery platforms as well and receive all of your online orders on one central tablet. The baseline POS is free and has no long-term contracts, so it's a good fit for ghost kitchens. Learn more from our Square for Restaurants review.
9. Consider Additional Software
Any third-party delivery platform you work with provides you with a tablet to receive orders. In some cases, you can also receive orders via your merchant portal on mobile devices you already own. Keep in mind, though, you'll get a tablet for each platform you work with. So, if you work with three different platforms, you'll have three separate merchant portals and potentially three different tablets.
Operating with multiple tablets for several delivery apps has earned an industry nickname, "tablet hell." Beyond cluttering your prep areas, "tablet hell" has other drawbacks. These platform-provided tablets don't contain other software to support your business, log employee hours, keep track of your inventory, or collect customer data. To streamline your ghost kitchen operation and prepare it for growth, adding a point-of-sale (POS) system is a good idea.
In addition to a POS, your ghost kitchen may also benefit from:
If you have multiple prep areas and pick-up areas in your kitchen, setting up individual printers helps you keep orders organized. You can program printers to print hot and cold items at separate stations and set up a receipt printer to print sticky labels with delivery information to enclose bags.
---
Busy kitchens may prefer KDS screens in place of kitchen printers. These screens can separate orders by prep area and have the added benefit of color-coding orders as they are completed. This helps keep everyone on the same page. Using a KDS also gives you searchable data points to gauge the efficiency of your kitchen operation so that you can quickly identify opportunities for improvement. Finally, they can help integrate and plan food cooking periods so your kitchen operates more efficiently during a business rush.
---
Your ultimate goal will be to get at least a portion of your business from direct customer orders; An online ordering system may be built into or integrated with your POS system, or you can use one of several good free-standing online ordering options. We list several great options in our ranking of restaurant online ordering software.
---
---
Besides the significant downside of paying high commission fees, working with third-party delivery apps means you won't get any of that customer data. For a ghost kitchen, customer data is precious. It shows you where your most frequent customers are located, how far your food is traveling, and if repeat customers order the same things or respond to specials and promotions. Like delivery management software, CRM tools may not be something you need right away, but you will want to add them as your business grows. Most restaurant POS systems have CRM tools.
---
Between relying on third-party platforms and evolving to operate an in-house order and delivery operation, you might need some stepping stones. For example, Tablevibe is an app that allows you to add QR codes to your delivery receipts. Customers scan the code and are prompted to provide feedback to you directly. This provides you with customer data alongside customer feedback, which you can use to communicate specials or direct ordering instructions.
---
10. Source Suppliers
Ghost kitchens operate with tight margins and a high volume of sales. You'll need to open accounts with wholesale distributors to keep your kitchen supplied with food, beverages, and takeout containers. Because storage space can be limited in a ghost kitchen, look for suppliers that deliver to your location multiple times per week so that you don't overtax your refrigerators and freezers.
Your suppliers are an important part of controlling cost, and the decision between cost of goods and quality may be the most important decision you make. Finding reputable suppliers that offer competitive pricing without sacrificing food safety and quality is one of the most important aspects of the ghost kitchen business.
In addition to your menu ingredients, you need to think about how you will package each food for travel. Will individual burgers be packaged differently than combo meals? Do you have a plan for keeping French fries crisp and soup hot? The slideshow below can give you some inspiration. With consumer sentiment leaning toward eco-friendly options and 74% of consumers stating they would pay more for sustainable packaging, that is our focus for this slideshow.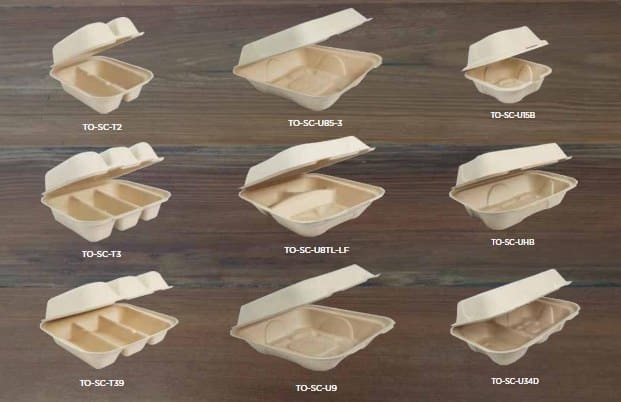 ---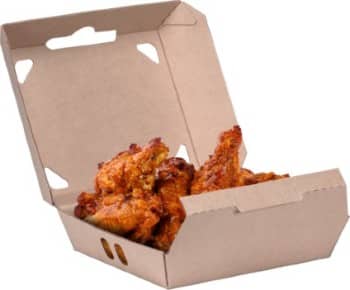 ---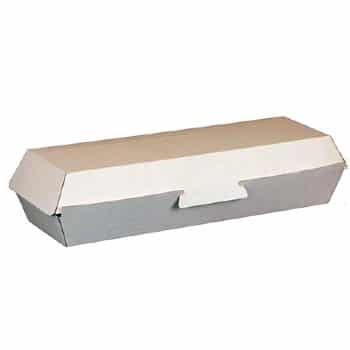 ---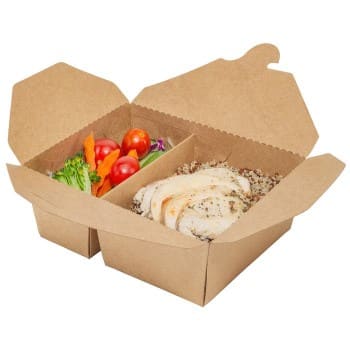 ---

---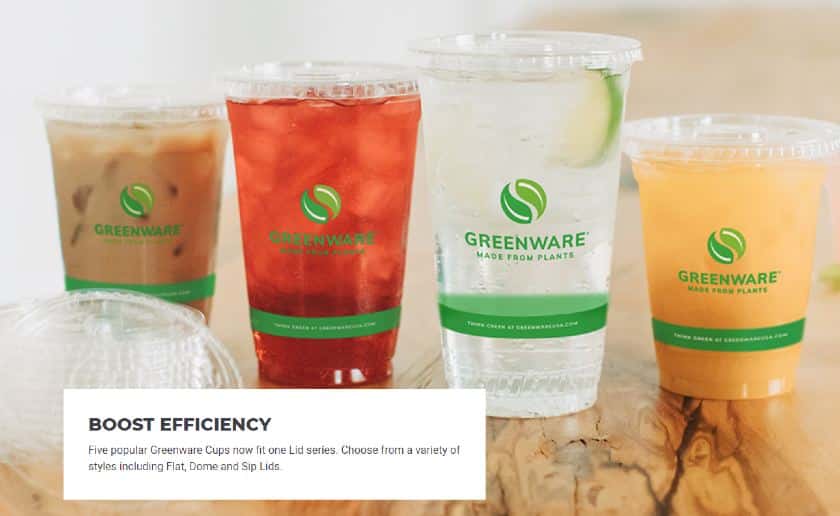 ---

---
11. Hire & Train Staff
Your ghost kitchen needs at least a few staff members to keep up with order flow during busy times. Ghost kitchens tend to have primarily kitchen staff, though you may choose to self-deliver your food, in which case you'll also need delivery drivers. Depending on your culinary ability, you may also need to hire a chef to develop your recipes. While chef consultants can be pricey, they offer insight into flavors and trends that can benefit your business in the long term. According to CloudKitchens, most ghost kitchens employ a staff of two to four employees.
Staffing shortages in the restaurant industry are well-known, but hiring restaurant staff is not impossible. You can increase your odds of finding a good ghost kitchen staff by
Writing a detailed job description:
You'll get more relevant applications if your job posting lists the skills you need and the experience you are looking for.
Offering competitive compensation:
Check local job listings and see what similar jobs pay in your area. If you can, offer a higher hourly rate and list it in your job posting.
Posting the job on industry-specific sites:
General job sites like Indeed are great for reaching a high number of applicants. But if you need a specialized employee with food and beverage experience, consider restaurant-specific job sites like Culinary Agents and Poached.
You'll need to train your team to cook your menu items and package them for delivery. The amount of training your staff requires will depend on the size and complexity of your menu and your employees' experience level.
If you have a couple of experienced line cooks who are familiar with your style of food, training may take only a couple of days. On the other hand, if your team has little kitchen experience, you should allow at least a week. For a less experienced team, it may help if you start with ServSafe's food handlers' training so that everyone is on the same page regarding food safety.
12. Market Your Ghost Kitchen
Third-party delivery platforms offer multiple marketing tools that can boost your kitchen's visibility on their sites. Take care to read the fine print of these marketing deals, though. Preferential marketing placement that lists your kitchen above others serving similar foods often incurs a higher commission rate. These marketing tiers are an excellent way to reach new customers, but make sure that the rates and contract length make sense for your business.
You can also market your ghost kitchen on social media sites. Instagram and Facebook get the attention of a ton of foodies and are home to a massive number of food influencers. At an absolute minimum, your brand should have accounts on both Facebook and Instagram. You can purchase ads on either site, set maximum ad budgets, and target users with a specific interest in your type of cuisine in your city. To drive sales, you can include direct links to your online ordering site on your accounts and even on individual posts. It may even be worthwhile to offer a free meal to local food Instagrammers to boost your ghost kitchen's visibility.
One great way to market ghost kitchens is through influencer marketing. One only has to look at the successful ghost kitchen brand MrBeast Burger—run by the popular YouTuber MrBeast—and the $100 million dollars in revenue the brand has hit since December 2020 to see just how effective this can be. Influencers work within an online brand, so getting them in a local space to showcase your product to their audience is a great way to tap into a niche and loyal customer base.
13. Go Live!
With your menu, branding, and staff in place, you're ready to start receiving orders! Don't be discouraged if your first days or weeks are on the slow side. It may take a couple of weeks before you see some sales volume. In your downtime, design some social media ads and interact with local food influencers on Instagram to help drive future orders.
As your orders start to come in, keep an eye on what is selling and solicit customer feedback. One of the most appealing aspects of a ghost kitchen is its flexibility. You can shift your menu or pivot your operation quickly if something isn't working. Be flexible, and be ready to add new concepts to your kitchen as consumer tastes change or you get a fresh menu idea. You've already done the hard work, so adding your next concept will be a piece of cake.
Pros & Cons of Operating a Ghost Kitchen
The ghost kitchen concept has been developing since the early 2010s, but consumer demand for food delivery in 2020 amid the COVID-19 pandemic led to an explosion in ghost kitchens. Is now the time for you to launch your own ghost kitchen?
There are definitely pros and cons, so here's what you should consider:
PROS

CONS

Lower operating costs: The lack of a dining room and other customer-facing spaces make operating a ghost kitchen much less expensive than running a restaurant. Since you only need a space to prepare safe and delicious food, you can take advantage of lower-priced kitchen spaces or even shared food production spaces to cut costs.
Underdeveloped customer relationships: Keeping your customer interactions online creates distance between your brand and its customer base. Thoughtful marketing and customer service can mitigate this some, but gaining faithful, returning customers can be a challenge.
Smaller staff: Ghost kitchens don't need large kitchen crews.The lone chef breaking out on their own may only need one or two people to help execute prep and service through peak times. This means lower labor costs, less people management, and a more streamlined business operation.
High delivery costs: Delivery software providers often charge a premium to deliver food. So while your operating costs may be lower than a traditional restaurant, you have the added expense of delivery fees (which can be as high as 30%). Managing the relatively high cost of delivery is essential to running a profitable ghost kitchen.
Manageable menu and products: The beauty of an online kitchen is that dishes can be removed, edited, or completely changed at any time. So you have full flexibility when you want to offer new items, change flavor combinations, or use lower-priced ingredients to cut costs. Your customers will never know; it is all done online before they order their food.
Limited food offerings: It should be no surprise that some dishes do not travel well. You will not be serving bananas foster in a styrofoam container. The 30- to 60-minute delivery window can negatively impact many dishes. This can influence what foods you can add to your menu.
Ghost Kitchen Frequently Asked Questions (FAQs)
In 48 states, it is illegal to operate a restaurant of any kind from your home. Even in Utah and California, where micro-enterprise home kitchen operations (MEHKOs) are legal, local ordinances typically prohibit home restaurants from using third-party delivery drivers. Though, if you live in a county that allows MEHKOs, there is usually nothing prohibiting you from delivering food from a home-based restaurant yourself or offering the food for takeout. Currently, no other states support a legal way for cooks to operate home-based restaurants, though several states currently have bills under review.
---
Ghost kitchens don't have to operate on third-party platforms, though most do. Some ghost kitchens operate independently, relying on social media advertising to drive customers to their independent online ordering site. This can be a time-intensive strategy, so most ghost kitchens at least get their start on third-party platforms and then build independent online ordering and delivery pipelines later. iEight Sushi is an example of a ghost kitchen that went the opposite direction—it started with independent order and delivery streams but now offers delivery through Grubhub.
---
If you currently own a restaurant, you may be receiving phone calls and emails and seeing Facebook ads from companies offering you a "turn-key" virtual brand to run from your existing restaurant kitchen. The virtual franchise business model is completely legitimate and can be an attractive secondary revenue stream for your restaurant.
Brands like Future Foods, Nextbite, Virtual Dining Concepts, and The Local Culinary develop virtual restaurant concepts—sometimes partnering with influencers or public figures—to pitch to existing restaurants as add-on businesses. The virtual restaurant brand provides recipes, training, and branded packaging to franchisee kitchens, enabling concepts like Mario's Tortas Lopez, and HotBox by Wiz Khalifa to serve throughout the country. If you have the staff and the space, a virtual franchise can be a low-risk way to test the ghost kitchen concept.
---
Bottom Line
Ghost kitchens are an accessible and easy way to enter the food industry as an operator. These virtual restaurants only require a small staff, about half the permits, and 10% of the capital required for a traditional brick-and-mortar restaurant. They allow for creativity and the ability to reach a wide customer base. With proper planning and knowledge of what is needed to execute one, ghost kitchens can be a lucrative and rewarding way to sell food to consumers in 2023.