15 Best One-page Website Examples for Site Design Inspiration
It's easier for your audience to navigate a single page (especially on mobile), making it a more effective way to promote your brand and drive conversions. Particularly when given a singular call to action (CTA), less is often more when it comes to web design. Get inspiration for your website from these one-page website examples and find out what you need to recreate your favorite designs.
Once you've been inspired by these one-page website examples, head over to Wix. Wix has more than 800 templates to choose from, including one-page site templates, and a vast app library to add additional features and functionality you want for your site. All that, and a true drag-and-drop editing interface means you could easily have your site up today.
Get inspired to build a professional website for your small business with these 15 great one-page website examples:
1. Architecture Firm: CL&PP Architectes
Content management system (CMS): Strikingly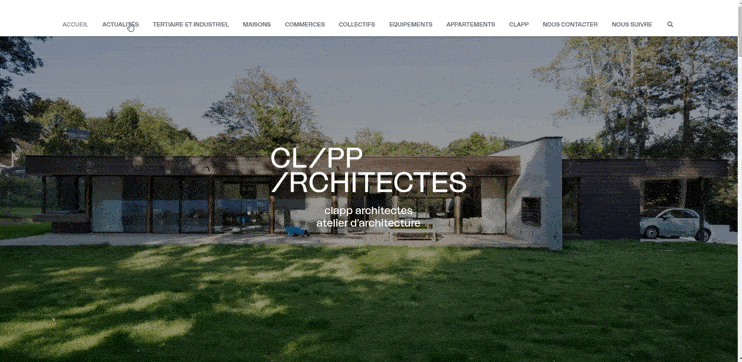 The first of our one-page website examples is the architecture firm CL&PP, which effectively showcases its properties and services without overloading visitors with information. Follow this example and use navigation buttons and a search bar to help your audience find what they need without having to scroll the entire page.
To easily build something similar, try Strikingly's site builder, which is known for its mobile-first (single-page) templates.
2. Design Studio: Always Creative
CMS: WordPress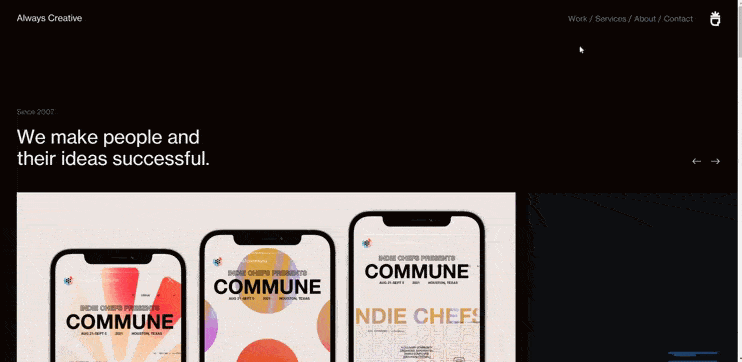 Always Creative is a one-page website that shows that you can have a ton of media-heavy content while still building something sleek and simple. To present its portfolio effectively, it uses a slider on the landing page, making its works the forefront of the entire site.
As far as one-page website examples go, this is a perfect choice for a portfolio for an artist or a photographer, but unfortunately, it was built using a custom WordPress theme. For something similar, try the "I Am One" WordPress theme, a popular one-page template that uses parallax for a more dynamic look.
3. Salon: All-N-1 House of Beauty
CMS: WordPress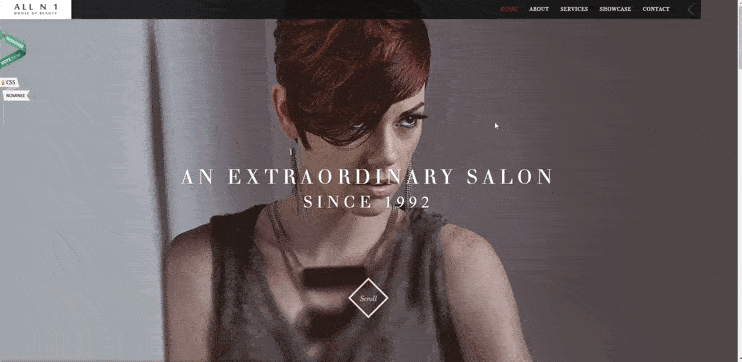 Like Always Creative, All-N-1 House of Beauty uses a custom WordPress theme to create a one-page WordPress website that's easy to navigate. On the landing page is a "Scroll" button, so that visitors know to scroll to reach the information they want. Site visitors can click on the button to scroll or click on the buttons in the menu bar above. A similar look can be achieved with the "Sydney" theme.
In case you want to build your service-based business outside of WordPress, try GoDaddy's site builder. First-year pricing is as low as $9.99 per month, and even at the base tier, you get a reliable, built-in booking system for your clients.
4. Restaurant: The Bancroft
CMS: WordPress, WooCommerce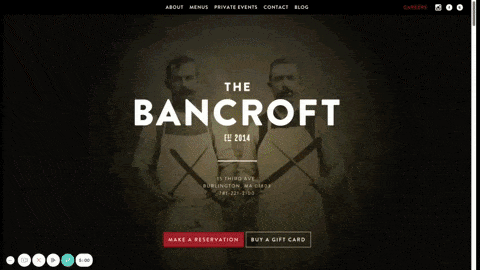 The Bancroft's one-page website example illustrates how a restaurant with multiple menus can seamlessly use a single page, rather than multiple pages, to display its array of offerings. It achieves this by including links on its single page so that readers can view other menus within the same page. Also, like Always Creative and All-N-1, notice how it uses a slider gallery to include more images without the site appearing crowded.
The Bancroft is created using WordPress with the WooCommerce plugin for ecommerce. Learn how to set up a WooCommerce store and start selling on WordPress today.
5. Ecommerce: Rest
CMS: Shopify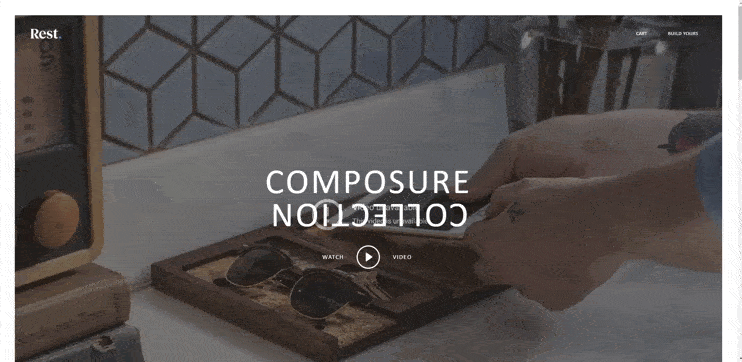 Rest's Shopify store shows an example of how one-page websites are perfect for a single product or collection. By using the landing page to sell a collection, Rest can include as much information as possible while using a singular call to action (CTA) to entice viewers to buy the product.
As a bonus, it also uses a video as the banner, which tells Rest's audience more about the product without visually clogging up the page. Learn how to set up a Shopify store in just a few simple steps.
To get your Shopify store off the ground without the hassle of learning to design on the platform, get in touch with a Shopify store designer through Fiverr. It's a freelance platform where you can hire a variety of experts for as low as $5.
6. Startup: Cook Collective
CMS: WordPress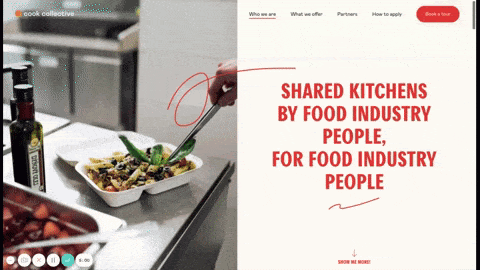 Cook Collective is a startup that offers shared commercial kitchen spaces. The very clean, yet informative one-page website shows the information in a very organized way. The page starts with what Cook Collective is all about, ending with a contact form for interested site visitors to get more information or request to book a tour. It also includes a call-to-action button in the top navigation, which directs readers to the contact form at the bottom of the page.
WordPress isn't your only choice when it comes to building beautiful one-page websites. See the best WordPress alternatives and build your site without any hassle.
7. Interior Design: Home Societe
CMS: WordPress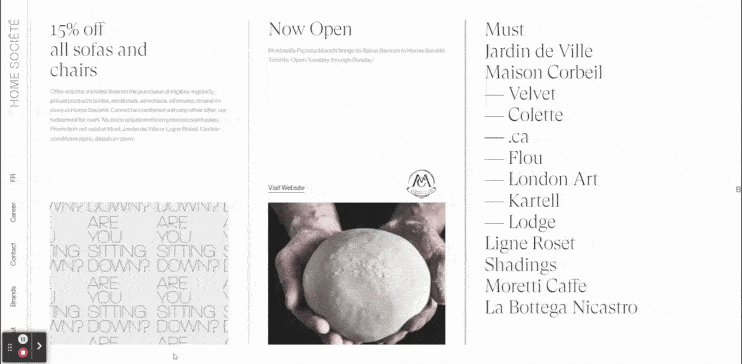 Home Societe is a very unique one-page website example in that it not only has an editorial feel, but it scrolls horizontally rather than vertically. In line with its horizontal scroll, it incorporates a left-hand vertical menu, making the single-page site read left to right like a book. It also utilizes a great deal of on-page animations, making the otherwise minimalistic site eye-catching and attention-grabbing.
To build an ultra-sleek and modern site similar to this outside of WordPress, try Squarespace—a leading all-in-one hosting and site builder with award-winning template designs. Take advantage of its 14-day free trial period (no credit card required) to check out a variety of premade one-page templates. Explore the editing interface and see whether it's a good fit for the site you want to build.
8. Portfolio: Dave Gamache
CMS: GitHub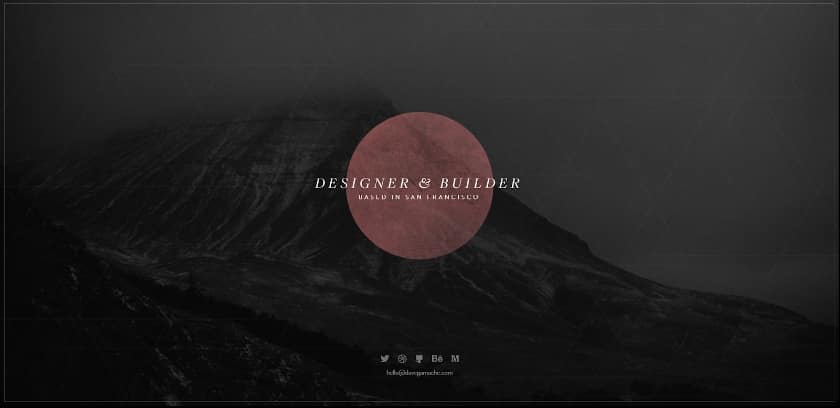 No list of one-page website examples would be complete without a static, striking single-page site. Dave Gamache, a designer based in San Francisco, has a very basic landing page with links to his portfolio, social media profiles, and email down below.
For a site like this, you need high-quality visuals and elements—otherwise your site could be a strikeout instead of striking. If you don't have many images in your arsenal, we recommend Envato Market. You can purchase individual photos, videos, or graphics to amp up the volume of your website. Or for ongoing graphic needs for your site, social media, and email marketing, an Envato Elements subscription gives you unlimited downloads at a low monthly price.
9. App: Ginventory
CMS: Webflow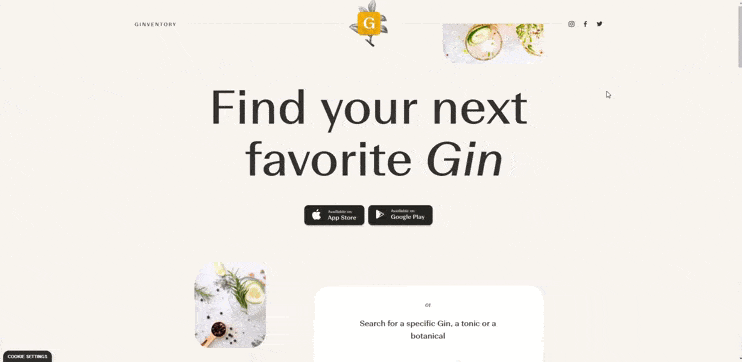 Ginventory offers a unique one-page website example that utilizes parallax scrolling. Parallax is when elements in the foreground and background move at different speeds, resulting in more visual depth and giving the page a more interactive feel. To make it easier for site visitors to take action, Ginventory includes the same CTA (to download the app through the app store) at both the top and bottom of the page.
10. Cleaning Services: Upstate Laundromat
CMS: Squarespace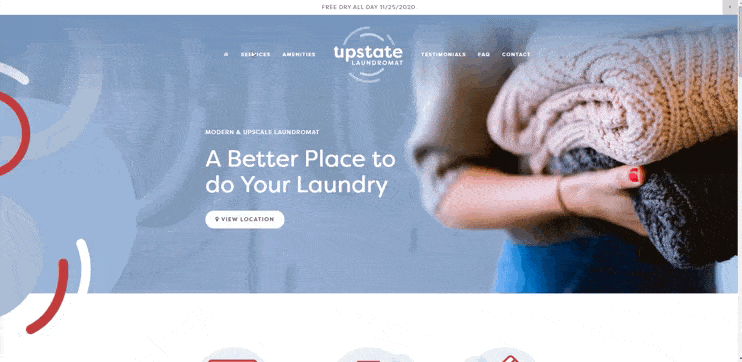 Upstate Laundromat easily lets you see where you can do your laundry by providing a call-to-action button on the banner. This banner instantly directs you to the map down below. The rest of the one-page website is extremely clean. It tells the reader the services they can expect from the company, and even adds some FAQs and customer testimonials to make everything more legitimate.
Build a similar website with Squarespace using the "Pacific" template.
11. Fitness & Nutrition: Smart Diet
CMS: Wix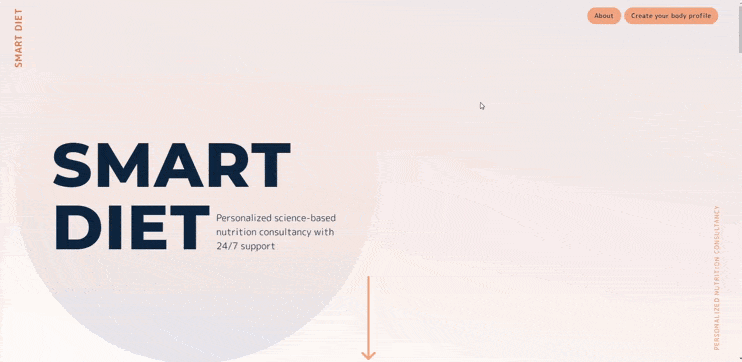 Smart Diet, a nutrition consultancy built on Wix, is one of the best drag-and-drop site builders around. This one-page website example uses subtle animations to make the site more interactive.
It also has a scrolling call to action (notice the "Create your body profile" button at the top right corner), compelling the visitor to take action. Featuring CTAs throughout your webpage so site visitors don't have to scroll up or down when they want to take action is an effective way to increase leads and conversions.
12. Event: You Gotta Love Frontend
CMS: Wix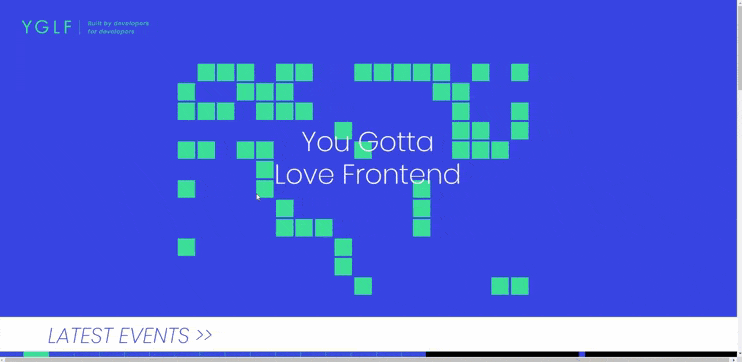 You Gotta Love Frontend, a nonprofit event for developers, is a very interesting and engaging one-page website example. What makes Frontend unique is that they keep all the relevant information (what the event is about, schedules, and contact information) on one page, but then use subdomains to house information about past events.
Creating separate pages or even subdomains for other related events or products can help keep you from overloading your site without losing information site visitors may find relevant.
Frontend's site was built using the all-in-one hosting and site builder on Wix. Read our full Wix review to learn more, or get started with a free Wix website today.
13. Nonprofit: Family Meal
CMS: Webflow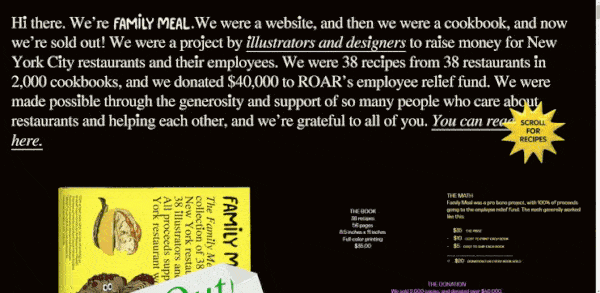 Family Meal is a nonprofit selling illustrated cookbooks to help New York restaurants and their workers. The one-page website is an eclectic mix of fonts, illustrations, and a storefront, showing the cookbooks you can download. All the colors and illustrations can be overwhelming, but Family Meal keeps it easy to read by using extra-large fonts and lessening the text.
In case you want custom fonts and illustrations like this on your website, you can find illustrators on Fiverr for as little as $5.
14. Real Estate: Mullen & Partners
CMS: GoDaddy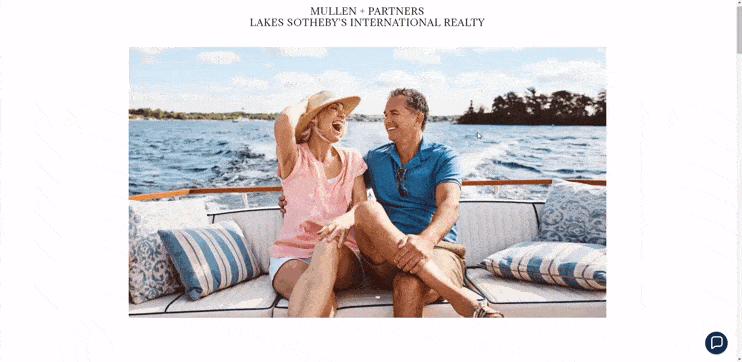 Mullen & Partners' real estate portfolio is displayed on a very simple one-page site. To display everything efficiently, the website makes use of expanders to expand and contract blocks of text. Note that they also include a live chat feature. These elements add a lot to your audience's experience, without adding a lot of visual noise to the webpage.
Mullen & Partners' site is built on GoDaddy—one of the best real estate site builders available. GoDaddy's easy-to-use website builder even offers a forever-free plan, so you can test it out for your agency today with no risk.
15. Consulting: FourFold Consulting
CMS: Squarespace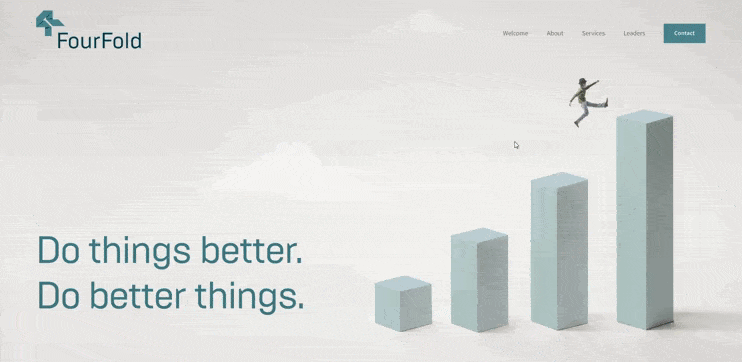 Last year Squarespace introduced it's new 7.1 editor and did away with the limitations that basically required you to pick a template and stick with it.  FourFold Consulting was built on Squarespace 7.1, so while it looks great as-is, the template can also be changed at any time. By building your site with any of the templates provided on Squarespace, you can achieve a look just like this consulting firm.
Similar to the one-page website example above, FourFold uses expanders to keep its content short. Its single page is exceptionally clean, but to help readers out, it has an easy navigation menu plus a button that immediately brings you back to the top. This button is very helpful, especially if you have a long scrolling website.
Frequently Asked Questions (FAQs)
When should I use a one-page website?
One-page websites are great for businesses targeting a single, specific audience. They're becoming increasingly popular, especially for events, portfolios, product pages, and service-based businesses. The best way to build one is to start with the best drag-and-drop website builders, find a one-page or landing page template, and customize it to fit your needs.
What should I include in my one-page website?
The main thing when building a one-page website is to clearly convey what your business is about. Provide a menu of services or products. Add contact information, social profiles, and other useful tools for your audience (e.g., a booking form, web forms for lead generation, downloadable content, or a live chat feature). One-page websites work best when there's a singular goal, so create a focused call to action and place it strategically within the page.
How do I design my own website?
Designing your own website is super easy, thanks to all-in-one site builders like Squarespace, Wix, and GoDaddy. These site builders are made for beginners to be able to create professional-looking websites without any prior experience or coding.
With that said, sometimes it pays to have a professional design your website—especially if you want a unique design or specific features. In that case, hire a professional through Fiverr. While prices start as low as $5, you may plan to spend up to a few hundred or even a couple thousand dollars to get exactly what you want in terms of design quality and site functionality.
Bottom Line
A single page is a great way to create a business website, especially if you have a specific audience to target or don't have many offerings. No matter what your industry is, these one-page website examples show they can work for many different types of businesses. You can build a one-page site on a variety of platforms, but we highly recommend trying Squarespace for its award-winning templates.
You Might Also Like…