Less is more when it comes to design—web design included. As compelling as it is to load your site with lots of content across multiple web pages, the reality is that the fewer pages your site has, the more enticing it may actually be to your audience. In other words, that one-page website might more effectively tell your story, promote your brand, and drive conversions.
As simple as one-page websites may appear, that doesn't mean that it will be simple to build. In some cases, it can be more difficult. After all, a one-page site strategically boils down a sales message and packages it very neatly into one web page, which is no easy feat. To help inform your web design, let's look at one-page website examples to get ideas of how you can strategically design your site so that it looks good and serves as a marketing tool.
Here are the 15 best one-page website examples:
1. Zambo Tulum
Industry: Real estate development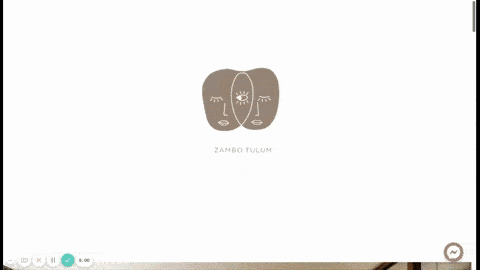 Zambo Tulum is a good example of a one-page real estate website that effectively showcases a property with a good deal of detail with a single web page. In this case, it serves as a teaser page to promote its new development in order to attract potential buyers. And rather than including all possible information about the property, it provides just enough to gain readers' interest and in return, generating contact form submissions, opening the door for sales.
2. Daniel Schuh Originals
Industry: Ecommerce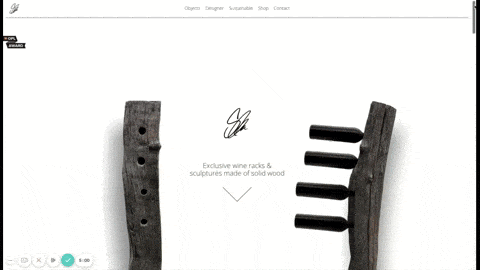 Daniel Schuh Originals is a one-page website example illustrating how a local artisan can create a single-page site to sell online by promoting its high-quality, limited pieces. What's nice about this example is that the aesthetic of the site is consistent with the brand. In other words, the simplicity of the site helps highlight the simplistic elegance of the natural products it's selling.
3. Quarters Co-Living
Industry: Real estate (rentals)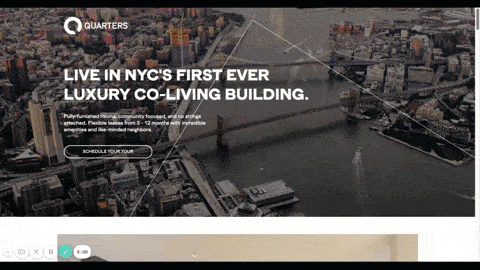 Quarters Co-Living provides an interesting example of how a business can use a one-page website—even if they have multiple one-page websites. In this case, the website manages to eliminate the noise of other locations by focusing on a single location, with additional links to other residences in the footer of the single page.
4. The Bancroft
Industry: Food service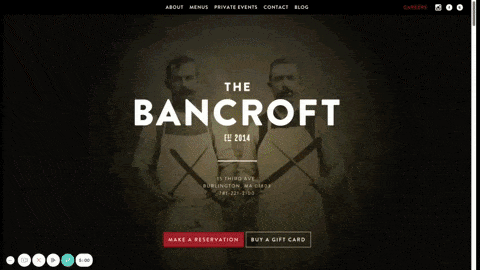 The Bancroft one-page website illustrates how a restaurant with multiple menus can seamlessly use a single page, rather than multiple pages, to display its array of offerings. It achieves this by including links on its single page so that readers can view other menus within the same page. Also, notice how it uses a slider gallery to include more images without the site appearing crowded.
5. Sawdust Art Festival
Industry: Event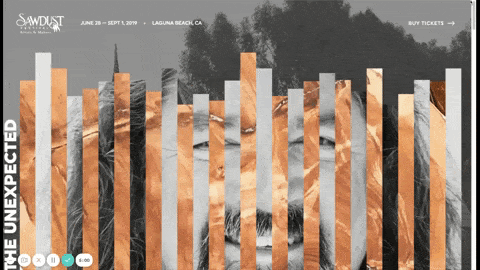 The Sawdust Festival uses a single-page website with scroll effects to provide readers with an informational and engaging user experience. It's a really efficient way to create an events website, as it provides everything a potential attendee needs from general event information (e.g., dates and location) to speakers and tickets.
6. Cook Collective
Industry: Startup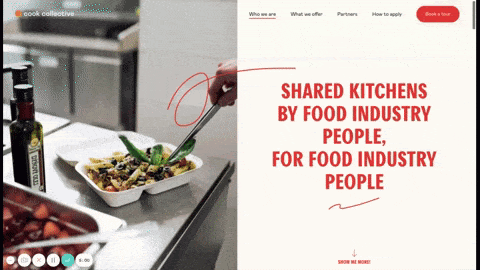 Cook Collective is an interesting startup that offers shared commercial kitchen spaces to local chefs and food service providers. It utilizes a very clean, yet informative one-page website that ends the page with a contact form for interested site visitors to get more information or request to book the space. It also includes two call-to-action buttons in the top navigation, both of which direct readers to the contact form at the bottom of the page.
7. Home Societe
Industry: Professional services (design)

Home Societe is a very unique one-page website example in that it not only has an editorial feel, but it scrolls horizontally rather than vertically. In-line with its horizontal scroll, it incorporates a left-hand vertical menu, making the single-page site read left to right like a book. It also utilizes a great deal of on-page animations, making the otherwise minimalistic site eye-catching and attention-grabbing.
8. Swwim
Industry: Professional services (B2B)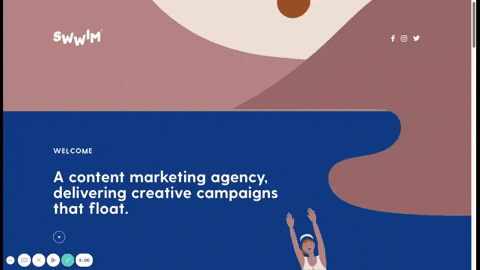 Swwim is a content marketing agency that leverages its website to exhibit its creativity and playfulness. Its use of custom, animated graphics helps the one-page website come to life with a good deal of personality, on-brand with the business. At the bottom of the page, it provides a link to get started with the agency, as well as links to its social media accounts for an added layer of social proof.
Looking to use custom graphics and illustrations like this, but don't have the skills in-house? Check out Creative Market for graphics or get custom ones made for as little as $5 with Fiverr.
9. HYPNAX
Industry: Ecommerce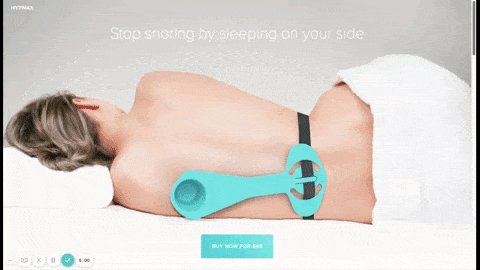 HYPNAX, a company that sells one simple sleeping device designed to help prevent snoring, uses a one-page website to showcase its product. It includes a call to action (CTA) in the upper right-hand corner, where CTAs are notoriously found, creating a familiar user experience. What's unique about its CTA is that it's incredibly streamlined with an easy, one-click, add-to-cart function that eliminates friction, enabling visitors to quickly make a purchase.
10. Sip
Industry: App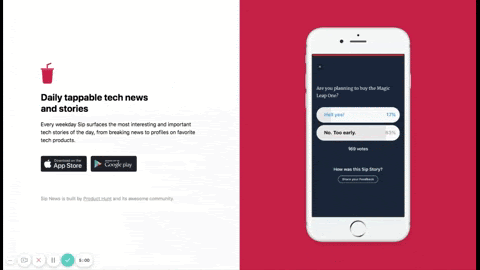 No list of one-page website examples would be complete without a static single-page site—or a mobile app website. Sip, like many apps, chose to utilize a simple one-page website to promote its app and to provide visitors with only one option: to download it. This is a good strategy for businesses looking to market a single, simple product that is free and therefore doesn't require a great deal of sales to acquire new customers (or in this case, downloads).
11. Formation Stone
Industry: Building suppliers provider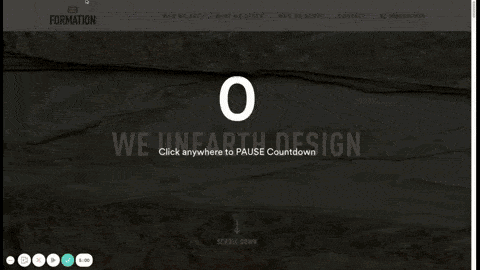 The Formation Stone single-page website is a good example of how a business can include a lot of information in a streamlined way. The site includes four sections: "Who We Are," "What We Offer," "Who We Serve," and "Contact." It also sprinkles product images throughout, providing visitors with more information about what the company offers.
12. Agigen Agency
Industry: Marketing agency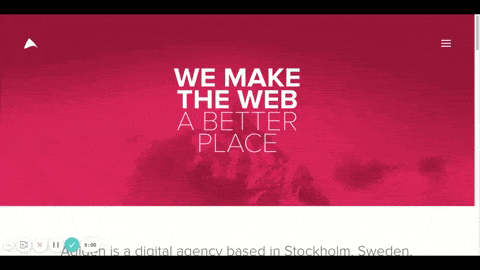 The Agigen Agency one-page website features a modern design with a hamburger menu—in lieu of a text-based menu—combined with a clean design with a bold message. By having such a minimal design, site visitors have little option but to read the compelling hook and scroll down the page for more information.
13. We Ain't Plastic
Industry: Design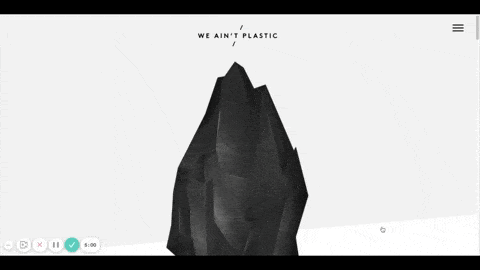 In this one-page website example, We Ain't Plastic is very simple with a single full-screen image, a brand name, and a hamburger menu. Additionally, the clean and modern color scheme is stark in its simplicity. As visitors scroll, they are given information about the business, what it offers, previous clients, and contact information to give users a way to start a conversation. This "story flow" works to draw in readers, turning them into leads.
14. Cafe Frida
Industry: Food service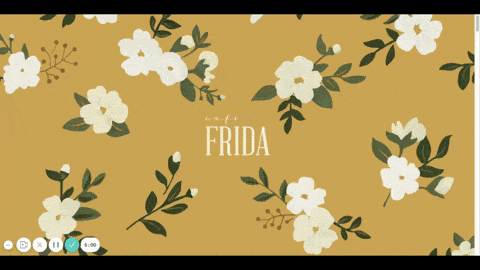 Cafe Frida takes a creative approach to its one-page website by incorporating numerous animations. This helps create an experience from the moment a visitor lands on their page, which likely reflects the fun and whimsical environment visitors to the cafe will have in-person. The site does not include a traditional navigation menu. Instead, upon scrolling, visitors can see a hamburger menu, which enables them to skip to certain sections of the single page site.
15. Ginventory
Industry: App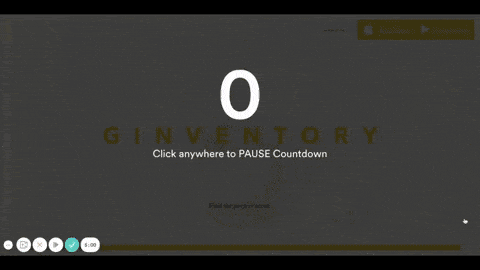 Ginventory has a unique one-page website where the single page does not scroll down, but changes overlays as a user scrolls. This gives the page a more interactive feel, allowing site visitors to control the on-screen walk-through of how its product, an app, functions. It includes buttons at the top that give visitors a quick way of either contacting the business or downloading the app.
Want to know which theme any of these single-page websites are using? Find out with Gochyu, a free site that analyzes sites and lets you know which theme they are built with. You can also find other options to consider for your website by checking out our article on web design inspiration to help you compare which web layout will best suit your needs.
Bottom Line
Single-page sites like these can be a great tool for marketing products or services that don't require a lot of content or a great deal of context. In other words, one-page small business websites are ideal for businesses that have straightforward and easy-to-understand offerings.
If you're somewhat new to the world of web design, your best bet is to use a site builder, such as Squarespace or Wix. Either of these will enable you to easily design a professional website that reaches your goals and represents your business well. For more recommendations, check out the best website builders on the market.
You Might Also Like…