Best B2B CRM for Sales Teams: Our Top 7 Picks for 2023
This article is part of a larger series on CRM.
Business-to-business (B2B) organizations tend to have longer, complex sales cycles that involve more direct sales activities than business-to-consumer (B2C) companies. Because of the usual processes in selling to other businesses, sales teams need specific tools in their B2B customer relationship management (CRM) software for storing documents, automating workflows, and managing leads, deals, and accounts.
We've evaluated dozens of CRM systems organizations can use to organize data, communicate with prospects, and sell to other businesses. Based on our evaluations, the seven best B2B CRMs are:
Best B2B CRM Software Tools Compared
Our B2B CRM Rating

Starting Price*

Key B2B Features

Our Review

4.97/5

$0 to $14 per user/month

Highly custom deals, accounts, and lead management modules

4.76/5

$15 per user/month

(up to 3 users)

Free built-in telephone with call logging

4.67/5

$14.90 per user/month

Deal management with custom pipelines, rotten deals, and Smart Docs

4.59/5

Free to $45 per month (up to 2 users)

Email and digital ads campaign automation features

4.56/5

$27.50 per user/month

Special features for inventory, accounting, and account management

N/A

4.52/5

$0 to $29 per user/month

Built-in project management module

4.15/5

$23 per user/month

Integrations with all popular Google applications
*Based on annual billing; monthly billing is also available for slightly higher rates.
Take our quiz to find out which B2B CRM can help you manage and collaborate with your team.

Which B2B CRM is best for your sales team?
Did you know that in addition to being excellent B2B CRM systems, many of these products are also considered great small business CRMs? Check out our guide on the best CRMs for small businesses to learn which products made the list and their best-for circumstances.
Zoho CRM: Best Overall B2B CRM
What We Like
Affordable, scalable pricing options
Robust system customization and workflow automation capabilities
Includes modules for leads, deals, and accounts management
Offers Zia artificial intelligence (AI) tool for data enrichment, sales intelligence, and predictions
All-in-one sales, marketing, and customer support system
What's Missing
Free plan limited to three users
Quote, price books, purchase orders, and invoicing not available until Professional plan
Only native integrations are available for free; third-party integrations require paid plans
Zoho CRM Monthly Pricing (per User) at a Glance*
Free: Up to three users
Standard: $14
Professional: $23
Enterprise: $40
Ultimate: $52
Free trial: 15 days
Other Plans
Bigin: $7 for basic pipeline management
Zoho CRM Plus: $57 for added help desk, email and social media marketing, survey, and analytics functions
*Pricing based on annual billing; monthly billing is also available for a higher cost.
Zoho CRM stands out for its elaborate system customization, letting users tailor tabs, modules, data fields, views, and pipelines to meet any business' unique operational needs. The product is also highly versatile, as businesses can use it as a sales, marketing, and customer service management solution. Included are sales modules for lead, account, and deal management, document storage, artificial intelligence (AI) sales intelligence, and built-in gamification tools.
Case management features also allow users to track customer inquiries, auto-assign cases, and quickly resolve them. Zoho CRM even serves as a great CRM for B2B marketing—letting teams design automated mass email campaigns and store templates for future use. Zoho also does very well for its integrations, offering thousands of third-party and native options to add content, social media, finance, and projects management in the CRM.
In addition to all these robust features, Zoho earned a 4.97 out of 5 and our title for the best CRM for B2B organizations for a few other reasons. Zoho CRM pricing includes a free plan for up to three users, is cost-friendly, and has scalable paid options for teams looking to upgrade as their business grows. There's also tier-based customer support available through a self-service help desk, and phone, email, and chat channels.
Since our last update: Zoho has released a new feature for the Bigin plan called Team Pipelines. It allows you to consolidate all of your sales, marketing, and customer support activities into one pipeline to increase team collaboration and transparency. Learn more about the new feature.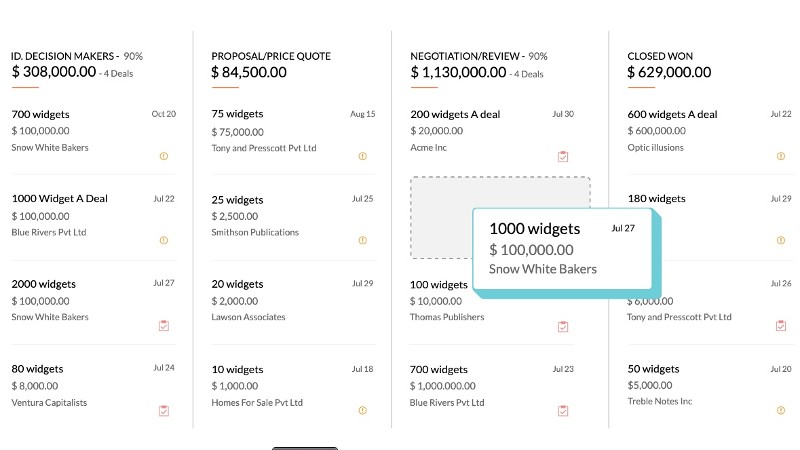 ---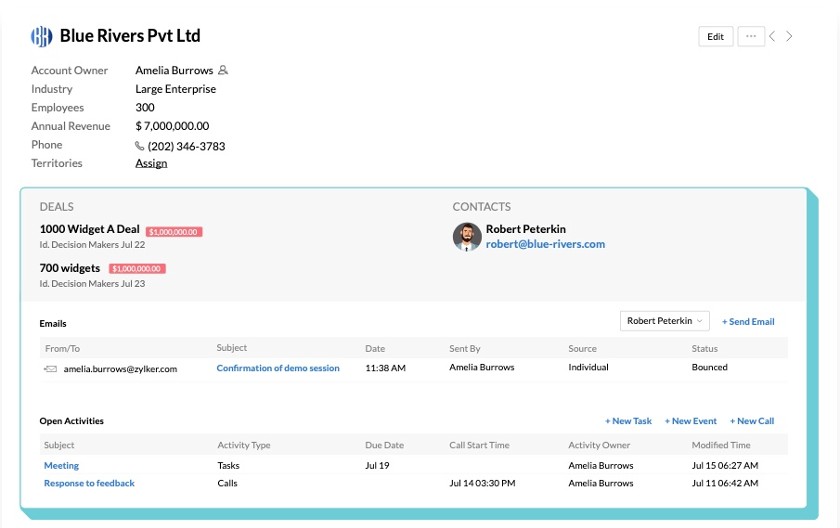 ---
An essential part of the B2B sales process involves creating and sending out quote proposals to leads deep in the pipeline and managing invoices and purchase orders for current accounts. Zoho, unfortunately, does not offer this capability until the Professional plan at $23 per user, per month. For businesses needing those capabilities at a lower price, we recommend Freshsales' free-forever plan, then purchasing the configure, price, quote add-on for $19 per user, monthly. For businesses needing those capabilities at a lower price, we recommend Freshsales' free-forever plan, then purchasing the configure, price, quote add-on for $19 per user, monthly.
Freshsales: Best for Telephonic Capabilities
What We Like
Growth plan allows for up to 3 users
CRM has built-in phone system with call recording and queue management
Includes Freddy AI feature for lead scoring, deduplication, and chatting with website leads
Pipeline management module includes rotten deal indicators
Contact and account management include lifecycle stages and activity timelines
What's Missing
Plans get expensive in Pro and Enterprise plans
Quote, invoice, contract, and onboarding features require paid add-on
Third-party integrations unavailable on the Free plan
Freshsales Monthly Pricing (per User) at a Glance*
Growth: $15 (free for up to 3 users)
Pro: $39
Enterprise: $69
Free trial: 21 days
Add-ons
Configure, Price, Quote: $19 for quote document templates, invoicing synced to deals, and document activity tracking
Additional bot sessions: $75 for 1,000 bot sessions per month for automated customer or lead support
*Pricing based on annual billing; monthly billing is also available for a higher cost.
Freshsales is a sales-specific CRM system created by Freshworks. Its excellent account management features let B2B businesses organize client contact data, track recent activity, schedule appointments, and manage account-specific tasks. Another great feature is the pipeline management module that lets users monitor visual sales pipelines, oversee deals, track quotas, and receive automatic updates if a deal is stuck in a stage.
While those features are helpful in B2B sales, user reviews and our evaluation indicate the built-in telephone system makes this CRM one of the best for B2B companies. Embedded in the CRM, sales teams can place and receive phone calls through a dialer or by clicking a button from a CRM record. Additionally, reps can transfer calls to other reps and record conversations to store in records.
Pro tip:
CRMs with telephone capabilities lets you place, receive, track, and manage calls from the same system and interface your contact data is stored—enabling better workflow centralization. To find the best CRM for your business with a phone system, check out our guide for the top call center CRM software.
Another thing we like about Freshsales is its robust customer service. All plans, including the free one, receive 24/5 support on email, chat, and phone channels. Users can also access self-service through online resources like a blog and product tours. Finally, Freshsales pricing is particularly appealing for new and growing businesses. The Growth Plan starts at $15 that supports 3 free users, and the paid plans scale nicely as your teams' feature needs expand.
One issue with Freshsales is the limitations on integrations. The free-forever plan does not give teams access to the Freshworks Marketplace, which is where users browse and enable third-party integrations. HubSpot CRM is the best alternative, with the HubSpot App Marketplace for third-party integrations available on the free-forever plan.
Pipedrive: Best for Managing Long-term Deals
What We Like
AI Sales Assistant tool to get insights on how to improve sales performance is available on Essential plan
Offers 24/7 live chat support
Smart Docs tool lets B2B easily insert data, then create and send quotes and contracts from the CRM
Deal management includes custom pipelines, deal rotting indicators, and activity history
Users can schedule meetings and video calls from the CRM
What's Missing
No free plan and relatively expensive paid plans
Contact timeline views aren't available until Professional plan
No phone support without Enterprise plan
Pipedrive Monthly Pricing (per User) at a Glance*
Essential: $14.90
Advanced: $24.90
Professional: $49.90
Enterprise: $99
Free trial: 14 days
*Pricing based on annual billing; monthly billing is also available for a higher cost.
Pipedrive is a sales CRM that gives teams great lead management capabilities. These include a record overview with contact data, activity history, communications tracking, and a leads inbox that pools all leads into one place for users to evaluate and address. Sales reps can schedule meetings and sync their email to send, receive, track, and schedule messages from the CRM—even letting users add file attachments to emails.
Overall, Pipedrive is the best CRM for B2B sales if you only need deal management features. Many B2B businesses struggle to organize, monitor, and complete long-term deals because of the complexity and the high number of stakeholders involved. With Pipedrive, teams can create custom sales processes to track pending deals, view all communication and activity history for those deals, and receive notifications if a deal becomes "rotten."
Finally, when it's time to send a business proposal or quote, the Smart Docs tool is available to help finalize the deal. This feature lets users add CRM data to stored file templates. Once completed, they can send it out, track the status, and easily receive e-signatures from the CRM without any plugin or integration requirements. Users can access an online help center, 24/7 live chat support, and phone support for Enterprise subscriptions for any issues with the features.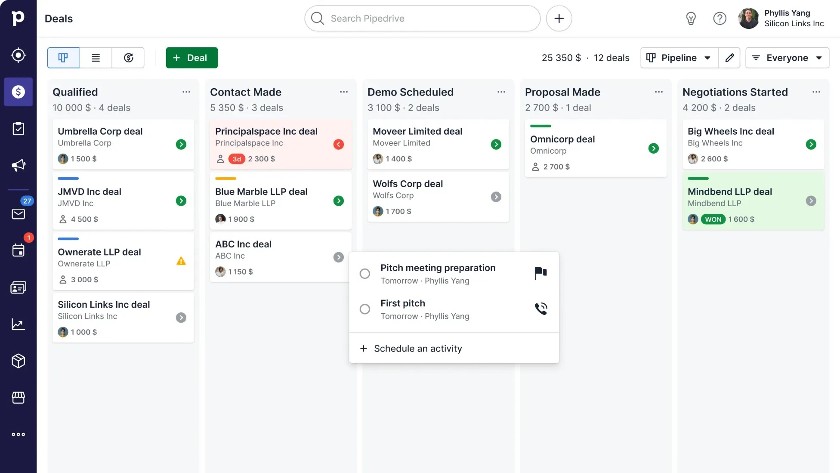 ---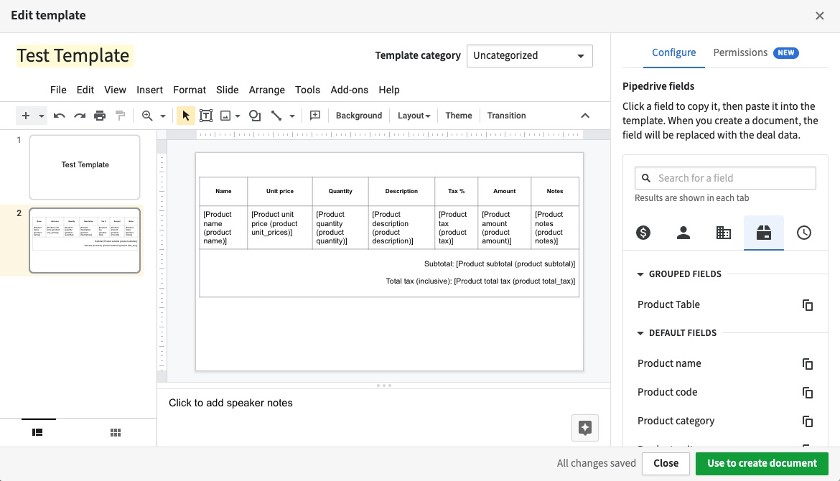 ---
The primary reason Pipedrive only receives a 4.67 out of 5 and not a higher score is the pricing category. Pipedrive does not offer a free plan and the higher-tiered paid plans, Professional and Enterprise, get expensive at $49.90 and $99 per user, per month, respectively. Zoho CRM and Freshsales are the best B2B CRM alternatives for pricing, each offering a free plan option and cost-friendly paid plans.
HubSpot CRM: Best for Managing Automated Marketing Campaigns
What We Like
Free plan for unlimited users
Comprehensive marketing features for managing ads, hosting content, and deploying mass email campaigns
Intuitive, easy-to-use interface
Platform includes quotes, eSignature, and payment processing features
What's Missing
Paid plans get expensive
Deal and company scoring not available until Professional plan
Bulk email on the free plan is limited to 2,000 sends per month
HubSpot CRM Monthly Pricing at a Glance*
Free: Unlimited users
Starter CRM Suite**: $45 for two users
Professional CRM Suite: $1,600 (up to five users)
Enterprise CRM Suite: $5,000 (up to 10 users)
Free trial: 14 days
*Pricing based on annual billing; monthly billing is also available for a higher cost.
**CRM Suite includes sales, marketing, customer service, content management system (CMS), and operations software. Individual modules can be purchased for lower monthly costs.
HubSpot offers a popular B2B CRM system that gives businesses purchase customization options depending on needs. Users can subscribe to individual modules, such as sales, marketing, customer service, the content management system (CMS), or operations. They can also select a combination of a few modules or package them together for the whole CRM suite. These capabilities make HubSpot a powerful tool for generating B2B leads, nurturing them, and converting them into customers.
The marketing features of HubSpot are what stand out the most. Teams can create digital ads on Google, LinkedIn, and Facebook, manage mass email campaigns, host blog content, publish social media posts, and design landing pages with web forms. There are also automation features for scheduling campaign deployment and content publishing for a future date. Plus, marketing automation tools allow ad and email campaigns to automatically target (or retarget) audiences based on their behaviors and preferences.
Our evaluation and user reviews also indicate that HubSpot has a high usability rating for operating the tools and navigating the interface. Additionally, the provider offers email and live chat customer support from 7 a.m. to 8 p.m. Eastern Time, plus additional support on phone channels for users on the Professional plan.
Deal and company scoring is a valuable CRM feature for B2B sales reps that helps them prioritize opportunities and tasks based on a quantitative score of each deal. Unfortunately, this HubSpot feature is unavailable until the Professional plan, starting at $450 per month if you only choose the Sales Hub, and $1,600 per month if you bundle all the Hubs. Zoho CRM has excellent lead scoring options available starting at $14 per user on a monthly basis.
Prospect CRM: Best for Wholesalers & Manufacturers
What We Like
Specialized, industry-specific CRM with features for managing B2B product sales
Unique upsell prompt tool that will alert users to upsell a product based on related purchases
Integrates with popular accounting and inventory management tools like Xero, Unleashed, QuickBooks, and DEAR
Includes sales, account management, supplies, logistics, and process management features in one system
What's Missing
No free plan and starting plans start our relatively expensive
Custom enterprise resource planning (ERP) integrations, something very essential to manufacturers, isn't available until Advanced
Customer support and onboarding consulting requires additional packages
Prospect CRM Monthly Pricing (per User) at a Glance*
Start-Up: $27.50 (up to four users)
Professional: $27.50 (4+ users)
Advanced: $55 (15+ users)
Free trial: 14 days
*Pricing based on annual billing
Prospect CRM is a solution for B2B product sales, such as wholesalers or manufacturers of office supplies, industrial equipment, physical marketing materials, or IT hardware. Its specialization stems from built-in modules and capable integrations with third-party inventory management tools, enterprise resource planning (ERP) software, and accounting and payroll systems.
The B2B sales software comes equipped with sales tools, including contact data management, telesales functionality, pipeline management, the ability to send quotes or contracts, and process orders. Teams can also manage customer service and account management functions with modules for organizing product data, providing discounts, and receiving alerts for upselling opportunities based on other client purchases.
Prospect CRM also comes with helpful data management capabilities such as custom data fields, field user restrictions, and auto-data enrichment, which keep contact records up to date using LinkedIn profiles. Finally, users report that the platform is easy to use, particularly for setting up integrations and using the built-in features.
The features of Prospect CRM are relatively expensive and made specifically for businesses selling products to other businesses, common for manufacturers or wholesale companies. If your business does not fall under those industry verticals or needs a lower-cost option, we recommend Zoho CRM. It's our pick for the best CRM for B2B businesses and can be highly customized to fit any firm's operational needs.
Insightly: Best for Project Management
What We Like
Free plan and scalable paid options
Includes free project management modules
Great mobile CRM with card scanning, voice notes, and real-time data synchronization
Solid amount of product customization available
What's Missing
Product, price books, and quote features not available until Enterprise plan
Automated lead assignment not available until Professional plan
User reviews indicate a learning curve is necessary to operate the CRM
Insightly Monthly Pricing (per User) at a Glance*
Free: Up to two users
Plus: $29
Professional: $49
Enterprise: $99
Free trial: 14 days
*Pricing based on annual billing; monthly billing is also available for a higher cost.
Insightly has solid end-to-end lead management features for all parts of the sales process. B2B firms can easily generate leads through web-to-lead capture, automatically creating CRM records as online forms get submitted. You can create workflows to assign and route new leads to sales reps automatically. Users can then qualify and continuously nurture their leads through automated and scheduled email campaigns.
The Insightly platform also offers built-in project management capabilities—great for project-based B2B companies like content developers, marketing agencies, and business or technology consultants. Teams can convert won opportunities directly into the project's modules, track milestones and task progress, and build automated workflows to auto-assign tasks to users or update project statuses after triggers like completing a milestone.
Insightly users can receive product assistance through various sources, including an online help center starting on the free plan for self-service. Depending on the subscription package selected, there's also tier-based support through email and phone.
Insightly, unfortunately, gets some poor user views on the usability category in terms of operating the CRM features. For an intuitive user experience and an easy-to-use interface, we recommend HubSpot or Freshsales as the best options.
Copper: Best for Google Workspace Teams
What We Like
Built-in project management features
Designed for Google users, making it intuitive and similar to using a Google app
Chrome extension tool lets users bring the CRM into Gmail and Calendar as toolbars
Deal management includes custom pipelines, opportunity slippage detection, and "hot deal" recommendations
What's Missing
No free plan and relatively expensive paid plans
Google Ads and LinkedIn integrations not available until Business plan
Expensive email marketing tools start at $49 per user, per month
Copper Monthly Pricing (per User) at a Glance*
Basic: $23
Professional: $49
Business: $99
Free trial: 14 days
*Pricing based on annual billing; monthly billing is also available for a higher cost.
Copper is a product designed to be a Google CRM system, addressing the fact that Google does not have its own native CRM. Because of its purpose, it integrates with the most popular Google products that are also popular in B2B operations, such as Gmail, Calendar, Contact, Drive, and Sheets. The main capabilities of the integrations are two-way sync between the CRM and Google apps for contact data, calendar events, and files.
Another attribute we liked about Copper was the Google Chrome extension feature. Since sales reps spend a lot of time managing emails and calendar events, they can use the Chrome extension to access their CRM as a toolbar from Gmail or Google Calendar. From there, they can browse lead records, manage tasks, track conversations, and find files all on one interface.
Because it's made for Google users, Copper's user interface is highly intuitive and has a nearly identical design to a Google app. That said, Copper does well in the ease-of-use category, receiving excellent usability reviews online. Additionally, the customer support system for Copper includes a community forum and live chat service channels. Premium support and personalized onboarding are also available for Business plan users.
Copper's main downfall is that the marketing features for sending bulk email campaigns, storing email templates, and automated email sequences are not available until the Business plan for $49 per user on a monthly basis. HubSpot is the best alternative—offering free email marketing features with some automation sequence and drip capabilities included.
How We Evaluated the Best CRM for B2B Sales Teams
To determine the best B2B CRMs, we evaluated features relevant to managing business clients, overseeing a longer sales cycle, and managing complex sales tasks. For instance, prospect communication capabilities through phone and email are critical to generating and nurturing a decision-maker into a buying position. Additionally, document storage and collaboration features let reps work together to create and send proposals for review.
We found Zoho CRM is the best overall B2B CRM. In addition to offering a free plan and scalable paid plans, the product contains everything a B2B sales team needs. There are customizable pipelines and modules for lead, deal, and account management, low-code workflow automations, and email marketing features. There are also integration options with over 1,000 native and third-party tools if the built-in modules are missing a feature you need.
The tabs below offer insight into our evaluation process of the best B2B CRMs:
20%
Niche/Advanced Features
30% of Overall Score
We looked at overall features we feel are necessities for a B2B company. For example, lead management modules let sales teams track their contact data, prospect statuses, and activity with them. Additionally, communication tools through phone or email allow reps to keep the sales pipeline full of leads to close more deals. Workflow automation of repetitive tasks is also crucial to keep teams more productive during the complex sales process.
25% of Overall Score
Pricing considered free plan availability and various scalable pricing options users could afford. We also looked at the availability for a subscriber to either pay monthly or save by paying annually.
20% of Overall Score
We examined each CRM through a more sophisticated lens. For instance, CRM integration options with general and industry-specific tools give a CRM more functionality and keep data systems in sync. Also, reporting tools let managers see how their teams are performing in terms of closed deals and pipeline efficiency. Finally, team collaboration features allow multiple reps to stay up-to-date and organized on large deals or projects.
15% of Overall Score
In addition to firsthand experience with these B2B software products, we evaluated what users say about each product. Based on their reviews, these criteria consider how customers feel to gain insight into value for the price paid, system ease of use, and how users feel about the CRM's features.
10% of Overall Score
Extensive support and service help prevent poor user experiences and outcomes users may encounter while using any of these systems. Help and support were evaluated in terms of customer service hours and the availability of support via phone, live chat, and email. We also looked at self-service and help center resources users can access, like tutorials, forums, or training modules.
*Percentages of overall score
Frequently Asked Questions (FAQs)
What is a B2B CRM?
B2B CRMs are software products with features specifically helpful in selling to other businesses. Because B2B contains longer and more complex sales processes, features like deal management, quote and contract generation, and a built-in telephone make it easier to complete tasks and close more sales. Additionally, because business customers are often known as "accounts," CRMs with account management modules are useful for B2B.
---
Why should you use a B2B CRM system?
B2B CRMs provide more value to users because they contain specialized functions and data storage that are must-haves in B2B sales. For example, sales management activities require teams to organize and track specific information, such as pipeline status, deal size, and decision-maker contact data. A B2B CRM would have its modules already designed to manage that type of data—requiring little to no system customization by the user.
---
Which CRMs are useful for B2B transactions?
For the most part, B2B transactions are generally finalized after a quote or contract proposal is sent to a potential client for a signature. That said, CRMs with document management are very useful for B2B sales so that reps can create those contracts, email them out to leads, and finalize the deal, all in one interface. Pipedrive, HubSpot, and Zoho CRM are all solid B2B CRMs with those capabilities.
---
Bottom Line
B2B CRM software helps sales teams organize their data, activity, and documents, engage with prospects, and close more deals. Features like deal and account management, proposal generation, phone systems, and sales collaboration tools are particularly useful in B2B sales, and, therefore, generally included in a B2B platform.