Pipedrive and Zoho CRM are customer relationship management (CRM) systems that let small businesses manage sales operations with excellent pipeline and lead management features. However, Pipedrive stands out for its easy-to-use sales tools and intuitive interface, while Zoho CRM has multipurpose functionality to manage sales, marketing, inventory, and customer support, all in one place.
When comparing Pipedrive vs Zoho CRM, take a look at your business' specific needs for investing in a CRM:
Pipedrive: Better option for small businesses seeking simple sales tools to manage leads and deals
Zoho CRM: Terrific choice for teams that want an all-in-one revenue operations CRM solution
Pipedrive vs Zoho CRM Compared
| | | |
| --- | --- | --- |
| Starting Price* | $14.90 to $27.90 per user, per month | Free for up to 3 users to $14 per user, per month |
| Ease of Use | Easy system to set up, operate, and navigate | Technical skill required to set up with some difficulty in operating the features |
| Expert Score | 4.54 out of 5 | 4.71 out of 5 |
| Customer Support | 24/7 email and live chat for all plans plus phone support on Enterprise plan | Tier-based live chat, email, and phone support |
| Integrations | 250+ third-party service and tool integration options | 500+ third-party and native software integrations and extensions |
| Mobile Application | Yes, mobile dashboard plus deal, lead, and activity management | Yes, task and record management plus analytics |
| Reporting & Analytics | ✓ | ✓ |
| System Customization | Highly customizable pipelines, data fields, templates, and workflows | Highly customizable data fields, modules, reports, and workflows |
| Primary Business Use Cases | Sales with some email marketing and inventory capabilities | Sales, email and social media marketing, customer support, and inventory management |
| | | |
*Based on annual billing. Monthly billing is also available at slightly higher rates.
Most Affordable: Zoho CRM
*Based on annual billing. Monthly billing is also available at slightly higher rates.
While it does not offer a free-forever plan, Pipedrive starts at just $14.90 per user, monthly, which allows for 3,000 manageable deals and contact organization features. It's fairly scalable as well—going to just $24.90 per user, per month for two-way email sync, custom email templates, and video call scheduling. More advanced tools like Smart Docs and contact timelines start on the Professional plan for $49.90 per user on a monthly basis.
Zoho CRM offers a free plan for up to three users to manage leads, deals, and tasks. After that, all the paid plans end up costing less than Pipedrive offers. Paid plans start at $14 per user each month for Standard plan features like sales forecasting and custom data fields, then $23 per user, monthly for Google ads and inventory management features. Even the Enterprise and Ultimate plans are inexpensive—allowing advanced customer support and segmentation.
Winner: Because of the free plan availability and low-cost paid plans allowing businesses to scale their CRM to their needs, Zoho CRM wins the price category.
Most User-friendly: Pipedrive
While Zoho CRM isn't an overly complex CRM system to use overall, it does struggle when matched up with Pipedrive based on our analysis and user reviews. Because of the robust set of capabilities and layout that contains many buttons and navigable options, Zoho requires more technical skill than Pipedrive, especially when setting up an account for the first time.
Pipedrive, on the other hand, is praised by its users for its ease of use. Each module can be accessed by a simple menu sidebar containing just a few buttons, and the interface is cleaner because it uses a simplified color scheme, clear and consistent text fonts, and has clear directionality regarding how to operate the tools on each page.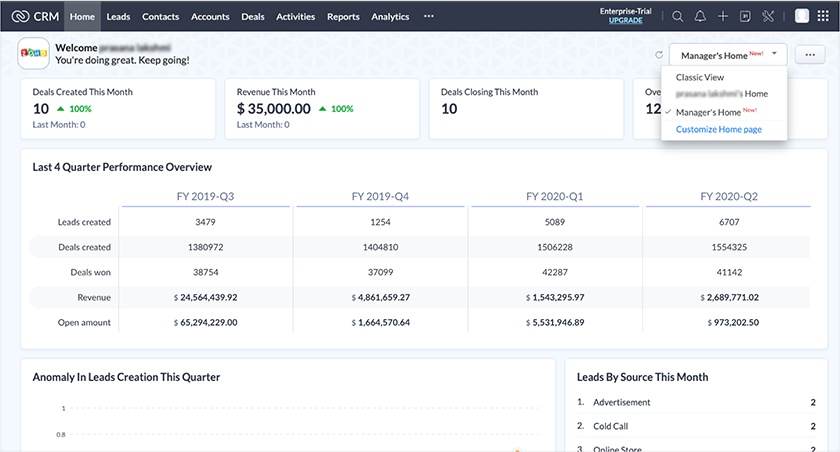 ---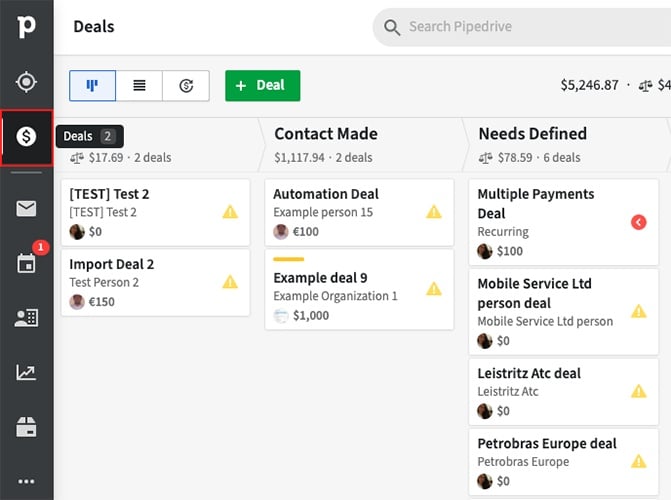 ---
Winner: Because of the ease of setting up an account and designing the system, cleaner layout, and intuitive interface per our evaluation and reviews of actual users, Pipedrive wins the usability category.
Best Customer Support: Zoho CRM
| | | |
| --- | --- | --- |
| Online/Self-help Resources | Online blog, community forum, CRM help center, and Pipedrive Academy | Documentation, guided tours, videos, webinars, and tutorials |
| Phone Support | Not available until Enterprise plan | Tier-based support times but not on Free plan |
| Live Chat Support | 24/7 support on all plans | Tier-based support times but not on Free plan |
| Email Support | 24/7 support on all plans | Available on all plans |
Both CRM providers have tons of online resources, including help centers, tutorials, and community forums where customers can ask questions to other users. Pipedrive offers 24/7 live chat and email support to all users as well as web phone support for Enterprise plan users. Zoho CRM has tiered phone and live chat support for paid users during standard hours, 24/5 or 24/7, depending on the plan and email support on all plans.
Winner: Only by a slight margin, Zoho CRM wins in the customer support category thanks to its online resources and customer service channels. You can, however, argue that if someone prioritized 24/7 availability over the range of channels, then Pipedrive would be a better option for that particular user.
Integration Capabilities: Zoho CRM
Integrations allow users access to additional CRM functionality and the ability to sync CRM data with other business productivity software. Pipedrive and Zoho CRM both integrate with hundreds of popular third-party tools such as Slack, Mailchimp, Facebook, and Trello, either through a direct connection or by transferring data via Zapier. The main difference between each platform is the total number of tools and extensions available through Zoho CRM, many of which are from native software.
In addition to the CRM features and external integrations, Zoho creates a plethora of their own tools with the same layout and user feel as its CRM. For example, apps like Zoho Books help businesses manage finances, Zoho Analytics provides advanced intelligence on enterprise data, and Zoho Desk is an omnichannel solution to engage with customers. All of these can connect with Zoho CRM to sync data two ways and extend product functionality.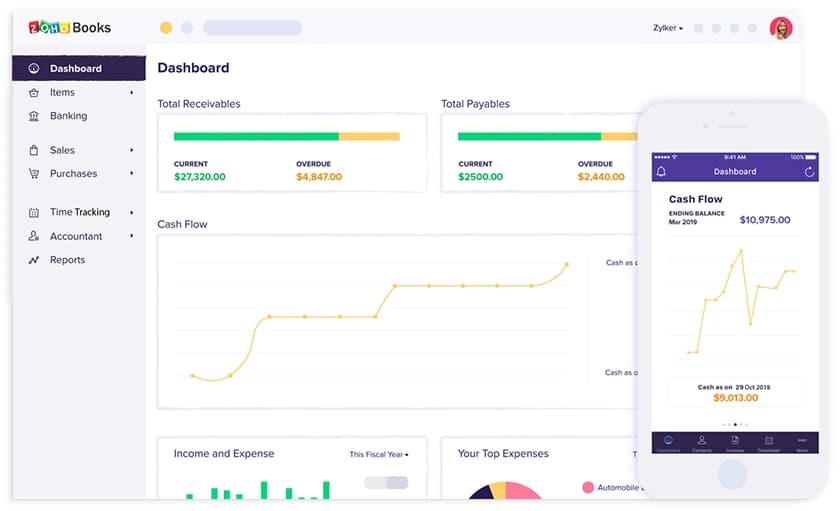 ---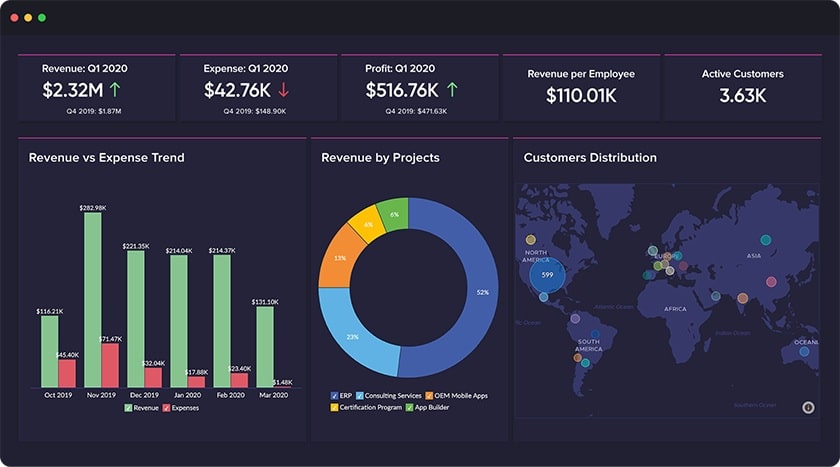 ---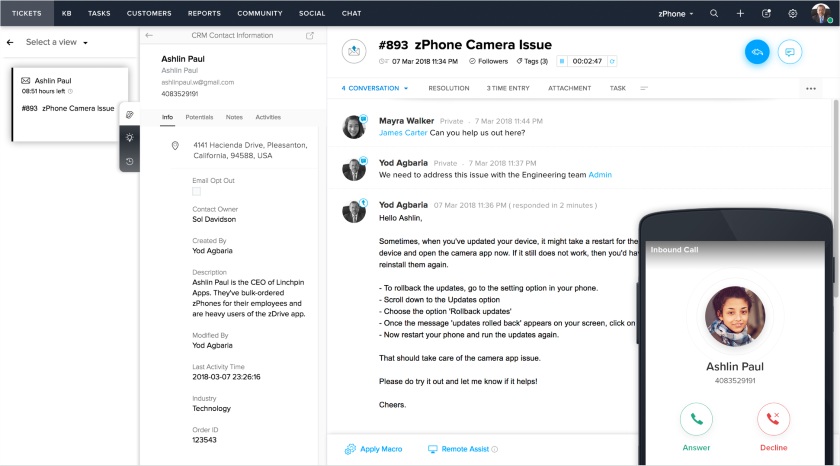 ---
Winner: While both systems allow for plenty of integration options, Zoho CRM wins the integration category because it has more third-party options and a limitless supply of native software tools.
Mobile Application: Tie
A mobile CRM application lets you use your CRM features from your phone while on the go—something particularly valuable to outside sales reps who spend a lot of client-facing time. Both CRMs allow users to add, edit, and track deals and lead records on the mobile app and synchronize the data to the web application. Additionally, they can make and log calls and see contacts on map locations to receive directions as needed.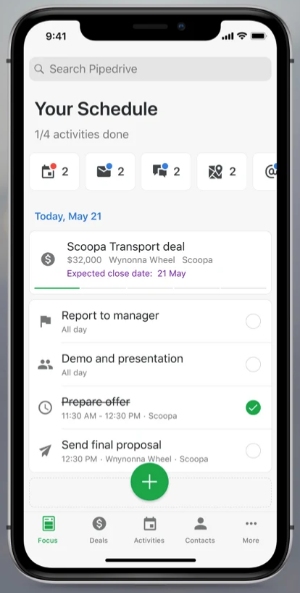 ---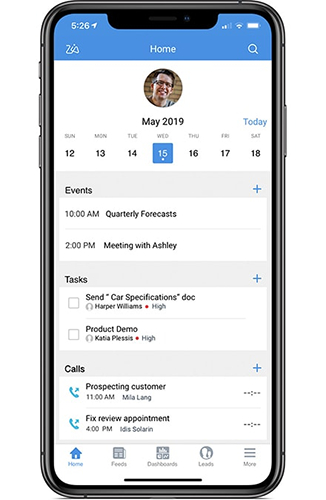 ---
Winner: Because both CRMs offer virtually the same features on their mobile applications, this category results in a tie.
Reporting & Analytics: Pipedrive
| | | |
| --- | --- | --- |
| Reporting Capabilities | Deals, activity, individual and team goals | KPIs, funnels, targets, cohorts, and activity |
| Customization | Custom reports and dashboards | Custom reports and dashboards |
| Predictions & Forecasting | Yes, with recurring revenue analysis | Custom prediction builder feature |
| Scheduled Reporting | N/A | ✓ |
| AI Insights | (Sales Assistant) Suggestions on tasks based on performance plus automation planning | (Zia) Workflow, assignment, automaton, and reminder suggestions |
CRM reporting features let sales managers make operational adjustments and strategic decisions based on performance and activity data in the CRM. Both products allow users to custom generate reports for insights on things like deal progress, sales pipeline health, goal targets, lead channels, and revenue forecasts. Each CRM also has an artificial intelligence (AI) tool for providing insights on tasks that could be automated and where to focus efforts next.
Feature-wise, each platform does virtually the same thing with the exception of Zoho allowing schedule reporting while Pipedrive does not. Other than that, variance comes down to product value and which plans offer the most for the lowest cost. For example, Pipedrive's AI Sales Assistant and most reporting capabilities are available on the Essentials plan. Zoho CRM, on the other hand, doesn't provide Zia and most analytics tools until the Enterprise plan.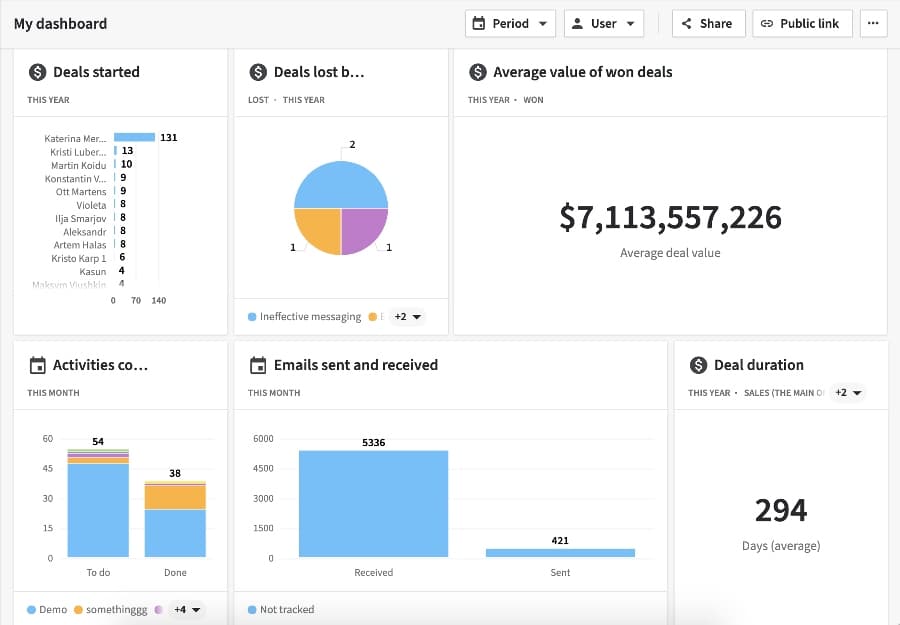 ---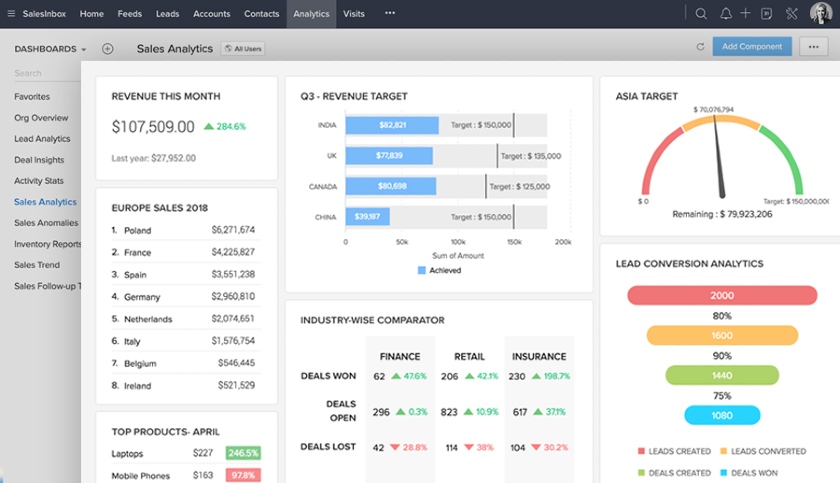 ---
Winner: Pipedrive wins this category because it offers most of its analytics and reporting features plus the AI Sales Assistant tool on its Essentials plan for just $14.90 per user, each month. Comparatively, Zoho CRM requires the Enterprise plan for $40 per user, per month for access to most of these capabilities.
Modular Capabilities: Zoho CRM
| | | |
| --- | --- | --- |
| Sales Records Management | Leads, contacts, deals, tasks, and pipelines | Leads, contacts, accounts, deals, tasks, pipelines, and events |
| Sales Process Features | Workflow automation, direct communications, and files management | Workflow automation, team collaboration, direct communications, and files management |
| Marketing Tools or Modules | Mass email and email template storage | Social media, mass email with templates customer segmentation, and web-to-lead forms |
| Customer Support Management | N/A | Cases, solutions, web-to-case forms, and escalation management |
| Inventory & Quotes Management | Product catalog, (Smart Docs) quotes, proposals, and contracts with e-signature | Products management, price books, quotes, orders, invoices, and vendors |
When you think of a CRM, you most likely think exclusively of managing sales data and activity. However, some CRMs extend their built-in capabilities to assist in other areas, such as marketing, customer support management, and inventory management. Both Pipedrive and Zoho CRM have these abilities but on a different scale and somewhat equal solutions for managing sales-related data and the sales process.
When it comes to the other modules, however, Zoho is superior. For instance, Zoho has marketing modules within its CRM for creating and sending mass email campaigns. There's also the ability to create customer marketing segments, deploy Google ads, monitor social media activity, and enrich contact data through social media accounts. Additionally, teams can fully support customer service cases and manage inventory, quotes, and invoices.
As for Pipedrive, there are no customer support management capabilities to receive, assign, and resolve customer cases. Additionally, the marketing features included are restricted to deploying email marketing campaigns using templates stored in the CRM system. Pipedrive does, however, have solid quote management features. With Smart Docs, users can easily create and send signable proposals and contracts that auto-populate data from the system.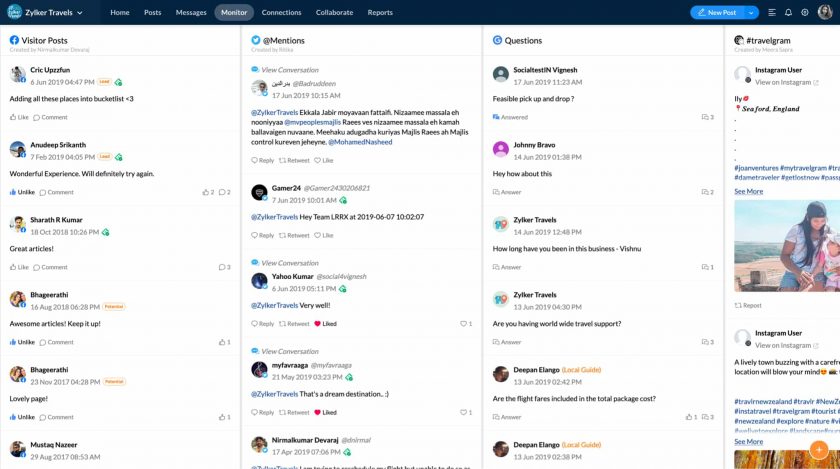 ---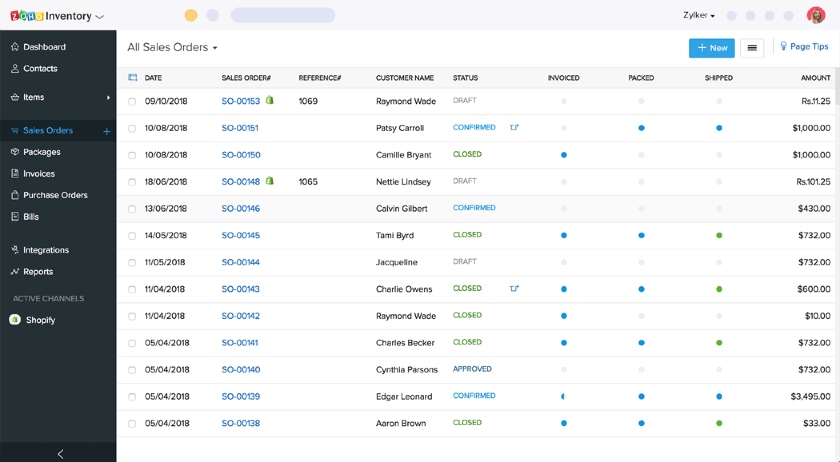 ---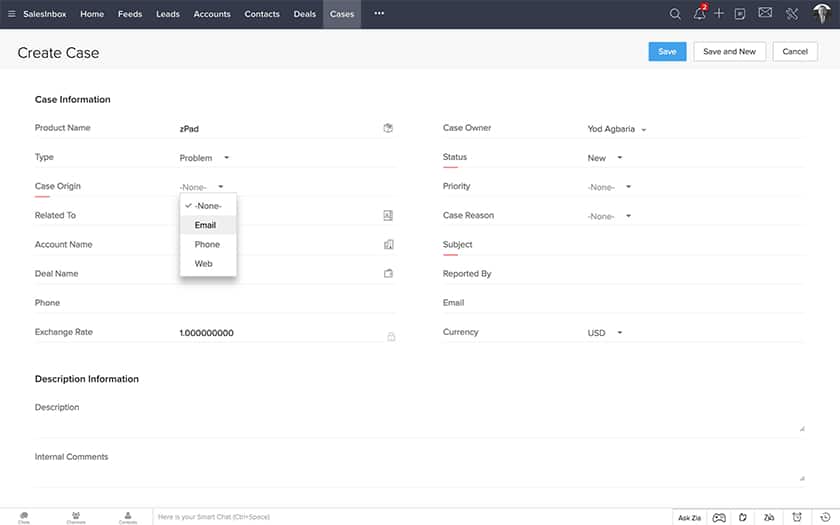 ---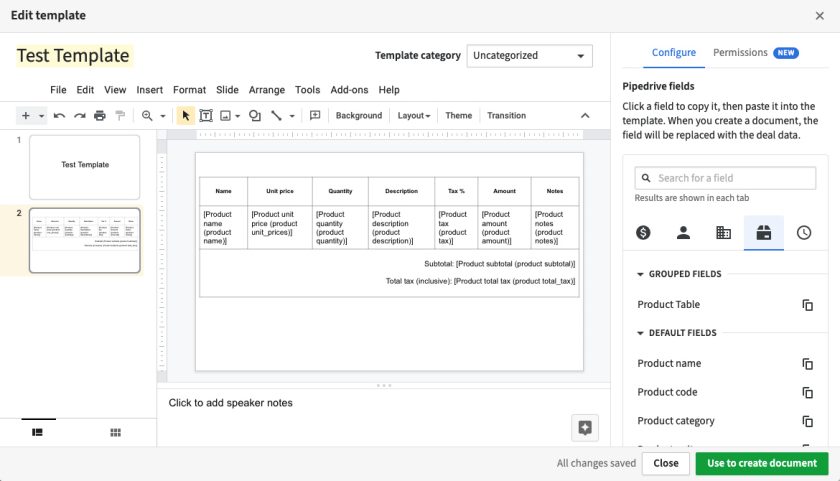 ---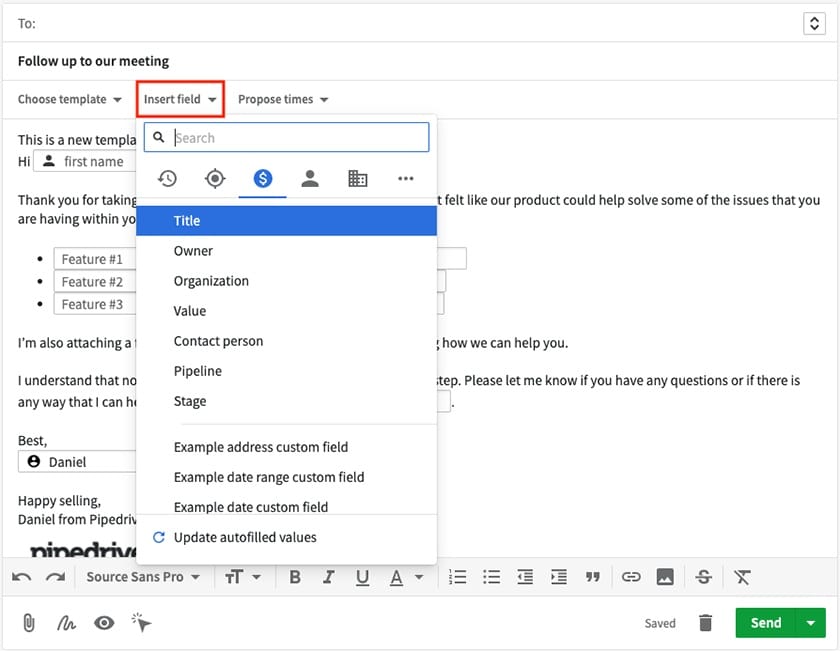 ---
Winner: Because of the broader range of tools and capabilities for the marketing, customer service, and inventory management modules, Zoho CRM wins this category.
What Users Say About Pipedrive & Zoho CRM
Both Pipedrive and Zoho CRM are highly acclaimed products overall based on reviews and ratings of their users. Per review scores from popular software evaluation websites, here's how each CRM was rated:
Pipedrive
Zoho CRM
Pipedrive receives high praise for its quote management features and system ease of use for the sales tools. Most of the negative reviews come from customer service issues and users feeling they aren't getting enough functionality for what they pay for. For Zoho CRM, users complain about the user experience and interface layout while they feel it's an excellent value based on how much they pay for the number of available, high-quality features.
Best Alternatives to Pipedrive & Zoho CRM
While both Pipedrive and Zoho CRM are excellent CRM systems in their own regard, there might be a certain feature or attribute you prioritize that is missing from each product. Below are some of the best Pipedrive and Zoho CRM alternatives:
| | | | |
| --- | --- | --- | --- |
| Best For | Robust marketing and content management capabilities | Built-in project management modules | Free cloud phone and call management tools |
| Starting Price* | Free to $30 per month | Free to $39 per month (up to five users) | Free to $15 per user, per month |
| | | | |
*Based on annual billing. Monthly pricing is also available at higher rates.
How We Evaluated Zoho CRM vs Pipedrive
To properly compare Zoho vs Pipedrive, we looked at critical product attributes small businesses and sales teams consider when comparing CRM software. In a direct comparison, we evaluated pricing, features, usability, customer support, our expert scores, and what actual users say about the products.
30% of Overall Score
We looked at overall features we feel are necessities, such as CRM integration options, system customization, and a mobile app. We also evaluated modular features found within Pipedrive and Zoho CRM, such as lead and contact management, workflow automation capabilities, reporting and analytics tools, and pipeline management.
20% of Overall Score
Pricing considered free plan availability and various scalable pricing options that a user could purchase affordably. We also looked at availability for a subscriber to either pay monthly or save by paying annually.
20% of Overall Score
The CRM solutions were also evaluated on platform usability. This was analyzed in terms of the expertise required to set up an account, the ease of integrating with native or third-party apps, and the skill needed to use CRM features. We also reviewed the overall intuitiveness of navigating the system's interface that would make it appealing to users of all skill levels.
20% of Overall Score
Extensive support helps prevent poor user experiences and outcomes users may encounter while using any of these CRM systems. Help and support were evaluated in terms of customer service hours and the availability of support via phone, live chat, and email. We also looked at online resources for users to review, such as a knowledge base, tutorials, forums, or training modules.
10% of Overall Score
In addition to firsthand experience with Pipedrive and Zoho CRM, we evaluated what users say about each product. These criteria consider how customers feel, based on their reviews, to gain insight into platform popularity, standout features, ease of use, and overall value for the price point.
*Percentages of overall score
Bottom Line
The Zoho vs Pipedrive debate comes down to your business priorities. Pipedrive offers excellent sales tools reps of all technical levels can figure out quickly thanks to its intuitive system. Zoho CRM, however, provides teams with more product value with better-priced options and extended modular capabilities to manage marketing, customer service, and inventory management activities in addition to sales operations.