10 Smart Pop-Up Shop Ideas for Retailers
Pop-up shops are an increasingly important and prevalent retail strategy that provide unique opportunities to drive sales and brand awareness. They are an experiential marketing strategy that can act as an extension of your physical store, provide customers a chance to interact with your online brand, or launch an exclusive product feature.
Here, we will look at 10 ideas that you can use to make your pop-up shop an unforgettable experience for your customers and a sales driver for your business.
1. Use a Bold or Innovative Design
One of the best ways to draw attention to your pop-up shop is through bold store design. Using bright colors, unique visuals, or innovative spaces will help attract shoppers to your space no matter where you set up and will make customers remember your brand.
Take the small streetwear brand RIPNDIP, for example. It used bold design elements like rolling turf floors, whimsical furniture and decor, and bold art to turn what would have been a very ordinary showroom into something exciting and experiential.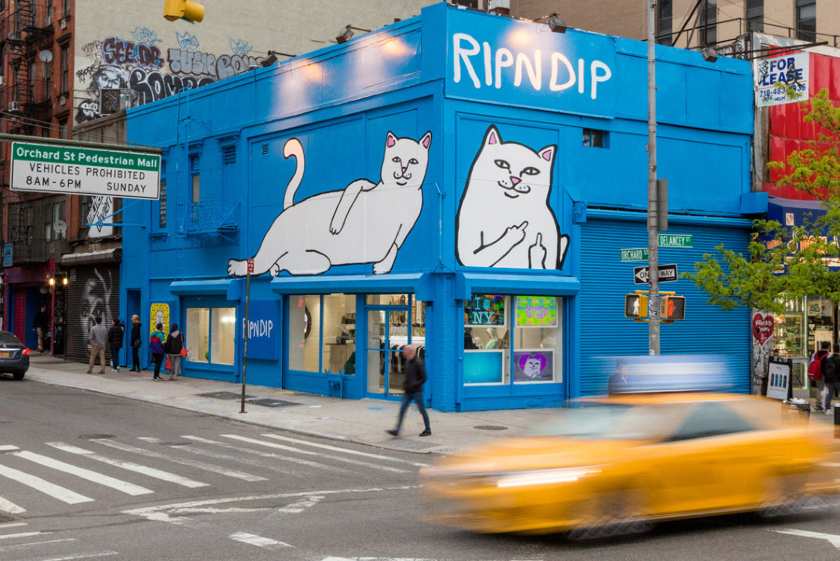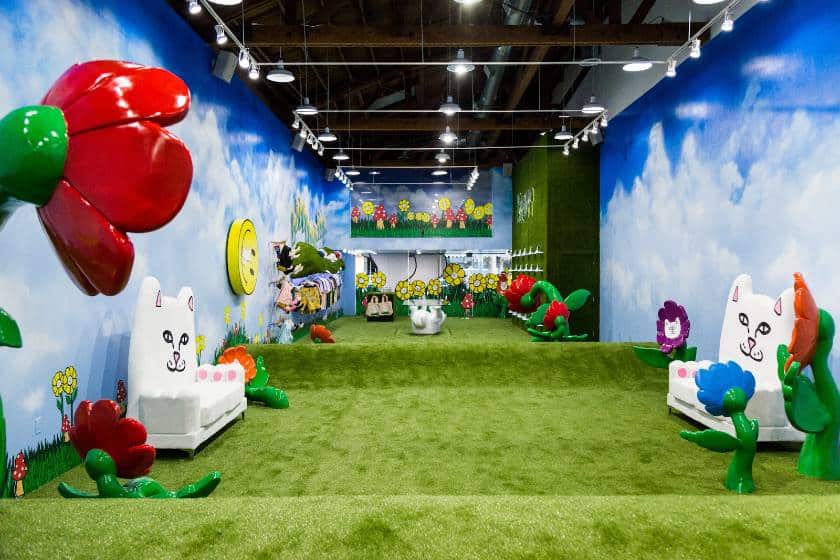 Here are some other bold design ideas that work well for pop-up stores:
Think Outside the Box When It Comes to Your Space
One of the best ways that you can grab the attention of shoppers and make your brand stand out is by setting your shop up in a unique space. Business owners have used old buses, abandoned warehouses, and many other interesting and engaging spaces for their pop-up shops.
See the slideshow below for ideas of where you could set up your pop-up shop: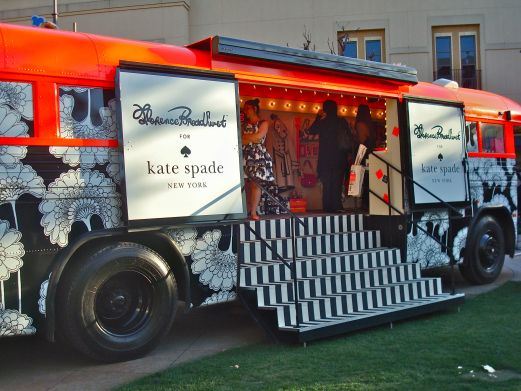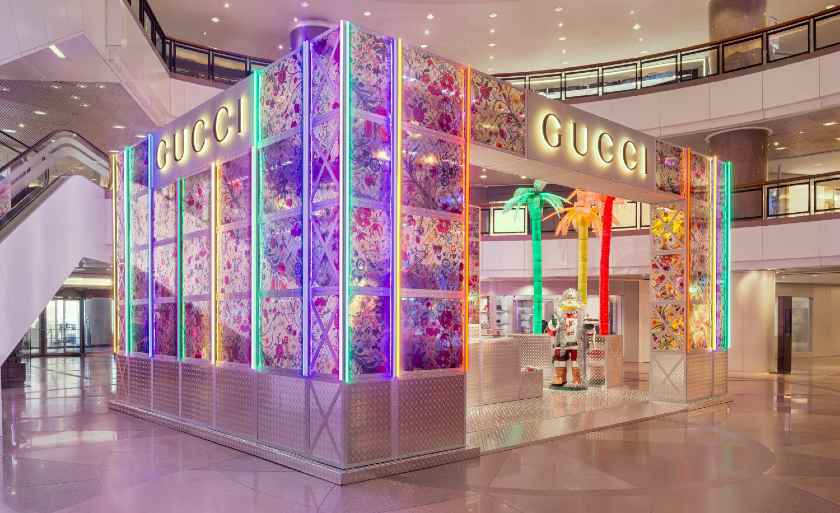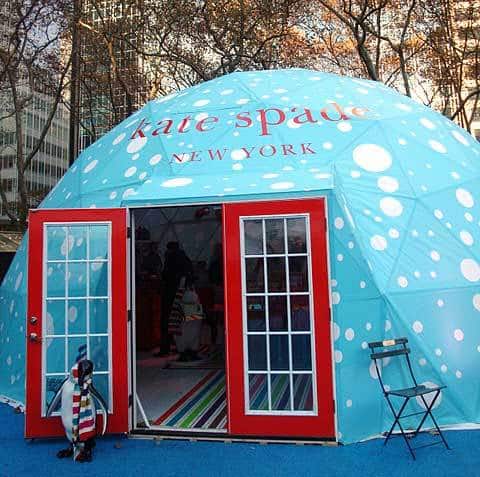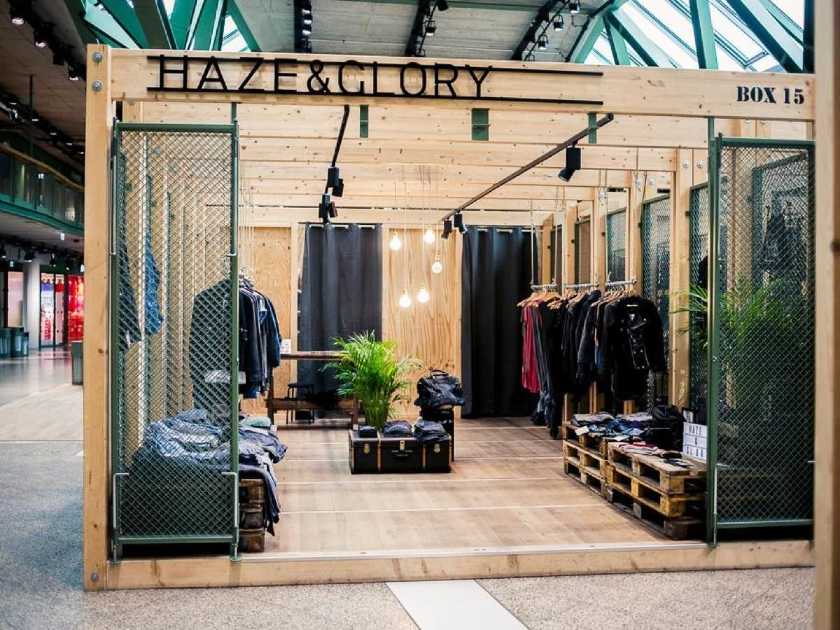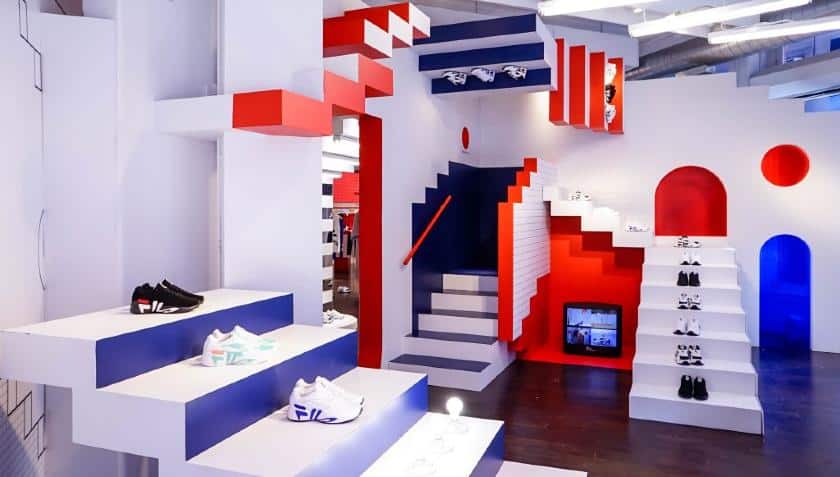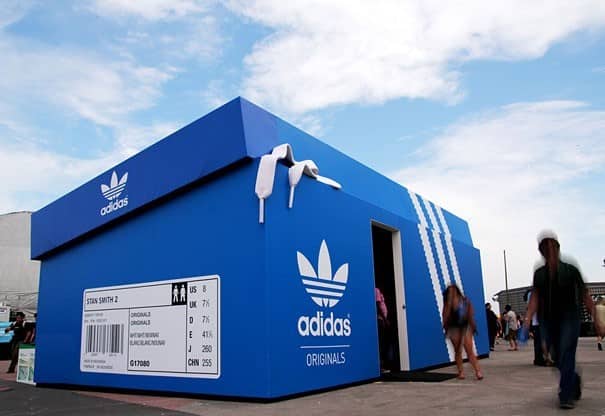 Use Attention-Grabbing Storefront Signage
To catch the eyes of passersby and draw attention to your pop-up, you should utilize bold storefront signage. Your storefront sign will be the first impression that your pop-up makes on new customers, so you want to be sure that your sign speaks to your brand and helps increase your shop's visibility.
When creating your sign, ask yourself: If I knew nothing about my business, would this sign give me an accurate impression of my brand? This questioning will ensure that you are not misleading customers and help to attract shoppers in your target market.
The next thing that you will want to think about is sign placement. The goal here is to maximize visibility, so you will want to think about how people will be viewing your shop when positioning your sign. For example, if you are in a shopping center where people generally pass by in cars, you would want to place your sign high up and make it large so that people can see it as they drive by.
Tip: Take a step outside your store and put yourself in the position of your shoppers. Seeing what they see will help you position your storefront sign in the best spot for viewing and drawing attention your way.
To learn about how to design a storefront sign and to get inspired, you can check out our guide to designing the best storefront sign and scroll through the images below: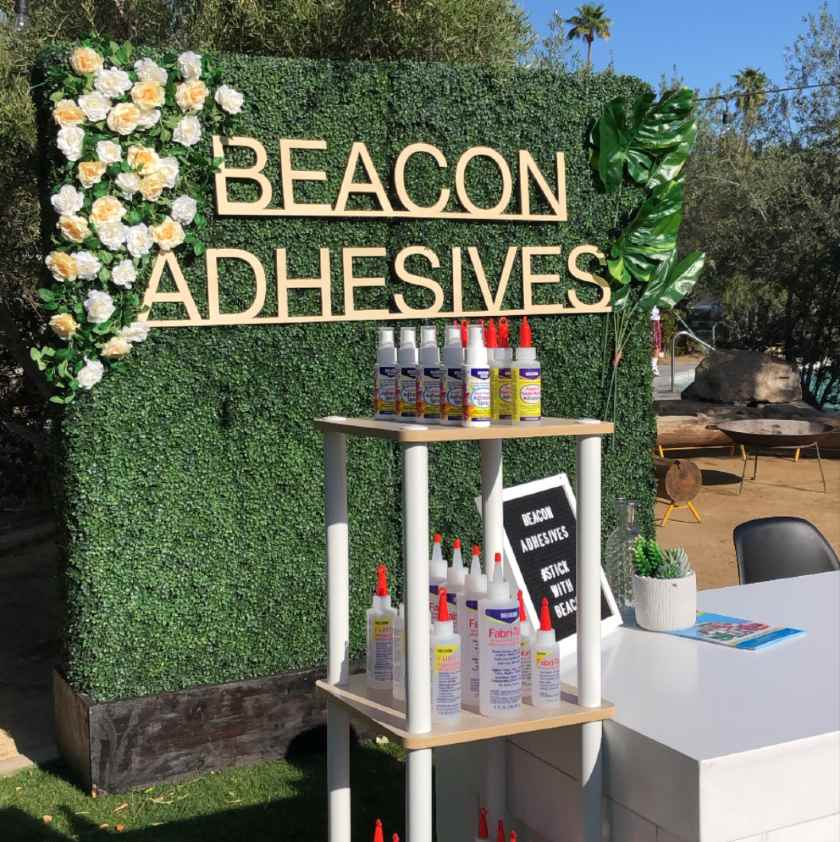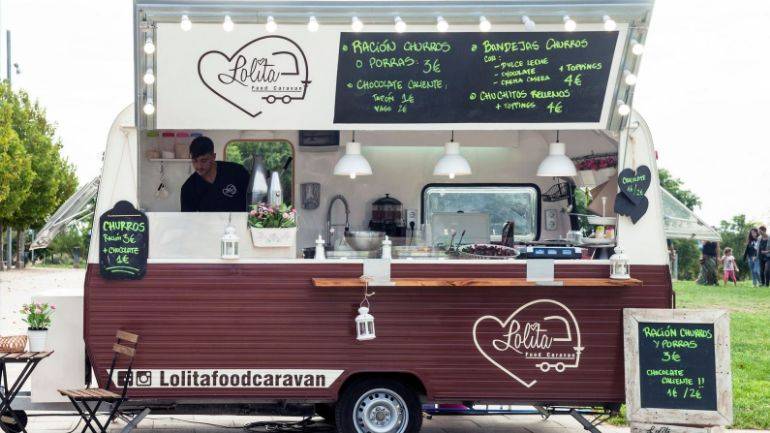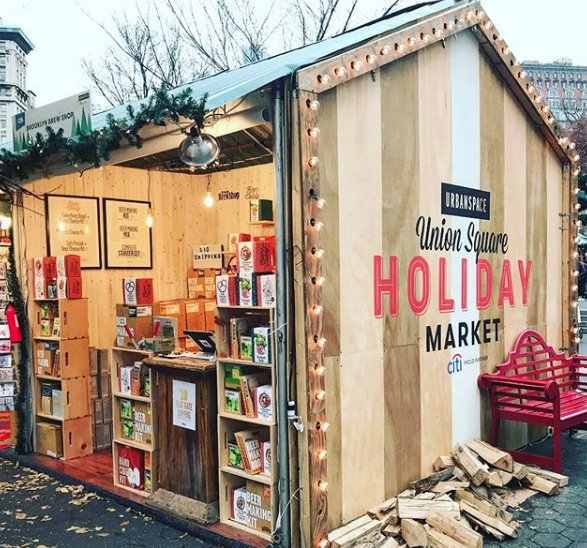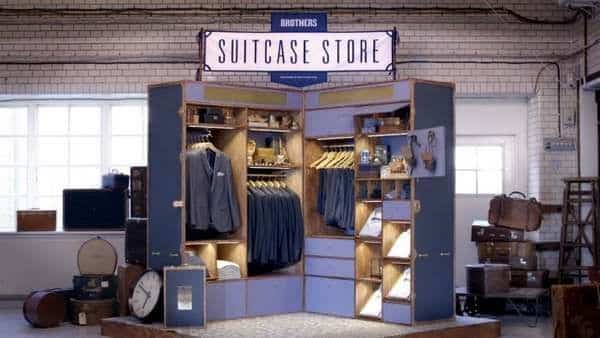 Incorporate Art
Another way that you can enhance your pop-up store is by incorporating artwork. Work with a local artist and get an installation or use a print of something famous. Either way, adding art to your design is a great way to make your space more visually engaging and leave a strong impression on shoppers.
2. Continue Your Shop Online
It's important that you support your physical marketing campaign with your online efforts and create a place where customers can continue to interact with your brand after your pop-up has moved on.
Consumers have a tendency to look for upcoming local events by doing quick online searches, and you want to be sure that your website is popping up and getting people in the door.
Did you know:
88% of people who conduct a local search on their smartphone visit a related store within a week.
If you don't have one yet, create a website that includes your location, the dates of operation, and more about your brand. Remember, you are a small business, so people will want to know about your story. This will help make them want to come out and visit your location.
In addition, you can add shopping options to your site so that people can continue shopping your selection and engaging with your brand even after your shop has moved on. Having a website will help you capitalize on the expanded customer base that pop-up's create and drive your sales.
3. Offer a Shipping Service
Another way that you can make a positive impact on customers and improve their experience is by offering shipping services. By offering an alternative for customers who cannot take their purchases home with them that day or don't want to carry them around, you will create more buying incentives and a positive impression of your brand.
Tip: Consider the transportability of your merchandise. Living or large items, like plants or furniture, are often not possible for customers to move comfortably on their own.
Since pop-up shops attract local customers, you can set up a delivery request form for where customers can leave their information and a delivery window that works with their schedules. Then, you can arrange for a local delivery service to send out your parcels in batches that match the expected times of delivery.
One thing you should consider is your shipping costs. In research from Statista, they found that 54% of consumers will cancel their order if their shipping cost is too high, so you want to be sure that you can offer a price that won't deter shopping. Consider offering free shipping with a minimum purchase. Or, work with a local delivery service or software like Shipday to bypass postage and mailing costs altogether.
4. Provide Complementary Services
A complementary service is an extra service or product you provide to show customers how they can best use your merchandise. Say you are a dietary supplements and weight loss brand—a complementary service you could offer would be the smart scales that tell customers about their body fat percentage, water weight, and muscle mass.
Complementary services will make it easier for customers to imagine using your merchandise and will get them engaged with your brand. Typically, these services are free and have no purchase obligations attached.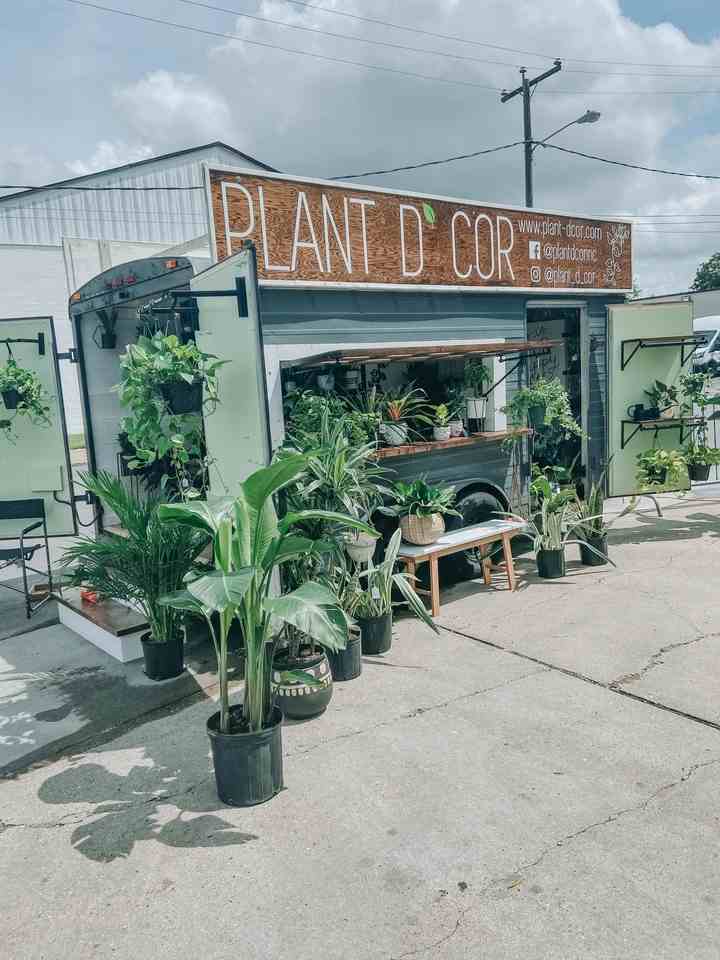 5. Make Your Pop-Up Interactive
One of the most important parts of creating a successful pop-up shop is customer engagement because of its huge impact on boosting your brand awareness and improving customer experience. One of the best ways to make your pop-up store engaging is to incorporate interactive elements.
Interactive design elements are displays, entertainment features, or events that encourage customers to interact with your business or merchandise. Here are some ideas of interactive features that you can use to boost engagement with your business.
Create Photo-Ops
Having the perfect photo-op spot is a huge draw for modern shoppers. Install a mural, photo booth, living wall, fun sign, or any other "Instagramable" design features to increase your foot traffic and promote interaction with your brand.
Be sure your photo area is well lit, reflects your brand, and has enough space for customers to take their shots. If you have a larger space, consider putting your photo area toward the back. This will force people to walk through your entire space and see all your offerings before they reach their destination. Display your social media handles and hashtags in or near the photo-op spot so that customers can easily find you online and you can share posts you are tagged in.
Tip: Consider your target audience and whether creating a photo-op would bring in the customer base you are seeking to attract.
Here are a few examples of how businesses have created photo opportunities in their pop-up shops: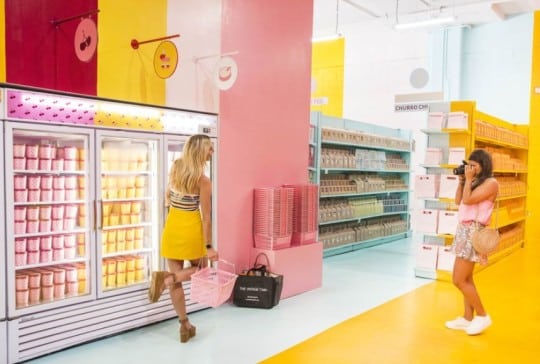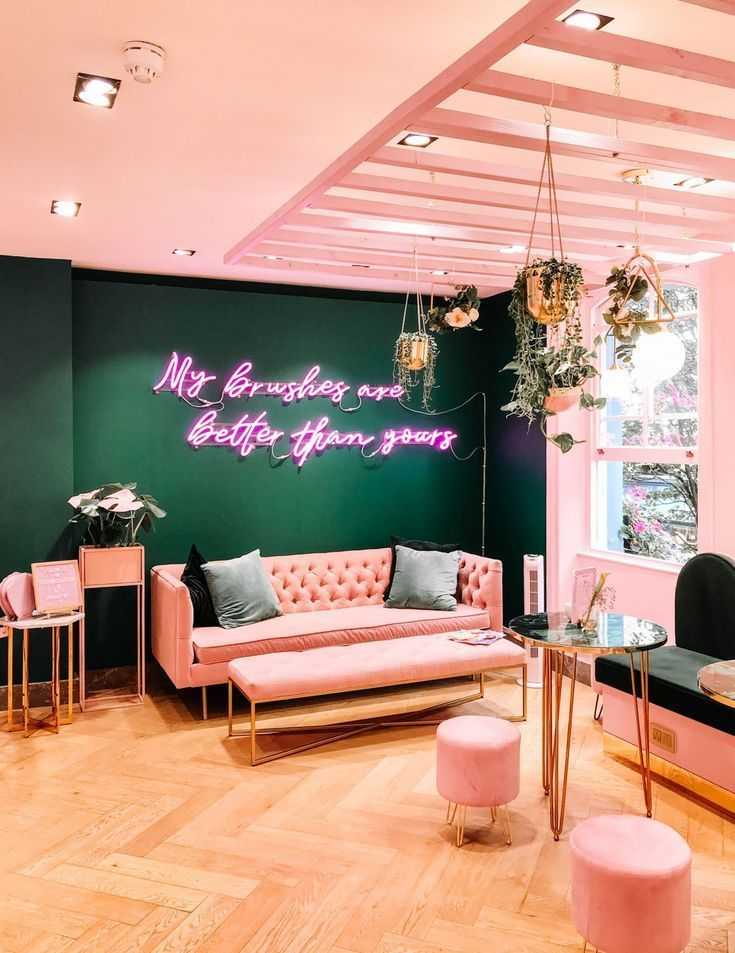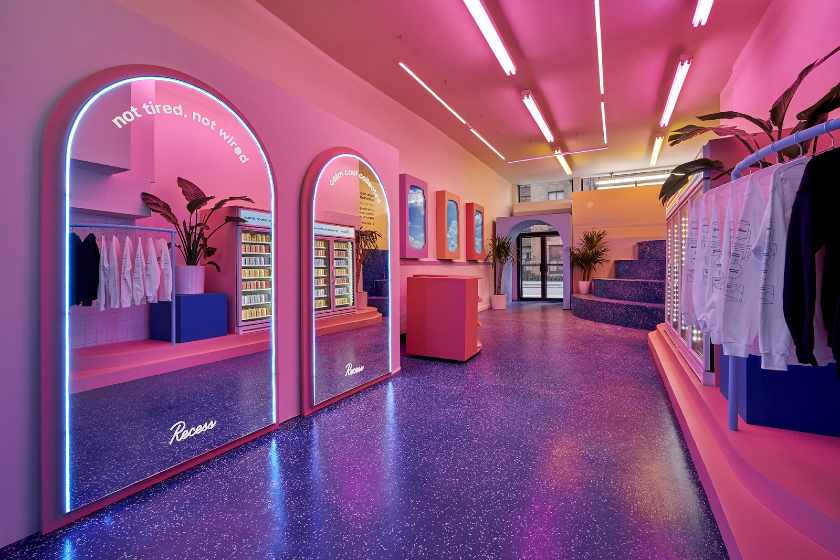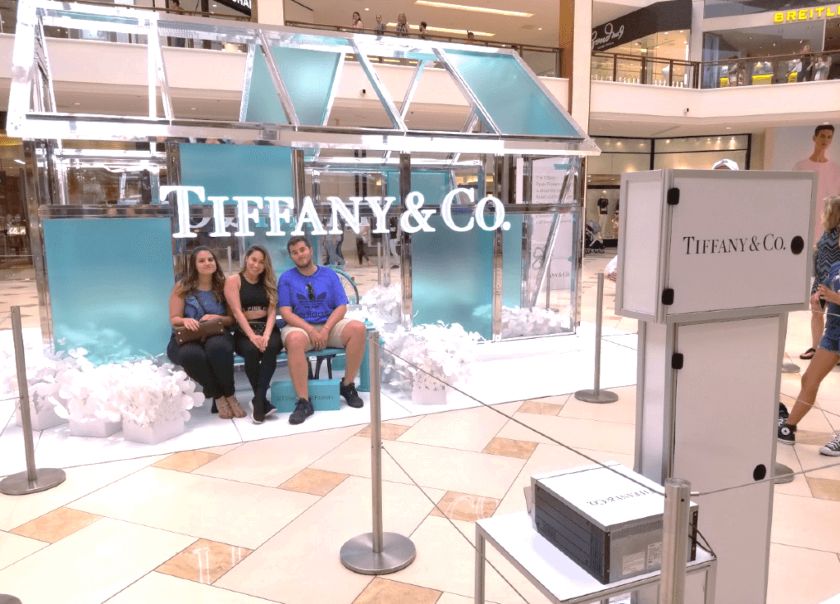 Offer Product Customization
Another fun, interactive feature that you can include in your pop-up shop is product customization, which includes any services that allow customers to adjust or add to an item so that it can suit their needs or tastes. For example, you can offer screen-printed tees, embroidery, color customization, or add-ons that people can layer onto a base product.
This interactive strategy is especially effective for pop-up shops because it creates a unique experience for customers, helping your brand remain in their minds after you have moved on. It also adds an exclusivity factor if these customization options are only available during your pop-up.
Host a Special Event
Special events are another great way to get customers to interact with your brand. At my store, for example, we would host Sip and Shop events where we would stay open past our regular hours and have wine, snacks, and new products for customers to shop. Without fail, the festive environment would get ladies shopping, and the fun and unique experience would create a positive and lasting impression of our brand.
So, consider hosting an event at your pop-up shop. You want to be sure you are choosing something that will appeal to your customer base and speak to your brand. Another great strategy for event planning is to look at the people in your area. If people are already around, they are more likely to come to your event, so advertise to them and work around their schedules.
For example, we had a large customer base from the salons and offices around our shop. To make it easy for them to make it to our events, we were sure to schedule the Sip and Shop when they were getting off  work. Additionally, we hand-delivered flyers to all the stores in our area so that people who were in the neighborhood knew about our happenings.
Bring in a Product Expert
You can also invite a product expert or a special guest to your pop-up store to boost customer engagement. Product experts are professionals or people who have expertise in a product area that have been invited to your shop to give advice and show customers how to use your merchandise.
Using a product expert is an especially effective strategy if you have merchandise like tools, ingredients, parts, or technical items because they can make your products seem less intimidating and can help customers imagine themselves using your pieces.
For example, say you sell cooking supplies. You should bring in a product expert for your pasta machine so that they can show customers how to use it and just how great the results are. This expert advice will help customers feel more at home with a technical cooking device and will give them an image of how they themselves could utilize it.
Tip: Don't forget to tell people about your expert. Advertise their expertise and background to build customer trust and prove their value.
6. Leverage the Power of Social Media
With more than 4.3 billion people on social media worldwide, it is critical that your business has an effective social media strategy that helps you reach your audience and expand your customer base.
Get your brand on all the platforms you can; Facebook, Instagram, TikTok, and Twitter all have different audiences, so you will be able to reach different people. Start advertising your shop early so that people know when it's coming, and use social media analytics tools like Social Sprout to determine where you are getting the most engagement so that you can concentrate your efforts more effectively. You also want to be sure that you are using the same username across platforms so that you are easy to find.
Tip: Leverage local influencers to promote your event. They are usually more affordable than national influencers and offer a more targeted audience.
Keep your profiles up to date with your newest products, events, and any other information that you think would intrigue customers and get them shopping. You also want to be sure that your social media presence speaks to your brand and gives the impression you want it to give. Your social media outlets are a great way to give your brand a personality and to show how your products can look in the real world.
Host Virtual Pop-ups
You can also use social media to hold live events where you can interact with customers online, answer their questions, and showcase your products. Or, hold an online shopping event on Instagram or TikTok where people can shop virtually and make real-time purchases as you stream.
Check out these social media brand pages for inspiration: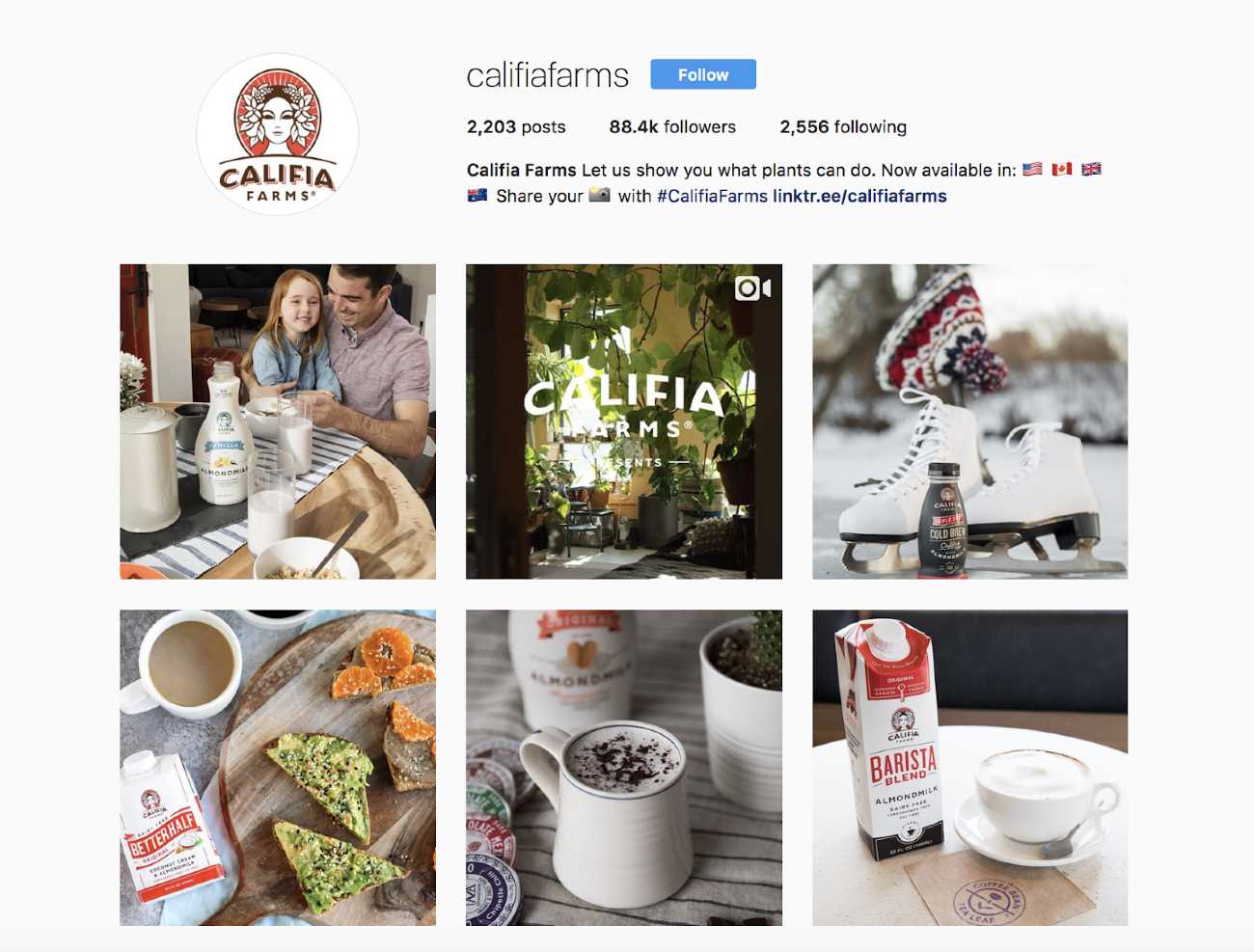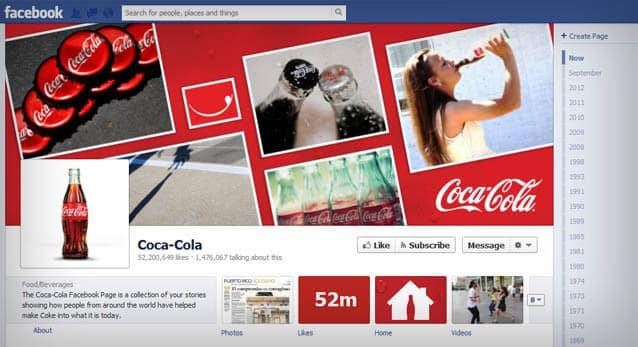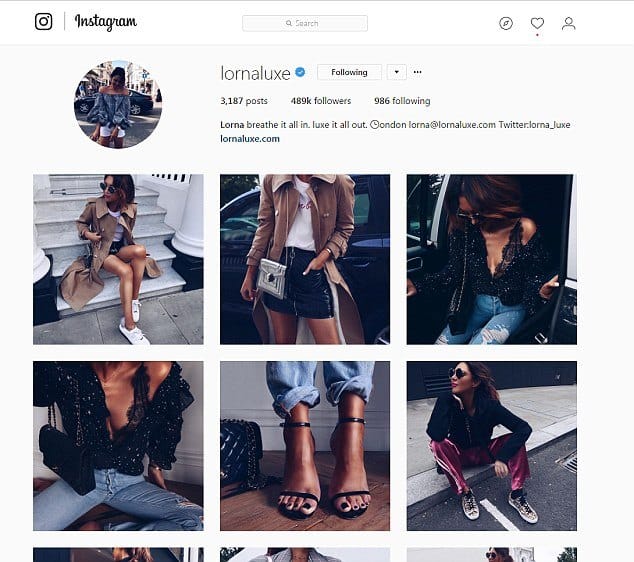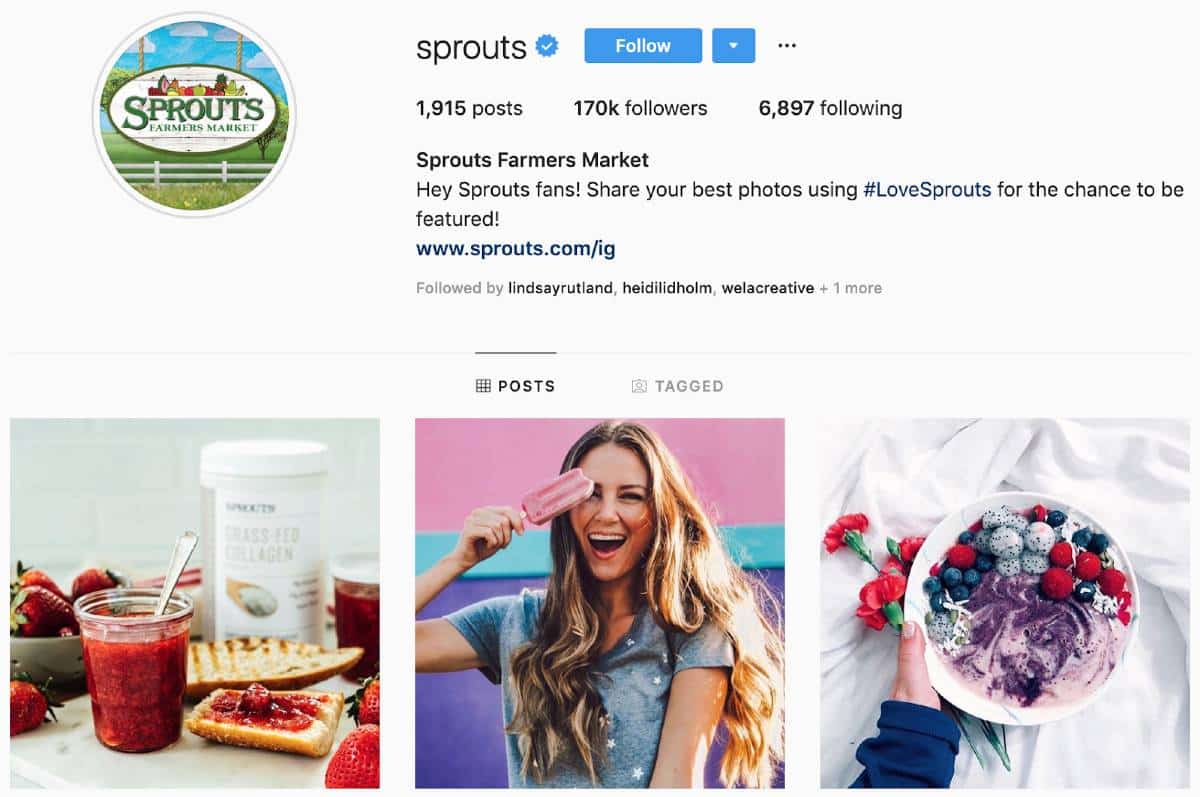 7. Provide a Look at New or Exclusive Products
You can make your pop-up shop even more enticing by offering new or exclusive items. This will create excitement around your brand and will give customers another reason to visit your location.
Offering an exclusive item is especially effective if your brand has an online store or permanent brick-and-mortar location because you can use the exclusivity to create hype among your existing customer base and make them want to visit your pop-up. For example, an ecommerce hair care brand might offer a pop-up shop exclusive scent or bottle.
Did you know?
94% of consumers said that they would take advantage of an exclusive offer.
Another great way to drum up excitement around a new product is to do a spin-off of a bestseller. Additionally, you can showcase new, never-before-seen products or exclusive seasonal items. For example, a candle shop might offer an exclusive Christmas tree scent around the holidays or a clothing brand might offer a trendy color of their bestselling tee.
8. Collaborate With Other Businesses
You can access a broader customer base and bring more shoppers to your pop-up by collaborating with other businesses. Working with other businesses will bring their customer base to you, and through smart partnerships, this will help expand your customer base as well as your partner's.
Be strategic with your partnerships. You want to be sure that the businesses you are working with will attract customers that are in line with your customer base. However, you do not want to sell the same products to avoid competition. For example, a women's clothing boutique might want to partner with a lash bar but probably wouldn't benefit from working with a fishing supply store or another women's clothing store.
Tip: Make your collaboration into an event. Bring differing businesses together under one roof for a celebratory shopping experience that will draw lots of customers in and drive your sales.
The best way to find people to collaborate with is to go around your neighborhood. Take a walk, drop off some business cards, and pitch your idea—you would be surprised how willing business owners are to work together. It's a win-win situation, isn't it?
9. Do Demos and Offer Samples
Demonstrations and samples are great ways to improve customer experience, promote engagement, and drive sales. In retail, the conversion rate between sample to purchase is around one in four. This demonstrates just how effective demonstrations and samples are as a sales strategy and should also be a benchmark for your samples and demonstrations. If your conversion rate is not around 25%, it's time to switch out your featured product for something new.
Demonstrations show customers how to use a product and are great for businesses that offer products that have interesting features or require manual manipulation. For example, you might use a demonstration at an outdoor store to show all the features on a fishing rod or to demonstrate how to set up a tent.
Samples are free offerings that businesses provide to their customers, allowing them to try the product before purchasing and with no obligation to purchase. This reduces customer shopping anxiety and promotes impulse purchases. Typically, samples work best for food or beauty products. For example, a food store might sample its newest flavor of hot sauce or a beauty store might offer a mini lotion bottle.
Here are a few pointers for setting up successful sampling or demonstrations in your pop-up shop:
Offer New and Limited Edition Products: New and limited edition products tend to yield the highest sample-to-sale conversion rate.
Merchandise Nearby: Merchandise the products you are sampling or demoing nearby so that customers can find them easily.
Train Your Reps: Be sure that the person providing samples or demonstrating a product is well-trained to sell the products effectively and answer any customer questions.
10. Hold a Flash Sale
A flash sale is when a business extends a discount or special offer for a very limited amount of time. Flash sales, which are typically announced with little notice, are a great way to drive traffic to your business and drive your sales.
Use social media channels, flyers, emails, or even text messages to reach customers and let them know about your sales. Highlight its limited time frame and the exclusivity of the offer. Then, be sure to staff your pop-up adequately and get ready for the customer to roll in.
Did you know?
61% of customers believe that surprise gifts and offers are the best way to engage in shopping.
Bottom Line
Pop-up shops are an increasingly popular retail strategy and are great for increasing your customer reach, driving sales, and improving brand recognition. At their core, successful pop-up stores are about creating a good experience between your brand and the customer. Using the tips above, you are sure to create a great pop-up experience that will help your business thrive.
You May Also Like …