25+ Smart Pop-up Shop Ideas for Retailers
Pop-up shops are an increasingly relevant retail strategy as customers become reacquainted with in-person shopping after COVID-19's initial impact. They offer many benefits, including the ability to test new markets or products, create deeper connections with customers, and introduce your brand to new audiences. Plus, as digital costs are rising, this experiential marketing strategy could be a cheaper way to get more business.
We've outlined more than 25 pop-up shop ideas to make your temporary retail activation an unforgettable experience for customers and a sales driver for your business.
1. Lure Shoppers With Signage
The first of our pop-up store ideas is also connected to the first impression—your store sign. Use bold storefront signage to catch the eyes of passersby and draw attention to your pop-up.
Make sure the sign is easy to read and gives an accurate impression of your brand. The goal here is to maximize visibility, so you'll also want to think about how people will see your shop when positioning your sign. For example, if you're in a shopping center where people generally pass by in cars, you'd want to place your sign high up and make it large so people can see it as they drive by. Meanwhile, if it's mostly foot traffic, then you might want to position it lower or even use a chalkboard sign or sidewalk art for added aesthetic impact.
Tip
: Take a step outside your store and put yourself in your shoppers' shoes. Seeing what they see will help you position your storefront sign in the best spot.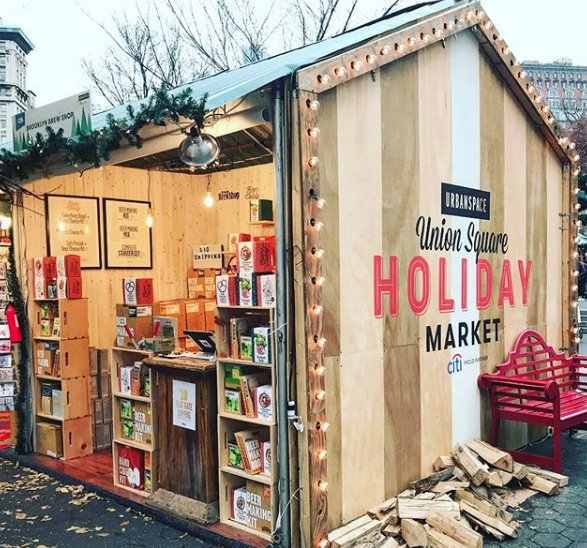 ---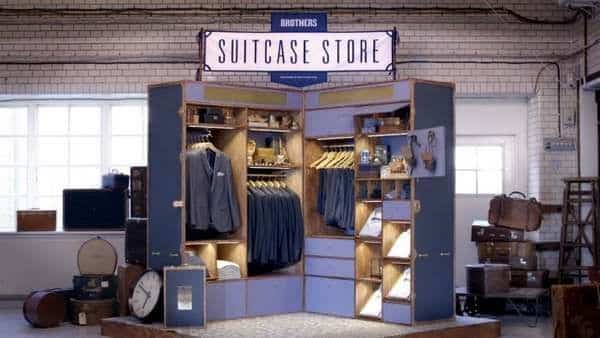 ---
2. Commission an Artist to Paint a Mural
A mural is a great way to draw attention and foot traffic to your pop-up shop. Plus, you can give back to the community by supporting a local artist. This pop-up shop idea also creates a photo opportunity that shoppers are likely to share on social media.
Take the small streetwear brand RIPNDIP, for example. Its building is painted a bright blue hue with a bold art installation to really catch passersby's eyes.
3. Design a Bold Layout
One of the best ways to draw attention to and keep shoppers in your pop-up shop is by implementing a bold store design. Bright colors and unique visuals will help attract shoppers to your space no matter where you set up and will make customers remember your brand.
RIPNDRIP also used bold design elements, like rolling turf floors, whimsical furniture and decor, and bold art, to turn what would have been a very ordinary showroom into something exciting and experiential.
4. Think Outside the Box When It Comes to Your Space
Consider using a unique, innovative space as one of your pop-up shop setup ideas. More adventurous brands have used abandoned warehouses and many other interesting and engaging spaces for their pop-up shops.
5. Consider a Mobile Pop-up Shop
One of the biggest benefits of a pop-up shop is its flexibility. Besides semi-permanent structures to pour your brand's creative juices into, you can also take your store mobile with a moving pop-up shop setup. Take some inspiration from food truck businesses and convert an old van or truck into your in-person brand experience.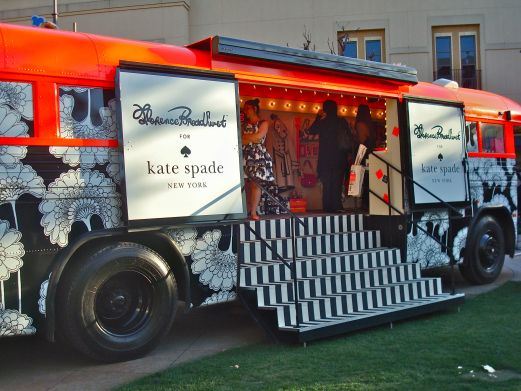 ---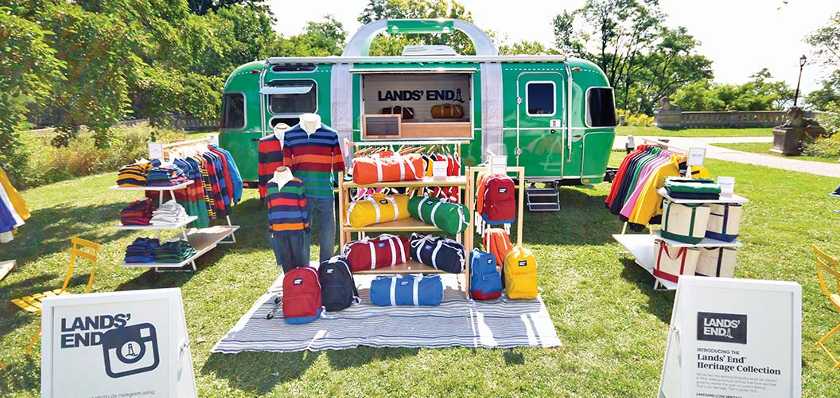 ---
6. Join Existing Pop-ups
There are many markets and even pop-up collectives that are already built to host brands. These options are great because they're turnkey, and you might even have some support from people who have extensive experience with pop-up store ideas.
Online vintage and handmade clothing brand Peppy Debs frequently participates in pop-up shops at existing markets and events. This one was with Makers Market, based out of Asbury, New Jersey.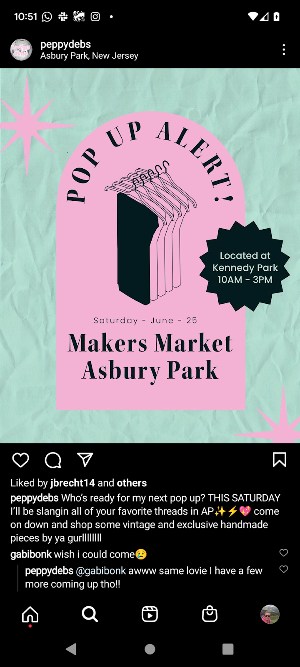 7. Pop Up in a Mall
Though shopping malls were once deemed "dead," they're actually making a comeback. Foot traffic in shopping malls is now 5% higher than pre-COVID, and some experts believe this upward trajectory will continue.
That's why malls are viable pop-up shop setup ideas. Businesses can take advantage of the foot traffic as well as the amenities the space has to offer. Shopping malls are retail-ready, so you'll have everything you need, from parking for shoppers to lighting and outlets, and everything in between!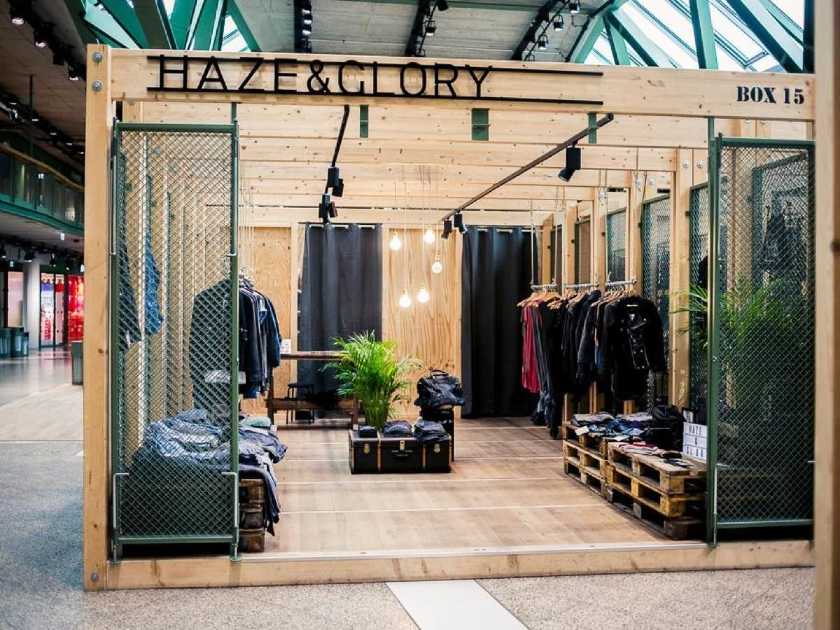 ---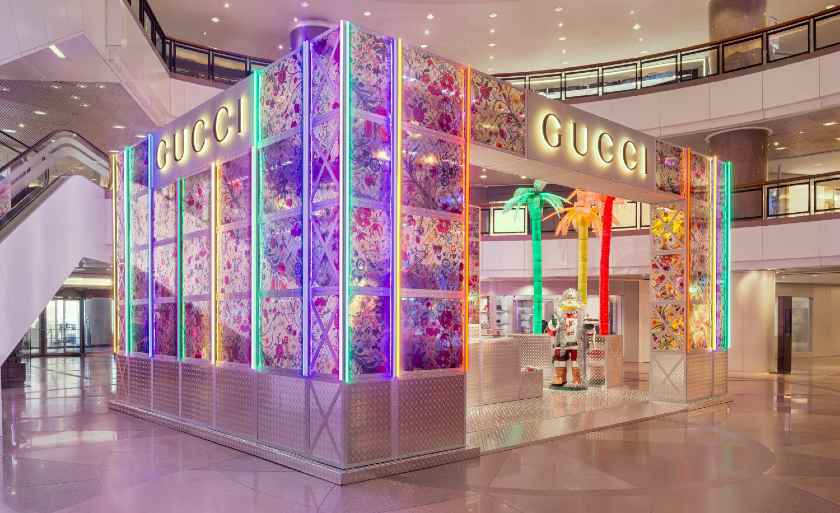 ---
8. Get Inspired by the Season
Take advantage of the impermanence of your pop-up shop and get seasonal. Many brands host holiday pop-up shops to take advantage of the spike in sales at that time of year. You can also go by season or events, such as back-to-school, Fourth of July, cyber week, or Black Friday.
9. Incorporate Art
Another way you can enhance your pop-up store is by incorporating artwork. Work with a local artist and get an installation or use a print of something famous. Either way, adding art to your design is a great way to make your space more visually engaging and leave a strong impression on shoppers.
10. Use Interactivity for More Engagement
Interactive design elements are displays, entertainment features, or events that encourage customers to interact with your business or merchandise. This can be as simple as having interactive displays, free-test/taste products, or even in-store visit promotions. Other ideas for interactive activities to boost engagement with your business include setting up a workshop, creating photo opportunities, hosting events, and bringing in product experts. (We'll cover each of these in more detail in the sections below.)
11. Host a Workshop
Shoppers expect pop-ups to be a unique retail experience—an engaging and unique event. To capitalize on that expectation and incorporate interactivity at the same time, try setting up a workshop.
Brika and Oxford Properties collaborated on a "novel curated concept store" at a local mall. The pop-up shop ideas were complete with a bakery/cafe and a dedicated workshop where they hosted six activities for shoppers.
12. Create Photo-ops
Having the perfect photo-op spot is a huge draw for modern shoppers. Install a mural, photo booth, living wall, fun sign, or any other "Instagramable" design feature to increase your foot traffic and promote interaction with your brand. However, make sure to consider your target audience and whether creating a photo-op would bring in the customer base you're actually seeking to attract.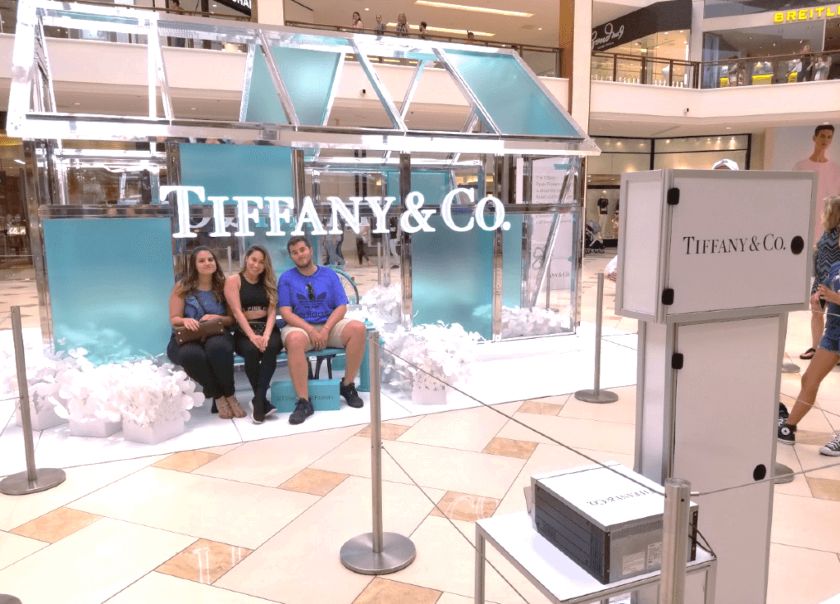 ---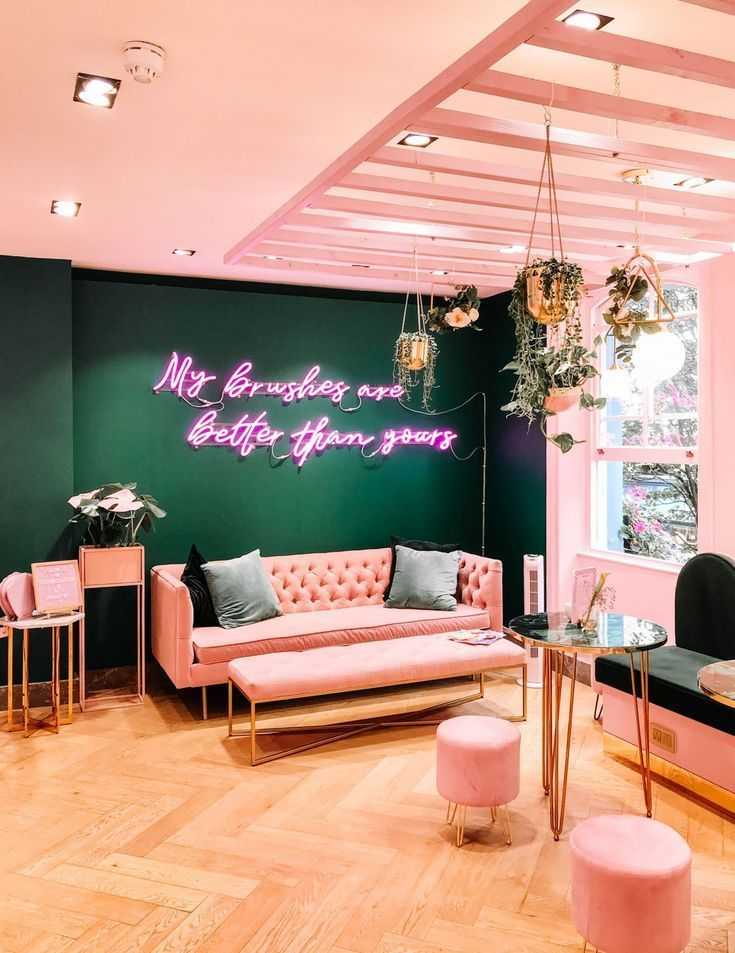 ---
Be sure your photo area is well lit, reflects your brand, and has enough space for customers to take their shots. If you have a larger space, consider putting your photo area toward the back. This will force people to walk through your entire space and see all your offerings before they reach their destination. Display your social media handles and hashtags in or near the photo-op spot so that customers can easily find you online and you can share posts you are tagged in.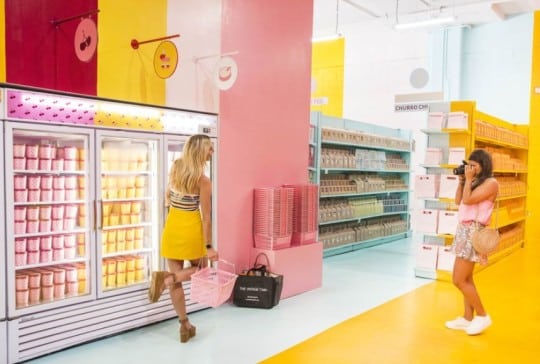 ---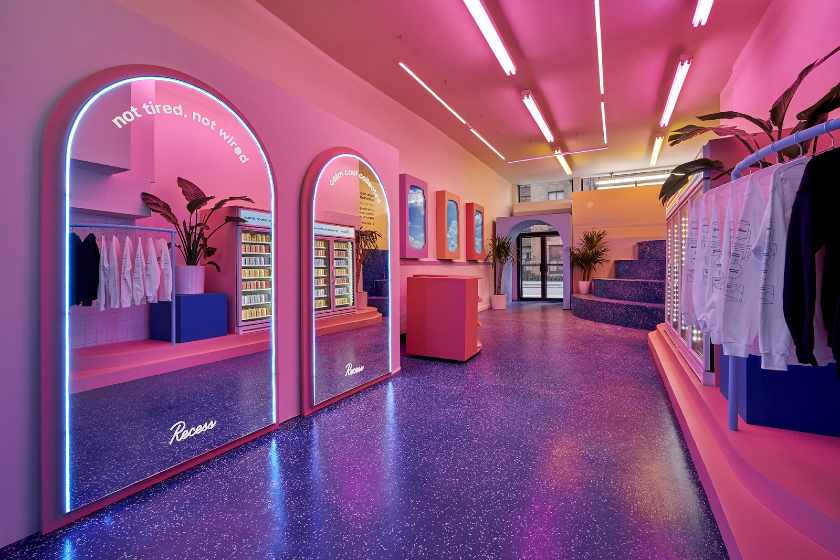 ---
13. Host a Special Event
Consider hosting an event at your pop-up shop. Special events add excitement to your pop-up store ideas and attract foot traffic.
At my store, for example, we would host "Sip and Shop" events where we would stay open past regular hours and have wine, snacks, and new products for customers to shop. Without fail, the festive environment would get people shopping—and the fun and unique experience would create a positive and lasting impression of our brand.
You will want to plan an event that will appeal to your target market and speak to your brand. Going back to my example, we had a large customer base from the salons and offices around our shop. To make it easy for them to make it to our events, we scheduled the Sip and Shop when our target customers were getting off work. We also hand-delivered flyers to all the stores in our area so people in the neighborhood knew about our happenings.
14. Hold Product Demos
Product demonstrations show customers how to use a product and are great for businesses that offer products that have interesting features or require manual manipulation. For example, you might use a demonstration at an outdoor store to show all the features of a fishing rod or to demonstrate how to set up a tent.
15. Bring in a Product Expert
You can invite a product expert or a special guest to your pop-up store to boost customer engagement and showcase product demos at the same time. Product experts are individuals with expertise in a product area, and you can invite them to your shop to give advice and show customers how to use your merchandise.
This is an especially effective strategy if you have merchandise like tools, ingredients, parts, or technical items because they can make your products less intimidating and help customers imagine themselves using your pieces themselves.
For example, if you sell cooking supplies, you could bring in a product expert for your pasta machine who can show customers how to use it. This expert advice and presentation will help customers feel more at home with a technical cooking device and visualize it in their lives.
Tip: Don't forget to tell people about the expert and their visit to your store. Advertise their expertise and background to build customer trust and prove their value.
16. Feature New or Exclusive Products
You can make your pop-up shop even more enticing by offering new or exclusive items. This will create excitement around your retail activation and further incentivize people to visit. That's what sustainable fashion brand Kula does for its pop-up events.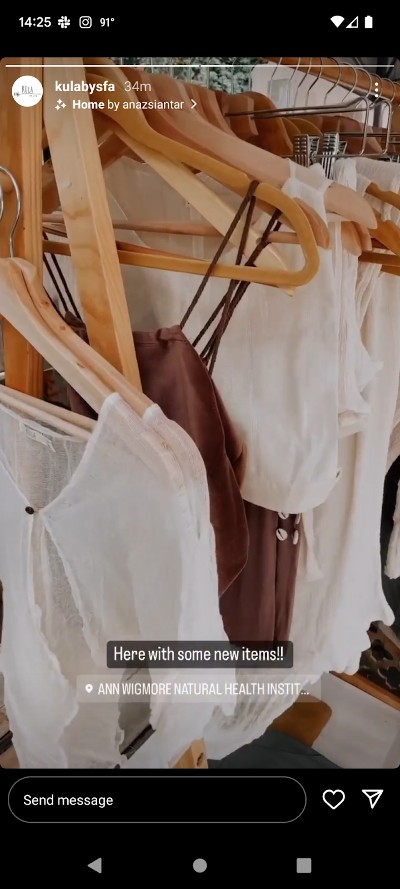 Offering an exclusive item is especially effective if your brand has an online store or permanent brick-and-mortar location—you can create hype among your existing customer base and encourage them to visit your pop-up. For example, an ecommerce hair care brand might offer a pop-up shop-exclusive scent or bottle.
Another great way to drum up excitement around a new product is to do a spinoff of a bestseller. Additionally, you can showcase new, never-before-seen products or exclusive seasonal items. For example, a candle shop might offer an exclusive Christmas tree scent around the holidays, or a clothing brand might offer a trendy color of their bestselling tee.
17. Collaborate With Other Businesses
Access a broader customer base and bring more shoppers to your pop-up by collaborating with other businesses. Collaborations expose your brand to new customers, and you can also share some of the responsibility with a partner for your pop-up.
Remember to be strategic with your partnerships. You want to work with businesses that are in line with—but not directly competitive to—yours. For example, a women's clothing boutique might want to partner with an eyelash bar but probably wouldn't benefit from working with a fishing supply store or another women's clothing store.
Tip: Make your collaboration into an event. Bring differing businesses together under one roof for a celebratory shopping experience that will draw lots of customers in and increase sales.
18. Offer Product Samples
Samples are free offerings that businesses provide to their customers, allowing them to try the product with no obligation to purchase. This reduces customer shopping anxiety and promotes impulse purchases.
In retail, the sampling conversion rate is around one in four. This demonstrates just how effective samples are as a sales strategy. You can also use this as a benchmark for your samples. If your conversion rate isn't around 25%, it's time to revisit your sampling strategy.
Typically, samples work best for food or beauty products. For example, a food store might sample its newest flavor of hot sauce, or a beauty store might offer a mini lotion bottle.
Here are a few pointers for setting up successful sampling or demonstrations in your pop-up shop:
Merchandise nearby: Merchandise the products you are sampling or demoing nearby so that customers can find them easily.
Train your reps: Be sure that the person providing samples or demonstrating a product is well-trained to sell the products effectively and answer any customer questions.
19. Create a Pop-up Fulfillment Center
Many consumers and retail businesses alike are adopting click and collect, or buy online and pick up in store (BOPIS), habits. According to BOPIS statistics, more than half of consumers plan to "frequently" use BOPIS over the next year. It's a popular and innovative way to conduct multichannel business.
Given that, doubling your pop-up shop as an in-person fulfillment center provides a great opportunity for you. This gives you the chance to personally thank customers for their support, as well as provide a closer connection with your brand.
This pop-up store idea is great for retail businesses that primarily sell online. For example, you can open a pop-up fulfillment center in a location where you receive a lot of online orders to help reduce shipping costs. Or, you could pop up somewhere you don't receive many online orders and give people in those locations an extra reason to purchase from you.
20. Offer a Shipping Service
Another way you can make a positive impact on customers and improve their experience is by flipping the idea of BOPIS on its head and offering ship-from-store services. Creating an alternative for customers who can't take their purchase with them that day or carry it around, you'll create more buying incentives and a positive impression of your brand.
Tip: Consider how easy it is to transport and take your product home. Living or large items, like plants or furniture, can be difficult.
Since pop-up shops attract local customers, you can set up a delivery request form where customers can leave their information and a delivery window that works with their schedules. Then, you can arrange for a local delivery service to send out your parcels in batches that match the expected times of delivery.
One thing to consider is your shipping costs. If you can, offer free shipping—it can be quite enticing for consumers when handled properly. If that's not feasible, maybe you can offer free or discounted shipping with a minimum purchase amount.
21. Provide Complementary Services
A complementary service is an extra service or product you provide to show customers how they can best use your merchandise. For instance, a dietary supplements and weight loss brand could offer "smart scales" that tell customers about their body fat percentage, water weight, and muscle mass.
These kinds of services will make it easier for customers to imagine using your merchandise and get them engaged with your brand. Typically, these services are free and have no purchase obligations attached.
22. Leverage the Power of Social Media
With more than 4.7 billion people on social media worldwide, it's critical to have an effective social media strategy that helps you reach your audience and expand your customer base. Consumers have a tendency to learn about new brands and even find upcoming local events via social media.
When it comes to using social media for your pop-up shop, do the following:
Create a branded hashtag for the event and encourage people to share their experiences with that hashtag—include it on store signage, displays, printed materials, and digital promotions.
Set up a Facebook and Instagram event so people can RSVP—this will give you an estimate of how many people might show up, plus it will send notifications to remind people to come.
Tease your pop-up shop about a month before the event, increasing the frequency the closer you get to the date.
Livestream from your pop-up shop to show other people what they're missing and encourage people to attend this or future pop-ups.
Keep your profiles updated with your newest products, events, and any other information you think would intrigue customers and get them shopping. Your social media outlets are a great way to give your brand a personality and to show how your products can look in the real world.
23. Host Virtual Pop-ups
You can also use social media to hold live events where you can interact with customers online, answer their questions, and showcase your products. Or, hold an online livestream shopping event on Instagram or TikTok where people can shop virtually and make real-time purchases as you stream.
Related: Livestream Selling Statistics To Know
24. Invite Influencers
Influencer marketing is a $16+ billion dollar industry with plenty of opportunity for businesses of all types and sizes. Working with influencers will put your brand in front of new target audiences. They can also create high-quality content for your brand.
Curate a list of local influencers who fit your target and send them a personalized invitation to your event. Send them a small gift or free product, and consider offering them a discount code to share with their online followers after the pop-up.
25. Continue Your Shop Online
It's important you support your physical retail marketing campaign with your online efforts. If you don't have one yet, create a website. A website will help you capitalize on the expanded customer base that pop-ups create.
Your website is a place where people can learn about your brand, find out about your pop-up events, and ideally purchase your products. Add ecommerce to your site so people can continue shopping for your products after the fact. Maybe they tried an item at your pop-up but weren't ready to purchase yet—they can do so at a later date via your online store.
Tip: If you're not ready to create your own website, then try selling your products on established ecommerce marketplace like Etsy. Check out our guide on how to sell on Etsy.
26. Capture Content During the Event
The top marketing challenge for small businesses is the ability to focus on marketing, and that includes creating content. You can (and should!) use your pop-up store as an opportunity to curate content for future marketing needs.
You don't need to live post from your pop-up shop. In fact, you can capture the content—or hire someone else to—and then curate it later. That's exactly what The ReWoven Shop did for its first pop-up shop event, sharing a reel to its Instagram after the fact. This will encourage people to follow the page and check out future pop-ups so they don't miss out.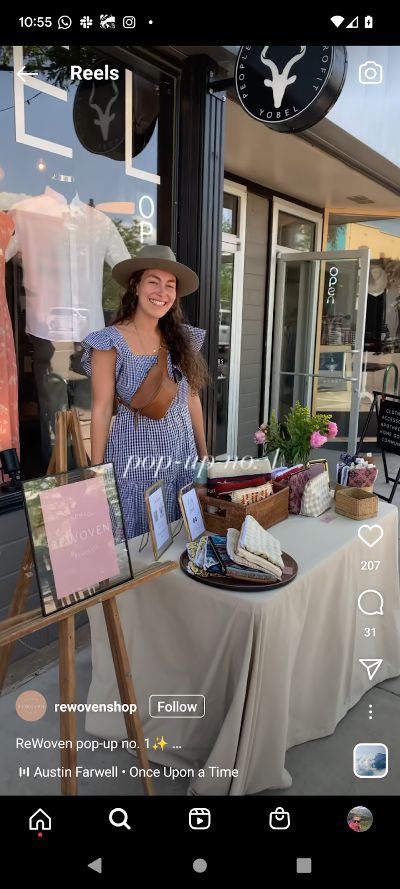 Bottom Line
Pop-up shops are an increasingly popular retail strategy and great for increasing your customer reach, driving sales, and improving brand recognition. At their core, successful pop-up stores are about creating a good experience between your brand and the customer. Using the tips above, you're sure to come up with great pop-up shop ideas and experiences that will help your business thrive.
You May Also Like …