How To Increase Retail Sales: 12 Tips & Strategies
Customer foot traffic to physical retail stores is up nearly 35% in March 2022 from January 2021. If you've already started efforts to boost your sales by using different pricing strategies and creating an online presence, there are a few ways to capitalize on increased foot traffic for your brick-and-mortar store. We go through these tips and strategies in this guide.
1. Check Your Signage & Displays
An important part of your retail store that you can potentially improve is your signage and displays. Well-considered and quality signage positively impacts sales, with over 60% of businesses gaining an 10% increase in sales when they update or add signage.
It's common knowledge that color psychology has a huge influence on consumers, so it's worth experimenting with different colors on your signs. Red is the most common color for sales, but too much of it might be garish or distracting. You should also try to manage the balance between window signage and the merchandise displayed—you want people to see what is on sale after all.
In the example below, retail brand Kate Spade Saturday, in partnership with eBay, created this iconic window display that lets customers experience a new level of window shopping. Its interactive display allowed customers to shop the store windows from their mobile phones. Notice that it extended the impact of its promotion by painting the exterior walls yellow (its brand color) and included an important sign that will further convince you to shop—items can be hand delivered.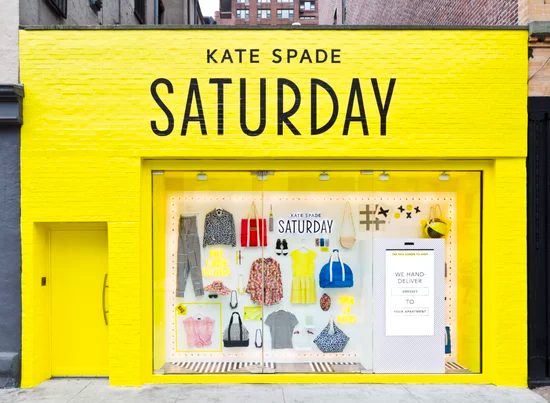 Another trick you can try comes from a 2020 study in Sweden, where it was shown that adding the names and recommendations from specific staff members increased sales.
Display In-store Visuals Strategically
When a customer enters your store, you need to entice them by having strategic in-store displays and an effective store layout (which we discuss in detail in the next section).
In-store displays can come in a variety of forms, but it is recommended to keep them multidimensional, have a focal point, display products in action, and highlight your best products.
It is also a good idea to play with digital signage, motion displays, or augmented reality (AR) to further engage customers.
Update your displays and signage regularly. Keep your visual displays up-to-date with the latest trends and seasons. Mark special occasions and shopping dates on your calendar, and plan for them in advance. Ask yourself what kind of updates to your store displays can benefit from Mother's Day, Independence Day, or the holiday season.
2. Optimize Your Store Layout
Before your customers even come through the door, you'll want to make sure you carefully plan your retail store layout. Maximizing the space you have, making sure your customers are comfortable, and thinking through easy navigation in the store are all areas to include in your planning.
Beyond the floor plan itself, you can also use the following methods to help inform your ideas.
Analyze Foot Traffic
The first tactic you can try for optimizing your store layout is to determine your foot traffic, both in and out of the store. Doing regular analyses of your store's foot traffic can help you determine if your location is optimal, and how well your store layout works.
For example, if you use a heatmap service like Link Retail (shown below), you might find that parts of your store are "cold zones," an indication that you should rethink your layout.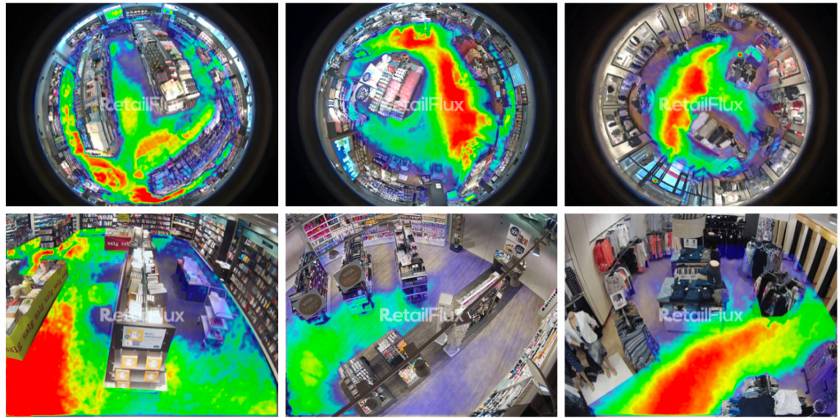 Appeal to Impulse Buys
Another strategy you should make use of if you haven't already is taking advantage of impulse buys. According to a 2021 survey, Americans make an average of 12 impulse purchases a month, spending some $276 on these purchases. Consider placing your high-margin, seasonal, or fresh items at the front of the store so potential customers see them when they first walk in.
The other important area prime for triggering impulse buying is the checkout counter or a queue route toward the checkout counter. You'll want to place your low-cost items here as customers are more likely to add low-cost impulse items to their shopping carts than high-cost items.
Impulse buys often have triggers. Here are some suggestions to make impulse buying more noticeable and enticing:
Sense of urgency: Having limited-time promotions can trigger a shopper's sense of urgency and FOMO (fear of missing out). Use verbiage such as "This Week Only" or "Limited Time Only" to create a sense of urgency.
Value: Nothing triggers shoppers' impulse buying more than making them feel they are getting more than what they are paying for. Craft your displays with generous offers and deals. For example, having 2+1 promos displayed at your checkout counters can be the final push for them to buy more than they originally planned.
Novelty: If you have new items that are handy (small) and low-cost, display them on your checkout counters. If a product looks novel enough, people will notice them and often absentmindedly put them in their carts. Most shoppers end up with lots of impulse buys because they think the product looked "cute" or would come in handy sometime in the future.
Create an Engaging Store Environment
Lighting, decor, sounds, and even scents play a huge role in creating a store environment conducive to shopping. Past scientific research has shown that scent marketing can raise retail store sales (by 11% in one study) and playing soft background music can slow a customer's shopping pace, making them spend more time (and money) in your store.
Consumer psychologist Kate Nightingale recommends choosing a signature scent for retail stores. She said that consistently using the same scent throughout your store (and even on brochures and postcards) can increase sales by 32%. Scents help your customer better subconsciously remember your business.
3. Empower Your Associates
One aspect of working in retail you might overlook is the ability of your staff to close sales. Some salespeople are naturally gifted with the soft skills needed to persuade customers to purchase products, but the same is not true for everyone.
Whether certain staff members aren't as confident with their sales skills or technology is getting in the way, you'll want to do everything you can to empower them to be able to do their jobs well.
Train Staff on Sales Techniques
Top-performing salespeople are up to 33% more likely to spend time training with their managers. So, for an effective business, the rest of your team needs to be open to sales opportunities by having regular sales training across the board.
You can train in-house to save money, but it's also a good idea to have a budget in place for external training opportunities. Giving each staff member an education budget also shows them you invest in them and their careers.
Make Your Associates Experts
Your sales associates, on top of being convincing sellers, need to be product experts. Consumers love to hear from people who know everything about the items they are selling. Experts also help dispel or confirm any doubts a consumer has about a product. This is an advantage when it comes to buying from physical retail stores—product expertise and demonstration from salespeople.
If you can give added value by offering expert help to people "just browsing" in your store, you're in a good position to convert them into buyers—and less likely to lose them to online competition.
Equip Your Associates With a Mobile POS System
Perhaps your staff are good at closing sales, but what might boost sales even more is equipping them with mobile point-of-sale (POS) apps.
For example, some Apple stores don't have cash registers at all. Instead, the store assistants will get the item you want (after discussing your options) and administer the payment transaction using their mobile POS. This means customers can pay for what they want anywhere in the store, which equals smaller lines, email data collection for customer profiles, and freed up floor space for better merchandising.
4. Offer Different Payment Methods
Another essential element of retail business is how you expect customers to pay for your merchandise. As a result, you must assess your customer's needs in terms of preferred payment methods. If you only accept cash, you're capped at around an 11% market share of payments made in the US.
If you want your customers to be able to pay how they want and accept more payments as a result, let's take a look at some non-cash or in-person payment options:
Mobile wallets: Gaining in popularity in recent years thanks to the likes of Apple Pay, Google Pay, and Samsung Pay, mobile wallets are a form of contactless payments using customers' mobile devices.
Credit card/debit card: Sitting at a share of 40%, credit cards are the most popular form of payment method in the US as of 2021. Accepting credit or debit cards is, therefore, a must-have for most retail businesses to succeed.
Subscription-based: Subscriptions are another form of payment customers are now familiar with. Depending on the type of products you specialize in, you could even consider building a subscription package, with bulk products at a discount, alongside your normal shop.
Self-checkout: In 2021, almost 35% of shoppers planned to use self-service kiosks more regularly, citing it as the safest option for them. Self-service checkouts can help you free up staff, save customers' time, and improve in-store sales.
Buy online, pick up in-store/click and collect: The buy online, pick up in-store (BOPIS) or click and collect method has gained much more popularity since the beginning of the pandemic, especially for small business owners. Shopify's Market Insights team found 38% of all shoppers plan to continue curbside pickup (a socially distanced version of click and collect) with 70% of them saying BOPIS improves their shopping experience.
You'll need to set up click and collect in your online checkout process, but once you do, you have the opportunity to reach your local target market even more effectively.
You don't have to implement every different payment method available, but thankfully with services like Square, accepting credit cards also means you can accept mobile payments—the most popular methods other than cash.
5. Provide Complementary Services
Customers who go in-store to browse and purchase goods are ultimately looking for an experience. Otherwise, they would simply do all of their shopping online.
One way to improve your in-store experiences is to provide complementary services beyond the products you sell. Here are a few ideas to help you get started and win more loyal customers.
Free delivery: This is one of the easiest ways for increasing sales, especially for online stores. If you're not sure about being able to offset the costs, you can offer free delivery for orders over a certain value.
Gift wrapping: Depending on the type of products you sell, a free or premium gift wrapping service can help your customers save time and effort in wrapping gifts themselves.
Product demonstrations: One of the most common types of in-store experiences is product demonstrations. A perfect example of this would be Lush, where the staff are trained to demonstrate how products work on your skin.
In-store repairs: If your products are more mechanical, such as technology or appliances, you can offer to repair or troubleshoot your products in-store—saving customers from having to send their items via the mail.
Product assembly: Another common complementary service is offering product assembly services. This works especially well for retailers that sell large furnishings such as IKEA.
Free parking: Our final service idea is simple: Offer free parking. Naturally, this point is location-dependent. However, it may be possible to strike deals with nearby parking lots where you can get customer tickets refunded or discounted.
In all, customer-centric complementary services alongside your other retail offerings provide your business the opportunity to boost customer retention and loyalty.
6. Use a Customer Loyalty Program
One more tip for increasing your retail sales is to increase your customer retention by creating a customer loyalty program. The goal of a loyalty program is to get customers to reengage with your brand and become repeat buyers, usually benefiting from discounts or other special perks.
Naturally, there are different kinds of programs, depending on the types of products you sell. One of the most successful programs is Sephora's Beauty Insider, which now has over 25 million members.
If you're stuck on loyalty program ideas, a few you can consider are tiered memberships, referral rewards, or the simple "get X product free after X purchases." If you're not sure about the effort it takes to design and print paper loyalty cards (which customers tend to lose anyway), you can try going digital by using loyalty program software.
7. Stay on Top of Stock Levels
Let's say you plan on trying out some of the tips we've covered so far in this guide and, alongside your regular marketing campaigns, they become successful. The last thing you want is for your business to run out of stock. No stock leads to unhappy customers and ultimately to no sales.
Having smooth and efficient inventory management at each point in your supply chain is critical to making sure you don't suffer lost sales opportunities thanks to stockouts. One way of preventing this situation is to use a POS inventory system, which checks and tracks stock in real time with each sale.
Of course, such software normally comes at a premium but there are free inventory management software options available. As a business owner, you'll need to reflect on your business needs and research to narrow down the best option for you.
8. Introduce Free Samples
Sometimes people want to try before they buy. When you let shoppers try your product before committing to a purchase, you can ease any final hesitations or doubts. The best way to prove your claims is to let your product do the talking.
While you might think of free samples traditionally in a grocery store environment or at a wholesale club like Costco, there are ways to introduce free samples even if you're not a food and beverage retailer.
Skincare and beauty brands can let customers try "single servings" on the spot. If you sell apparel or accessories, you might introduce a "try before you buy" type of program. Warby Parker's Home Try-On program is an excellent example of this. If you can't afford to let shoppers try items for free, offer clothing and accessories for a rental period at a small fee. If they love the product enough, allow them to put the rental fee toward the purchase price of the product.
REI doesn't quite go the lengths of Warby Parker, but its generous no-questions-asked return policy can be considered another form of try before you buy, as it's a low-risk purchase.
Another way to allow potential buyers to try your products before purchasing them, as we cover below, is to host an in-store event featuring your items. Maybe you sell cookware and host a cooking class, and participants can purchase the very items they cooked on. Or, if you sell craft supplies, host a sip-and-paint event where people can try your new paint brushes, for example.
9. Host an In-store Event
On the topic of in-store events, these are great ways to increase retail sales by boosting foot traffic. If you've taken the steps to follow the advice outlined above, your space is ideally optimized for sales. Therefore, your next step is to get people to visit your space so they can make their purchases.
In-store events give people a reason to come to your store at a specific time and day. As such, you can specifically prepare your space for this audience, perhaps tailoring in-store displays to their unique interests. If you host the sip-and-paint event mentioned above, for example, you might make sure paints, paint brushes, and canvases are on display and easy to pick up for purchase.
You might also consider collaborating on your in-store event. Maybe it's another local business that caters to a similar target market, or perhaps you enlist the help of a subject matter expert who can promote the event to their audience—a new potential source of customers for you. Regardless of your approach, you can use in-store events to bring people to your space and promote your products to them.
Free sample giveaways and in-store demos or events are part of a bigger experiential retail strategy. According to Shopify's Future of Retail 2022 report, 40% of brands plan to prioritize experiential retail as 32% of consumers say they're more likely to engage with this type of marketing.
10. Promote Corporate Social Responsibility
Nearly 40% of today's consumers are purpose-driven, which means a company's values heavily influence their purchasing decisions. They are more inclined to shop at stores that are associated with a good cause.
Corporate social responsibility helps your business not only be more responsible for local or global causes but can also help boost your sales. Identify good causes that align with your vision and mission and support them. Let it trickle down to your employees.
Here are some ways to be socially responsible:
Donate a portion of your sales to a cause of movement
Be more ethical with your product sourcing and manufacturing—and be more transparent with your business practices
Lead an initiative or community project
Create or participate in events that promote good causes
Treat workforce justly
Coca-Cola is an example of a brand putting a huge focus on sustainability. It has shared that its goal is to reduce their carbon footprint by 25% by 2030. It plans to do this by collecting and recycling every bottle, making packaging 100% recyclable, and replacing all water used in its drink creation back to the environment to ensure water security.
11. Provide a Seamless Omnichannel Experience
More than half of consumers look at a product online and buy it in-store—and vice versa. If this doesn't convince you to develop an omnichannel experience for your store, then take a look at Zara's omnichannel adoption in the second quarter of 2020. It grew its online sales by nearly three-quarters in the first half of the year.
Your retail business may have started adopting an omnichannel approach without realizing it, by adding more sales channels such as an online store and social media integration. However, the key is to efficiently provide the same customer experience across the channels.
You can start implementing omnichannel approaches by doing the following:
12. Make Your Business Easy To Find Online
Customers turn to Google every day to browse, research, and buy. In fact, consumers shop across Google more than a billion times a day. It is vital for your business to be listed in Google and show up on search results.
Ensure your business listing shows up when a potential shopper searches for a keyword relevant to your business. For example, if you sell bicycle parts, then you want your business to show up whenever people search for "bike parts near me."
To do this, create your Google Business Profile, and then slowly build your business' local citations for SEO.
Once done, you can also build Google My Business posts by sharing a promotion, an announcement, or a special offer.
Bottom Line
While many retail businesses managed to improve their sales thanks to surges in online shopping throughout the pandemic, in-store retail sales took a dramatic hit. But now that we're starting to see people return to stores, sales are slowly beginning to pick back up.
Since we're still not at pre-pandemic levels of in-person sales, it makes sense to use as many strategies as you can to maximize the opportunities you get. The tips we've covered in this article should help you increase retail sales and build on the momentum of returning customers.
You May Also Like…