Even in uncertain economic conditions and waning consumer spending, with some creativity, you can figure out how to increase retail sales to keep your business thriving. Optimizing your in-store experience and making sure that your products are available on every shopping channel that customers might need is a good place to start.
In this guide, we will look at 18 tips and strategies to boost retail sales, keeping you inspired and your sales rolling in, no matter the circumstances.
1. Enhance Your Store Signage
One of the best ways that you can increase your sales is by enhancing your store signage. Effective store signage will drive foot traffic, increase your store visibility and reach, and can help drive retail sales.
In a study from Sign Research, they found that effective store signage can boost retail sales, with over 60% of businesses seeing a 10% increase in sales when they updated or added their store signage.
For your store signage, focus on:
Visibility: Be sure your sign has the right size, placement, and illumination to be easily seen during all of your store hours.
Brand Image: Your sign should reflect your brand and give shoppers an idea of what they can expect to find inside.
Compliance: There are often city or shopping center rules for signage and the parameters you need to meet for it to be acceptable. Account for these as you design and place your sign so you don't invest in signage you won't be allowed to use.
From there, you can check out our guide on How to Choose a Storefront Sign for Your Small Business to see more on sourcing, design tips, and legalities.
2. Optimize Your Store Layout
Even if you have a great store sign, you can't increase retail sales without an effective store layout. This means creating a layout that is easy to navigate, using a design that will draw customers' attention to key areas, and optimizing your space to keep shoppers engaged the entire time they are in your store.
Learn more about how to plan your store layout to boost retail sales, as well as all the components a good store layout should include, with our guide to Planning Your Retail Store Layout.
3. Focus on Merchandising
Merchandising includes all the non-verbal tactics that retailers use to make their products appealing and inspire sales. So, if you are looking at how to increase retail sales, merchandising is a logical place to look.
The biggest things to focus on when merchandising your store are:
Making your products look their best: From using product displays and keeping your store tidy, to strategically placing products relative to one another (i.e., cross merchandising) and selecting the right lighting—do everything you can to make your products look their best and become more enticing to shoppers.
Increasing customer engagement: If you can get people engaging with your products, there is a better chance they will end up making a purchase. Try incorporating product signage that people can read, QR codes for scanning, or visually interesting product displays to keep people engaging with your products.
Creating buzz with your exterior: This includes your window displays as well as your store signage—the two biggest things for creating curb appeal and driving shoppers into your store.
Update your merchandising regularly. Keep your visual displays up-to-date with the latest trends and seasons so you can stay relevant and interesting, and sell through seasonal products in a timely manner. Get on top of your merchandising initiatives with our retail marketing calendar.
4. Appeal to Impulse Buys
Impulse purchases are purchases that shoppers make "on a whim" or without prior planning and are typically smaller, inexpensive items. Appealing to impulse buying offers massive opportunities for retailers to increase their profits. In fact, according to a 2021 survey, Americans make an average of 12 impulse purchases a month, spending some $276 on these purchases.
Consider placing your high-margin, seasonal, or fresh items at the front of the store so potential customers see them when they first walk in. Additionally, add small, inexpensive items to your cash wrap or around any queue zones. Placing things like candies, cards, and jewelry where people have to wait can help boost impulse buys.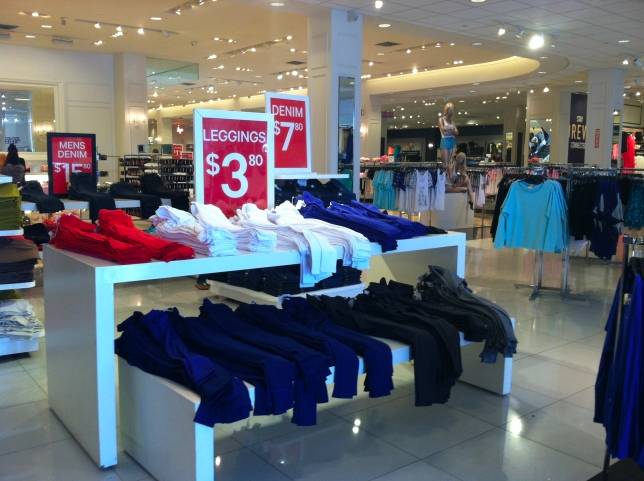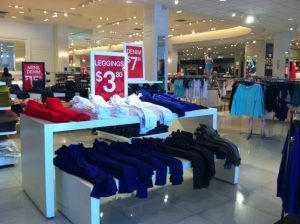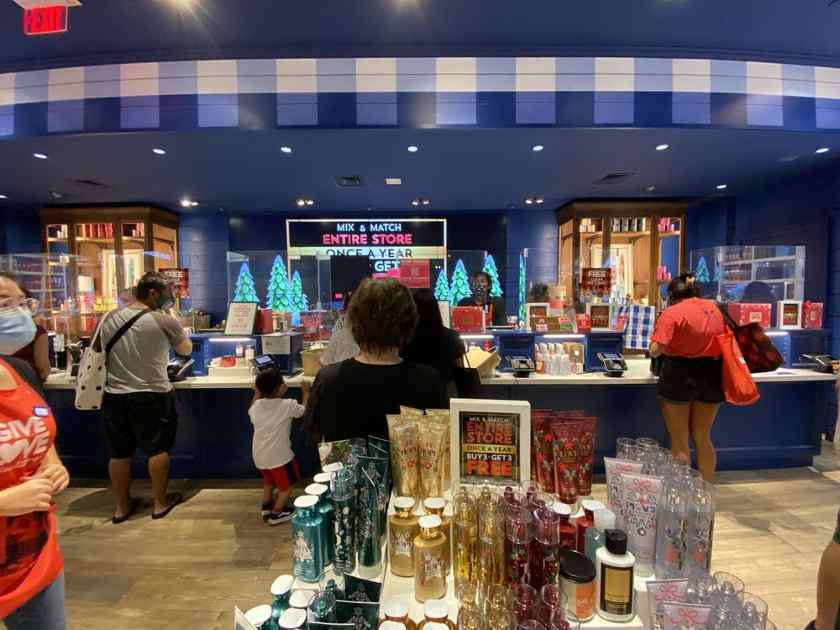 Another way to drive impulse buying is by appealing to the triggers that make customers complete their impulse purchases. These triggers include:
Create a sense of urgency: Having limited-time promotions can trigger a shopper's sense of urgency and FOMO (fear of missing out). Use verbiage such as "This Week Only" or "Limited Time Only" to create a sense of urgency.
Offer a sense of value: Nothing triggers shoppers' impulse buying more than making them feel they are getting more than what they are paying for. Craft your displays with generous offers and deals. For example, having 2+1 promos displayed at your checkout counters can be the final push for them to buy more than they originally planned.
Evoke novelty: If you have new items that are handy (small) and low-cost, display them on your checkout counters. If a product looks novel enough, people will notice them and often absentmindedly put them in their carts. Most shoppers end up with lots of impulse buys because they think the product looks "cute" or would come in handy sometime in the future.
5. Empower Your Associates
When you look at how to increase retail sales, one area of your business that you might overlook (but shouldn't) is your staff. A well-trained staff, with strong product knowledge and great tech, will have the tools they need to work with customers to close sales. It's important to equip your staff with these tools to boost retail sales.
Training
To create an effective retail staff, you will want to start by providing them some basic sales training. You can train in-house to save money, but, if you have the budget, it can be extremely effective to invest in external training resources, like coaches or online training programs.
The retail sales training areas that you will want to focus on include:
Offering product suggestions
Introducing promotions and deals
Pitching loyalty programs
Offering assistance
Providing fitting room-side assistance
Cross-selling and upselling
Product Knowledge
On top of being convincing sellers, your staff should also be product experts on everything you sell. Consumers love to hear from people who know everything about the items they are considering purchasing, and will be more poised to buy if your staff can pitch all the product features and answer their questions. Additionally, for the "just browsing" customers, if your staff can tell them about your products, they are more likely to be converted into buyers.
To get your staff ready with product knowledge, you should make product training part of your onboarding process and then hold periodic (quarterly or semiannual) product training sessions to keep your staff fresh and up-to-date with your latest offerings.
Mobile POS System
Another way you can set your staff up to boost retail sales is by equipping them with mobile point-of-sale (POS) devices so they can complete transactions on the sales floor.
Convenience is a huge factor in modern consumer purchasing decisions, and having to wait in a line to complete a purchase will deter many shoppers. Giving your staff the ability to complete transactions on the sales floor as soon as shoppers are done browsing will speak to the consumer call for speed and convenience while also taking away their opportunity to think about their purchase too much.
6. Offer Modern Payment Methods
Another essential element of increasing retail sales is ensuring you can process any payment type that customers might have. This means offering tap, swipe, and insert options for physical cards, as well as mobile wallet compatibility, cash options, and even checks and wire transfers.
If you don't offer a customer's preferred payment method, that's a sale lost, so you will want to be sure to choose a payment terminal and merchant account that can accept anything that a customer might throw your way.
7. Integrate a BNPL Offering
Another huge trend in retail payments that you should work on integrating into your business is customer financing on buy-now-pay-later (BNPL). More and more, customers are using BNPL to finance everyday purchases, so even stores that sell small-ticket items can benefit from adding a BNPL option in terms of conversion rates and average ticket values.
Some POS systems, like Square, have pre-integrated BNPL apps already offered as a payment method in their in-store and online checkouts. If you don't have a pre-built option, however, you can easily add a BNPL to your checkout by simply registering with a customer financing provider and following the integration steps they provide.
8. Create Buy-Online-Pickup-In-Store Options
Another way that you can cater to customer preferences and boost retail sales is by offering click-and-collect or buy-online-pick-up-in-store (BOPIS) services. BOPIS and its status as a customer expectation is one of the long-term effects that the COVID-19 pandemic has had on the retail industry. Even as stores have reopened and shopper anxieties have waned, the pure convenience of click-and-collect has made the service a shopper expectation that has (and will continue to) stick around.
To avoid missing out on sales from customers who want to buy online and then pick it up in-store, you should integrate the offering into your website, advertise it in-store, and create procedures to fulfill BOPIS orders.
Here are our expert guides to get you started integrating click and collect into your business's offerings:
How to Set Up Click and Collect for Retail
Buy Online, Pick Up In-store (BOPIS) Statistics for Businesses
9. Provide Complementary Services
Customers who go in-store to browse and purchase goods are ultimately looking for an experience. Otherwise, they would simply do all of their shopping online.
One way to improve your in-store experience is to provide complementary services beyond the products you sell. Here are a few ideas to help you get started and win more loyal customers.
Free delivery: This is one of the easiest ways for increasing sales, especially for online stores. If you're not sure about being able to offset the costs, you can offer free delivery for orders over a certain value.
Gift wrapping: Depending on the type of products you sell, a free or premium gift wrapping service can help your customers save time and effort in wrapping gifts themselves.
Product demonstrations: One of the most common types of in-store experiences is product demonstrations. A perfect example of this would be Lush, where the staff are trained to demonstrate how products work on your skin.
In-store repairs: If your products are more mechanical, such as technology or appliances, you can offer to repair or troubleshoot your products in-store—saving customers from having to send their items via the mail.
Product assembly: Another common complementary service is offering product assembly services. This works especially well for retailers that sell large furnishings such as IKEA.
Free parking: Our final service idea is simple: offer free parking. Naturally, this point is location-dependent. However, it may be possible to strike deals with nearby parking lots where you can get customer tickets refunded or discounted.
Customer-centric complementary services provide your business the opportunity to boost retail sales, customer retention, and loyalty.
10. Deploy a Customer Loyalty Program
Another strategy for increasing your retail sales is to increase your customer retention by creating a customer loyalty program. The goal of a loyalty program is to create loyal, repeat customers by rewarding their patronage of your store with points, discounts, or other perks.
Customer retention is key for increasing your retail sales. A common piece of retail knowledge says that a 5% increase in customer retention can boost profits by up to 75%, and that almost 65% of a company's business comes from repeat customers.
There are lots of different kinds of programs with different structures and efficacies depending on the types of products you sell. One of the largest and most successful programs is Sephora's Beauty Insider program, which now has over 25 million members and follows a tiered points structure.
11. Improve Your Inventory Management
Even if you do everything else in this guide to boost retail sales, if you don't have good inventory management, your efforts will be for naught. Inventory management refers to everything a business does to have the right stock, in the right level, available at the right time. It also entails everything a business does to reduce inventory loss or shrink.
In other words, good inventory management means that your merchandise is timely and available to customers so they can purchase it, and you won't have tons of excess stock you have to discount to get rid of. Tightening up your inventory management will have a dramatic impact on your bottom line.
So, if you are asking how to improve retail sales, look to your inventory and ask:
Do I have the inventory people want?
Do I have enough of it? Do I have too much of anything?
Do I have the fulfillment procedures laid out to get my inventory to me when I need it?
If you answer "no" or "that you can do better" to any of these questions, it's time to assess how you are managing your inventory. While you can create and maintain an inventory management system by hand, my suggestion is to automate the process by adopting an automated inventory management system either through your POS or a standalone inventory software.
Here are some resources to get you started:
12. Analyze Your POS Data
Another way that you can optimize your retail business is by analyzing your POS data. The best POS systems on the market will offer up-to-the-second reports on your inventory, sales patterns, customer behaviors, marketing initiatives, loyalty programs, payment trends, foot traffic, and more.
View and analyze your reports weekly, monthly, quarterly, and annually so you can detect patterns, capitalize on them, and make better-informed decisions on how you run your business.
Some things that you can look for in your POS data for increasing your retail sales include:
Top-selling inventory: Look at what customers are buying (and when) so you can offer more of those items at the right time.
Stockouts: Look at what inventory ran out so you can order it in larger quantities and sell it to every customer that wants it without running out beforehand.
Promotions: Look at what promotions worked the best for you so you can use similar discount or rewards structures that will drive sales in the future.
Conversion: Look at when customers are just browsing and when they are actually purchasing to see if you notice any circumstantial patterns, like what merchandising you are using, who is working, the type of promotion you are running, etc. so you can try and replicate the highest engagement environment.
13. Offer Free Samples
Sometimes people want to try before they buy—and the best way to prove your product is great, is to let the items do the talking itself. When you let shoppers try your product before committing to a purchase, you can ease any final hesitations or doubts and boost your sales.
While you might think of free samples traditionally in a grocery store environment or at a wholesale club like Costco, there are ways to introduce free samples even if you're not a food and beverage retailer.
Skincare and beauty brands can let customers try "single servings" on the spot. If you sell apparel or accessories, you might introduce a "try before you buy" type of program. Warby Parker's Home Try-On program is an excellent example of this. If you can't afford to let shoppers try items for free, offer clothing and accessories for a rental period at a small fee. If they love the product enough, allow them to put the rental fee toward the purchase price of the product.
Free sample giveaways and in-store demos or events are part of a bigger experiential retail strategy. According to Shopify's Future of Retail 2022 report, 40% of brands plan to prioritize experiential retail, as 32% of consumers say they're more likely to engage with this type of marketing in the coming months.
REI doesn't quite go the lengths of Warby Parker, but its generous no-questions-asked return policy can be considered another form of try before you buy, as it's a low-risk purchase.
Another way to allow potential buyers to try your products before purchasing them, as we cover below, is to host an in-store event featuring your items. Maybe you sell cookware and host a cooking class, and participants can purchase the very items they cooked on. Or, if you sell craft supplies, host a sip-and-paint event where people can try your new paint brushes, for example.
14. Host In-store Events
In-store events are great ways to increase retail sales as they can improve your brand image, increase customer engagement, boost loyalty, and drive foot traffic. Some in-store event ideas you might try include:
Collaboration: Collaborate with another business to host an event so you can bring both of your customer bases together.
Sip and Shop: Host an after-hours event where people can sip beverages and shop. Be sure that you have your liquor license if you are going to serve alcohol.
Loyalty event: Host a loyalty members-only event.
Meet and greet: Partner with a local celebrity, athlete, or influencer and host a meet and greet at your store to get their base through your doors.
Product launch: If you are introducing a new product, host a launch party to get people excited.
Early access: Host an early access event for a special drop or sale to get people excited.
When choosing what kind of event you want to host, consider who your customer base is and what might appeal to them the most. This consideration will help you create the biggest turnout and optimize customer satisfaction.
15. Promote a Brand Ethic
Adopting a brand ethic will not only help your business be more responsible for local or global causes, but will also help make your brand more appealing to consumers. Nearly 45% of today's consumers are purpose-driven, which means company values weigh heavily in their purchasing decisions. In fact, many shoppers won't even buy from stores that don't have a brand ethic or that display values that don't align with their own.
To appeal to modern consumers via a brand ethic, start by identifying good causes that align with your brand, customer base, and personal ethics. From there, you will want to support and promote this cause by:
Donating a portion of your sales
Leading an initiative or community project
Creating, participating, or sponsoring a relevant event
Hosting a raffle to raise money
Creating a social media fundraiser
Coca-Cola is an example of a brand putting a huge focus on sustainability. It has shared that its goal is to reduce its carbon footprint by 25% by 2030. It plans to do this by collecting and recycling every bottle, making packaging 100% recyclable, and replacing all water used in its drink creation back to the environment to ensure water security.
16. Provide an Omnichannel Experience
Creating an omnichannel experience is key for driving retail sales, as it will ensure that your products are discoverable and available wherever shoppers do their shopping. The first areas you will want to hone in on are your in-store and online experience. Be sure that you have great in-store options, as well as an ecommerce store, social media shops on Instagram, Pinterest, Facebook, and TikTok, and even an ecommerce app.
From there, you will want to make the in-store to online experience seamless with options like:
All of these measures will ensure you are meeting customers where they are shopping so you can capitalize on every sale and drive your retail sales.
17. Make Your Business Easy to Find Online
Customers turn to Google every day to browse, research, and buy. In fact, consumers shop across Google more than a billion times a day. It is vital for your business to be listed in Google and show up on search results if you want to capture all potential customers and increase retail sales.
In order to make your business finable online, you will need to hone in on your search engine optimization (SEO) strategy. This means using the right language and site design so that Google can match your site with relevant searches.
18. Utilize Social Media: Advertising, Influencers & Social Shops
One of the top retail ecommerce trends that has only been growing in proliferation year-over-year is the use of social media platforms as shopping channels. Whether it be for learning about the product for the first time, doing pre-purchase research, or completing a purchase, having a social media platform for your brand is incredibly important for reaching modern consumers and turning them into buyers.
There are a few essential ways that you should utilize social media to increase sales for your retail brand:
Brand profiles: Create brand pages on the major social platforms—Instagram, TikTok, Facebook, and Pinterest. You should then post on them often with new product updates, sales alerts, and posts that build your overall brand image. Remember, profiles that post routinely are more likely to get promoted by the platform and get put in front of new audiences.
Influencer partnerships: Another way that you can utilize social media to boost retail sales is via influencer marketing. Working with influencers to promote your brand and products helps get your business in front of new eyes and helps to earn their trust.
Shop pages: In addition to creating a brand presence on your social media pages, you should also make your brand page shoppable so that customers can browse and buy products directly on your profile.
Bottom Line
As our economy continues to face uncertainty and consumers pull back on their spending, it is essential to use as many sales strategies as you can to boost your retail sales. All the tips in this article are sure to set you on the right track so that you can maximize every opportunity that comes your business's way.