Retail promotion ideas can help your business boost sales, attract new customers, and create a memorable shopping experience. By catching customers' attention and incentivizing them to make a purchase, these strategies drive engagement and revenue.
For startups, retail promotions can be a cost-effective way to gain visibility and attract a loyal customer base from the start. Established businesses can use promotions to revitalize sales, retain customers, and stay competitive in a rapidly changing market.
In this article, we'll explore 19 online and in-store promotion ideas, offering both free and paid strategies along with real-life examples.
1. Partner With Other Brands or Local Retailers
Some of the most effective retail promotion ideas involve working with other retailers or complementary businesses in the area. Partnerships and collaborations—one of our top retail marketing strategies—can expand your reach, diversify your customer base, and expose you to new ideas.
These partnerships could take the shape of shared promotional events, joint discounts, or even co-branded products, creating a unique customer experience that benefits all parties. In fact, a Hinge Research Institute study found that marketing partnerships are three times more likely to be used by high-growth brands as compared to no-growth brands.
Example:
Underwear brand Thinx sought partnerships with stores like Urban Outfitters and Free People when loungewear sales skyrocketed during the COVID-19 pandemic. It knew that other retailers would be looking to increase their comfort offerings, so it took advantage and forged partnerships.
2. Put Up Strategic Signage
Most retailers often overlook how impactful signage can be for their stores. Signs are one of the most effective ways for businesses to get noticed, which is the first step to attracting customers and driving sales.
Strategically placed signage both outside and inside your store can significantly increase visibility and guide customer behavior. You can use signs and banners outside the store to draw customers in or use signs throughout your store layout to lead customers toward specific products.
Remember to make your signs simple, action-oriented, and specific. Also consider grabbing attention with digital signage, which can be easily updated to highlight seasonal offers or flash sales. Learn more in our guide to creating storefront signs.
Example:
As shown below, Fiona's Fashions promotes its seasonal sale with a vibrant, hard-to-miss banner above the store's entryway, attracting foot traffic and attention from passersby.
3. Create Engaging Product Displays (Visual Merchandising)
Effective product displays and merchandising are part of having a well-designed store, which is the first step to retail success. It's important to keep your visual merchandising fresh to drive traffic and sales, so update them regularly to keep up with trends, seasons, and your latest offerings.
Window displays are at the forefront of a retailer's visual merchandising strategy because they're usually what grabs a potential shopper's attention first. A well-designed window display stirs shoppers' interest as well as highlights and reinforces brand personality. Learn how to create stunning window displays.
Example:
Tiffany & Co.'s window displays showcase its brand and tell a story. The example shown below features seven mousetraps and a mouse holding a diamond—highlighting a single item against its signature blue background. Its messaging and visual pull are very enticing to passersby.
4. Maximize Reach With Search Listings
Consumers turn to Google and other search engines to find retail stores and products. Google searches for "available near me" grew globally by more than 100% in 2021. It is crucial to ensure that your store shows up whenever a search relevant to your business is made.
Creating a Google business listing is the first step to targeting the shoppers making these searches. After that, you'll need to put in some legwork to ensure it has good visibility. Learn about local citations (online references that include your business' name, address, and contact number) and how to improve your rankings quickly with local SEO.
User reviews have a big impact on Google's search algorithm. Plus, getting new customers to visit your business often begins when they search for reviews on platforms like Google or Yelp. To attract these shoppers, consider offering specific promotions for users of these review sites. For instance, you could offer a discount to customers who found your business listing on Yelp. This not only encourages them to visit your store but also sets a positive tone for their experience (which may lead to them leaving a great review). Yelp makes this process simple by letting you post deals directly on your business's review page, which then appear when users search for your business.
Example:
A Google search for 'swimwear near me' pulls up three Google business listings above the web results. The search engine prioritizes businesses with local citations and plenty of user reviews, as shown below.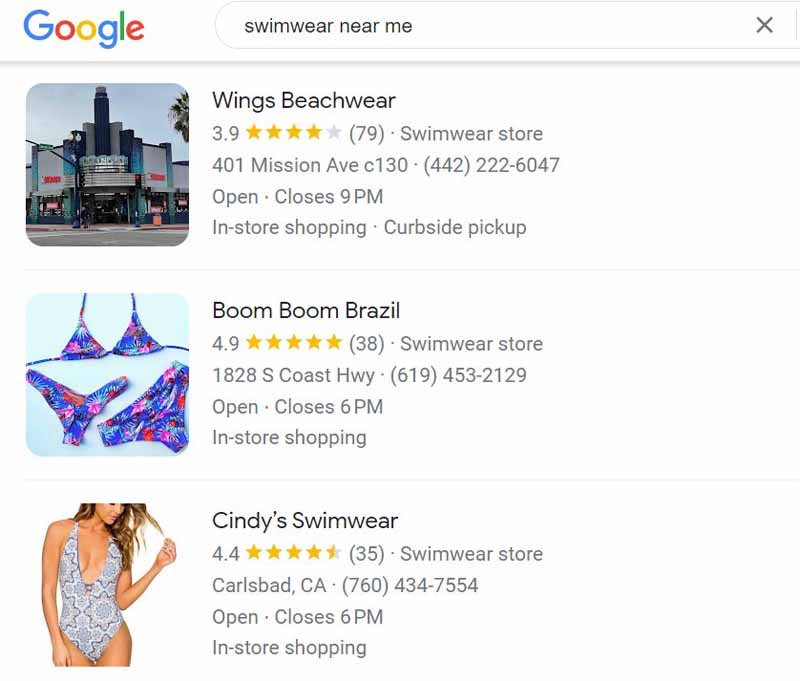 5. Display Inventory on Google Search & Maps
Aside from getting your business listed on Google, it is a good idea also to display in-store inventory. Searching a retailer's in-store inventory online is a regular practice for most shoppers, especially as the popularity of ecommerce rises. In a survey conducted by Google, more than half of consumers said they use Google Search to research their in-store purchases.
Displaying your products online will help capture sales from these shoppers, but making them visible directly from your business' Google listing increases visibility and acts as an effective retail promotion. You can use Google's "See What's In Store" (SWIS) feature to accomplish this.
Example:
A local plant nursery in the Philippines, Salud's Green Thumb, uses its business listing to display its available plants for sale (as shown below). Clicking on its products opens a more comprehensive catalog, complete with product details and pricing.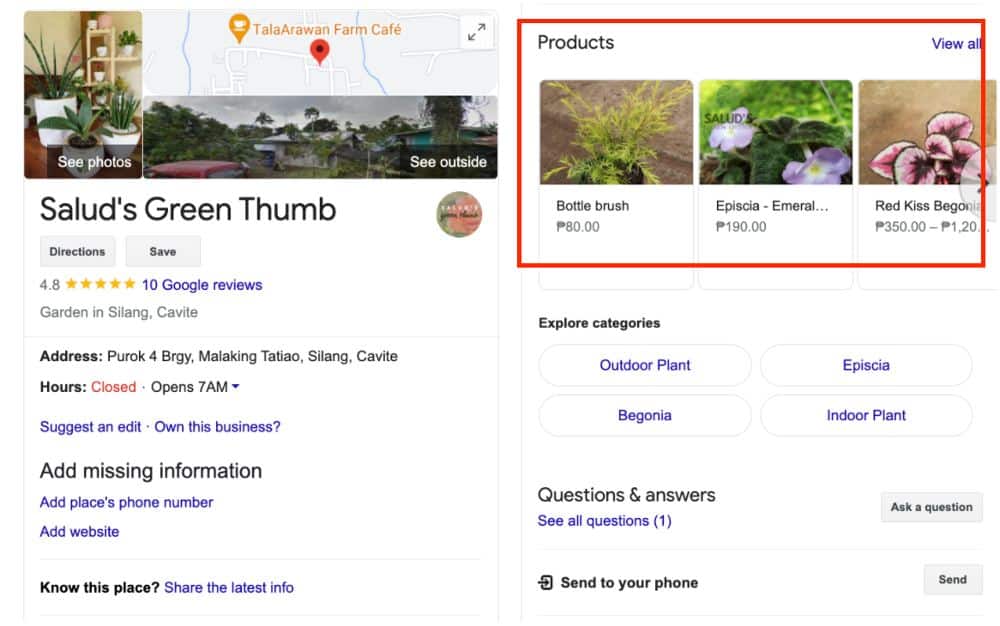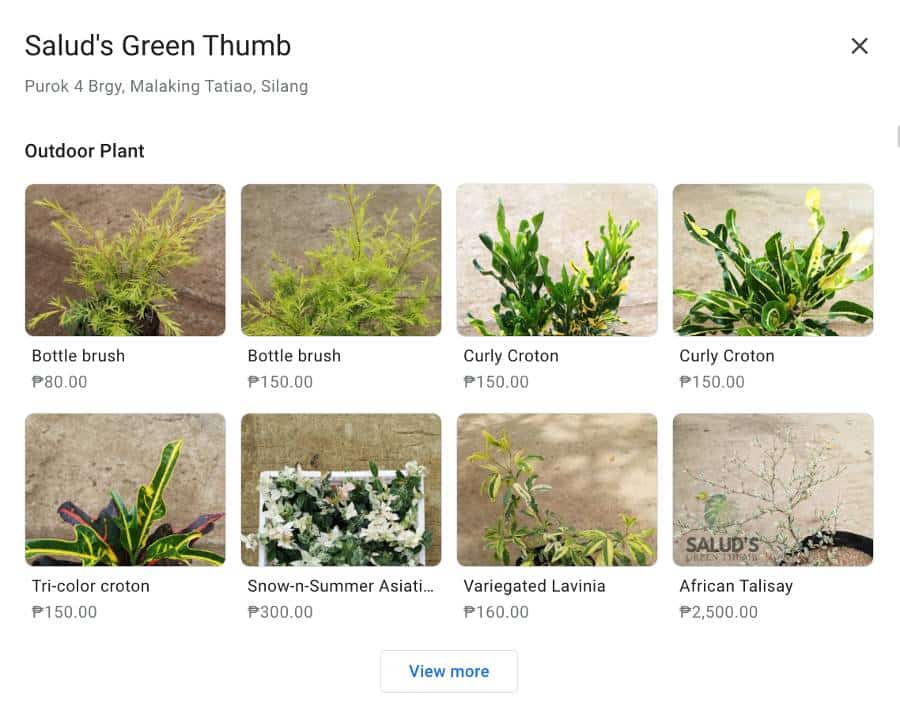 6. Incentivize Repeat Customers With a Loyalty Program
Creating a loyalty or rewards program will encourage repeat customers and build rapport with your clientele. About two-thirds of consumers say they would sign up for a loyalty program from a brand they like, making it a worthwhile retail promotion.
Use a flexible loyalty software like TapMango to capture their attention with a gamified experience that keeps your business at the forefront of their minds. If you are selling products online, LoyaltyLion is a better fit because of its analytics and custom-rich options.
Want to learn how other retailers crafted their loyalty programs? Read our article on customer loyalty program ideas and see examples of how different brands implemented their rewards programs.
7. Reach New Customers With Pop-ups & Roadshows
Independent retailers often struggle to expose their store and products to new customers. One effective promotion idea is to collaborate with other retailers or local partners to set up a "roadshow." This involves setting up pop-up shops at events, conventions, or festivals to capitalize on large crowds.
If executed well, events like these can boost future traffic to your store and website, as well as bring in revenue from on-site sales.
Read our guides to setting up a pop-up shop and top pop-up shop ideas to learn more.
Example:
West Elm, a popular home decor retailer, launched West Elm Local to allow local businesses to host pop-up shops in West Elm stores on weekends (as shown below). Participants see it as a way to increase brand awareness and expand their customer list to drive sales to their stores.
8. Host In-store Events
In-store events are a great way to drive traffic and increase sales and build and nurture relationships to inspire customer loyalty. In-store events also go hand in hand with generating buzz online if you utilize social media effectively.
Holding a grand opening of your store?
Read our grand opening ideas to promote your retail store.
Here are some ideas for in-store events you can try:
Launch parties: Throw launch parties before new products are available in your store. Offer incentives for early buyers and invite local influencers and your most loyal customers.
Meetup groups: Host recurring events that support the products you sell in your industry. Meetup groups are created because of shared interests, which means you can target groups of qualified customers.
Classes and workshops: Empower your customers to learn a skill or two with your products. By doing this, you establish your business as an authoritative source of info, and consumers will be more likely to purchase more products as they acquire and hone their skills.
Example:
Athleisure brand Gym+Coffee hosts in-store events on a regular basis, including aerobics classes, fundraisers, and yoga flows (as shown below). It also hosts a weekly community run that begins and ends at its storefront.
9. Send Out Direct Mailers
Direct mailers are considered an old-school advertising and marketing method, but don't count them out just yet. In a world where email has taken over, the delivery of a promotional postcard or a personalized letter can offer a refreshing and eye-catching change for customers.
Consider using direct mail services to send a postcard in the mail as a way to thank customers and target repurchases. Or, better yet, combine offline and online marketing by using direct mailers.
Research shows that over 60% of consumers visit the website of a company that sends them a mailer or catalog. So, be sure to include an easy-to-follow URL or QR code on your direct mail promotional materials.
Example:
Bite Squad, an online-based restaurant delivery service in over 30 US cities, sent 20,000 mailers to customers who had not used the service to place orders in the last two months. The postcard had a call to action with a coupon code that allowed Bite Squad to track results (as shown below). The campaign had an 18% redemption rate, with 3,600 of the 20,000 mailers redeeming the offer.
10. Run Promotional Sales
Sales promotion ideas for retail that allow customers to save money while shopping have proven to be effective. Spend and save promos, for example, reward shoppers for spending more—they are a surefire way to increase customer carts and store transactions.
Exclusive sales, such as member sales or pre-launch sales, help drive purchases and make your loyal customers feel special and valued. Fifty-six percent of consumers want personalized offers, so it's worth implementing.
Consider using these sales promotion ideas for retail:
Percentage discounts
Multi-buys (BOGO)
Multi-save (Spend and Save)
Gift with purchase
Explore cross merchandising, and read our cross-selling tips to enhance your spend and save promos.
Example:
BOGO deals are frequently used by pizza restaurants, such as this Facebook ad from Papa John's Pizza (shown below), as both a promotional strategy and inventory management tool. These sales allow them to turnover products with a short shelf life quickly while also increasing sales, acquiring new customers, and building loyalty.
11. Build Strong Customer Relationships
Personal interaction with consumers is a great way to establish relationships and encourage long-term customer loyalty. Your marketing can be a natural extension of this, which means you don't always have to be selling.
One way to do this is to start with your staff, ensuring they are trained to improve customer satisfaction and experience. You may also want to consider sending out thank-you and birthday emails, anniversary greetings, and other relationship-building communications.
Example:
Sephora sends "Happy Birthday" emails to customers on their mailing list along with an offer for a free gift. This builds rapport with shoppers and encourages them to make additional purchases.
12. Sell Your In-store Products Online
An easy way to promote your store and increase sales is to sell your products online. To do this, you need an ecommerce platform that integrates with your in-store inventory easily.
Shopify is an ecommerce platform with a built-in POS system that lets you easily sell online, on social media, and on mobile, so you can meet the customer wherever they're shopping. It also lets you track and manage orders, products, and customers from one platform in real time.
Read our other picks for the best ecommerce platforms and top-recommended multichannel POS systems.
Example:
The Brooklyn-based candle store Lucky No. Candles also sells its goods online (as shown below), allowing it to reach a wider audience and better utilize social media promos.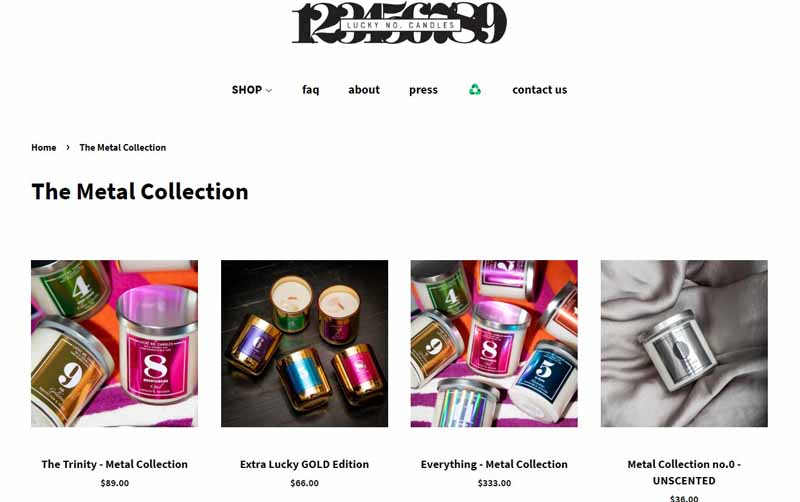 13. Leverage User-generated Content (UGC)
UGC posted on social media serves as free marketing and exposure for your retail business. A whopping 80% of consumers find buyers' photos  more valuable than brand photos, so be sure to include them in your social media marketing promotion ideas.
When people see your customers posting pictures of themselves enjoying your product, it builds trust in your business. Aside from social media images, UGC can also be in the form of reviews and recommendations. When done right, UGC drives traffic to your physical and online stores.
Example:
Many brands, including Asos (shown below), will re-post their customers photos showing their products in use. It's important to get the original poster's permission before using UGC, but most users are happy to have their content shared.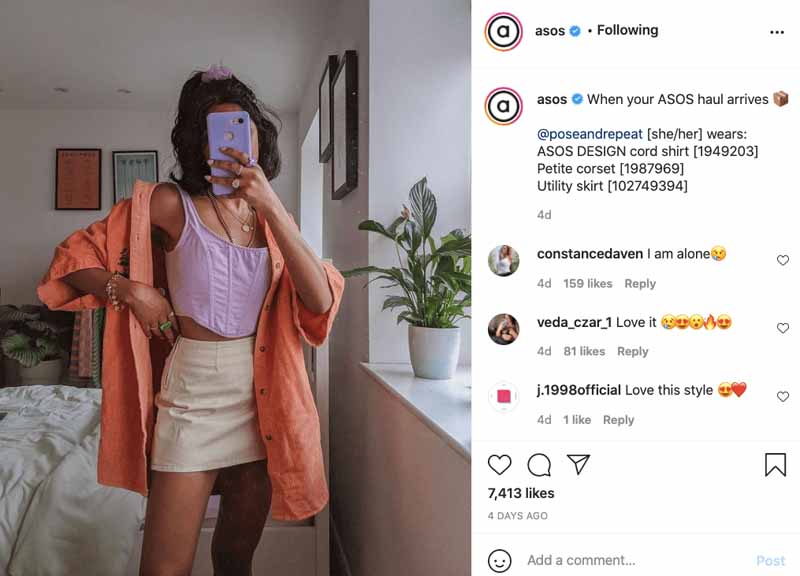 14. Implement Click-and-Collect
Click-and-collect has boomed among shoppers, with nine out of 10 deeming the option more convenient. Learning how to set up click-and-collect in your store will drive both online and in-store sales. It gets people through your doors, where they are more likely to buy something else when they pick up their order.
If you want to increase sales transactions, have pickups ready immediately. Customers are up to three times more likely to reorder if curbside pickup wait times are less than two minutes.
Example:
Lululemon does a great job leveraging click-and-collect for its retail stores with its simple BOPIS landing page to explain the process (shown below). It even shared that 20% of shoppers who opted for click-and-collect made an additional purchase when they came to pick up their orders.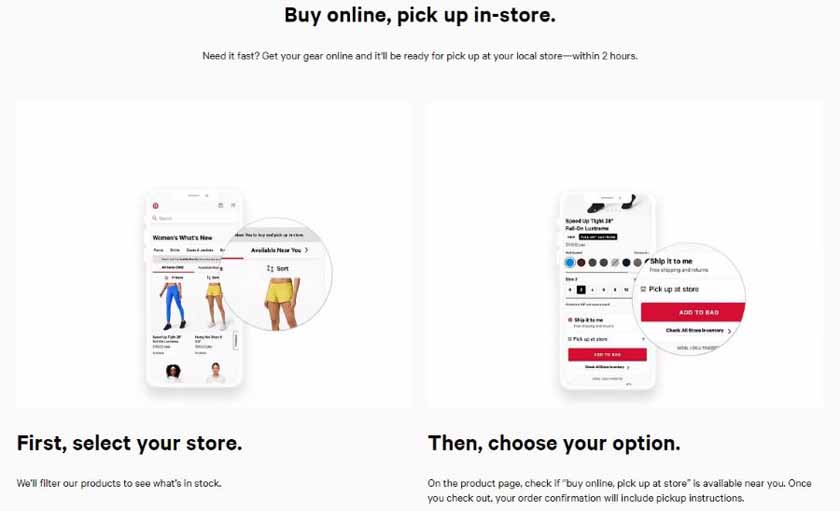 15. Partner With Influencers
Influencer marketing can be a surefire way to promote your store when executed properly. When partnering with influencers, don't be impressed solely by the number of followers they have, as this can be a misleading metric. Instead, look at their posts to see if there is a consistent trend in engagement numbers, such as likes and comments.
Seek out an influencer whose audience aligns with your brand and products. While providing them with campaign guidelines, allow some flexibility for them to infuse their creativity and personal style. Authentic content tends to resonate more with social audiences.
You can also ask influencers to create content that demonstrates the use or effectiveness of your products. Real-time reviews and tutorials can provide potential customers with valuable insights. Bootstrapped startups and small businesses often send free products to influencers and YouTubers in the hopes of receiving reviews or other content without directly paying for sponsorship.
Example:
Skincare brand L'amore partnered with microinfluencer Doeneseya to reach her existing audience with promotional content (shown below). Doeneseya is listed on Upfluence, which businesses can use to discover micro-influencers and view their engagement metrics.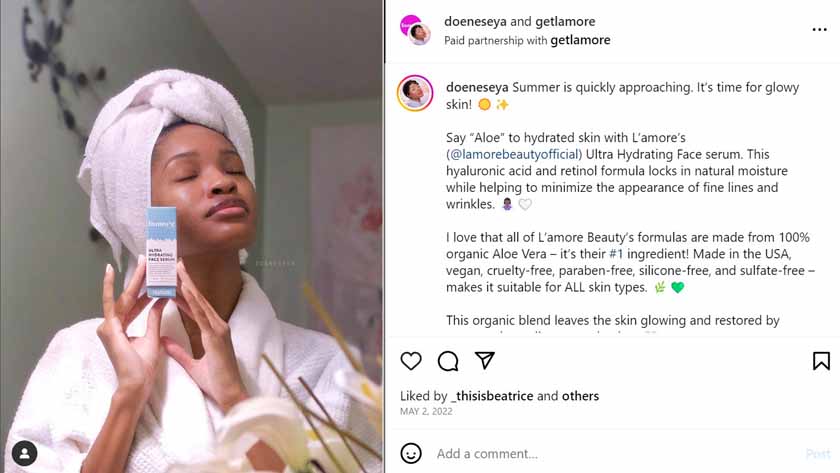 ---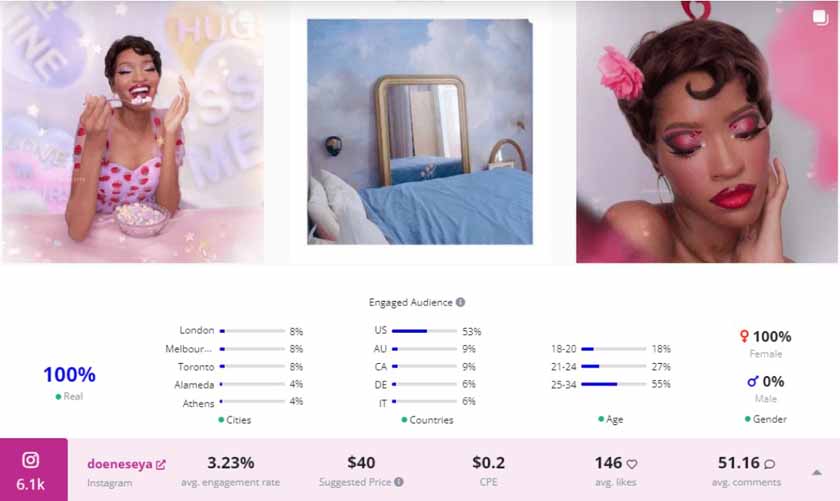 16. Offer Lifestyle Discounts
Offering lifestyle discounts is a retail promotion idea that can increase your customer base and attract qualified shoppers. Lifestyle discounts are targeted at particular groups like students, veterans, senior citizens, or teachers. By providing these groups with special deals or discounts, you attract and better serve shoppers from that specific demographic.
This promotion idea is about more than offering a discount; it's about showing appreciation and understanding for these specific lifestyles and the challenges they face. This resonates with the customers and often leads to long-term loyalty.
Example:
Apple offers a special "Education Pricing" discount for students and teachers. This initiative not only targets a key demographic, but also demonstrates Apple's commitment to education and learning, fostering a positive brand image and encouraging customer loyalty.

17. Give Out Free Samples
Free samples are a classic promotional idea and still one of the most effective ones. It gives customers a chance to try your goods without any commitment, which can introduce shoppers to products they may not have considered before. It also eliminates the friction of consumer hesitation and reduces return rate by allowing customers to ensure they like the product before buying.
Moreover, free samples can help introduce new products or product varieties and can drive word-of-mouth advertising. You can distribute free samples in your store, at events, or even partner with complementary brands to reach a wider audience.
Example:
Good Hope Bakery, a young small business based in Utah, used free samples as a retail promotion to introduce customers to their products. The owners advertised the offer on social media as well as in online gluten-free communities, such as various local Celiac disease Facebook groups.
18. Run a Flash Sale
Flash sales are a great strategy for creating urgency and driving sales quickly. A flash sale is a retail promotion or discount offered for a short period, typically 24 to 48 hours, and can attract new customers, clear out inventory, and increase revenue.
Effective flash sales require strategic planning and good marketing. You'll need to effectively communicate the details, especially the start and end times, and ensure your website or store is ready to handle a potential influx of customers.
Example:
Skincare brand Bath & Body Works holds occasional flash sales to clear out inventory and make room for new collections. The time-limited nature of these sales creates a sense of urgency among customers, often leading to a spike in sales.
19. Partner With a Charitable Cause
Today's customers are more socially conscious and seek out brands that align with their values. Partnering with a charitable cause as a retail promotion can help to boost your brand's image and make a positive impact.
You can donate a portion of your sales to a charity or run a special promotion where a specific product's profits go to a charitable cause. This strategy will not only attract customers who support the cause but also show your brand's commitment to making a difference.
Example:
During Pride Month each June, clothing brand Terez pledges to donate $25 to an LGBTQ+ charity for every order above $200, reinforcing their support for LGBTQ+ causes.
Retail Promotion Ideas Frequently Asked Questions (FAQs)
Retail promotions are marketing strategies—such as discounts, special events, product bundles, and loyalty programs—that businesses use to boost sales and attract new customers. These strategies appeal to customers by catching their attention and incentivizing them to make a purchase.
---
A sales promotion is a special offer that runs for a limited time, designed to get customers to buy right away. It often includes things like price cuts, bonuses, or getting something extra for free, all aiming to accelerate sales and attract new customers to a brand or product.
---
Sales promotion ideas for retail provide several key advantages, such as:
Increased Profits: Sales promotions create a sense of urgency that can significantly increase your sales. Often, the uptick in sales during promotional periods can exceed regular business profits.
Customer acquisition: Deals, sales, discounts, and offers make it more enticing for first-time customers to buy.
Customer retention: Regular sales help keep your existing customers engaged and satisfied, leading to greater customer loyalty.
Inventory management: Sales promotions can help move excess or aging inventory, ensuring products don't become outdated or unsellable and reducing potential losses.
Risk reduction: A carefully planned and executed promotional strategy can help businesses reduce the financial risk associated with owning large amounts of inventory.
Product and brand awareness: Promotions not only drive sales but also enhance visibility and awareness of your products and brand.
---
Bottom Line
Successful retail promotion ideas can have a significant impact on your business by increasing profits, attracting new customers, and enhancing brand awareness. Implementing any of these 19 ideas will help you stay ahead of the competition and create a positive shopping experience that keeps customers coming back for more.