15 Retail Promotion Ideas to Attract More Customers
The world is opening up after the COVID-19 pandemic, with more consumers ready and willing to shop in brick-and-mortar stores. Explore our retail promotion ideas below to generate interest, drive foot traffic, and increase sales.
1. Partner with other brands or local retailers
Most retailers don't realize that some of the best executed retail promotion ideas are when they work with other retailers or complementary businesses in the area. Partnerships and collaborations can expand your reach and even expose you to new ideas, so keep your doors open. In fact, a Hinge Research Institute study found that marketing partnerships are three times more likely to be used by high-growth brands as compared to no-growth brands.
Did you know?
Underwear brand Thinx did not waste time seeking partnerships with stores like Urban Outfitters and Free People when loungewear became the new uniform as the pandemic enforced lockdowns. It knew that other retailers would be looking to increase its comfort offerings, so it took advantage and forged partnerships.
2. Don't ignore the importance of signage
Most retailers often overlook how impactful signage can be for their stores. For a business to attract customers and drive sales, the first step would be to get noticed, which can easily happen with signs. When done and displayed correctly, they can be an easy and effective way to promote your store. Remember to make your signs simple, action-oriented, and specific. Consider grabbing attention with digital signage.
3. Ramp up store display (visual merchandising)
Having a well-designed store (store setup and layout, product display, and merchandising) is the first step to a successful retail store. You need to keep your visual displays fresh to drive traffic and sales, so update them regularly to keep up with trends, seasons, and your latest offerings.
Window displays are at the forefront of a retailer's visual merchandising strategy because it usually is the one that grabs a potential shopper's attention first. A well-designed window display stirs shoppers' interest and highlights and reinforces the store's brand personality. Learn how to create stunning window displays.
4. Get your store listed in online search results
Consumers turn to Google and other search engines to find stores and products. Ensure that your business shows up whenever a search relevant to your business is made. Google searches for "available near me" grew globally by more than 100% in 2021.
If you sell swimwear, for example, you want nearby customers to find your store whenever they search for "swimwear store near me." By setting up business listings on Google, Yelp, Facebook, and other platforms, you can achieve this.
Learn about local citations (online references that include your business' name, address, and contact number) and how to improve your rankings quickly with local SEO.
New foot traffic to business starts with a review search—like Google reviews and Yelp—so consider explicitly targeting the group with review site-specific promotions such as a discount for Yelpers. It also primes the customer to have a good experience and, in turn, leave you an excellent review. Yelp, in particular, makes this easy by allowing you to post deals right to your review page and those show up on initial searches by Yelpers.
5. Get your inventory displayed on Google Search & Maps
Aside from getting your business listed in Google, it is a good idea also to display in-store inventory. Searching a retailer's in-store inventory online is a regular practice for most shoppers, but COVID-19 has dramatically accelerated this trend. In a Think with Google survey, more than half of consumers said they use Google Search to research their in-store purchases.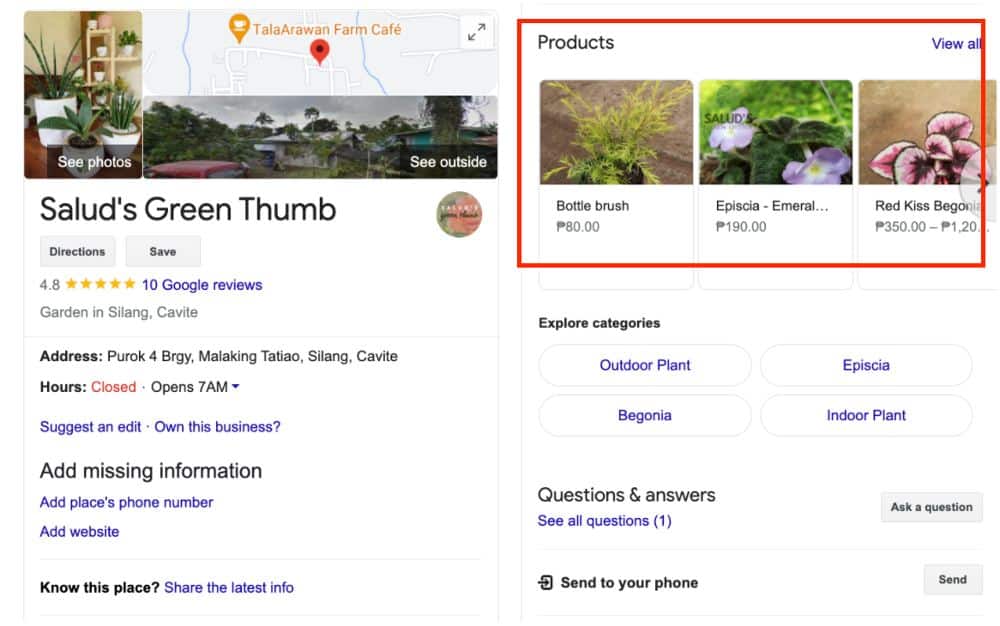 ---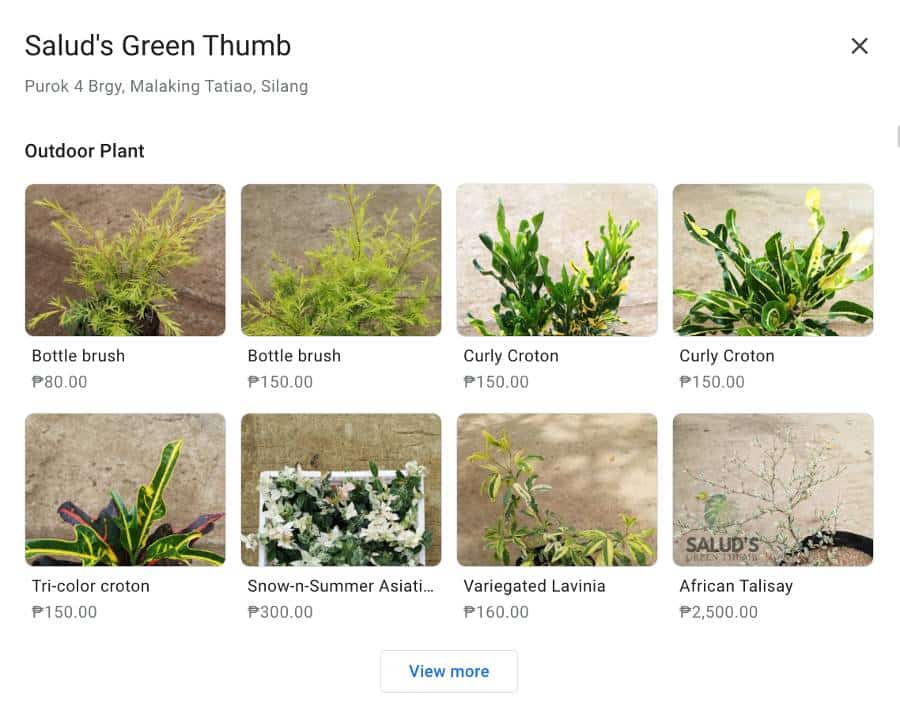 ---
6. Create incentives to return with a loyalty program
Did you know that shoppers in loyalty programs return twice as often? Creating a loyalty or rewards program will encourage repeat customers and build a rapport with your clientele. Use a flexible loyalty software like TapMango to capture their attention with a gamified experience that keeps your business at the forefront of their minds. If you are selling products online, LoyaltyLion is a better fit because of its analytics and custom-rich options.
Want to learn how other retailers crafted their loyalty programs? Read our article on customer loyalty program ideas and how different brands implemented theirs.
7. Take your show on the road with pop-ups & trade shows
One of the biggest challenges independent retailers face is getting their store and products in front of potential customers. Work with other retail businesses or local partners to put together a "roadshow" that can take your store to events, conventions, and carnivals to take advantage of huge volumes of foot traffic, even if they're not walking past your store. When used properly, temporary events can help drive foot traffic to your store or visitors to your website.
Consider setting up pop-up shops as part of your retail marketing strategy. Three-quarters of retail sales still happen offline, even with the online shopping boom, and it's going to stay that way in the foreseeable future. Learn how to open a pop-up shop.
Did you know?
West Elm, a popular home decor retailer, launched West Elm Local to allow local business owners to host pop-up shops in their stores on weekends. Most participants see it as a way to increase brand awareness and expand their customer list to drive sales to their stores.
8. Host in-store events
In-store events can bring more foot traffic to your store. Due to the pandemic, virtual events have also become popular. But now that consumers are ready to transition back to in-person events, you should take advantage of the clamor while still keeping customers safe and abiding by social distancing protocols.
There are many advantages to holding In-store events. Aside from driving traffic and increasing sales, they are also a great way to build and nurture relationships to inspire customer loyalty. In-store events also go hand in hand with generating buzz online if you utilize social media effectively.
Holding a grand opening of your store? Read our grand opening ideas to promote your retail store.
Here are some ideas for in-store events you can try:
Launch parties: Do launch parties before products are available in your store. Offer incentives for early buyers and invite local influencers and your most loyal customers.
Meetup groups: Host recurring events that support the products you sell in your industry. The best thing about meetup groups is the community that is created because of shared interests. This inspires brand loyalty and advocacy.
Classes and workshops: Empower your customers to learn a skill or two with your products. By doing this, you put your business as a credible source of information, and consumers will be more likely to purchase more products as they acquire and become more confident in their skills.
Did you know?
Athleisure brand Gym+Coffee does a fantastic job in hosting in-store events. It recently started hosting a running group from each branch (which it calls clubhouses) on the weekends. From there, it also hosted a variety of classes such as yoga, Zumba, spin, and even skincare.
9. Use direct mail in modern retailing
Direct mailers are considered an old-school advertising and marketing method, but don't count them out just yet. Even if direct mail services have been underutilized because most have been transitioning to email, consider sending a postcard in the mail as a way to thank customers—and retarget repurchases.
Better yet, combine offline and online marketing by using direct mailers. Research shows that 60% of consumers visit the website of a company that sends them a mailer or catalog. However, most retailers forget to include a tracking URL in their design, creating frustration on the part of the consumer and losing an opportunity to track responses to their mailer.
New direct-mail automation technology makes it very simple and cost-effective to generate and print unique tracking URLs that can work with any website or ecommerce platform.
Retail businesses—such as grocery stores, restaurants, and delivery services—benefit from direct mailers, as you can see in the example below.
Bite Squad, an online-based restaurant delivery service in over 30 US cities, sent 20,000 mailers to customers who had not placed orders in the last two months. Since the brand mainly communicates via email, social media, and mobile app with their customers, it decided to test direct mailers as a new strategy for customer retention.

The postcard had a call to action with a coupon code that allowed Bite Squad to track results. The campaign had an 18% redemption rate (3,600 of the 20,000 mailers redeemed the offer), performing far better than expected.
10. Run sales promotions
Sales promotion ideas for retail that revolve around letting customers save even while shopping have been proven to work. Spend and save promos, for example, reward shoppers for spending more—they are a surefire way to increase customer carts and store transactions.
Exclusive sales, such as member sales or pre-launch sales, help drive purchases and make your loyal customers feel special and valued. Fifty-two percent of consumers want personalized offers, so it's worth implementing.
Here are some sales promotion ideas for retail:
Percentage discounts
Multi-buys (BOGO)
Multi-save (Spend and Save)
Gift with purchase
11. Build strong customer relationships
Personal interaction with consumers is a great way to establish relationships and encourage long-term customer loyalty. Your marketing can be a natural extension of this, which means you don't always have to be selling.
One way to do this is to start with your staff, ensuring they are trained to improve customer satisfaction and experience. You will also want to consider sending out thank you and birthday emails, anniversary greetings, and other relationship-building communications.
12. Sell your in-store products online
An easy way to promote your store and increase sales is to sell your products online. To do this, you need an ecommerce platform that integrates with your in-store inventory easily. Shopify is an ecommerce platform that has a built-in POS system that lets you easily sell online, on social media, and on mobile, so you can be there for your customers no matter where they're shopping. Track and manage orders, products, and customers from one platform in real time—it is our top pick for best ecommerce platform and multichannel POS system.
13. Leverage user-generated content (UGC)
UGC posted on social media serves as free marketing and exposure for your retail business. A whopping 80% of consumers find buyers' photos  more valuable than brand photos, so be sure to include them in your social media marketing promotion ideas. Share pictures of people eating at your cafe, upload videos of the chefs to Instagram, and use hashtags. You can also collect customers' email addresses to offer them coupons and discounts.
When people see your customers post pictures of themselves enjoying your product, it builds trust in your business. Aside from social media images, UGC could also be in the form of reviews and recommendations. When done right, UGC drives traffic to your physical and online stores.
14. Implement click-and-collect
Click-and-collect has boomed among shoppers, with nine out of 10 deeming the option convenient. Learn how to set up click-and-collect in your store, as it will drive your online and in-store sales. It gets people through your doors, and they are more likely to buy something else when they pick up their order.
If you want to increase sales transactions, have pickups ready immediately. Out of the 50% of adults who use buy-online-pickup-in-store (BOPIS), 67% add items to their carts when they know they can pick them up immediately.
Did you know?
Lululemon does a great job leveraging click-and-collect for its retail stores with its simple BOPIS landing page to explain its process. It even shared that 20% of shoppers who opted for click-and-collect made an additional purchase when they came to pick up their orders.
15. Partner with influencers
This can be a surefire way to promote your store when executed properly. When partnering with influencers, don't be impressed solely by the number of followers they have—this can be misleading. Instead, look at their posts to see if there is a consistent trend in engagement numbers, such as likes and comments.
Don't pay for posts if you're a small, bootstrapped business. If you have a great story, brand, and product, offer those in return for content—most times, influencers are good with that.
Bottom Line
With 11% of consumers spending more time and money in brick-and-mortar stores, expect your retail business to have more growth opportunities in 2022. We gave you retail promotion ideas to drive more traffic to your stores—and subsequently, more sales—as more people are going out and supporting local businesses after the pandemic-induced lockdowns.