How to Create a Retail Gift Guide for the Holidays in 7 Steps
Creating a strong holiday gift guide will help your retail business offer better deals while maximizing sales, which is important as rising concern over inflation in the past year has not stopped US shoppers from spending, according to the National Retail Federation (NRF). Consumers are, however, more cautious, with 50% planning to shop around more for the 2022 holidays.
To create a holiday gift guide, identify your target market and tap into your retail data, industry trends, and customer insights. Then, curate and categorize products, pick a format, and design it for distribution. Follow this up with marketing campaigns to ensure your gift guide is seen by the right people. Lastly, make sure to offer different ways to fulfill your holiday orders.
Let's walk through the steps below:
1. Determine Your Audience
Before creating your guide, it is essential to identify and understand the needs of your target audience. From there, you can narrow smaller customer segments down and consider how they search for and discover gift guides.
When thinking about who will read your gift guides, consider your target audience and those buying gifts for them.
Collect Demographic & Behavioral Data
Your point-of-sale (POS) system is a valuable source of demographic data, such as a customer's age, gender, occupation, and geographic location. If you know which groups to target, you can plan your gift guides accordingly.
For example, you can see which gender and age group shops in-store more often. Meanwhile, if you have an online shop, knowing the locations you ship to lets you create specific promotions for them such as free shipping on minimum spend.
Do you have an online store? Use Google Analytics to find data about your site visitors' gender, interests, and spending habits.
Do Customer Segmentation
Another way to identify your target audience is to segment existing customers into repeat customers or one-time buyers and according to purchased products and spending habits. From there, you can create a gift guide by price or product type. POS systems with advanced reporting capabilities can generate sales reports according to customer category.
2. Choose Products
After identifying your target audience, the next step is choosing products to include in your gift guides. There are different ways to approach this, but we recommend mixing all the approaches we discuss below.
Review Your Store's Sales Data
Look at your retail analytics such as sell-through and conversion rates, as it will help you make strategic decisions about product inclusions. Make sure to review your store's bestsellers, especially those purchased during last year's holiday season.
Identify Shopping Trends
It's also important to look at external data, such as shopping trends, because understanding what's trending in your market lets you create holiday gift guides that are relevant and appealing. Google Trends is a great tool to identify emerging opportunities in your niche.
For example, if gift cards are popular these days, consider offering them at different price points. If essential oils are trendy, consider adding them to one of your gift bundles.
Involve Your Team
Your sales associates—people on the floor—are an invaluable source of buying information. They usually have firsthand knowledge of your customer's buying behaviors and preferences. Don't forget to get their insights on which products to include in your gift guide. They can also help you identify cross-selling opportunities that you can apply toward gift bundle creations.
Ask Your Suppliers
If you get your products from different suppliers, ask them which items are popular this season. Aside from helping you figure out things to stock, you can also double-check with your suppliers how much of their popular items can be replenished right away if you run out of stock. This way, you can decide on your buying strategy—whether to order more or less, depending on factors such as popularity and replenishment timeframes.
Ask Your Customers
Directly asking customers what they are looking to buy as gifts this holiday season (or types of gifts they'd like to receive) is an effective way to know which items to include in your guides. You can implement the following to gather customer insights:
A great customer engagement tip is to place a survey kiosk next to the register or exit when doing in-store surveys. You can also do a feedback survey in digital receipts for a low-cost and touch-free option. Systems like Square offer these feedback collection tools for free.
3. Categorize Your Guide
Once you have identified your target audience and the types of products you'll include in your holiday gift guide, it's time to work out how you want to organize it. Ideally, we recommend creating different categories—based on price, interests, personality, shopping behavior, and preferences.
When categorizing gift guides, make sure that titles are unique and instantly convey a solution to a shopper's pain point. For example, "Gifts for the Cheapskate" or "Gifts for The One Who Has Everything" are catchy phrases that tell shoppers right away which recipients the guide is for.
Here are a few ways you can organize your holiday gift guide.
You can help a lost shopper find just the right thing for their school-age nephew or elderly aunt by segmenting your gift guides by age. Using age as a gift guide category is especially helpful for shoppers searching for age-appropriate products for children. You can also broaden your categories into babies, toddlers, teens, and adults.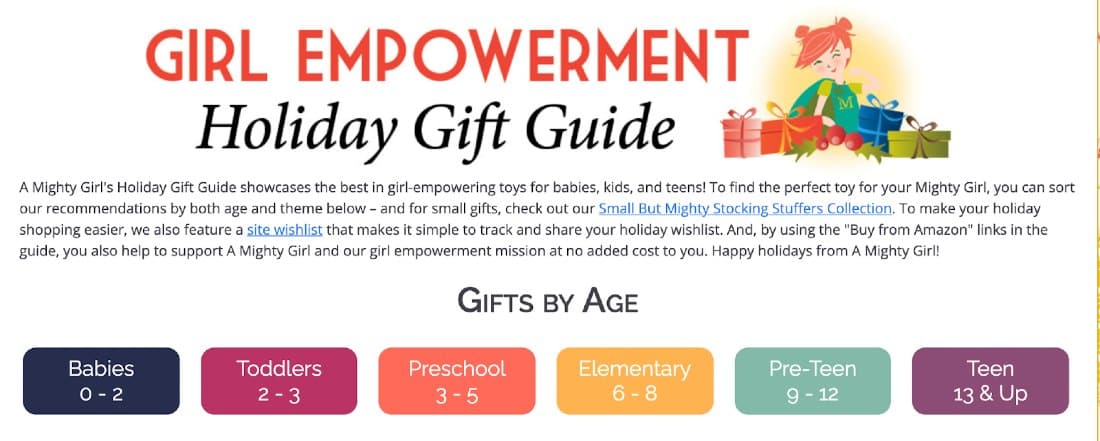 ---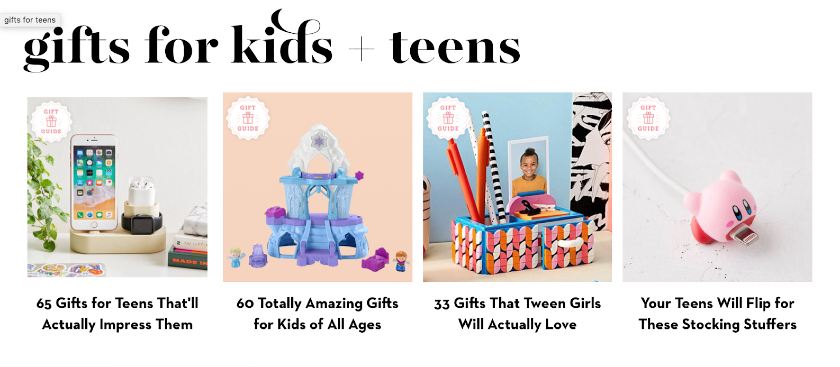 ---
Retailers will often have gift guides "for him," "for her," or "for baby." However, a unique approach is to go beyond "women," "men," and "babies" and group people into those who are more specific or harder to shop for, such as teachers, bosses, and coworkers.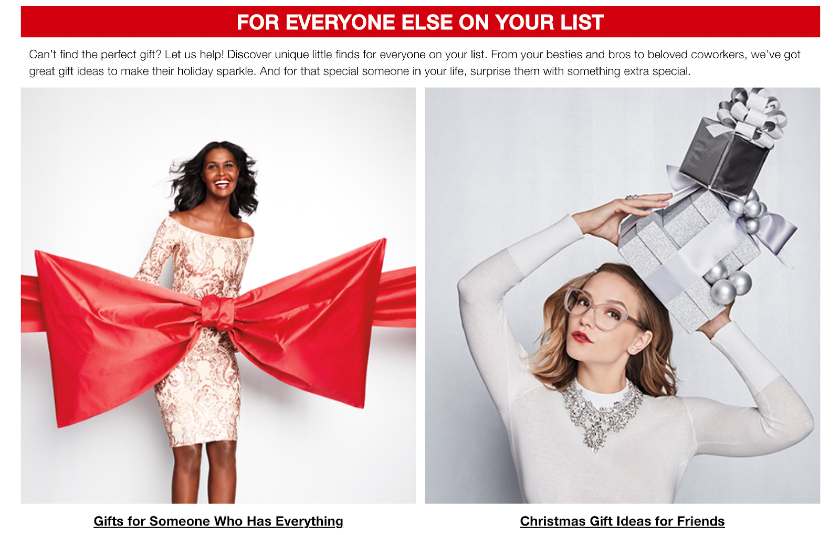 Holiday gift guides organized by price are appealing to customers who shop with a specific budget in mind, so offer a variety of price points. While many gravitate toward lower-priced categories, don't forget to include a category for those looking to splurge. Be creative in naming them, such as "budget," "special," and "extravagant."
By listing guides by price, you help make purchasing decisions easier for shoppers because they don't have to calculate or guess how much they're spending for a person's gift—and in turn, help you sell more.

---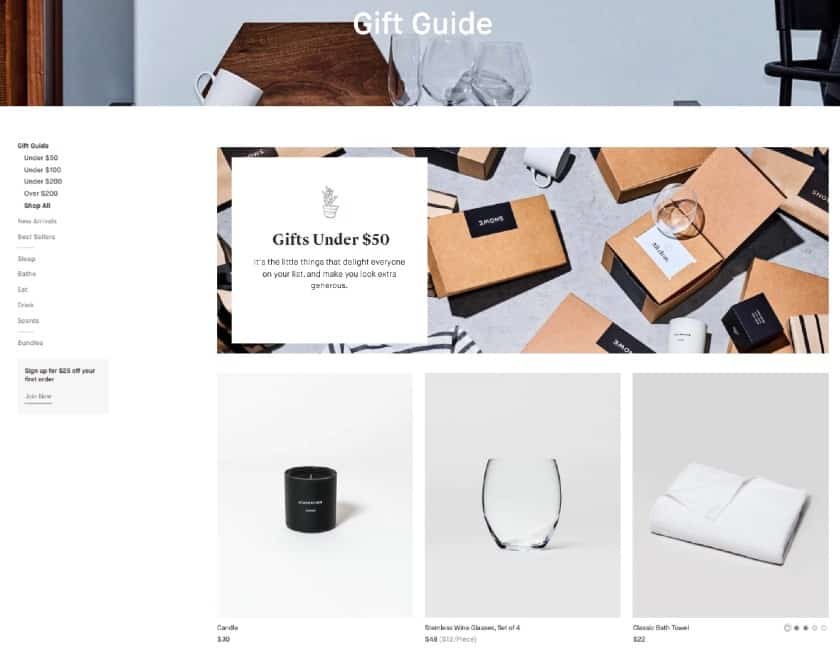 ---

---
You can also categorize your products based on the recipient's hobbies or personality, especially if you offer a wide range of merchandise. Gift guides such as "gifts for knitters," "gifts for those who work from home," or "gifts for the fitness enthusiasts" are great examples. This type of category works even better if your shop caters to a specific market. For example, a store that sells cooking equipment can put out gift guides such as "gifts for those who don't cook" and "gifts for the chef who loves gadgets."
We particularly recommend mixing these segments and strategizing how to come up with a personalized gift guide. Once you have selected your products, you can mix and match lists. For example, a crafts store could market knitting sets in lists targeted toward "crafters" (personality) and "under $20" (price).
Offer Gift Bundles
Take it a step further by creating gift bundles within each gift guide category. Getting a bundle of items that complement each other is a type of cross-selling idea but offered at one retail price. This makes the buying decision faster, easier, and more convenient.
Make it more irresistible by offering it a lower price than when buying each separately. Twenty-two percent of shoppers cite sales or discounts as the factor most influencing their holiday shopping.
TIP:
Don't forget your last-minute shoppers! Even if 40% of holiday shoppers shop earlier, 13% still don't plan on starting before December. Create a list of "best all-around gifts" and "top last-minute gifts" to appeal to a busy or last-minute shopper who wants to make a quick decision.
Suggest your gift cards for the easiest purchase of all. More than 20% of last-minute holiday shoppers resort to buying gift cards as presents, according to Tinuiti's Holiday Shopper survey.
4. Pick a Format
After categorizing your products, it's time to create the actual holiday gift guide to show your customers. As you plan on creating your own, determine the best format for your guide. There are many gift guide formats, such as printed guides for in-store distribution, printed flyers or brochures for direct mail, online catalogs, landing pages, social media posts, and videos. Include your gift guides in your holiday display ideas.
Deciding which content format to use for gift guides depends on the following factors:
Your audience: Find out where your target audience usually looks for holiday shopping gift ideas. If your target audience spends more time on mobile devices, investing in digital gift guides is better.
The platforms where you will market your gift guide: If you make a gift guide selection in-store, it is better to create posters for display and distribution. However, if you plan to push your gift bundles through your email list, a dedicated landing page in your ecommerce store would be a better fit.
Your niche or industry: If you're in a visual niche, your gift guide may not need as much text as one in a niche where information plays a more significant role in driving conversions. In this case, you might need to exert more effort in a holiday display in-store or have an excellent curation of photos for a catalog.
Your customers will likely view your gift guide on different channels or platforms, so you'll want to make sure that your guide looks great no matter what.
We recommend using a variety of formats for marketing campaigns. Treat your physical and digital storefronts as one. After all, phygital (physical + digital) retail is no longer a buzzword. It is how consumers discover and shop from brands and the way retailers should be marketing their products. Be sure to include omnichannel strategies into your holiday gift guide creation.
Here are our suggestions based on the content format you will be going with.
In a primarily digital world, you will be surprised that direct mail is still effective in bringing in sales, with 93% of direct mail clients reporting a year-over-year sales increase in 2020. Since this is not the most cost-effective option, consider sending postcards instead of full-blown catalogs to your customer base. These postcards can include a separate campaign URL—or, better yet, a QR code—they can scan to view your gift guide, along with links to purchase.
---
Create your online catalog from the perspective of someone viewing it on a mobile device. As such, make your catalog readable, easy to scan and download, and full of visual imagery to attract customers to purchase. Also, make your links easy to click.
---
If you use Shopify as your ecommerce platform, you can use an app like Shogun to create a custom landing page that features information about your holiday gift guide.
When creating landing pages, remember the following:
Make it mobile-responsive. Avoid cluttering the whole screen.
Be specific with category and gift guide labels.
Provide a seamless way to navigate to other categories or gift guides.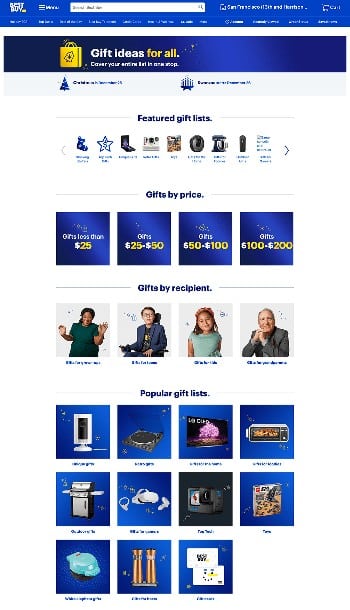 ---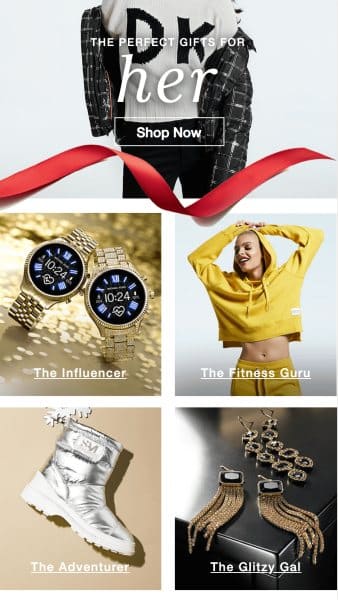 ---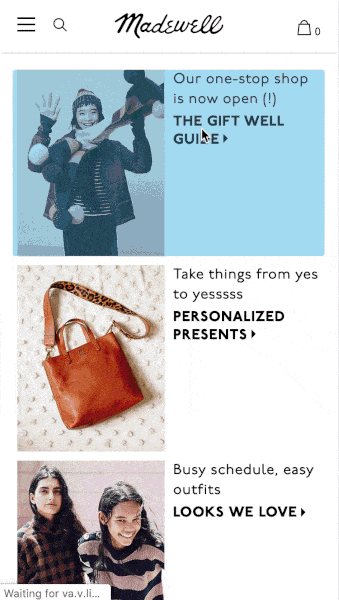 ---
---
A popular way to publish a gift guide is as a blog, and one way to present your products better is by following a listicle format. Provide more details about each of the products and categories and link to the appropriate product pages.
Tip: Maximize viewing of your online catalog, landing page, or blog post by linking it to your email campaigns and social media posts. (We will discuss this more in the marketing campaigns below.)
---
If you have resources to spare, consider creating a video gift guide or partnering with an influencer to promote your gift guide. Video content can help in traffic and engagement. If you have limited resources, consider creating videos using Instagram reels and TikTok.
---
If you want a personalized recommendation (and to prevent losing a potential buyer due to scrolling too much on your holiday gift guides), why not try letting them take a short quiz where you can find out their preferences—budget, gift type, etc. The results page is a curated gift guide based on their answers.
Take a look at how Tarte displayed their quiz prominently on their website.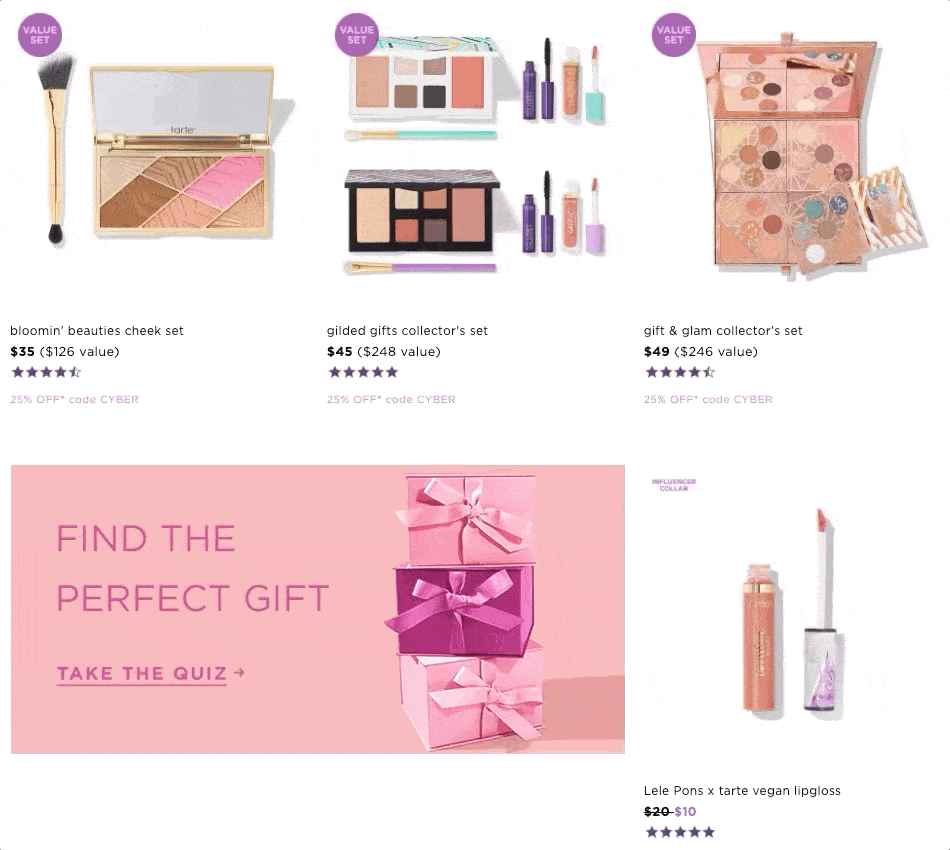 ---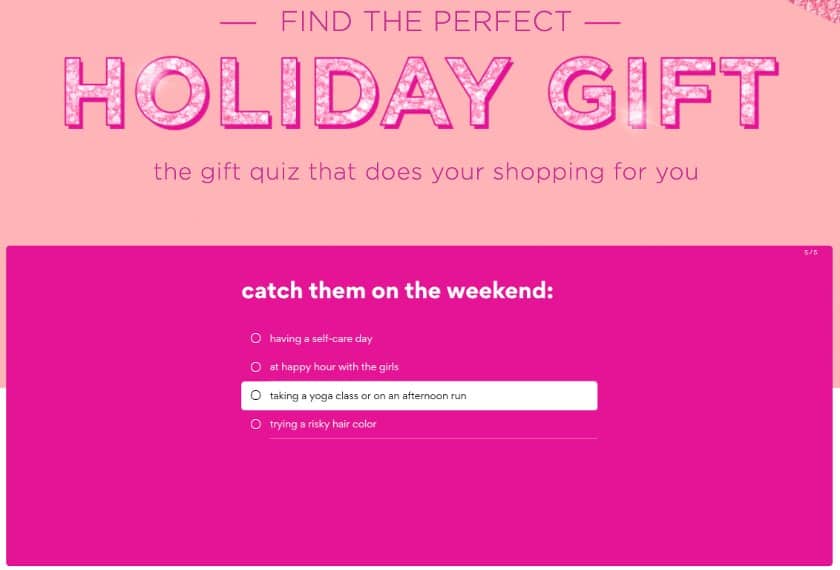 ---
---
5. Design Your Holiday Gift Guide
After you decide on your gift guide format, the next step is to design your guides. You must present your products in a way that evokes emotion and inspires customers to action (shop). Remember that gift buying is an emotion-driven venture for shoppers—so use words and photos effectively.
Use Catchy Headlines
Gift guide headlines should speak directly to the customer. A well-written one hooks your target audience and entices them to browse.
Use active voice
Use power words
Describe products in a way that they can see the benefits
Don't forget about the importance of copywriting. Learn how to write product descriptions and clickable call-to-actions (CTAs).
Use High-quality Product Photos
The quality of your product photos has a massive impact on how your audience perceives your merchandise. Master DIY product photography if you need to save on resources.
Design with an Omnichannel Perspective
When designing your gift guides, remember the following:
Digital gift guides should be responsive.
Make sure it looks great on all channels—website, social media, and email campaigns.
The layout should be clean—with white space—to avoid overwhelming customers. Learn how to create landing pages that convert.
Tip: Use tools like Canva to create holiday gift guide infographics and PDFs. You can print them or make them into flipbooks and upload them onto your website.
6. Promote Your Holiday Gift Guides
Now that you have created your holiday gift guide, it's time to ensure it reaches the right people. It's always best to combine physical and digital retail approaches to ensure your marketing campaigns have maximum impact and reach a broader market.
Here are some ways to help you market your gift guide to the right audience.
Send Gift Guides by Email
Email is still one of the most effective marketing methods available. According to a widely reported stat, email gets you nearly 40 times more customers than Facebook and Twitter combined. Most people on your list are more likely interested in what you have to offer, so the chances of purchasing are high. You can also create personalized campaigns by segmenting your list and sending them personalized gift guides to increase the chances of conversion.
Sending a series of email campaigns promoting your holiday gift guide will likely increase conversions. Some ideas for email marketing campaigns include:
Highlighting holiday shopping information and deadlines
Showcasing particular products from the gift guide
Showing gift guides by price or budget and persona-based gift guides
Mentioning different payment options and additional services such as gift wrapping
Sharing customer reviews
Indicating sale or limited-time offer in subject line
Including last-minute gift ideas
Share on Social Media
Thirty-one percent of US consumers use social media to find products. We are sure that holiday shopping would not be any different. In fact, when asked which social media platforms they look to for inspiration during holiday shopping, US consumers most frequently chose Facebook, followed by YouTube and then Instagram.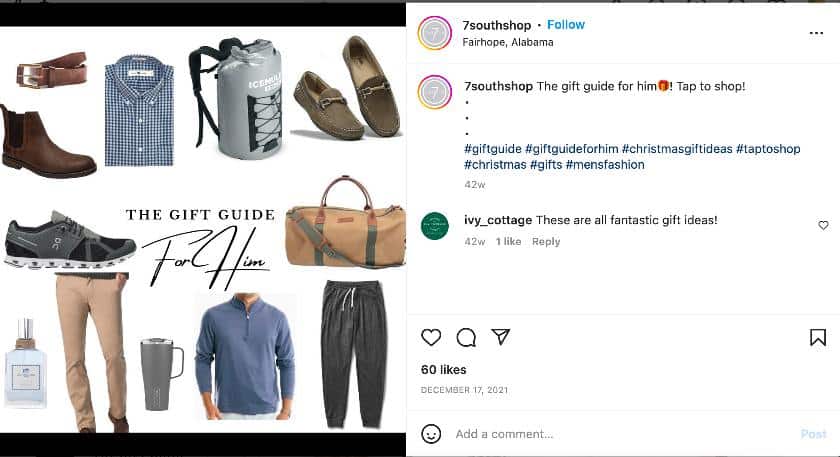 ---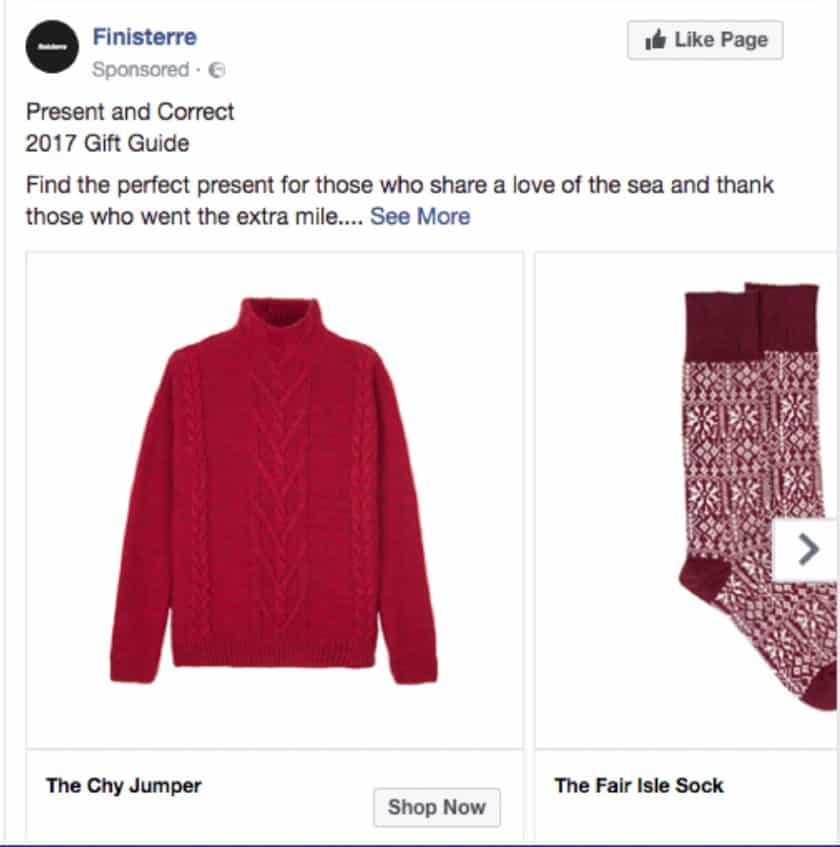 ---
Work on SEO
Make it easy for your customers to find your gift guide by implementing an effective SEO strategy. SEO plays a big part in retail marketing—even if you operate a brick-and-mortar store. For example, implementing local SEO strategies helps you get discovered within your community. You don't have to implement a full-blown SEO marketing campaign with paid ads if you are not versed with it yet. Just remember the fundamentals of SEO and execute the following best practices:
Add tags to your images
Utilize strategic linking
Focusing on user experience (make website pages mobile-responsive, have your store show up in Google Maps, etc.)
Collaborate With Other Businesses & Influencers
Check in with other local retail business owners and ask if they want to collaborate on creating and promoting a holiday gift guide. You add more options for your customers and increase your store's exposure by tapping into other businesses' audiences.
Partner with businesses that have a similar target audience. For example, if you sell women's beauty products, teaming up with a spa, fitness gym, or yoga studio could be a good combination.
Partner with an influencer to help promote your gift guide if you are doing online promotions. Start brand awareness campaigns by way of hashtags and encourage user-generated content (UGC).
7. Offer Plenty of Fulfillment Options for Holiday Gift Guide Purchases
According to a Think with Google study, only 4% of US holiday shoppers did not use digital channels for their shopping last year. The line between online and offline shopping are becoming increasingly blurred, with convenience playing the key factor for people's decision how and where they shop.
Make sure to reflect your in-store products online (and have accurate inventory) and offer a range of delivery and collection options to make the purchasing experience as seamless as possible.
Bottom Line
Learning how to create a retail gift guide is a must—whether it's a brick-and-mortar shop or an ecommerce store. Holiday gift guides attract high-intent shoppers (those who are actively looking to buy something), boost sales revenue, and promote your brand. While they are effective as a marketing strategy, you must first ensure your retail holiday gift guide is well-crafted, personalized for your audience, and strategically distributed so that it can reach your market at the right time.
You May Also Like…