Stripe is a developer-friendly payment processor best for online businesses wanting to add a customizable checkout to their websites or sales applications. Square is an out-of-the-box point-of-sale (POS) and payment processing platform that's better suited for small businesses needing an all-in-one solution.
When comparing Stripe vs Square, the main difference is that Stripe requires a bit of technical knowledge and customization to start accepting payments. Square is more user-friendly, easier to set up, and offers a free POS system and website with Square payment processing automatically built in.
Square: Best for individuals, brick-and-mortar businesses, and basic online sales
Stripe: Best for tech-savvy startups and growing ecommerce businesses, B2B, and international sales
Both Square and Stripe made our list of the best merchant service providers. Square was our choice for best overall, with a score of 4.49 out of 5, while Stripe came out as the best online payment processor, with a score of 3.88 out of 5.
When to Use an Alternative: Helcim
High-volume businesses might find Helcim a better option with its zero monthly fees, interchange-plus pricing, and automatic volume discounts. Visit Helcim to learn more, or see how it compares below.
Square vs Stripe Quick Comparison
3.80 out of 5

4.43 out of 5

4.46 out of 5 

Best for

Businesses focused on online sales and international markets

New or small businesses, brick-and-mortar shops, businesses on a budget

Saving on processing fees 

Monthly fee

From $0

From $0

$0 

Processing fee

2.7% + 5 cents to 3.4% + 30 cents

2.5% + 10 cents to 3.5% + 15 cents

Interchange plus 0.15% + 6 cents to 0.5% + 25 cents 

Invoice fee

2.9% + 30 cents plus 0.4% with 25 free invoice processing per month or 0.5% per invoice, depending on plan

3.3% + 30 cents

Interchange plus 0.15% + 15 cents to 0.5% + 25 cents 

Average payout

Instant payout for 1% (min 50 cents)

Standard 2 business days

Instant funding for 1.5%

Standard 1–2 day funding

2 business days 

Ease of use

Good

Excellent

Excellent 

Customer service

24/7 chat and phone support, email, resource library

Monday–Friday phone support, 24/7 automated chat support, seller community, and resource library

Monday–Saturday phone support, online knowledgebase 

Pros
Easy to set up
Flexible POS system that grows with your business
Seamless omnichannel selling
No chargeback fee
Cons
Not suited for large businesses
Incompatible with most high-risk businesses
Account stability issues; reports of frozen funds
Square is Best For
Accepting mobile payments: Square offers affordable and high-tech mobile card readers, and feature-rich payment apps. It is our top pick for the best mobile credit card processors.
Processing multichannel payments: Square makes it easy to sell in both online and offline channels. It is among our leading multichannel POS systems.
New and small businesses: While Square is an excellent choice for businesses of all sizes, it is a great option for new and small businesses. Our best overall free merchant account, Square requires no cost for signing up. With its ease of use, businesses can immediately start receiving payments.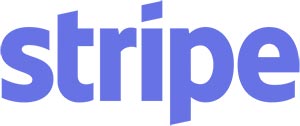 Pros
Highly customizable, extremely flexible, secure platform
Hundreds of integrations and powerful, well-documented APIs
Low-cost ACH processing
135+ currencies
Cons
Service fee for invoicing and recurring billing payments
Requires some technical expertise
Add-on fees for other services
Initial payout takes up to 7 days
Stripe is Best For
Creating a fully customizable and secure checkout: Stripe comes with customizable security features for checkout carts along with strict PCI (Payment Card Industry) compliance in its free account, earning a place on our list of the most recommended payment gateways.
Fast-growing ecommerce businesses or service providers: Software developers can scale their business' checkout process using reliable APIs and integrations.
Local and international B2B businesses: Stripe accepts international transactions for over 135 currencies and processes extremely small and large payments. It handles recurring billing, invoicing, and domestic ACH transactions. Stripe tops our list of best international merchant account providers.
Limited-time Offer for Fit Small Business Readers
Now through June 30, 2023, receive 20% off your first Square Terminal with the code FSBSquare! Visit Square to redeem.
*Terms and conditions apply
Stripe was originally designed for online-first businesses and offers more technically advanced options for online payment processing. Square, on the other hand, provides more payment processing and operational management features for mobile and brick-and-mortar businesses, including a built-in website builder for those who want to expand to online sales.
Stripe and Square both:
Is Square compatible with Stripe?
No, Stripe is not available as a payment option within the Square point-of-sale ecosystem. Merchants that use Square hardware are locked into Square's built-in payment processor. Stripe's in-person payment service (Stripe Terminal) only works with a selection of accredited hardware.
Get a Personalized Recommendation
Need help choosing between Stripe and Square? Our quiz takes less than a minute, and you'll get a recommendation without being redirected to another page.
Stripe vs Square Pricing & Contract
| | | |
| --- | --- | --- |
| | 3.75 out of 5 | 4.63 out of 5 |
| Monthly POS subscription | $0–$10 | $0–$60 |
| Monthly ecommerce subscription | Varies (third-party) | $0–$72 with add-on programs |
| Mobile card reader pricing | $59 | $0–$49 |
| Terminal and register pricing | $249 | $149–$799 (all-inclusive) |
| Card-present transaction fees | 2.7% + 5 cents, 2.9% + 30 cents for touchless | 2.5% + 10 cents to 2.6% + 10 cents |
| Card-not-present transaction fees (keyed-in) | 3.4% + 30 cents | 3.5% + 15 cents |
| Ecommerce transaction fees | 2.9% + 30 cents | 2.9% + 30 cents |
| ACH transaction fee | 0.8%, $5 cap | 1% processing fee, minimum $1 |
| Invoice fee | 2.9% + 30 cents plus 0.4% with 25 free invoice processing per month or 0.5% per invoice, depending on plan | 3.3% + 30 cents |
| Recurring billing | 2.9% + 30 cents plus 0.5% per month or 0.8% per invoice, depending on plan | 3.5% + 15 cents |
| Chargeback fee | $15 | $0 (waived up to $250 per month) |
|   | | |
Looking at the processing fees alone, Stripe holds its own against Square—though they both scored well for not having monthly or cancellation fees. However, Stripe lost some minor points for its hardware pricing and major points for its chargeback fee of $15, which Square does not charge for.
Stripe may beat Square for ACH transactions and invoice payments, depending on the dollar amount. This makes Stripe better for B2B sales, and it makes our list of the best B2B payment solutions.
Learn more about Stripe's pricing and fees.
Overall, for affordability, Square beats Stripe. That's because, as a payment processor, you only get the full potential of Stripe when it is integrated with third-party applications. If you want to have an online store, you will need to sign up with a third-party platform. Unless you use a free ecommerce platform, you will incur additional fees for the platform subscription. Meanwhile, Square offers a free, fully functional POS system and online store, with charges for upgrades and additions.
Another advantage that Square has over Stripe is that it waives chargeback fees up to $250 per month. You might still be charged by your bank for any chargebacks, but unlike Stripe, Square does not charge any other fees.
Learn more about Square's pricing and fees.
Square vs Stripe Estimated Fees
Compare Stripe vs Square fees. Enter an estimate of your monthly sales data in the calculator below:
Stripe vs Square Payment Types
3.75 out of 5

4.75 out of 5

Payment types

ACH payments, card-on-file transactions, virtual terminal*, invoicing, recurring payments, payment links, hosted checkout, buy buttons, buy now pay later, Tap to Pay for iPhone

Mobile payment

Requires integration

✓

International payments

135+ currencies, 47 countries

Additional 1% fee

US, Canada, Australia, Japan, the United Kingdom, Republic of Ireland, France, and Spain only

Marketplaces (eBay, Amazon)

✓

✕

Social selling

Third-party integration

✓

Ecommerce integrations

239

97
*Stripe advises against using the virtual terminal on the Stripe Dashboard. PCI compliance is the responsibility of the merchant when using the virtual terminal.
Stripe may seem to have lagged behind Square when it comes to payment types. However, our evaluation takes into account all payment types they accept, and Square is more flexible in this aspect. Stripe, on the other hand, is best for remote payments and our best overall when it comes to online payment processing. When looking solely at online payment capabilities, we find Stripe the winner.
Flexibility gives Stripe the edge when it comes to online payment processing. Square falls behind Stripe's breadth of technology developed for accepting online payments—such as its optimized hosted payments features and dynamic, machine learning-based, customizable payment authorization.
If you only have occasional online sales, PayPal is another popular online payment processor. Read our Stripe vs PayPal review for more information.
For in-person payments, Stripe relies mainly on POS integrations and development to start processing transactions. Although Stripe now has a growing range of in-person and mobile payment solutions, including card readers, you will still need to integrate the Stripe Terminal SDK into your platform.
However, if you already have a POS system like Lightspeed or Shopify, then Stripe beats Square because Square Payments only works with the Square POS.
Stripe In-person Hardware Solutions
| BBPOS WisePOS E | Stripe Reader M2 |
| --- | --- |
| | |
| $249 (optional dock $49) | $59 (optional dock, $19) |
| Mobile card reader with built-in POS application best for online businesses selling in person at farmers markets and trade shows | Mobile card reader best for accepting EMV and contactless payments both on-the-go and countertop setup |
Stripe also offers another reader, the BBPOS WisePad 3, for non-US merchants.
---
Square offers a simple, complete sales system for your brick-and-mortar business with a handful of third-party sales channels, including social selling for expanding into online sales. It's easy to work with, so it's best for those needing a basic ecommerce setup.
Square beats Stripe for in-person sales because it is designed for accepting in-person payments out of the box. It has a complete POS ecosystem and key integrations, so users can start running their businesses with Square in minutes.
If your business is more or less evenly divided between online and in-person sales, Square is a user-friendly, one-stop shop. Its POS system works for mobile or PC, and you can sync inventories between your online store and your brick-and-mortar store. The POS system works for both retail and restaurants. While Stripe requires you to build your POS using its tools or to integrate into a platform, Square comes ready to populate with your business-specific information.
However, when you use Square, you are locked into its payment processor. Square is best used by those who are quite happy to stay within its ecosystem.
Square In-person Hardware Solutions
| Square Reader for Magstripe | Square Reader for Contactless and Chip |
| --- | --- |
| | |
| First free, additional $10 | $49 |
| Mobile card reader best for simple swipe transactions | Mobile card reader best for EMV and contactless payments |
| Square Stand for Contactless and Chip | Square Terminal | Square Register |
| --- | --- | --- |
| | | |
| $149 or $14 per month for 12 months | $299 or $27 per month for 12 months | $799 or $39 per month for 24 months |
| Best for businesses looking for a simple countertop setup using an iPad and mobile card reader | Stand-alone mobile POS best for taking orders, accepting payments and issuing receipts around the store | Full touch-screen POS with customer-facing display best for encouraging customer engagement |
Did you know? Both Stripe and Square support Afterpay, allowing customers to purchase in three to four installments. Merchants are charged a processing fee of 6% + 30 cents per transaction. Stripe had already been offering Afterpay as an alternative payment option before Square acquired the service.
---
Stripe vs Square Features
3.19 out of 5

3.88 out of 5

Chargeback/dispute fees

$15 (non-refundable)

$0 (waived up to $250)

Chargeback protection

Optional, additional fee of 0.4% per transaction

Included

Advanced risk monitoring

0–7 cents per transaction

0–6 cents per transaction

Dispute management

✓

✓

PCI compliance

✓

✓

Payment security

Level 1 PCI compliance

Payment data encryption

Built-in machine-learning fraud detection

Customized payment risk evaluation

3D secure authentication

Secure data migration

Online identity verification

Level 1 PCI compliance

Payment data encryption

Proprietary tokenization

Systematic security updates

Offline payments

✓

✓

API

✓

✓

Developer tools

CLI, Visual Studio Code, live event monitoring, advanced SDKs

Sandbox, API explorer, live event monitoring, backend SDKs, secure payment SDKs

Developer support

Documentation, YouTube tutorials, newsletter, live chat with developers, 24/7 support

Documentation, forums, Slack, contact support via online form

Deposit speed

2 business days
First deposit takes up to 14 days
Instant payout for 1%, minimum 50 cents

3 business days
Immediately to PayPal account
Instant to bank/card for 1.75% fee

Customer support

24/7 email, phone, and chat support
Comprehensive knowledge base
Detailed API documentation and FAQs
Premium support add-on purchase

Extended business hours for live customer and technical support
Chat support
Extensive knowledge base

 
Customization is key for Stripe's advanced security features. Aside from built-in PCI compliance, chargeback protection, and dispute management, it has developed payment, hardware, and account protection tools that go beyond the standard. For instance, you can customize your acceptable payment risk by setting your own risk level scores. It also offers secure data migration, so you can safely transfer transaction details and customer payment information to and from different payment processors.
If you sell globally, you can use a variety of online identity verification options because Stripe can recognize IDs from over 33 countries. You can also manage all your registered card readers from a central fleet management dashboard.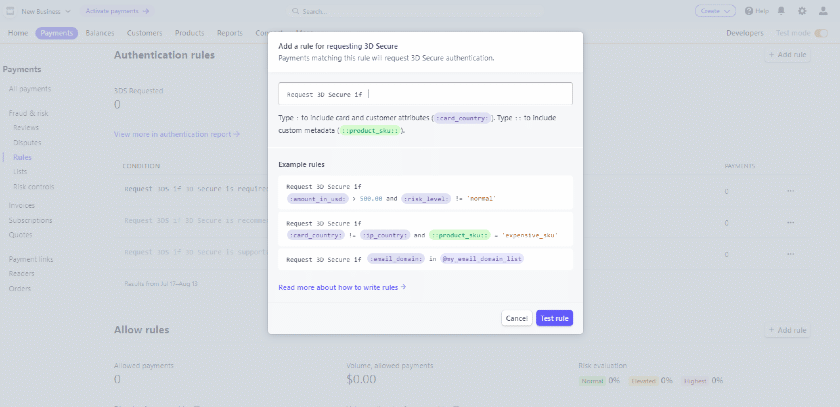 ---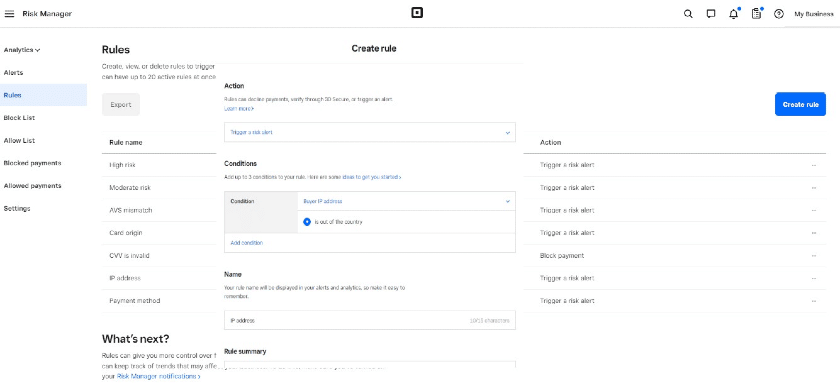 ---
---
Stripe is especially suited for developers, making it a good choice for tech-savvy businesses. While Square also offers APIs and SDKs to create customized in-app and online checkouts, Stripe's range of apps, tools, documentation, and support is clearly more advanced.
With over 700 partner apps, Stripe is a clear leader in payment processing software for integrations. You can search for apps by name or use the menus to narrow them down by industry, need, and location. You'll find popular apps like Salesforce, Harvest, Shopify, QuickBooks, and Eventzilla.
If you need to create your own app, Stripe offers API support with documentation, video tutorials, and live chat with developers through Freenode IRC. You can build, test, and manage your integration from your terminal through its CLI. Its Visual Studio Code extension lets you generate sample code, view API request logs, forward events to your application, and use Stripe within your editor.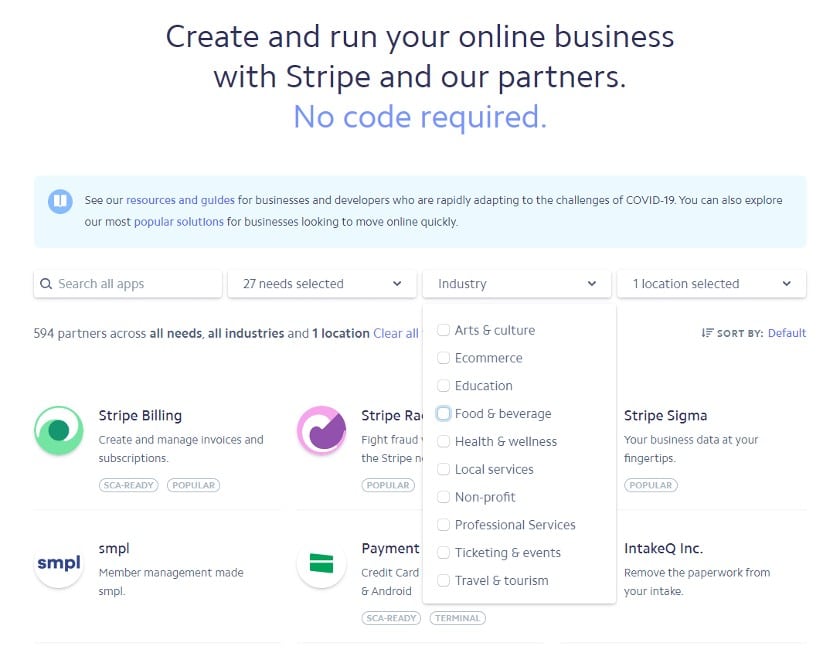 ---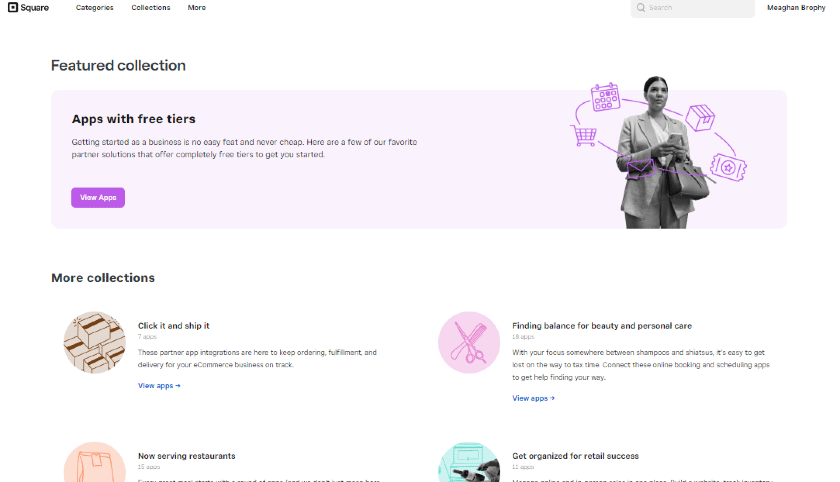 ---
---
If you are a small business or do not handle large-ticket sales, Square would be the better choice. It gives you standard security tools for handling online and in-person transactions and an option for advanced risk monitoring features that starts at 6 cents per transaction. This provides you with additional protection such as card, email, and IP address blocking, 3D secure authentication, and card processing overrides.
Square also waives chargeback and dispute fees and offers chargeback protection. However, chargeback protection for transactions is capped at $250 per month, which is why Square's security is more ideal for small businesses.
Square offers an easy-to-use dispute management dashboard for tracking and responding to claims conveniently within the platform. It's designed to efficiently handle online and in-person small ticket transactions.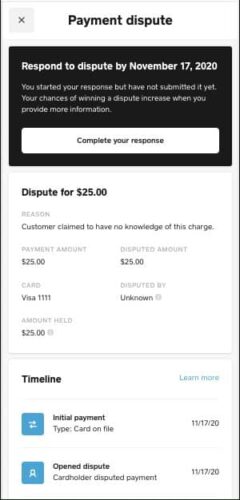 ---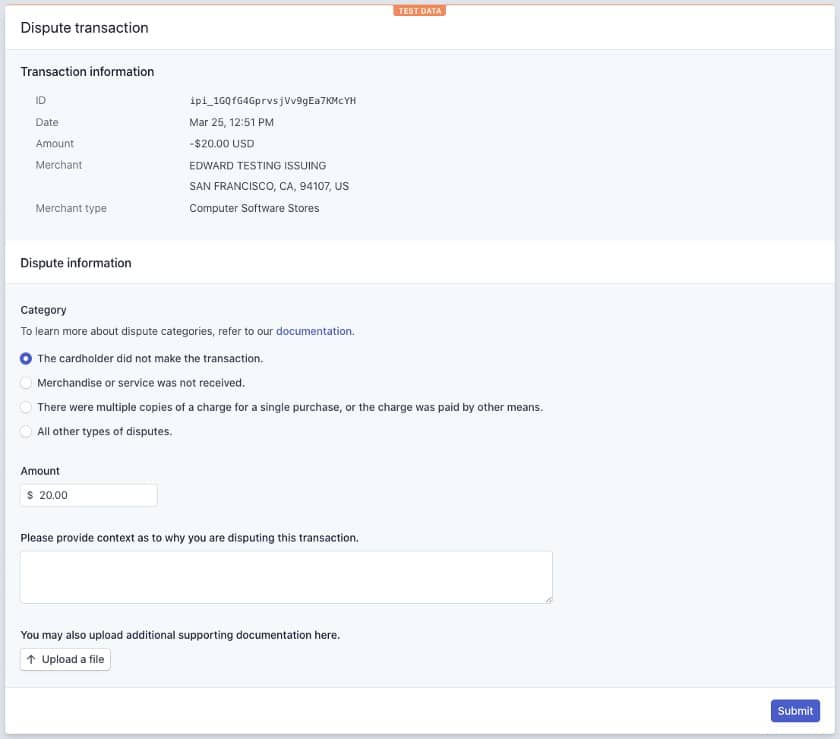 ---
---
If you need easy-to-use, industry-specific integrations, then Square is your best choice. Square is no slouch when it comes to integrations, working with 150 apps in its Marketplace. It's easy to find apps by searching the categories, or if you know the name, type it in the search bar. Square also creates collections of recommended apps for specific purposes that you can browse. You'll find integrations with popular software like QuickBooks, BigCommerce, Zoho, and Mailchimp. Some have free plans or free trials.
Square also has a strong API program, with a sandbox for testing, documentation, and SDKs. There's a forum for reaching out to other developers or contacting support via Slack or an online form. While Square also makes it easy to connect to other software, it's hard to compete with.
Stripe's 700+ partner apps and famous developer-friendly platform.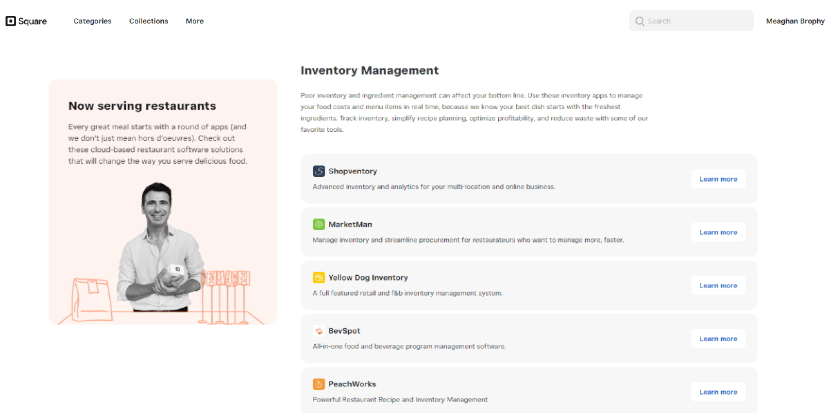 ---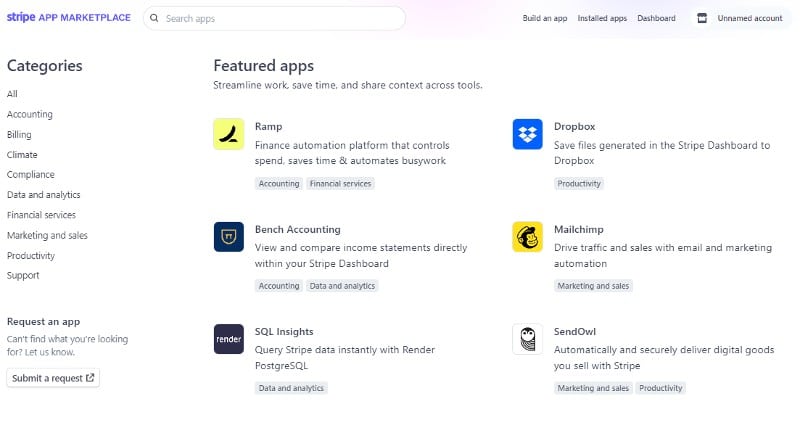 ---
---
Stripe vs Square Expert Score
We scored this category based on our own experience of ease of use and how affordable and transparent the pricing is. We also looked at the number and ease of integrations, as well as the input of real-world users as recorded in third-party user review sites like Capterra and G2.
Despite the need for higher technical skills with Stripe, it scored higher than Square in this category. Its massive number of integrations, popularity, and reasonable pricing earned Stripe perfect scores for those subcategories. It lost some points for ease of use.
If you have a business dealing mostly with online sales, accepting international payments, and processing large-ticket transactions, including B2B sales, then Stripe's high-level security infrastructure will be better suited for you. You will need to hire someone with the technical skills if you want to customize your payment setup, but Stripe also has plug-and-play integrations and checkout templates for simpler payment processing.
What's good about Stripe is that its products are well documented, and it provides 24/7 phone and email support, so you can get all the help you need. Its long list of integrations also includes operation management tools to support your business.
Square is the obvious winner for ease of setup. While both Square and Stripe allow you to create an account in minutes with no upfront cost, Square users can start accepting payments faster because it requires zero technical skills to set up a payment processing flow. With Stripe, on the other hand, payment options that are immediately available are those from the Stripe Dashboard.
The Square platform is also an all-in-one business solution. You get a payment processor, inventory, and operations management tools with your Square account. If you want to start selling online, Square's built-in website builder is free and can get you started in minutes with its easy drag-and-drop design tools.
If there's anything Square can improve upon, it's to expand its features to meet the needs of larger businesses. Although Square Payments has 300+ integrations, Stripe gives more customizability and flexibility with its 700+ integrations.
Customer support is another aspect that Stripe wins over Square. While Stripe has 24/7 email, phone, and chat support, Square's phone support is only available from Mondays to Fridays.
Other than that, we find Square Payments an outstanding payment processing solution.
Methodology—How We Evaluated Stripe vs Square
We test each merchant service provider ourselves to ensure an extensive review of the products. We then compare pricing methods and identify providers that offer zero monthly fees, pay-as-you-go terms, and low transaction rates. Finally, we evaluate each according to various payment processing features, scalability, and ease of use.
The result is our list of the best merchant services providers. However, we adjust the criteria for specific use cases, such as for different business types and merchant categories. This is why every provider has multiple scores across our site, depending on the use case you are looking for. For this in-depth analysis, we looked closely at how Stripe and Square performed.
Click through the tabs below for our overall merchant account evaluation criteria:
25% of Overall Score
We awarded points to merchant account providers that don't require contracts and offer month-to-month or pay-as-you-go billing. Additionally, we prioritized providers that don't charge hefty monthly fees, cancellation fees, or chargeback fees and only included providers that offer competitive and predictable flat-rate or interchange-plus pricing. We also awarded points to processors that offer volume discounts, and extra points if those discounts are transparent or automated.
For pricing and contract, Square scored higher with 4.63 out of 5 compared to Stripe's 3.75 out of 5. Although both have no monthly fees and contracts, Square has an edge over Stripe for its hardware availability and zero chargeback fees.
30% of Overall Score
The best merchant accounts can accept various payment types, including POS and card-present transactions, mobile payments, contactless payments, ecommerce transactions, and ACH and echeck payments, and offer free virtual terminal and invoicing solutions for phone orders, recurring billing, and card-on-file payments.
Again, Square earned a higher score (4.75 out of 5) than Stripe's 3.75 out of 5. There are only two things that gave Square the edge—its mobile POS and virtual terminal. Although Stripe can accept basic manual payments from its dashboard, using it has an add-on rate.
25% of Overall Score
We prioritized merchant accounts with free 24/7 phone and email support. Small businesses also need fast deposits, so payment processors offering free same-day or next-day funding earned bonus points. Finally, we considered whether each system has affordable and flexible hardware options and offers any business management tools, like dispute and chargeback management, reporting, or customer management.
Square again took the lead with 3.88 out of 5, while Stripe earned 3.19 out of 5. The POS system, business management tools, and available hardware gave Square the edge over Stripe.
20% of Overall Score
We judged each system based on its overall pricing and advertising transparency, ease of use―including account stability―popularity, and reputation among business owners and sites like the Better Business Bureau (BBB). Finally, we considered how well each system works with other popular small business software, such as accounting, POS, and ecommerce solutions.
Here is where Stripe did slightly better with 4.69 out of 5 than Square's 4.38 out of 5. Stripe wins hands down when it comes to flexibility and customizations.
*Percentages of overall score
Stripe vs Square Frequently Asked Questions (FAQs)
Square is an all-in-one solution for small businesses that need a payment processor, a POS, inventory, and operations management tools. It is easy to use and requires very little technical or coding skills. On the other hand, Stripe offers a lot of flexibility and customizability. It has over 700 integrations, exceptional data security and global payment capabilities.
---
Stripe's biggest strengths are its flexibility and customization. It has a robust API, supports payments in over 135 currencies, over 700 integrations, and high-level security infrastructure.
---
Square is best at providing an all-in-one solution–a range of payment processing options, a POS system, and various integrated tools.
---
Bottom Line
When debating between Square vs Stripe for your business, it comes down to one question: Are you a tech-savvy startup or a business owner looking for a user-friendly solution? For tech-savvy startups wanting lots of flexibility, Stripe is best for you. Meanwhile, Square offers a plug-and-play solution for accepting payments anywhere, along with a suite of free business management tools that is a better fit for most small businesses.