This guide explores how to efficiently handle your business's physical inventory counts. You can also download our free inventory templates which include tips on how to use them. By the end of this guide, you'll have the tools you need to conduct a physical inventory count, and the know-how to craft a process that works for you.
1. Sample Inventory Template Forms for Physical Counts
Since product tracking needs differ, inventory templates are rarely one-style-fits-all. Some products just need a basic quantity count, while others require fields for options like size, color, or both for accurate counts. The following three inventory templates and their variations work for most retail and wholesale product inventory counts.
Click here to download our free inventory templates. You can print them blank or prefill the product name and number columns on your computer. I'll explain how to do that at the end of this section. Alternatively, you could set up a point-of-sale system (POS) to automate inventory management. A POS system can track inventory, sales, customer information, and data to help you understand the health of your business.
Inventory Template 1: Simple Quantity-on-Hand Inventory List
Option A: This is the easiest inventory count template and works for stores stocking a variety of items that sell by the piece or case unit. The form lists product names and numbers, and leaves a space for the counter to enter the quantity-on-hand (QOH) for each item or case unit. Simple!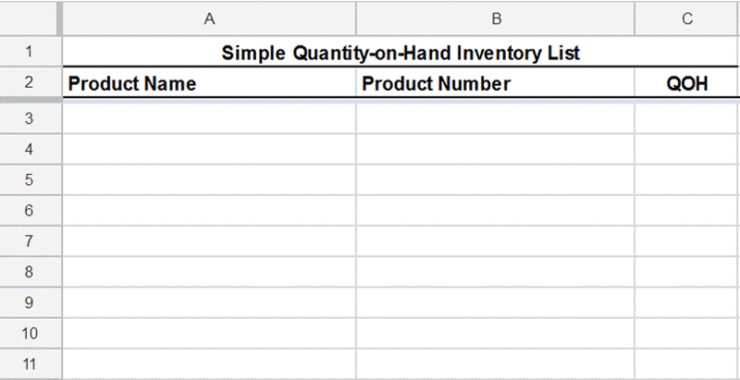 Option B: This is the same concept as A, but it adds columns for a stockroom count and a grand total. This is best for stores that carry overstock in a storeroom and also stock items on store shelves. With this inventory template, you count products in the stockroom and on store shelves separately, then total them up.

Inventory Template 2: Case Count Inventory List
This inventory template is best for stores that stock items by the case, but sell items by the piece. This is very common in ecommerce, where items are often stocked in their case packs, then picked singly to fill orders. It's also useful for stores that carry lots of overstock. With this template, you count cases, note the case quantities (12, 24, etc.), then count any individual units on the shelf. Then you add up the total quantity-on-hand after counting is done. This way, counters can just keep counting and not worry about doing the math.

Inventory Template 3: Options & Colors Inventory List
This template works for stores that carry items with options, like size and/or color. Even if you use a computerized inventory system that tracks products to the option level, their default inventory lists often are confusing for physical counts. In most cases, the templates below are far more efficient for counting products with options.
Option A: This inventory template is best for counting goods that have one option, like size: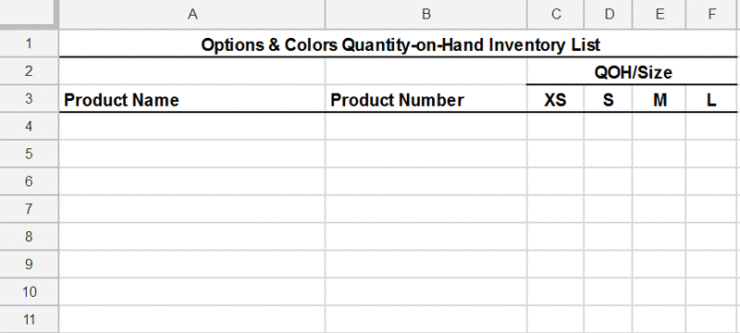 Option B: This inventory template easily handles counts for products that have two options, like color and size:

How to Customize or Prefill these Inventory Templates
Here are three ways you can customize or prefill these inventory templates to make your counts faster:
1. Enter data directly into the template
For any of the above templates, you can prefill fields like product name, SKU number, colors, etc., if you wish. Simply type this data into the appropriate fields in the inventory template.
2. Copy and paste data from an existing inventory list spreadsheet
Do you already have an inventory list in a spreadsheet? You can simply copy and paste needed column data from your master spreadsheet into the inventory template. This way, you don't alter your original inventory list. You also can add new columns or relabel the column headers in the template any way you wish.
3. Download data from an inventory management system
Do you use an inventory management system but want to create a customized inventory count form like these? Most systems let you download a .csv file of your inventory, which you can open in a spreadsheet, then customize by creating the columns needed for your count. Or you can copy and paste the needed data from your master spreadsheet into the inventory template.
Now that you're familiar with how inventory lists work for physical counts, let's see how to tackle the inventory counting process.
2. Inventory Count Processes & Best Practices
Let's just come out and say it. Counting physical inventory is a chore, even for the smallest and most organized stores. But it must be done, so let's explore ways to make your efforts worthwhile, starting with how often you should count your inventory.
Annual Counts & Cycle Counts
Most stores conduct two types of physical inventory counts: annual counts and periodic cycle counts. Here's the tickler; if you perform regular cycle counts, your annual count is a no-brainer. If you don't do cycle counts, annual counts are a big deal indeed. And often a big pain, to boot.
An annual count is just that, a full inventory count of everything in stock, performed once each year, usually right at the close of the fiscal year for tax purposes. If you only do annual counts, there's a good chance you'll have to deal with a stack of issues like miscounts, misplaced inventory, shortages, overages, etc. In fact, these inventory irritations are likely to pop up throughout the year, costing you time and sales. This is where cycle counts can help tremendously.
A cycle count is simply a partial inventory count performed on a rotating basis. Usually, you count just a few product lines or a single category each week, so the chore is tiny and easy to fit into weekly tasks. The main benefit of cycle counting is that you discover small issues, like stock shortages or misplaced overstock, before they become giant, sales-affecting headaches. The other benefit is that your entire inventory is tidied up year-round, so when annual counts roll around there are few, if any, surprises.
Preparing for Inventory Counts
Whether you're performing an annual count or a cycle count, the inventory prep work is the same. Although, if you do cycle counts, you'll discover the prep work is faster because your inventory is managed regularly. Here are the general steps:
1. Print off inventory count forms
Before you count, you'll need to print off an inventory count form using the templates above, or use one from your computerized inventory system. Some advanced systems, like Lightspeed, even have barcode scanners to make the process even faster. For annual or large cycle counts, you can organize the count by product lines, store location, or product categories; whatever works best for your shop, staff, and count helpers.
2. Tidy the inventory to be counted
For annual counts, this means combing through your store, stockroom, or warehouse; wherever your inventory lives. Make sure that all items are organized and located in the correct spots. Also make sure that overstock goods are accessible and countable. Some stores and ecommerce companies even pre-count large blocks of overstock items at this stage. Again, do whatever works for your operation.
3. Set a cutoff point
This is most important for annual counts when your operation really needs to shut down for a day or so to do the job right. Once you reach your cutoff point, all receiving, sales, and other activities affecting inventory stop. These don't start again until the inventory count is complete and any spreadsheets or computerized systems are updated with correct count numbers.
Inventory Counting & Adjusting Procedures
Once it's time to count, the process is pretty simple. If you're a small shop, you, your staff, or a few friends should be able to knock it out in a day. Larger stores or warehouses might have a late night or even a two-day stretch. Here's how to tackle it:
1. Assign counters specific areas or product lines, and start counting
I prefer to count inventory in teams of two. One person counts while the other writes and double-checks as needed. Counters certainly can operate alone, but teams are the preferred method used by most businesses, large and small.
2. Spot check for accuracy
It's always a good idea to have those that didn't count a certain line or category spot check for others. We usually spot-checked two to five percent of the counts just to be sure everyone was on top of things while counting.
3. Make adjustments and resolve any count issues
If you use a computerized inventory list, you'll need to adjust your spreadsheet or system to match the new physical counts. If you track inventory manually, you'll need to adjust the counts in your inventory records so you can prepare an inventory valuation for tax purposes. You'll also need to resolve and account for any major discrepancies, like short stock or overages.
3. How to computerize your inventory to fit your needs and budget
There are many ways to manage inventory using your computer. Heck, there are even mobile apps let you manage stock counts and inventory these days. Several top options are low-cost and quite simple to use, so there's really nothing to stop you from considering a computerized inventory system. Some are geared specifically for retail stores, others for ecommerce companies, and still others combine the two. One is sure to meet your business's needs and budget.
Here's a look at several top inventory management systems and the types of businesses they best fit. You might try one of these on for size if you don't already use computerized inventory, especially since most give you a free trial.
| Solution | Best for | Price |
| --- | --- | --- |
| Google Document or Spreadsheet | Making custom count forms or tracking small inventories manually | Free |
| | Small retailers needing a POS and business management system | Free |
| | Retailers with larger inventories | $89 - $259/mo. |
| | Any small business. Advanced bookkeeping, business and inventory management. | $13 - $112/mo. |
| | Any small business. Less expensive than QuickBooks with comparable features. | $9 - $70/mo. |
The Bottom Line
I doubt that conducting physical inventory counts makes it onto anyone's bucket list. But if you're a business owner, you'll sure enjoy the efficiency that comes with accurate inventory counts, and so will your staff and customers. Counting inventory with simple-to-use forms is the first step in creating an accurate inventory list for managing your stock. The inventory templates and processes listed above will get you started on the right foot.
Once you have an inventory list with accurate counts, use it as a clean slate for inventory control. Schedule regular cycle counts to keep your inventory tidy year-round and catch pesky issues early. And if you're not already tracking inventory through a modern, computerized system, now is the time to start.
Do you manage inventory for your own small business? We'd love to learn about the systems and techniques that work for you, please share your thoughts in the comments below.