10 Free Inventory Templates + Instructions
Conducting a physical inventory count is a tedious but essential business process. Since product tracking needs differ, inventory templates are rarely one-size-fits-all. While some products just need a basic quantity count, others will require variations in size, color, or both for accuracy.
We rounded up a list of free inventory templates that will work for most retail and wholesale product inventory counts. These will give you the tools you need to efficiently handle a physical inventory count and get you started on a process that works for you.
1. Fit Small Business Inventory Management Template
Best for: Retailers looking for an automated inventory tracking workbook with reporting functionality

---

---

---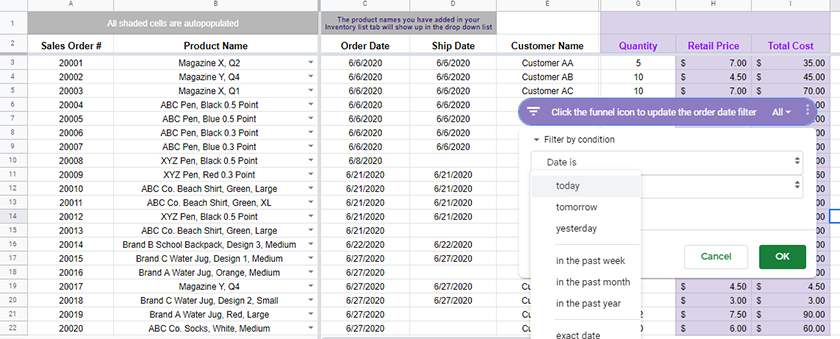 ---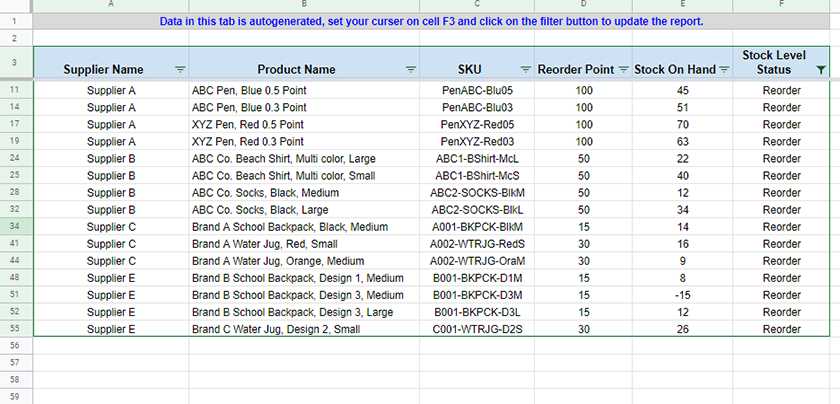 ---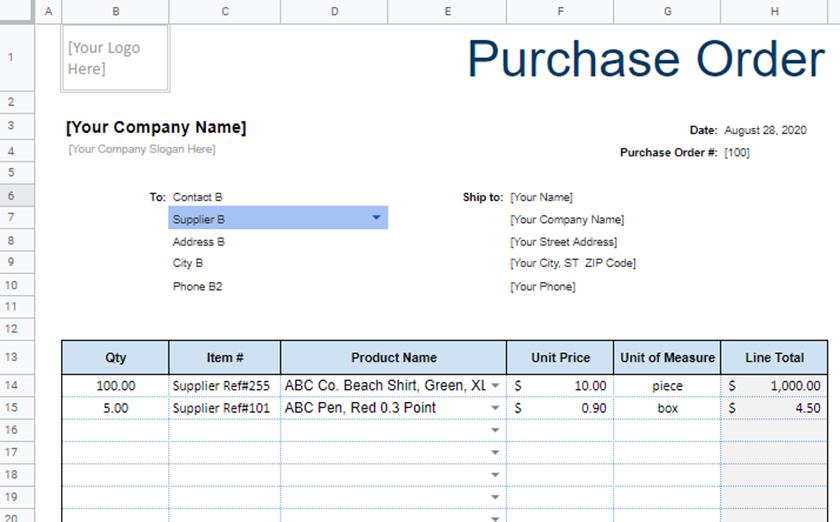 ---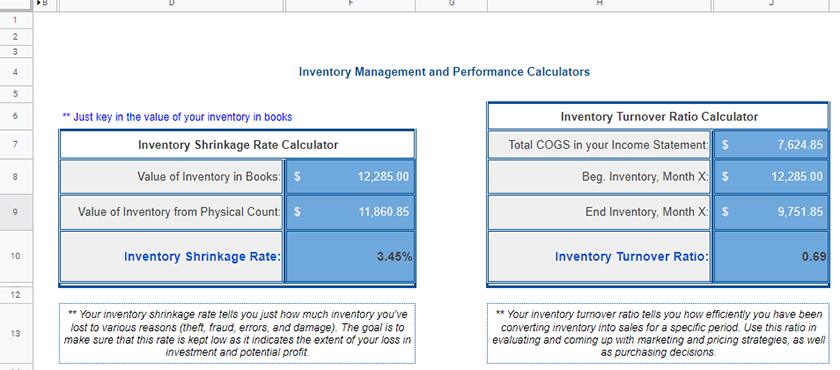 ---
For retailers and ecommerce business owners looking for added automation and reporting functionality in their physical inventory counting process, our inventory management workbook is your best choice. It contains everything from physical inventory count templates to inventory performance calculators. Step-by-step instructions are also included in the workbook.
To use, print, or modify the workbook, first make a copy. From there, you can save it to your own Google Drive, export to Excel, or print.
Alternatively, we recommend using a point-of-sale (POS) system to automate inventory management. An end-to-end POS system like Square for Retail helps small retailers handle sales and inventory counts plus get real-time insights on product performance and profits. You can set up a free Square for Retail account in minutes. Visit Square for Retail to get started.
2. Fit Small Business Basic Retail Stock Count Template
Best for: Retailers looking for a basic inventory tracking sheet to use for physical counts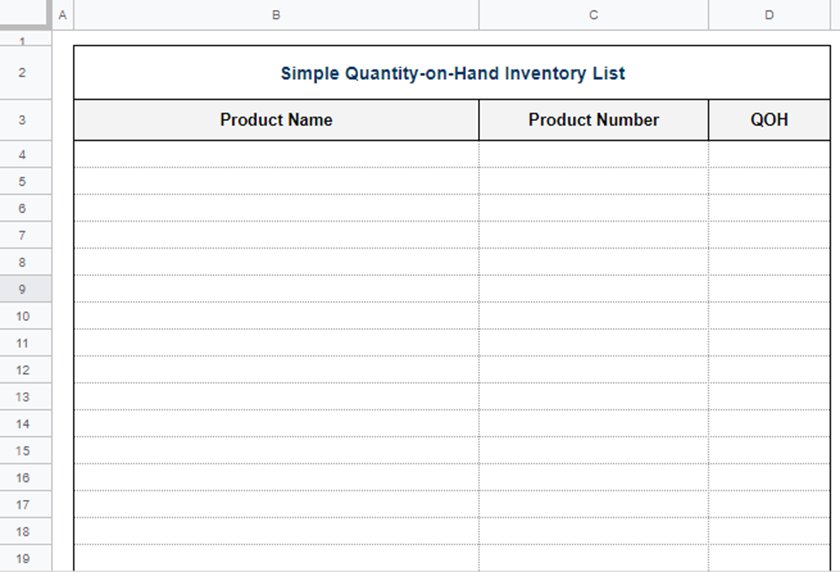 ---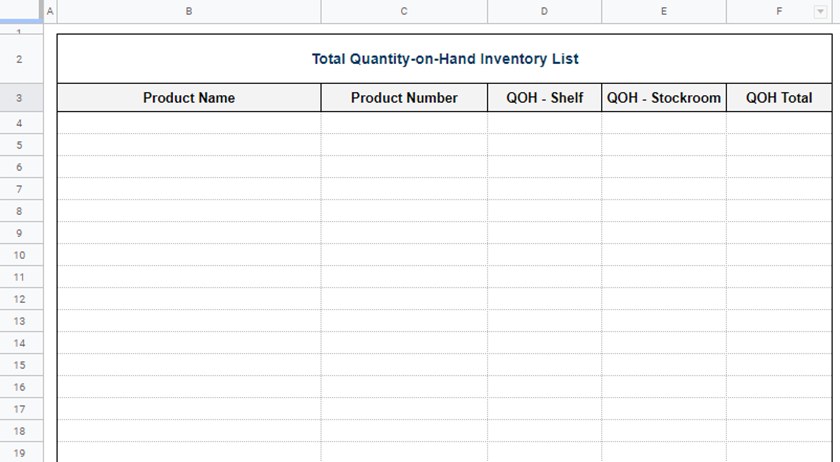 ---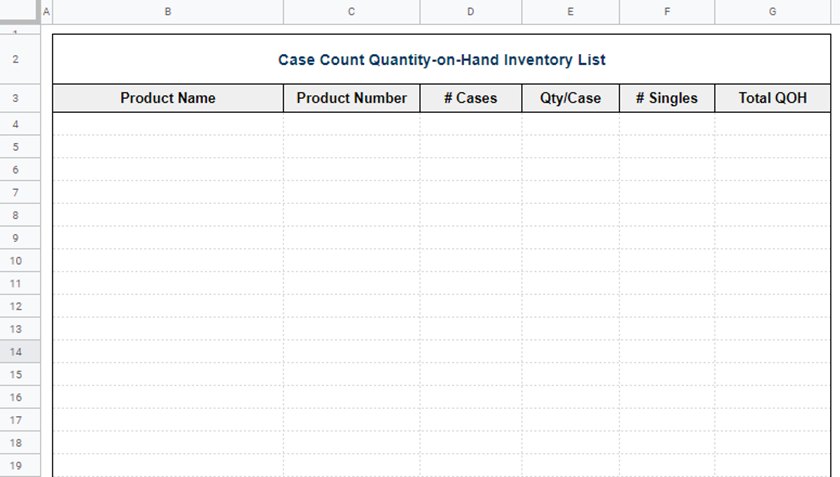 ---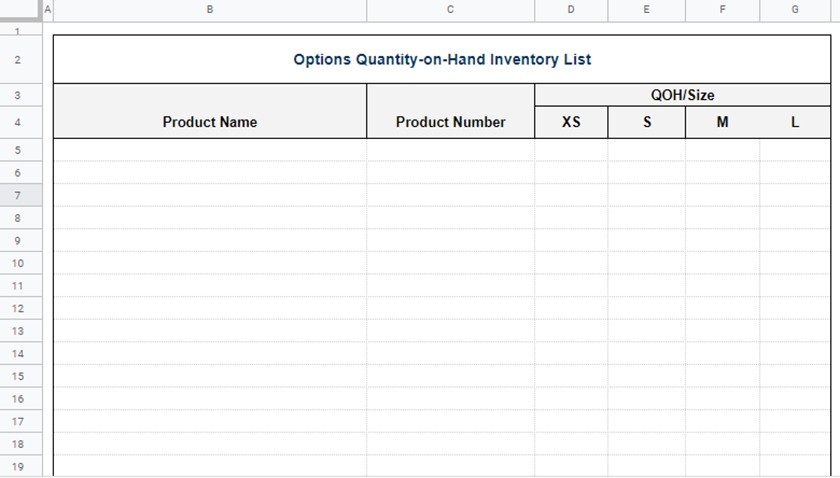 ---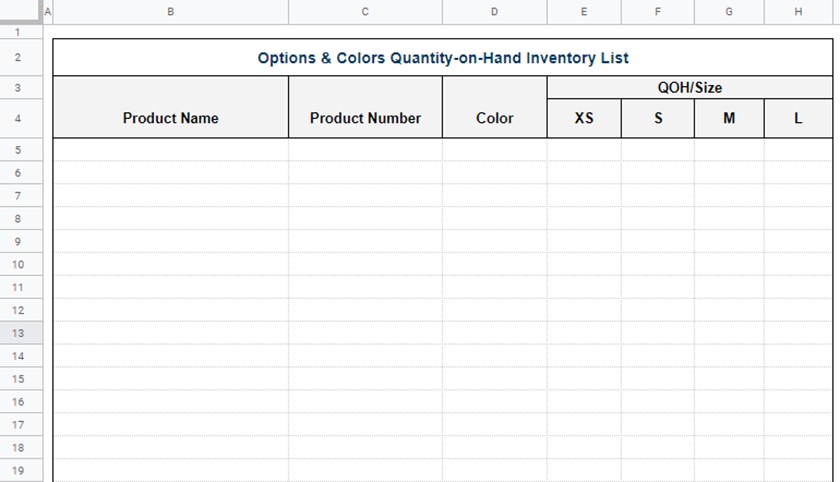 ---
This workbook contains five different templates in different tabs for counting your on-hand stock. To use, print, or modify the templates in the workbook, make a copy of the file. From there, you can edit in Google Sheets, export to Excel, or print.
The first tab has the most basic template for businesses that just need a quick counting list for just a few items. The second tab has columns dedicated to shelf and stockroom quantities, which is ideal for mom-and-pop retailers with small storage rooms.
The next template is for counting by the case—ideal for warehouses, liquor stores, or other businesses with large quantities of the same products. The templates on the last two tabs have options for tracking variants such as multiple sizes or colors of the same product.
3. Fit Small Business Liquor & Bar Inventory Template
Best for: Single store or restaurant owners needing to track beer, wine, spirits, and mixers
For store or restaurant owners selling alcoholic beverages, keeping a tab on supply requires a more detailed inventory count process. The ease or complexity of conducting bar inventory will depend on your business size. If you only have one lightly trafficked venue or store, using a spreadsheet could do the trick for maintaining inventory count.
The table is straightforward, with space to customize your item list. It lets you list the number of units based on where they are stored along with the unit price and totals.
If you have a high-volume bar or plans on expanding your business, we recommend using a POS system to help maintain liquor and bar inventory. See our top picks for the best bar POS systems. One of our selections, Revel, lets you input and track inventory the moment it is ordered and adjust your inventory count in real time as products are sold.
4. QuickBooks Inventory & Sales Manager Template
Best for: Wholesalers and retailers of beers, wine and spirits, and apparel and jewelry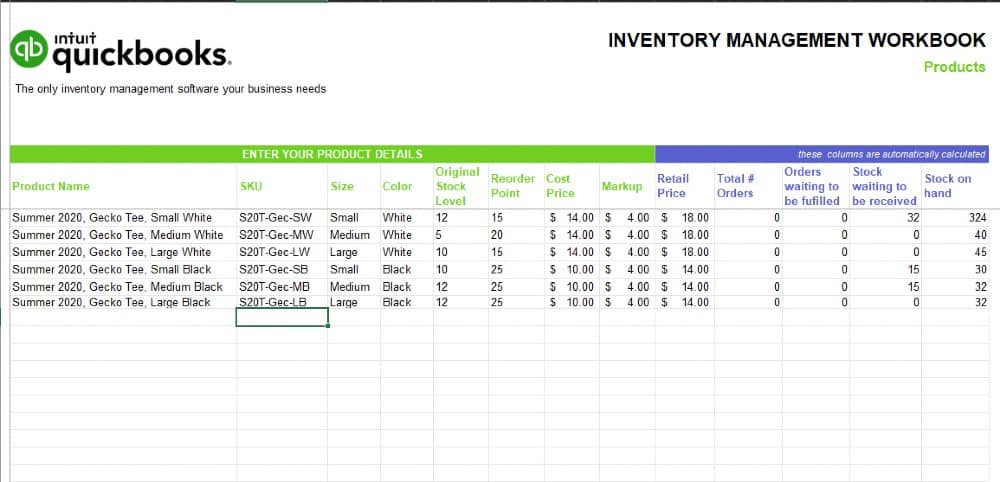 ---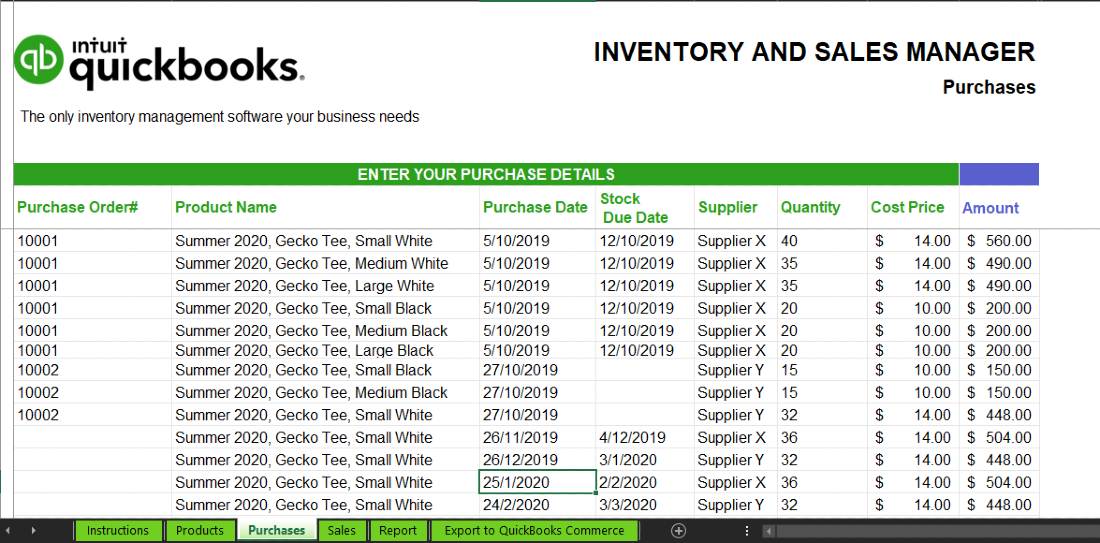 ---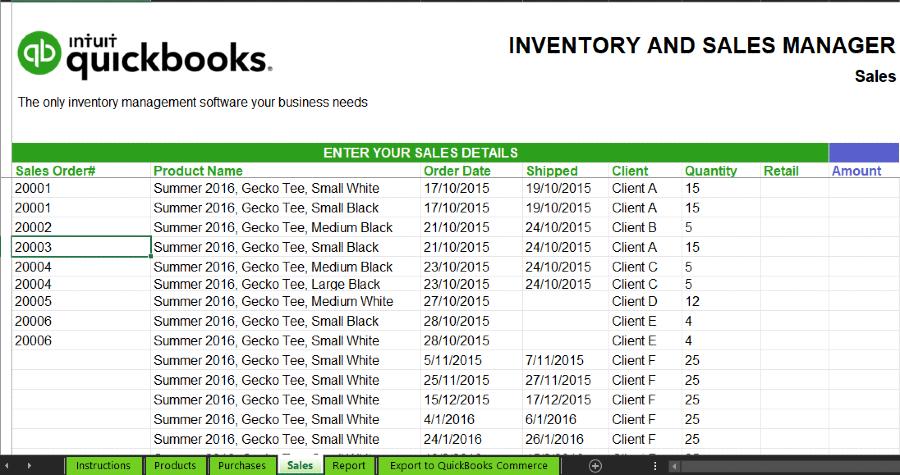 ---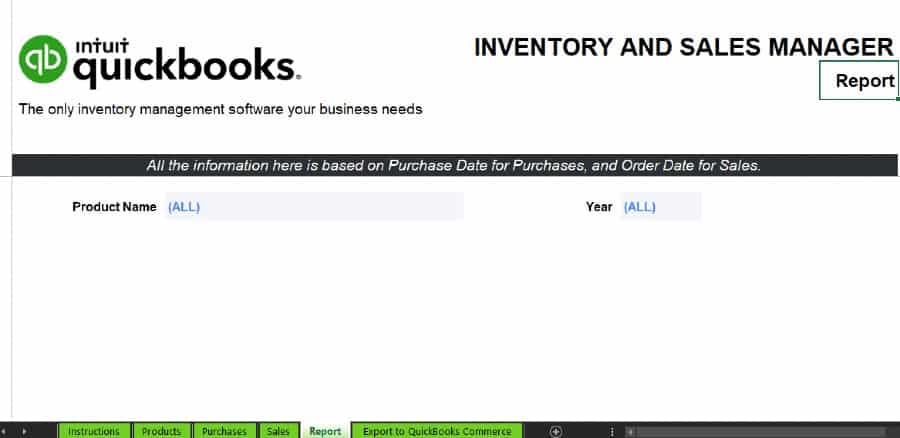 ---
Visit QuickBooks to Download Template
If you're a business owner or sales manager for convenience and retail stores, QuickBooks' inventory template is a good choice for managing your stock. Like Fit Small Business' inventory workbook, this spreadsheet allows you to keep track of all your products, get an overview of the stock on hand and give you a quick overview of your total cost of goods. It also provides a reporting function that shows you how your products are moving and identifies which ones are quick to sell and which are not.
QuickBooks recommends using its spreadsheet if you have less than $100,000 in sales turnover, with a small inventory and only a couple of suppliers. You will need to provide your name and email address to download the free inventory template, but once you do, you can start customizing the headers and expand the columns and rows to fit your needs. Also, if you're a TradeGecko user, you can automatically export your records and upload them to your TradeGecko account.
QuickBooks also offers QuickBooks Online when you're ready to adopt a computerized solution for managing your business operations. It works for any type of small business and offers advanced bookkeeping and inventory management.
5. Spreadsheet 123 Food Stocktake Inventory Template
Best for: Small restaurants and cafes that need accurate tracking and counting of ingredients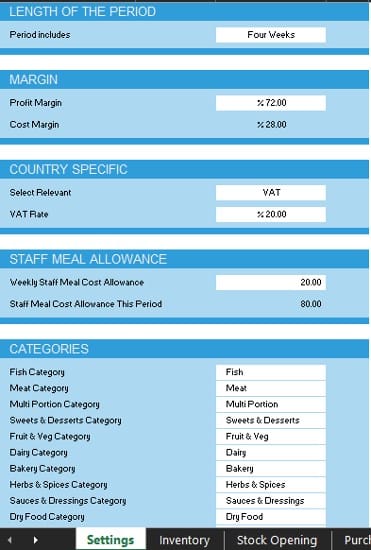 ---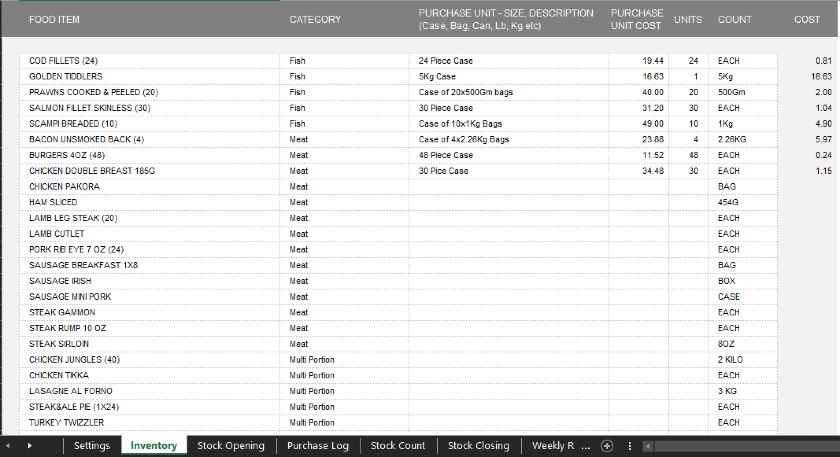 ---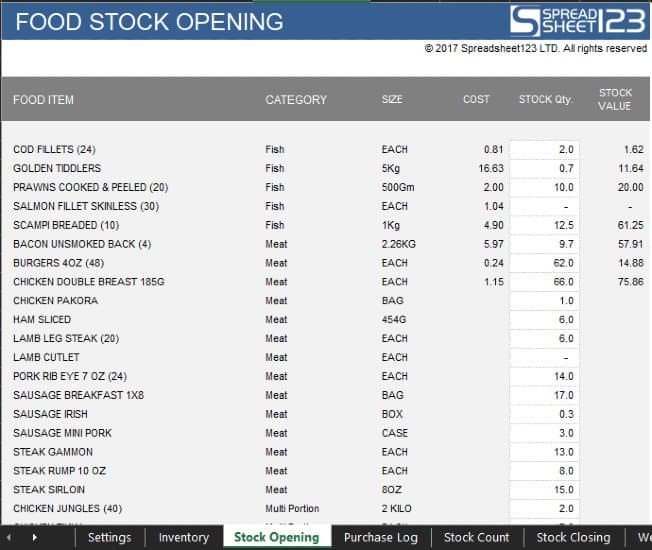 ---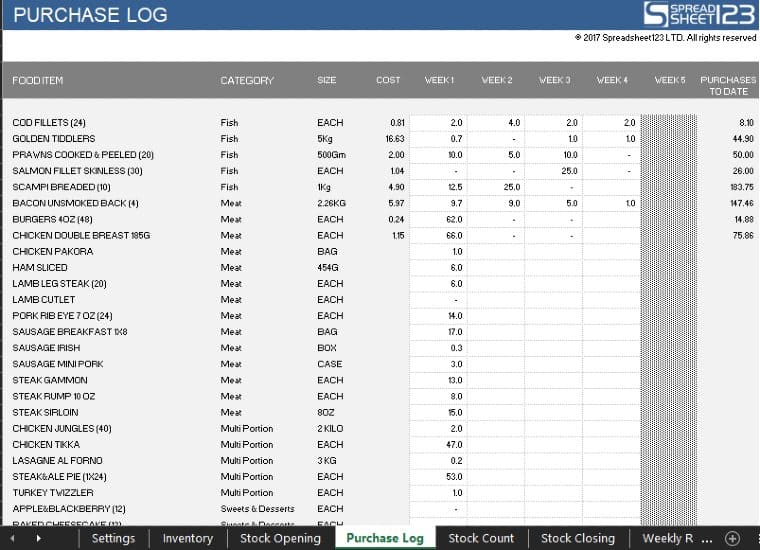 ---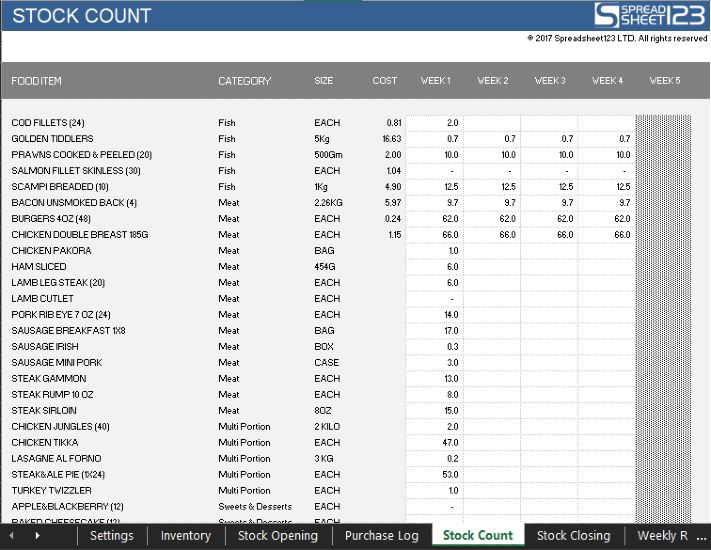 ---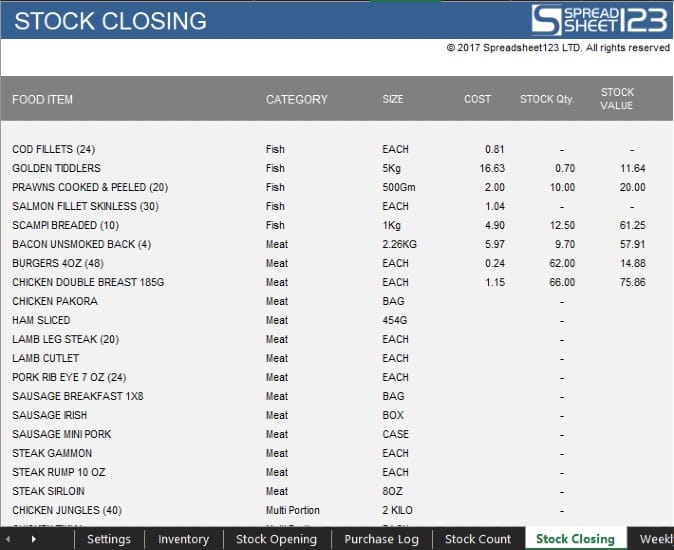 ---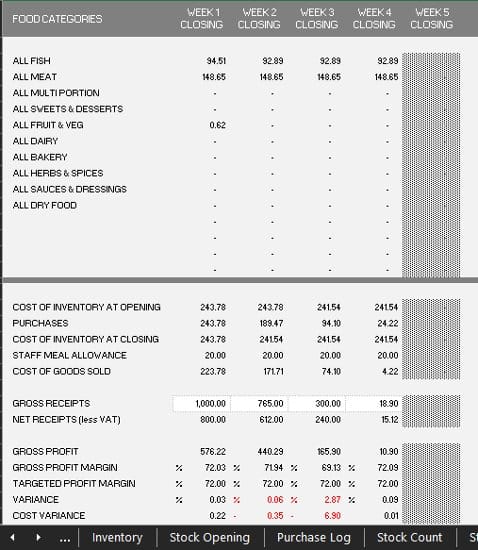 ---
Visit Spreadsheet 123 to Download Template
This food stocktake inventory template allows you to manage food variances and give you a quick overview of your inventory cost at opening, forecast profit margins, and cost variances. You can categorize your food stock and get a weekly report and analysis of product purchase cost, stock availability and gross profit for each section. It also allows you to define the unit of measure and country-specific tax settings.
If you are comfortable with Excel, this inventory template is a simple but comprehensive solution. However, you might need to get a separate inventory template to track your beverage inventory as there is no provision for counting per case and unit. Overall, the spreadsheet is easy to use and maintain. Spreadsheet 123 recommends this template as a good way for training team members to handle inventory. You simply need to click on the download button to get your own copy of the template.
6. Coupler.IO Barcode Inventory Template
Best for: Small retail businesses wanting to maintain backend inventory data linked to a simple barcode scanner app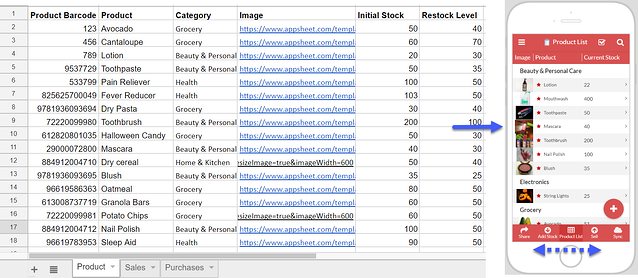 ---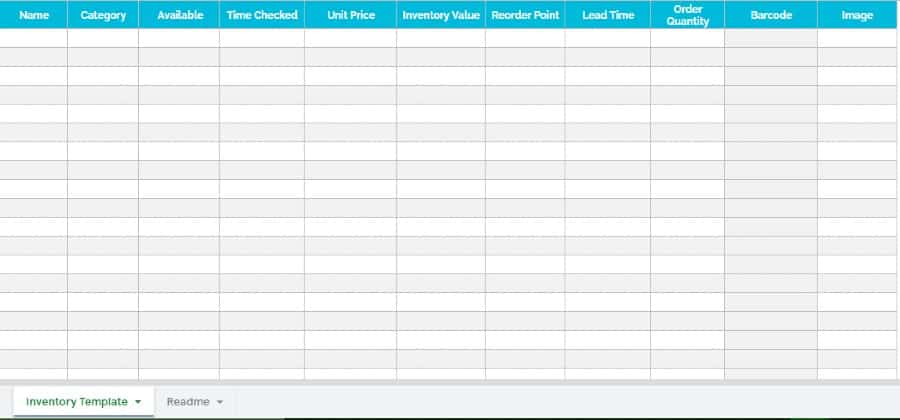 ---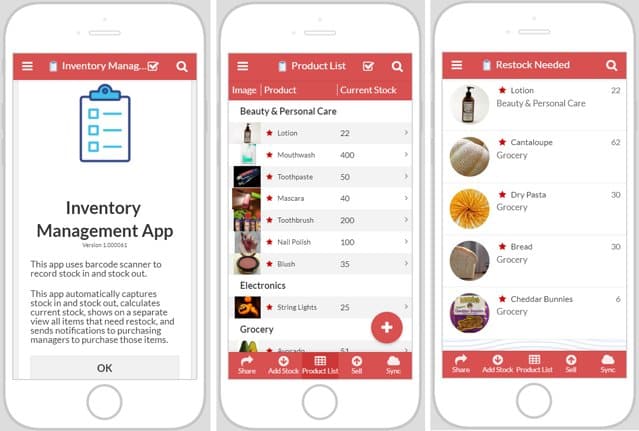 ---
Visit Coupler.IO to Download Template
If you're looking for a simple barcode scanner app for your small retail business, AppSheet's inventory management app is a simple, easy-to-use option. This turns your smartphone's camera into a barcode scanner, which you can then use to capture barcode data to search, update, and sort your inventory within the app. Using this software will require you to have a Google Sheet dedicated to maintain inventory data in the backend.
Coupler.IO designed a barcode inventory template for AppSheet's inventory management app. Download the template and make a copy, then get the AppSheet add-on for your Google Sheets. This template is already set up with predefined column types that you can customize and match with the app so it gives you an organized view of your data. Visit AppSheet's inventory management app download page for more instructions.
When you're ready to sign up for your first POS system, you'll find advanced solutions, like Lightspeed, have barcode scanners to make the process of inventory management and physical inventory counts faster. For annual or large cycle counts, you can organize the count by product line, store location, or product category—whatever works best for your shop, staff, and count helpers.
7. Vend by Lightspeed Inventory & Sales Template
Best for: Small retailers that need a simple solution for tracking both inventory and sales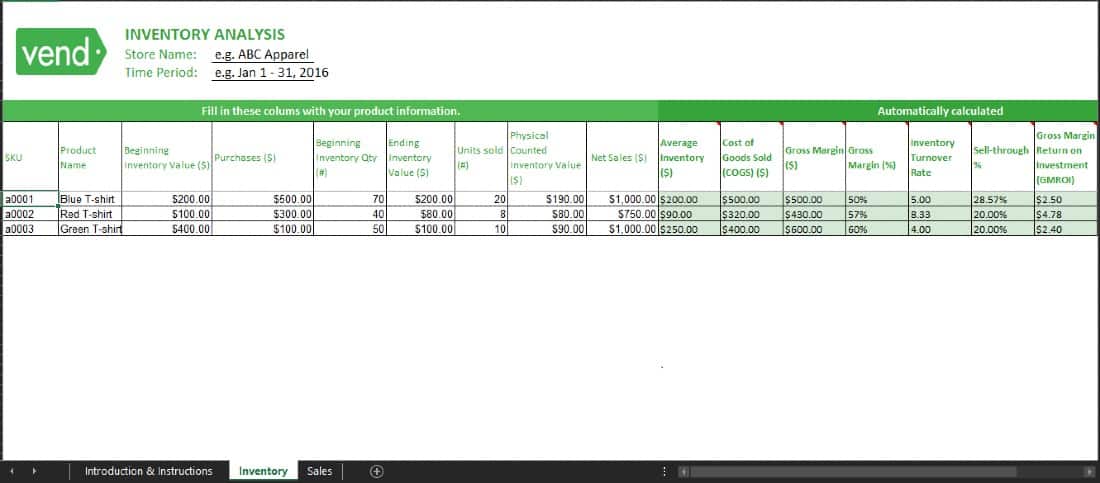 ---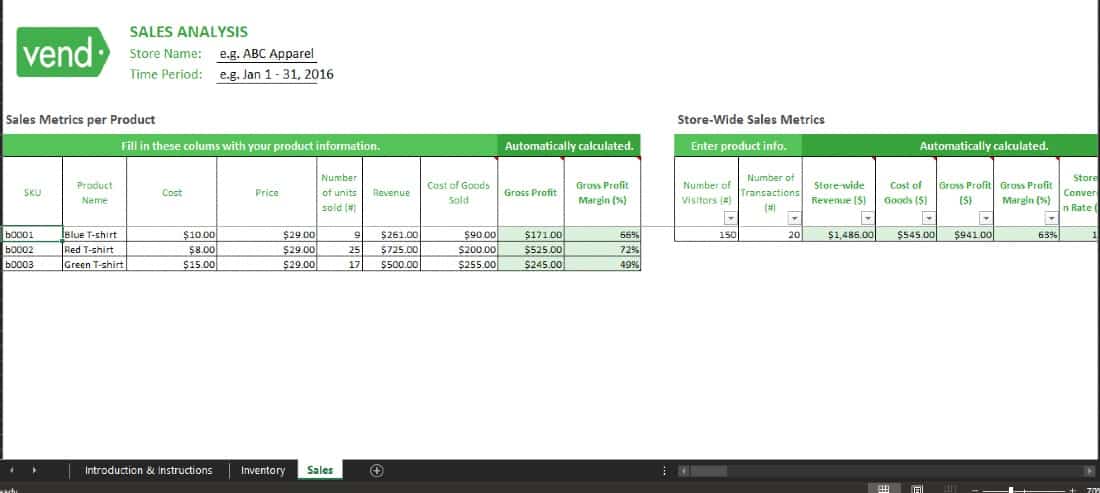 ---
Visit Vend to Download Template
Vend by Lightspeed offers an inventory and sales management template that aims to provide an automated solution for generating sales data to help analyze business performance. The setup is a more streamlined version of Fit Small Business and QuickBooks inventory management workbook. Information on inventory movement and analytics are itemized so you can immediately see which products are performing and underperforming in one tab. The same approach is also used for sales data.
If you prefer to work with minimal worksheets while getting all the sales and inventory data you need, Vend by Lightspeed's inventory template is right for you. You will be asked to provide your name, email address, and contact number and the spreadsheet will be sent to you via email. The spreadsheet also contains detailed instructions on how to use the workbook. However, you'll need a different spreadsheet to keep track of your daily purchases and sales.
8. Coupler.IO Simple Food Inventory Template
Best for: Small foodservice businesses needing a simple solution for tracking ingredients
This is a very simple inventory template for tracking your ingredients. Coupler.IO's Simple Food Inventory template allows you to list items based on date of purchase and makes it easy to identify ingredients that are about to go out of stock or expire. It also lets you specify where each ingredient is located in your kitchen and highlights staple items for faster tracking.
Unlike Spreadsheet 123's food stocktake inventory template, this spreadsheet does not provide any reporting function and is best as a supplemental inventory tracking tool for larger inventory management workbooks. It's also ideal for occasional sellers that sometimes mix home pantry items with ingredients they use to create products for sale. Click on the download link and make a copy for your personal use.
9. Microsoft Office Warehouse Inventory Template
Best for: Wholesalers and retailers that maintain a warehouse or deal with large volumes of inventory and variants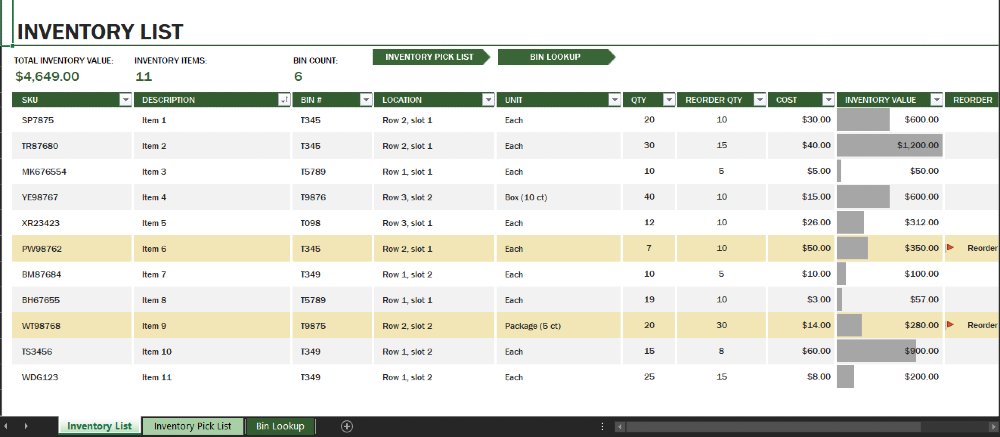 ---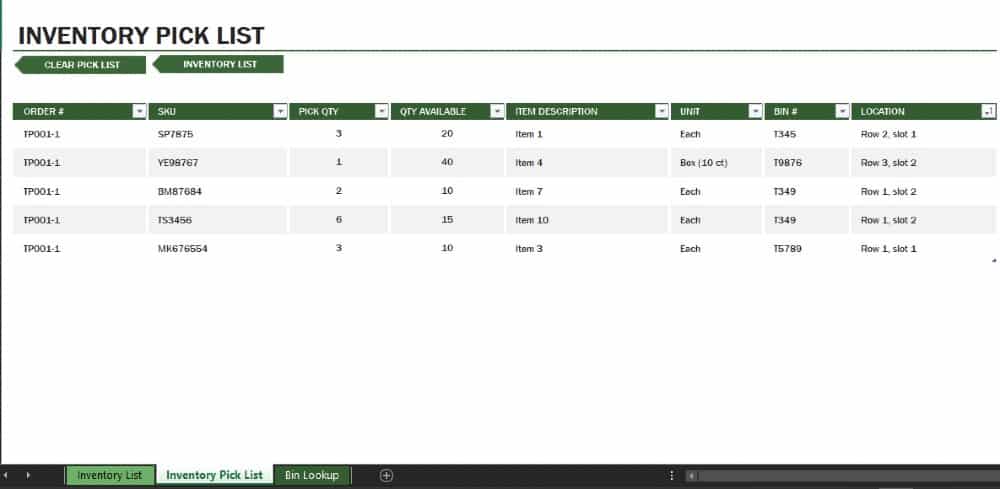 ---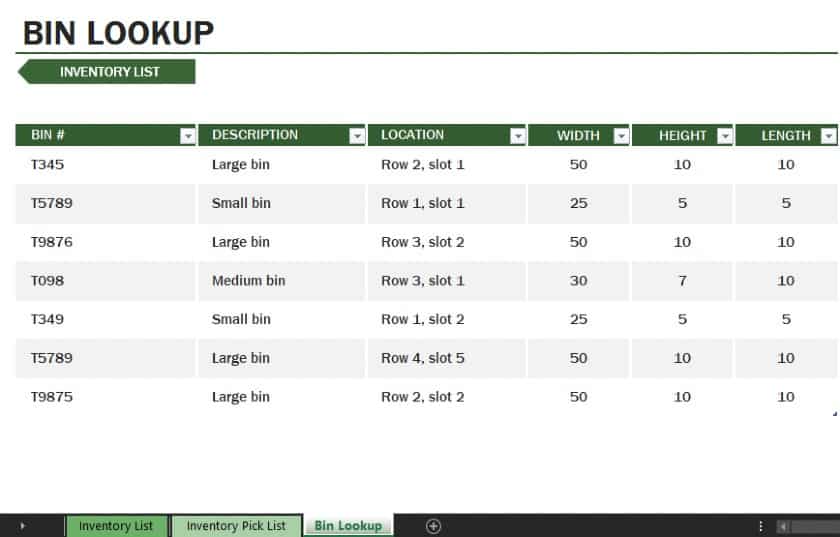 ---
Visit Microsoft to Download Template
For wholesalers and retailers with high-volume inventory, Microsoft Office's warehouse inventory template is a simple yet effective solution for keeping inventory organized and easy to track. It allows you to maintain inventory bin locations within your warehouse while also keeping track of inventory levels and knowing when it's time to reorder. This also improves efficiency in fulfilling purchase orders, not only in terms of speed but also by minimizing inventory loss if you are dealing with perishable products.
There is no reporting function included in this work sheet, so like Coupler.IO's simple food inventory template, you can use this as a supplementary toolkit for your larger inventory management workbook. All you need to do is click on the download link and make a copy of the template, which you can then customize.
10. Smartsheet Software Inventory Template
Best for: Small to midsize IT companies that provide technical services and sell software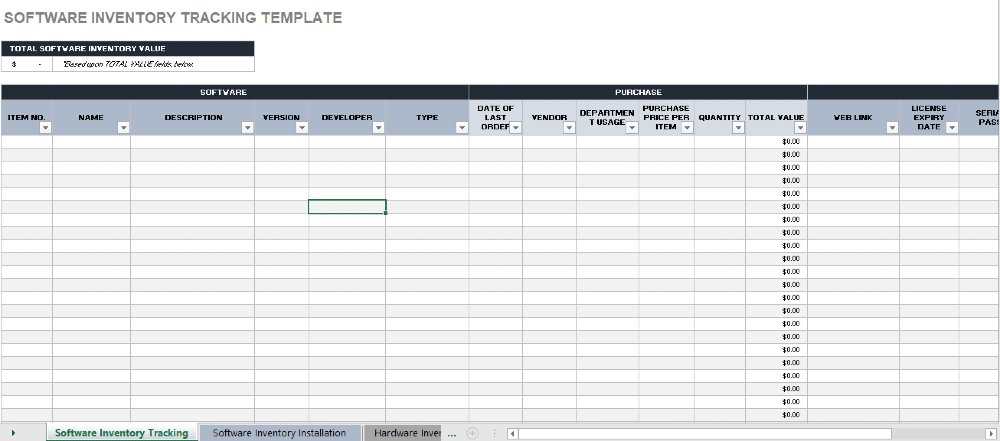 ---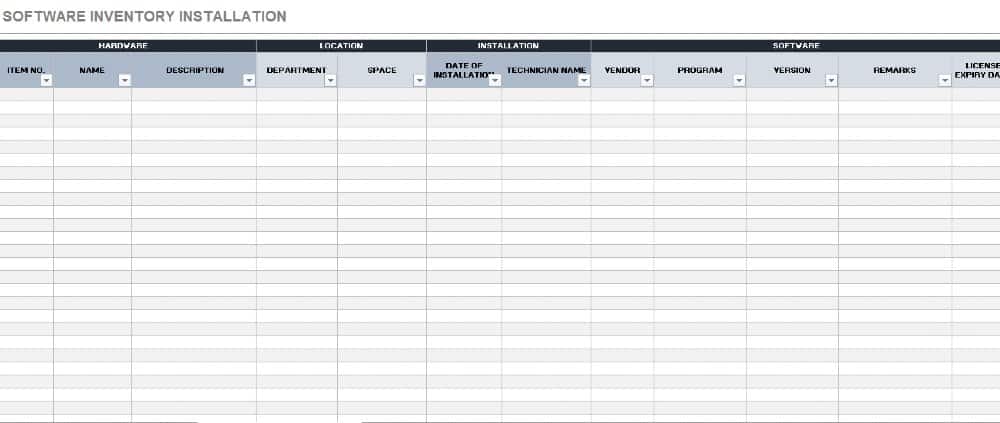 ---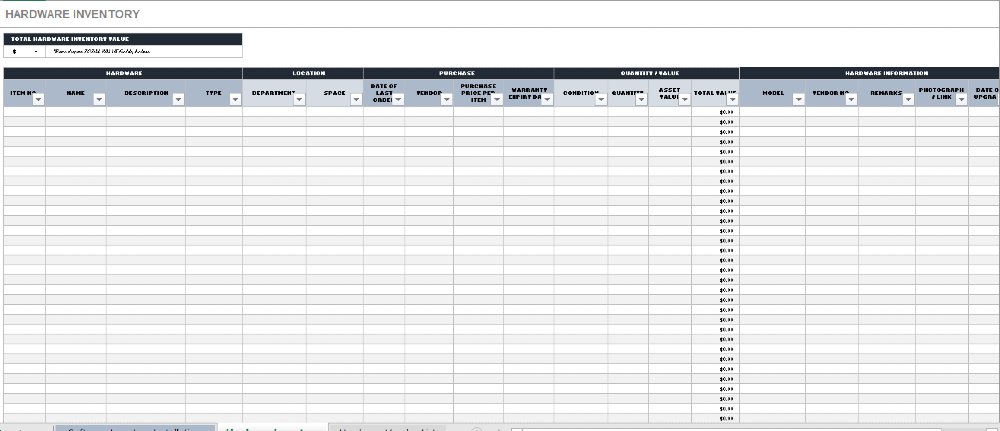 ---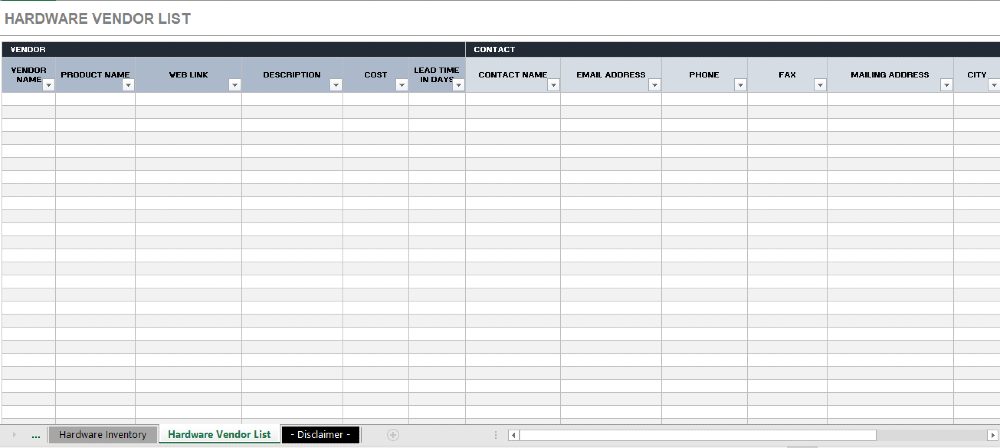 ---
Visit Smartsheet to Download Template
Smartsheet's software inventory template is designed for IT professionals who offer their technical expertise while also selling computer software and hardware products. It allows you to efficiently keep track of your software and hardware purchases, license expirations, and upgrades. The work sheet makes it easy to locate where and when each software was installed, determine license renewal dates, and locate purchase and supplier information.
This work sheet offers a very detailed tracking system for IT businesses, setting it apart from the other inventory templates in our list, but you will need a separate toolkit for generating reports. However, the template already lets you keep a record of all your purchases and sales and you will only need someone with Excel skills to create a system to compute your sales metrics. Click on the download link and make a copy of the file to start using the template.
Bottom Line
Counting inventory with a POS system or simple-to-use forms are the first steps in creating an accurate inventory list for managing your stock. The inventory templates and processes listed above will get you started on the right track. Once you have an inventory list with accurate counts, use it as a clean slate for inventory control. And if you're not already tracking inventory through a modern, computerized system, now is the time to start.
You May Also Like …