A sales objection is any reason why a lead does not wish to move forward to the next stage of the sales process, and is an inevitable and natural part of selling. Sales reps who aren't fully prepared may doubt themselves or give up too soon, but overcoming objections is the key to keeping your sales pipeline full, moving, and closing more deals. In this article, we discuss common sales objections and proposed answers to efficiently handle them when they occur.
While experiencing sales objections is not always easy, sales agents can better prepare themselves for it. We created a template that agents can use to list potential rebuttals and proof points in handling common objections.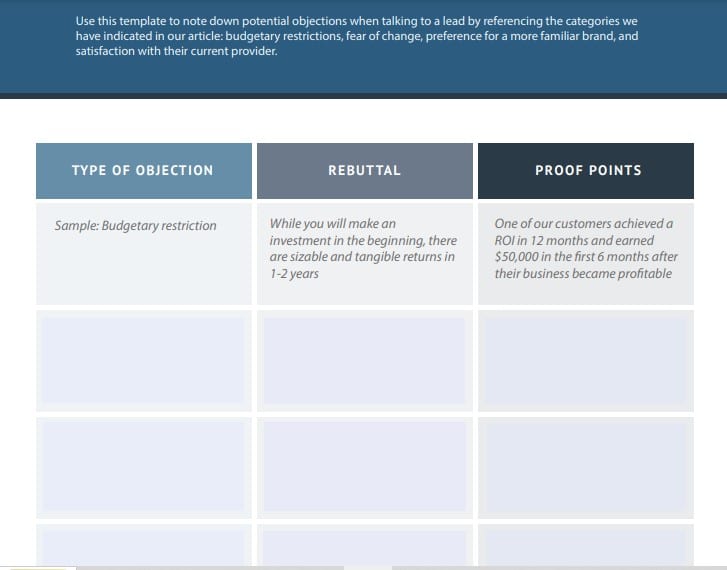 Thank you for downloading!
💡 Quick Tip:
You can use a Customer Relationship Management (CRM) software to record relevant customer information and increase your chances of selling.
Providers like Pipedrive provide contact and lead management features that enable you to add notes and information indicating your leads or customers' product preferences.
Visit Pipedrive
Most Common Sales Objections
Sales objections may take place at the earliest stages, like cold calling to introduce a product or service. It can also happen toward the last stages of a sale, where a prospect raises an objection after receiving a business proposal or just before a deal closes. Below are some of the most prominent reasons a lead doesn't go on to the next stage:
Budgetary restrictions: The decision-maker or lead doesn't feel it's worth the cost or has a capped expense budget they can't exceed.
Fear of change: Prospect (or company) is comfortable with the way they do things and worries that a new solution could cause a difficult change.
Prefers a more recognizable brand: The lead is interested in the solution being offered but is not familiar with your brand or is comfortable using a provider they are familiar with.
Satisfied with current provider: The prospect could benefit from your solution, however, they are happy with the current provider they are using.
It's essential to differentiate whether a lead objects based on a reason that can be overcome or because your solutions just don't apply to them. In the latter case, work on improving prospecting research to find leads better-suited for your products or services. But for the former, learning effective strategies for overcoming sales objections will help you close more deals.
Scenarios & Tips for Overcoming Objections
Part of sales management involves identifying common objections and preparing your team for different types of objection scenarios they will encounter. The goal may be to close the deal on the spot, but it could also be to keep the lead engaged and active in the sales pipeline.
Regardless of the reason, being ready to overcome common sales objections before they happen is a must. Depending on the type of objection, your sales reps should also be prepared to share logical proof, like statistics or real-world data, in their communications to discredit or disprove the objection.
Emotional selling is also a highly effective technique for overcoming objections and, and is a proven sales strategy. Your team should also use role-playing activities to practice and perfect these skills.
Tactics you should use in any communication with your prospect include actively listening to the lead, validating objections, and using questions to understand the scope or source of the objection. It's also an excellent practice to repeat what you hear to show you are listening and ensure you understand the lead's concerns correctly.
Pro tip:
Dive into strategies for overcoming objections when doing sales training for your employees. For insights on conducting sales training, check out our article on the nine best sales training practices to prepare your team for success.
Here is how you can prepare your talking points when it comes to objection handling:
1. Budgetary Restrictions
Objecting to a purchase due to budget concerns or restrictions is both common and entirely justifiable. This challenge often occurs at the beginning of a sales process, such as when you introduce your business, and the lead indicates they aren't interested because of the cost. In some cases, this is true and thus is a factor that disqualifies the prospect.
Budget-related sales objections can also occur at the proposal stage of the sales pipeline. This happens when a lead asks for pricing, but finds the product or service is more expensive than anticipated.
When budgetary restrictions are the cause of sales objections, you will often hear statements like:
"It's just too expensive for us right now."
"We are on a pretty tight budget and don't see this fitting in."
"I'm not looking to spend any more money at this time."
When budget-related objections need to be overcome, the key is to focus on the value that can be obtained from your product or service. In this case, statistics about return on investment (ROI) or how a solution saves money or increases productivity are useful. Start by validating the concern, ask questions, and then prepare your objection response based on answers to the questions.
An example conversation for overcoming objections about budget or cost might look like this:
Prospect: We are on a pretty tight budget and don't see this fitting in.
Sales rep: I completely understand. Many clients I work with find themselves in the same situation working on a tight budget [repeating back what's heard], so it's completely reasonable [validation]. Is your concern more the immediate expense or worry that this investment won't be worth it in the long run? [questions]
Prospect: Honestly, it's a little bit of both.
Sales rep: I understand. So both the immediate spending plus worry about long-term value. What I can tell you is that purchasing [insert your solutions] can be looked at as a strong investment that can [value obtained from solutions such as cost-saving or increased productivity]. In fact, all of our clients similar to your business see on average [value stat about ROI, increased productivity, decreased cost, increased sales, and so on].
You might even have a case study or other data to share with the lead. You may be able to further address spending concerns by extending a discount or free trial, or providing a convincing demo or some other type of consultation. If you can't prove the value to the prospect or overcome the spending objection, keep in mind that the lead may simply not be appropriate for your products or services.
2. Fear of Change
Many objections relate to an operational comfort level. A lead may attempt to halt the sales process because they worry about a massive change your solution could cause, even though they are interested and have the budget to invest. Fear of change is understandable but can be mitigated.
Below are some common statements that indicate a fear of change objection:
"I'm happy with my current setup and don't wish to make any changes."
"We are fine with how we've been doing things and the [solution] we use."
"I don't really want to make this type of change right now."
This is another instance where emotional selling techniques can be employed in addition to logical statements. For example, triggering the jealousy emotion by explaining how the prospect's competitor has recently adopted the solution and is now seeing solid results can be effective in this situation.
A conversation about this specific objection might look like this:
Prospect: We are fine with the way we've been doing things and with the current [solution] we use.
Sales rep: I totally understand. Making big operational changes can seem scary at times. I see many businesses that feel comfortable with how they've been doing things because they feel it's working. If I may ask, are you aware of some of the changes [mention competitor or similar type of business] has made recently?
Prospect: I can't say I am.
Sales rep: They had the same reluctance to change, but were able to [statistics about the value it provided them] and found that the transition was much easier than anticipated.
Be sure to focus on how you or a service rep will be with them during every step of the process during a substantial change. The conversation could also continue where you show them that change doesn't have to be a negative thing. You can point out how their industry is constantly evolving and that they need to evolve to keep up with their competitors.
Pro tip:
Customer relationship management (CRM) software like Pipedrive organizes lead information and tracks their activity. Lead profiles also allow you to take notes where you can document objection reasons in their record to reference later.
3. Prefers a More Recognizable Brand
A qualified lead interested in shopping for a solution you sell may object to buying because they are not familiar with your business. This is common in brokerage and agency-style industries (such as insurance) involved in third-party sales and for startups and young businesses. It can also occur in distribution-style sales, where a distributor introduces a new product line into a territory.
A few statements alluding to this objection include:
"I'll be honest, I'm not very familiar with your company and don't have enough information to go by."
"I'd prefer a more well-known brand I've heard of before."
"I prefer to work with only a few, selected providers."
This objection should truly be considered more of an opportunity than an obstacle. It's your chance to present your unique selling proposition and show why your business (or product) stands out from the competition. You can also use emotional selling to appeal to the prospect's pride by telling them they have the opportunity to be an early user, pioneer, or industry leader by adopting the product or service.
In addition to having a thorough understanding of the brand or product, managing this objection also requires knowledge about industry competitors. This enables you to showcase how your offering is superior to more well-known alternatives or how it addresses market gaps that can't be filled by existing products.
A sales conversation about this specific objection might go like this:
Prospect: I prefer a more well-known brand I've heard of before.
Sales rep: I completely understand. We are relatively small and focus on specific problems and solutions. Do you mind sharing some of the firms you prefer to use?
Prospect: [Says specific firm names or attributes of a firm such as large, multinational, and so on.]
Sales rep: Understood. So one thing I will say is we do earn the business of clients who have used those types of firms in the past but took a chance on us even though we are smaller, and they ended up being satisfied. The thing that makes us different and has been an attractive trait for new businesses is [unique selling point].
After this type of conversation, follow up by requesting to send them an email with more information. Client testimonials or independent product reviews are great solutions for leads to review and show you are legitimate. Sweetening the offer with a free add-on for early adopters or offering a risk-free trial, a full product demo, or free consultation can also be persuasive in moving the lead forward.
4. Satisfied With Current Provider
Sometimes the solution you are selling is useful (or even a necessity) for your lead, but they are generally happy with their current provider. In this situation, you may have information that is persuasive enough for them to consider your offering.
If not, work to keep them in the sales pipeline for the future. Ask for permission to touch base again a few months down the road, such as a month or so before their contract comes up for renewal—if they are willing to share this information. You can also try touching base again around the beginning of the next fiscal year when capital expense decisions will be made.
Some common statements for this type of sales objection include:
"Thank you, but we already have a provider for this in place."
"I'll be honest—I'm satisfied with our current provider."
"I am happy with the current provider and don't know if I need to make changes right now."
"We just implemented our current system and won't think about changing it again for a while."
The strategy here is similar to the one used when a lead prefers a more recognizable brand. Point out what makes your business or its offerings different with the intent to find any issues, large or small, the lead could be having with their provider. Ask questions like "in a perfect world" what other features or functionality would they want in the product, what could enhance the value for the money, and so on.
A conversation about this objection could go like this:
Prospect: I'll be honest. I'm satisfied with our current provider.
Sales rep: I totally understand—thanks for letting me know. So, at this time, I'm not looking to change your mind about a purchase decision. I would like to learn more about your needs and share more about how we can help in the future. Is there anything, in particular, you can share about problems you find in [function of business your solutions solves] or things you'd like to see your current provider do better?
Prospect: [Expresses problem they'd like to see fixed or issue with current provider.]
The next statement from the sales rep will heavily depend on the answer. If the prospect identifies something they wished was better, such as lower prices or a missing feature, offer details about how your solution can fix whatever problems they may have.
Always be prepared to deliver a sales pitch that goes into your unique value proposition and how you can offer something better with products and solutions. In the event they aren't willing to consider making a change, initiate a next step, such as asking to send them an email with more information.
Pro tip:
Ensure following up with a lead and sending them more information about your business doesn't slip through the cracks. You can do this by using the task management features in a customer relationship manager (CRM). HubSpot CRM, for instance, allows you to create and store pending tasks, schedule them, and show you what needs to be done each day.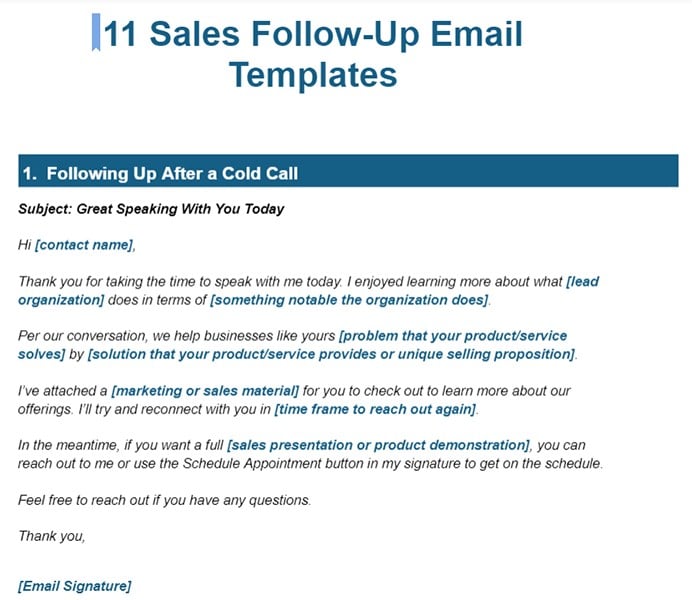 Thank you for downloading!
💡 Quick Tip:
You can create and save your sales follow-up email templates in a CRM software. You can also use the program's email tracking features to check the effectiveness of your email campaigns.
Use a program like HubSpot CRM, which provides you with ready-made follow-up email templates. You can personalize these templates and automate your emails to give your reps more time for other tasks.
Visit HubSpot CRM
General Tips on Overcoming Objections
While the tips shared above address specific situations on how to handle sales objections, sometimes you simply encounter leads who are not interested in what you have to offer. Below are additional tips for handling general objections when selling your products or services.
Don't discredit your customers' reasons: Whatever their reasons might be, be respectful of them. If they refuse to give their reasons and simply don't want to take the conversation further, politely acknowledge their objection and move on to your next lead.
Take it as an opportunity to improve your sales skills: Sales objections, especially for rookie sales agents, might be discouraging. However, take this opportunity to get better at selling your products.
Be an active listener: While conversations might not necessarily convert to a sale, this is an opportunity to get insights from your leads on what kind of products they want. If they are happy with a competitor, get insights and find ways on how you can do better than your competitors.
Use lead scoring or the BANT method: The budget, authority, need, time (BANT) method is a process you can use to qualify leads to help you contact only those who are a good fit for your products and services.
Bottom Line
Overcoming objections is a part of sales in every industry. Being prepared in sales objection handling at any stage of the sales process is the key to keeping a lead or prospect active in your pipeline. Use proven techniques when handling sales objections, such as active listening, concern validation, and emotional selling, to convert deals and nurture future sales opportunities.