Zoho CRM is a feature-rich CRM with pricing packages well-suited to small businesses. Salesforce is the runaway global market-leader with powerful packages for large enterprises, and simplified packages intended to suit small business. In Zoho vs Salesforce, we compare both options and recommend which is best to use under what circumstances.
Zoho vs Salesforce: Why Zoho CRM Wins
We recommend Zoho CRM to most small businesses because it offers all of the same key CRM software features a small business is likely to use at a much more affordable cost than Salesforce.
Summary Table: Zoho vs Salesforce
Zoho CRM

Salesforce

Pricing for Recommended Version

Learn More
Zoho Professional:
$20/month/user
Salesforce Lightning Professional:
$75/month/user
Ease of Use

Learn More
Easy
Easy
Unique Features

Learn More
Works with many Zoho packages, like Invoice, Books, Projects, Email, Support
Multi-user dashboards

Advanced reporting
Mobile

Learn More
iOS & Android

Access all CRM features, including unique customer map & business card scanner
iOS & Android

Access all CRM features, including mobile add-ons like DocuSign &Mapanything
Integrations

Learn More
69 native app integrations including: Google Apps, MailChimp, Microsoft Outlook. (see all here)
Over 3,000 native integrations including: Outlook, Quickbooks and Evernote. (see all here)
Customer support

Learn More
24/7 Mon to Fri phone and email support for paid packages only
8am to 8pm, Mon to Fri phone and email support. Also, very large community forum/Q&As.
Why We Recommend Zoho CRM

We recommend Zoho CRM because, for the vast majority of small businesses, it will provide all the features you need at a fraction of the price of Salesforce.
Because there is a big difference in cost between Zoho and Salesforce, we conducted a detailed comparison to identify what differences exist to justify the extra cost of Salesforce. What we found was that for most small businesses, both systems can complete all of the core activities equally well. For example— importing contacts, contact management, opportunity tracking, forecasting, reports and mobile access.
One area where Zoho had fallen short historically, was its ease of use and setup. However, Zoho recently released a total update of its user experience. As a result, it's now just as easy and intuitive to set up as Salesforce. Both systems also have an easy to use mobile app.
Both Zoho and Salesforce offer multiple editions. When we compare them head to head, Zoho tends to offer the same functionality at a lower price in just about every scenario. The one exception is Salesforce's Lightning professional edition ($75/month/user), which does have one or two unique additional features, like collaborative sales forecasts, multiple dashboards and access to the Salesforce apps marketplace. Some small businesses may value these features, which we cover below.
However, for the vast majority of small businesses, we would recommend Zoho CRM over Salesforce as it will better serve their business at a more affordable cost.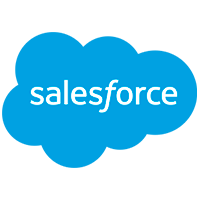 If you're able to allocate a budget of $75/month/user or above, there are 3 circumstances where Salesforce can be a more suitable choice:
If you're looking for collaborative sales forecasts or multi-user dashboards.
If you want to integrate niche industry software that isn't supported by Zoho, but is supported by Salesforce.
If your sales team is already trained and familiar with Salesforce
Collaborative sales forecasts allow sales executives to work together from different locations at the same time to create one global forecast of sales. Multiple user-dashboards allow sales and marketing executives to work together on the same customer opportunities, but with a differing dashboard that is relevant to their role. These features, which become more important when you have a enterprise-level team, are both provided with the Salesforce Lightning Professional Edition ($75/user/month) and higher.
At this price point and above, there is also a massive range of third party add-ons available at an additional cost. This is especially useful for businesses who are looking to integrate more niche industry software ranging from manufacturing to real estate, retail and beyond.
Finally, there is also a strong case to give your sales executives the CRM that they want to work with. If your salespeople are familiar with Salesforce and they want you to implement it, I would recommend sticking with the system they're most comfortable with, to ensure your CRM is utilized to its fullest.
However, keep in mind, you could be paying 4x more for a system that will do the same things you want to get done in Zoho.
In-Depth Review: Zoho vs Salesforce
To help you decide which option to use and under what circumstances we have completed a detailed comparison of pricing, ease of use, setup and key features like contact management, opportunity tracking, sales forecasting and reports. Let's see how our two options compare.
Pricing
Both Zoho and Salesforce have multiple editions at different price points. Thus, you'll want to consider not only the price tag, but the features you're getting for the price.
Zoho provides small businesses with feature-rich options at relatively low prices. However, if you need some of Salesforce's unique advanced features, like collaborative forecasts for instance, these become accessible starting at $75/month/user.
Setup & Ease of Use
Both Salesforce and Zoho have a reputation for being less user-friendly and intuitive than some of the other alternative CRM software systems. However, both have also recently upgraded their user interface. As a result, we found both very easy to setup and use.
In particular:
Both allow you to import data via spreadsheet
Both auto-populate your contact timeline with email, social media and phone records
Both have an intuitive user experience and on-page help when required
Zoho and Salesforce only differ in a few small ways, which we cover below.
One small but important way Zoho differs, is that it doesn't assume the person using the system is a sales executive. This means less confusing jargon for users who have a non-sales specific role.
Like Salesforce, Zoho CRM still requires a bit of customization to get started, but there is a 'getting started' feature, which makes it easy to work through tasks like importing contacts, adding users and customizing screen views.
Because of a recent interface update, it's now much easier for to find everything you need on the user-end, including how to customize your dashboard, populate your contacts and set up your pipeline. Like Salesforce, you have easy access to on-page help and tutorial videos if you need them.
Like Zoho, Salesforce is easy to setup. When you sign-in to Salesforce, you are provided with a list of tasks to complete, which will allow you to customize your dashboard, integrate with other native apps, populate your contacts and set up your pipeline.
Like Zoho, Salesforce's home screen greets you with a wide range of report widgets that give you a bird's-eye view of how your business is performing. You can also customize the dashboard with a drag and drop widget to show a wide range of reports. The reporting options and your ability to customize them increases dramatically beyond the capabilities of Zoho when you enter the lightening professional package at $75/month/user.
Contact Management
Both Zoho and Salesforce allow you to import contacts and accounts from Outlook or Google contacts, or you can import them by spreadsheet if you wish. Once your contacts and accounts are in, both systems allow you to choose which fields you want to display on your dashboard via an easy to use drag-and-drop interface. Both systems display rich customer data, including a timeline of recent calls, emails and notes.
Here's what a contact page looks like in Zoho (keep in mind this is fully customizable):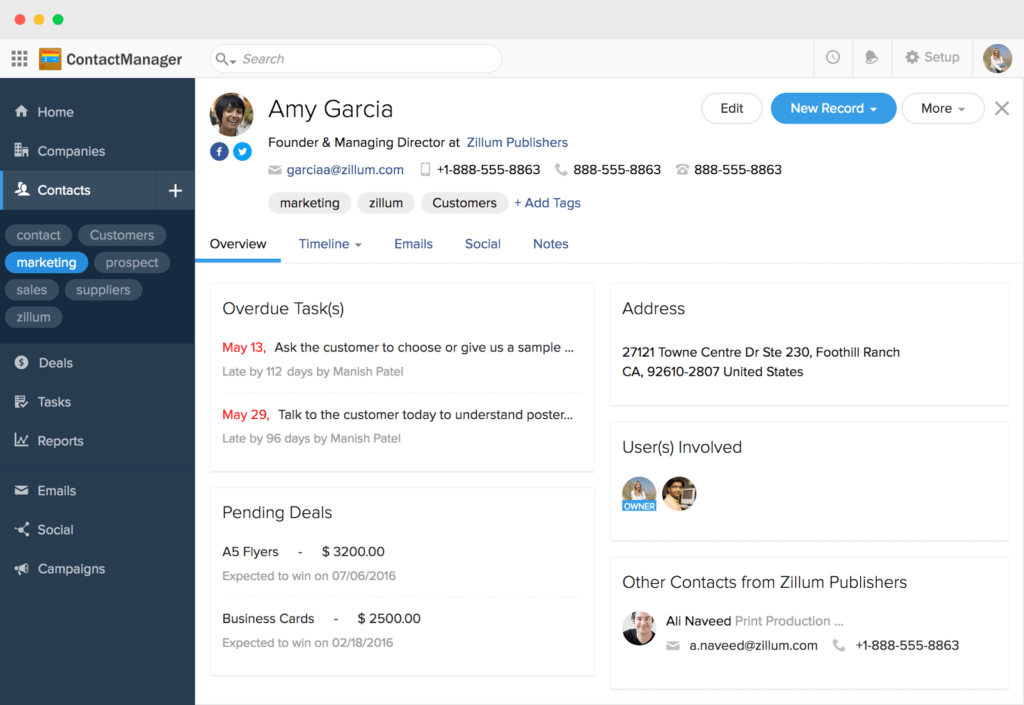 Here's what a lead page looks like in Salesforce (again, this is fully customizable):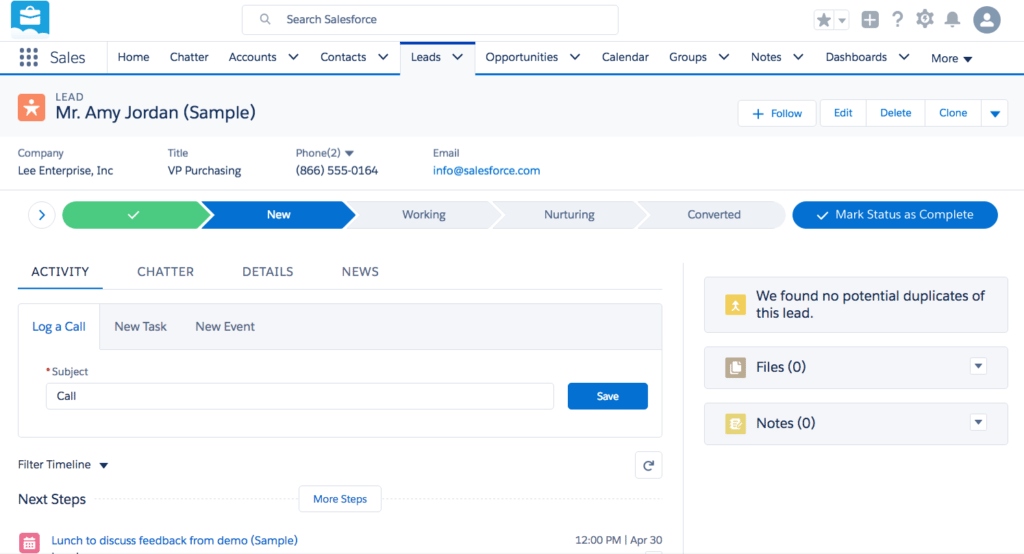 Opportunity tracking
Another key CRM function is to manage your potential sales opportunities. We compared Zoho and Salesforce in terms of how well they:
Organize sales data, including notes, customer emails, phone call logs and more
Auto-generate pipeline tasks to complete
Create sales quotes and send them to customers
Both options fulfilled these criteria equally well.
Forecasting & Reports
Forecasting and reports are important day-to-day features for sales executives, sales managers and marketing executives working with sales. Zoho has a good solution for the price. However, Salesforce Lightning ($75/month/user) has some forecasting and reporting features that will justify the extra cost for some small businesses.
The recently updated version of Zoho comes with more appealing reports and visualizations. For example, you can run pipeline stage, lead conversion, sales forecast and a wide range of other reports. In addition, dashboard components can now be embedded in third-party dashboards like a PowerPoint presentation via a URL provided in the corner of any widge. You can also do this in Salesforce, but it takes a couple of extra steps to complete. What's more, charts can now be enlarged and popped-out in their own window. Additional visualization options include donut and area charts.
You can now add reports to a favorites folder, and there's also a folder for recently deleted reports so you do not have to worry about a report disappearing if you accidentally delete it.
Zoho reporting options are still not as extensive as those you will find in Salesforce, but they are much better than those available in any other CRM solution at a similar price point.
The Salesforce starter package ($25/month/user) offers you no more than you will find in the Zoho standard package ($12/month/user).
However, Salesforce lightning professional ($75/month/user) does provide useful and unique extra features over and above what you will find in Zoho. For instance, you can have a wider variety of reports that you can customize, like for instance collaborative sales forecasts. If you are a sales manager with a large sales team, then it will be useful to be able to aggregate individual sales executive forecasts into one report. The larger your sales team gets, the more useful this will be.
You can also create multiple user-dashboards. This means the sales executive dashboard can display the current pipeline, recent sales activity, the biggest deals and neglected accounts. Whereas the marketing executive working with the same contacts and opportunities can have a different dashboard that focuses on unspent marketing dollars, the current pipeline by account type, the top three marketing channels and leads driven by campaign activity for the current period. If you have a pro-active sales team working seamlessly with marketing, then this may be something you want to explore further.
At the lightening professional ($75/month/user) price point and above there is also a wide range of reporting add-ons available at an additional cost. For example, Wave Analytics adds more reporting capability to the sales process with natively integrated dashboards showing quarterly and year-over-year performance, risk indicators, and sales forecast metrics through pipeline trending features.
Mobile
Both options have an excellent mobile app that will allow your sales executives to use virtually all of the CRM on the go.
Zoho also includes some extra mobile features out-of-the-box, like a customer map and business card scanner that automatically reads and adds data to your CRM. Salesforce offers the same tools, but you'll have to install 3rd party add-ons. On the plus side, this means there are countless other mobile features available, like DocuSign and Evernote, just to name a few.
Mobile is another area where Zoho has invested in serious updates, particularly in terms of in-the-field sales. Like Salesforce, Zoho includes a mobile app for iOS and for Android, which is available for all of its packages. Like Salesforce, this allows you to collaborate with your team, manage leads, contacts, accounts, opportunities and analyze reports all from your mobile device.
Like Zoho, Salesforce includes a mobile app for iOS and for Android, which is available for all of its packages. Again, like Zoho, the Salesforce mobile app allows you to review all of your core customer data on the go. You can collaborate with your team and manage leads, contacts, accounts, opportunities and analyze reports all from your mobile.
Unlike Zoho, the Salesforce mobile app allows you to access a huge marketplace of native mobile app plugins like Docusign, Mapanything and Evernote for instance.
Integrations
Another key difference between Zoho and Salesforce is the extent of the free and paid native apps that Salesforce makes available to further customize your setup to suit your business needs.
Customer Service and Support
Both of our options provide excellent customer service and support. Salesforce also has free standard and paid premium training and enabling programs.
The Bottom Line
In general, Zoho CRM represents a better value for the money. For example, Zoho's professional package ($20/month/user) gives you a lot more features compared to Salesforce's starter package ($25/month/user), including workflow automation and inventory management.
However, Salesforce's professional package ($75/month/user) does have a couple of unique features that some businesses will place a high value on. For instance, collaborative sales forecasts to provide a global view sales to sales managers in real time. Or the ability to create multiple user-dashboards so that sales and marketing executives can work together on the same customer opportunities. These features tend to be more valuable to larger businesses, however.
If you do not need any of these special features, or any of the apps that only Salesforce can integrate with, it makes more sense to opt for Zoho CRM professional, enterprise or CRM plus, depending on your specific needs.