Salesforce is the leader of the CRM industry, yet their cloud-based software is also the most expensive and some of the most difficult to use. We've identified 5 of the top Salesforce alternatives for small businesses which are better on the budget, easier to use and in some cases even give you more advanced features:
Before we dive into the details on this topic, we also suggest you check out Insightly, our recommended small business CRM. Visit Insightly to learn more.
Best Salesforce Alternative for Small Businesses: Insightly
We recommend Insightly as the best Salesforce alternative because you get an advanced yet easy-to-use CRM with workflow automation and project management for a fraction of the price.
Salesforce Alternatives Summary Table
Price (per
user per
month*)


$12

$20

$15

$75

Free

$125

Contact
& Task
Management?


Yes

Yes

Yes

Yes

Yes

Yes

Custom
Fields?


Yes

Yes

Yes

Yes

Yes

Yes

Workflow
Automation?


Yes

Yes

No

Yes

No

Yes

Marketing Automation?


No, but you
can send
mass
emails

Yes

No

No, but you
can send
mass
emails

No

No, but
available as
an add
on

Fully
Customizable?


No

Yes

No

No

No

Yes

Phone
support?


No, email
only

Yes, 24/5

Yes,
regular
business
hours

Yes,
regular
business
hours

No

Yes,
extended
business
hours

Learn More

Salesforce Alternative #1: Insightly.com
At almost 1/10th the price of Salesforce, Insightly is one most affordable CRMs. And while it boasts a nice set of advanced features, it's also one of the easiest CRMs to use. You don't get the myriad customization options you get with Salesforce, but this keeps the menu simple and intuitive (pictured below).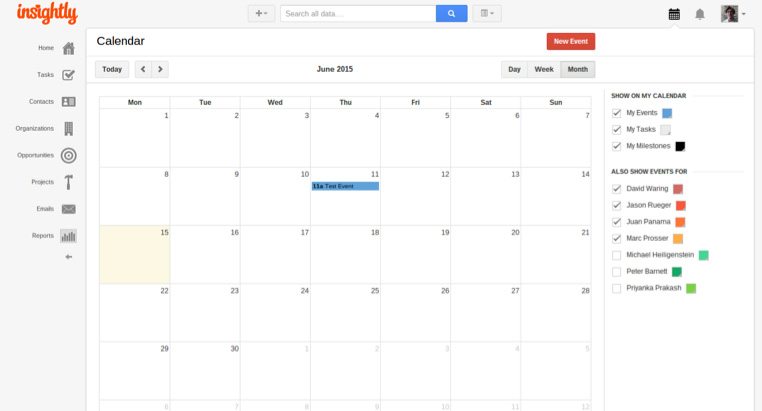 That's not to say Insightly is primitive. Beyond the basic contact & task management, you can create projects with workflow automation, so tasks are automatically assigned to your employees when a new stage of the project or sale is reached. You can send emails straight from Insightly and sync with Outlook or Gmail to automatically log emails from clients.
Insightly lets you save up to 40 custom fields with a basic account ($12/user/month) but that's about as far as the customization options go. You can't build custom modules (or menu pages) like you can with Salesforce, nor do you have nearly as many options for add ons or 3rd party integrations. You do get the basics, however, as there's integrations with MailChimp, Quickbooks Online, Google Calendar and Microsoft Exchange Calendar.
Read our full Insightly Review
Salesforce Alternative #2:
Zoho.com

Zoho CRM picks up where Insightly falls short. It's perhaps the most direct Salesforce competitor since they have just about all the same features and then some. Among the features are webforms to place on your website that automatically import leads or customer service claims, contact pages that display a twitter feed (if your contacts have a twitter account), workflow automation and custom reports.
Zoho also has marketing automation, inventory management and invoicing, which you won't find from Salesforce. You can create drip campaigns, which are automated emails sent to your contacts over a period of time. When a new lead is added to your system, you can have them automatically sent an introductory email, then went a follow up email after a week and so on. Salesforce does have an add on called Pardot that lets you do this, but it costs an additional $1,000 to $3,000 a month.
Zoho is also a heck of a lot cheaper than Salesforce: $35/user/month for Zoho Enterprise vs. $125/user/month for Salesforce Enterprise. One of the reasons for the higher price tag is Salesforce's App Exchange, which includes over 2,700 add ons and integrations. Zoho, however, does have its own set, including about 50 official integrations and another 450 supported through Zapier, a 3rd party service.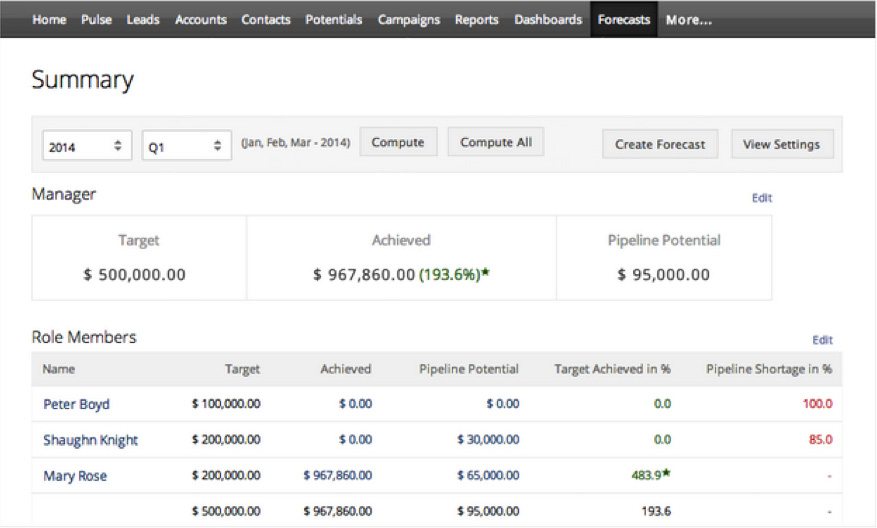 Salesforce Alternative #3: Nimble.com
Nimble is the Salesforce alternative for salespeople who live in social media. By integrating your Facebook, Twitter and LinkedIn accounts, Nimble builds a unified contact book with all the latest updates from your clients. Nimble's integrated inbox lets you send emails as well as Facebook messages and Twitter direct mail – all without leaving your dashboard.
What may be the most powerful feature, however, is the "Today" tab (pictured below) which gives you streams of all your social media channels and identifies specific areas to engage with clients, including birthdays and job changes. This helps you filter out the noise of social media and identify more specific engagement opportunities. At $15/user/month Nimble is one of the more affordable CRMs. However, beyond social media integration, it lacks advanced tools like workflow automation, mass emails or custom reports.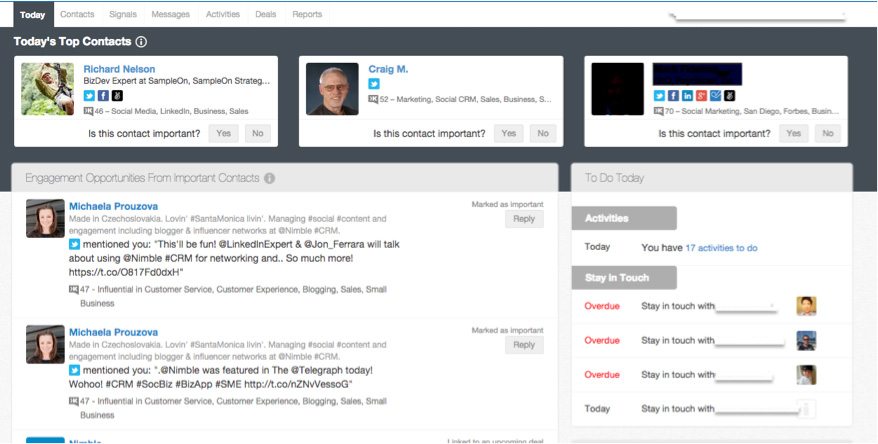 See our Full Nimble Review here
Salesforce Alternative #4: GetBase.com
Base is an advanced CRM that also strives to remain user friendly. Whereas Salesforce and Zoho can require a lot of training to setup and use, Base CRM uses intuitive graphical menus that are quick to grasp. For example, user permissions and workflow rules are outlined on a graphical drag-and-drop menu (pictured below). In a sense, Base CRM fronts a new generation of CRMs that are graphical and interactive vs. older systems that are text-based.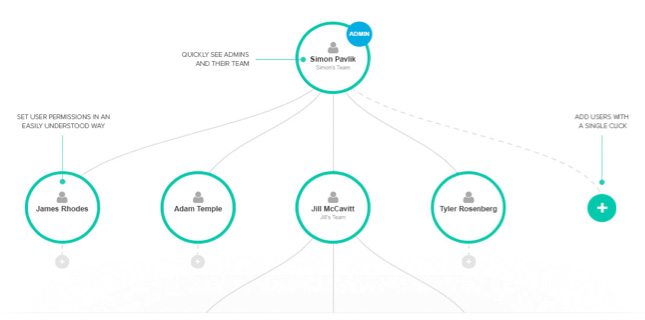 An Enterprise account includes advanced tools like territory management and built-in VoIP – you can call contacts straight from the CRM. The downside is cost: An Enterprise account is $125/user/month. Even the more popular Professional Edition is $75/user/month – far more expensive than Insightly and Zoho.
Salesforce Alternative #5: Bitrix24
One of the most popular free CRMs, Bitrix24 gives you loads of project management and collaboration tools which you can use with up to 12 users free. Dubbed a "social intranet," Bitrix24 functions much like a social media website that's internal to your business. You and your employees can post statuses and respond with comments, photos and more. There's a chat feature and shared document library which gives you up to 5 GB of storage with a free account.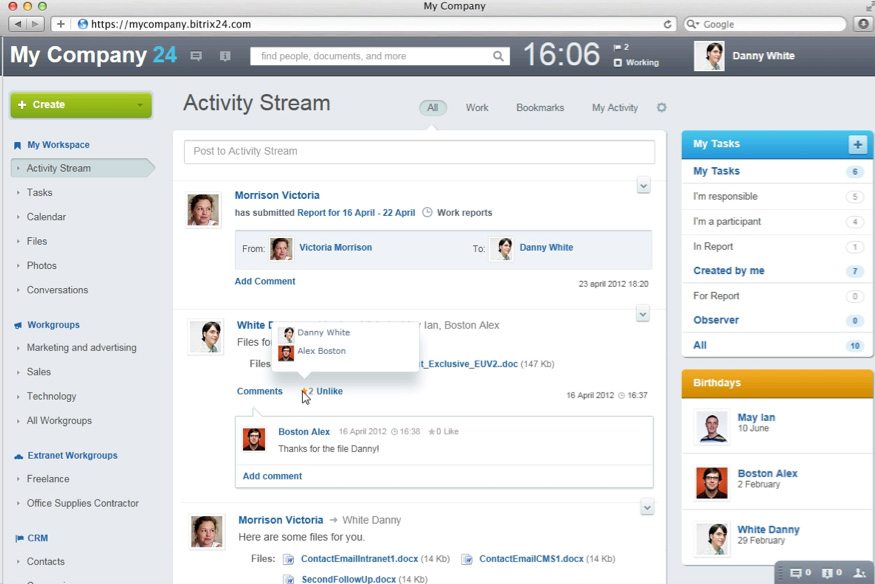 The downside is that the CRM is not fully developed. While it has all the basic tools, including custom fields, I found it to be buggy, poorly formatted and difficult to use. You also won't get any advanced tools like mass emailing, workflow automation or social media integration.
See our full Bitrix24 Review here
The Bottom Line
Most small businesses just need a CRM to manage their contacts, schedule follow up appointments and view your sales pipeline. Insightly gives you these basic tools for 1/10th the price of Salesforce, and given that it's much easier to use, you also save a lot of time training.
Want to manage 1000's of leads, save time, and get organized? Click Here to get our FREE CRM guide and find out how.
If you do need more advanced tools like webform integration, mass emailing or workflow automation, Insightly gives you these as well, along with project management, which you won't find from Salesforce. The only real advantage to Salesforce is the App Exchange, which features 2,700 3rd party add ons and integrations. But if you do need a certain integration, you can also check Zoho first and use a more feature-rich system for much less.