6 Best Salesforce Alternatives for Small Businesses in 2022
This article is part of a larger series on CRM.
Salesforce is a customer relationship management (CRM) system with solutions for managing leads, automating workflows, and receiving advanced AI insights. However, it lacks some desired CRM product attributes like an intuitive interface to navigate, a freemium plan, and low-cost features for generating quotes and proposals. We evaluated dozens of popular CRM software with similar and contrasting attributes to Salesforce to arrive at the top six options.
Here are the six best Salesforce alternatives for those looking for a small business CRM:
Are you looking for more information on the best CRM options for your small business? Check out our top picks for the best CRMs for small businesses.
Best Salesforce Alternatives Compared
Provider

Free Plan

Free Trial for Paid Plans

Starting Price for Paid Plans

Special Features

Help & Support

Yes, unlimited users

21 days

$15 per user, per month

Built-in phone with logging and queue management

Tier-based support via email, phone, and live chat

Yes, for one user

30 days

$8 per user, per month

All-in-one business management solution

24/5 phone + 24/7 chat and support for paid plans

Yes, up to 3 users

15 days

$14 per user, per month

Basic, advanced, and custom reporting and analytics

24/5 email and phone support on paid plans

No free plan

14 days

$14.90 per user, per month

AI Sales Assistant

24/7 chat and phone support for Enterprise users

No free plan

14 days

$20 per user, per month

Google Workspace integration + Chrome extension

Live chat and email support during standard business hours

Yes, Unlimited users

30 days

$39 per month for 5 user seats

Free built-in project and task management features

Chat and email support on paid plans
Freshsales: Best Overall Salesforce Alternative
What We Like
Full view on account and contacts including lifecycle stages, pipeline status, and enriched data by auto-pulling info from online web sources
Artificial intelligence (AI) tools for predictive contact scoring, lead generation bot, and answer bot
Free option available with a built-in phone system
What's Missing
Social media integrations limited to Facebook Messenger
Limited workflow automation on lower-priced plans and additional workflows require add-ons
Quotes, invoices, contracts, and onboarding document management requires add-on
How It Compares to Salesforce
Freshsales has a free, built-in phone system while Salesforce requires third-party integration or native tools like Dialer for the Essentials plan or Sales Dialer for a higher cost
Freshsales is considered easy to use while Salesforce demands a steep learning curve
Salesforce offers sales order, contracts, quotes, products, and price books in their Professional plan while Freshsales requires a paid add-on
Freshsales is more affordable than Salesforce with a free plan and pricing starting at $15 per user, per month
While both products are great for managing contacts and the sales pipeline, Freshsales stands out for low-cost VoIP telephony solutions with call tracking, logging and recording. Furthermore, Freshsales beats out Salesforce in the system usability and total price category as it offers both free and low-priced paid plans. The free plan also has additional channels to communicate with prospects like email and live chat.
Since it is a sales-specialized CRM system, Freshsales does not have default features for something important to a sales rep—invoice, quote, onboarding, and contract proposal management tools. The software requires a Configure, Price, Quote add-on for $19 per user, per month. Bitrix24 and Zoho CRM are excellent alternatives that include this functionality in their standard plans.
Freshsales Pricing at a Glance*
Free: Unlimited users (limited features)
Growth: $15 per user, per month
Pro: $39 per user, per month
Enterprise: $69 per user, per month
Free Trial: 21 days
*Pricing is based on an annual billing option. Monthly subscriptions are available as well for those who prefer shorter-term contracts.
Freshsales Low-Cost Built-in Telephone System
The built-in, cloud-based telephone Freshsales offers is free with local phone number assignment and inbound caller ID. When you upgrade to the Growth plan, you expand your phone capabilities to call recording, masking, voicemail drop off, and basic call queues to manage the availability of sales and service reps.
As sales teams get more advanced and scale up the Pro plan, they can conduct conference calls and bring their own carrier (BYOC) to use their phone number within the CRM. Lastly, the Enterprise plan gives reps the option to warm transfer calls to another rep while also sending information and insights regarding the call. This is a helpful feature for both sales and customer service agents to reduce customer frustration.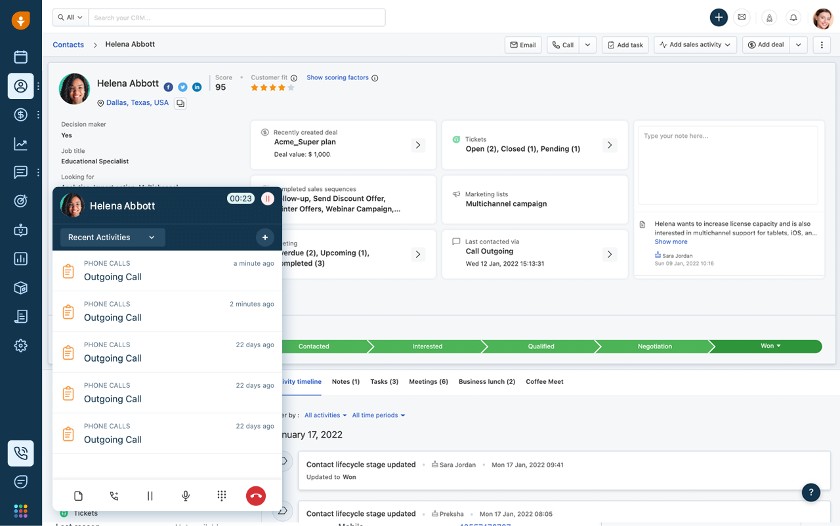 ---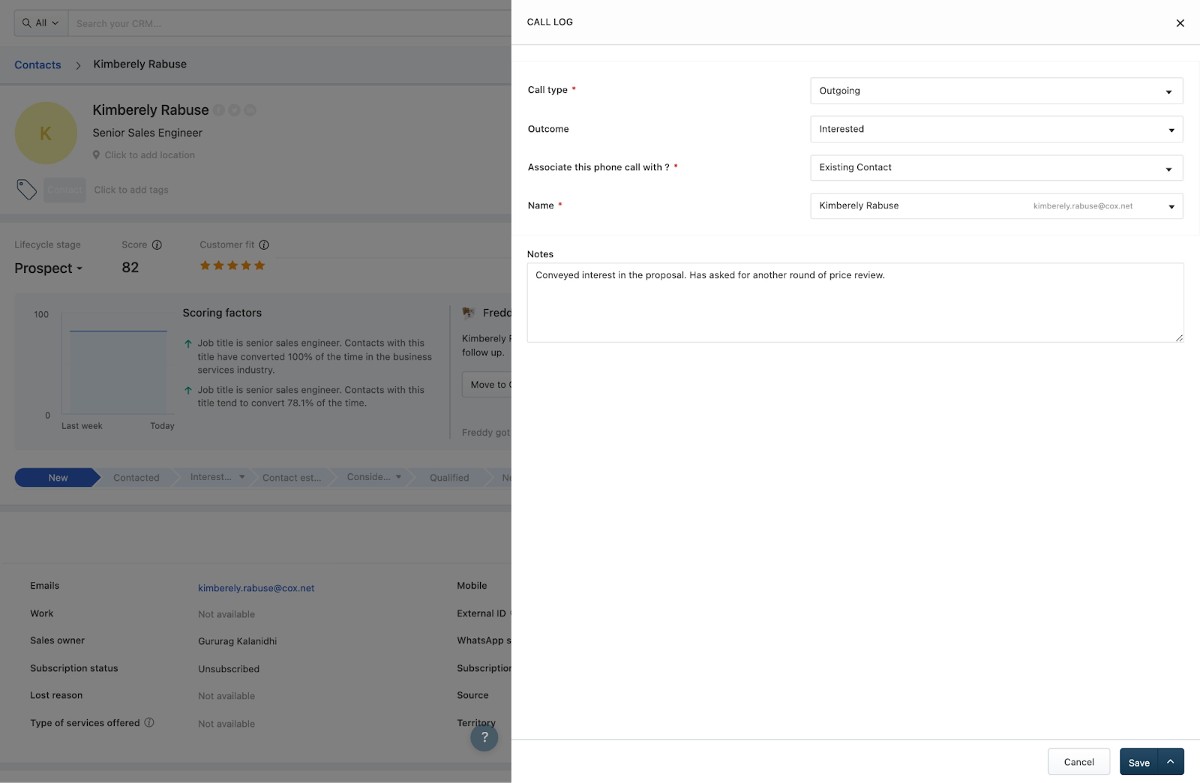 ---
Check out our comprehensive Freshsales review to learn more about its features, plan comparisons, and best-for scenarios.
Apptivo: Best Salesforce Alternative to Manage All Aspects of Your Business
What We Like
All-in-one CRM, project management, help desk, document management, and ecommerce platform
Cost-friendly, scalable plan options
System is easy to customize and operate its features
What's Missing
Relatively limited integration capabilities
Free plan limited to one user
Basic, outdated dashboard
How It Compares to Salesforce
Apptivo acts as a full business management system while Salesforce features focus on sales, service, and marketing
Apptivo's highest-priced option is still lower than Salesforce's lowest-cost Salesforce Essential plan
Salesforce offers significantly more native and third-party integration options compared to Apptivo
Salesforce has built-in advanced artificial intelligence tools for analytics and automation and Apptivo does not
Comparing Apptivo and Salesforce mostly comes down to whether you want a simple solution to manage all your business functions or an advanced solution to focus on sales and marketing. Apptivo has all-in-one management capabilities but lacks some of the critical attributes of Salesforce. This includes an automation designer, the Lightning App Builder for creating web and mobile pages with point and click, or the AI CRM reporting insights.
Access to advanced features such as AI or unlimited workflow configuration is arguably the main downside of this platform. Zoho CRM is a solid Salesforce and Apptivo alternative with affordable plans, AI analytics, and robust workflow automation features.
Apptivo Pricing at a Glance*
Free: Up to one user
Lite: $8 per user, per month
Premium: $12 per user, per month
Ultimate: $20 per user, per month
Enterprise: Contact for pricing
Free Trial: 30 days
*Pricing is based on an annual billing option. Monthly subscriptions are available as well for those who prefer shorter-term contracts.
Apptivo All-in-One Business Management Solutions
While Salesforce has many advanced automation tools and AI features, Apptivo is a low-cost, simplified, full-service business management platform. With Apptivo, you can oversee all aspects of your organization, including sales, marketing, human resources, project management, supply chain management, and product management. There are even field service modules for tracking and fulfilling work orders.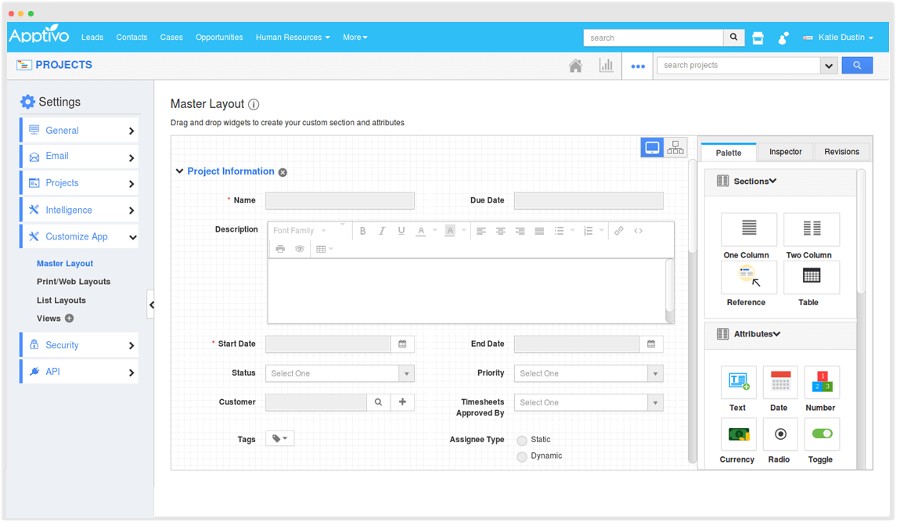 ---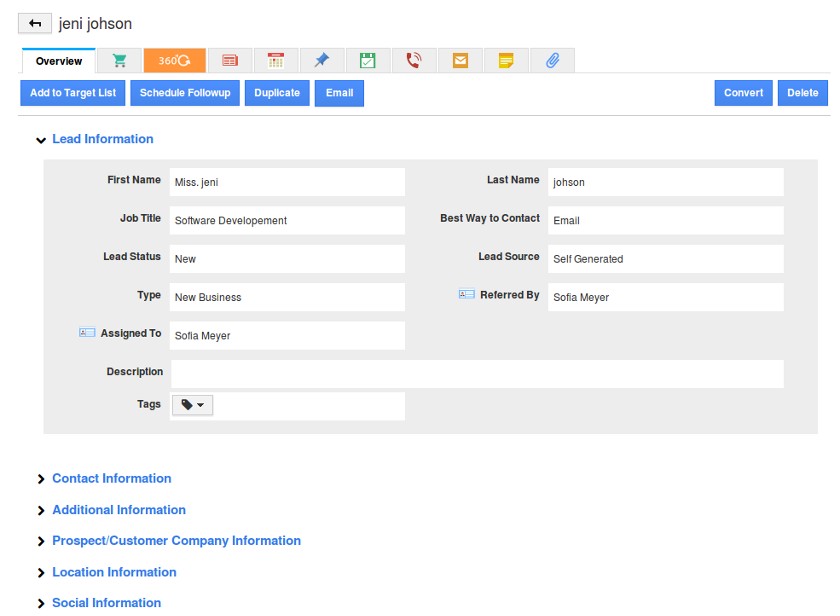 ---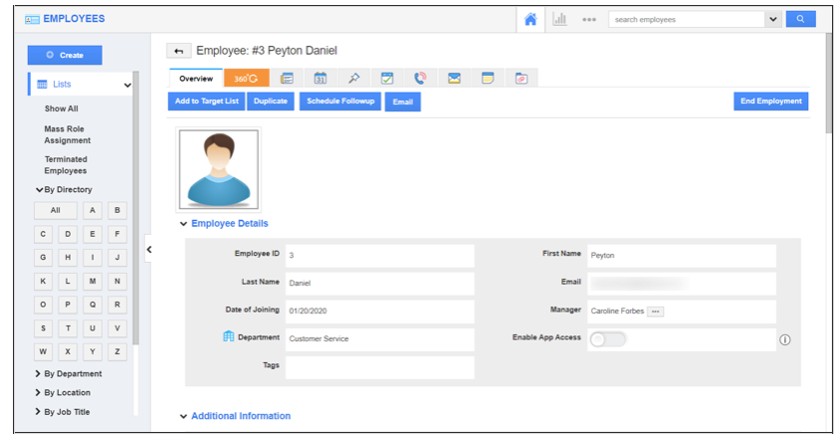 ---
Check out our Apptivo review for best-for scenarios, detailed pricing information, usability insights, and a comprehensive look into its full-feature set in our Apptivo review.
Zoho CRM: Best for Salesforce Alternative for Reporting & Analytics Tools
What's Missing
Most system customizations aren't available until you subscribe to the Enterprise plan
Free plan is only for up to three users and has limited features
No predictive or AI tools are available on the low-cost plans
How It Compares to Salesforce
Zoho CRM has a free-forever plan while Salesforce does not
Zoho CRM lets you manage quotes, products, orders, and invoices on the Professional plan for less than Salesforce
Salesforce offers more system customization on their low-cost Essentials plan while Zoho CRM requires the Enterprise plan
Zoho CRM provides standard and advanced reporting and analytics for a lower cost than Salesforce
In terms of sophistication of sales and automation features, Zoho CRM arguably aligns the best with Salesforce compared to the other CRMs, making it one of the top Salesforce competitors. Like Salesforce, Zoho CRM has robust automation capabilities, AI features for recommendations, predictions, and reminders, and excellent system customization for modules, fields, and pages. Most of the Zoho CRM contrast comes down to the cost of subscribing.
While it does outperform Salesforce in the price category by offering a free plan, Zoho CRM's freemium subscription is limited to basic features for up to three users. Freshsales and Bitrix24 are ideal alternatives that have a free plan available for unlimited users.
Zoho CRM Pricing at a Glance*
Free: Up to three users (limited features)
Standard: $14 per user, per month
Professional: $23 per user, per month
Enterprise: $40 per user, per month
Ultimate: $52 per user, per month
Zoho CRM Plus: $57 per user, per month
*Pricing is based on an annual subscription. Monthly billing is available as well.
Zoho CRM Reporting and Analytics
The reporting and analytics tools of Zoho CRM, most of which are offered for a lower cost than Salesforce, are a product attribute that cannot be overlooked. Zoho CRM users can generate and schedule standard, advanced, and customizable reports on production, KPIs, and activity.
The elaborate dashboard also displays real-time information and the Zia AI feature lets you design your predictions for sales forecasting and give you tons of custom insights. These include things like the ability to detect sales anomalies, enrich email messages, and suggested automations based on how you use your CRM, just to name a few.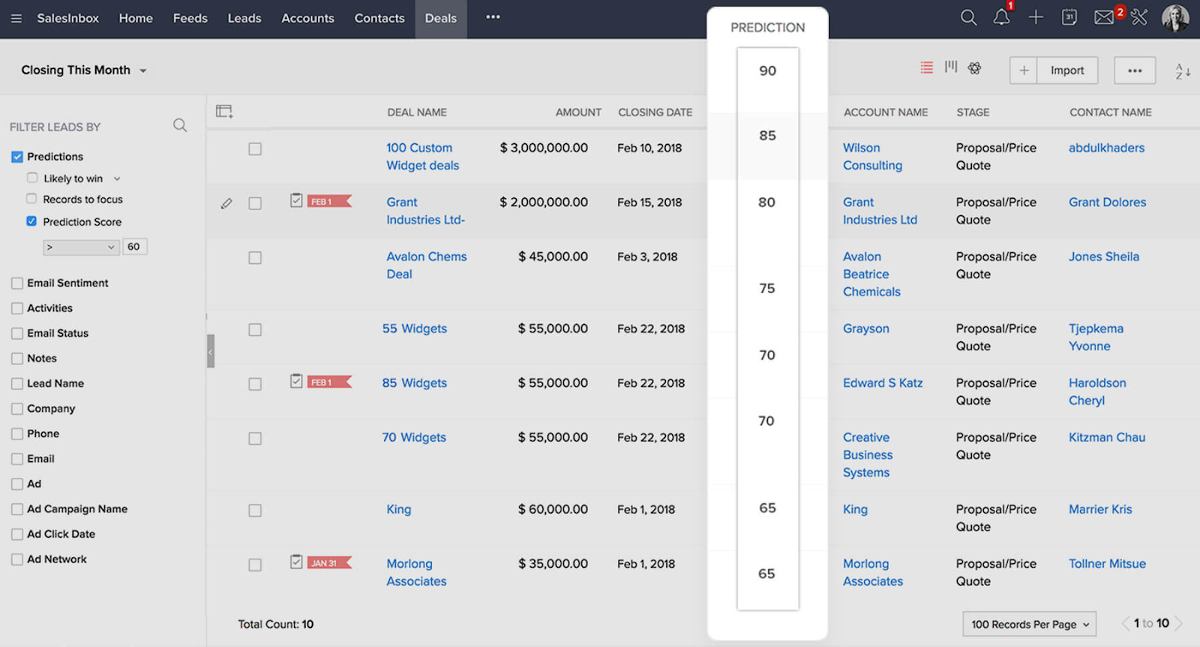 ---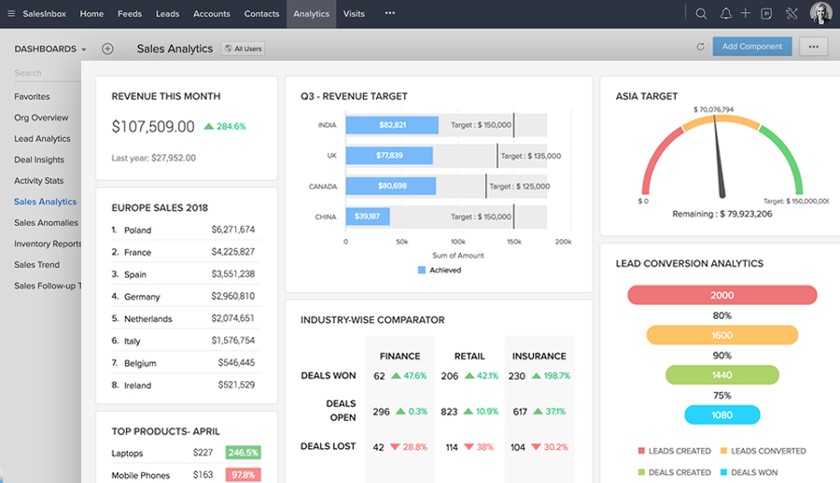 ---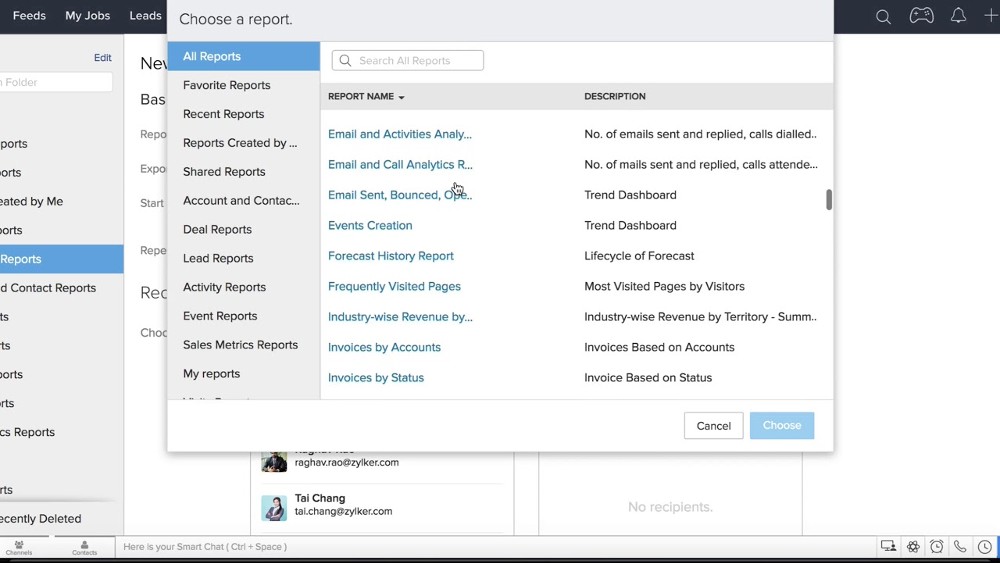 ---
Read our comprehensive Zoho CRM review to learn more about its features and how it helps small businesses grow.
Pipedrive: Best Salesforce Alternative for Low-cost Automation Capabilities
What We Like
AI sales assistant tool for automating sales tasks and offering sales advice
Built-in document management features for sending quotes, proposals, contracts, and electronic signatures
Low-cost automation capabilities
What's Missing
No free plan
Lacks project management tools
Sales team management requires Professional plan which caps you at three teams
How It Compares to Salesforce
Pipedrive includes most of their workflow and system automation on their lower-tier plans for less cost than Salesforce
Pipedrive is better acclaimed for their system ease-of-use and navigability compared to Salesforce
Salesforce mobile application can do nearly all functions of web application while the Pipedrive app is limited to viewing activity and records
Salesforce AI functionality can do much more than Pipedrive which is limited primarily to the Sales Assistant for suggestions
Pipedrive is a sales-focused alternative to Salesforce that has functions for direct relationship building such as lead management features, meeting scheduling tools, customizable sales pipelines, and document management features. Where it stands out as one of the top Salesforce CRM competitors is that while both platforms are great for automation, Pipedrive is the more cost-friendly option.
Pipedrive does not offer a free plan or project management features—something important to new businesses that offer project-based services like software development or content creation. Bitrix24 is the ultimate alternative for those attributes as it has project management modules built into the CRM which are free for unlimited users.
Pipedrive Pricing at a Glance*
Essentials: $14.90 per user, per month
Advanced: $24.90 per user, per month
Professional: $49.90 per user, per month
Enterprise: $99 per user, per month (10 user minimum)
Free trial: 14 days
*Pricing is based on an annual billing option. Monthly plans are available as well.
Pipedrive Automation Features
On the lowest-priced Essentials plan, Pipedrive offers automation capabilities, including the AI Sales Assistant for notifications and sales and CRM recommendations, API access, and webhooks to push information to your endpoint choice. Once upgraded to the Advanced plan, you can create up to 30 workflows to automate tasks, auto-enrich your contact data, and automatically indicate critical fields within various records.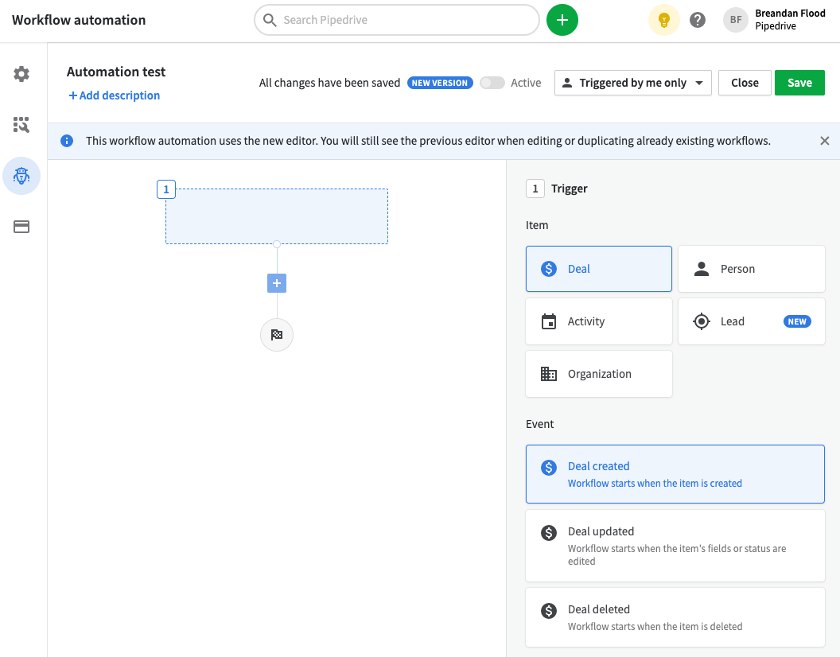 ---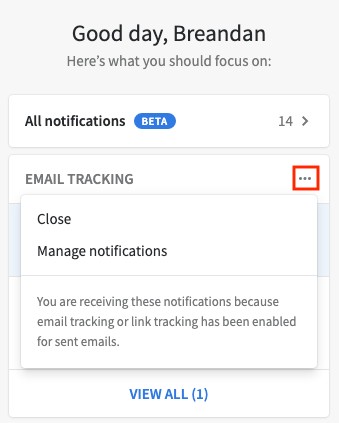 ---
Learn more about this CRM system and explore other features it offers in our in-depth Pipedrive review.
Copper: Best Salesforce Alternative for Google Workspace Users
What We Like
Low-cost project management and team collaboration tools
Being a Google Workspace CRM gives it a similar feel to Google apps
Easy-to-use email marketing tools
What's Missing
No free plan
Personalized onboarding and premium customer support only available for Business plan
Advanced features such as AI and elaborate automation can only be done through integration with third-party software
How It Compares to Salesforce
Copper does not have any built-in artificial intelligence features while Salesforce does
Copper is easier to learn and operate than Salesforce, particularly if you already use Google Workspace
Salesforce has features for managing quotes, contracts, orders, and product books while Copper does not
Salesforce has a comprehensive capability to customize the CRM system to a business's needs while Copper is limited to data fields, currencies, and team permissions
Copper offers basic features businesses benefit from in a CRM such as contact management, project management, pipeline tracking, team collaboration, email marketing, and basic workflow automation. While not necessarily much cheaper than Salesforce, it's easier to use and integrates with many popular business applications like Mailchimp, Slack, DocuSign, Zapier, and QuickBooks.
Copper does not have AI features, nor can you automate complex business processes or workflows without integrating with an external application. This is something Salesforce and other CRMs on this list offer as built-in features. Zoho CRM is a cost-friendly alternative that gives sales teams robust automation capabilities, AI recommendations, and advanced analytics.
Copper Pricing at a Glance*
Basic: $20 per user, per month
Professional: $46 per user, per month
Business: $93 per user, per month
Free Trial: 14 days
*Pricing is based on an annual billing option. Monthly subscriptions are available as well for those who prefer shorter-term contracts.
Copper Google Workspace CRM
What makes Copper unique is its status as the "Google Workspace CRM" because of its integrations with Google apps and its Chrome extension. Users can sync their Google calendar, drive, Gmail, and contacts and integrate with Google Data Studio for reporting and analytics. This helps teams create records from the Gmail system, automatically populate contact information in the CRM, and schedule calendar events with one-click capabilities.
Pro-tip: Looking for other CRMs that work well with Google Workspace apps? Check out our list of the top Google CRMs for small businesses.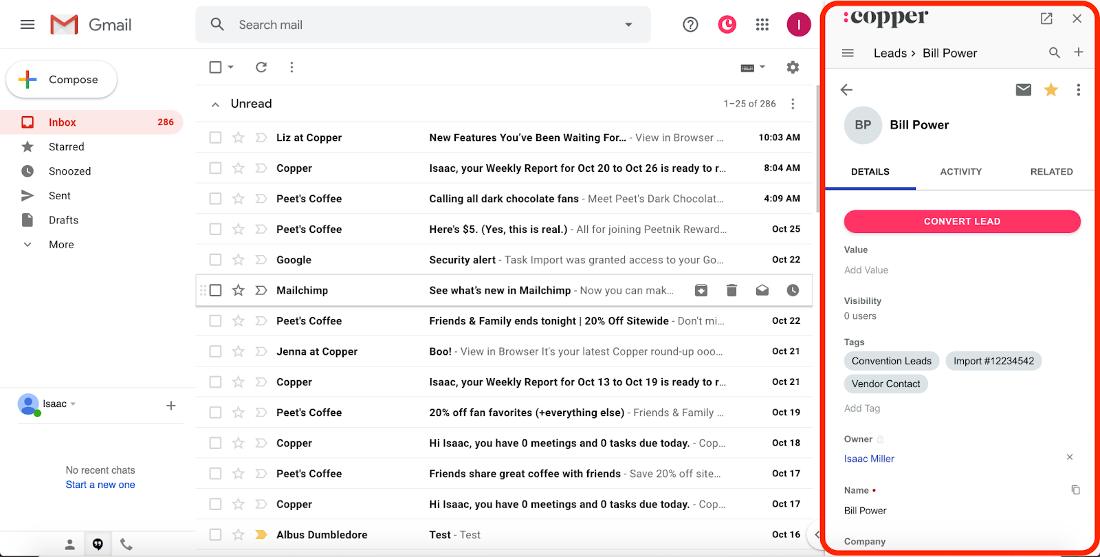 ---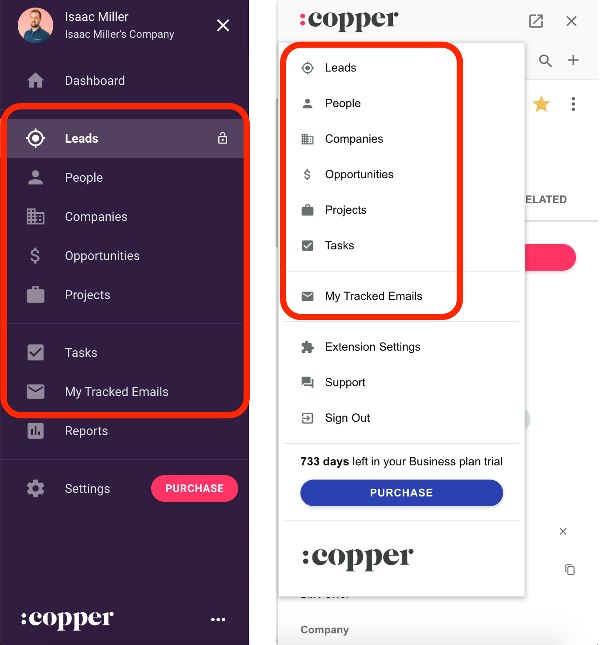 ---
Explore if this CRM system is the best option for your business and learn more about its comprehensive feature set in our Copper CRM review.
Bitrix24: Best Salesforce Alternative for Project Management
What We Like
Free version for unlimited users
Full contact center features including telephonic, email, and social media communication channels
Robust project management features
What's Missing
Lacks an intuitive user interface
Artificial intelligence features limited mostly to lead scoring
Most task automation requires Professional plan
How It Compares to Insightly
Bitrix24 has a free plan for unlimited users while Salesforce does not offer any freemium plan
Project management tools for Bitrix24 are built-in while Salesforce requires integration with native software or third-party applications
Bitrix24 offers far more cost-friendly options for invoice and quote management compared to Salesforce
Like Salesforce, Bitrix24 has modules for managing leads, opportunities, the pipeline, accounts, and deals. There are also similarities in creating, tracking, and sending invoices and quotes directly from a lead or contact record. Bitrix24 contrasts mostly in price as it offers a free plan and all-around business solutions. Users can manage sales, marketing, projects, and even some financial and human resources functions in the CRM.
Bitrix24 has excellent features and cost-friendly attributes but, like Salesforce, requires a slight learning curve to figure out. Freshsales and Pipedrive are ideal alternatives for users who prioritize simplicity in navigating their CRM platform.
Bitrix24 Pricing at a Glance*
Free: Unlimited number of users (limited features)
Basic: $39 per month (up to five users)
Standard: $79 per month (up to 50 users)
Professional: $159 per month (unlimited users)
*Pricing above is based on annual plans. However, you may also pay monthly, quarterly, or biannually.
Bitrix24 Project Management
Bitrix24 stands out for its built-in project management modules available for free. Users can collaborate with team members, automate the sales process, and track the progress of tasks and their associated projects. Multiple viewing options are available, including Gantt charts, Kanban boards, calendars, and timeline views. The projects are fully customizable, account for task dependencies, and can be created from a premade project template.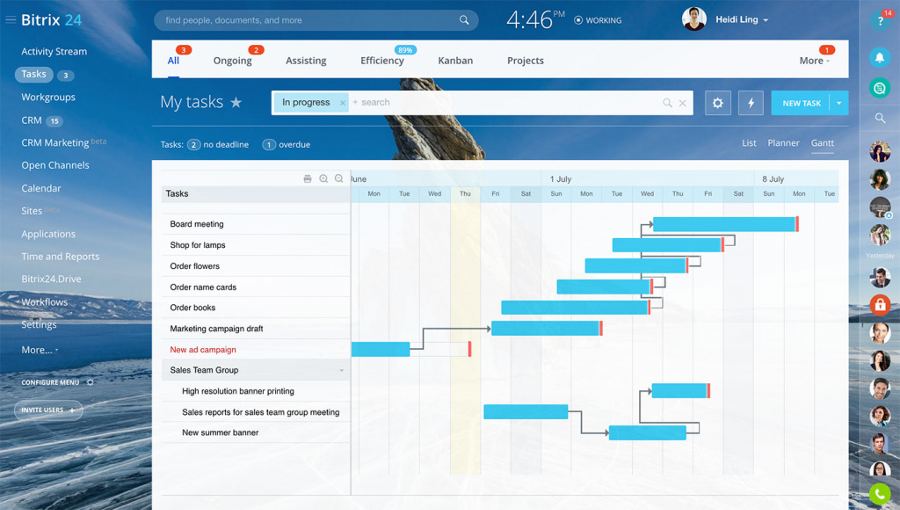 ---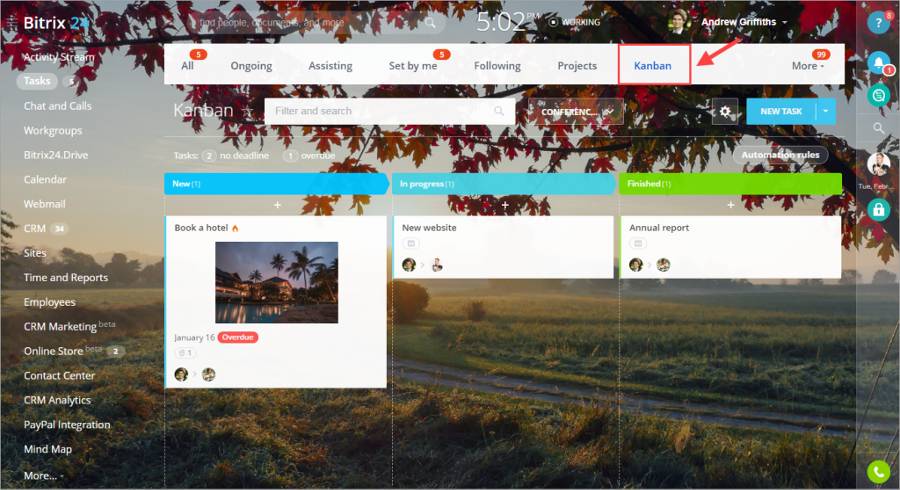 ---
Check out our in-depth Bitrix24 review to explore how this CRM system helps small businesses scale.
How We Evaluated the Best Salesforce Alternatives for Small Businesses
The best CRM for Salesforce should have CRM features, or product attributes comparable to Salesforce, such as artificial intelligence, advanced automation, and robust system customization. Additionally, it should include features, usability traits, or pricing attributes that Salesforce is lacking.
Based on our evaluation, we found Freshsales to be the best Salesforce alternative. It offers a free option and low-cost subscription plans as well as AI and automation features. Additionally, Freshsales has a free built-in telephone in their CRM to make and receive calls, while Salesforce requires integration with a third-party app or native software for that capability.
The tabs below offer insight into our evaluation process for choosing the best CRM alternatives to Salesforce:
30% of Overall Score
We looked at overall features we feel are necessities in CRM systems, including reporting tools and analytics capabilities, tools for managing sales pipelines, customization options, and the ability to organize and communicate with contacts. We also evaluated each CRM's mobile application and third-party integrations.
20% of Overall Score
We looked at pricing compared to Salesforce regarding free plan availability and scalable subscription options. We also considered whether or not the CRM provider allows for monthly and annual billing options.
20% of Overall Score
Salesforce alternatives were also evaluated on product usability. This was analyzed in terms of the expertise needed to set up and integrate the CRM with other applications, the skill required to operate the platform, and the intuitiveness of navigating the system's interface.
20% of Overall Score
Extensive support and service can prevent issues a user may encounter while using any one of these Salesforce alternative CRMs. Help and support were evaluated in terms of customer service hours, accessible tools for platform education, and the availability of support via phone, live chat, and email.
10% of Overall Score
In addition to first-hand experiences with the best Salesforce CRM alternatives, we evaluated what other users are saying about each option. These criteria consider how customers feel, based on their reviews, to gain insights into platform popularity, ease of use, and overall value for the price.
*Percentages of overall score