Authorize.net vs PayPal: Price, Features & What's Best in 2023
This article is part of a larger series on Payments.
PayPal and Authorize.net make great choices for payment processing for small businesses. Both are popular and easy to integrate with other applications. However, PayPal offers more in-person and international sales capabilities, while Authorize.net provides more stability and Level 2 and 3 processing for business-to-business (B2B) transactions.
In our evaluation of online payment processors, Authorize.net came out as the best payment gateway with a score of 3.91 out of 5, while PayPal closely followed at 3.84 out of 5, best as an additional payment method and for selling on social media.
PayPal: Best for solopreneurs, retail, and ecommerce
Authorize.net: Best for B2B sales and adding a reliable payment gateway
Although the differences between Authorize.net and PayPal make them ideal for specific use cases, both are also included in our list of best international merchant accounts and top B2B payment solutions.
When to Use an Alternative: Helcim
High-volume businesses might find Helcim a better option with zero monthly fees, interchange-plus pricing, automatic volume discounts, all-in-one hardware, and an option to opt for ACH payments or pass-on credit card fees for bigger savings. Visit Helcim to learn more, or see how it compares below.
Authorize.net vs PayPal Quick Comparison
 

Overall scores

3.84 out of 5

3.91 out of 5

4.04 out of 5

Best for

Solopreneurs, retail, ecommerce

B2B sales, adding a payment gateway

Low rates

Monthly fee

$0–$30

$25

$0

Transaction fees

More complex

Ranges from 1.9% + 10 cents to 3.49% + 49 cents per transaction

Payment gateway only: 10 cents per transaction + 10-cent daily batch fee

Interchange plus 0.15% + 6 cents to 0.5% + 25 cents

Chargeback fee

$15–$20

All-in-one plan: 2.9% + 30 cents

$15

Virtual terminal

$30 per month

$25

$0

Point of Sale (POS)

Full (Zettle)

Partial (mPOS, vPOS)

Full (Helcim)

ACH/echeck fees

3.49% + 49 cents

0.75%

0.5% + 25 cents

Invoicing

3.49% + 49 cents

2.9% + 30 cents

Interchange plus 0.2% + 10 cents to 0.5% + 25 cents

Integrations

250+

145+

4+

Currencies

25

13

USD & CAD

Deposit times

Instant to PayPal account or with 1.5% fee

Standard 3 business days

Within 24 hours

Two business days

 

Pros
Takes card payments, PayPal, Venmo, and other mobile wallets
Known and trusted platform by consumers globally
Instant deposits into your PayPal account
Seamless online checkout integration
Cons
Unpredictable freezing of funds
High fees for international payments
Monthly fee for virtual terminal and recurring billing
Complex pricing structure
PayPal is Best For
Additional payment option: With PayPal's many integrations and zero monthly fees (if you don't include add-on services), it is easy to offer as an additional payment method for your customers. Secure PayPal payment buttons can be added to checkout pages of most ecommerce platforms.
Social media and marketplace selling: PayPal makes it easy to sell and accept payments on various social media platforms such as Facebook, Instagram, and TikTok or marketplaces such as eBay and Etsy.
Boosting online conversions: With a significant 42% worldwide market share among online payment processing technologies, PayPal has one of the most trusted security seals in the payments industry.
Authorize.net vs PayPal Pricing & Contract
| | | |
| --- | --- | --- |
| | | |
|   | 3.38 out of 5 | 2.5 out of 5 |
| Monthly fees | $0–$30 | $25 |
| Contract length | None | Month-to-month |
| Ecommerce transaction fees | 2.59% + 49 cents | 2.9% + 30 cents |
| Virtual terminal transaction fees | 3.09% + 49 cents, $30 monthly fee | 2.9% + 30 cents, $0 monthly fee |
| ACH transaction fees | Echecks only: 3.49% + 49 cents, $300 cap; | + 0.75% per transaction |
| International fee | + 1.5% | + 1.5% |
| Invoice fee | 3.49% + 49 cents plus $10–$30/month for recurring billing/payments | 2.9% + 30 cents |
| Micropayments fees (under $12) | 4.99% + 9 cents | 2.9% + 30 cents |
| Chargeback fees | $15–$20 | $25 |
| High-volume discounts | ✕ | ✓ |
| Non-profit processing fees | 1.99% + 49 cents | 2.9% + 30 cents |
| | | |
Because Authorize.net charges a monthly fee, PayPal is the cheapest in the long run for occasional merchants, like solopreneurs or hobbyists. For online users, if you process fewer than 164 transactions of over $12 each per month, PayPal is the less expensive option.
Charities will also find PayPal's rates superior. It offers a discounted nonprofit rate of 1.99% + a fixed country fee (49 cents in the US).
PayPal may even be cheaper than Authorize.net for certain countries. If you are not a US-based business, check out PayPal's complete list of merchant and business fees.
Authorize.net vs PayPal Payment Types
 

3.88 out of 5

3.88 out of 5

Payment types

Credit card, debit card, digital wallets, echeck, digital gift cards, crypto, Venmo

Credit card, debit card, digital wallets, echeck, PayPal

Online transaction fee

2.59% + 49 cents

2.9% + 30 cents

Virtual terminal

$30 per month

Free

Invoiced payments fee

3.49% + 49 cents

2.9% + 30 cents

Recurring payments and card on file fee

$10 gateway fee + 3.49% + 49 cents per transaction

2.9% + 30 cents

ACH and eCheck

No ACH

Echecks: 3.49% + 49 cents, $300 cap

0.75% per transaction (both ACH and echeck payments)

International payments

24 currencies, 1.5% fee, 4% spread for currency conversion

13 currencies, 1.5% fee

Buy buttons

PayPal button generator, PayPal standard integration, PayPal advanced integration

Simple Checkout button

Social selling

Payment link, Seller Profile for personal PayPal accounts

Via integrations

Buy Now, Pay Later

PayPal Pay Later (Pay in 4, Pay Monthly)

Via integrations

Tap to Pay on iPhone

✓

Via integrations

Integrations

33 online stores, 18 marketplaces, 17 website design systems, shipping label tools, and many others not mentioned on the website

Over 900 technology integrations and over 400 certified technology partners
PayPal Payment Types
PayPal takes the lead in ecommerce because of its adaptability and ease of integration. It offers over 250 partner integrations to ecommerce software and marketing tools for accepting online payments. Alternatively, you can make use of its button generator, which creates codes that you can copy and paste into any website or social media outlet.
PayPal's buttons can be added to any website, email, or social selling venue, even alongside other payments. The PayPal Ecommerce Index 2022 showed that 25% of consumers prefer to use PayPal, higher than those who prefer to pay with credit or debit cards. This shows consumers' high level of trust in PayPal as a payment method.
PayPal's Pay in 4 and Pay Monthly programs can add further incentive to buy or purchase more—it costs you nothing to sign up for it and you still get your sales proceeds upfront. Pay in 4 allows consumers to pay 25% at the time of purchase and pay the rest in biweekly installments of 25%, while Pay Monthly is for purchases worth $199 to $10,000 to be paid with monthly installments over a 6- to 24-month period. We rated it among the top buy now, pay later apps.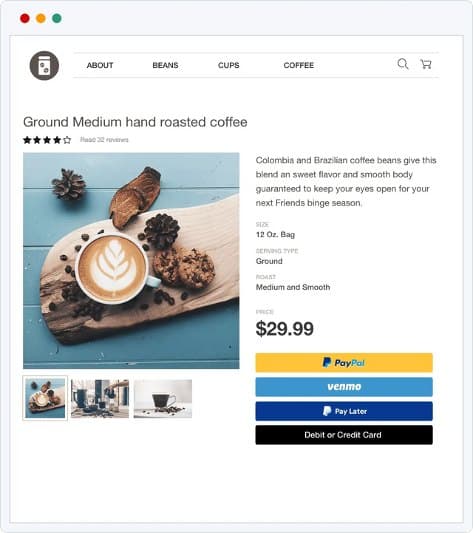 ---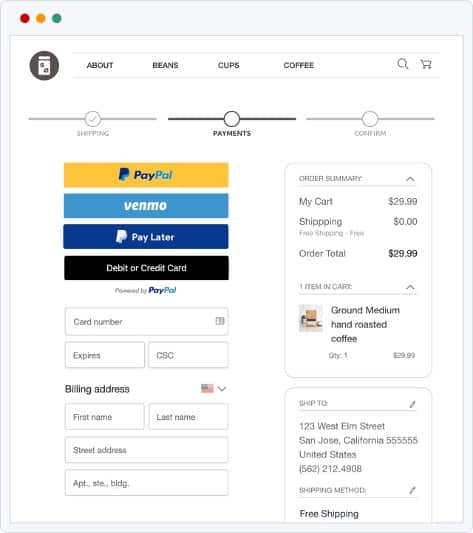 ---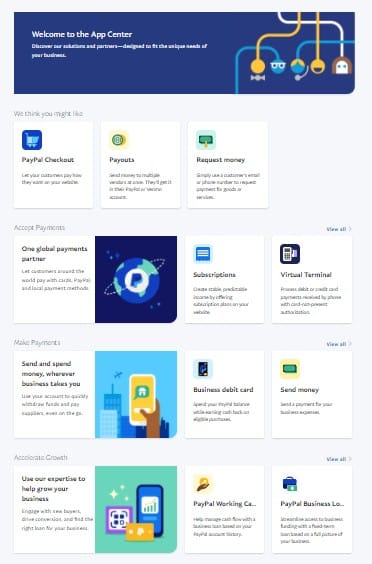 ---
---
PayPal is the clear winner when it comes to mobile. It offers several mobile apps depending on your need, but our favorites are PayPal Business and PayPal Zettle. Authorize.net, meanwhile, offers a basic payment processor with some inventory functions.
If your primary need is sending invoices and keeping track of online sales, PayPal Business is your best choice. It has a simple invoice maker you can use to create and send custom invoices right from your phone. It tracks customer contact information and sales data and has basic analytics and reports to see how your business is thriving. You can also use it to transfer money from PayPal to your bank or to pay bills.
If you are a retailer or service provider and need a POS system, then PayPal Zettle can meet your needs (you'll need a PayPal card reader to accept payments). Designed for phones or tablets, it offers a register-like checkout, inventory tracking, tips, taxes, split payments, and more. You can even set up multiple staff accounts for tracking individual sales. It's listed as one of our best mobile credit card processors.
---
PayPal is still a good option for international sales, despite its high currency conversion spread (the difference between the market foreign exchange rate and PayPal's), as it offers more languages, works in more countries, and presents in local currency. It allows alternative payment methods that may be more popular in Asia and Europe, such as Bancontact, Giropay, and GrabPay. You may need approval to use these methods, and transaction fees vary.
Authorize.net has a far smaller list of accepted payment methods. And while it accepts payments from anywhere in the world as long as its approved payment methods are used (such as Visa), it works only with merchants in the US, Canada, and Australia. (Because of changes in encryption protocols in the EU, it stopped working with merchants in the UK and Europe.)
---
Authorize.net Payment Types
---
---
---
Authorize.net vs PayPal Features
| | | |
| --- | --- | --- |
| | | |
|   | 3.63 out of 5 | 4.31 out of 5 |
| Bank deposit speed | Approximately 3 business days | Within 24 hours |
| Instant deposit | 1.5% of payout volume | N/A |
| Chargeback protection | 0.4% per approved transaction | Varies, via integrations |
| Dispute fees | $15–$20 | $25 |
| Dispute management tools | ✓ | Via integrations |
| Advanced risk monitoring | With an upgrade to PayPal Enterprise | Advanced Fraud Detection Suite |
| Cryptocurrency | ✓ | Via integrations |
| API | ✓ | ✓ |
| Developer support | Documentation, updates, demos, developer community, FAQ, live support via ticket | API reference, developer guides, GitHub repositories, testing guides, response codes, Anet community forum, FAQ, support via ticket |
| PCI compliance | ✓ | ✓ |
| Customer service | Extended phone support, active seller community, help center, text messaging and social media customer support | 24/7 phone support except on holidays, online support ticket, live chat, FAQ section |
|   | | |
PayPal Features
PayPal's payment type offerings are not as diverse as Authorize.net's, but they are more than sufficient for the solopreneur or small business. PayPal also offers other tools and features that make it worthwhile. (We explore those in greater detail below.)
If you want to accept cryptocurrency, PayPal is your best choice. Authorize.net may do this, but only with an integration, which could add fees. PayPal also offers several alternative payment methods that are popular in non-US regions, like GrabPay, Mercado Pago, and iDEAL.
---
While both provide excellent transaction security, machine learning, and analytics, PayPal provides better fraud and chargeback protection. It uses machine learning and data from its network of over 41 million transactions a day to identify fraud trends to catch fraudulent transactions before they happen.
It offers multiple fraud filter categories tailored to your business. To make recommendations, it learns from your payments and all those on its system in general. You can then select which filters you want to apply.
PayPal representatives are also available to help if your employees notice anything suspicious. If there's a problem with a transaction, PayPal holds funds until the issue is resolved, working with you and the customer throughout the dispute. Note that it charges chargeback and dispute fees; however, if you sign up for chargeback protection, then it can waive these fees for qualifying purchases. This is a program Authorize.net does not offer.
With Seller Protection, PayPal accepts liability for fraudulent transactions leading to chargebacks and for items not delivered. Protection only applies to physical products delivered with a service (as opposed to in-person deliveries). PayPal charges 0.4%–0.6% per transaction, depending on the level of service you select.
---
PayPal is the simpler of the two choices. To start, you always deal with PayPal, while Authorize.net works with resellers as well, which can cause confusion. Getting an account and setting up with PayPal only takes a few minutes, although there may be restrictions for higher-risk businesses. Authorize.net can take longer if you get the All-in-One Plan and need a merchant account. The flip side of this is that Authorize.net has greater account stability, although resellers may not.
PayPal's tools are easy to use and have clear explanations. Meanwhile, we spent a lot of time trying to figure out exactly what to expect from Authorize.net's mPOS and vPOS. Authorize.net's help section was not the easiest to get information from, either.
---
PayPal scored better in this aspect. First, its online help articles make it easy to get answers to your questions and offer step-by-step instructions and video tutorials. If you can't find the answer you need, there's text-based support and phone support. PayPal's phone support is extended business hours only but is still better than Authorize.net's, which doesn't provide phone support numbers on its website. Even more, if you are working with an Authorize.net reseller, you may need to contact them first.
PayPal goes beyond support for its tools, however, and can help your business with loans, advances on sales, and even credit card services. Authorize.net does not have these extra advantages.
Real-world customer reviews reflect all this. Despite some complaints about frozen funds, customers rated PayPal at 4.67 out of 5 stars as opposed to Authorize.net's 4.12 out of 5. These scores were averaged from Capterra, G2, and TrustRadius, which are trusted user review sites for business software.
---
Authorize.net Features
---
---
---
---
Authorize.net vs PayPal Expert Score
Our considerations when we scored this category are pricing transparency and affordability, ease of use, user reviews, and integrations.
PayPal received high scores for its popularity and seamless integration with other platforms. However, it was docked points for its more complex pricing structure and negative feedback from users who reported the potential risk of having their funds held or frozen.
Although Authorize.net scored slightly higher in this category, PayPal is a solid option for small businesses looking for an online payment processor that requires very little configuration. What's good with PayPal is no matter what payment processor you choose, it is still excellent as an additional payment option.
Methodology—How We Evaluated PayPal and Authorize.net
We test each online payment processor ourselves to ensure an extensive review of the products. We then compare pricing methods and identify providers that offer zero monthly fees, pay-as-you-go terms, and low transaction rates. Finally, we evaluate each according to various payment processing features, scalability, and ease of use.
The result is our list of the best online and credit card processors. However, we adjust the criteria for specific use cases, such as for different business types and merchant categories. This is why every online payment processor has multiple scores across our site, depending on the use case you are looking for. For this in-depth analysis, we compare Authorize.net and PayPal.
Click through the tabs below for our overall online payment processor evaluation criteria:
20% of Overall Score
We graded based on monthly fees, online rates, chargebacks, and whether or not you could get volume discounts.
PayPal scored higher than Authorize.net in this category, mainly because you could use PayPal for free if you don't avail of the add-on services that require a monthly fee. Also, PayPal's $15-$20 chargeback fee is much lower than Authorize.net's $25 fee, which could add up to significant amounts over a period of time.
30% of Overall Score
Online payments are more than website checkouts. We looked for invoices, recurring billing, and virtual terminals. We also gave points for stored payments and Level 2 and 3 processing for B2B sales.
When comparing PayPal vs Authorize.net in the payment types category, they both scored an even 3.88 out of 5. Although Authorize.net pales in comparison to PayPal when it comes to one-click ecommmerce payments, its recurring payments and virtual terminal are free to use.
25% of Overall Score
This score considered sales tools like customer management features, BNPL, fraud prevention, and developer tools for customizations. We also considered deposit speed, giving the most points for same-day processing and customer service.
In our PayPal and Authorize.net comparison, Authorize.net took the lead with 4.31 out of 5, while PayPal scored 3.63. Authorize.net scored better when it comes to customer support, deposit speed, and fraud prevention
25% of Overall Score
Here, we scored based on our own experience of ease of use, plus research into account stability. The number and ease of integrations contributed to this score. Finally, we gave some weight to the input of real-world users as recorded in third-party user review sites like Capterra.
There is a small difference between Authorize.net and PayPal in this category. Authorize.net earned a slightly higher score of 4.69 out of 5, while PayPal earned 4.38 because Authorize.net has a more straightforward set of fees with its flat-rate pricing.
*Percentages of overall score
Bottom Line
If you need just a payment processor or a payment processor plus a merchant account for integrating with other applications, Authorize.net offers the cheapest and most consistent pricing and virtual terminal. If you need in-person sales, especially for retail, are an occasional seller, or want quick and easy options for adding payments to a website or social media, PayPal is your best bet.